Some History on the Best Mac Value Ever: The Mac Pro 4,1 and 5,1
The Mac Pro has went through many iterations over the years and with the advent of Apple Silicon, things have certainly come to a crossroads. The Mac Pro 4,1 from 2009 and the slightly revised Mac Pro 5,1 (sold from 2010 to 2012) were perhaps the most perfect Macs ever built for mixed use as these machines were easy to service, heavily expandable and met a variety of computing needs.  Everything from everyday use to engineering/design work, to graphics/publication, photo/video creation and editing, gaming and so much more was possible.  These Macs were indeed the "Swiss Army Knife" for the enthusiast MacOS user that would also boot natively into multiple other OSes (including Windows 10). 
Given the ability to swap out CPUs (such as putting Westmere 56xx series CPUs in a Mac Pro 4,1 and flashing the firmware to make it a 5,1), upgrade graphics cards (see my article on that here), as well as later add bootable NVMe storage (when the Boot ROM is officially updated to version 144.0.0.0.0 after upgrading naturally from High Sierra to Mojave with a Metal capable GPU inserted), while allowing expansion and upgrade paths in many other ways, these machines (some approaching 14 years old) have proven to be viable even today for heavy production work.  The best part was that the introduction price for the base configuration low-end single CPU Mac Pro 4,1 was $2499, while the most powerful 12-core base configuration 2012 revision sold for $6199.  Interestingly, the 8-core (dual quad-core) 2.26 GHz Nehalem CPU configuration of the Mac Pro 4,1 from 2009 was just $3299 and given the fact that it still gave you a dual CPU tray, purchasers of this model probably got the best value overall, as they could later upgrade to a dual 6-core Xeon 5680 (3.33 GHz 12-core) or dual 6-core Xeon 5690 (3.46 GHz 12-core) truly maxing out CPU potential for the lowest entry point possible of a dual CPU model when purchased new.
Future Missteps in Expansion (Mac Pro 6,1) and Lasting Value (Mac Pro 7,1)
As the Mac Pro evolved further with the release of the Mac Pro 6,1 (also known affectionately as the "Trash Can"), it proved to be less expandable and much harder to upgrade the CPUs given the smaller footprint and tight design.  Pricing of these less expandable (and technically less capable machines in terms of expansion and growth – due to real world performance limitations of Thunderbolt 2 versus even PCIe v2) still ranged from $2999 (4-core 3.7 GHz) up to $6999 (12-core 2.7 GHz) for base configured models.  PCI Express version 3 had been introduced in 2010 and could have been implemented into a 2013 tower but instead, but what we got was really something of an anomaly for a Pro Machine.  While the cylinder design was indeed a fresh look (which Apple has lacked in recent years), it reminded many of the Power Mac G4 Cube, which was simply a smaller, less expandable desktop Mac compared to a Power Mac G4 tower.
The difference this time around in 2013 was choice..
The the Mac Pro 6,1 was the only choice in 2013 as a "Pro" machine, while in mid to late 2000 when the G4 Cube was introduced, those who wanted a G4 Cube could buy one and those who wanted the expansion the G4 tower computers offered could opt for that.  In the end, the "Trash Can" Mac Pro did get a bit of a cult following, but simply was not what true Mac computing enthusiasts needed.
Apple heard its critics and then pivoted, but not until 2019 when it introduced the Mac Pro 7,1 with a return to the tower form factor.  By this time PCIe v4 had arrived two years before in 2017 and cutting edge Xeon chips were out that were much faster.  Apple decided to go backwards somewhat to PCIe v3 instead of sticking to the cutting edge design of PCIe v4, but it was still a huge leap forward over the Mac Pro 6,1 and double the performance of the 16x PCIe interfaces on all Mac Pros that shipped from 2006-2012. 
The problem this time around with the 2019 Mac Pro 7,1 has been cost and lasting value.  The Mac Pro 7,1 came at a base model cost of $5999 (which is still the case today) and can be configured at max specification to cost well over $50k.  While you are getting far more powerful hardware out of the gate versus the Mac Pro 1,1 to 5,1 consider that this has been all on the advent of Apple Silicon, which Apple knew very well they were creating at the time – releasing the first M1 model Macs a year later in 2020. 
This was a real gut punch to those who put big $ on these Mac Pro 7,1 machines with Apple announcing their goal to exit Intel machines completely sooner rather than later, leaving the Intel architecture behind completely at some point, right on the heels of their most powerful, most expandable and most expensive Intel Macs ever made.  Apple's trade-in program is simply laughable on these Mac Pro 7,1 models – offering just pennies on the dollar for those who might want to consider moving on to something like a Mac Studio or M2 Pro/M2 Max MacBook Pro.  Apple has not bothered releasing drivers for the latest Radeon GPUs like the 7900 XTX, which is roughly 50% faster than the 6900 XT with 50% more VRAM at 24 GB and would likely see Metal scores reaching over 300,000 (double the M1 Ultra).
What's Probably Next?
The next Mac Pro will likely be the 8,1 and will be an all Apple Silicon design with something like a pair of M2 Ultra CPUs paired together somehow with separate boards in parallel (versus the single M2 Extreme that was rumored).  You will not likely be able to upgrade memory or have any ability to swap out modules for more powerful computing.  Storage and memory will have the same limitations that exist today with all Apple Silicon machines (being fully on the same SoC) and booting into multiple OSes and use of PCI Express cards is unlikely, but not impossible.  There's been progress on Linux native booting and there has been rumors of some types of future expansion cards in this next Mac Pro, but without drivers (or at least with Mac specific drivers required) it's not going to do a lot of good compared to the relative ease of most PCIe cards being plug and play and easily supported on the Mac Pro 1,1 through 5,1 due to Xeon based CPUs. 
Thunderbolt 4 for external expansion is still the most likely choice of expansion since Thunderbolt 5 specs are still being finalized and thus, this machine will still be limited to a 4x multiplier and at no more than 32 Gbps of real world bi-directional performance (technically up to 40 Gb without overhead).  At the end of the day, we'll have something more like a Mac Studio with the Mac Pro 8,1, but much more powerful.  It will be super fast without a doubt and likely 3-5 times faster than the fastest Mac Pro 7,1 28-core on most tasks for MacOS and at least double the speed of the fastest Mac Studio, but won't be nearly as flexible in terms of software, expansion, peripheral and multi-booting capabilities as the Mac Pro 5,1 and 7,1.  The Apple Silicon only Mac Pro 8,1 will likely retail between $4000 and $10,000.
What Mac Enthusiasts Really Need – A Hybrid Dream Machine Mac Pro 8,2..
While Apple had intentions of exiting out of the Intel CPU world quickly, perhaps Apple was premature in that thinking that way due to expansion/growth and overall flexibility limitations (covered above) when it comes to Apple Silicon and how that might impact the pro market?  With PCI Express v5 and the latest Xeon CPUs, Apple could instead build a machine truly designed for the professional market with loads of power and flexibility.  At the same time, with Apple Silicon still evolving, Apple could provide methods for that also to grow with the Mac Pro, embracing a truly modular hybrid stop-gap solution for the professional market – a Mac that really does it all that would be an extraordinary value for the consumer.
Here's how I would envision things if Apple decided to build such a "dream machine". See the renditions below and then read the overview and summary of the options I'd propose be offered: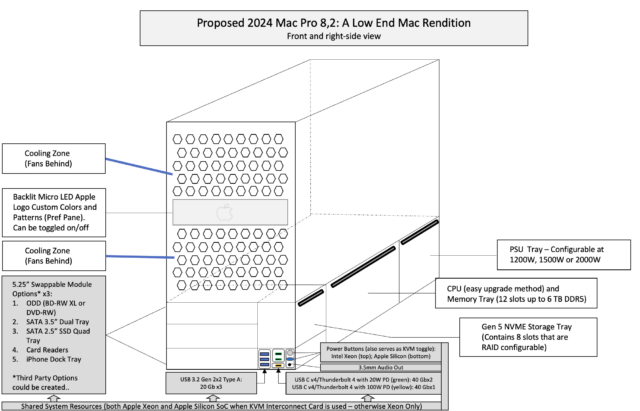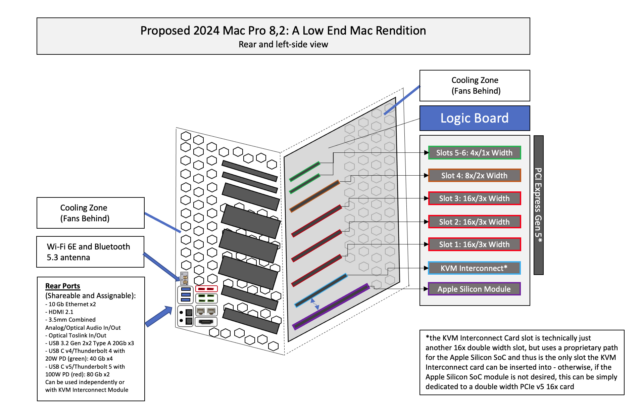 Overview:
A hybrid Intel/Apple Silicon Mac Pro 8,2 should be released and Apple could extend the use of Intel CPUs a while longer for the pro market to continue supporting developers who really need the kind of memory, CPU, GPU and expansion capabilities these kinds of systems offer. 
This machine would feature both a fully upgradeable Intel Xeon based system and an Apple Silicon System on Chip (SoC) module board that could be swapped out later for more powerful Apple Silicon SoC modules as the technology evolves (imagine having an initial M3 Ultra board in there but later being to upgrade perhaps all the way to something like an M7 or M8 Extreme until the next generation chassis arrives if this design proves successful long term)
Both the Apple Silicon SoC unit and the Intel Xeon Logic board (based on PCIe v5) would be able to operate independently and simultaneously and if both are booted into MacOS, they could run multi-task processes together seamlessly, harnessing both computing environments
A special KVM Interconnect module could be added during the build (or later separately) and would leverage a direct connection between the Intel I/O board (using next generation Thunderbolt 5 connectivity) and the Apple Silicon SoC module using Thunderbolt 5 @80 Gbps per controller (2 dedicated controllers with a single port each are on the Intel logic board – future Apple Silicon Modules could leverage up to dual Thunderbolt 5 controllers, but may be limited to Thunderbolt 4 initially) 

Note: The KVM interconnect board would allow for seamless switching between the Xeon system and the Apple Silicon System on a Chip module.  This add-in card is not an absolute necessity, as one could operate each unit (Intel system and Apple Silicon SoC) as separate entities or leverage your own KVM solution, but this would be a very elegant Apple designed option that would make switching far more seamless without the need of an external box or dual sets of keyboard/mice to easily share various system resources.  The rear ports built into the Intel board are shared resources between the Intel board and the Apple Silicon SoC board when the KVM Interconnect board and Apple Silicon SoC boards are both connected and the machine is powered on.
Intel System and General Chassis Notes:
 Apple would make use of the latest TPM and AVX standards on the most recently developed Xeon CPUs and board design (leaving the T2 chip behind).  This will ensure full native compatibility of Windows 11 and perhaps later OSes on the Intel side.
Dual independent CPU sockets accompanied with dual 6-slot memory socket modules for inserting DDR5 ECC or Non-ECC RAM in a convenient pull-out tray allowing up to 6 TB of ultra fast memory to be installed aftermarket
Power Supply would be an enterprise grade 1200W with the base model system, but could be configured with a 1500W or 2000W power supply at the factory or later as the power supply is modular.  Third party PSU solutions could be used only if certified to meet correct specifications by Apple.  The standard logic board design would no longer have PCI Express auxiliary power on the logic board.  The PCIe power taps would feed directly from the PSU.  A 2500W PSU could be made available at a later date, but a cooling solution upgrade will be required.
NVMe Gen 5 Storage is standard in two sets of 4 slots and can be configured in many ways.  Return of software RAID in MacOS on the dedicated controller would retain storage configuration in any OS the Intel system is booted into that supports RAID and these RAIDs could also be booted from the Apple Silicon SoC module.  Blades could also be configured separately and partitioned as desired too.
The front Power Buttons are quite special.  Each one powers up and activates each system (Intel and Apple Silicon SoC – if installed) and each will light up appropriately when active.  A boot picker screen will appear when the Intel side is booted up so one could select to boot MacOS Windows or Linux.  A control panel preference pane in MacOS could allow you to change the behavior of the buttons to either invoke sleep on either system or if the KVM Interconnect card is installed and configured appropriately as well as the Apple Silicon SoC module, the option will be there in the Power preference pane (Updated to Power/KVM Interconnect Preference Pane) to instead use the front buttons to quickly swap between operating environments (a quick press of either button would bring that system's video feed up and the keyboard/mouse would then be controlling that system).  A status light on the power button would indicate which system is active and which one is standby if both are being used with the KVM Interconnect card (both systems can actually be running simultaneously and active if dedicated video and I/O are used for each)
For pleasing aesthetics, the backlit Apple logo is now available on the Mac Pro! It can be toggled on or off as desired in the preference pane and the Apple logo itself can be customized with a wide variety of presets.  Since the display is Micro LED, each pixel is individually lit, so the entire logo itself can be customized and a variety of system status options can be displayed on the rectangular display area (or simply left blank)
Legacy drive bays can make a difference – especially given the fact that some users enjoy creating and using optical media and given the fact that some may want to stuff the machine full of some less expensive SATA SSDs or very high capacity spinning 3.5″ drives for archival (spinning storage not recommended for bootable destinations).  Three such bays are provided to configure as desired (bay chassis option units would essentially just be adapters that would slide in and lock into the bay openings – users would need to source the bare drives).  A SATA connector would connect to each bay adapter with an auxiliary power option (up to 75W for each bay) as needed.  One unique option could be an iPhone tray that could slide out and make for a convenient dock to offload photos and video quickly for editing while charging your device.
A "honeycomb" mesh ventilation system is designed to keep airflow moving very well and dust out of the unit.  Both metallic and plastic plates are offered for the front and right side of the unit and an array of fans on the front, back and right side of the unit would keep the air moving to keep the system cool.  Liquid cooling options can be used on GPUs, but may block other slots.
The Intel section of the Mac Pro 8,2 on it's logic board would have up to 64 lanes of PCI Express v5 bandwidth not including other I/O options onboard (the KVM Interconnect Card slot is technically just another 16x small form factor double width slot, but uses a proprietary path for the Apple Silicon SoC and thus is the only slot the KVM Interconnect card can be inserted to – otherwise, if the Apple Silicon SoC module is not desired, this can be dedicated to a double width PCIe v5 16x card) 
The typical configuration allows for up to a pair of 4x cards at the top (typically additional I/O, audio interfaces, etc.), an 8x card (up to double width that could be used with an additional RAID card such as the Western Digital AN1500 or Sonnet's McFiver) and three full length triple width high powered cards that can be occupied by a combination of GPUs, MPX or Afterburner type cards.
Lastly, a the updated Power Management preference pane for the Mac Pro 8,1 would really let you keep an eye on things for your power budget and could be displayed on the front panel.  Everything you connect will draw power, so the system will continue to calculate as you add items.  Be advised to know what each device/peripheral draws when they are connected and plan accordingly and don't throw in multiple high powered GPUs at once unless you know you are right sized from the start.  If you want to have dual high powered GPUs it would be advised to go with the 1500W or 2000W PSU option during build.  If you want 3 high powered GPUs, the 2000W power supply is essentially a must.
Apple Silicon SoC Module Notes
The Apple SoC module would use a special proprietary connector that Apple would offer to begin running a full slotted option in a Pro machine for Apple Silicon.  Again, this module can run completely independently to the Intel system and these modules will indeed have their own I/O connections, so one could connect things up to their own KVM solution and not leverage the KVM Interconnect solution (running the Apple Silicon SoC system essentially as an entire separate computer) or by leveraging the KVM Interconnect card, one can easily go back and forth between the two environments.
The goal would be to allow anything Apple could produce from a low tier up to a max tier Apple Silicon module to be inserted.  The slot would provide up to a dedicated 400W of PSU power when running – plenty for the most demanding Apple Silicon SoC designs.
The physically connected I/O panel on the back of the Mac Pro 8,2 is mapped electrically to both the Intel main board and the Apple Silicon SoC connector and ports are both shareable and assignable.  For example, one could have a 10 Gb capable router or switch installed and choose to utilize Ethernet port 1 for the Intel Xeon System, while running Ethernet Port 2 for the Apple SoC module.  That way there would be literally no communications interruptions for either system if long processes had to run requiring a constant network connection for each physical computing environment.  Multiple USB Ports can be assigned as well as audio input/output.
The latest Intel systems offer integrated graphics, so the HDMI port on the I/O board would be designed to output from the Integrated graphics controller only from that machine for rudimentary troubleshooting, but on the Apple Silicon SoC, this port is electrically mapped to that slot and provides an HDMI 2.1 video signal.
Wireless and Bluetooth physical antennas enhance the signals for the modular card that's on the Intel logic board, but is also electrically mapped to the Network Interface card of the Apple Silicon SoC slot, so the signal using the same antenna is enhanced for both the Xeon and Apple Silicon SoC computing units (always consider that if both Intel and Apple Silicon SoC systems are active simultaneously and are relying on networked services, they will both content for overall network bandwidth available)
Certain features are only available on Apple Silicon and of course certain features are only available on the Intel side, so having the Apple Silicon SoC module installed and running both environments will always be beneficial.
Using the KVM Interconnect in conjunction with Apple Silicon SoC and the Intel system may also open up future methods for seamless window dedication for each system with drag and drop between both computing environments without the need for hot switching at all
Final Thoughts and Conclusion
What About a Proposed Cost and How Would Upgrades be Handled?
I'd say that a system like this would be well worth $4999 at base price and would include the entry level 1200W PSU, entry Intel Xeon CPUs, a KVM Interconnect Card and a base model M3 Pro Apple Silicon SoC module.  Users would then be able to select between a base model AMD GPU at base cost and something better from Apple if desired or have no AMD GPU and simply source one themselves for slightly less (unless Apple plans on selling for reasonable prices).  Base storage would include a single 2 TB NVMe PCIe v5 blade and base memory would be 96 GB (6x 16 GB DDR5).  A bare chassis with nothing populated at all could be sold for $3999.  A maxed out unit may indeed still cost 10s of $1000s considering the cost of 512 GB DDR5 RAM modules, a pair of the fastest Xeon CPUs, etc., but this time with TPM 2.0 or greater on the Intel board, a full state of the art PCIe v5 design and a way to run both Intel and Apple Silicon computing in the same chassis, the value is staggering – something Apple should really do.
Apple could have a special new Mac Pro build storefront that would offer all the parts for these machines so you could constantly be tweaking and upgrading as your needs changed.  Swapping Apple Silicon Module Boards would be seamless thanks to Time Machine backups.  Lots of 3rd party options would open up too and storefronts could open up with vendors such as OWC who could offer their own selection of certified parts.  Perhaps a future AMD board could even arrive with compatibility for MacOS with Threadripper CPUs that would have additional optimizations when used in conjunction with AMD GPUs?
What about NVidia GPUs and Apple Silicon PCIe Support?
It would be nice if Apple made up with NVidia and began producing drivers that worked for MacOS.  This could really be a game changer (imagine running a 4080Ti or 4090 for MacOS).  A world of possibilities would open up and we wouldn't be stuck necessarily running AMD cards again.  Competition for the Mac Pro users would lead to better products.
As for Apple Silicon PCIe support – that would be a good first step to getting parity again between Apple Silicon and Intel based heavily expandable professional systems (like the Mac Pro 5,1 and 7,1), but the problem still lies in having native drivers for Apple Silicon for just about everything you could insert into a slot (besides building the machine code to ensure PCIe worked seamlessly on Apple Silicon).  This would take time to mature.  On top of that, if a Mac Pro existed with PCIe slots, it would be a lot like having a much more powerful Power Mac G5.  We'd be back to relying on virtualizing Windows or waiting around for a fully optimized ARM version of Windows while also waiting for all developers and producers of software to optimize things for ARM/Apple Silicon.  It will take many years to get there.  A hybrid design answers all these problems today.
Conclusion
In conclusion, many of the naysayers would simply dismiss this entire notion saying it's time to move on and fully abandon Intel, x86, etc.. 
You'll hear the following typical quotes from the naysayers:
"You want a gaming PC or Intel Machine – fine.  Go buy one and put it alongside your Apple Silicon Mac Studio."
"Apple Silicon is just better now.  Move on to Apple Silicon/ARM or get left behind."
Those kinds of statements are fine for those who don't need large amounts of RAM (talking TBs here) for performing extreme computing tasks.  That's fine for those who don't wish to dual boot other OSes or those who are fine having multiple machines laying around.  Also – gamers and power users alike all know that a lot of software for these uses is Intel based and native performance matters a lot.  Virtualization cannot replace full native GPU driver support, etc.  Having a hybrid system will let everyone get what they want quickly. 
Apple gets to keep selling Apple Silicon for a chassis like this and people will upgrade those boards, the power users/gamers who also want MacOS for other purposes get a system that works for them that is heavily customizable and expandable and this will ensure that Apple always keeps Intel code around (this matters a lot for application developers who won't always need to completely dedicate a separate application stack to Apple Silicon if they don't have the cycles). 
Apple Silicon and ARM based computing research will continue to evolve and get to a point where it's agnostic for expansion options and OSes you run, but we're not there today.  This proposed Mac Pro 8,2 could provide the answers we're all looking for now.
Apple – if you're listing… make it happen in 2024!!