Record Mac Sales, $1 Billion Profit, and a Future Product Transition
Daniel Knight - 2008.07.22 -
"Up, up, and away!"
That famous line from the old Superman TV show could be applied to Apple. The company just reported record profits for the June quarter, record Macintosh sales, hot iPhone sales, and continued growth in the iPod sector.
Solid iPod Sales
When Apple Computer Inc. changed its name to Apple Inc., a lot of people thought the Mac was going to take a back seat to the iPod, which has been a runaway success in the world of MP3 players. In its various versions, the iPod dominates the MP3 player market, and over 163 million have been sold to date.
Although the past quarter didn't set a sales record (the holiday quarters dominate there, with over 21 million iPods sold in each of the last two holiday quarters), it did set a record for non-holiday quarters with just over 11 million units sold. This edges past the previous quarter's 10.6 million. The June quarter shows a 12% growth over the year previous.
While iPod sales aren't growing as fast as they once did, they continue to grow despite the best efforts of Microsoft and others to horn into the market. (The Zune is not Kryptonite!) This is a maturing market, and things may settle down in the 50-60 million unit per year range.
Growing iPhone Sales
The iPhone has been on the market for just over a year, and Apple sold 6.3 million units of the original iPhone through June 30, 2008. The June quarter was down - less than half the level of the March quarter - with anticipation of the iPhone 3G leading many to defer purchase until the new model came to market. This was proved true when consumers purchased 1 million new iPhone G3s during its first three days on the market.
Like the iPod, the iPhone is another runaway success for Apple, even though it accounts for only a small portion of the mobile phone market. However, it has a growing presence in the smartphone market, where it held third place in June with 11% of the market (per ChangeWave). RIM dominates with the Blackberry, which has 42% of the market, followed by Palm at 14%.
With the resounding success of the iPhone 3G, Apple could easily move into second place during the current quarter, although Palm is fighting back with its new, very affordable Centro ($70-100 after rebates with a two-year service plan).
The iPhone has sparked big changes in mobile phone design, with more and more new models doing their best to look as friendly (that is, iPhone-like) and feature-laden as Apple's offering.
Record Macintosh Sales
They say a picture is worth a thousand words. Take a gander at this one: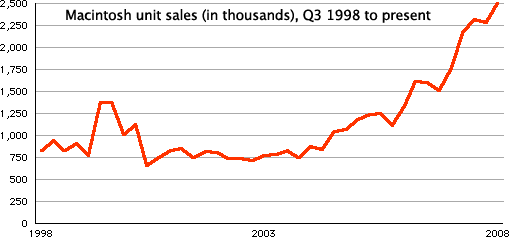 With the iMac, launched in Q3 1998, Apple came back from the brink. Total Mac sales for calendar 1998 were 2.7 million units, less than any of the previous five years. Apple began its climb back with the first G3 PowerBook and Power Macs in November 1997, made a huge splash with the iMac (announced in May 1998, on sale August 15, 1998, and for many months the most popular computer in the US), and took off in 1999 with the Power Mac G4 and the first iBook.
Sales fell precipitously in the 2000 holiday quarter and ranged between 700,000 and 900,000 through the third calendar quarter of 2004.
Then things took off, breaking the million mark again in the 2004 holiday quarter. In the Sept. quarter of 2006, the first quarter in which the entire Macintosh line was built around Intel processors, Apple set a new record of 1.765 million Macs sold. Apple broke the 2 million unit mark the following quarter and came "that close" to hitting 2.5 million units in the June 2008 quarter.
To date, Apple has produced 17-18 million Intel-based Macs. The most recent figure I can find for the installed base of Mac users was 22 million in early 2007. Five quarters later, Apple has sold another 11 million Macs. Assuming some of these sales are replacements for Macs that are not repurposed, we can estimate the installed base of Macs at well over 25 million but probably less than 30 million.
Let's call it 27.5 million, with 60-65% of them Intel-based Macs. Over the rest of the year, figure another 6 million unit sales, a few more old Macs permanently retired from duty, and a total installed Mac base of about 32 million. That put make Intel-based Mac at nearly 75% of the installed base - that figure should help us understand Apple's decision to make Mac OS X 10.6 "Snow Leopard" an Intel-only operating system.
Record Profits
With 12 million iPods, 2.5 million Macs, 717,000 iPhones, and who knows how many units of OS X, iLife, iWork, .mac, and AppleCare sold, not to mention content on the iTunes Store, it's easy to see how Apple generated $7.46 billion in revenues during the quarter. Apple made a profit of $1.07 billion on that income, and both of these figures are records for the June quarter.
What's most interesting about those numbers is that Apple has excluded iPhone sales in its earnings numbers, choosing to defer those figures to future reports. As the TidBITS staff says, "This should make for an extraordinary fourth fiscal quarter."
For those concerned that Apple removing "Computer" from its corporate name meant less focus on the Macintosh, let's break things down:
assuming $1,000 average income per Macintosh sold: $2.5 billion
assuming $150 average income per iPod sold: $1.65 billion
assuming $350 average income per iPhone sold: $250 million
These are educated guesses. Mac prices range from $599 to $4,399, but the vast majority of units sold are consumer models - iMacs, MacBooks, and Mac mini. Apple sells a lot of Macs through its online store and its own retail stores, and there's not a big markup for dealers, quite likely less than 20 points, so I think this figure is a realistic minimum.
iPod prices range from $49 to $499, but the shuffle and nano make up the bulk of sales. Since these are consumer electronics, I'm assuming that there's a bigger markup for the retailer. 30 to 40 points isn't unusual, but this number is probably a bit on the high side.
Even though the iPod outsells the Mac, it doesn't generate nearly as much income for Apple, and the same probably holds for profits. Except for the holiday quarter, when iPod sales double, Macs generate the bulk of Apple's income (and most likely profits) from hardware sales.
The Mac Future
Apple has been pushing the Mac into new markets. The Mac mini, introduced in 2005, brought an attractive, small form factor computer to the masses. It wasn't cheap, it wasn't overly endowed in the specs department, but it was easy to use with digital televisions, giving it a place in the home theater. The MacBook Air redefined ultralight notebooks by providing a full sized keyboard, a 13.3" display, a big footprint, and a very thin enclosure to market.
Where will Apple go from here? Nobody who knows is talking, but Apple hinted at "a future product transition" in its conference call yesterday. This is expected to reduce gross margins, and since Apple mentioned a forthcoming back-to-school special, "state of the art new products at prices their competitors can't match", and taking advantage of economies of scale to reduce prices, we could see Apple playing hardball on price with Dell and HP.
That could mean slashing $100 from the price of the Mac mini, $200 from the MacBook and iMac, and even more from the MacBook Pro and Mac Pro. Or it could mean introducing new Macs and MacBooks for the price sensitive market, perhaps a desktop in a more traditional form factor and a low-end notebook. Or it could mean new products such as a small notebook, a tablet Mac, or an overgrown iPod touch (Newton for the 21st century).
We're not taking any bets, but Apple has only had two pieces of hardware that didn't succeed in a big way since Steve Jobs took the helm: the Power Mac G4 Cube (perceived as overpriced) and Apple TV, which is getting better but still lacks the one essential feature that will guarantee its success - a tuner.
Whatever Apple has planned, we expect another home run.
Join us on Facebook, follow us on Twitter or Google+, or subscribe to our RSS news feed
Dan Knight has been using Macs since 1986, sold Macs for several years, supported them for many more years, and has been publishing Low End Mac since April 1997. If you find Dan's articles helpful, please consider making a donation to his tip jar.
Links for the Day
Mac of the Day: Colour Classic II, introduced 1993.10.31. A big improvement over the original CC, this 33 MHz model was never sold in the States.
Recent Content