The Future of G3 iBooks in the Age of Leopard
Daniel Knight - 2007.09.14
When I began Low End Mac ten years ago, there were no G3 Macs. When Apple introduced the first G3s, which were about 50% more efficient than earlier PowerPC 604e CPUs, everyone was excited.
When Apple releases Mac OS X 10.5 Leopard in October, there will be no support for G3 Macs.
The first G3 Macs, the PowerBook G3 and beige Power Mac G3, were introduced in November 1997. The 250 MHz PowerBook G3 was the world's most powerful notebook, and the 266 MHz Power Mac G3 held its own against the Power Mac 9600 with a 350 MHz 604e CPU.
The last G3 Macs, the 12" iBook and 14" iBook, were discontinued in October 2003. The fastest G3 Macs were those upgraded with a 1.1 GHz PowerForce upgrade (recently reintroduced at 1.0 GHz for US$140).
The best selling G3 Macs were the iMacs, which took the market by storm in 1998, going through two major versions and numerous revisions between the 233 MHz Bondi blue iMac of August 1998 and the 700 MHz iMac that was phased out in March 2003.
The question is: What does the future hold for G3 Macs?
Today we'll look at G3 iBooks.
The Clamshell iBooks
Introduced in July 1999, the first iBook went on sale in Sept. 1999 at $1,599. It was billed as "an iMac to go" - and that's pretty much what it was. It has a 300 MHz G3 processor, 32 MB of RAM, a 6 GB hard drive, a CD-ROM, and ATI Rage Mobility AGP graphics with 4 MB of video memory. Like the iMac, it had no legacy ports - and only a single USB port. And you could buy it in blueberry or tangerine.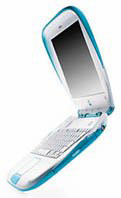 Widely known as the "clamshell" iBook, this model was designed for the education market and survival in a backpack. It has a 12" 800 x 600 display and RAM can be expanded by up to 512 MB.
The iBook's big breakthrough was something called AirPort, a wireless networking scheme (otherwise known as 802.11b) that was just coming to market. This was the notebook computer that made WiFi a big deal.
It's no lightweight at 6.6 lb., and the iBook is 2.1" thick, 13.5" wide, and 11.6" deep. It is not a small computer, but at least it has a handle and a 6-hour battery.

The iBook line grew with the addition of a 366 MHz Special Edition in Feb. 2000. The iBook SE came in graphite, a much more professional look than the earlier model. It included 64 MB of RAM and sold for $200 more than the regular iBook.
The second generation iBooks (Sept. 2000) moved to ATI Rage Mobility 128 AGP video with 8 MB of video memory and used the new PowerPC 750cx CPU, which had a smaller-but-faster onboard level 2 cache. The big addition was FireWire.


The low-end iBook ran at 366 MHz and was available in indigo or Key lime and had a 10 GB hard drive. The Special Edition moved to a fast 466 MHz, included a DVD-ROM Drive, and was available in graphite or Key Lime.
These were pretty rugged machines, as intended, with some shortcomings and some liabilities. Weak points were the power port, which was too easy to break, and the design made it very, very difficult to take the iBook apart to replace the hard drive or a failed CD-ROM - and even harder to put together afterwards.
You can run Mac OS X on the clamshells, and that's one place you'll notice a real drawback: These iBooks only have 800 x 600 video, and OS X feels pretty cramped on an 800 x 600 display. Not that it's unusable, but if you're used to a modern Mac with a 1024 x 768 or better display, you'll definitely notice the difference.
My first choice would be to run Mac OS 9.2.2 on a clamshell iBook, as it makes much better use of screen real estate and has less overhead. The drawback, of course, is a dearth of modern browsers - very important in the Internet Age. For that reason, you'll probably want to go with OS X.
The first step is upgrading memory from the 32 MB or 64 MB that came from the factory. You can get by with a 256 MB upgrade in Mac OS X 10.2 and squeak by with 10.3, but you'll have much better results with 512 MB, which is a realistic minimum for decent 10.4 performance. I'd suggest 10.3 as the best all around version of OS X for the clamshell iBooks.
If you love tinkering inside a computer and pay careful attention to how things go back together, you might want to upgrade to a bigger, faster hard drive, but that's only for the brave. Of all the Macs I've ever taken apart, this was by far the hardest to put back together.
Further Reading
Dual USB iBooks
The iBook got a complete makeover for 2001. The slimmer, lighter, less curvaceous iBook was introduced in May in a more conventional shape and with a 1.8 lb. weight loss that brought it below the 5 lb. mark.
The new iBook had a 1024 x 768 12" display, a resolution Apple continued to use through the end of the G4 iBook line - and much better for OS X than the 800 x 600 of the clamshell iBooks. Often called the iceBook for its white finish, one of the new iBook's standout features was a second USB port.
The base configuration included 64 MB of memory and a 10 GB hard drive (with a 20 GB option). In October, Apple boosted base RAM to 128 MB, and all G3 iBooks can accept a 512 MB upgrade. The dual USB iBook could be ordered with CD-ROM, DVD-ROM, CD-RW, or a Combo drive.
The iBook moved forward in 100 MHz increments as Apple moved from a 66 MHz system bus in the 500 MHz iBook to 100 MHz. The 600 MHz model was released in Oct. 2001 in CD-RW, DVD-ROM, and Combo drive versions.
The 12" iBook got a big brother in January 2002, the 14" 600 MHz iBook. Spec for spec, feature for feature, the 14" iBook was identical to the 12" model except for size. The 14" display was larger but had exactly the same 1024 x 768 resolution as the lighter, smaller iBook.
In May 2002, Apple improved the iBook with a new version of the G3 CPU, one with 512 KB of level 2 cache (twice as much as before), and the new ATI Mobility Radeon graphics processor with 16 MB of VRAM. There were three versions of this model: a 12" 600 MHz CD-ROM iBook, a 12" 700 MHz Combo drive one, and a 14" 700 MHz Combo drive model.
These are the oldest iBooks to support Quartz Extreme, a feature introduced with Mac OS X 10.2 that offloaded certain graphical processes from the CPU and handed them to the graphics processor. All later iBooks have Quartz Extreme support.
The next speed boost came in November 2002, and the new 12" 700/800 MHz and 14" 800 MHz iBooks had ATI Radeon 7500 graphics. The 800 MHz versions had 32 MB of video memory
Apple brought the G3 iBook line to 900 MHz in April 2003, and this was the last G3 model Apple ever released. All models can still boot into Mac OS 9, and the April 2003 iBooks all have 32 MB of VRAM. Again there was a slower 12" CD-ROM unit and a pair of Combo drive iBooks in 12" and 14"
These were replaced by G4 iBooks in October 2003, just four years ago.
Reliability
In its iBook and PowerBook Reliability survey, MacInTouch received reports covering more than 10,000 PowerBooks and iBooks. They note:
"...by affected percentage of models, the G3 iBooks were the worst by far, with more than half requiring logic board replacements. Apple created a warranty extension program for some versions, but not all. (MacInTouch readers are still reporting newly failed iBook G3s, and the warranty extension program has ended.)"
Strong words indeed, and MacInTouch has the data to back it up. That said, the vast majority of these iBook repairs were during the first three years of use. The repair rate after the third year is under 10% for even the oldest dual USB iBooks - compared with a 49-74% overall repair rate for the various models.
In short, if the iBook has had the logic board replaced, which accounts for about half of all G3 iBook repairs, not much else goes wrong. The 12" iBooks generally have a higher repair rate that the equivalent 14" models, and the 2002 models have the highest overall repair rate at 72-74% for the 14" 700 MHz, 12" 700 MHz, and 12" 800 MHz iBooks. In terms of reliability after the first three years, the Jan. 2002 models look quite reliable.
There is another issue facing these iBooks that has nothing to do with reliability. It's a scent issue. Some iBooks end up smelling like sweat. And simply replacing the keyboard may not solve the problem, as the replacement could also be so afflicted. If possible, smell before you buy. See Deodorizing a Stinky Old iBook that Smells Like Sweat for more.
Suitability to OS X
All of these models can be decent OS X machines, as they support a 512 MB upgrade and have 1024 x 768 displays. The 500 MHz iBook will be more taxed with its slower CPU, slower system bus, and older graphics processor, but it's up to the task of being a very competent field computer with Mac OS X 10.2 or 10.3. As far as 10.4 goes, you definitely want the maximum memory upgrade, and these iBooks may be a bit more sluggish under 10.4 than 10.3 - which we consider the best match for these models.
Replacing the hard drive in a dual USB iBook is difficult, but not as bad as with the clamshells, and there are several online tutorials. Installing a 5400 rpm notebook drive with an 8 MB or larger buffer can make any of these that much more responsive.
In terms of performance, you'll see a difference with iBooks that support Quartz Extreme, so iBooks since May 2002 are the most desirable.
As far as Mac OS X 10.5 Leopard goes, there's probably no way. It requires a G4 CPU, and there's no way to swap out the G3 inside one of these iBooks. You'll have to be content with Mac OS 9 through 10.4.
Further Reading