Designing a Computer Room: Part 1
Daniel Knight - 1999.12.06 - Tip Jar
For the most part, I've been using makeshift or recycled computer desks since I bought my VIC-20 in the early 1980s. My first desk was 20" deep, 42" wide, and comfortably held my Commodore computer, floppy drive, and 12" b&w TV.
That table was plenty big for my Mac Plus (9.6" wide and 10.9" deep), although I ended up replacing it with a second-hand 26" x 48" table. That seemed a lot smaller when I put a Centris 610 (16.3" wide and 15.6" deep), monitor, and Extended Keyboard on it. And last summer, when I replaced the Centris with an even larger machine, a SuperMac J700 (16.5" wide and 17.25" deep), that desk seemed smaller yet.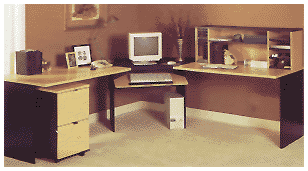 In March 1999, I bought an Ambassador computer desk, one with an absolutely huge amount of desktop space. At present, I have six computers, a couple monitors, a printer, a scanner, an ethernet hub, and three UPS units on it. From left to right, they are my old Centris 610, a Canon MultiPASS C635 color printer/scanner/copier/fax, my 19" monitor, my SuperMac S900, my flatbed scanner, three APC UPSes, my SuperMac J700 (topped by a Quadra 630 and a monitor), and then a stack composed of my Centris 660av, Quadra 650, MoniSwitch4 (which lets me use one monitor, mouse, and keyboard on four Macs), and my 3Com ImpactIQ ISDN modem. Behind that is my ethernet hub.
It's much more cluttered than the desk in the picture.
Problem is, we've decided to move my computers from the cyberlair (our once and future family room) to the main floor of the house - and the Ambassador desk is simply too big for the available space.
I'm not going to have as much hardware in the new room as I do in the basement. I'm combining the jobs of three Quadras (internet connection, mail server, and list server) on my J700. I'll end up putting that, my Quadra 650 personal web server, my network hub, and a UPS or two in a closet. But I need room for my S900 tower, my 19" monitor, the scanner, the printer, and my wife's laptop (soon to be an iBook, we hope), along with a little space to set things down.
With a big monitor, you need an absolute minimum 30" deep workspace, and 36" is far better. I think that's part of the reason so many computer desks are designed for corners - you can have the extra depth there, but the workspace on the side can be only 24-30" deep.
So the first step is to measure everything. How big is the space? Where are the window, the closet, the sliding door? Then how much space will my monitor, scanner, printer, etc. need.
Next time: mapping out the space.
Join us on Facebook, follow us on Twitter or Google+, or subscribe to our RSS news feed
Dan Knight has been using Macs since 1986, sold Macs for several years, supported them for many more years, and has been publishing Low End Mac since April 1997. If you find Dan's articles helpful, please consider making a donation to his tip jar.
Links for the Day
Mac of the Day: Macintosh 128K, introduced 1984.01.24. 1984 wasn't going to be anything like 1984 thanks to the original Macintosh.
Recent Content