Designing a Computer Room: Part 2
Daniel Knight - 2000.03.08 - Tip Jar
It's been three months since I started this series (Designing a Computer Room, Part 1) - and we're still waiting for the electrician to finish wiring the old family room that will become an office for my wife and me. Until then, I'm working out of the cyberlair (a.k.a. old basement rec room) where the kids have their computers, game consoles, TVs, and radio. I'm looking forward to being away from all that.
The new office is part of an L-shaped area that contains our new kitchen and dining room, so whatever we do has to be attractive - or at least not fight with the other rooms. This especially means keeping as many wires as possible out of site.
The Space
The room is about 11' square and opens to the dining room on the north. On the east is an 8' slider that opens to the deck. The southern wall has a 4' window, and the western wall has a closet near the southern end.
Part of our strategy is to have several electrical outlets along with phone jacks on both walls of the room. This gives us several options in designing the office, since either wall has plenty of AC outlets and the phone jacks necessary for a phone and fax machine.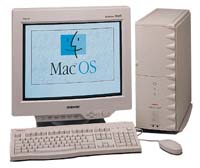 I'll be sharing office space with my wife, who now used a PowerBook 150 in the field, currently shares my SuperMac S900 at home, and hopes to obtain an iBook as soon as her business can afford it. (I'm holding out for the PowerBook Pro, Apple's first portable with a 1280 x 1024 screen.) This means we need room for my computer, monitor, scanner, and printer, but also her PowerBook and Canon MultiPASS C635 printer/fax machine/copier.
We need to leave clear access to the deck, so everything should be at least 3' from that wall. I'd like to avoid having a desk next to the window, so we'll want 18-24" of space there. We'll need to get to the closet, where I'll put my server, ethernet hub, and cable modem (when AT&T @Home installs it).
There's a lot of space, but not really a lot of room.
The Furniture
The next step is finding out how big everything is so I can establish minimum sizes for work surfaces.
My Optiquest V95 monitor is just under 18" wide, almost 20" deep, and a bit over 18" tall. The SuperMac S900 is about 8" wide at the base, 18" deep, and 17.5" high. I want to have the computer on the desk for access to the microphone and headphone ports. I also want enough room on my computer table to lay the S900 on its side while installing or removing components.
That gives me an absolute minimum width of 36" and depth of 20" - but just in case I ever get a Power Mac G4, I'll want enough room to lower the drawbridge. I'm estimating 25" for that, which means a 42" work surface would be just wide enough for the computer and monitor.
There are different schools on keyboard drawers or shelves. Everyone is pretty much agreed that the keyboard should be on a surface 26-27" above the floor, but most desks and computer tables are 29-30" high. That can make a real difference when typing; I want my keyboard on a surface right about where it currently is, 26.5" above the floor.
Then again, I don't really care for keyboard shelves - or understand why people would use them. My computer desk is a computer desk; I have to have the keyboard out to use it. Because of this, I want to design a single work surface rather than have a separate shelf for the mouse and keyboard. This will also be beneficial when I someday replace my desktop computer with a PowerBook, since the entire desktop will be at a proper height for keyboarding.
My MicroSpeed keyboard in only 7" deep, but my SuperMac, Apple, and Macally ones measure 7.5-8" deep. Add 2-3" for a wrist rest, and the computer table must measure at least 30" front to back, assuming the monitor isn't hanging over the back of the table.
My current plan is to have the monitor near the center of the table, the computer on the left, and leave some room for paperwork on the right. With a 30" deep desk, I could turn a G4 sideways to work inside it. I could temporarily clear the paperwork and shove things over a few inches if I had to, but in the end I'm looking at a desk about 48" wide - which nicely coincides with the width of a sheet of plywood.
That covers Low End Mac Central: my computer, monitor, keyboard, and mouse. What about the rest of the hardware?
Thinking Different
I currently have my scanner to the right of my computer and the Canon MultiPASS C635 of the left. The whole thing takes up 5.5" of desktop.
But I don't need to see the printer or scanner (which I rarely use - I bought it at $149 for the bundled Photoshop 4.0 full edition). They could go anywhere within reach of a SCSI or USB cable. In fact, to keep the desk from getting huge and running into the dining room, I'm thinking the smart move would be a second table behind my computer table. It could be 18-20" deep, holding the printer and scanner - and maybe even a compact Mac or my wife's PowerBook 150.
By leaving a few inches between the tables, there would be room to run power and ethernet cables.
However, I plan on eventually having three printers: my wife's Canon MultiPASS, my LaserJet 2100TN, and a photo quality inkjet printer. You can't fit all of those and the PowerBook on a 48" table.
There's one other consideration: my wife uses a typewriter for certain forms, so the wise thing might be a third table that could hold her typewriter, fax/printer/copier, and laptop. This would be 18-20" deep and 4' wide.
The figure on the right shows approximately how these three tables would fit in the space while leaving free access to the sliding door on the east, the window on the south, and the closet on the west. It would also meet my wife's requirement that the computer furniture not impinge upon the dining room, which is to the north of this space.
Now that I have dimensions and understand how they will fit the space, the next step is to design the desks themselves. (I've already determined that most existing designs don't meet my needs.)
Join us on Facebook, follow us on Twitter or Google+, or subscribe to our RSS news feed
Dan Knight has been using Macs since 1986, sold Macs for several years, supported them for many more years, and has been publishing Low End Mac since April 1997. If you find Dan's articles helpful, please consider making a donation to his tip jar.
Links for the Day
Mac of the Day: Power Mac G3 All-in-one, introduced 1998.04.15. The 'molar' has 3 PCI slots, a built-in 15" display, and weighs nearly 60 lb.
Recent Content