Migration Issues in Moving from a Beige G3 to a Blue and White
- 2004.02.20
What I thought would be a simple upgrade turned out to be something just a bit more complicated. Sure, the machine worked all right after I moved the hard drive over - I was able to get online and do most basic things.
But what if I wanted to print?
Since the blue & white G3 doesn't have any serial ports, I had a couple of options. I could try to get a new USB printer, or I could add a gPort adapter in place of the modem in order to gain a serial port. While I was thinking of doing this, I noticed that my printer, an Epson Photo Stylus 1200, actually has USB. (And I advise anyone else in that position: Check your printer, just in case). This surprised me a little bit for such an old printer (1998 or so), but all I had to do was buy a USB cable and change the setting in the Chooser. That was it. Not hard at all.
Then I wanted to play a CD in my computer, so I pushed the F12 key, which ejects the CD-ROM drawer on most recent Macs. It did nothing. I knew that I could reach down and push the button to eject the tray, but I don't like pushing on the tray in order to get it back in again - and on the b&w G3, you can't just push the CD eject button again, since it's actually located on a flap that folds down when the tray extends.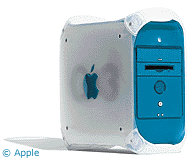 After a bit of searching on the Internet, I found a piece of software called EjectDisk from Beyond Midnight Software. This allows you to select any key or key combination on the keyboard to eject any disk in the machine - or just disks in a specific drive. It was exactly what I needed, and now my CD-ROM tray ejects like I'd want now with the push of the F12 key.
I was also a bit concerned over how my iPod would work under OS 9, since I'd updated the firmware in OS X several times. Thankfully, it connected and showed up just fine under iTunes 2.
The scanner was a bit of a challenge to set up. First of all, the SCSI card wasn't recognized. I finally realized that it was because the Adaptec 2906 needs driver software under OS 9 (OS X has built in drivers for it). I downloaded and installed the software, and it appeared in the system profiler with my scanner as SCSI ID 5. Fine, I thought, and tried to scan something.
"Scanner not found" it told me. Come on, it says that it's connected in the system profiler!
So I checked the SCSI termination; it wasn't terminated, but that had never given me a problem on my beige G3. I connected it to another external hard drive, since I couldn't find a terminator, and it worked fine.
This whole little episode started getting me thinking that I might want to look into a more modern scanner at some point. I'd like one that will scan negatives, as my neighbor's has this capability and I think it's a nice capability to have. Right now, though, this one still works fine. Yes, it's SCSI, which no modern Mac includes, but I'm still able to scan photographs and drawings. That's what really matters.
The last little minor annoyance is when the machine freezes. Unlike my beige G3, command-control-power doesn't restart it - I have to reach down, find the restart button, and try to poke it with my fingernail or something else somewhat pointy. It's not the most convenient thing in the world. Considering that when the machine came out, OS 8.5 was the current OS, Apple probably should have made it a bit easier to restart the computer after freezes and crashes.
Still, in the past week I've only had one freeze, and that was in - you guessed it - Internet Explorer.
Custom Search
Follow Low End Mac on Twitter
Join Low End Mac on Facebook
Favorite Sites
MacSurfer
Cult of Mac
Shrine of Apple
MacInTouch
MyAppleMenu
InfoMac
The Mac Observer
Accelerate Your Mac
RetroMacCast
The Vintage Mac Museum
Deal Brothers
DealMac
Mac2Sell
Mac Driver Museum
JAG's House
System 6 Heaven
System 7 Today
the pickle's Low-End Mac FAQ
Affiliates
Amazon.com
The iTunes Store
PC Connection Express
Macgo Blu-ray Player
Parallels Desktop for Mac
eBay

Advertise