MacBook Pro Benchmarked, Launched Too Soon?, Battery Life, ExpressCard Slot, and More
This Week's Mac Notebook News
Compiled by Charles Moore and edited by Dan Knight - 2006.01.20
This Week's MacBook, PowerBook, and iBook News
We're seeing the first reports - including benchmarks - for the MacBook Pro. According to Craig Wood's analysis, the MBP ranges from 33% faster than the 15" 1.67 GHz PowerBook G4 (iTunes encoding) to 3x the performance (1080p video framerate). Steve Jobs notes that battery life should be comparable to PowerBooks, and we have links to some info on the ExpressCard slot used in the MacBook Pro.
General Apple and Mac desktop news is covered in The Mac News Review. iPod news is covered in The iNews Review. News about Apple's transition to Intel CPUs and other Intel developments is covered in The Macintel Report.
All prices are in US dollars unless otherwise noted.
MacBook Pro
News & Opinion
Products and Services
Tech Trends
MacBook Pro
MacBook Pro 33% to 200% Faster than PowerBook G4
Craig Wood says:
"On the last day of Macworld 2006 I revisited the prototype MacBooks and performed a series of tests to measure the new system's performance. I conducted four media-related tests on the new MacBook Pro and previous G4/G5 systems, including audio/video encoding and HD video playback. The goal was to evaluate the performance of the new MacBook Pro and compare it to previous Macs.
"Four systems were tested to provide results for a broad range of Macs, including various generations of Mac laptops and desktops. Each system was running off its AC power adapter and used the "Better Performance" power management setting. Only the primary display was active and it was set to its native resolution. Exact specifications for each test system and their introduction dates are as follows:
MacBook Pro Core Duo 1.83 GHz, 2 GB DDR2, ATI X1600 Mobility 128 MB @ 1440 x 900 - January 2006 Preproduction
PowerBook G4 15" 1.67 GHz, 1.5 GB DDR, ATI 9700 Mobility 64 MB @ 1280 x 854 - January 2005
PowerMac G5 Dual 2 GHz, 2.5 GB DDR, ATI 9800 Pro 128 MB @ 1680 x 1050 - July 2003
PowerBook G4 Titanium 500 MHz, 768 MB SDRAM, ATI Rage 128 Mobile 8 MB @ 1152 x 768 - January 2001
Brief summary, 1.83 GHz MacBook Pro vs. 1.67 GHz PowerBook G4: iTunes encoding, 33% faster; QuickTime encoding, 160% faster; 1080p video framerate, 200% faster with lower CPU utilization; 720p video framerate, 12.5% CPU utilization at 24 fps vs. 85% on PB G4.
MacBook Pro Launched Too Soon?
The Register's Andrew Orlowski says:
"What an ungrateful bunch you are. This week Apple began its transition to Intel processors six months ahead of schedule, and all you can do is carp. Don't you know you're supposed to swoon over every shiny new piece of kit?"
"The catch of course is that only software that has been compiled into a 'Universal Binary', containing a native x86 executable, will benefit from the speed bump."
"With native Adobe Mac OS X software demanded by professional users still a year away, and with Rosetta emulation offering no performance improvements over today's PPC machines, we can expect no immediate migration."
"The early launch of the MacBook gives Apple's ISVs a strong incentive to accelerate their plans to introduce x86 native software.
"They can't blame Apple for lagging, now."
Jobs on MacBook Pro Battery Life and Form Factor
Newsweek's Steven Levy interviewed Steve Jobs last week.
"Steve Jobs foiled the rumormongers once more at last week's Macworld Expo. Most observers expected that Apple would announce the first Macintosh computers that partake of powerful and efficient Intel Core Duo microprocessors, the same used by top-notch Windows machines. (Jobs had previously promised to make the shift over his whole computer line by this time next year.) But almost no one thought that the first of these machines would be the most popular Macs that Apple makes - the elegant desktop iMac and the workhorse PowerBook laptop (now renamed the MacBook Pro)."
After his keynote, he spoke to Newsweek's Steven Levy, between sips of tea....
A couple of snippets:
On the similarity of the new Intel iMac and MacBook Pro to the Power PC models they will replace: "The form factors [the physical design] are perfect, we don't know how to make them any better. And now we've got Intel processors in them so obviously they run a lot faster."
On battery life with the MacBook: "About the same - this with a dual processor [chip]! Each processor is as fast as a G5, and the battery life will be the same as [the previous PowerBook's] G4."
Notebook Review Analyzes MacBook Pro
Notebook Review has posted an in-depth and thoughtful analysis of the new MacBook Pro. A few snippets:
"Apple learned a lot from sexy but flimsy and creaky Titanium PowerBook (I say this as someone that has owned two). For the last few years Apple has pioneered the use of solid materials and the MacBook Pro looks like it will use the same thick aluminum shell that made the final PowerBook so satisfyingly solid. If you have ever taken one apart, you know that Apple's notebooks have an exoskeleton-like shell whereas most Windows notebooks rely on an internal skeleton or chassis. I really like Apple's approach."
"On a clock for clock basis the Core Duo compares very well with the AMD Athlon64/Turion. That is a good thing because even the fastest Pentium 4 processors were poor substitutes for mid-range Athlon64 processors while consuming significantly more power and generating much more heat."
"Apple is continuing their policy of offering less RAM in their standard spec than comparable PCs. With 512 MB of 6 MHz DDR2 the MacBook Pro has half as much RAM as a typical Windows notebook. I have noticed that the RAM is faster though."
"For DIY up-graders that would want to add their own memory, keep in mind that Intel's platform has dual-channel memory. Apple leaves you with an empty RAM slot on the MacBook Pro. When you upgrade your RAM and populate both slots (and you should on the standard model) an additional benefit is the increased memory bandwidth of dual channel."
ExpressCard Details
Hardmac's Lionel says:
"Among the changes with the release of the MacBook Pro is the exchange of the PCMCIA slot by the new ExpressCard slot.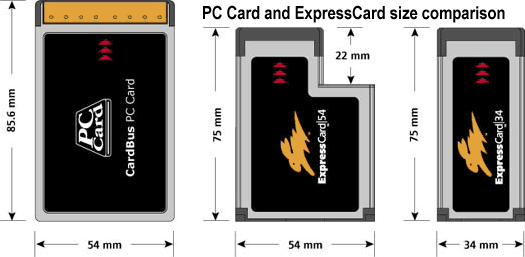 "The format of the new card is dramatically different:
"Apple has chosen to install an ExpressCard 34 in the MacBook Pro, the smallest one. So it will not be possible to have removable 1.8" HD with this format; only the ExpressCard 54 allows it (it was in fact developed for this purpose)
"The other new factor is the connectics: indeed, manufacturers will have the choice to use either USB 2.0 or PCI-E, since the ExpressCard is managed natively and will be a hot-plug format."
PC Card Obsolete
ZD Net blogger Jason D. O'Grady says:
"With Apple's announcement of the MacBook Pro they also obsoleted a popular notebook technology - the PC Card slot (formerly known as PCMCIA).
"ExpressCard/34 is a blazing fast replacement for the venerable PC Card slot found on many notebooks, including several generations of PowerBook. ExpressCard is a serial interface delivering between 480 Mbytes/sec and 2.5 Gbit/sec/direction of bi-directional throughput, depending on the interface (USB 2.0 or PCI Express) while a CardBus PC Card is a parallel interface capable of only 33-132 Mbytes/sec."
MacBook Pro Requires New Accessories
ZD Net blogger Jason D. O'Grady says:
"If you're in the market for a MacBook Pro to replace a PowerBook, you need to remember that Apple's new professional notebook requires a whole new set of accessories.
"If you have any PC Cards (i.e. EVDO cards or flash memory readers) you'll need to replace them because the PCMCIA slot from previous PowerBooks has been replaced with an ExpressCard/34 slot.
"Memory from previous PowerBooks and iBooks won't work in the new MacBook Pro either because it uses faster DDR2-PC5300 6 MHz Low Profile SO-DIMMS...."
Win a MacBook Pro from Layers Magazine
PR: So, you want a MacBook Pro...
Well, here's your chance to win the first Mac notebook with Intel inside. Powered by a dual-core Intel engine, the MacBook Pro is up to 4 times faster than the PowerBook G4 and handles up to 8 times the graphics bandwidth.
Layers magazine, in cooperation with CDW, is giving you the chance to get your hands on this screaming hunk of gear with our MacBook Sweepstakes.
Just complete the Web page form and you'll be entered in the Layers MacBook Sweepstakes. Sweepstakes are open through February 28, 2006 and we'll announce the winner on March 1, 2006.
News & Opinion
BlackBerry to Offer Mac Support
PR: Research In Motion (RIM) and Information Appliance Associates (IAA) have announced a licensing agreement whereby RIM will offer 'PocketMac for BlackBerry' to Mac users, free of charge. PocketMac for BlackBerry is a desktop application that enables Mac users to synchronize data between their BlackBerry devices and Macintosh applications including core OS X version 10.4 "Tiger" applications and Microsoft Entourage.
"The worldwide popularity of Mac OS X is driving the creation of many exciting new products and significant growth in the Apple development community," said Ron Okamoto, Apple's Vice President of Worldwide Developer Relations. "We're thrilled that IAA and RIM have collaborated to better support mobile Mac users with easy-to-use BlackBerry synchronization."
"PocketMac for BlackBerry is easy to install and allows users to synchronize email, contacts, calendar, tasks and notes with popular Mac applications," said Terence Goggin, CTO of Information Appliance Associates. "We are pleased to work with RIM to provide this robust solution to Apple's mobile customers."
"This licensing agreement will help expand the reach of BlackBerry to another important market segment," said Mark Guibert, Vice President, Corporate Marketing at Research In Motion. "There is significant interest in BlackBerry from Mac users and we look forward to delivering PocketMac for BlackBerry to customers around the world."
RIM has licensed the complete version of PocketMac for BlackBerry from IAA and the companies plan ongoing product development collaboration. PocketMac for BlackBerry synchronizes the email, contacts, calendar, tasks and notes of Microsoft Entourage, OS X's Address Book and iCal, Now Contact and Now Up-to-Date, DayLite, and Stickies, among other applications. This easy-to-access solution for Macintosh synchronization is expected to be available as a free download beginning in February.
Further details of the licensing agreement were not disclosed.
About Information Appliance Associates
Information Appliance Associates (IAA) is a world leader in creating unique software solutions, primarily for the Macintosh platform.
Will the Mac mini and iBook Migrate to Intel Together?
Hardmac's dulrich says:
"Apple has started its migration to Intel x86 processor with the "mass models" MacMini and iBook are both Apple's entry models, and have not been modified yet. One can speculate that they will migrate to x86 with a Yonah single core version.
"If one look closer to the iMacIntel and MacBook Pro specs, on can notice many common features/points:
both have the same input and output ports.
both have a video output supporting dual display and an optical sound output.
both are using DDR2 SO-DIMM.
both are using the same GPU series Radeon X1600(different version mobility vs. standard)
"If Apple follows this strategy, the future x86-based Mac mini and iBook could migrate together and use a very similar motherboard design sharing many common features. For this, Apple and Intel only need to develop a small motherboard compatible with the EFI and that could receive the Yonah."
Products and Services
Sonnet Introduces 1.2 GHz G4 Processor Upgrade for TiBook
PR: Sleek. Sexy. Powerful. Just a few of the words used to describe the lust factor of the Titanium PowerBook G4 ("TiBook"). Your 550 or 667 (VGA) TiBook may still be sleek and sexy, but powerful, well . . . at least iTunes doesn't seem to have a problem - yet. With each upgrade of Mac OS X and your favorite applications, your TiBook seems to run just a tad bit slower. You've been holding out for the mythical PowerBook G5 and now the not-mythical but as yet not shipping MacBook Pro, but you can upgrade your current TiBook 550 or 667 (VGA) right now with Sonnet's PowerBook Upgrade Service - power up to a G4 processor running at 1.2 GHz at the fraction of the cost of purchasing a new PowerBook.
The upgrade features a Freescale 7457 G4 processor running at 1.2 GHz, and is equipped with 512K L2 onboard cache (twice the original processor's) running at full processor speed.
Until now, all of Sonnet's processor upgrades have been standalone products created for DIY installation, and offer users a simply fast way to accelerate their Macs. Due to the complexity of replacing these PowerBook CPUs, Sonnet opted to start the PowerBook G4 TiBook upgrade service and take over the installation task. The service includes the purchase of the upgrade, and full installation and testing of the upgraded computer by highly trained technicians.
The TiBook upgrade service creates a path for PowerBook G4 owners to obtain faster clock speed and higher performance. The end result is maximum performance gains and 100% compatibility with existing hardware, RAM, and software - qualities that you have come to expect from a Sonnet upgrade.
The entire process is simple and worry-free. After receiving the order, Sonnet sends out a custom, padded shipping box for the PowerBook. The customer packs the PowerBook, ships it back to Sonnet, where it is inspected, upgraded and tested, and then packed and shipped back. The customer merely needs to unpack the upgraded TiBook and enjoy the extra speed!
OS Compatibility: Compatible with Mac OS 9.2 and Mac OS X through Version 10.4.x
Hardware Compatibility
Pricing and Availability
The PowerBook G4 TiBook upgrade service cost is $499.95 plus tax (where applicable) and shipping. It is available exclusively through Sonnet Technologies for customers living within the United States.
etchamac Custom Laser Etching for Your 'Book or iPod
PR: Have us laser etch your Corporate message on an iPod or PowerBook.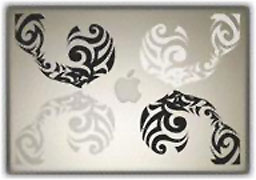 What is Laser Etching? A CO2 laser is used to etch an image or text onto your product of choice. The process is done at low power and can not damage your iPod or PowerBook. The process is quick, clean, and permanent.
From family pictures to corporate logos, line art, or your favorite team. You give us the art and we will etch your iPod or PowerBook.
Want your entire PowerBook case etched? etchamac can do that too. For ideas or assistance, contact sales directly and have one of etchamac's artists collaborate with you.
[Editor's note: I saw these at the Expo. Top quality workmanship! dk]
World's First 2.5" Perpendicular Recording Hard Drive with Hardware-Based Encryption
PR: Breaking new ground in the mobile computing market, Seagate Technology has announced the world's first 2.5" hard drive built on perpendicular recording technology the Momentus 5400.3 - a 160 GB notebook PC giant with 25 percent more capacity than the largest capacity notebook drive currently available. This expansion of Seagate's family of Momentus notebook drives further closes the capacity and performance gap between desktop and notebook PC hard drives as more users replace aging desktop systems with fast, high-capacity notebook computers.
Seagate also became the first major hard hard drive maker to announce plans to roll out strong, transparent hardware-based data protection for notebook computers that prevents unauthorized access to data. Robust notebook security is increasingly important as thefts of notebooks with sensitive personal and business information continue to rise, with companies incurring millions of dollars of losses in lost or stolen trade secrets and intellectual property and individuals facing the high cost of identify theft.
"Mobile professionals are turning to notebooks to satisfy both their mobile and office computing needs," said John Buttress, IDC's research manager for hard drives. "They are also demanding stronger, easier to use encryption solutions to protect their sensitive information. Drive manufacturers such as Seagate that can deliver stronger security and higher capacity using technologies such as perpendicular recording will be in the sweet spot of market demand for notebooks."
First Perpendicular Recording Technology on a 2.5" Hard Drive
The new Momentus hard drive will be the first 2.5" notebook product to use perpendicular recording, a technology that stands data bits on end on the disc platter, rather than flat to the surface as with existing longitudinal recording, to achieve new levels of hard drive data density and storage capacity. Standing bits on end also improves the reliability of read-write performance in demanding environments. The Momentus enhancements come without increases in power consumption or heat generation - crucial as remote users look to work longer between battery charges and system builders seek to pack more performance in smaller notebooks.
Protecting Notebook Information - Momentus Now Delivers Strong, Easy-to-Use Data Security
Seagate has taken the lead in responding to increasing concern about lost or stolen business and personal data with an easy, cost-effective way to deliver strong protection against unauthorized access to data on notebook PCs. Seagate's new Momentus 5400 FDE hard drive will use hardware-based Full Disc Encryption (FDE) to provide strong data protection and requires only a user key to encrypt all data, not just selected files or partitions, on the drive. What's more, Seagate FDE eliminates disc initialization and configuration required by encryption software, and allows hard drive data to be erased instantly so the drive can be redeployed.
Seagate FDE puts all security keys and cryptographic operations within the drive, separating them from the operating system to provide greater protection against hacking and tampering than traditional software alternatives, which can give thieves backdoor access to encryption keys and are more vulnerable to viruses. FDE is a key component of Seagate's DriveTrust Technology, a suite of security features inside the drive that enables robust system-level security such as key management and recovery.
"Seagate's introduction of hardware-based full disc encryption is an important step to providing highly secure and easy to use encryption technology to the broader marketplace," said Martin Wulfert, CEO of Utimaco, a leading provider of security solutions to major OEMs. "Momentus 5400 FDE is a perfect complement to our enterprise key management and recovery solutions, which enable corporations to centrally define and simplify management of IT security policies across all mobile platforms."
Momentus Family Meets a Wide Range of Needs
"More office and home users want all the capabilities of a desktop PC in a notebook computer - high performance and capacity, stronger security and quiet operation - combined with power efficiency so they can run longer between battery charges," said Brian Dexheimer, Seagate executive vice president of Global Sales and Marketing. "Some prefer lower-cost notebooks with lower performance and capacity. All of them need products that can take a pounding during travel and remote use. Seagate is meeting all these needs with a comprehensive suite of hard drives built on the most advanced technology platform in the industry."
Momentus 5400.3, a 5400-rpm drive, will be Seagate's first to bring the higher capacities and performance of perpendicular recording to mainstream notebook PCs and non-PC applications including external storage, commercial printers and copiers, and non-mission critical blade servers. Next year Seagate will extend the advantages of perpendicular recording to Momentus 7200.1, a 7200-rpm drive designed for mobile workstations and other high-performance notebook computing applications.
Perpendicular recording is a key addition to the 2.5" Momentus family - a suite ranging from 4200-rpm drives for mainstream notebooks to 7200-rpm drives for high-performance computing - as Seagate redefines mobile computing by delivering rugged, power-thrifty hard drives that combine whisper-quiet operation with new levels of performance and capacity.
The Momentus family is built tough to withstand up to 900 Gs of non-operating shock and 350 Gs of operating shock to protect drive data, making the drives ideal for environments where systems are jarred or subject to high levels of vibration. The hard drives are also lean on power consumption, allowing notebook users to work longer between battery charges, and are virtually inaudible thanks to Seagate's innovative SoftSonic fluid-dynamic bearing motors and QuietStep ramp load technology.
The new Momentus hard drives are among 10 new notebook, desktop and consumer electronics products Seagate announced today. The Seagate Momentus 5400 FDE and the Momentus 5400.3 will ship this winter.
MCE 160 /5400 RPM MobileStor 100GX PowerBook Hard Drive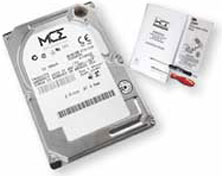 PR: MCE recommends this drive, reportedly with Seagate Momentus 5400.3 internals (see above), for use with the PowerBook G4, PowerBook FireWire, and PowerBook G3 Series - 1999 since these computers can take advantage of the drive's high rotational speed and larger built-in cache. Using this drive, startup times may be decreased by as much as 35%! This carries over and correlates with significant speed increases in just about all areas related to hard drive access.
For All PowerBook G4, PB (FireWire), PB G3 Series 99/98, Original G3, iBook, 3400, 2400, and 1400 Systems
The MCE MobileStor PowerBook Hard Drive Installation Kit
is included FREE with every MobileStor hard drive upgrade solution:
Installation manual with step by step instructions and photos (makes installation a breeze).
All of the necessary tools to open your PowerBook and install your drive
Antistatic wrist strap.
Note: The MobileStor MS160GX, MS100G72K, MS60G72K , MS80GX and MS40GX with 8 MB cache and MS60GX with 16 MB cache and at least 5400 RPM spindle speed, are drives especially well-suited for the Apple PowerBook G4 (Aluminum and Titanium), the PowerBook G3 (FireWire), and the PowerBook G3 Series - 1999 (Bronze/Lombard), all of which have high-speed internal hard disk controllers. Other systems will see some performance increase, but not as significantly as these systems.
If you have a PowerBook 1400, 5300, 190, or Duo 2300 then you will need a new mounting bracket in order to properly install any of the above drives into your system. All of the hard drive manufacturers that MCE and Apple use as components for their PowerBook products have changed the location of the mounting holes on their hard drives to the far corners of the drive to make more room inside the drive. The original hard drive brackets which are inside the PB 1400, PB 5300/190, and Duo 2300 systems will not properly mount the new drives, as they were designed for the older, lower capacity drives with the older mounting hole positions. The bracket kit for the PowerBook 5300, 190, and Duo 2300 is available separately (MCE Part # BRKT5323), as is the bracket for the PowerBook 1400 (MCE Part # BRKT1400).
The hard drive in the iBook is not end-user, or even dealer/service center, upgradeable. Just accessing the hard drive bay is a job involving the removal of over two-dozen screws, hex-nuts, plastic parts, and very small, sensitive, electronic components. If the proper level of antistatic protection is not maintained and the take-apart procedure not properly documented then a successful upgrade is nearly impossible. This being the case, installation instructions are not included for the iBook in the MCE PowerBook Hard Drive Installation Kit. Fortunately we have the facilities and have mastered the upgrade . . . you didn't think you'd have to live with that 3.2 GB drive forever, did you? MCE now offers an iBook hard drive upgrade program just for you.
The PowerBook G3 Series 1998 (Apple Family Number M4753) has special internal hard drive requirements. As a result of this, it is imperative that you specify whether you have this PowerBook model when you place an order for a MobileStor hard drive to ensure that you are sent the correct solution for your computer.
MobileStor 160GX
MCE Certified for: PowerBook G4, PowerBook 2000 (FireWire, Pismo), PowerBook G3 1999 (Lombard, Bronze), iBook G3 (Dual USB) and iBook G4*
Unformatted Capacity: 160 GB (1 KB=1000 bytes)
Average Seek Time: 12.5ms
Data Buffer (Cache): 8 MB
Rotational Speed: 5400 RPM
Interface: IDE (Ultra ATA/100)
Sustained MediaTransfer Rate (max): 44 /sec
Burst Interface Transfer Rate (max): 100 /sec
Power (max): 5W
Height: 9.5 mm
Weight: 3.52 oz, 102 g
Warranty: 5 year
Installation Kit Contents: Illustrated installation manual*, Torx screwdriver, miniature Phillips and flathead screwdriver, antistatic wrist strap
* Installation instructions for PowerBook G4 (15") and PowerBook G3 (1998-2000) models included.
Other tools may be required for installation on certain PowerBook models.
Price: $399.00
Add Portable FireWire/USB Enclosure for your old hard drive (+$49)
New OWC On-the-Go Drive
PR: Steve Jobs, CEO, officially opened the door to the Intel era at Apple during his keynote address at Macworld in San Francisco, unveiling the first Macintosh computers to use Intel chips and embracing the mobile, on-the-go work force.
The MacBook Pro notebook, scheduled to begin shipment in February, features a built-in Webcam feature for mobile workers.
"Now you can have videoconferencing on the go," stated Jobs.
Apple's dedication to the mobile, on-the-go work force mirrors the commitment established by Other World Computing (OWC) with its portable storage solutions, including the aptly named Mercury On-The-Go 2.5", pocket-sized drive.
Macworld served as the stage for OWC's introduction of the 160 gigabyte (GB) FireWire 800+USB 2.0 Mercury On-The-Go Pro Series portable storage solution - the highest capacity ultra-portable 2.5" external drive available, yet small enough to fit in a shirt pocket and weighing less than 12 ounces.
"Other World Computing is dedicated to always striving to exceed consumer expectations by providing innovative solutions for today's technology users that are faster, more powerful, more reliable and more affordably priced than those available anywhere else," stated CEO Larry O'Connor. Designed specifically for the mobile worker, the new On-The-Go introduction is the only 2.5" 160 GB ultra-portable storage solution on the market. It features a Seagate drive; FireWire 800 and USB 2.0 interface supports for compatibility with Apple and PC lines; and is bus powered for total mobility.
Because mobile work conditions vary, the OWC Mercury On-The-Go line is constructed with a shock insulation system to prevent any transfer of impact from the casing to the drive. Units are so secure they can sustain a table or desk fall without drive damage.
"Other World Computing respects just how incredibly valuable your data is. We strive for the undisputable maximum means to protect your data for you at all costs," says O'Connor.
According to "America On The Go . . . US Business Travel", a report compiled by the Bureau of Transportation Statistics, more than 405 million long-distance business trips are taken each year in the United States alone.
A joint study by Business Performance Management and the Forum to Advance the Mobile Experience reports that 71% of employers surveyed are experiencing increased mobile work on-the-go among employees.
Mercury On-The-Go drives ship with carrying case, FireWire 400 cable, FireWire 800 cable, USB cable, EMC/Dantz Retrospect, Intech Speed Tools, and a one-year warranty officially supported by Dantz Retrospect with the EMC/Dantz Retrospect Backup Certification.
On-The-Go plug-and-play drives are compatible with all Apple OS Versions 8.5 through 9.2.x; Apple OS X 10.0.3 and higher (including OS X 'Tiger' 10.4.x); Microsoft Windows 98SE, ME, 2000, XP; and any OS or electronic device with FireWire and/or USB data ports, including digital video and still cameras.
The Mercury On-The-Go line is recognized by technology authorities including MacAddict, Macworld and Maximum PC for industry-leading value and performance.
The On-The-Go line features drives with 40- to 160 GB of storage space running 4200-, 5400- or 7200 RPM starting at $129.99.
Think Tank Photo Airport Addicted Backpack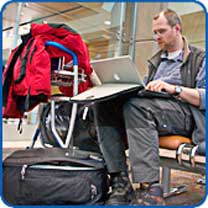 PR: Backpack designed for airport travel, to take the maximum amount of gear possible on the plane as legal carryon.
Features:
Airplane carry on size.
Holds 400 2.8 and 300 2.8 lenses.
Removable 15" laptop case
Seam-sealed raincover.
Tuck away shoulder straps
Dual main compartment access
Monopod holder
Tripod holder
Compatible with Pro Speed Belt, the Speed Belt Packs, or separately with a regular belt.
Product includes seam-sealed raincover
Internal Dimensions: 13" W x 6.5" - 8" D x 21" H (33cm W x 16.5-20cm D x 53cm H)
External Dimensions: 14" W x 9" D x 22" H (35.5cm W x 23cm D x 56cm H)
Laptop Case Internal Dimensions: 13.75" W x 2" D x 11.75" H (35cm W x 5cm D x 30cm H)
Base Weight: 8 lbs (3.6 kg)
18004MEMORY.COM Ships Memory for MacBook Pro
PR: 18004MEMORY.COM's New MacBook PRO Memory Upgrades Available Immediately
18004MEMORY.COM, a leading manufacturer and provider of desktop, notebook, and server memory, has announced the immediate availability of memory upgrades for Apple's newly released MacBook PRO. 18004MEMORY.COM provides memory for the MacBook PRO in 2 capacities, 512 MB and 1 GB. Both products are DDR2, 667 MHz, 200 pin, SO DIMMS.
"Offering the maximum memory capacity at the best price is an ongoing priority at 18004MEMORY.COM," stated Robert Kanoff, VP of Marketing and Business Development. "Both capacities that we offer are guaranteed to be 100% compatible with the Apple MacBook PRO and have a Lifetime Warranty," Kanoff also stated. At 18004MEMORY.COM customers can purchase the modules for approximately 40% less than the price of the Apple original versions!
The MacBook PRO is powered by a dual-core Intel engine. It has four times the speed of the PowerBook G4 and Eight times the graphics bandwidth. It also comes with built-in iSight for instant video conferencing on the move.
Capacity Configuration 18004MEMORY.COM Part Number Internet price
512 MB 1x512MB AL26764U/512/Q2P $75
1 GB 1 x 1 GB AL26764U/1/Q2P $129
Tech Trends
Widescreen Models to Account for 60% of Notebooks in 2006
DigiTimes' Emily Chuang reports:
"Notebook panel shipments in 2006 will hit 76 million units, with widescreen models expected to outpace the traditional (4:3) segment by grabbing 60% of overall shipments, according to a recent report from DisplaySearch. By 2007, shipments for widescreen notebooks are likely to take 70% of the market as TFT LCD panel makers aggressively push widescreen panels into the mainstream."
Bargain 'Books
Bargain 'Books are used unless otherwise indicated. New and refurbished units have a one-year Apple warranty and are eligible for AppleCare.
There are two different versions of WallStreet running at 233 MHz, the cacheless MainStreet version and the later Series II with a level 2 cache. It's not always possible to determine from the vendor's listing which is being offered, so we've included links within this paragraph to the two models. The same goes for the PowerBook G4/667 (VGA) and G4/667 (DVI), the titanium vs. aluminum 15" PowerBook G4 at 1 GHz, and 1.25 GHz to 1.5 GHz 15" PowerBooks.
PowerBook and iBook profiles linked in our Portable Mac Index.
12" PowerBook G4/1 GHz, 256/40/Combo, $779.99
Upgrade to SuperDrive, $129.99
Add 512 MB RAM, $49.99
Add 1 GB RAM with purchase of machine, $189.99
1 year extended service warranty, $99.99
Add Airport Extreme card, $39.99
Upgrade HDD to 80 GB hard drive, $119.99
12" iBook G3/600, 256/40/CD, $399
15" PowerBook G4/800, 256/40/Combo, $749
15" PowerBook G4/867, 256/40/Combo, $798
refurb 12" PowerBook G4/1.33 GHz, 256/60/Combo, APX, $1,049
refurb 12" PowerBook G4/1.5 GHz, 512/60/Combo, APX, BT 2.0, $1,099
refurb 12" PowerBook G4/1.33 GHz, 256/60/SuperDrive, APX, $1,099
refurb 15" PowerBook G4/1.33 GHz, 256/60/Combo, APX, $1,299
refurb 15" PowerBook G4/1.5 GHz, 512/90/Combo, APX, BT 2.0, $1,399
refurb 15" PowerBook G4/1.5 GHz, 512/80/SuperDrive, APX, $1,499
refurb 15" PowerBook G4/1.67 GHz 512/90/SuperDrive, APX, BT 2.0, $1,599
refurb 17" PowerBook G4/1.5 GHz, 512/80/SuperDrive, APX, $1,699
15" PowerBook G4/1 GHz, 256/60/Combo, BT, $1,199.99
17" PowerBook G4/1.33 GHz, 512/60/SuperDrive, APX, BT, $1,549.99
used 12" iBook G3/800, 128/30/CD, $369
refurb 15" PowerBook G4/1.5 GHz, 512/80/Combo, APX, $1,399
refurb 15" PowerBook G4/1.5 GHz, 512/80/Combo, APX, AppleCare, $1,639
For more deals on current or recently discontinued models, see our best 15" MacBook Pro deals, our best 17" MacBook Pro deals, best aluminum PowerBook G4 deals, best titanium PowerBook G4 deals, best iBook G4 deals, best PowerBook G3 deals, and best iBook G3 deals.
Join us on Facebook, follow us on Twitter or Google+, or subscribe to our RSS news feed
Links for the Day
Mac of the Day: Macintosh 512K Fat Mac, introduced 1984.09.10. The first Mac with enough memory for serious work.
Recent Content
Custom Search
Follow Low End Mac on Twitter
Join Low End Mac on Facebook
Favorite Sites
MacSurfer
Cult of Mac
Shrine of Apple
MacInTouch
MyAppleMenu
InfoMac
The Mac Observer
Accelerate Your Mac
RetroMacCast
The Vintage Mac Museum
Deal Brothers
DealMac
Mac2Sell
Mac Driver Museum
JAG's House
System 6 Heaven
System 7 Today
the pickle's Low-End Mac FAQ
Affiliates
Amazon.com
The iTunes Store
PC Connection Express
Macgo Blu-ray Player
Parallels Desktop for Mac
eBay

Advertise