MacBook Beefs, Vodafone Supports Mac with 3G Wireless, One Keyboard and Mouse to Rule Them All, and More
This Week's Mac Notebook News
Compiled by Charles Moore and edited by Dan Knight - 2006.03.31
This Week's MacBook, PowerBook, and iBook News
All prices are in US dollars unless otherwise noted.
General Apple and Mac desktop news is covered in The Mac News Review. iPod news is covered in The iNews Review. News about Apple's transition to Intel CPUs and other Intel developments is covered in The Macintel Report.
News & Opinion
Reviews
Products and Services
Software
Tech Trends
News & Opinion
My Beef with the MacBook Pro
MacMove.com's Seth says:
"This little piece has been a long time coming. I've been chewing things over in my mind for a while now, since just about when Apple announced the MacBook Pro back at MWSF, trying to decide what I think of it. I've done a lot of research and reading, mulling this question over for a while. And, after all of that consideration, it boils down to this: I don't think buying a MacBook Pro is a good idea....
"For the first time since I got my Mac Plus in 1988, I'm counseling people against buying a Mac. And I think I need to share my reasons.
"...in the laptop market, Apple has made what I think is an error. And I can't understand how they haven't been called out for it.
"...with the announcement of the MacBook, Apple took a product matrix of two brands and 5 options and reduced it to a single machine. The way things stand now, if you want a Mac laptop, you can have whatever you want, as long as it's the MacBook Pro....
"Still, you say, Apple is still selling the iBook! And the 12- and 17-inch PowerBooks! There are lots and lots of machines to choose from!
"No, I answer, shaking my head sadly. You see, those machines are all two generations old. They all run the G4 processor. At least with the non-Intel desktops, you can get a G5 processor. But the laptops all run G4s . . . that was yesterday's news more than a year ago. Why would you buy one now, knowing that Apple has already moved on to the next next best thing?"
Editor's Note: I understand where Seth is coming from, but I think he doth protest too much. After long and careful deliberation, I decided to make my latest system upgrade a 17" PowerBook G4 (refurbished) because in my estimation PowerPC native software performance, backwards compatibility, and Classic mode support still outweigh the speed (at least with Intel-native and Universal Binary applications) and bleeding-edge newness of the MacBook Pro at this point in time. The same would apply to new 12" and 17" PowerBooks and the G4 iBooks. cm
Come on Apple, Where's the MacBook?
billpalmer.net's Bill Palmer says:
"Seth over at MacMove stirred up some controversy this week when he more or less suggested that Apple's current laptop lineup is a mess. His whole article is worth a read, but in a nutshell he thinks that Apple blew the whole thing up by moving the fifteen inch PowerBook to an Intel processor while leaving the entire iBook line (and the rest of the PowerBook line) on an aging processor in the form of the G4. Since we all know that all of the remaining G4-based laptops are potentially a heartbeat away from going Intel, they're all currently a bad buy, leaving potential Mac laptop purchasers with only one good choice (the MacBook Pro) whether it happens to suit their needs or not.
"Truth is, I largely agree with him, and not just because he happens to be a friend of mine. If I were buying a new Mac laptop today, there is only one model I would look at. But while he sees the MacBook Pro as the problem, I see it as the opposite: thank god we finally have one good laptop model. Beats the pants off of what we had back in 2005, when they all sucked.
"Lest someone go and get the wrong idea, let me be clear here: by using words such as 'good' and 'sucked' to describe the various Mac laptop models, I'm only referring to their speed...."
Editor's note: I also appreciated Bill's comments in this column about working on 12" 1024 x 768 displays, as I have been doing for the past three years plus on my G3 iBook. Bill says :
I've had to live with a twelve inch screen for the past nine months, which has turned out to be not nearly so awkward as I had feared. The whole experience has turned out . . . more positively than I had thought, and so at this point I want to wait for the 12 inch MacBook Pro (if not the 12 inch MacBook) to hit the market, so that I can at least give it a spin in person, before deciding which path to go down.
I agree, and I say this as one who is newly enjoying the luxurious expanses of a 17" screen on my recently purchased 17" PowerBook. The extra room is great, but I wouldn't find it any real hardship to go back to using the iBook's 12" monitor. cm
How Not Getting Fired for Losing Your Laptop
eWeek' s Eric Lundquist writes:
"The most important rule:
"1. You will get fired for losing your data, but you will not get fired for losing your laptop. Well, maybe you will get fired for losing your laptop; I don't know your company's policies. But I do know I have never heard about a company being forced to make a public announcement because an employee lost a laptop. I have read lots of stories about companies being forced to announce they lost customer data."
Reviews
Macworld Tests the 2.16 GHz MacBook Pro
Macworld's James Galbraith reports:
"Macworld has already had its say on both the 1.83 GHz and 2 GHz MacBook Pro laptops. But as impressive as those models are, neither the 1.83 GHz configuration nor the 2.0 GHz version can lay claim to being the fastest MacBook Pro. That honor goes to the built-to-order MacBook Core Duo/2.16 GHz.
"It took awhile, but our shiny new, MacBook Pro 2.16 Core Duo with speedy internal hard drive has arrived and the test results show that these more expensive upgrades definitely pay off in terms of performance. Whether the increased speed is worth your extra dollars depends on who you are and what you do."
MacBook Pro Packs Plenty of Power
Sydney Morning Herald's Garry Barker says:
"Once upon a time, about when they pulled Moses out of those bulrushes and set him on his successful career with the Israelites, I had a petrolhead friend of the female persuasion who had an XJ6 Jaguar that she felt needed a boost in the engine room.
"An admirer - not, I hasten to add, myself; I was merely an awestruck spectator of Boadicea reincarnated - worked for one of those body shops that turn out of their back doors rather more cars than they take in at the front. Among his 'overs' the bloke had a Chrysler V8 of six or seven litres that, just for her, he installed beneath the Jag's bonnet.
"The result was spectacular. Even now, years later, if the lady ever came back from wherever it was she fled to, the highway cops would still be looking for her.
"If you think about the new Intel-equipped MacBook Pro (and, yes, I am getting used to the name), it is not very different from that Jaguar. It has been given a quite different, and more powerful engine, an Intel Core Duo chip - two processors on the same block of silicon - but has retained its design elegance and beauty."
Link: The Beast Within
PC World Looks at 'Apple's Sleek Intel-based Laptop'
PC World's Narasu Rebbapragada reports:
"Equipped with a 2-GHz Intel Core Duo Processor, Apple's MacBook Pro looks great, runs great, and has some fine new capabilities. But it lacks several features, and it has the same performance issues as the Intel-Based iMac.
"The MacBook Pro is a joy to use. At 1440 by 900 pixels, the screen is sharp and bright. It comes with a built-in Webcam, Front Row media-playing software, and an infrared remote control. The unit handles basic productivity tasks with aplomb, and Apple applications run very fast.
"That said, our $2499 shipping unit lacks standard PC notebook options such as an S-video port, a modem, and a PC Card slot (its ExpressCard slot isn't PC Card-compatible). Its DVD write speed is only 4x, and it can't yet burn double-layer media. The laptop also lacks a FireWire 800 port."
Products and Services
Belkin Flip Lets You Use 1 Monitor, Keyboard, Mouse to Control Your Laptop and Desktop
PR: Belkin's Flip helps relieve laptop users from small displays and cramped keyboards while saving valuable desktop space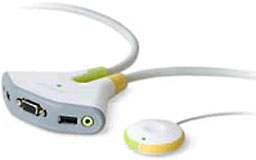 Belkin's new Flip lets you share one monitor, keyboard, and mouse between two computers, allowing business professionals to now bring home their work laptop and easily plug it into their home setup. By simply pressing a small, stylish remote, you can easily switch from one computer to the next. The remote stays on your desk while the base and cables remain hidden for a cleaner desktop. Flip will ship in North America in early April.
Flip, PS/2 (F1DF102P) - $49.99
Flip, PS/2 with Audio (F1DG102P) - $59.99
Flip, USB with Audio (F1DG102U) - $59.99
According to a Forrester Research Report in February 2005, approximately 73% of laptop owners owned at least two computers. With two computers, people are seeking methods to keep their desktops free of extra peripherals and cables. They also want a more comfortable way to use their work laptop when they bring it home. Flip solves both problems by giving access to both computers without the added peripheral bulk and by enabling connection of your laptop to your home computer devices easily.
By allowing you to connect your old and new home computers, you can easily access files and programs using the same monitor, keyboard, and mouse. Flip also offers the added feature of letting you share one set of speakers between computers(a). Flip fully supports any combination of PC and Mac desktop and notebook computers for use in any home or work environment.
Benefits
Connects instantly to notebook computers
Supports high video resolutions up to 2048x1536
Features a 2-color LED that indicates which computer Flip is accessing
Comes with a Belkin 3-Year Warranty
(a) Available for models F1DG102P and F1DG102U
You can view and purchase them on the Belkin website, as well as through a network of major distributors, resellers, and superstores.
Link: Belkin Flip
3G Card for Macs Provides 384 Kbps Wireless
Tech Digest reports:
"Good news for Mac owners. Vodafone has made its 3G data connect card available for Apple users. [Editor's note: This is a PC Card; it is not compatible with the new MacBook Pro.]
"According to the company the dashboard (or the interface of the card) is now compatible with Macs and Apple users will be able to surf the web remotely at speed of up to 384 kbps.
"The company thinks that Mac users are an ideal target group for the 3G card. Bill Morrow, CEO Vodafone UK, said, 'Users of Apple Macs have a rich variety of working habits that we believe are ideally suited to the 3G environment. From business people through to designers and photographers - all of these professional communities have sub-groups, characterized by heavy and frequent mobile data use, that are devoted to the Mac.'"
Link: 3G Card for Macs
Mac Users Get Vodafone 3G Data Access
The Register's Tony Smith reports:
"Vodafone UK has begun offering Mac OS X drivers for its 3G Mobile Connect Card, enabling PC Card adaptor-equipped PowerBook owners to connect to the Internet at (potentially) broadband speeds when they're miles away from the nearest Wi-Fi hotspot.
"Vodafone 3G Mobile Connect CardVodafone's 3G card is made by Belgian data card specialist Option, which has had Mac OS X drivers in the pipeline for some time, along with Linux code. Since Option currently offers its 3G cards only through network operators, such as Vodafone, it only makes said drivers available through those partners - and even then, they have to ask for them."
D-Link's $45 USB Bluetooth 2.0 Adapter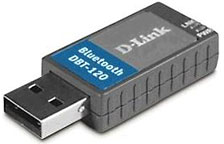 PR: This small and lightweight USB adapter enables non-Bluetooth equipped computers to take advantage of the plethora of emerging wireless Bluetooth peripherals and devices. Bluetooth is a short-range wireless connectivity protocol which allows several devices to reliably network, or connect to your computer simultaneously.
Cutting-edge Bluetooth wireless connectivity lets you finally cut all the cable clutter in and around your workspace.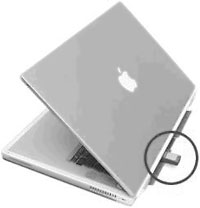 Keyboards, mice, printers, cell phones, PDA's and speakers are just a few of the many types of Bluetooth devices now widely available.
Weighing in at a luggage-friendly 6 grams, this USB Bluetooth Adapter won't add to your load, and internal status LED's allow you to monitor connection status at a glance.
Easy Setup: Connecting the DBT-120 is simple - no drivers needed for Mac OS X, just plug in and go.
Features:
Adds full Bluetooth support to older computers - USB port required (Requires Mac OS X 10.2.8 or higher)
Small and lightweight - perfect for on the go use.
BT Class II - Supports standard HID profile: keyboard, mice, trackballs, pens, tablets, etc.
Also supports networking - including file transfer and dialup, serial port, info sync and headsets.
10 Meter free space range - control your computer or peripherals from across the room!
Frequency Hopping Spread Spectrum technology minimizes interference from other devices.
Radio Class: Bluetooth II
Frequency: 2.4 - 2.48 GHz
Rx sensitivity: -80 dBm
Antenna: Internal Omni Dipole
Range: 10 meters
Data Rate: 1.0 Mbps
Profiles supported: HID, Serial port
Network and file transfer
Information sync, headset
Platforms: Mac OS X, Linux, Windows
Dimensions: 46 x 18 x 9mm
Weight: 6g
Price: $44.95
Software
Use One Keyboard and Mouse to Control Several Macs with teleport
PR: teleport is a simple utility to let you use one mouse and keyboard to control several of your Macs. It works on Panther and Tiger (sorry, no more Jaguar support).
Simply reach the edge of your screen, and your mouse teleports to your other Mac! The pasteboard can even be synchronized between the computers.
Important note: There was an issue in teleport pr3 where the "Share this Mac" checkbox was not working. Please update to teleport pr3.7.
teleport is currently a Preview Release.
Known issues
No encryption of transfers
Right modifiers do not work
Keyboard mapping problems
Fast user switching issues
New in version 0.9.7 (pr3.7)
added autocheck version checkbox to disable autocheck at login
added ports customization (see forum for hidden defaults)
disabled shutdown/restart dialog when controlling
fixed clicks in hot borders
fixed universal binary build
fixed persistence of trusted hosts in controlled host
System requirements: Mac OS X 10.3 or later.
System support: PPC/Intel
teleport is freeware. You can freely distribute it without modification.
Link: teleport
UnPlugged Notifies You When Your 'Book Becomes Unplugged
PR: UnPlugged is an application to notify when the power cord of the Mac is unplugged or plugged in. Notifications are done using Growl - or with a Alertwindow when Growl is not installed.
This App is done with Cocoa and doesn't use as much RAM and CPU usage as the other tools available.
Usage Hints:
to quit option-click the notification, or when you're not using Growl hit the quit button in the Alertpanel
to see the notification disconnect or reconnect your power cord
New in version 1.2:
Linked to 10.3.9 as well so it should work there, too.
Please report if it works or not
System requirements: Mac OS X 10.3.9 or later.
System support: PPC/Intel
Free
Link: UnPlugged
ChargerChecker Notifies User When Charger Is Disconnected
PR: Onscreen notification when your laptop's charger is connected or disconnected
With the release of the MacBook Pro, Apple also introduced a brand new power adapter that uses the MagSafe connector. While this innovative new feature can save your laptop from being jerked off the table by a careless passerby, many people have complained that their power adapter becomes unplugged inadvertently without them ever knowing it. This can be a huge problem when you pull your laptop out in the airport to put the finishing touches on your upcoming presentation only to find that it was mistakenly unplugged and the battery is completely dead.
ChargerChecker is a small app that works in conjunction with Growl to give you an onscreen notification when your laptop's charger is connected or disconnected. After installing Growl use the Accounts pane in your System Preferences to add ChargerChecker to your login items and never worry about a discharged battery again.
New in version 0.2:
Improved CPU load
Now with Optional Audible Alerts
Improved Installation Process
System requirements:
Mac OS X 10.4 or later, Apple Laptop (the Intel based ones especially, because of the magnetic power connection)
Growl installed.
System support: PPC/Intel
Free
Link: ChargerChecker
Power Check Alerts 'Book Users when Switching between Battery, AC
PR: Power Check provides audible and visual alerts to iBook and PowerBook users when changing from battery to AC power or visa versa. It depends on Growl and Play Sound.
New in version 0.4: All new config setup during first time the application is run. Now stores preferences. User selectable audible alert.
System requirements:
Mac OS X 10.3.9 or later
Growl
Play Sound
System support: PPC/Intel
Free
Link: Power Check
Tech Trends
Intel Promotes 'Common Building Blocks' for Notebooks
The Register's Tony Smith reports:
"Intel wants notebook component makers to agree to a series of connectivity standards to simplify the swapping of parts.
"Earlier this month, the chip giant launched what it calls the Interchangeability Initiative to promote the idea....
"The Interchangeability Initiative focuses on seven key components, which Intel believes can be based on category-common interconnects - or 'common building blocks'. Hard drives, keyboards, optical units, displays, batteries, power adaptors and chassis can all be standardised to allow system builders to add in whatever parts they prefer."
Bargain 'Books
Bargain 'Books are used unless otherwise indicated. New and refurbished units have a one-year Apple warranty and are eligible for AppleCare.
There are two different versions of WallStreet running at 233 MHz, the cacheless MainStreet version and the later Series II with a level 2 cache. It's not always possible to determine from the vendor's listing which is being offered, so we've included links within this paragraph to the two models. The same goes for the PowerBook G4/667 (VGA) and G4/667 (DVI), the titanium vs. aluminum 15" PowerBook G4 at 1 GHz, and 1.25 GHz to 1.5 GHz 15" PowerBooks.
PowerBook and iBook profiles linked in our Portable Mac Index.
refurb 12" PowerBook G4/1.5 GHz, 512/60/Combo, APX, BT 2.0, $1,099
refurb 12" PowerBook G4/1.5 GHz, 512/80/SuperDrive, APX, BT 2.0, $1,199
refurb 15" PowerBook G4/1.5 GHz, 512/80/Combo, APX, BT 2.0, $1,399
refurb 15" PowerBook G4/1.67 GHz, 512/80/SuperDrive, APX, BT 2.0, $1,549
refurb 15" MacBook Pro 1.83 GHz, 512/80/SuperDrive, $1,699
refurb 15" MacBook Pro 2.0 GHz, 1024/100/SuperDrive, $2,199
TechRestore offers a $25 discount to 'Book Review readers off any PowerBook or iBook in stock. Just enter the code CWM during checkout when ordering online. The coupon code is valid from now through 2007.12.31.
used 12" iBook G3/700, 256/20/Combo, $499.99
used 17" PowerBook G4/1 GHz, 512/60/SuperDrive, APX, $1,279.99
used 17" PowerBook G4/1.33 GHz, 512/80/SuperDrive, APX, BT, $1,499.99
12" PowerBook Kanga G3/250, 96/2, 33.6 modem, ethernet, floppy/12.1" - $229.95
14" PowerBook WallStreet G3/292, 128/6/CD, $249.95
14" PowerBook WallStreet G3/266, 128/6/CD, $229.95
14" PowerBook Lombard G3/333, 128/3/CD, $329.95
14" PowerBook Lombard G3/400, 128/10/DVD, $379.95
14" PowerBook Pismo G3/400, 128/10/DVD, $399.95
14" PowerBook Pismo G3/500, 256/20/DVD, $499.95
15" PowerBook G4/667 VGA, 256/20/Combo, $625
15" PowerBook G4/667 DVI, 256/20/Combo, $645
15" PowerBook G4/800, 256/20/Combo, $729
extra 512 MB, add $89
PowerBook Lombard G3/333, 128/4/CD, $319.99
PowerBook Lombard G3/400, 128/4/CD, $369.99
G4 processor upgrade special (valid only with machine purchase). Upgrade installed & setup at time of purchase, $179.99
Upgrade to a 20 GB hard drive (valid only with machine purchase), $49.99
PowerBook 1400cs, 16/775 MB/floppy, new battery, AC, $99.99
For more deals on current or recently discontinued models, see our best 15" MacBook Pro deals, our best 17" MacBook Pro deals, 12" PowerBook G4 deals, 15" aluminum PowerBook G4 deals, 17" PowerBook G4 deals, titanium PowerBook G4 deals, iBook G4 deals, PowerBook G3 deals, and iBook G3 deals.
Join us on Facebook, follow us on Twitter or Google+, or subscribe to our RSS news feed
Links for the Day
Mac of the Day: Mac Pro, introduced 2006.08.07. The last Mac to go Intel, the Mac Pro has two dual-core Xeon CPUs at 2.0-3.0 GHz. 8-core option added in 2007.
Recent Content
Custom Search
Follow Low End Mac on Twitter
Join Low End Mac on Facebook
Favorite Sites
MacSurfer
Cult of Mac
Shrine of Apple
MacInTouch
MyAppleMenu
InfoMac
The Mac Observer
Accelerate Your Mac
RetroMacCast
The Vintage Mac Museum
Deal Brothers
DealMac
Mac2Sell
Mac Driver Museum
JAG's House
System 6 Heaven
System 7 Today
the pickle's Low-End Mac FAQ
Affiliates
Amazon.com
The iTunes Store
PC Connection Express
Macgo Blu-ray Player
Parallels Desktop for Mac
eBay

Advertise