MacBook Pro Whining and Overheating, 80 GB Drive Failure in 1.5 GHz PowerBooks, Pismo G4 Price Drop, and More
This Week's Mac Notebook News
Compiled by Charles Moore and edited by Dan Knight - 2006.05.05
This Week's MacBook, PowerBook, and iBook News
MacBook Pro users irritated by the notebook's whining are calling for a one-day "Whine In" on May 20 to let Apple support know how widespread their frustration is.
On a possibly related issue - since more heat means more work for the MBP's cooling system, which increases stress on its power system - is the discovery that the MBP is being assembled with far more thermal paste than necessary. This has the negative effect of turning a heat conductor into an insullator.
The solution - disassembling the MBP, removing the paste from the CPU and GPU, applying the proper amount, and then reassembling the computer - is not for the faint of heart. With great timing, iFixit has published their MacBook Pro disassembly guide.
On the PowerBook front, PowerPage has uncovered a spate of 80 GB hard drive failures in 1.5 GHz PowerBooks. Their advice: Be prepared by backing up religiously.
All prices are in US dollars unless otherwise noted.
General Apple and Mac desktop news is covered in The Mac News Review. iPod news is covered in The iNews Review. News about Apple's transition to Intel CPUs and other Intel developments is covered in The Macintel Report.
MacBook Pro Issues
1.5 GHz PowerBook Drive Death
Tech Tips and Info
Products and Services
Software
Tech Trends
MacBook Pro Issues
Graph Shows MacBook Pro Whining Noise
MacFixIt reports:
"We have extensively covered an issue where some MacBook Pros generate a high-pitched, irritating whine.
"As noted in our MacBook Pro special report and several follow-up reports, the problem has to do with power draw. When a certain amount of power is being drawn, the problem manifests. This explains why some users experience alleviation of the noise when toggling display brightness or turning off one processor using Apple's CHUD tools (which are included among the Developer Tools that ship with the MacBook Pro).
"The most common fix has been turning on the MacBook Pro's built-in iSight, which temporarily changes the power draw."
MacBook Pro Users Call for End to Whining with Organized Whine
Ars Technica's Shane Stacks says:
"There's no doubt that MacBook Pro users have encountered unexpected annoyances with their shiny new Intel-based notebooks. With widespread reports of both overheating and whining issues, there has been a lot of grumbling and outright frustration.
"It seems Apple may soon feel the scorn of the people. The OSx86 Project ('the undisputed leader in news and analysis regarding OS X on x86 hardware and Apple's Intel transition') is calling for a one-day, unified assault on Apple's customer service over the whole "heat and whine" issue:
"It doesn't take very long in the Apple support forum (and elsewhere) to discover the main issues on the minds of most MacBook Pro owners - heat and whining problems. Apple seems to be taking these annoyances very lightly, and as such, something needs to be done."
MacBook Owners Plan Day of Whining to Apple
The Register's Tony Smith reports:
"A loose affiliation of MacBook Pro owners who together might be called the Apple Noise Abatement Society is calling on fellow users to join them in a worldwide day of action to protest at what they maintain is Apple's unwillingness to solve the noisy notebook issue.
"And since the new Intel-based portable Macs seems have a problem with temperature, the group suggests the protest should highlight this too."
Hot MacBook Pros Suffer from Too Much Thermal Grease
The Apple Core's Jason D. O'Grady says:
"There's a theory making the rounds that the MacBook Pro's high temperatures are attributed to a misapplication of 'thermal grease' that's applied to the CPU and GPU chips during the manufacturing process....
"The amazing part is that if true, Apple techs are assembling MacBook Pro's with too much thermal paste because the MBP service manual tells them to! According to MacBook Pro service manual '0.2-0.3cc' of thermal grease should be applied to all three chip mating surfaces. Interrupting Moss however, states that reapplying thermal grease 'properly' dropped the running temperature of his MBP by 14 degrees Celsius....
"The thermal grease modification is not for the faint of heart as it requires almost complete disassembly of your MacBook Pro. It will most likely void your warranty and most have said that it causes the fan to run more often...."
Toasty MacBook Pros Cooled with Less Thermal Paste
The Register's Tony Smith reports:
"If you think your 15.4in MacBook Pro is running too hot, it appears you could do a lot worse than to reapply the thermal paste Apple uses to conduct heat away from the notebook's processors. Contributors to a number of online forums have opened up their MacBook Pros and found . . . that Apple's manufacturer's have been a little too enthusiastic in slapping on the paste."
MacBook Overheating Problems: A Beginner's Mistake?
Hardmac's Lionel says:
"On their website, http://home.sc.rr.com shows photo of a disassembled MacBook Pro, and what is displayed is very surprising:
"This is a usual beginner's mistake!! There is on the CPU, the GPU and the chipset 5 to 6 fold too much thermal paste!
"The thermal paste is there to ensure a tight contact between the electronic components and their dedicated cooling system, in other words it has to be as thin as possible. If there is too much of it, one will get 2 problems:
"- a thick layer as shown on photos will behave as a thermal insulation while it was suppose to enhance heat transfer...."
MacBook Pro Complete Disassembly Guide
As Jason O'Grady notes in an above item, opening your MacBook Pro to address the thermal grease issue is fraught with pitfalls and will probably void your warranty, but if you are determined to proceed, iFixIt's teardown guide should be of considerable help.
Silent Recall on MacBook Pro Batteries?
The Apple Core's Jason D. O'Grady says:
"If it wasn't bad enough that to have processor and CPU whine, poor AirPort reception and solar ambient temperatures, it appears that some early MacBook Pro batteries are now failing.
"Christopher Price from PCSIntel.com has uncovered what appears to be a potential issue with the first batch of MacBook Pro batteries.
"According to his blog entry 'Now The MacBook Pro Batteries...' Chris' MBP battery fried last night and a bit of prodding from AppleCare got the serial number block. AppleCare said there was a known issue with some early MBP batteries and are cross-shipping out new ones to customers having similar symptoms."
1.5 GHz PowerBook Drive Death
Are 1.5 GHz PowerBook 80 GB Drives Dropping Like Flies?
PowerPage contributor Mark Standen says:
"June two years ago and my friend and I bought two 1.5 AL PowerBooks on the same receipt. Lovely machines, albeit somewhat hot to the touch.
"Fast forward to three weeks ago and my hard drive starts exhibiting signs of a terminal illness; not booting, death rattles, all the normal 'you're about to lose all your data' type stuff.
"Gulp....
"Here's the interesting bit. Exactly a week later my friend's sister machine did exactly the same thing!"
"So, fellow PBers, here is the pre-warning, if you have a 1.5 Al PowerBook delivered in June 2004, with the 80 GB 5400 upgrade, for the love of data, backup now!"
Editor's note: A troubling report and good advice. Sigh of relief that my 17" BigAl has a 4200 RPM 80 GB drive. cm
Something to 1.5 GHz PowerBook Drive Death Story?
PowerPage contributor Rick "RickMacMerc" Yaeger says:
"I was reading Mark Standen's story from yesterday entitled 1.5 GHz PowerBook Drives Dropping Like Flies [above] and if it hadn't just happened to me also (yes, seriously) I would have looked at the piece as a story of a couple of coincidental drive failures.
"It was the morning of April 19th when my PowerBook locked up and, upon restarting, I got the endless spinning startup Apple. I managed to reset the PMU and get my 1.5 GHz Aluminum PowerBook to boot. I was ill equipped to back up at the time and used what I had at hand: Apple's Backup. Not ideal but it did preserve all my data to an external FireWire drive."
Tech Tips and Info
MacBook Pro (early 2006) Firmware Update 1.0.1
This update is for MacBook Pro computers with Intel processors only. It now runs on localized systems that use languages that read right to left.
To update the firmware on your Intel-based MacBook Pro:
Quit all other open applications.
Click Shut Down in the MacBook Pro Firmware Updater window and wait for your computer to shut down.
Press and hold the power button on your MacBook Pro until the power indicator light flashes repeatedly to begin the update.

A status bar indicates the progress of the update.

Important: Do not interrupt the update.

Your computer restarts automatically when the update is completed and opens the MacBook Pro Firmware Updater.

Click OK, if the firmware is now up-to-date.
If these instructions appear on your screen again, the firmware update was not successful. Repeat steps 2, 3 and 4.
File Size: 2.8 MB
System Requirements
Mac OS X 10.4.5 or later
MacBook Pro (early 2006)
Products and Services
FastMac Reduces Pricing on Pismo G4 Upgrade by $50
PR: FastMac has announced it has lowered the price on its popular PowerBook G3 (Pismo) to G4 processor upgrade by $50. The G4 550 MHz upgrade now starts at $239.95.
The upgrade utilizes a low power Motorola 7410 chip and features 1 MB of high speed backside cache that results in up to 2 times speed and performance improvements.
The upgrade comes with a 1 year warranty and includes a free copy of Mac OS X 10.3 Panther. Upgrade to Mac OS X 10.4 Tiger for an additional $59.95.
"From NASA to the Pentagon to MIT, our Pismo upgrades have gone to war, gone to the South Pole, and even into space" said Michael Lowdermilk, Business Development Manager for FastMac Performance Upgrades, Inc. "Today's price drop and bundle offerings make this popular upgrade even more affordable."
FastMac offers two upgrade options: an advance exchange option with zero down time and the standard upgrade process which requires the original board to be sent in for upgrade first.
New Transceiver Can Double Wireless Range of MacBook Pro
PR: MacBook Pro users can now get up to a 100% improvement in wireless performance using the new MacBook Pro Transceiver from QuickerTek, Inc. This new Transceiver works with all of the common 802.11b/g networking hardware including Apple AirPort and AirPort Express Base Stations. The MacBook Pro Transceiver is available from QuickerTek dealers for a suggested retail price of $200.
Who needs betwen 50% and 100% better wireless performance? Those people who want to use their MacBook Pro up to twice as far away from the AirPort Base Station or access point. Sit in the back yard, use your MacBook across the street at a neighbor's house, sit at the far end of office from the Base Station, or even someone who doesn't necessarily need more range, but would thoroughly enjoy faster transfer rates from their wireless network.
This new Transceiver offers 500 miiliwatts of RF power. Compared to less than 50 milliwatts of RF power found in most laptops, this Transceiver makes a huge difference in not only your ability to sit further away from the Base Station or access point, but also in retaining a strong and full-speed signal.
The MacBook Pro is still very easy to use when equipped with a Transceiver. There are no drivers or other changes to the normal wireless routine. The internal antenna and Bluetooth still work - in other words you're not required to disconnect anything to get the dramatically better wireless. The antenna end of the Transceiver easily clips onto the top of the case without velcro and won't mar the finish or alter the case in any way.
You also can use any popular wireless networking hardware including access points from LinkSys, Belkin, dLink, and, of course, Apple AirPort and AirPort Extreme Base Stations. That means just about any 802.11b or 802.11g networks are within your power to use.
The MacBook Pro Transceiver attaches internally and a fine cable extends out of the case to the external antenna. This cable exits through the AirPort Express port on the MacBook Pro.
Like most QuickerTek products, it's backed with a one-year warranty on parts and labor.
QuickerTek has been a recognized leading innovator of antennas and RF products for Apple Power Macintosh, iMac, PowerBook, iBook and MacBook Pro computers. QuickerTek products can be purchased online and from authorized dealers.
Waterfield SleeveCase for 17" MacBook Pro
PR: The famous Waterfield SleeveCase can be ordered in a wide range of configurations, sizes, and the assessorization. More than 40 different size options are available, including ones to fit every PowerBook and iBook model, and the new MacBook Pros. A version, Size 43, to fit the new 17" MacBook Pro has just been added. The slightly smaller 17" PowerBook takes Size 42.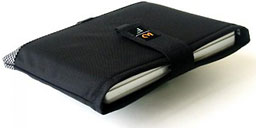 The SleeveCases are designed both as a standalone product, and to serve as an inner protective module for Waterfield's larger computer bags like the Cargo and Cozmo models, with which it can be purchased in ensemble bundles called "Mambo Combos"
Proper protection starts with a proper fit. The MacBook Pro SleeveCase envelops the MacBook Pro for a snug fit, cushioned with high-grade neoprene and wrapped in a ballistic nylon shell.
SleeveCases feature Waterfield's tasteful, understated styling in black ballistic nylon with textured Indium accent across the bottom.
The basic SleeveCase has a robust closure strap of two-inch nylon webbing that fastens with a generous Velcro panel, while the flap on the other case also is secured with Velcro, in both instances making for security with quick access. Another thoughtful and convenient detail touch it is the nylon pull-loops at the bottom of each case, that greatly facilitate removal of the computer from the bag, which literally does fit like a glove. Everything is beautifully stitched, and the materials have a rich, luxury feel.
While the Computer entirely fills the SleeveCase's internal compartment, and the external pocket can only accommodate very thin items like papers or a magazine, Waterfield offers a solution to peripherals carriage in the form of a small, clip-on, auxiliary case it calls a "Piggyback," which describes its function like handily.
Made from the same ballistic nylon as the SleeveCase outer shell, and with reinforced zippers the Piggyback has soft divider pockets inside to protect your power adapter, even a small external drive or other bits and incidentals.
The MacBook Pro 17" SleeveCase is $40.
Software
BatteryInfo Widget
PR: BatteryInfo dashboard widget has been updated to version 1.5.
This widget is designed to be a better looking, dashboard based replacement for the menu bar battery monitor. Thanks go to Luis Moreno for the graphics and Marc Wolfgram for helping add dual-battery support.
Features:
Graphically display battery status
Display the percentage charge remaining
Display the time remaining on current charge
Dual battery support
Localized in multiple languages
New in version 1.5:
Fixed display of several languages which would not show accented characters
Improved display of percentage battery charge
Optimisations reducing widget size
System requirements: Mac OS X 10.4 or later.
System support: PPC/Intel
Free
Temperature Monitor Updated
PR: Temperature Monitor is an application to read out all available temperature sensors in Macintosh computers. The program can display and visualize measured values in a large variety of fashions. The application supports the following operations on the measured readings:
display in a default window
output in a screen display in front or in the background of the screen
tabular display in an overview window
display in the menu-bar
display of a maximum of two readings in the Dock
graphical display of short-term and long-term history curves
speech output of readings
display of minimum and maximum values
export to text files
Moreover, the application can display additional technical information about your computer. Among other information this includes:
Processor type
Processor and bus frequencies
Manufacturing information
Of course the application can read out the data only if your computer is equipped with the necessary sensors, and if Mac OS X can access them without needing third-party device drivers. Beginning in summer 2002, Apple has begun to massively drive forward the use of monitoring probes in the PowerMac series, the Xserve series, and in portable computers. Some models are equipped with 38 and more sensors. But Temperature and Hardware Monitor can detect sensors on many older systems as well if they are available.
Apple has restricted the use of monitoring applications on Intel-based Macintosh systems. Thermal management of those computers is no longer done by the operating system, but controlled by an undocumented hardware device, the Apple System Management Controller. Only a few sensors are accessible by application programs.
We try to detect all sensors on as many Macintosh computer types as possible. However, a prediction which sensors are available in which models is not possible, because Apple very often releases "silent product updates", where the hardware equipments of some models are changed but the names are not (specifications are"subject to change without notice"). The particular graphics card and hard disk configuration used is also important because these parts can include independent sensors, too.
Please note that Apple does not support an official or standardized way of reading out sensor data in Mac OS X (the only exception is the Server Monitor application for the Xserve series). Moreover, there is no documentation or other technical note about the individual function of the sensors. For this reason, the development of Temperature Monitor and Hardware Monitor is very costly because the necessary data has to be determined by reverse engineering and tests run on a variety of computer models. Please support the development of the applications by purchasing a registration key for Hardware Monitor.
New in version 3.5:
Added support for several new S.M.A.R.T. hard drive sensors.
The format of labels for the y-axis of history graphs has been enhanced.
The policy for the display of alert messages has changed: The application no longer locks its user interface until the user has acknowledged an alert. If multiple alert messages arrive before the user has acknowledged a message, new alerts will overwrite previous ones.
The panel for computers which don't contain sensors has been enhanced.
System requirements: Mac OS X 10.2.5 or later.
System support: PPC/Intel
Free
For my full review of TemperatureMonitor, see Temperature Monitor 3.4 And The Quest For Quiet Computing. cm
Temperature Monitor Widget Edition
PR: Temperature Monitor Widget Edition is the Dashboard version of its "bigger brother" Temperature Monitor. It is recommended that you use Temperature Monitor first before using the widget edition to learn more about the sensor equipment of your computer. The applications are designed to give you access to all temperature sensor readings Mac OS X uses to monitor and cool your computer.
The widget allows you to select two of your computer's temperature sensors which should be displayed via Dashboard. The sensor readouts are displayed in a compact panel:
Unlike other widgets, Temperature Monitor is capable of processing the hardware calibration data Apple stores individually into each G5-based computer. So it displays the exact readings Mac OS X internally uses for cooling control, not just an "educated guess".
Note that we also offer shareware versions of Temperature Monitor and Temperature Monitor Widget Edition which are called Hardware Monitor and Hardware Monitor Widget Edition, respectively. The shareware versions can additionally display hardware sensors for other quantities (e.g. voltage, current, battery capacity, fan revolution, etc.) if your computer is equipped with them.
New in version1.51:
Adds support for several new S.M.A.R.T. hard drive sensors.
System requirements: Mac OS X 10.4.2 or later
System support: PPC
Free
Tech Trends
Samsung Launches First Ultramobile Tablet PC
eWeek's David Morgenstern reports:
"Samsung Electronics on May 1 launched its Q1 here-not the company's latest quarterly earnings results, but its first ultramobile PC. The device is the first using the "Origami" mini-Tablet reference design from Microsoft and Intel, introduced in March at the CeBIT expo in Germany.
"According to officials, small computers, running the Tablet version of Windows, will be available from Best Buy's online store starting May 7 and in stores in the summer."
Acer Extends 17" Laptop Line
'ard Reg reports:
"Acer has revamped its Aspire notebook line-up with four 17in models based on 1,440 x 900 displays pitched at mainstream home and office buyers, and punters looking for a large laptop on a small budget.
"The 9400 and 9410 sport Pentium M and Core Duo processors, respectively, with Intel 945GM and 915PM chipsets. Both use an Nvidia GeForce Go 7300 GPU with 64 MB of GDDR 2 video memory, though it can take up to 192 MB of system memory too. Both provide up to 120 GB of hard drive storage, dual-channel DDR 2 SDRAM and multi-format DVD writers."
Bargain 'Books
Bargain 'Books are used unless otherwise indicated. New and refurbished units have a one-year Apple warranty and are eligible for AppleCare.
There are two different versions of WallStreet running at 233 MHz, the cacheless MainStreet version and the later Series II with a level 2 cache. It's not always possible to determine from the vendor's listing which is being offered, so we've included links within this paragraph to the two models. The same goes for the PowerBook G4/667 (VGA) and G4/667 (DVI), the titanium vs. aluminum 15" PowerBook G4 at 1 GHz, and 1.25 GHz to 1.5 GHz 15" PowerBooks.
PowerBook and iBook profiles linked in our Portable Mac Index.
TechRestore offers a $25 discount to The 'Book Review readers off any PowerBook or iBook in stock. Just enter the code CWM during checkout when ordering online. The coupon code is valid from now through 2007.12.31.
used 12" Book G3/900, 256/40/Combo, 6 month warranty, 30 day refund, $549.99
used 15" PowerBook G4/1 GHz, 512/60/SuperDrive, 6 month warranty, 30 day refund, $1,049.99
used 15" PowerBook G4/667 DVI, 256/30/Combo, $619.99
used 15" PowerBook G4/867, 256/30/Combo, $719.99
used 15" PowerBook G4/1 GHz, 256/60/ Combo, $809.99
Upgrade to 2x SuperDrive, $129.99 installed
Upgrade to 8x SuperDrive, $169.99 installed
Upgrade to 512 MB RAM, $59.50
Upgrade to 1 GB RAM, $189.99
Upgrade to 40GB hard drive, $69.50 installed
Upgrade to 60GB hard drive, $79.50 installed
Upgrade to 80GB hard drive, $109.50 installed
Add an AirPort Wireless card, $119.99 installed
Targus carrying case, $0.99
iBook G3/500, 256/15/CD, $325
iBook G3/700, 256/20/CD, $359
used 15" PowerBook G4/667 VGA, 256/20/Combo, $625
refurb 12" PowerBook G4/1.33 GHz, 256/60/Combo, APX, $1,049
refurb 15" PowerBook G4/1.33 GHz, 256/60/Combo, APX, $1,299
refurb 15" PowerBook G4/1.5 GHz, 512MB/80/Combo, APX, BT 2.0, $1,399
refurb 15" PowerBook G4/1.5 GHz, 512/80/SuperDrive, APX, $1,499
refurb 15" PowerBook G4/1.67 GHz, 512/80/SuperDrive, APX, BT 2.0, $1,499
refurb 17" PowerBook G4/1.67 GHz, 512/100/SuperDrive, APX, BT 2.0, $1,849
used 12" PowerBook "Kanga" G3/250, 96/2/floppy, $229.95
used 14" PowerBook "WallStreet" G3/292, 128/6/CD, $249.95
used 14" PowerBook "Lombard" G3/333, 128/3/CD, $329.95
used 15" PowerBook G4/500, 256/40/DVD, $599.95
used 15" PowerBook G4/1.67 GHz, 512/80/SuperDrive, APX, BT, $1,399.95
For more deals on current or recently discontinued models, see our best 15" MacBook Pro deals, our best 17" MacBook Pro deals, 12" PowerBook G4 deals, 15" aluminum PowerBook G4 deals, 17" PowerBook G4 deals, titanium PowerBook G4 deals, iBook G4 deals, PowerBook G3 deals, and iBook G3 deals.
Join us on Facebook, follow us on Twitter or Google+, or subscribe to our RSS news feed
Links for the Day
Mac of the Day: Lisa, introduced 1983.01.19. The ancestor of the Macintosh had a mouse, a graphical interface, and a $10,000 price tag.
Recent Content
Custom Search
Follow Low End Mac on Twitter
Join Low End Mac on Facebook
Favorite Sites
MacSurfer
Cult of Mac
Shrine of Apple
MacInTouch
MyAppleMenu
InfoMac
The Mac Observer
Accelerate Your Mac
RetroMacCast
The Vintage Mac Museum
Deal Brothers
DealMac
Mac2Sell
Mac Driver Museum
JAG's House
System 6 Heaven
System 7 Today
the pickle's Low-End Mac FAQ
Affiliates
Amazon.com
The iTunes Store
PC Connection Express
Macgo Blu-ray Player
Parallels Desktop for Mac
eBay

Advertise