MacBook nano Coming?, Expanding Battery Woes, MacBook 'Almost Perfect', Color MacBooks, and More
This Week's Mac Notebook News
Compiled by Charles Moore and edited by Dan Knight - 2006.06.30
This Week's MacBook, PowerBook, and iBook News
All prices are in US dollars unless otherwise noted.
General Apple and Mac desktop news is covered in The Mac News Review. News about Apple's transition to Intel CPUs and other Intel developments is covered in The Macintel Report.
News & Opinion
Tech Tips and Info
Products and Services
Software
Tech Trends
News & Opinion
MacBook nano in January?
PowerPage's Jason O'Grady says:
I've been calling for a MacBook nano for a while now and evidence is mounting that Apple is working on such a beast. Although there are many counter points to the argument (no optical drive?) an ultra-notebook/tablet could fill the hole left by the PowerBook 12-inch quite nicely....
Now that Apple took my advice and killed the term PowerBook, what will the Ultra Portable Mac be called? I need names here people - NAMES!
MacBook Pro Expanding Battery Woes Continue
Ars Technica's Shane Stacks reports:
"Users have been experiencing heat-related (and sound-related) issues with their shiny new Intel-powered MacBook Pros for some time now. Partial relief has come from both official and unofficial sources, but there hasn't been a complete fix from either Apple or the Mac use-o-sphere. Unfortunately for hopeful MBP owners waiting for all of the madness to end, there's more bad news to report:
"Some MacBook Pro owners have noticed that their battery is swelling and no longer charges properly. Based on reports from Apple's Discussion boards, symptoms include batteries that fail to charge completely, computers shutting down while there is still a significant charge left, erratic trackpad behavior, and mouse button sticking problems."
MacBook 'an Almost Perfect Laptop'
AMUG's Robert Zusman reports:
"AMUG recently replaced its PowerBook G4 12" (1 GHz) presentation machine with a MacBook Core Duo 2 GHz. Over the last week, I have had a chance to compare the two machines, and to run some tests on both the MacBook and my Quad, which yielded some rather surprising results. The MacBook is the 'entry-level' portable in Apple's lineup, replacing the iBook. The higher-end machines are called 'MacBook Pro', and have some additional features (notably, larger screens), but the MacBook is surprisingly well equipped, and is significantly less expensive. Other than the larger LCD, the two most significant differences between the MacBook and the Pro version is the addition of a card slot, and a dedicated graphics card (the MacBook uses an integrated Graphics processor, and uses main memory for the video buffer)...
"The MacBook may be one of the finest laptops shipping today. It is thin, light, and just the right size. the screen is clear and bright. It comes with a nice complement of features, with former additional cost options like Airport and Bluetooth built-in. The Intel Core Duo microprocessor makes it a little powerhouse. When using native software the MacBook will give any currently shipping Mac desktop a run for its money. The MacBook offers quite a lot of 'bang for the buck' - at ~$1,200 you get a portable computer with the power of a desktop. I highly recommend it."
MacBook Has Great Features, Annoying Issues
iLounge's Larry Angell reports:
"My PowerBook has been on its last leg for quite some time now, so last week I finally took the plunge and ordered a new Apple MacBook. I had my credit card at the ready several times for a MacBook Pro over the last couple of months, but just couldn't make myself do it. I think it had something to do with the fact that the one I played with at Macworld Expo in January felt like the south side of the Sun. Or maybe it was that looked nearly identical to my two-year-old PowerBook. Or maybe I wanted something a little more portable....
"For the first time since Apple's PowerBook G3, a Mac comes in black. And oh, how I love black . . . I was super disappointed to hear that the MacBook's casing wasn't shiny black like the nano. [Editor's note: Me too! Glad someone agrees. cm] After the whole iPod nano scratching fiasco, my guess is that Apple didn't want to have to deal with a whole bunch of complaints - and possibly lawsuits - over the scratch-attractiveness of their $1500 laptops. As evidenced by the years of covering iBooks and iPods, the glossy white finish does not show scratches anywhere near as much as the nano and 5G iPod's glossy black finish. I do, however, like the satin finish on the black MacBook more than I thought I would - it even matches the RAZR perfectly - but I have major problems with the greasy-looking finger and palm prints that get left all over it after normal use. I swear, it looks like I eat buckets of chicken wings all day while writing iPod news.
"This thing is fast. Hella fast. The fastest computer I've ever really used. Everything from startup time to application launch times to web surfing; the performance of the two processor cores is not just hype. Unfortunately, the processor does make the MacBook literally too hot to place on your lap. (A laptop that you can't use on your lap? Ironic, save that Apple's now calling it a 'notebook,' not a 'laptop.') My MacBook is unbearably hot - it can only be used on a desk. Just doing a little emailing from bed made my comforter feel like it was ready to spontaneously combust."
MacBook May Be the Perfect Computer for Many
San Antonio Express-News's Paul Vaughn reports:
"Apple Computer expanded its line of Intel-based Macs with the new portable MacBook, replacing the popular iBook series. This completes Apple's line of Intel-powered laptops; the MacBook has a lower price point and is aimed at students and other more price-conscious users, and the MacBook Pro targets users with more intensive needs. But don't start thinking that the MacBook is second-rate - it offers a wealth of features and capabilities that should make most prospective buyers salivate.
"This new portable uses the Intel Core Duo processor at up to 2.0 GHz, sports a glossy 13.3-inch widescreen display (1280 x 800 pixels), has a built-in iSight camera and microphone, comes with a remote control and MagSafe power adapter, and includes software such as Mac OS X Tiger, iLife '06 and Front Row. AirPort Extreme wireless networking (802.11g) and Bluetooth come standard, as does Gigabit Ethernet (10/100/1000Base-T). A modem is no longer included. Apple offers an external one at an additional cost, but who still uses a modem?
[Editor's note: Me. cm]
"...For many users, the MacBook may be the perfect computer. Imagine hanging out in your dorm room and impressing your friends with the combination of Apple's Front Row software and the MacBook's remote control. You won't have to wade through the debris littering the floor to switch from DVD to iTunes; Front Row's sweet graphical interface will let you navigate with ease. The remote borrows design elements from Apple's iPod Shuffle; there are just enough buttons to do what you want without cluttering up the device."
MacBook Impresses BBC
The BBC's Alfred Hermida reports:
"Apple's entry-level line of consumer laptops should give PC giants like Dell and HP sleepless nights.
"The new MacBooks are powerful, fast and sleek machines, at a price to rival similar offerings from the world of Windows.
"In addition, they sport Intel chips, so they can run Microsoft's operating system as well as Apple's OS X.
"But such versatility comes at a cost. The MacBook can run so hot that it is almost unbearable to have on your lap."
MacBook a Keeper
The Washington Times on Computers column's Mark Kellner reports:
"After about 84 hours with Apple Computer's new MacBook, whose high-end version I'm testing, my initial verdict is positive. This is one powerful, affordable Mac portable.
"Some will complain about heat dissipation - yes, it's warm; that's why there are products such as LapWorks' Laptop Desk. However, even after running for a full business day, the MacBook hasn't faltered yet....
"Others may report problems with the Wi-Fi antenna, and such problems might yet surface in my testing, which will last about a month. However, in 'war drives' around my neighborhood, and at home, the Wi-Fi worked quite well.
"Its 13-inch (diagonal) screen is of the glossy variety; no 'matte' version is available. Upgrading the RAM to 2 gigabytes would seem to be a good idea, even if Apple will charge another $400 for that (you can find less-expensive RAM upgrades at companies such as Crucial Technology)....
"...the MacBook can be an intoxicating device that will invite you to make the most of it. You will want to run more than one program at a time - you will want to use it to edit video clips, perhaps; certainly for work with digital photos, and even desktop publishing on the fly. I have the feeling this screen will be great for watching DVDs on the road."
My MacBook: What I Love, What I Hate
blog.ericrice.com's Eric Rice says:
"For Father's Day, I got a shiny (well, ok flat black) new 13" MacBook, loaded with 2 GB of RAM and a shiny screen (love shiny screens - used them before with an HP). I called this bad boy the BlackBook, and later, the DragonBook, because a single sticker adorns it - that of a torqued up red dragon, surrounded by flames and claws outstretched to kill.
"And that's almost where the bad-assness of this thing ends.
"There's much to like, but also several issues to complain about."
Help! My MacBook Goes Moo
The Inquirer's Nick Farrell says:
"There is a bit of controversy in MacLand about Apple's incredible mooing lap-top.
"It appears that, in some MacBooks, the fan goes on and off continuously in a vain attempt to keep the device from getting too hot.
"Some Mac heads have picturesquely described the sound as a cow going, 'Moo,' on the way to he milking shed. The less poetic say it is the sound of a fan on its way out and a computer about to explode."
Experimenting with Light on Apple Notebook Computers
Amit Singh. says:
"In February 2005, I wrote about using the sudden motion sensor in Apple notebook computers. The article sparked enough interest that I was compelled to follow up with the AMS2HID application that allowed motion sensor readings to be translated to key-presses and mouse movements. Consequently, the motion sensor could be 'used with' arbitrary applications. As I wrote my Mac OS X Internalsbook over the last year and a half, I often received questions about 'using' other sensors in Apple computers. In particular, people seemed most interested in experimenting with the ambient light sensor in Apple notebook computers. This document is a long overdue response to those queries....
"In this discussion, we will look at experimental source code for programmatically performing the following operations on a MacBook Pro.
Retrieving readings from the ambient light sensor
Retrieving and setting the LED brightness value of the backlit keyboard
Initiating an LED fade to a target brightness value over a specified duration
Retrieving and setting a display's brightness"
Apple Adjusts 17" MacBook Pro Fans
The Register's Tony Smith reports:
"Apple has posted a firmware update for its 17in MacBook Pro. The patch adjusts the machine's System Management Controller (SMC), a device that monitors and manages Intel-based Macs' power-related functions....
"As yet, Apple has not addressed the irritating whine some MacBook Pros emit when running on batteries and the dual-core Core Duo processor clocks back under SpeedStep direction. Turning off one core eliminates the problem, but then what's the point of owning a dual-core machine?"
Adventures with a 17" MacBook Pro
macinchat.com reports:
"Now, the idea of consolidating all of my work machines into one machine has been something I've tried to accomplish many times. I need a portable machine that can handle everything I do, with no compromises. Up until now, my scenario has been:
"1 Dual G5 tower
"1 1.67 GHz PowerBook
"1 IBM T40p ThinkPad
"That's 3 machines. When the 15 inch MBP came out, I was tempted - but the horror stories on the net convinced me to wait it out. Then, the 17 came out. the initial reviews were great. It had everything that the 15 was missing - 3 USB 2.0 ports (instead of 2), both FW 400 and FW 800 (instead of just FW 400). The Core Duo processor was important of course, because I need to run XP as well as OS X. The 17 inch screen have always been beautiful to look at - so after doing some research, I decided to go for it....
Processor whine - I've heard it on the MBP 15 and it drove me nuts. Thankfully, the 17 has no such whine.
Heat - I've read horror stories about the MagSafe thingy burning. I've read stories about the machine itself becoming dangerously hot. Well...
"The MBP 17 will singe your hands clean off....
"The machine, when plugged into the AC outlet and pushed to the limit, will max out a 2.17 GHz (expected), and it will also max out at 75 degrees Celsius. This is hot. I mean, damn hot.
"The top of the machine becomes hot at 70+. Hot enough that you cannot touch the area above the function keys for more than a few seconds.
"The bottom of the machine - forget it. You can easily burn yourself if you have this thing sitting on your lap and your clothes are not fire proof."
15" MacBook Pro 'Not Worth the Wait'
ForbesOnTech's Jim Forbes reports:
"I've been playing with a new portable I've been anxiously awaiting for a some time. I have really mixed feelings about this machine but I want to carefully think about what I'm going to say.
"First, in my world, no manufacturer gets a free pass. Either a notebook measures up to mainstream standards or it doesn't....
"The notebook is the 15-inch screen version of the MacBook Pro. I waited a long time for this system and read a lot of hype-laden reviews. My take is that I expected more, a lot more, from Apple, and they delivered a lot less than they should have....
"The base level performance is great. It opens and recalcs my test spreadsheet lightning fast. it has outstanding graphics performance, It's keyboard has a nice feel and is comfortable to use for long periods of time....
"...Tragically, the MacBook Portable has one of the weakest 802.11 implementations I've ever seen on a mainstream notebook. And this is incredibly annoying. I put the Mac Portable right beside my trusted ThinkPad to test WiFi reception. At 180 feet from my access point, the ThinkPad holds the signal for hour after hour. The MacBook Pro is another story. It has grave difficulty holding its connection and god forbid you should need to connect from afar with poorly charged battery.
"But what really annoys me is an AppleDesign decision. The MacBook Pro does not come standard with an internal modem. Hello, Apple, there are still a lot of times when we mortals still connect to the mother ship using dialup. And Apple wants you to buy an optional near $50 USB dongle to connect using a phone network. Grab a clue, Apple and jump into reality!
"I need dialup connectivity. Like right now! I'm in a hotel Vegas not far from a public WiFi point that I can't stay attached to and this machine doesn't have a modem. I think this is a detestable design decision and I just can't recommend the MacBook Pro (or any Macintosh portable) that doesn't include this basic connection. Seriously!"
[Editor's note: I wouldn't be quite that harsh (although maybe I should), but I'm glad to see others protesting Apple's stupid, pseudo-elitist decision to remove internal modems. Most of the world and even some 50% of US Internet users still depend on dialup. I would have broadband if it were available (other than via astronomically expensive satellite services) where I live and work, but it isn't, and it may not be for years to come yet. But even broadband users may need to send or receive a fax from time to time. And these are - hello - portable computers that many users will take on the road and encounter situations like the one Forbes described above, or need to connect in places where no WiFi is available. The PC competition still has internal modems. Makes you wonder . . . I can live without an iSight camera, but I can't live without a modem. cm]
"And while I'm on a tear, the MacBook Pro is uncomfortably hot."
Where Are the MagSafe Adapters for Cars and Airplanes?
The Apple Core's Jason D. O'Grady asks:
"Apple's MagSafe power connector for MacBooks is revolutionary (except for a few issues, that is) but true mobile technologists spend a lot of time between wall power outlets and the lack of MagSafe adapters for cars and airplanes is starting to become a liability. Maybe Apple doesn't want us to use our MacBooks and MacBook Pros on the road?
"When Apple began shipping the MacBook Pro in February I cut them some slack for not having auto and airplane adapters with MagSafe connectors. But now that the MacBook has been released and you can only buy an Apple notebook with a MagSafe connector I am getting a little concerned about the lack of charging options. Stanford Law Professor Lawrence Lessig started an excellent thread on the Apple Discussion forums about the lack of a good airplane charging solution for the MacBook Pro."
Tech Tips and Info
Firmware Update Fixes 17" MacBook Pro Fan Problem
This SMC Firmware Update adjusts fan behavior in the MacBook Pro 17-inch.
MacBook Pro 17" SMC Firmware Updater adjusts fan behavior in the MacBook Pro 17-inch. The updater application will be installed in the /Applications/Utilities folder and will launch automatically after restart.
System requirements:
Mac OS X 10.4.6 or later
MacBook Pro 17-inch
System support: Intel
Products and Services
ColorWare Announces Colored MacBooks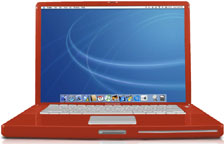 PR: Colored MacBooks are now available from ColorWare, priced from $1,749 to $2,149. The machines are otherwise stock, and ColorWare will also color customer-owned MacBooks.
ColorWare additionally offers colored iPods, iBooks and PowerBooks and coloring services to existing Apple customers.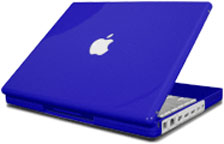 ColorWare Inc., established in 2000, is an industry leader in altering the color of existing products. The idea behind ColorWare started with transforming the ubiquitous beige computer into a custom-colored work of art. ColorWare is growing in excess of 48% a year and is presently expanding into custom colored business computers, home entertainment systems, and the office interior design field
Designerskins.com Adds Laptop Skins
PR: designerskins.com announces one of its newest product additions to the skinning world. Mobile computing has long been one of the fastest growing markets in the electronics industry. This growing industry has opened up a new avenue to showcase some of our hottest skin designs to date. We were able to take our huge arsenal of original skin designs and manipulate them to create hundreds of new Laptop Skins.

"Over the last few years mobile computer makers have needed to be insanely aggressive in dealing with manufacturing costs. For this reason laptop cases are now being manufactured more cheaply and cannot take the abuse needed for the fast paced electronic world we live in. This makes our new laptop skins a triple threat, that of protection, rejuvenation and customization," states Ron DiIorio, CEO and founder of Designerskins.com.
Fit most 14"/15", 15.4", and 17" screen laptops.
All of Designerskins products are made with a unique heavy duty 10 mil vinyl and feature superior high resolution graphics. They are then finished with a high gloss acrylic coating for incomparable look, feel and protection.
MacBook & MacBook Pro Covers
PR: Featuring the same designs as our iPod covers for the MacBook & MacBook Pro + PowerBook.
Skooba Seventeen+ Satchel For Laptops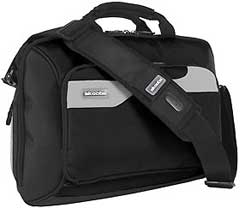 PR: The big brother of RoadWired's hottest-selling, award winning Skooba Satchel, the 'Seventeen+' has all of the same sleek styling and innovative details, and more. More space, more pockets, more features (mmmmm . . . more is good). The Seventeen+ is designed to hold any current laptop, including even the largest 'desktop replacement' 17-inch models.
The Skooba Seventeen+ has over 20 pockets and compartments, to hold and organize all your digital gear, office supplies, and more. Its computer compartment is lined with Skooba's revolutionary Air Square laptop protection cells, and features a unique, innovative ZipFit system that lets you increase or decrease the size of the laptop section by up to 4 inches to suit your machine. Yet despite its massive capacity, this workhorse - like all Skooba bags - is deceptively slim, sleek and lightweight (if you're carrying a 10 lb. laptop and everything that goes with it, the last thing you want is a bag that adds to the burden).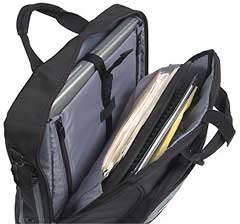 Need a smaller one? Check out the regular Skooba Satchel which fits medium-sized laptops and even some 17" models.
Colors: Black/Gray
Features:
20+ pockets and compartments hold laptop, files and folders, gadgets, accessories and more
Patented Air Square protection system surrounds laptop with hundreds of individual, air-filled cells that support and protect computer from the daily bump and grind
Adjustable, quick-release retention strap secures laptop of virtually any size, including all 17" screen models up to 16.5"L x 11.75"H x 3.25"W
Main compartment divider panel keeps files and papers neatly in place
Accessory organizer compartment on front of bag provides pockets for phone or other compact gadgets, CDs, pens, cables, keys, business cards and more
'Rivet-Ready' attachment points on side of bag and shoulder pad accept Rivet Micro-Clip (sold separately). The precision-engineered, modular Rivet system can be used to securely hang a phone, mini camera, flashlight, keys, or just about any other small item on your bag, belt or other surface
Oversized shoulder pad incorporates same Air Square cushioning as laptop compartment, with friction surface to prevent slipping. Pad even has its own flap pocket, for ID or transit pass
Mesh pouch for water bottle hides away in its own zippered compartment on the side of the bag
Separate, zippered back compartment for magazines, tickets or other documents. Back panel also has reinforced trolley strap that slides over the handle of a rolling suitcase or cart, for convenient, secure transport
Dual handles with padded grips, for comfortable hand-carrying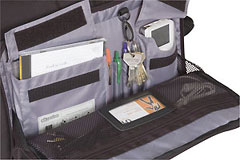 Specs:
Primary materials: Ballistic Nylon exterior with neoprene trim stripe. All interior sections fully lined with smooth nylon pack cloth. Patented Air Square protective material in laptop compartment
Hardware and trim: Heavy-duty webbing for shoulder strap and handles. All load-bearing points massively reinforced with 'box-X' stitching. Metal, no-twist shoulder strap fasteners, self-repairing zippers, rubber bottom treads
Overall Size: 18"L x 13"H x 6"D (Nominal)
Weight: 48 oz.
Price: $119.95
Python XM Bianco Backpack - Rugged, Large-scale Performance in White
PR: Python XM is not for everyone. If you want large capacity and lots of pockets, a rugged design and solid laptop protection, Python may just be the backpack for you.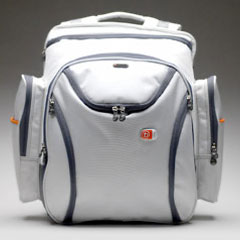 Booq, a fast-growing, premium brand of performance-driven laptop carrying cases designed to carry the world's most ambitious ideas, announces the introduction of its Python XM Bianco, a rugged, large-capacity backpack designed for the 15" and 17" MacBook Pro and 15" high-performance laptops.
Limited to just 250 pieces, each Python XM Bianco sports a pure white ballistic nylon exterior and a walnut brown interior with beige stitching-a reinterpretation of rugged refinement. Designed to protect the world's most ambitious ideas, this exclusive bag comes with a tough, rigid-frame laptop compartment, a variety of padded pockets and compartments for items large and small, a dedicated iPod pocket with non-scratch lining as well as many more intelligent detail solutions. Unlike any other bag before it, Python XM Bianco embodies the unique exclusivity of the company's premium line of professional laptop bags. Priced at $189.95, trendsetting creative professionals will know that owning a Python XM Bianco is an aspiration worthy of turning into reality.
Creative professionals who have come to expect fresh and innovative design solutions love the exceptional level of quality and functionality of Booq's products. The privately held company is based in Sierra Madre, California.
In terms of utility, Python is one of finest laptop backpacks available: Weather-resistant ballistic nylon exterior and tough, seatbelt nylon straps, a rigid-frame laptop compartment designed to protect the world's largest laptops, lots of padded pockets and compartments for items large and small, a dedicated iPod pocket with non-scratch lining, removable waist strap, sternum strap, and much more.
In terms of capacity, Python is hard to beat: You'll have room for a stack of books 5" high, a complete set of clothes with shoes, or large document folders and shipping envelopes, water bottles, camera, plus your complete set of typical laptop accessories like cables, mouse, power adapter and more. Python even has a secure iPod pocket completely lined with non-scratch fabrics, protected by two layers of zippers.
Like all Booq bags, Python has been designed by Booq in California with the professional user in mind, and every bag is covered by Booq's Lifetime Repair Warranty, which shows our commitment to creating products with the most refined design and highest quality.
Again, Python XM is not for everyone, but if you are looking for the most rugged, most versatile backpack that can hold your laptop and everything you need, this backpack's for you.
High-end materials and hardware, rugged construction.
Various padded accessory pockets for items large and small.
Rigid-frame laptop compartment with 0.75" hd foam padding and non-scratch lining.
Room for a stack of books 6" high, water bottles, camera etc.
Ergonomic, breathable shoulder strap design with sternum strap and waist belt.
Dedicated and secure iPod pocket, accessible from the interior only.
Color: White
Fits: 15" Laptops & 17" PB
Exterior Dimensions: 17.0" x 16.5" x 8.0"
Laptop Compartment: 14.2 x 11.25 x 1.6"
Weight: 4 lb.
Price:$189.95
Software
JackSMS 1.0b4 Helps Protect Mac Laptops
PR: JackSMS helps protect Mac laptops. Features include:
Moving your Mac laptops, closing lid, or disconnecting power cord will trigger the alarm.
Send mobile text message when alarm is triggered.
Option to lock screen while JackSMS on or alarm is triggered.
Adjustable sudden motion sensor (SMS) sensitivity and alarm duration.
Designed to work on iBook, PowerBook, MacBook, or MacBook Pro with built-in SMS.
AppleScript support to work with Salling Clicker or BluePhoneElite.
Growl support for JackSMS status notification.
New in version 1.0b3:
Lock screen now independent of your screensaver/sleep security setting.
Fix a bug that alarm will be triggered when battery is getting charged.
Option to temporarily disable idle sleep while JackSMS on.
Improved handy feature to lock/unlock your computer while away/back (Salling Clicker or BluePhoneElite needed). Absolutely no user intervention is needed.
System requirements: iBook, PowerBook, MacBook or MacBook Pro with built-in sudden motion sensor
System support: PPC/Intel
Free
Temperature Monitor 3.7
PR: Temperature Monitor is an application to read out all available temperature sensors in Macintosh computers. The program can display and visualize measured values in a large variety of fashions. The application supports the following operations on the measured readings:
display in a default window
output in a screen display in front or in the background of the screen
tabular display in an overview window
display in the menu-bar
display of a maximum of two readings in the Dock
graphical display of short-term and long-term history curves
speech output of readings
display of minimum and maximum values
export to text files
Moreover, the application can display additional technical information about your computer. Among other information this includes:
Processor type
Processor and bus frequencies
Manufacturing information
Of course the application can read out the data only if your computer is equipped with the necessary sensors, and if Mac OS X can access them without needing third-party device drivers. Beginning in summer 2002, Apple has begun to massively drive forward the use of monitoring probes in the PowerMac series, the Xserve series, and in portable computers. Some models are equipped with 38 and more sensors. But Temperature and Hardware Monitor can detect sensors on many older systems as well if they are available.
Apple has restricted the use of monitoring applications on Intel-based Macintosh systems. Thermal management of those computers is no longer done by the operating system, but controlled by an undocumented hardware device, the Apple System Management Controller. Only a few sensors are accessible by application programs.
We try to detect all sensors on as many Macintosh computer types as possible. However, a prediction which sensors are available in which models is not possible, because Apple very often releases "silent product updates", where the hardware equipments of some models are changed but the names are not (specifications are "subject to change without notice"). The particular graphics card and hard disk configuration used is also important because these parts can include independent sensors, too.
Please note that Apple does not support an official or standardized way of reading out sensor data in Mac OS X (the only exception is the Server Monitor application for the Xserve series). Moreover, there is no documentation or other technical note about the individual function of the sensors. For this reason, the development of Temperature Monitor and Hardware Monitor is very costly because the necessary data has to be determined by reverse engineering and tests run on a variety of computer models. Please support the development of the applications by purchasing a registration key for Hardware Monitor.
New in version 3.7:
Due to quality problems and intellectual property issues, support for the third-party software "SpeedIt" has been removed. The application now comes with its dedicated own driver to access internal information of x86 processors. The driver can easily be installed or uninstalled from within the application. The program will automatically notify the user if installation of the driver is recommended.
The following additional sensors will be accessible on current x86-based Macintosh systems when the driver is active: the internal digital thermal sensors for each CPU core of Intel processors.
In addition, the System Information window of the application will be capable of displaying family, model and stepping numbers, as well as the internal identification of x86 processors after the aforementioned driver has been installed.
Added new preference values to adjust the ratio of the font sizes for display of the sensor labels in relation to display of the sensor readings. The preference settings are available for the sensor window and the screen display output channels.
The policy for detecting temperature sensors that are built into hard drives has changed: If the application detects a SATA drive under control of an Intel-based Macintosh system using AHCI, it will automatically assume that this drive contains a working temperature sensor compliant with the latest version of the ATA and S.M.A.R.T. standards. Up-to-date hard drives will no longer need explicit support by the application but will be accepted automatically. The column for temperature sensor support in the Drive Overview window has been removed.
The reference manual now gives an example on how to define a sensor alert trigger to automatically shutdown the system when readings exceed adjustable threshold values.
System requirements: Mac OS X 10.2.5 or later.
System support: PPC/Intel
Free
Tech Trends
Educators First to Test Negroponte's $100 Laptop Prototype
Educators from the U.S. and abroad will be among the first to test-drive prototype models of Nicholas Negroponte's much-discussed $100 laptop during the National Educational Computing Conference (NECC) July 5 through 7, in San Diego. NECC is presented by the International Society for Technology in Education (ISTE).
"ISTE's NECC will be the first public forum at which we not only show a working prototype of the $100 Laptop, but also provide hands-on access to developer machines," Negroponte said. "Furthermore, selected conference attendees will be invited to participate in our developer program."
Information about the developer program can be found at:
http://wiki.laptop.org/index.php/Developers_Program
Thanks to Negroponte's One Laptop Per Child Initiative (OLPC), journalists and NECC attendees can try out the $100 laptop's casings and motherboard. OLPC staff will be available to answer questions.
Negroponte, cofounder and chairman emeritus of MIT's Media Lab, is one of the most influential thinkers and doers of our time. He is also NECC's keynote speaker, and will be discussing the latest about the $100 laptop project. The goal of OLPC is to revolutionize education by putting a compact, durable, no frills, but Internet-ready computer into the hands of millions of children worldwide. Negroponte is a founder of Wired magazine and author of the best-selling book "Being Digital."
NECC draws 15,000+ teachers, teacher educators, technology coordinators, library media specialists, administrators, policy makers, and exhibitors from around the globe. The exhibit hall includes more than 500 of the industry's most influential companies and service providers - many of whom announce new products at the conference.
In addition, NECC offers dynamic speakers, practical demonstrations, panel discussions, workshops, Internet poster sessions, research papers, a Global Gallery, and a fun and inspiring Student Showcase. NECC is the largest and most comprehensive event of its kind in the world.
NECC is presented by ISTE in cooperation with the California Computer-Using Educators with additional support from the San Diego County Office for Education.
Link: One Laptop Per Child
Sony Ditches Hard Drive in Latest Laptop
IDG News Service's Martyn Williams reports:
"Sony will replace hard disks with flash memory when it launches a new model of its Vaio U laptop next week, it has announced.
"The computer will be one of the first on the market that uses flash memory in place of magnetic storage.
"Flash has long been eyed as a potential replacement for hard-disk drives because it's lighter, runs silently, offers faster data access and uses less power, but price has always been an obstacle...."
Editor's note: This development can only help ramp up speculation about a possible MacBook nano (or whatever) with NAND flash memory. cm
Desktop Replacements in Hefty Size
BusinessWeek's Carlos Bergfeld reports:
"For some, luggable laptops with large screens and features to spare may render the PC tower obsolete - but they're neither light nor cheap
"In late May, Dell started selling a computer complete with an eight-speaker surround-sound package, a Bluetooth keyboard, and a 20.1-inch monitor - an impressive host of extras for any desktop system. Thing is, the XPS 2010 is a notebook, a machine that can be closed shut and carried - monitor, speakers, detachable keyboard, and all - from one place to another.
"More than ever, computer makers are blurring the lines between desktops and notebooks, making the latter an attractive alternative to a hulking PC. The increasing appeal of notebooks is showing up in analysts' forecasts: Gartner predicts an increase of only 1.9% in global desktop sales for this year, compared with an estimated 31.4% gain in notebooks."
A Lamborghini on Every Desk?
BusinessWeek's Bruce Einhorn says:
"The old Taiwanese business model - lackluster, inexpensive machines - doesn't work for PCs anymore. The solution: Sports-car styling
"If you're an executive at Asustek Computer, the answer is easy - go for glitz. The Taiwanese company, a leading producer of finished PCs as well as important but unexciting computer components like motherboards, has teamed up with Italian sports car maker Automobili Lamborghini to sell a line of notebook computers with design touches that evoke the legendary brand.
"Launched early this month and displayed at last week's Computex trade show in Taipei, the new Lamborghini laptops are shiny black or gold, with the Italian carmaker's logo on the exterior."
Acer Unveils White MacBook-like Laptop
The Register's Tony Smith reports:
"Acer has unveiled its first all-white notebook, the MacBook-like TravelMate 3020. According to the company, the colour scheme conveys "images of pureness, cleanliness and maximum lightness". Apparently."
Report: Dell Notebook Goes Up in Smoke
eWeek reports:
"Dell says it's investigating an incident in which one of its laptops is said to have caught fire.
"The event, detailed in a report by the Inquirer.net, saw the Dell laptop produce smoke and then catch fire during a business conference in Japan."
Bargain 'Books
Bargain 'Books are used unless otherwise indicated. New and refurbished units have a one-year Apple warranty and are eligible for AppleCare.
There are two different versions of WallStreet running at 233 MHz, the cacheless MainStreet version and the later Series II with a level 2 cache. It's not always possible to determine from the vendor's listing which is being offered, so we've included links within this paragraph to the two models. The same goes for the PowerBook G4/667 (VGA) and G4/667 (DVI), the titanium vs. aluminum 15" PowerBook G4 at 1 GHz, and 1.25 GHz to 1.5 GHz 15" PowerBooks.
PowerBook and iBook profiles linked in our Portable Mac Index.
TechRestore is offering a $25 discount to 'Book Review readers off any PowerBook or iBook in stock. Just enter the code CWM during checkout when ordering online. The coupon code is valid from now through 2007.12.31.
used 12" iBook G3/700, 256/30/Combo, $469.99
used 12" iBook G3/900, 256/40/Combo, $489.99
used 15" PowerBook G4/1.25 GHz, 512/80/SuperDrive, Bluetooth, $1,099.99
used 14" iBook G4/933, 256/40/Combo, $779.99
refurb 1.83 GHz MacBook Pro, 512/80/SuperDrive, $1,549
refurb 2.0 GHz MacBook Pro, 1024/100/SuperDrive $1,949
refurb 2.16 GHz MacBook Pro, 1024/100/SuperDrive, $2,149
used 15" titanium PowerBook G4/1 GHz, 256/60/Combo, $699.99
used 12" PowerBook "Kanga" G3/250, 160/5/CD, floppy, $139
used 12" iBook G3/700, 256/20/CD, $335 (add Airport for $99)
used 15" PowerBook G4/667, 256/20/Combo, $529 (add Airport for $99)
For more deals on current or recently discontinued models, see our best 15" MacBook Pro deals, our best 17" MacBook Pro deals, 12" PowerBook G4 deals, 15" aluminum PowerBook G4 deals, 17" PowerBook G4 deals, titanium PowerBook G4 deals, iBook G4 deals, PowerBook G3 deals, and iBook G3 deals.
Join us on Facebook, follow us on Twitter or Google+, or subscribe to our RSS news feed
Links for the Day
Mac of the Day: Macintosh 128K, introduced 1984.01.24. 1984 wasn't going to be anything like 1984 thanks to the original Macintosh.
Recent Content
Custom Search
Follow Low End Mac on Twitter
Join Low End Mac on Facebook
Favorite Sites
MacSurfer
Cult of Mac
Shrine of Apple
MacInTouch
MyAppleMenu
InfoMac
The Mac Observer
Accelerate Your Mac
RetroMacCast
The Vintage Mac Museum
Deal Brothers
DealMac
Mac2Sell
Mac Driver Museum
JAG's House
System 6 Heaven
System 7 Today
the pickle's Low-End Mac FAQ
Affiliates
Amazon.com
The iTunes Store
PC Connection Express
Macgo Blu-ray Player
Parallels Desktop for Mac
eBay

Advertise