Flaming MacBook, Flash-based MacBook mini Speculation, NEC's Daylight-friendly LCD, and More
This Week's Mac Notebook News
Compiled by Charles Moore and edited by Dan Knight - 2007.03.16
This Week's MacBook, PowerBook, and iBook News
Just when you thought flaming notebooks were behind us, a MacBook bursts into flames. Everything involves risk.
Apple's anticipated "MacBook mini" subnotebook got a lot of press this week, thanks to a report by American Technology Research. Rumor has this as a completely flash-based machine, and both SanDisk and Intel have made flash drive announcements this week.
In other developments, NEC is working on an LCD that will be usable in bright sunlight. They haven't achieved the size necessary for MacBook Pros yet, but they continue plugging away.
All prices are in US dollars unless otherwise noted.
General Apple and Mac desktop news is covered in The Mac News Review.
MacBook Fire
Subnotebook Speculation
News & Opinion
Tech Trends
Products and Services
MacBook Fire
MacBook Bursts Into Flames
Aussie MacTalk blogger mattyb reports:
"3am last night. I woke up to my housemate screaming (yelling 'Matty!') and the dog barking. She fell asleep on the couch in the back lounge of our house. I jumped out of bed and raced out thinking that maybe somebody had come through the back door or something.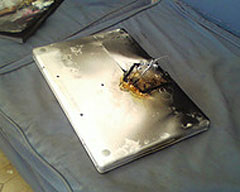 "As I was running I saw a fire. At first I thought that the lamp had fallen and set fire to the curtain. As I got closer I realised it was my MacBook . . . burning! I picked it up and blew on it and swung it around to put the flames out. The book shelf it was sitting on was burnt and there were a couple of magazines that were on fire too. I quickly put those out and calmed down.
"First point to make - check regularly that your smoke alarm works - ours didn't go off.
"Second point (and this is the scary one) - we were damn lucky not to have a house burnt to the ground. I have been out for most of the weekend and this night was the only night I had it charging.
"What actually happened?
"I have noticed for the past 3 weeks the battery life has been poor. I was only getting an hour to an hour and a half from it (compared to over 3 hours).
"I also notice the battery symbol had an X showing a couple of times but a restart would sort that out.
"One last thing I noticed over the last few days was when the battery was fully charged and on the power, it would flicker between 99% and 100% constantly. Nothing would fix this and I was planning on getting it looked at very soon....
"And we are back at the 3am incident. My housemate said she heard it hissing like a steam valve, then smoke started pouring out of it and a couple of seconds later, a very large flash fire started. I'm sure you have read about these and seen the dell video. This is what happened to my MacBook.
"The battery is swollen and burnt so it's definitely the battery that exploded and caught fire. The MacBook is melted on the bottom and severely charred (along with my bookshelves, books, magazines and the wall). The space bar is melted as is the track pad. The screen has been damaged a little too.
"I have pictures if someone wants me to email them for hosting."
Link: MacBook Inferno
MacBook Fire Raised New Safety Questions
BetaNews's Ed Oswald reports:
"Apple finds itself in a peculiar situation after a MacBook in Australia catches fire, apparently from a malfunctioning battery. However, the battery was not on the list of recalled units.
"The report, first posted on the Australian Mac enthusiast site MacTalk, indicates that the user awoke in the middle of the night to find the laptop on fire. According to witness accounts, before the fire started, a hissing sound and large amounts of smoke poured out of the device....
"Apple did recall some 1.8 million Sony-produced batteries in August of last year due to safety concerns, saying they could overheat and catch fire in 'rare circumstances.' At the time, no incidents of fire were reported."
Link: Apple MacBook Fire Poses New Safety Questions
Subnotebook Speculation
Apple May Introduce Flash-based Subnotebook
Reuters reports:
"Apple may sell zippy notebook computers later this year that use the same type of fast memory as music players and digital cameras, driving down prices of hard-disk drives, an analyst said on Thursday.
"The maker of the popular iPod music player and Macintosh computers hopes to introduce so-called flash memory in small computers known as subnotebooks in the second half of 2007, Shaw Wu, an analyst at American Technology Research who has a 'buy' rating on Apple shares and does not own any stock, said in investor notes on Wednesday and Thursday.
"A shift to flash memory in place of much slower hard-disk drives would eliminate one headache for consumers: lengthy start-up times when turning on computers.
"Apple of Cupertino, California, already uses flash memory in its iPod nano and iPod Shuffle music players. Flash memory is lighter, uses less power and takes up less space than hard-disk drives."
Link: Apple May Soon Introduce Speedy Mini-laptop
Apple May Introduce Flash-based MacBook This Year
Bloomberg's Kevin Cho reports:
"Apple Inc., maker of the iPod music players and Macintosh personal computers, may introduce a new laptop this year that will save data on flash memory chips instead of a hard drive, American Technology Research said.
"'Our sources indicate that Apple would like to introduce the product in the second half to further capitalize on its strong MacBook growth,' Shaw Wu, a San Francisco-based analyst at American Technology Research, wrote in a report dated March 7.
"The release date of Apple's lighter and smaller notebook personal computer may depend on how much prices of NAND flash memory chips decline as they are still seven-to-eight times more expensive than hard-disk drives, Wu wrote. Alan Hely, a spokesman for Apple in London, declined to confirm or deny the report, citing company policy not to discuss rumors or speculation."
Link: Apple May Introduce Laptops That Store Data on Chips
MacBook mini by Christmas?
itWire's Stephen Withers reports:
"An Apple notebook that uses flash memory in place of a conventional disk drive is tipped for the second half of the year.
"Analyst firm American Technology Research (ATR) says the Mac and iPod vendor wants to introduce the new slimline model before the end of the year, but flash memory prices will be a factor in its timing.
"Apple needs prices to continue to fall for the new device to be affordable, but the additional demand it generates will help to hold prices up.
"The company can pick from off the shelf ATA and SATA flash-based drives with capacities as large as 160G to simplify product design and manufacture, but even at more modest sizes - say around 40G - conventional hard disks have a seven to eight-fold price advantage."
Link: Apple Subnotebook by Christmas?
News & Opinion
Tricking Out the MacBook Pro
Macworld's Dan Frakes says:
I'm the proud owner of an original MacBook Pro - the early model with "only" a 1.83 GHz Core Duo processor. Overall, I've been quite happy with it; it's been problem-free and a pleasure to use. That said, like many owners of this model, I'm beginning to get a mild case of upgrade-itis. The latest models - which are likely to be replaced by even newer models in the near future sport 802.11n wireless, larger hard drives, faster optical drives, and faster processors.
What's a tech geek like myself to do (other than buy a new machine)? Why, upgrade, of course. Although owners of older portables are stuck with the stock processor, a number of vendors have recently introduced products for upgrading the MacBook Pro (and MacBook) to the latest and greatest in mobile technology. As your dedicated Mobile Mac Weblogger, I've, ahem, volunteered to test some of these upgrades for you, including:
Hitachi's 160 GB hard-drive-upgrade kit: one of the most spacious laptop upgrades on the market; includes an external USB 2.0 enclosure for your current drive.
MCE's OptiBay Hard Drive: replaces your laptop's optical drive with a second hard drive. (It also includes a portable - and faster-than-stock - optical drive for those times when you need it.)
QuickerTek's 802.11n Upgrade: replaces your early MacBook or MacBook Pro's 802.11g wireless card with an 802.11n model.
Link: Tricking Out the MacBook Pro
AirPort Extreme Update 2007-002: Holy Grail for Mac Pro and iMac Core 2 Duo?
Hardmac's Lionel says:
"The update is available via the software update (6.5 MB). Here are the details:
"About AirPort Extreme Update 2007-002
"This update is recommended for all Intel-based Macintosh computers and improves compatibility with AirPort Extreme base stations and networks....
"Based on what we read on the web, it seems that this update solves the bandwidth and connection problems for the Mac Pro and the iMac Core 2 Duo. The users of these machines were waiting for this problem to be solved for a long time... Is it finally THE ONE?"
Link: AirPort Extreme Update 2007-002: Holy Grail for Mac Pro and iMac Core 2 Duo?
Defective Battery: The Story Is Not Over Yet
Hardmac's Lionel reports:
"We keep receiving reports from MacBook Pro owners experiencing problems with their batteries.
"We can summarize them into 2 categories:
Some batteries, mostly from MacBook Pro 17", swollen as it was reported for MB Pro 15" and led to the recall, but there was no recall for MB Pro 17" batteries.
batteries suddenly stop working and providing any power even after fully charging them."
Link: Defective Battery: The Story Is Not Over Yet
Axiotron to Demonstrate Modbook at Wizard World Los Angeles
PR: Solution hardware manufacturer Axiotron, Inc. has announced that it will be showcasing the award winning Modbook, the only Mac OS X tablet computer solution on the market, on the Axiotron Booth #310 at the Wizard World Convention & Expo Los Angeles. From March 16th to 18th, showfloor visitors will be able to take the Modbook for a spin and on Saturday, March 17th, special guest and Emmy award winning artist Shannon Tindle will be demonstrating the Modbook's benefits.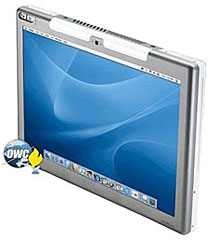 Parallel to in-depth product presentations by Axiotron's lead engineers, visitors will be able to try out the Modbook and find out for themselves, why it was chosen for one of the prestigious Macworld Best-of-Show awards earlier this year. On Saturday, March 17th, Shannon Tindle, who is best known for his Emmy award winning work on Cartoon Network's "Foster's Home for Imaginary Friends", will be joining the Axiotron team and sharing his experiences with the Modbook.
"Events like the Wizard World are a great venue for us to meet the talented and inspired artists we had in mind when we developed our Modbook." said Andreas Haas, President of Axiotron. "The feedback we are getting at an event like this is invaluable for our efforts to provide the best tablet solutions for artists."
The Axiotron Modbook is a high-end slate-style notebook computer solution based on Apple MacBook notebook computers featuring true pen input, a new 13.3" wide screen LCD and an optional Global Positioning System in a tough, satin chrome plated magnesium top shell. With the award winning Mac OS X and its build-in Inkwell handwriting recognition, up to 2 GHz fast Intel Core 2 Duo processors, the integrated iSight camera and the CD/DVD combo drive, the slate-style Axiotron Modbook is the ultimate companion for everyone who favors the pen as input device.
"Not only is our Modbook the only Mac OS X based tablet computer, it also beats every other slate-style TabletPC in almost every category" said Nathan Oshidari, Director of Business Development. "The largest screen protected by Axiotron ForceGlass, the fastest Intel Core 2 Duo processor, Bluetooth, 802.11n Wireless LAN, Built-in GPS, CD/DVD burner and iSight Camera, and all at a price lower than the closest yet not-so comparable Slates from Fujitsu or Motion Computing".
The Modbook features Wacom Penabled hardware, the same high quality technology that makes the Wacom pen tablets and interactive pen displays the preferred choice for professional artists, designers, photographers, and consumers. The Modbook's pen digitizer is responsive (133 position updates per second), accurate (20x display resolution) and pressure sensitive (256 levels).
The included Modbook Digitizer Pen features 2 programmable side buttons plus an eraser and comes with three types of replaceable pen nibs, the traditional hard Pencil Nib, the Felt Nib and a new spring-loaded Studio Nib for improved control over pressure sensitivity. In contrast to cheaper touch screen solutions the Modbook's radio-based digitizer technology allows users to draw with their hand resting on the screen and to control the cursor while the pen is hovering over the screen, providing for an intuitive, mouse-like interface with zero learning curve.
Starting at $2,279 for the complete solution, including the Apple MacBook base system, the Modbook conversion kit, the conversion service and a comprehensive 1 year warranty, the Modbook is exclusively available for orders in the US through Other World Computing.
Link: Other World Computing
Tech Trends
NEC Daylight-friendly LCDs Promise Laptop Screens You Can Use in Sunlight
The Register's Tony Smith reports:
"NEC has extended its range of LCD panels that can be read even in bright sunlight even closer to standard notebook screen sizes, bringing closer, we hope, the day when we can use laptops outdoors without having to squint like crazy.
"The Japanese company claims its 'super-transmissive natural light TFT' technology can still show vivid colours even in 'environments with high ambient light'"
Link: NEC Nears Laptop-friendly Natural Light LCD
SanDisk Intros Internal Flash Drive for Laptops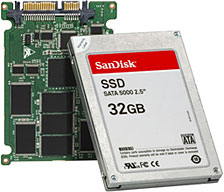 The Register's Tony Smith reports:
"SanDisk has begun offering a 32 GB solid-state drive to notebook makers less than a week after it was claimed Apple's rumoured sub-notebook will only contain Flash storage.
"The launch also comes two months after SanDisk unveiled a similar drive based on the 1.8in form-factor favoured by manufacturers of personal media players."
Link: SanDisk Intros Internal Flash Drive for Laptops
Intel Enters Market for Flash-based Hard Drives
ExtremeTech's Bryan Gardiner reports:
"Analysts began speculating late last week that Apple Inc., along with LG, may soon be releasing flash-based laptops later in the year. Today, news from Santa Clara-based Intel, the company that currently supplies Apple with its processors, may lend some credence to that assertion.
"On Monday, the world's leading producer of microprocessors announced it will be entering the hard drive market with new solid-state drives based on NAND flash memory."
Link: Intel Enters Market for Flash-based Hard Drives
Products and Services
TruePower 65W Power Adapter for PowerBook G4 and iBook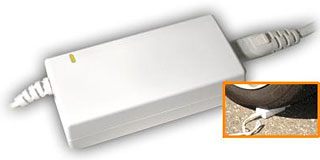 PR: FastMac has announced the expansion of its TruePower line of power products with a 65-Watt AC adapter designed specifically for Apple PowerBook G4 and iBook laptops.
It features a built-in LED and a rugged compact design. It is compatible with all PowerBook G4 Titanium and Aluminum (12", 15" and 17") models as well as iBook G3 and G4s.
The TruePower adapter will begin shipping this week. It is available for pre-order for a special introductory price of $35.95. It comes with a 1-year warranty and 30-day money back guarantee.
The new AC adapter compliments FastMac's growing TruePower line of power products including the longest-lasting iPod battery, the highest-capacity PowerBook battery, and the only third-party MacBook Pro battery available.
Compatibility
PowerBook G4 Titanium
PowerBook G4 Aluminum (12", 15", 17")
iBook G3 (White)
iBook G4
Link: FastMac
DuelAdapter Connects PCMCIA and CardBus to ExpressCard Notebooks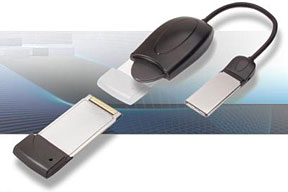 PR: Duel Systems, a business unit of Methode Electronics, Inc., announces the launch of its DuelAdapter. The DuelAdapter is the industry's first PCMCIA and CardBus to ExpressCard™ adapter. The new adapter allows customers who have purchased laptops with 34mm or 54mm ExpressCard ports to continue to use existing PCMCIA and CardBus cards.
The DuelAdapter converts data from PCMCIA and CardBus cards designed for cellular broadband, wireless networking, video, audio and memory expansion to the new ExpressCard format. The adapter works with laptops running Windows XP and Mac OS X operating systems. A new Windows Vista driver is in development and will be available via download from the website in the near future.
The DuelAdapter provides the highest throughput speed for current PCMCIA and CardBus cards, such as WLAN (802.11x), wireless modem cards, Panasonic P2 and most other current cards. The adapter uses a new Texas Instruments chipset to convert PCMCIA and CardBus input to an ExpressCard compatible signal at transfer rates up to the full 2.5 Gbit/sec supported by the ExpressCard interface. The adapter ensures the highest possible throughput rate for whichever PCMCIA or CardBus card is used. The DuelAdapter is certified to FCC, CE, UL and RoHS requirements.
Rob Zajac, general manager of Duel Systems, states, "We have had a very positive and active response to our Beta program which reflects the growing demand for this adapter because of the large number of new ExpressCard enabled laptops shipping today."
Duel Systems has launched a new e-commerce website and is taking advance orders for the DuelAdapter starting March 7, 2007. The DuelAdapter has a suggested retail price of $119. For a limited time only, Duel Systems is offering a special introductory price of $99 on advance orders placed through March 31, 2007. The DuelAdapter will also be available through select resellers in North America and Europe.
For more information on any of Duel Systems' products including PCMCIA, Compact Flash, ExpressCard packages, or any other metal/plastic packaging design, contact: Duel Systems, 1750 Junction Ave., San Jose, CA 95112. Phone: 408-436-4931. Fax: 408-436-6063. Email: info@duel-systems.com.
Link: DuelAdapter
See·Thru Hard Shell Case for MacBook Pro 15"

PR: Accent the sleek look of your 15" MacBook Pro notebook. Get great hard case protection, a hint of color and a massive dose of shine. See·Thru MacBook cases are made of translucent hard plastic to beautify and protect.
Keep your 15" MacBook Pro closed when you put on the case! Place MacBook Pro in bottom half of case, snap on the corners and back 'hooks'. Place top half of the case on top of MacBook Pro, snap on corners. Pull the small tabs away from the MacBook Pro corners to remove the case. Open the MacBook Pro and pull off the front corners first, then pop off the back.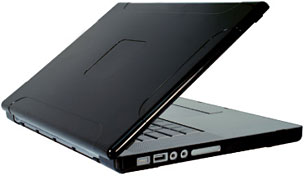 Features:
Two piece snap-on protective hard shell lets you open and close your MacBook without removing the case
Compatible with 15" MacBook Pro Core Duo AND Core 2 Duo!
Protection plus access to all features at the same time - Shatterproof polycarbonate plastic offers great hard shell protection and gives your MacBook a sleek, shiny look.
74-slot ventilation system to minimize thermal insulation
Rubber feet help prevent slipping on slick surfaces
Available in clear, red, and black
Fits 15" MacBook Pro Core Duo AND Core 2 Duo!
Also available for 13" MacBook
Cutouts for everything - All ports, plugs, holes and disc drives have cutouts so you can always keep your MacBook protected! Includes great ventilation slots and rubber feet for added support.
$49.95
Link: See·Thru Hard Shell Case
Uniea's Leather U-Suit for MacBook

PR: Uniea announces the availability of another new product for retailers: the Leather U-Suit Protective Case for MacBook. By simply attaching the Leather U-Suit to the top and bottom of their MacBooks, users can prevent damage that comes from daily use, dirt, dust, and abrasive surfaces or from accidental damage.
The soft, luxurious outer texture of the Leather U-Suit disguises a hard inner ABS plastic material that protects the laptop from impact at all angles. The interior of the Leather U-Suit is also lined with soft protective materials to protect the MacBook from scratches.
Fitting a MacBook with its Leather U-Suit is fast, simple, and convenient, and the case doesn't even need to be removed before using the laptop. The Leather U-Suit allows simultaneous access to all left and right side ports, and it is designed to allow for thermal exchange out of the computer's heat sinks and fans.
Features:
Scratch resistant interior
After attaching the Leather U-Suit, your MacBook won't get scratch because of its soft-protective materials inside.
Easy and Convenience Application
No need to detach the case while using the MacBook.
Portable and Light Weight
Tote your laptop anywhere, conveniently and safely in any briefcase and backpack.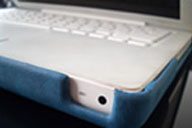 "At Uniea, we specialize in electronic accessories that provide not just protection but style," said Kent Cheng, Managing Director of Uniea. "Consumers today depend on their mobile devices, so they need protective products that are well-made and beautiful. Uniea's protective products have been designed to satisfy this growing consumer demand. The Uniea Leather U-Suit for MacBooks combines style and functionality to protect the MacBooks from wear and tear."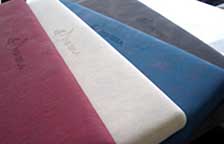 Uniea's Leather U-Suit for MacBooks is available in four stylish colors: white, gray, blue, and red. Detailed images of all four colors of the handsome Leather U-Suit can be viewed online. The page also provides a simple diagram for attaching the protective case to your MacBook.
The Leather U-Suit is so lightweight and portable, that it adds no appreciable weight at all to the MacBook. Users can tote their laptops anywhere, conveniently and safely, in any briefcase or backpack.
Link: Leather U-Suit
LapDawg Portable Laptop Stand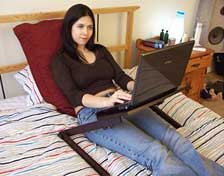 PR: Have you ever wanted something that can hold your laptop off your blankets at a comfortable angle in bed? (either lying down or sitting up) Ever wished you could use your laptop comfortably outdoors without using your lap, desk or table? How about an accessory that can alleviate back aches, hand cramps, or neck pains from awkward or extended laptop use?
The LapDawg portable laptop stand is a new laptop accessory designed to change the way our body interacts with laptop computers by simply holding our laptops to a more comfortable, natural angle. It will eliminate your laptop's weight, heat and discomfort from burdening your lap while at the same time repositioning your body and arms to ergonomically correct angles, enhancing comfort and reducing strain on our bodies.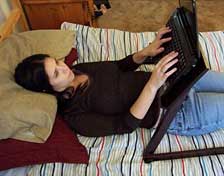 It's simple, lightweight, mobile design will maximize the freedom of movement for your legs and body, eliminating the "trapped" feeling of a laptop resting on your lap.
5 Ergonomic Benefits of the LapDawg
To allow freedom of body movement, specifically your legs and lower torso.
To secure laptop computers on a flat, independent, stable platform allowing for natural air flow, reducing heat and weight off the human body.
Reduce the risk of carpal tunnel syndrome, repetitive stress syndrome, and tendonitis from extended laptop use.
To promote proper body posture by having the arms and shoulders rest comfortably with the wrists straight, and a neutral upright posture in the neck by either lying down or sitting up.
To enhance the overall laptop experience by sustaining a comfortable but natural interactive "feel" by ergonomic design.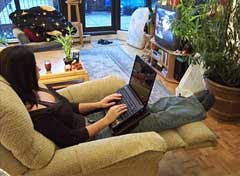 Once you've tried the LapDawg, you'll understand how this simple accessory can change your whole laptop experience.
You'll immediately start to feel greater comfort, both physically and mentally as it lowers the strain caused by long use. Imagine reading your favorite e-books in bed! This is something that was not easy or comfortable to do before the LapDawg came along.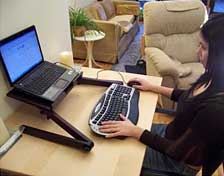 We take great pride knowing that our design is the only laptop stand solution that helps our customers experience the best possible comfort while at the same time, ergonomically protecting them from long term physical ailments.
It makes a perfect gift for the working professional or students in your life. Amaze them with this practical & unique gift.
Fully assembled, the LapDawg weighs in at a very light 1.6 kg. Its compact design made from light but sturdy wood makes this a truly portable accessory.
The LapDawg comes in 5 light weight wood pieces, finished in a beautiful dark mahogany color. 1 flat platform and 4 legs & feet that make up it's stable design. There is also 6 Large screw designed to make it simple to tighten or loosen your preferred angles.
Features:
"No Hands" Design. Holds your laptop or books for you.
Designed for ergonomic comfort & stability
Made from durable light weight wood
Can transform to fit in travel bag
Incredibly portable & versatile
Multiple Functions. See Other Uses!
Weighs only 1.6 kg
Hold laptops (up to 17 inches), books, magazines or binders.
Flexible design. Adjusts to almost any body type
Beautiful dark mahogany gloss finish
Takes 2 minutes to assemble
Makes a Perfect One-Of-A-Kind Gift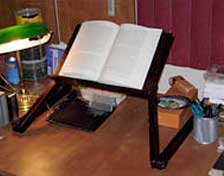 Although the LapDawg can be called a Laptop Stand, there are many applicable terms to describe our design other common terms such as a laptop tray or straddle desk exists. If your interested in ergonomic research click on laptop ergonomics for more information. The LapDawg can be used for a multitude of functions such as a book holder, bed tray, lap desk, student desk, or a laptop desk
If you like to write on a piece of paper, whether in a journal, diary, memo or day book, the LapDawg lap writing desk is the perfect solution for you.
Studies have shown that the best time to write things down is when you're in a relaxed and comfortable mood. Why not capture the moment when you're in bed?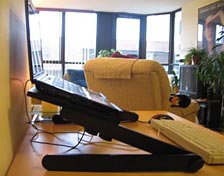 The LapDawg can be easily adjusted in bed to suit your writing angle, when finished simply move aside as it's 1 pound weight makes it an easy task.
The LapDawg Lap Writing Desk can be used on a sofa as well. The unique wide angle base and adjustable legs stabilize the frame on any flat surface including a sofa or bed. Use the lap writing desk for traveling and make any hotel room comfortable to use for writing on the spot.
US Residents: $79.99 + $20* (Standard Ground Continental Shipping)
* excludes Hawaii, Alaska, and International orders
Canadian Residents: $89.99 + $17 (Standard Ground Continental Shipping) + GST (Ontario Residents Add PST)
For large or bulk orders, discounts are available.
Please visit our purchasing information page for more information.
Link: LapDawg
Canvas·Sport Sneaker-Inspired Case for MacBook Pro and MacBook
PR: Accessorize and protect your 15" MacBook Pro or 13" MacBook with the stylish Canvas·Sport case! Inspired by classic sneakers - this case boasts a cool, sporty look and gives great protection to your MacBook. Features a canvas body, rubber edges, and super-soft interior lining!
Fits 15" MacBook Pro
Also available for 13" MacBook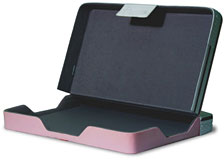 Features:
Super-sturdy canvas & rubber materials
Cool, classic sporty look
Slip-in, slip out design with secure snap closure
'Sleeve' style case offers maximum protection
2 external pockets for small items
Available in black and pink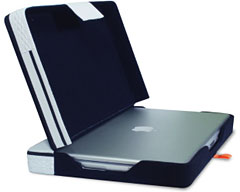 Unsnap the Canvas·Sport case and slip in your 15" MacBook Pro or 13" MacBook. Snap the case shut and go! Your MacBook Pro stays secure inside and slips out for easy access when you need it.
$39.95
Tom Bihn Ego Laptop Cases
PR: Distinguished by an interchangeable strip, the Ego is a midsize messenger bag that mediates among the ID and Super Ego; it's bigger than the ID, but smaller than the Super Ego. If you've desired a Super Ego but found it to be just too big, the Ego is the bag for you.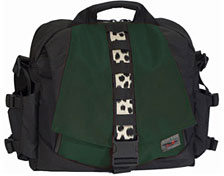 On the front flap of the Ego is an interchangeable strip of fabric available in over 19 different colors and materials that allows you to customize the color combination of your bag. One strip is included with your Ego, and extra strips are available to fit your changing styles or even your mood. For more information on the strips, check out the grey shaded box on the left side of this page.
The Ego rides your shoulder with the Tom Bihn Standard Shoulder Strap, a 1-1/2" wide heavy nylon webbing strap with a comfortable wide foam pad that won't slip off your shoulder and is designed to conform to your shoulder and back. For an extra $15.00, you have the option of switching out the Standard Shoulder Strap and pad and replacing it with the Absolute Shoulder Strap. The Absolute Shoulder Strap, which combines a soft, durable neoprene pad with comfortable stretch backing, has a unique patented internal control-stretch system that has given it a well-earned reputation as the one of the best shoulder straps available.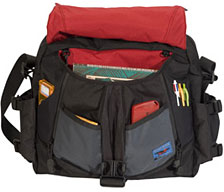 Under the front flap, on both the right and the left, are YKK #8 Uretek "splash-proof" zippered pockets that are accessible with the flap open or closed. On top of these zippered pockets are two open-top wallet sized pockets. All zippered pockets on the Ego feature strong, easy-to-grab zipper pulls. On either side of the zippered pockets are small stretch-mesh pockets with an open top that are great for storing pens.
Behind the zippered pockets is a large open pouch that spans the width of the bag and features organizer pockets for your pens, PDA, iPod, and wallet as well as a key snap for your keys on both the left and right sides of the pouch.
Behind the front flap and pouch is the zippered main compartment, so you don't have to unbuckle the main flap closure to access your laptop and other stuff. This large compartment closes with a #10 YKK Uretek "splash-proof" zipper and comes with removable Annex clips inside designed to secure the optional Horizontal Brain Cell hard-sided laptop case against the back panel of the bag. The Horizontal Brain Cell is available in eight different sizes and provides the ultimate in laptop protection with soft, thick foam padding, hard, corrugated plastic walls, and a suspension system. We recommend using our Laptop Bag Fit Guide to determine which size of Horizontal Brain Cell is right for your laptop.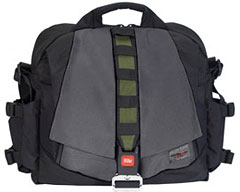 The back and bottom of the main compartment of the Ego are padded, and they are the perfect place for your files or books.
On the left and right sides of the bag are unobtrusive water bottle pockets; they have compression straps so you can snug them down when not in use.
The back exterior of the Ego features an open flat back pocket perfect for even the thickest magazines or newspapers, and a removable 1-1/2" webbing waist strap for extra stability when you're on your bike (motor or push).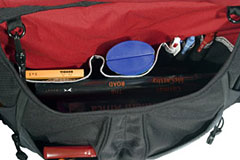 The handle is constructed of Ballistic nylon - wrapped around high-quality, 0.5" thick Poron foam - with a "just right" center of gravity so that you'll carry the Ego as effortlessly as a typical briefcase.
For added visibility when using the Ego while on your bike, we offer the optional Cat Eye reflector which can be attached to the front of the bag on one of the webbing strips that secure the interchangeable front strip in place.
Becomes a protective laptop messenger bag with the addition of our Brain Cell hard-sided laptop case.
Swappable front strip available in 19 different colors and materials allows you to continually customize the color combination of your Ego.
Dimensions: 15.3 x 13.3 x 6.3" / 390mm x 340mm x 160mm
Weight:
Ego (with plastic buckle): 2 lbs 10oz (1.2 kg)
Volume: 23 liters / 1400 cu.in.
#8 and #10 YKK Uretek splash-proof zippers.
Made in the Tom Bihn Factory in Seattle, Washington, USA
Colors:
Black/Crimson/Steel/Cork Seatbelt Strip
Black/Steel/Crimson Reflective Strip
Black/Steel/Deep Blue Sapphire Strip
Black/Crimson/Steel Cork Strip
Black/Steel/Wasabi/Olive Seatbelt Strip
Black/Hunter/Steel/Snow Leopard Strip
$130
The Ego Strips
A tiger can't change its stripes, but an Ego can.
The Ego's front flap closes with a 2" wide heavy-duty plastic Duraflex Warrior buckle that attaches to the bag with an interchangeable strip of hook and loop material (like Velcro).
One Duraflex Warrior buckle strip comes with your Ego. You can order additional Duraflex Warrior buckle strips for $5.00 each. The Duraflex Warrior buckle strip weighs 1.1 ounces.
You can also choose a strip that has a real seatbelt buckle instead of the Duraflex Warrior buckle. The seatbelt buckle strip is $10.00 extra and weighs 5.6 ounces. Because the seatbelt buckle is custom made in the color of your choice, orders for strips with the seatbelt buckle may take up to one extra business day to ship.
The Ego strip is designed to be easily swapped with different strips so that you can customize the Ego to fit your style or even your mood. Strips are available in the following colors and materials: Reflective, Black, Kelly, Steel, Crimson, Navy, Plum, Wasabi, Cork, Snow Leopard Ultrasuede, Deep Blue, Sapphire, Blue Glitter, Grey Glitter, Galvanized, Cocoa, and Olive.
Four limited edition strip colors/fabrics are currently available: Mod Italian, Yellow Vinyl, Gold Bamboo, and Crimson Bamboo.
You can be basic (stick with Black, or a color that matches the front flap of your Ego), wild (Snow Leopard Ultrasuede Strip on a Black/Hunter/Steel Ego), or somewhere inbetween (Cork Strip on a Black/Crimson/Steel Ego). The color possibilities are endless.
If you get a new job or have a mid-life crisis, you don't have to get a whole new bag: just a new strip. We will be coming up with other unusual fabrics/colors in the future - stay tuned.
Link: Ego Case
Quicky Jr. USB Wireless Amplifier for Apple Computers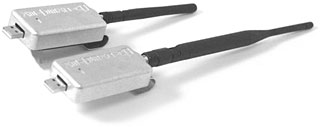 PR: Once again, QuickerTek has created a high-performance yet cost-effective wireless solution for Apple computer users. Quicky Jr. extends the popularity of the Quicky USB wireless boosters at less than half the cost. Quicky Jr. easily extends the wireless speed and range of any Mac with built in wireless for only $99.95 , freeing users to compute anywhere they like.
Quicky Jr solves the two eternal problems of wireless range and speed, without disassembling the computer for installation. Quicky Jr, like the original Quicky, uses the USB port for wireless amplification and as a power source. No drivers or other extra steps get in the way of enjoying wireless at speeds normally only available to 802.11g network connections - 54mbs (megabits per second).
Not only does the Quicky Jr amplify wireless signals in and out of the computer, but two included antennas are supplied to match to your specific wireless environment. A 2dBi antenna gives you the wide wireless dispersal area coverage while the 5dBi antenna extends out vertically to beat the multi-floor wireless blues. These antennas simply screw onto the Quicky Jr. so changing them out is fast and easy and lets you reach out to those weak signals no matter where you might travel or virtually any office or home layout.

Quicky Jr. works with all 802.11/b/g/n WiFi equipment including Apple AirPort, AirPort Extreme and the latest 802.11n version of AirPort Extreme introduced at Macworld Expo. Quicky Jr. eliminates any worry or apprehension that prevents some Mac users from the joys of high speed wireless.
Compatibility
MacBooks
MacBook Pros
iMacs
Power Macs
PowerBooks
Mac mini
Like most QuickerTek products, Quicky Jr. is backed with a one-year warranty on parts and labor.
Link: Quicky Jr.
foof: 'It's Not Easy Being Green'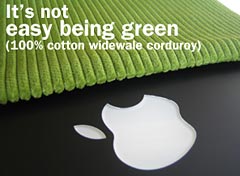 PR: prMac - foof in Australia, who make protective fabric sleeves for Apple MacBook and MacBook Pro, are reintroducing their long awaited return of "it's not easy being green" - a vibrant green corduroy foofbag.
Not to intentionally quote from Kermit the frog, foof want to bring more awareness to online customer purchasing decisions with regards to greenhouse gas offset (CO2 free) products.
foof is a small business that is in the process of abating their greenhouse gas footprint that's been created from emissions arising from the importing of materials, manufacturing and exporting of foofbags. We use materials like Herringbone tweed from Ireland, traditional motif cottons from Japan and colourful corduroy from China in our foofbag products.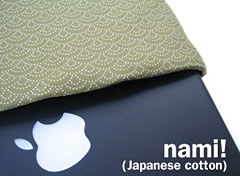 As of this year, every foof product we sell is emissions offset (or abated) via forestry tree sequestration in NSW Australia. We do this through a carbon credit reseller, called CarbonPlanet.
Speaking of green, we thought it would be fitting to also contribute the full cost to plant and manage a tree for 100 years as apart of the purchase price of an "it's not easy being green" foofbag.
$4 will go towards this sequestration program from each $36 "it's not easy being green" foofbag we sell this month and next month. This is in addition to the emissions already offset in each foof product we sell.
$36 AUD foofbag
$9 AUD Postage Charge
Link: foofshop
Case-mate Acquires QuickerTek's Apple Laptop Handle Business
PR: Case-mate announced it has struck a deal to absorb QuickerTek Carry Handles for Apple laptops. QuickerTek will continue to provide product development solutions to Case-mate's current selection of laptop handles. Case-mate currently offers laptops handles for Apple's MacBook, MacBook Pro and PowerBook under than product name handle-it.
Case-mate is a recognized leader in form-fit leather iPod cases as well as cases for laptops, cell phones and PDAs. Case-mate CEO, Shashi Reddy said "This acquisition for Case-mate very much defines the direction we are taking. Not only is this a logical addition to our product assortment, but the move helps position us in the marketplace for exponential growth."
QuickerTek has had great success with its Carry Handles for Apple laptops. QuickerTek president Rick Estes, said, "We are delighted to see Case-mate continue and extend the handle offerings for Mac users going forward. The success of our wireless products has monopolized our time. Case-mate made the strategic decision to pick up the ball and run with it. I'm sure that they'll continue to have great success with these and upcoming Handle products."
Link: Case-mate
Bargain 'Books
Bargain 'Books are used unless otherwise indicated. New and refurbished units have a one-year Apple warranty and are eligible for AppleCare.
There are two different versions of WallStreet running at 233 MHz, the cacheless MainStreet version and the later Series II with a level 2 cache. It's not always possible to determine from the vendor's listing which is being offered, so we've included links within this paragraph to the two models. The same goes for the PowerBook G4/667 (VGA) and G4/667 (DVI), the titanium vs. aluminum 15" PowerBook G4 at 1 GHz, and 1.25 GHz to 1.5 GHz 15" PowerBooks.
PowerBook, iBook, and MacBook profiles linked in our Portable Mac Index.
Only a few models available THIS WEEK - just Core Duo MacBook Pros and a few MacBooks.
refurb 1.83 GHz Core 2 MacBook, white, 512/60/Combo, $949
refurb 2.0 GHz Core Duo MacBook, black, 512/80/SuperDrive, $999
refurb 2.0 GHz Core 2 MacBook, black, 1 GB/120/SD, $1,299
refurb 15" 2.0 GHz Core Duo MacBook Pro, 512/80/SuperDrive, $1,349
refurb 17" 2.16 GHz Core Duo MacBook Pro, 1 GB/120/SD, $1,999
refurb 12" iBook G4/1 GHz, 256/30/CD, $599
refurb 15" PowerBook G4/1.33 GHz, 256/60/Combo, APX, $999
refurb 15" PowerBook G4/1.5 GHz, 512/80/Combo, APX, $1,049
refurb 17" PowerBook G4/1.67 GHz, 512/120/SD, APX, BT, $1,388
12" iBook G3/800, 256/30/CD, $329
12" iBook G3/700, 256/20/Combo, $295
14" iBook G3/900, 256/40/Combo, $409
Add AirPort for $75
15" PowerBook G4/1.5 GHz, 512/80/SD, $1,199
Add AirPort Extreme for $65
12" iBook G3/700, 256/20/CD, AirPort, $349
12" iBook G4/1 GHz, 256/30/Combo, no AirPort, $449
12" iBook G4/1 GHz, 256/30/Combo, AirPort, $519
12" PowerBook G4/867, 384/40/Combo, Scratch & Dent, $479
TechRestore is offering a $25 discount to 'Book Review readers off any PowerBook or iBook in stock. Just enter the code CWM during checkout when ordering online. The coupon code is valid from now through 2007.12.31.
15" PowerBook G4/1.67 GHz, 512/80/SD, BT, $1,219.99 less $25 = $1,194.99
clamshell iBook G3/300, blueberry, 64/3/CD, $179.95
clamshell iBook G3/300, tangerine, 64/3/CD, $189.95
clamshell iBook G3/366, indigo, 128/10/CD, FireWire, $249.95
PowerBook Pismo G3/400, 256/20/DVD, $379.95
PowerBook Pismo G3/500, 256/20/DVD, $399.95
12" iBook G3/500, 128/10/CD, $199.95
12" iBook G4/1.2 GHz, 512/30/Combo, APX, Minor Case Defect, $559.95
12" iBook G4/1.33 GHz, 512/40/Combo, APX, BT, $629.95
PowerBook Lombard G3/333, 128/4/CD, $249.99
PowerBook Lombard G3/400, 128/4/CD, $329.99
Apple Emate 300 PDA, Touch Screen in great working shape, $69.99
Computer Geeks
12" iBook G4/1 GHz, 512/30/CD, APX, $519.99
12" iBook G4/1.3 GHz, 512/40/Combo, APX, $749.99
12" iBook G3/500, 128/10/CD, OS X, $209
12" iBook G3/500, 128/30/CD, OS X, $279
12" iBook G3/600, 128/30/CD, OS X, $329
For deals on current and discontinued 'Books, see our 13" MacBook and MacBook Pro, MacBook Air, 13" MacBook Pro, 15" MacBook Pro, 17" MacBook Pro, 12" PowerBook G4, 15" PowerBook G4, 17" PowerBook G4, titanium PowerBook G4, iBook G4, PowerBook G3, and iBook G3 deals.
We also track iPad, iPhone, iPod touch, iPod classic, iPod nano, and iPod shuffle deals.
Join us on Facebook, follow us on Twitter or Google+, or subscribe to our RSS news feed
Links for the Day
Mac of the Day: 20th Anniversary Mac, introduced 1996.03.20. Honoring Apple's 20th anniversary, the TAM was the first flat panel desktop Mac and had a unique design.
Recent Content
Custom Search
Follow Low End Mac on Twitter
Join Low End Mac on Facebook
Favorite Sites
MacSurfer
Cult of Mac
Shrine of Apple
MacInTouch
MyAppleMenu
InfoMac
The Mac Observer
Accelerate Your Mac
RetroMacCast
The Vintage Mac Museum
Deal Brothers
DealMac
Mac2Sell
Mac Driver Museum
JAG's House
System 6 Heaven
System 7 Today
the pickle's Low-End Mac FAQ
Affiliates
Amazon.com
The iTunes Store
PC Connection Express
Macgo Blu-ray Player
Parallels Desktop for Mac
eBay

Advertise