MacBook Sales Up 94%, MacBook Pro Update Expected at WWDC, New Notebooks from Intel and Palm, and More
This Week's Mac Notebook News
Compiled by Charles Moore and edited by Dan Knight - 2007.06.01
This Week's MacBook, PowerBook, and iBook News
No new MacBooks this week, but new versions of the 15" and 17" MacBook Pro are widely anticipated for introduction at Apple's Worldwide Developer Conference, which begins June 11.
However, the competition isn't resting. Intel showed "the world's thinnest laptop" - a full-fledged laptop computer as thin as a Motorola RAZR. And Palm unveiled its Foleo this week, a $500 (after rebate) subnotebook with WiFi, a full sized keyboard, a widescreen display, and a customized version of Linux. A lot of us hope Apple will someday enter the subnotebook market.
Another niche Apple has ignored is tablet computers, and the Axiotron Modbook is closer to release than ever. Specs have been updated to match the latest version of the MacBook, and OWC is offering build-to-order options not available through Apple, such as 3 GB of RAM and a 250 GB hard drive.
All prices are in US dollars unless otherwise noted.
General Apple and Mac desktop news is covered in The Mac News Review.
News & Opinion
Tech Trends
Products and Services
Software
News & Opinion
Apple Retail Notebook Sales Up 94% Year-over-Year
The Apple Core's Jason D. O'Grady reports:
"According to market research firm NPD U.S. PC unit growth for April grew 14 percent overall, including a 19 percent increase in retail sales and a 30 percent increase in notebook computer sales."
Link: Apple Retail Notebook Sales Up 94 Percent
Analyst Predicts New MacBook Pros at WWDC, but No iPhone
Computerworld's Gregg Keizer reports:
"Apple will show off new MacBook Pro notebooks along with a full demonstration of the next operating system, Mac OS X 10.5 (a.k.a. Leopard), at next month's Worldwide Developers Conference (WWDC), a Wall Street analyst predicted Wednesday.
"PiperJaffray analyst Gene Munster rejected rumors that Apple will tout its iPhone at the conference, which opens June 11 in San Francisco. Instead, Apple will launch the new cellular phone in late June. At WWDC, Munster wrote in a note to investors, CEO Steve Jobs and crew will flesh out the remaining undisclosed features of Leopard, announce updated or new MacBook Pro models, and perhaps unveil a revamped iMac desktop lineup. 'We believe the Street would react positively to such product announcements,' he said."
Link: Analyst: Apple to Demo New MacBook Pros at WWDC, but No iPhone
New MacBook Pro a 'Near Certainty' at WWDC
ZD Net blogger Jason D. O'Grady says:
"Piper Jaffray analyst Gene Munster said that new MacBook Pros are a 'near certainty' to be announced at Apple's Worldwide Developer Conference (WWDC) next month.
"He notes that the last MacBook Pro was launched 209 days ago and that, on average, Apple updates its professional notebooks every 182 days. In other words it's overdue."
Link: Analyst: New MacBook Pro a 'Near Certainty' at WWDC
Upgrading the MacBook Pro's Hard Drive
Macworld's Dan Frakes says:
"A while back, I mentioned that I'd be testing out a number of possible upgrades for the MacBook Pro. One of those upgrades was Hitachi's Travelstar 2.5" Internal Hard Drive 2-in-1 Notebook PC Upgrade Kit ($210 MSRP, although available for around $200 at street prices), which I've since installed and spent some time with. Here's a brief look at both the drive itself and the upgrade process. (As I mentioned in that earlier article, upgrading the hard drive in a MacBook Pro likely voids your warranty.)"
Link: Upgrading the MacBook Pro's Hard Drive
Caution Required When Giving Notebooks to Students
The State Journal-Register says:
"A pilot program in Illinois is experimenting to see how giving more than 1,000 schoolchildren their own MacBook computer might improve education. Giving a kid a laptop can certainly help him or her learn, but only when it's properly used. Technology opens students to the knowledge of the world as well as its threats.
"While we don't want to appear to be Luddites, a recent New York Times news story does make us pause. It also makes us relieved that District 186 is taking its time and easing into the program to give laptops to its sixth-grade students.
"Much has been written about the digital divide - wealthier kids tend to have access to the wonders of the World Wide Web while poorer kids are often left in the digital dust.
"The concept behind providing top-notch laptop computers to students is in part to overcome that divide. The theory is that the laptop computers could be a huge academic boon to students - especially those students who can gain access to the Web.
"Properly used, the Web can literally put encyclopedic knowledge at a student's fingertips. The Smithsonian, the Library of Congress, governmental and academic databases galore are just clicks away.
"Unfortunately, so are MySpace, YouTube, and about 18 gazillion porn sites. Parents and children are also now constantly warned about the dangers posed by online predators and pedophiles."
Link: Extra Caution Required When Giving MacBooks to Schoolkids
Axiotron Modbook Mac Tablet Gets Update, To Ship in June
PR: In a letter to customers who have placed orders for Modbooks, OWC/Axiotron have announced several improvements for their Modbook Mac tablet computer.
First and foremost, in response to significant customer feedback, Axiotron has doubled the Pen Pressure Sensitivity of the tablet digitizer. The original specification of 256 Levels of Pressure Sensitivity is now increased to 512 Levels. Axiotron determined this upgrade was important and something that would need to be done prior to shipping.
Next, through utilization of the latest Micron memory devices, OWC is now able to offer a low profile 2 GB memory module option for a 50% increase in the maximum memory allowed from 2 GB to 3 GB.
The internal hard disk options now include the new Seagate Momentus 7200.2 160 GB drive mechanism, a full 60% higher capacity than any other currently available 7200 RPM notebook drive. A new 250 GB 5400 RPM option is also now offered for the highest internal capacity ever - 25% more than offered on a standard MacBook.
Finally, the option of having an additional hard drive replace the standard optical drive is available. This makes it possible for up to 500 GB of total internal storage.
Of additional significance, all Modbooks will now be based on the latest Apple MacBook 2.0 GHz and 2.16 GHz models.
None of these changes has resulted with any increase in cost. In fact, additional memory and/or a larger hard drive are also standard, and costs have been reduced for upgrade options to a larger hard drive and/or more memory.
Primarily related to the Axiotron feature update, these solutions are now expected to ship in very limited quantities starting in the early part of June with all orders expected to ship by the end of July.
While we await the Axiotron Modbook Kits, OWC has updated and improved the options to make your final Modbook Solution the best it can be and will continue to do so as possible. We do believe the current configurable options will not be changing again prior to ship out.
Unveiled at Macworld Expo, the Modbook fills a category that Apple itself has never competed in - tablet computers. The Axiotron Modbook, designed by El Segundo and Playa del Rey, California-based Axiotron's team of German and American engineers, and exclusively marketed by Other World Computing, is actually an after-market hardware modification kit, which allows standard Apple MacBook notebook systems to be converted into high-end slate-style tablet computers with pen-based user input, and is aimed at mobile users, business professionals, artists, students, doctors and other medical personnel, and IT professionals as a solution for applications and situations where a keyboard is cumbersome or gets in the way.
Modbook has a pedigree in Apple engineering, since Axiotron's cofounder Andreas Haas was part of Apple's Newton PDA team prior to the company terminating Newton sales and development. Mr. Haas, now Axiotron's President and CEO, formerly held various management positions at Apple Computer in Europe including Apple's Portable product lines, the Newton Systems Group, and Apple Third Party Product Marketing. His last position at Apple's European Headquarters in Paris, France was Manager of the European Product Management for Professional Desktop and Server Systems heading the European Product Management teams for Desktop and Server products.
Built for mobile users, artists, students and professionals, the Modbook enables its user to draw and write directly on the screen, while the handwriting recognition built into Mac OS X Tiger not only turns hand scribbles into text in every application, but also provides extended control of the system through gesture recognition. The Modbook comes standard with a built-in iSight camera and an integrated CD/DVD combo drive that can be upgraded to a 8.5 GB DVD burner, and it is the only portable Mac solution that also features an optional built-in Global Positioning System (GPS).
Simplo Begins to Supply Batteries for Apple MacBooks
DigiTimes' Steve Shen reports:
"Taiwan-based battery maker Simplo Technology has become one of the battery suppliers for Apple MacBook notebooks starting this quarter, grabbing part of the orders from the previous primary supplier DynaPack International Technology, according to a May 28 Chinese-language Commercial Times report."
Link: Simplo Begins to Supply Batteries for Apple MacBooks (subscription required)
Tech Trends
Intel's Thin Notebook Takes a Page from Apple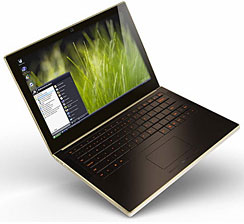 MacUser's Dan Moren reports:
"As Mac fans, we're fond of believing that Apple's designs are second to none, but every once in a while, we find ourselves casting a wistful eye at the sheer variety offered by the numerous PC manufacturers, particularly when it comes to light, thin notebooks.
"So you'll pardon my temporary bout of heretical insanity when I suggest that this notebook, a combined effort of Intel's own engineers and the designers from Ziba Design, has my salivary glands going like somebody just suggested Buffalo chicken for lunch."
Link: Intel's Notebook Takes a Page from Apple
The World's Thinnest Notebook
BusinessWeek's Olga Kharif reports:
"When Intel asked designers to build a better laptop, its instructions were simple, really. The machine has to be fashionable, able to connect to all manner of wireless networks, and full of the latest, fastest computing capabilities. Oh yes, and make it as thin as Motorola's Razr. Its own engineers in conjunction with Ziba Design in Portland, Ore., rose to the challenge.
"The result, code-named Intel mobile Metro notebook, is less than 0.7 inches thick - about one-quarter of an inch thicker than Motorola's iconic cell phone, making it the world's thinnest notebook. And at 2.25 pounds, it's also one of the lightest small-sized portable computers. Other features include always-on Internet connectivity via various wireless technologies.
"And unlike other computer prototypes, including some from Intel, this one actually may line the shelves of a retailer before long. Intel hasn't announced an official release date but people familiar with the matter say a PC maker will announce plans to start manufacturing the machine later this year."
Link: The World's Thinnest Notebook
Palm Sets its Sights on Your Laptop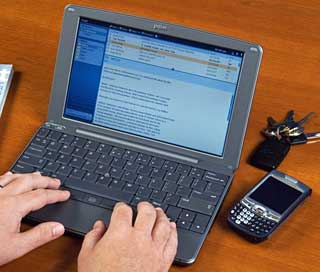 PC Magazine's Sascha Segan reports:
"Palm, maker of the popular Treo smartphones, set its sights on bigger game today with the announcement of the Foleo, a sort of mini-laptop that surfs the Web and edits Microsoft Office documents.
"The $600 Foleo ($500 after a $100 rebate) is a Linux-based, 2.5-pound device that connects to the Internet via Wi-fi or through a Bluetooth connection with a separate mobile phone. It comes with the Opera Web browser, an e-mail application, a PDF viewer, and a version of DataViz' DocumentsToGo that lets you edit Word, Excel, and PowerPoint documents."
Link: Palm Sets its Sights on Your Laptop
Hands-on with Palm Foleo
PC Magazine's Tim Bajarin reports:
"However, Foleo's real genius is in the way it works with a smart phone. Hawkins demonstrated its use to me with his own Treo. The device has only two buttons. The first is the on/off button, which delivers instant on/off performance. The second button is for e-mail-pressing it instantly takes you to your e-mail box. In Jeff's case, he had two e-mail accounts: one was based on Palm e-mail and the other was Versamail, which was tied to a full Outlook Exchange server. When he logged onto the Versamail account, it looked just like a normal Outlook client on a full Windows machine."
Link: Hands-on with Palm Foleo
Products and Services
ToughTech mini Pocket Drive for Fast 2.5" SATA Drives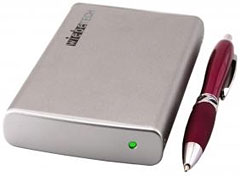 PR: The popular ToughTech is now super tiny! Wiebetech have taken the ToughTech's rugged and attractive aluminum case and resized it to fit smaller 2.5" SATA drives - the kind of drive you would find in many modern laptops. Its Oxford 924 chipset gives you the fastest speeds for connections to your computer via FireWire 800, FireWire 400 or USB.
Small Size
Not much bigger than a pack of playing cards, ToughTech mini will easily travel with you. ToughTech mini will fit in shirt pockets and briefcases with ease.
Accepts SATA drives
SATA drives are becoming more popular. They're faster, and they work with the faster Oxford 924 chipset found in ToughTech mini. This chipset ensures you the fastest FireWire and USB speeds available.
Connects to Almost Any Computer
With a triple interface, you'll be able to hook it to practically any computer out there. ToughTech mini provides dual FireWire 800 ports, a single FireWire 400 port and single USB 2.0 port. As a result, you can connect it to any computer running any recent operating system.
ToughTech XE mini has every connection type ToughTech mini has, with one addition: A combo eSATA/USB 2.0 port.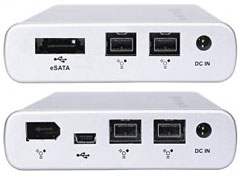 To make sure you can connect in any situation, three different cables and adapters are included: A FireWire 800 cable, a FireWire 400 cable, and a USB 2 cable. The ToughTech mini XE comes with an extra cable, a FireWire 800 to 400 converter cable.
ToughTech mini is bootable in FireWire mode on any Mac or PC that supports this feature.
Tough Performance
And it's fast! Configure ToughTech mini with a 7200 RPM drive and there is no performance difference between ToughTech mini and our other 7200 RPM drive enclosures.
ToughMount Anti-Shock Protection
ToughMount strips are mounted between the drive and the enclosure to protect the drive from shock and reduce enclosure noise.
Plug and Play
ToughTech mini works out of the box with no new drivers needed with any modern operating system including Mac OS 9.1, 9.2, OS X and Windows 2K, XP, as well as any distribution of Linux that supports FireWire or USB. If using FireWire, additional FireWire devices can be daisy-chained through ToughTech mini.
AC Adapter
Most FireWire ports have juice to power ToughTech mini, so most users prefer to use ToughTech mini without an AC adapter for maximum portability. For users who prefer an AC adapter or who must use one with their setup, ToughTech mini comes with an AC adapter.
You will need an AC adapter if the port you use does not provide enough power for ToughTech mini. This includes all 4 pin FireWire hosts (such as Sony iLink which provides no power at all) and USB ports.
Prices start at $109.95
The Pocket Drive Case transports the ToughTech mini or ComboGB with style and durability. The high quality black leatherette case emblazoned with the WiebeTech logo is perfect for storing and protecting small 2.5" drive enclosures. And the sturdy Velcro flap keeps enclosures snugly tucked away until needed. Keep your files safe and portable with the attractive convenience of a WiebeTech Pocket Drive Storage Case.
The Pocket Case is included free with the purchase of a ComboGB or ToughTech mini with preinstalled, preformatted notebook drives.
Link: ToughTech mini Pocket Drive for Fast 2.5" SATA Drives
Software
G4FanControl Gives PowerBook G4 Manual Fan Control
PR: G4FanControl is a small utility that can be used to specify a certain minimum temperature limit that much be reached before the fans on a PowerBook G4 laptop start up (note: Apple sets the default temperature limit to 60° on these units).
The G4FanControl utility is run out of Mac OS X's Terminal program and users need to be logged in as root.
Default temperature limits will be restored by Mac OS X in the event of a reboot.
Open the terminal and change the working directory to the directory that contains g4fancontrol and type:

andrea$ sudo ./g4fancontrol 20

Currently Tested Platforms: PowerBook G4 1.5 GHz - Mac OS X 10.4.9
System requirements: PowerBook G4.
System support: PPC
Free
Link: G4FanControl
Bargain 'Books
Bargain 'Books are used unless otherwise indicated. New and refurbished units have a one-year Apple warranty and are eligible for AppleCare.
There are two different versions of WallStreet running at 233 MHz, the cacheless MainStreet version and the later Series II with a level 2 cache. It's not always possible to determine from the vendor's listing which is being offered, so we've included links within this paragraph to the two models. The same goes for the PowerBook G4/667 (VGA) and G4/667 (DVI), the titanium vs. aluminum 15" PowerBook G4/at 1 GHz, and 1.25 GHz to 1.5 GHz 15" PowerBooks.
PowerBook, iBook, and MacBook profiles linked in our Portable Mac Index.
1.83 GHz Core 2 MacBook, white, 512/60/Combo, Built-in iSight camera - $849
15" 1.83 GHz Core Duo MacBook Pro, 512/80/SD, $1,299
15" 2.0 GHz Core Duo MacBook Pro, 512/80/SC, $1,349
15" 2.16 GHz Core 2 MacBook Pro, 1 GB/120/SD, $1,599
15" 2.33 GHz Core 2 MacBook Pro, 2 GB/120/SD, $1,999
15" 2.16 GHz Core Duo MacBook Pro, 1 GB/100/SD, $1,499
17" 2.16 GHz Core Duo MacBook Pro, 1 GB/120/SD, $1,999
17" 2.33 GHz Core 2 MacBook Pro, 2 GB/160/SD, $2,299
12" PowerBook G4/867, 256/40/Combo, $599.99
WallStreet PowerBook G3/233, 128/2/floppy, battery and power adaptor, $199.99
WallStreet PowerBook G3/233, 128/2/CD, battery and power adaptor, $219.99
WallStreet PowerBook G3/266, 288/2/CD, battery and power adaptor, $259.99
WallStreet PowerBook G3/266, 256/10/CD, battery and power adaptor, $289.99
WallStreet PowerBook G3/266, 256/25/CD, battery and power adaptor, $299.99
WallStreet PowerBook G3/400 (upgraded), 256/20/CD, battery and power adaptor, $399.99
WallStreet PowerBook G3/500 (upgraded), 160/2/CD, battery and power adaptor - $419.99
Upgrade to a SuperDrive, $119.99 installed
Upgrade to a 8x SuperDrive, $154.99 installed
Upgrade to 1 GB of RAM, $119.99
Upgrade to 512/$49.50
Upgrade to 80 GB hard drive, $89.99
Upgrade to 100 GB hard drive, $119.99
Upgrade to 120 GB hard drive, $129.99
Add an Airport Wireless card, $49.50 installed
1.83 GHz MacBook, white, 512/60/Combo, $994
2.0 GHz MacBook, white, 1 GB/80/Combo, $1,094
2.0 GHz MacBook, white, 1 GB/80/SD, $1,149
15" PowerBook G4/550, 512/20/Combo, Scratch/Dent, $399
15" PowerBook G4/800, 256/30/Combo, No Ethernet, $449
15" PowerBook G4/867, 512/40/Combo, $599
15" PowerBook G4/1 GHz, 256/60/SD, AirPort, $849
12" iBook G3/366, 256/6/CD, $199
15" PowerBook G4/867, 512/60/SD, $675
(Add Airport for $75)
17" PowerBook G4/1.0 GHz, 512/60/SD, $919
(Add Airport Extreme for $50)
TechRestore is offering a $25 discount to 'Book Review readers off any PowerBook or iBook in stock. Just enter the code CWM during checkout when ordering online. The coupon code is valid from now through 2007.12.31.
12" iBook G3/600, 256/20/Combo, $349.99 less $25 = $324.99
12" iBook G4/1.33 GHz, 512/40/Combo, $799.99 less $25 = $774.99
12" PowerBook G4/1.33 GHz, 256/60/SD, $899.99 less $25 = $874.99
14" iBook G4/1.42 GHz, 512/60/SD, APX, $869.99 less $25 = $844.99
15" PowerBook G4/400, 256/20/DVD, $549.99 less $25 = $524.99
17" aluminum PowerBook G4/1 GHz, 512/60/SD, $999.99 less $25 = $974.99
12" clamshell iBook G3/300, blueberry, 64/3/CD, $169.95
12" clamshell iBook G3/366, Key lime, 128/10/CD, $319.95
12" iBook G3/500, 128/10/CD, $199.95
12" iBook G3/500, 128/40/CD-RW, $299.95
12" iBook G3/500, 256/20/Combo, $349.95
14" Pismo PowerBook G3/400, 256/20/DVD,$379.95
15" PowerBook G4/500, 256/20/DVD, $449.99
15" PowerBook G4/1.67 GHz, 512/80/SD, AppleCare, $1,099.95
refurb 15" PowerBook G4/1.5 GHz, 512/80/SD, , $1099
open box refurb 15" PowerBook G4/1.67 GHz, 512/80/SD, warranty has been started on this unit, $1449
12" iBook G3/500, 192/10/CD, $284.95
12" iBook G3/700, 256/20/CD, $379.95
12" PowerBook G4/867, 256/40/Combo, $899.95
For more deals on current or recently discontinued models, see our MacBook deals, 15" MacBook Pro deals, 17" MacBook Pro deals, 12" PowerBook G4/deals, 15" and 17" PowerBook G4/deals, titanium PowerBook G4/deals, iBook G4 deals, PowerBook G3 deals, and iBook G3 deals.
Join us on Facebook, follow us on Twitter or Google+, or subscribe to our RSS news feed
Links for the Day
Mac of the Day: 15" 'TiBook' PowerBook G4, introduced 2001.01.09. A new 1" thin PowerBook design with a titanium case and 15" widescreen display.
Recent Content
Custom Search
Follow Low End Mac on Twitter
Join Low End Mac on Facebook
Favorite Sites
MacSurfer
Cult of Mac
Shrine of Apple
MacInTouch
MyAppleMenu
InfoMac
The Mac Observer
Accelerate Your Mac
RetroMacCast
The Vintage Mac Museum
Deal Brothers
DealMac
Mac2Sell
Mac Driver Museum
JAG's House
System 6 Heaven
System 7 Today
the pickle's Low-End Mac FAQ
Affiliates
Amazon.com
The iTunes Store
PC Connection Express
Macgo Blu-ray Player
Parallels Desktop for Mac
eBay

Advertise