Trojan Creates Mac Botnet, $200 Dell Netbook Runs OS X Well, 10-port USB 2.0 Hub, and More
This Week's MacBook, PowerBook, and iBook News
Compiled by Charles Moore and edited by Dan Knight - 2009.04.24
All prices are in US dollars unless otherwise noted.
General Apple and Mac desktops is covered in The Mac News Review. iPod, iPhone, and Apple TV news is covered in The iNews Review.
News & Opinion
Tech Trends
Products
News & Opinion
iWork Trojan Horse May Be Turning Macs into Zombies
Macworld's Dan Moren reports that two researchers say they've discovered the first Mac zombie botnet in existence riding a Trojan horse embedded in a pirated version of iWork 09 that made the rounds of file-sharing networks.
Editor's note: Avoid the Trojan by avoiding pirated software. dk
Link: iWork Trojan Horse May Be Turning Macs into Zombies
Apple: Why Don't We Make Netbooks? Because They Suck
Venture Beat's Anthony Ha says:
"Apple's chief operating officer Tim Cook, who is leading the company in Steve Jobs absence, took some sharp jabs at netbooks (computers that are smaller and cheaper than laptops) this afternoon. His words might put a damper on rumors that Apple is developing a netbook...."
Link: Apple's Tim Cook: Why Don't We Make Netbooks? Because They Suck
Apple to Netbooks: Drop Dead
Macworld's Jason Snell reports and comments on Apple COO Tim Cook's latest observations on the netbook issue Wednesday, including in part:
"...when I look at what is being sold in the netbook space today, I see cramped keyboards, terrible software, junky hardware, very small screens, and just not a consumer experience & that we would put the Mac brand on, quite frankly. And so it's not a space, as it exists today, that we're interested in, nor do we believe that customers in the long term would be interested in . . . So we have other products to accomplish some of what people buy netbooks for. So in that way we play in an indirect basis...."
Link: Apple to Netbooks: Drop Dead
Apple Disses Netbooks Again
The Apple Core's Jason D. O'Grady says:
"When asked about netbooks on today s Q2 2009 earning conference call Apple s chief operating officer Timothy D. Cook took a couple of pointed shots at the ultra-small notebooks....
"Does Apple just have its head in the sand or is it intentionally hiding the fact that it's secretly developing a netbook?"
$200 'Mac' Netbook from Dell?
The Apple Core's Jason D. O'Grady says that pound for pound the best value for a machine running Mac OS X right now is the Dell Vostro A90 netbook, currently on sale for $199, and noting that for less than the price of an iPod touch you can buy a computer that runs desktop-class Mac OS applications and a Web-browser with Flash.
Link: The $200 'Mac' Netbook
Windows Guru Spends Two Weeks with a Mac
Computerworld's Preston Gralla says he's been on the front lines of the Mac-PC war for as long as he can remember, written dozens of books and hundreds or thousands of articles, columns, and blogs about PCs and Windows, and along the way earned "the unending enmity" of plenty of Mac folks.
However, Gralla recently accepted a new assignment to give up his PC and try living for two weeks on the Mac, which he characterizes as "sleeping with the enemy."
At the end of the period, he found the learning curve was shorter and less steep than expected, and he muses that there isn't a whole lot of difference when using productivity applications on either platform, but when it comes to the operating system itself, there's a substantial difference, with the Mac OS simpler to use, easier to configure plus having more bells, whistles, and "eye candy". Overall Mac OS X beats Windows, and while you often pay extra for a Mac, he can understand why people are willing to pay the "tax".
Link: A Windows Guru Spends Two Weeks with a Mac
MacBook Pro Overheating Problem Cured
On-Screen Scientist says:
"Just in case anyone has arrived here desperate for a solution to MacBook overheating, let me put it in this first sentence: CoolBook is what you need...."
Link: What a Relief! MacBook Pro Overheating Problem Cured - Really
Mac Tablet Could Be the Ultimate Device for Electronic Medical Records
softwareadvice.com's Houston Neal says:
"There have been a lot of rumors about an upcoming Apple 'iTablet;' we think this new device would be a huge bestseller in healthcare. Why?
"There is a seemingly endless amount of medical applications that could be developed for a Mac Tablet. However, we think it would be the ultimate interface for electronic medical records (EMRs). Ease-of-use has been a primary barrier to EMR adoption, so Apple - known for intuitive design and usability - would be welcomed by physicians.
"So here we ruminate on the possibility of a Mac Tablet and present ideas on its use with EMRs.
"The primary barrier to EMR adoption has been ease-of-use. Too many physicians are concerned about being able to efficiently use an EMR at the point of care. Apple, meanwhile, continues to raise the bar on usability and efficiency. If Apple releases a tablet with the usability of the iPhone, we think it would go over tremendously well amongst physicians.
"In fact, we already talk to many physicians that want an EMR for the Apple OS, but very few such systems exist. We think there is a big opportunity for any "first mover" EMR vendor that writes to the Mac OS and this new Tablet device."
Link: Mac Tablet - The Ultimate Device for EMRs?
Mac vs. PC: What You Don't Get for $699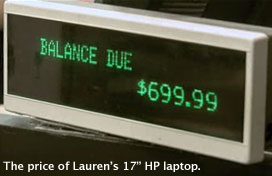 BusinessWeek's Arik Hesseldahl says that while a 17-in. PC may cost a lot less than a 17-in. Mac, you get less, too, including less security, less multimedia tools, and, some say, less satisfaction
Yes, Hesseldahl agrees, $699 is a lot cheaper up front than the $2,800 cost of entry to the MacBook Pro 17-in. club, but with a PC laptop that $699 just gets you in the door, so to speak....
Link: Mac vs. PC: What You Don't Get for $699
Pro Apps and MacBooks to See Update at WWDC?
9 to 5 Mac's Cleve Nettles reports:
"We just got a call in from our favorite Apple source who says that Apple is going to have a minor update at WWDC for MacBooks and MacBook Pros...."
Link: Pro Apps and MacBooks to See Update at WWDC - Report
Foxconn to Land Apple Netbook Order?
Taiwanese industry watcher DigiTimes' Joseph Tsai reports that longtime Apple subcontractor Foxconn Electronics (Hon Hai Precision Industry) is in the running to land orders for a netbook from Apple, according to a Chinese-language Commercial Times report citing sources from the component supply chain, also noting that the
MacBook will be Foxconn's major notebook shipment growth contributor in the second quarter.
Link: Foxconn to Land Apple Netbook Order (paid subscription required)
LG Insider Points to Apple OLED Notebook
Register Hardware's James Sherwood reports:
"An LG staffer has made the very bold claim that 15in Apple notebooks equipped with OLED displays will appear within months."
Link: LG Insider Points to Apple OLED Notebook
Tech Trends
Glass Trackpad? How about an LCD Trackpad!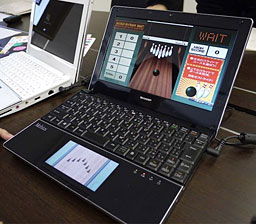 Electronista reports that the Japanese division of Sharp Electronics has announced the 10.1-inch Mebius NJ70A netbook which is said to be the first netbook in the world with an LCD trackpad that can run apps directly from the screen and recognizes multi-touch gestures similar to those on Apple's MacBook.
Link: Sharp Demos 10.1-inch Netbook with LCD Trackpad
One Laptop Per Child Dumps AMD for VIA
The Register's Rik Myslewski reports:
"The One Laptop Per Child folks have found new brains for the $199 laptop that wants to change the world.
"OLPC will keep the look and feel of its current XO laptop (which we reviewed last January), but will replace its end-of-the-line AMD Geode LX-700 with a low-power VIA C7-M. The Geode was x86-compatible, and so is the C7-M."
Link: One Laptop Per Child Dumps AMD for VIA
Products
Samsung's 'Rugged' 500 GB 2.5" Hard Disk Drive for Mobile Computing
PR: Samsung Electronics Co., Ltd. has introduced their new 500 GB 2.5" hard disk drive with a shock operation tolerance of 400G/2ms. The Spinpoint M7 500 GB 2.5" hard drive with 250 GB per platter features a rugged base and cover design, offering better data protection for road warriors and other mobile laptop users.
"Our customers have been requesting hard drives with higher density, lower power and greater reliability for their mobile applications," said C.H. Lee, vice president, Storage sales & marketing, Samsung Electronics. "The Spinpoint M7 answers these needs with a high-speed operating shock specification and extraordinary drive capacity for storing large data files, music, photos and videos."
The Spinpoint M7 is available in 250, 320, 400, 500 GB capacities. A new controller has been adopted to reduce power consumption in seek mode to up to 25% over conventional 2.5" drives. In particular, internal test results on PC Mark show an 18% improvement in overall performance over 2.5" hard drives.
"Samsung's M7 will appeal to notebook PC customers who want to have a hard drive operating shock tolerance for mobile applications in tough environments," commented John Chen, senior director, TRENDFOCUS.
The Spinpoint M7 utilizes Samsung's proprietary SilentSeek and NoiseGuard technologies to minimize the noise-level of the mechanical drive operation. The halogen-free drive complies with the European Union's Restriction of the Use of Certain Hazardous Substances in Electrical and Electronic Equipment (RoHS) regulations.
The Spinpoint M7 500 GB hard drive is lightweight and durable, featuring a 5400 rpm spindle speed, 8 MB cache, native command queuing and a 3.0 Gbps SATA interface. The perpendicular magnetic recording technology enables the 500 GB drive to store 160,000 digital images, 125 hours of DVD movies, or 60 hours of high definition video images.
Qualification samples of the Spinpoint M7 are currently shipping to major OEMs. Global shipments in the United States and Europe began in April with shipments to other regions to follow accordingly.
Features
Formatted capacity: 500 GB
ATA Security Mode Feature Set
SATA Native Command Queuing Feature
ATA S.M.A.R.T. Feature Set
TuMR/PMR head with FOD technology
Serial ATA 3.0 Gbps Interface Support
Load/Unload Head Technology
SilentSeek
NoiseGuard
Specifications
Height (max.) 9.5 mm
Width 69.85 mm
Length 100 mm
Weight (avg.) 105 g
Link: Spinpoint M7
ToughDrive Sport 250 GB Ruggedized Hard Drive
PR: The toughest and sportiest drive there is - optimal protection for your data.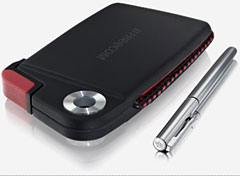 In today's world mobility has become a key factor. Business-user or consumer . . . we all carry our data with us and we all require it to be there when we need it. Imagine what can happen when you're on the move, for example biking, commuting to the office, running to catch a flight . . . and suddenly your external hard drive accidentally falls from your notebook case or jacket pocket . . . it breaks, and hundreds of hours of videos, music, your work, gigabytes of spreadsheets, documents, photo's are all gone. Not anymore! The ToughDrive Sport offers you, next to a unique sportive design, a drive that can withstand bumps and drops so your drive is still fully functional after it has dropped. You can still access your valuable files. A safe feeling - provided for you by Freecom!
Secure hardware password protection
The ToughDrive Sport is equipped with a secure hardware 256-bit password protection feature. Your password is encrypted and stored in a chip - the data on the drive can only be accessed by entering the correct password. The obligatory combination of the hardware chip and password to unlock the drive and access the data means that even if the internal hard drive is taken out of its original enclosure and assembled into another enclosure, people will never be able to access the data. Should you forget your password or should you lose your ToughDrive, the only way for anyone to be able to continue using the drive is by reformatting it, thereby erasing all data. There is no possibility for password recovery. There is no safer way to protect your data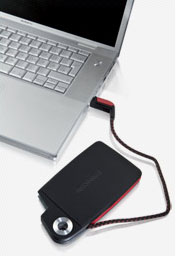 Features :
Durable, shock resistant hard drive, ideal for mobile computing
Outdoor active sports design, including integrated USB cable with unique climbing rope texture
Internal anti-shock mechanism insulating the hard drive from shock
Can withstand falling from 2 metres on a fl at surface
Secure encrypted 256 bit MD5 hardware password protection
Turbo USB 2.0 driver, for faster data transfer speeds (Windows only)
Integrated USB cable, no additional connection cables needed!
The easiest way to add additional storage space to your computer
Fast and easy "plug and play" installation, no need to restart your computer
High quality design, only 155 x 91 x 21mm in size
No cooling fan, no noise!
Including extensive backup software
USB 2.0: available as 250, 320 and 500 GB
All Freecom devices meet the highest industry standards
2 years manufacturers warranty and unlimited helpdesk support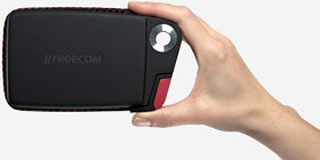 Designed for:
Data storage; use all your data, like business information, digital photos, videos, MP3s and withstand bouncing around in handbags, cars etc.
File sharing; share all your important data between computers and networks backup; protect all your data against calamity, human errors and viruses
Archiving; archive all your data and lock up drive for extra data security
Installations; copy all your software on multiple PCs
109 Euros
Link: ToughDrive Sport
Unibody MacBook Pro Gets New Glass
PR: TechRestore says they're seeing more and more MacBook Pro Unibody screen repairs coming in where the LCD is working fine, but the customer has blown out their glass that covers the LCD screen, and is now offering overnight service with free shipping for shattered glass repair on Aluminum MacBook Pro Unibody systems for a flat rate price of $349.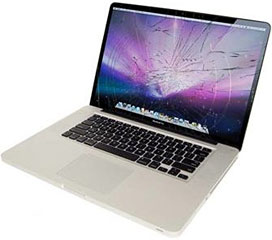 TechRestore combines an award winning combination to offer Aluminum MacBook Pro owners the best value to get their broken glass replaced:
Overnight turnaround time
Free shipping
Award Winning Service
Factor-Fit Installation
1-Year Warranty
TechRestore certified technicians have unmatched experience when it comes to MacBook and MacBook Pro glass replacement due to the high volume of repairs and screen replacements they perform. Once a user's MacBook Pro is received at their secure facility, the customer is alerted so they know their system has arrived safely. TechRestore technicians will then professionally remove the cracked and damaged glass from the MacBook Pro and then install a factory-new glass panel with TechRestore's proprietary "Factory-Fit" bonding process that other repair centers cannot match.
TechRestore was awarded a Macworld Best of Show award during the 2009 Macworld Expo for their design and installation of the world's only Matte Finish screen replacement for the MacBook Pro and MacBook Unibody systems. TechRestore certified technicians are highly trained and many carry advanced electronics degrees.
TechRestore offers free shipping on all approved repairs and can perform overnight service on MacBook, MacBook Pro, PowerBook, and iBook computers. In addition, their consumer electronics division performs overnight repair on iPod classic, iPod touch, iPod video, iPod nano, iPhone, Sony PSP and other gaming systems. TechRestore's network of over 2000 local pickup locations offers convenient drop off of your product in your neighborhood.
Link: MacBook Pro Unibody 15.4" Overnight Glass Repair with Free Shipping
Repair Just Got Better: New MacBook Replacement Parts and Diagnostic Pricing at iResQ
PR: iResQ, the Apple-authorized electronics repair company from the Kansas City area, is offering glass panel replacements for the latest MacBook and MacBook Pro computers. It has also lowered its diagnostic pricing for all Apple laptop computers. Shipping options start at $18 and all pricing also includes 24-hour diagnostic service.
iResQ now has glass panel replacements for aluminum or unibody MacBook and MacBook Pro computers. The cost of replacing the glass on the aluminum MacBooks starts at $299, and the MacBook Pros start at $399.
Lowered pricing is also available for diagnostics of all Apple laptop computers, with shipping options starting at $18. The range covers local walk-in repair and self-ship with ground return to 3-way with overnight shipping. Customers who choose iResQ's diagnostic service will receive a phone call within 24 hours of their computer's arrival at iResQ with a full diagnosis and price for repair. All of iResQ's laptop repairs are conducted by Apple Certified Technicians.
Among the full-service repairs for Apple laptop computers iResQ offers are:
Hinge replacement
iBook screens
PowerBook screens
MacBook 13" LCD screens
MacBook Pro 15" LCD/LED screens
MacBook Pro 17" LCD/LED screens
MacBook Air screens
Aluminum Unibody MacBook LCD screens
Aluminum Unibody MacBook Pro LCD screens
Data extraction
24-hr. diagnostics
"We're pleased to be able to replace the glass panels for the aluminum MacBooks and offer lower prices on our popular laptop diagnostics," says Brian Buffington, iResQ's general manager. "We understand, especially in today's economy, why people would prefer to pay less for a glass replacement than they would for a whole new display for their expensive MacBooks."
The displays on the one-piece aluminum unibody computers contain a seamless glass panel that is easily cracked or broken and requires a precise replacement if damaged. iResQ also offers full-service repairs for complete display assemblies for those customers who damage more than just the outer glass panel on their display.
Among the full-service upgrades for laptop computers are:
iBook hard drives
PowerBook hard drives
MacBook hard drives
MacBook Pro hard drives
MacBook/Pro 500 GB hard drives
MacBook/Pro 320 GB hard drives
Super drives
Memory
Self-servicing users can also purchase super drives, memory and high-capacity batteries.
For those with other gadgets besides laptop computers, iResQ serves owners of iPods, iPhones, and Sony PlayStation Portables. iPhone 3G repair is performed with the same next-day turnaround time offered for the rest of iResQ's repair services.
Centrally located in Olathe, Kansas, iResQ is an Apple-Authorized Service Provider that repairs Apple computers and portable devices in addition to the Sony PlayStation Portable. Servicing Apple products since 1994, its team of technicians boasts years of experience and multiple Apple Certifications. 24-hr. diagnostics and repair service cover the entire line of iPods, iPhones, Portable Macs, and Mac Minis. This includes the entire PowerBook G4 family, the iBook family, plus the MacBook and MacBook Pro systems, as well as all versions of the iPod except the iPod Shuffle.
iResQ is also an ideal solution for schools and computer repair shops. Its repair depot can handle large numbers of repairs quickly and efficiently, and it provides volume discounts.
Link: iResQ
Synchrotech 10 Port USB 2.0 Hub Powered with Power Supply K10
PR: Tired of wrangling multiple USB 2.0 hubs? Synchrotech's 10 Port USB 2.0 Hub provides host computers with 10 additional USB ports and allows flexible tiered USB configurations with a single hub! The K10 is a robust and inexpensive hub runs in self powered mode and provides over current protection at each of its downstream ports.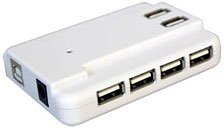 The K10's simplified circuitry improves both reliability and compatibility with various host systems. USB 2.0 compliant and USB 1.1 backward compatible, K10 supports low, full, and high speed USB devices and works with any system that supports the USB specification.
Providing 10 downstream ports, this hub features plug and play installation and transparent operation. It comes with a free power supply with a generous 3 amp capacity and a USB 2.0 cable to connect to a host computer.
Features and Specifications:
Simple to install and use
USB (Universal Serial Bus) Revision 2.0 compliant
Simplified Circuitry Improves Compatibility and Reliability
Supports High Speed 480 Mbps, full speed 12 Mbps and low speed 1.5 Mbps (Megabits) operation
Reliable transmission for 4.5 meter USB cable segments
Auto detect of speeds and connections of devices
Fully compatible with all USB compliant devices
Ten (10) Hi-Speed USB 2.0 downstream ports
One (1) Hi-Speed USB 2.0 upstream port
Protection from current overload
Warranty Information
1 Year Limited Warranty
System Requirements
Host computer with a free USB 2.0 compliant port (up to 480 Mbps)
Host computer with a free USB 1.1 compliant port (limited to up to 12 Mbps)
Mac OS: Mac OS X - any version (supports USB 1.1 for Mac OS 8.6 and later
Any operating system that fully supports USB including Open/Net/Free BSD and Linux.
Windows: 98SE/Me/2000/XP/Server 2003/Vista
Ports
One upstream (USB Type B receptacle)
Ten downstream (USB Type A receptacles)
Data Transfer Rates
High Speed 480 Mbps (Megabits)
Full Speed 12 Mbps (Megabits)
Physical Characteristics
Dimensions: 90 x 65 x 20mm
Weight Hub: 133g (approx.)
Weight Power Supply: 200g (approx.)
The USB 2.0 Hub 10 Port Powered with Power Supply K10 sells for $32.
See our review of Synchrotech's 13-port USB 2.0 hub.
Link: Synchrotech 10 Port USB 2.0 Hub
Up to 18 Hours of Extra Battery Power for 17" 2009 Apple MacBook Pro
PR: QuickerTek announces an updated External Battery/Charger for the new Apple 17" unibody aluminum MacBook Pro laptop. This external battery and charger recharges and powers the big MacBook Pro with up to 18 total hours of additional computing power - before the internal battery is used. It's available from QuickerTek and dealers for $499.95.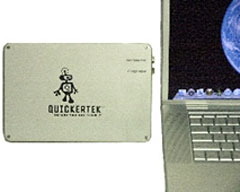 This product expands the battery/charger technology first developed for the original MacBook and MacBook Pro models. Up to 18 extra hours of battery power - beyond the built in battery life - allows for long airline flights, extended time outdoors, longer photo shoots on location and plenty of time with friends at the coffee shop.
A total of 11.5 to 18 total hours of 17" unibody aluminum MacBook Pro use are easily available when using the External Battery/Charger from QuickerTek. Users easily see how long the external battery is powering the 17" MacBook Pro by checking the battery charge indicator in the menu bar, which stays at 100% practically all day, before the internal battery is used. This battery also charges the internal MacBook Pro battery while you use it.
Rick Estes, QuickerTek president, stated, "This new battery and charger not only gives you all-day performance, but it also enables a longer wireless experience, by providing all the extended power needed when mobile. It looks good and it's easy to carry with you when you travel. This battery technology is now 25% more dense - so we can pack more power into a smaller size," he concluded.
This battery works with 120 and 240 volt AC power and a European power adapter is also available. It also is designed for 1,000 full recharge cycles - three times more than a standard battery. Styled to blend with your Apple equipment, the MacBook Pro External Battery/Charger is small, lightweight and good looking, making it ideal for mobile Mac users.
Specifications:
Physical: 9.41 x 6.15 x 1.25 inches;
Weight: 3 lb.;
Battery: Li-Ion Polymer;
11.5 to 18 hours of extra battery life;
LED charging status indicator
Like most QuickerTek products, the 17" aluminum unibody Apple MacBook Pro External Battery Charger is backed with a one-year warranty on parts and labor. Additional product information is found at:
Link: 2009 Apple Aluminum MacBook and MacBook Pro External Battery and Charger
Bargain 'Books
Bargain 'Books are used unless otherwise indicated. New and refurbished units have a one-year Apple warranty and are eligible for AppleCare.
PowerBook, iBook, and MacBook profiles linked in our Portable Mac Index.
A good selection of old-school MacBooks this week as low as $849, plus a full slate of refurb Unibodies, save for the 17-incher.
refurb 1.6 GHz MacBook Air, 2 GB/80, $999
refurb 1.8 GHz MacBook Air, 2 GB/80, $1,099
refurb 1.8 GHz MacBook Air, 2 GB/64 SSD, $1,299
refurb 2.0 GHz MacBook White, 1 GB/120/Combo, $849
refurb 24 GHz MacBook, white, 2 GB/160/SD, $949
refurb 2.0 GHz Unibody MacBook, 2 GB/160/SD, $1,099
refurb 2.4 GHz Unibody MacBook, 2 GB/250/SD, $1,299
refurb 2.4 GHz Unibody MacBook, 2 GB/128 SSD/SD, $1,899
refurb 15" 2.4 GHz Core 2 MacBook Pro, 2 GB/200/SD, $1,349
refurb 15" 2.4 GHz Core 2 MacBook Pro, 2 GB/250/SD, $1,499
refurb 15" 2.4 GHz Core 2 MacBook Pro, 2 GB/250/SD, $1,699
refurb 15" 2.53 GHz Unibody MacBook Pro, 4 GB/320/SD, $1,999
refurb 17" 2.5 GHz Core 2 MacBook Pro, 2 GB/250/SD, $1,799
refurb 17" hi-res 2.5 GHz Core 2 MacBook Pro, 2 GB/200/SD, $1,899
refurb 17" 2.6 GHz Core 2 MacBook Pro, 2 GB/200 GB @ 7200 rpm/SD, $1,899
1.6 GHz MacBook Air, 2 GB/80, $1,099.99
2.0 GHz Core 2 MacBook, 2 GB/160/SD, $1,214.99
2.4 GHz Core 2 MacBook, 2 GB/250/SD, $1,489.99
15" 2.4 GHz Core 2 MacBook Pro, 2 GB/250/SD, $1,799.99
15" 2.53 GHz Unibody MacBook Pro, 4 GB/320/SD, $2,199.99
17" 2.5 GHz Core 2 MacBook Pro, 2 GB/250/SD,- $1,949.99
17" 2.66 GHz Unibody MacBook Pro, 4 GB/320/SD, $2,579.99
12" iBook G3/500, 128/10/CD, $169.99
12" iBook G3/600, 128/15/CD, $249.99
12" iBook G3/700, 128/20/Combo, $329.99
12" iBook G3/800, 256/30/Combo, $399.99
12" iBook G3/900, 256/40/Combo, $489.99
12" PowerBook G4/867, 256/40/Combo, $489.99
1.83 GHz Core Duo MacBook, white, 512/60/Combo, $594.99
2.0 GHz Core Duo MacBook, white, 512/60/Combo, $659.99
2.0 GHz Core Duo MacBook, black, 512/80/SD, $719.99
2.0 GHz Core 2 MacBook, white, 1 GB/80/SD, $769.99
2.0 GHz Core 2 MacBook, black, 1 GB/120/SD, $799.99
15" Titanium PowerBook G4/867 MHz, 256/30/Combo, $549.99
15" Titanium PowerBook G4/1 GHz, 256/60/Combo, $699.99
15" Aluminum PowerBook G4/1.25 GHz, 256/60/Combo, $599.99
15" Aluminum PowerBook G4/1.33 GHz, 256/60/Combo, $639.99
15" Aluminum PowerBook G4/1.5 GHz, 1 GB/80/Combo, $679.99
15" Aluminum PowerBook G4/1.67 GHz, 1 GB/80/SD, APX, $729.99
15" hi-res Aluminum PowerBook G4/1.67 GHz, 512/80/SD, APX, $799.99
17" 2.16 GHz MacBook Pro, 1 GB/120/SD, $1,329.99
12" PowerBook G4/1 GHz, 1.25 GB/40/Combo, $449
1.83 GHz MacBook, white, 1 GB/60 GB/Combo, $579
2.0 GHz MacBook, white, 1 GB/60/Combo, $589
2.0 GHz MacBook, white, 1 GB/60/SD, $649
2.0 GHz MacBook, black, 2 GB/80/SD, $749
14" iBook G4/933 MHz, 640/40/Combo, $379
14" iBook G4/1.33 GHz, 768/60/SD, screen mark, $299
15" 1.83 GHz MacBook Pro, 2 GB/80/SD, $849
15" 2.0 GHz MacBook Pro, 2 GB/80/SD, $899
15" 2.16 GHz MacBook Pro, 2 GB/240/SD, $1,049
17" PowerBook G4/1.33 GHz, 1 GB/80/SD, scratched, $649
17" PowerBook G4/1.5 GHz, 1 GB/80/SD $799
15" hi-res PowerBook G4/1.67 GHz, 1 GB/80/SD, $609
For more deals on current and discontinued 'Books, see our MacBook, MacBook Air, 15" MacBook Pro, 17" MacBook Pro, 12" PowerBook G4, 15" PowerBook G4, 17" PowerBook G4, titanium PowerBook G4, iBook G4, PowerBook G3, and iBook G3 deals.
We also track iPod touch, iPod classic, iPod nano, and iPod shuffle deals.
Join us on Facebook, follow us on Twitter or Google+, or subscribe to our RSS news feed
Links for the Day
Mac of the Day: eMac, introduced 2002.04.29. 50 lb. 17" white G4 eMac replaced the iMac for the education market.
Recent Content
Custom Search
Follow Low End Mac on Twitter
Join Low End Mac on Facebook
Favorite Sites
MacSurfer
Cult of Mac
Shrine of Apple
MacInTouch
MyAppleMenu
InfoMac
The Mac Observer
Accelerate Your Mac
RetroMacCast
The Vintage Mac Museum
Deal Brothers
DealMac
Mac2Sell
Mac Driver Museum
JAG's House
System 6 Heaven
System 7 Today
the pickle's Low-End Mac FAQ
Affiliates
Amazon.com
The iTunes Store
PC Connection Express
Macgo Blu-ray Player
Parallels Desktop for Mac
eBay

Advertise