Gold Plated MacBook Pro, Seagate's 250 GB Notebook Drive, Hawking 108G WiFi Card for OS X, and More
This Week's Mac Notebook News
Compiled by Charles Moore and edited by Dan Knight - 2007.09.14
This Week's MacBook, PowerBook, and iBook News
All prices are in US dollars unless otherwise noted.
General Apple and Mac desktop news is covered in The Mac News Review. iPod, iPhone, and Apple TV news is covered in The iNews Review.
News & Opinion
Products
News & Opinion
Go for the Gold (MacBook Pro)
pocket-lint.co.uk's Amy-Mae Elliott says: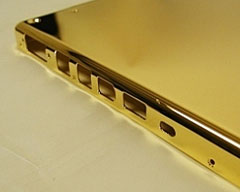 "We've seen seriously blinged up creations from the iPod range, so why not go whole hog and get a Midas-touched MacBook Pro?
"These pics are preview images for the forthcoming gold and diamonds MacBook Pro from the Computer Choppers team.
"The diamond encrusted Apple logo is designed to let the light shine through. Prices on application."
Link: Apple MacBook Pro Gets Midas Treatment
TechRestore Partners with FedEx: 2000+ Local Pickup Locations
PR: TechRestore, Inc. Announces Partnership with FedEx to offer 2000+ Local Pickup Locations for their Overnight Repair Service for Laptops, iPod, iPhone, PSP and Data Recovery.
TechRestore, Inc. & FedEx announced a partnership today that will provide TechRestore customers with over 2000 local drop-off centers at FedEx Kinkos locations throughout the United States.
TechRestore customers simply schedule their repairs online at techrestore.com or via phone at 1-888-572-7372 and select the FedEx Local Drop-off option. Both TechRestore and FedEx are alerted and the customer can then take their repair to any FedEx Kinkos or regular FedEx shipping location for drop off. Once service is scheduled, TechRestore provides the customer with the locations of the three drop-off centers closest to the customer. In addition to being convenient, the new Local Drop-off service allows the customer to have their product picked up the same day they schedule their repair, rather than waiting an additional day to receive a pickup box.
"When it comes to fast and easy shipping, FedEx delivers exactly what TechRestore customers need," said David Kevern, FedEx Vice President of Worldwide Services. "From convenient drop-off at any FedEx Authorized Return Center nationwide, to door-to-door pickup, the combination of TechRestore repair and FedEx logistics offers the fastest, most reliable service available."
With the new partnership, TechRestore customers can choose from FedEx Overnight Door-to-Door Pickup, FedEx Local Drop-off or Self-Ship options to get their device to TechRestore for service.
"We're thrilled to be partnering with FedEx to offer our customers the most convenient and reliable overnight shipping options for their repair services," said Shannon Jean, Founder and President of TechRestore. "Look for more innovative services in the future as TechRestore and FedEx work together to bring the most recommended repair service together with the most trusted name in shipping."
Link: TechRestore
Products
Seagate's 250GB 5400 rpm Notebook Drive
I have a 100 GB Seagate drive in one of my Pismo PowerBooks, but the hard drive in my main production computer is just 80 GB and is nowhere near full after 18 months of use; 250 GB sounds like an awesome amount of storage capacity. The Seagate drive that I have is also admirably quiet and even less full. cm
PR: Responding to expanding demand for desktop and notebook PCs that deliver the highest levels of storage capacity with state-of-the-art security, Seagate Technology has announced a 1 terabyte (TB) desktop hard drive that uses government-grade encryption to prevent desktop PC information from falling into the wrong hands, as well as a new 250GB 2.5" notebook hard drive.
Momentus 5400.4 - Delivering high capacity and throughput for laptop computing
As explosive growth of laptop PCs continues, more users want all the capabilities of a desktop PC, including high capacity, great performance and strong shock resistance for the power of desktop computing on-the-go. The Momentus 5400.4 hard drive, the industry's only second-generation notebook drive to use capacity-boosting perpendicular magnetic recording (PMR) technology, combines up to 250GB of capacity with a super-speedy Serial ATA 3.0 Gbit/second interface.
This 2.5", 5400-rpm little giant delivers 250GB of capacity on just two platters and is tough to the core. Seagate's newest notebook drive packs industry-leading operating and non-operating shock resistance of 325 Gs and 900 Gs, respectively, making it ideal for systems that are subject to rough handling or high levels of vibration. The entire series of Momentus hard drives is lean on power consumption, allowing notebook users to work longer between battery charges, and are virtually inaudible thanks to Seagate's innovative SoftSonic fluid-dynamic bearing motors and QuietStep ramp load technology.
Momentus 5400.4 is designed for a wide range of systems including mainstream notebook PCs, workstations, external storage enclosures and small form factor desktop PCs.
Momentus 5400.4 is expected to ship to system builders and original equipment manufacturers in the fourth quarter of calendar 2007, and Barracuda FDE is on track to ship in 2008. The drives exemplify Seagate's continuing leadership in delivering cutting-edge storage technologies that are core to the explosive growth of digital information worldwide.
Link: Seagate
Hawking 108G CardBus WIFI Card Supports OS X 10.1-10.4
PR: Hawking Technologies' HWC54DA Wireless-G Laptop Card features the latest in wireless technology. Standard wireless cardbus cards use low power antennas that deliver a circular signal pattern. This type of pattern recieves interference from the metal components within the laptop resulting in a drop in wireless performance and distance. The HWC54DA solves this problem with its advanced directional 6 dBi Hi-Gain Antenna that delivers a strong concentrated signal in the direction of the wireless access point to establish a strong wireless link resulting in a significant increase in operating distance (Up to 200%). The Hi-Gain antenna position swivels and folds to make finding an optimal signal easy and simple. When you are not using the card, simply fold the antenna down for compact, safe, easy transport.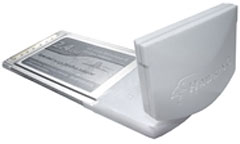 The Wireless-G Cardbus Card is packed with features, including support for true plug and play (hot swappable), high level security (WPA and WEP Encryption), and low power consumption to preserve your laptop's battery life. The HWC54DA uses the latest wireless standard for the fastest connection speeds (Up to 108Mbps when paired with the Hawking HWRGM1A Hi-Gain MIMO Router for Mac Users). It is also backwards compatible with 802.11g and legacy wireless 802.11b products. Transferring data, audio and even video files wirelessly will be easy and fast. Configuration and installation is simplified to get your wireless network up and running in a matter of minutes.
Features
Go Wireless With your Laptop
Hi-Gain Directional Antenna diverts Interference from Metal Componenets within the Laptop
Hi-Gain Antenna Rotates and Swivels to help find the best Signal
Up to 200% Increase in Wireless Distance and Performance when compared to Standard Wireless Cards
Up to 108Mbps data speeds
2 Year Warranty
Free Technical Support
This wireless PCMCIA card works with laptops that run Windows 98SE, ME, 2000, and XP, and is also compatible with Macintosh operating systems 10.0 through 10.4.
This card lists for $99.95, but is available from online resellers for as little as $75.99.
Link: Hi-Gain Wireless-108G Laptop Card
Logitech Notebook Speakers Deliver Exceptional Audio in a Breakthrough, Compact Design
PR: Logitech has announced the Logitech AudioHub Notebook Speaker System with Integrated USB Hub - delivering exceptional audio in a breakthrough design. The AudioHub combines a unique 2.1 one-piece speaker system and three integrated Hi-Speed USB ports in a compact design that fits neatly behind most notebooks.

"Today, a broad range of people - not just traditional road warriors - are using their notebooks as their primary home computer and digital music platform," said Tim Leehane, director of product marketing for Logitech's audio business. "As this trend grows, people are adding peripherals - for example, webcams and wireless mice - to their notebook stations. The Logitech AudioHub provides an elegant, one-stop notebook solution that allows people to manage their peripherals and enhance their listening experience."
Offering notebook users exceptional digital audio, the AudioHub speaker system features an adjustable one-piece, three-chamber speaker system with an integrated subwoofer that creates balanced audio with clear highs and solid lows. And a useful Mute button turns off the sound without cutting power to the integrated USB hub.
To help people manage their peripherals, the AudioHub offers three built-in Hi-Speed USB ports. And when people want to take their notebooks with them, the AudioHub makes it easy to disconnect their setup by simply unplugging the USB cord attached to the computer.
On the base of the AudioHub, a convenient cable management system allows people to easily pass cables from their devices to a USB port. Along the back of the AudioHub, a cable hook efficiently manages cable clutter.
At just three and a half inches in height, the AudioHub presents a sleek, low-profile design that fits almost anywhere in the home - even in the living room. And the AudioHub speaker system's unique adjustable-width speakers effectively position the satellites around most notebooks.
The Logitech AudioHub notebook speaker system is expected to be available in the US and Europe beginning in October, for a suggested retail price in the US for $99.99.
Link: Logitech
KeyRemap4MacBook
KeyRemap4MacBook is a keyboard remapper for Mac OS X. You can change a keyboard-layout like enter2command, return2option, shift2escape...
Very small & concise source code written with C++. Use it as codebase of your original keyremapper.
Don't use this with other key remapper ( DoubleCommand , Tesla , ...)
Uninstall these softwares before install KeyRemap4MacBook.
New in version 1.4:
Added "remap.drop_funcshift". This invalidates the keys "Shift+F1"-"Shift+F12". And prevents an accidental discharge of "slow Expose".
System requirements: Mac OS X 10.4 or later, MacBook
System Support: PPC/Intel
Free
Link: KeyRemap4MacBook
Give Your MacBook Pro a Mobile Home to Be Proud of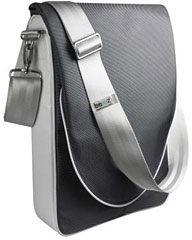 PR: Be.ez has announced the new 17" custom fit LEVertigo - a custom fit notebook bag for the MacBook Pro. Be-ez adds to it's LEvertigo family and expanding range of brilliant designed and well-made satchels with a custom made over the shoulder transporter bag.
The 17" MacBook Pro custom fit LEvertigo is a notebook bag that allows you to transport your laptop as well as documents and accessories in comfort and style. The Vertical design allows you to have the bag close to your body at all times, and with complete all round protection with velcro-secured padded flap you are left with a protective and secure computer transporter bag.
This Christmas give your notebook a new home with the Be-ez 17'" custom fit LEvertigo.
Link: Be.ez
Bargain 'Books
Bargain 'Books are used unless otherwise indicated. New and refurbished units have a one-year Apple warranty and are eligible for AppleCare.
There are two different versions of WallStreet running at 233 MHz, the cacheless MainStreet version and the later Series II with a level 2 cache. It's not always possible to determine from the vendor's listing which is being offered, so we've included links within this paragraph to the two models. The same goes for the PowerBook G4/667 (VGA) and G4/667 (DVI), the titanium vs. aluminum 15" PowerBook G4 at 1 GHz, and 1.25 GHz to 1.5 GHz 15" PowerBooks.
PowerBook, iBook, and MacBook profiles linked in our Portable Mac Index.
A considerably diminished selection of refurbs. at the Apple Store this week; just a couple of 15" MacBook Pros, a 17-incher, and the most expensive MacBook model. cm
refurb 2.16 GHz Core 2 MacBook, black, 1 GB/160/SD, $1,299
refurb 15" 2.2 GHz Core 2 MacBook Pro, 2 GB/120/SD, $1,699
refurb 15" 2.4 GHz Core 2 MacBook Pro, 2 GB/160/SD, $2,199
refurb 17" 2.33 GHz Core 2 MacBook Pro, 2 GB/160/SD, $2,199
TechRestore is offering a $25 discount to 'Book Review readers off any PowerBook or iBook in stock. Just enter the code CWM during checkout when ordering online. The coupon code is valid from now through 2007.12.31.
12" iBook G3/600, 256/20/CD, $349.99 less $25 = $324.99
12" iBook G3/700, 256/20/Combo, $419.99 less $25 = $394.99
iBook G3/900 256MB Memory, 40GB Drive, CD-RW-DVD Optical Drive, 12-inch LCD Screen - $429.99
12" PowerBook G4/867, 256/40/SD, $549.99 less $25 = $524.99
12" PowerBook G4/1.5 GHz, 256/80/SD, $849.99 less $25 = $824.99
14" iBook G4/933, 256/60/Combo, $679.99 less $25 = $654.99
15" PowerBook G4/800, 256/40/Combo, $649.99 less $25 = $624.99
12" iBook G3/700, 256/20/Combo, $299
12" iBook G3/600, 256/15/CD, $219
12" iBook G3/700, 256/20/Combo, $299
12" iBook G4/1.2 GHz, 512/30/Combo, AP, $515
15" PowerBook G4/867, 512/40/SD, scratches/wear, $520
15" PowerBook G4/867, 512/40/SD, $555
Add AirPort for $70
15" aluminum PowerBook G4/1 GHz, 256/60/Combo, $669.99
15" PowerBook G4/1.25 GHz, 256/60/Combo, $729.99
15" PowerBook G4/1.33 GHz, 256/60/Combo, $769.99
15" PowerBook G4/1.5 GHz, 256/80/Combo, $849.99
15" PowerBook G4/1.67 GHz, 512/80/Combo, $929.99
15" PowerBook G4/1.67 GHz hi-res, 512/80/Combo, $1,079.99
Free shipping and $50 rebate on Power Max MP3 Sunglasses with the purchase of any new, used, or refurbished Mac.
open box 1.83 GHz Core 2 MacBook, white, 512/60/Combo, warranty started, $949
open box 2.0 GHz Core 2 MacBook, white, 1 GB/80/SD, $1,029
2.0 GHz Core 2 MacBook, white, 1 GB/80/SD, $1,149
2.0 GHz Core 2 MacBook, black, 1 GB/120/SD, $1,199
open box 2.0 GHz Core 2 MacBook, black, 1 GB/120/SD, $1,249
open box 2.16 GHz Core 2 MacBook, white, 1 GB/120/SD, $1,249
open box 2.16 GHz Core 2 MacBook, black, 1 GB/160/SD, $1,449
open box 15" 2.16 GHz Core 2 MacBook Pro, 1 GB/120/SD, $1,699
15" 2.33 GHz Core 2 MacBook Pro, 2 GB/120/SD, $2,199
17" 2.33 GHz Core 2 MacBook Pro, 2 GB/160/SD, warranty started, $2,599
17" 2.33 GHz Core 2 MacBook Pro, 2 GB/160/SD, $2,688
used 12" iBook G4/1GHz, 512/30/Combo, $479
used 14" iBook G4/933MHz, 128/40/Combo, APX, $499
used 15" PowerBook G4/1GHz, 512/40/SD, APX, 1 USB port, $499
open box 15" 2.33GHz MacBook Pro, 2 GB/120/SD, $1,999
open box 17" 2.4GHz MacBook Pro, 2 GB/160/SD, $2,599
12" clamshell iBook G3/300, blueberry, 64/3/CD, $129.95
12" clamshell iBook G3/300, tangerine, 64/3/CD, $149.95
12" clamshell iBook G3/366, Key lime, 128/10/CD, $279.95
12" iBook G3/500, 128/10/CD, $199.95
12" iBook G3/500, 256/20/CD-RW, $259.95
12" iBook G3/600, 128/20/CD, $239.95
12" iBook G3/600, 256/15/DVD, $279.95
12" iBook G3/700, 256/20/Combo, $349.95
12" iBook G3/800, 256/30/Combo, $369.95
12" iBook G4/1 GHz, 512/30/Combo, APX, $549.95
15" PowerBook G4/1.5 GHz, 512/80/SD, APX, BT, $999.95
For more deals on current or recently discontinued models, see our MacBook deals, 15" MacBook Pro deals, 17" MacBook Pro deals, 12" PowerBook G4 deals, 15" and 17" PowerBook G4 deals, titanium PowerBook G4 deals, iBook G4 deals, PowerBook G3 deals, and iBook G3 deals.
Join us on Facebook, follow us on Twitter or Google+, or subscribe to our RSS news feed
Links for the Day
Custom Search
Follow Low End Mac on Twitter
Join Low End Mac on Facebook
Favorite Sites
MacSurfer
Cult of Mac
Shrine of Apple
MacInTouch
MyAppleMenu
InfoMac
The Mac Observer
Accelerate Your Mac
RetroMacCast
The Vintage Mac Museum
Deal Brothers
DealMac
Mac2Sell
Mac Driver Museum
JAG's House
System 6 Heaven
System 7 Today
the pickle's Low-End Mac FAQ
Affiliates
Amazon.com
The iTunes Store
PC Connection Express
Macgo Blu-ray Player
Parallels Desktop for Mac
eBay

Advertise