MacBook Pro 'the Best', PC Veteran Falls for Pismo, Solar Power for Laptops, Folding Keyboard, and More
This Week's Mac Notebook News
Compiled by Charles Moore and edited by Dan Knight - 2007.11.30
This Week's MacBook, PowerBook, and iBook News
All prices are in US dollars unless otherwise noted.
General Apple and Mac desktop news is covered in The Mac News Review. iPod, iPhone, and Apple TV news is covered in The iNews Review.
News & Opinion
Apple Updates
Tech Trends
Products
Software
News & Opinion
MacBook Pro 'the Best Mac You Can Buy'
The Santa Rosa MacBook Pro stands head and shoulders above Apple's prior flagship Intel notebooks, says IT Business's Tom Yager:
"The Santa Rosa MacBook Pro, named for the Intel Core 2 Duo chip set used in the notebook, became available in June, but I wasn't prepared to issue a final judgment until now.
"I got stung by my last MacBook Pro review, which went to press before the unit started showing problems with build quality and durability.
"After six months of intensive, daily use of the machine, I can state now that today's MacBook Pro stands head and shoulders above Apple's prior flagship Intel notebooks, and sets a standard for performance, features, durability, eco-responsibility, and quality that any PC vendor will find difficult to approach for a similar price."
Link: The Best Mac You Can Buy
MacBook 'Clear Winner' in Apple's Retail Stores
International Business Times' Daniel Jacobs reports:
"Apple Inc. has a number of chic, high-tech products that consumers can't get enough of, but among its computer lines, the MacBook reigns as king.
"Retail checks for this year's largest shopping weekend revealed that MacBooks were the clear winner among the electronics maker's family of computers - which include the iMac, the Mac mini, and Mac Pro...
"Of retail stores surveyed, 91% of the stores perceived that purchases of MacBooks exceeded those of iMacs...."
Link: MacBook 'Clear Winner' in Apple's Retail Stores
Veteran PC User Falls for PowerBook Pismo
Editor's note: I happened to run across this blog entry while looking for something else, and as a consummate fan of the PowerBook 2000 Pismo (I have two of them still in active service), it struck a resonant chord and is another testimony to just how great the old Pismo is. cm
J. Angelo Racoma says:
"I just turned into a MacHead!
"I used to use the office eMac back when I was working the corporate grind. While my main computers were a Linux box and a Windows-based ThinkPad (several, actually), I would often prefer to work on the eMac - which is shared among designers - either by transferring to its location or accessing my OS X desktop remotely via VNC. I just love the clean OS X interface which I found really intuitive.
"To sum it up, it just works. I've been working with PCs all my life and I pretty much know the ins and outs of Windows (having explored even the obscurest of versions, including NT 3.51 and also NT 4 Server), and it was always quite a cluttered and complicated affair. I can say that simplicity is one virtue of the Mac OS X, and even my three-year old daughter can navigate her way around the Mac's UI.
"So when I quit the corporate world and turned to freelancing and problogging, I had to be content with the equipment that I could buy with my own money. No more office-provided computers and broadband (along with free-flowing coffee and unlimited access to programming and design books). Most of all, no more Mac. These days, my work equipment usually consist of my laptop and the home PC desktop, which I have since relegated to gaming, and which my wife uses as her main computer. Enter the Resurrected PowerBook
"This was the case until recently, that is, when I got my hands on an old but working PowerBook G3 'Pismo.'...
"The specs are not really impressive. The Pismo has a 500 MHz PowerPC G3 processor, a 20 GB hard drive, a 14-inch 1024 x 768 display and 256MB of RAM, which I bumped up to 512 with a spare 100MHz SDRAM stick I had lying around at home. Battery life was originally 5 hours, but being old, this powerbook could only give me about 1.5 hours before dying (or sleeping, actually). What's so Great About It?"
Link: Bringing Out the Inner MacHead in Me
Leopard Gobbles Up Batteries, Users Complain
InformationWeek's Paul McDougall reports:
"Mac users who've upgraded their laptops to Apple's new Leopard operating system are reporting a sharp drop off in battery life....
"Some users speculate that the problem is related to the numerous new features that Leopard adds to their computers - including a souped-up graphical interface designed to make navigation easier."
Link: Apple's Leopard Gobbles Up Batteries, Users Complain
SolarRoll: Sun Power for Laptops
Wired's Charlie Sorrel reports:
"The SolarRoll from Brunton is a tough and flexible photovoltaic sheet. We see lots of solar chargers, but these have been taken kayaking and used on mountain expeditions. We like the look of the model you see above, the SolarRoll 14, which, as the name suggests, kicks out 14 watts, which is enough to (slowly) juice a notebook (the MacBook charger, for example, serves up 45 watts)."
Link: SolarRoll: Sun Power for Laptops
How Much Does a Flash Disk Increase Battery Life?
ZD Net blogger Robin Harris says:
"Notebooks need longer battery life
"I used a flash-disk based notebook for much of the '90s and loved its 10-hour battery life. You just have so much more freedom when you don't need to worry about keeping a battery charged.
"I've been very interested in how flash drives could extend notebook battery life. Using a Kill-a-watt power meter I ran some experiments with an Intel Core Duo notebook. Power use is a little more complex than I'd thought. Here's what I found."
Editor's note: The results certainly surprised me, and I'm now thinking that flash drives are likely not the panacea for various power issues related to notebook computing that I had presumed them to be based on hype and speculation. The likelihood of a new subcompact MacBook Pro with flash memory has been one of the things holding me back from upgrading my system (money is another), but if this analysis is accurate, and I have no reason to imagine it doesn't, then the good old hard disk has a lot of life left in ti yet. cm
Link: How Much Does a Flash Disk Increase Battery Life?
World's First Laptop Orchestra Uses 50 MacBooks
MacDailyNews reports:
"50 music students from the University of York will perform three orchestral pieces on Apple MacBooks at concerts this month. They will form the largest digital ensemble of its kind anywhere in the world.
"The Worldscape Laptop Orchestra (WLO) will perform new music written with MacBooks supplied by Apple Computer Inc.
"The multimedia performance has been created by students of the Department of Music at York in just five weeks. WLO is designed and directed by Dr. Ambrose Field, an award-winning composer in the Department."
Link: University of York Assembles World's First Laptop Orchestra Using 50 Apple MacBooks
MacBook Pro Keyboard Issues
Hardmac's Lionel says:
"Apple has identified a bug registered as ID #5365684, and dealing with issues encountered by MacBook Pro owners: keyboard goes randomly in sleep mode, or the first pressed key is systematically ignored (not easy to write a text...). Cupertino is currently working on a fix."
Link: MacBook Pro Keyboard Issues
Apple Updates
iDisk, .Mac, Remote Home Directory Sync Problems with Santa Rosa MacBook
Syncing iDisk, a .Mac account, or a remote home directory on a MacBook (Late 2007) may take place with no error messages, but some of the files would not appear to be copied to the target.
Products affected: MacBook (Late 2007)
Solution: To correct this issue, apply the Mac OS X 10.5.1 update via Software Update or download it from http://www.apple.com/support/downloads/ and install it on your MacBook. Restart your computer and try the syncing operation again.
Link: MacBook (Late 2007): iDisk, .Mac or Remote Home Directory Sync Unsuccessful
Tech Trends
Nigerian Keyboard Firm Sues One Laptop per Child
The Register's Austin Modine reports:
"The One Laptop Per Child foundation is being sued over its XO laptop keyboard design by the Nigerian-owned, Massachusetts-based firm, Lagos Analysis Corp.
"Lagos claims the non-profit illegally reverse-engineered their software drivers to make the OLPC keypad more accent mark friendly to foreign fingers."
Link: Nigerian Keyboard Firm Sues One Laptop per Child
Millennium Cell and Horizon Fuel Cell Plan 'Water-Activated' Portable Power Products
PR: Millennium Cell Inc. and Horizon Fuel Cell Technologies have announced that the two companies are nearing completion of a beta version of a portable power generator that incorporates a unique water-activated cartridge system. The product will be a clean and quiet power generator for use by consumers and professionals for emergency and recreational purposes. Horizon recently demonstrated the alpha product of this unit at the 2007 Combined Exhibition for Advanced Technologies (CEATEC) in Japan. System prototypes are currently being finalized and the first customer evaluations are expected to start in December 2007. The beta product will be demonstrated at the Consumer Electronics Show (CES) in Las Vegas in January 2008.
The product will provide a common AC outlet and two USB connectors for low power devices to operate for more than 16 hours when the electrical grid is unavailable. Horizon and Millennium Cell plan to launch this unit after completion of safety certification in time for the 2008 hurricane and winter storm seasons. The dry cartridge offers infinite shelf-storage life and 400 Watt hours of "instant power" by just adding water. The cartridge-based power system will have a manufacturer's suggested retail price of approximately $400, making this, to our knowledge, the first fuel cell portable power generator of its kind to reach an attractive price point for consumers.
Other products have been identified as targets for development and are expected to be shipped to commercial and government customers for evaluation in 2008 and 2009.
"Our recent agreement with Millennium opens a number of large and immediate commercial opportunities as we continue to focus on practical fuel cell power systems for our customers," comments George Gu, CEO of Horizon Fuel Cell Technologies.
Also announced is the approval by shareholders of Horizon for the issuance of a number of ordinary shares representing 6.7 percent of Horizon's outstanding voting share capital to Millennium Cell. This shareholder action resulted in the automatic conversion of a $5 million Horizon note that was issued to Millennium Cell on October 19, 2007 in exchange for a number of shares equal to approximately 11.7 percent of Millennium Cell's outstanding common stock.
The completed $5 million share exchange is part of an overall strategy designed to strengthen joint product development and commercialization activities between Millennium Cell and Horizon. In October, the two companies signed a Letter of Intent (LOI) to collaboratively develop, market, and sell certain portable and high energy density fuel cell power products on a global basis. The partnership is aimed at launching a number of commercial and consumer product applications that combine Horizon's commercial grade fuel cell products with innovative water-activated hydrogen storage cartridges initially developed by Millennium. Definitive documentation that amends the August 2007 license agreement between Horizon and Millennium Cell to reflect the terms of the LOI is expected to be complete by the end of 2007.
"This closer partnership allows the companies to bring fuel cell products with affordable prices and compelling value propositions to market in 2008. Horizon's advanced fuel cell technologies, low cost production infrastructure, and rapid product development capability have been demonstrated by their successful launch of fuel cell products last year. When combined with Millennium's HOD™ technology, we expect these products to create revenues for both companies starting in 2008", commented Adam Briggs, President, Millennium Cell.
Millennium Cell is a leader in the development of hydrogen battery technology used to power portable applications. Through its proprietary Hydrogen on Demand fuel cartridges and PowerSkin fuel cell modules, the Company provides increased energy density resulting in longer runtime and lighter weight in a compact space. The Company is working with market partners to meet the demand for a better battery in the military, medical, industrial and consumer electronics markets.
Link: Millennium Cell
Products
Matias Folding Keyboard Announced
PR: The Matias Folding Keyboard is a full-size USB Keyboard that folds in half for travel. Small enough to fit in your laptop bag, it's the ultimate keyboard for laptop users.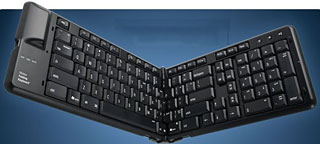 High-quality dome switches give the keyboard a responsive, tactile feel, with enough resistance to hold the weight of your hands. This reduces long term fatigue and makes it a lot more comfortable to use.
A Tab key on the number pad allows one-handed number entry into forms and spreadsheets, leaving your other hand free to hold or flip through information being entered.
We've taken your laptop's Fn key and injected some brains into it.
The ultimate keyboard for your laptop.
Small enough to fit in your laptop bag.
Unfolds into a full-size desktop keyboard, complete with number pad.
Comfortable, tactile feel.

The Matias Fn key allows quick and easy access to keys that normally require a long reach - Arrow keys, Page Up, Page Down, Delete, and others can now be typed right from home row, without moving your hand.
Of course, you can still type those keys the normal way, but using Fn is faster - and it works on the main keyboard and the number pad.

The keyboard also has the standard volume controls: Volume Up, Volume Down, and Mute - as well as function keys, page navigation keys, and cursor keys.
Expected release: Mid-December.
Pre-order now and receive free shipping when it becomes available.
Matias Folding Keyboard sells for $59.95
In the box:
Matias Folding Keyboard
USB cable
Carrying sleeve
Users manual
System Requirements:
Computer with USB port.
Volume keys require Windows 2000, XP, Vista, or Mac OS X 10.3 or higher.
Dimensions:
Open - 18" x 5" x 0.87" / (45.7 x 12.7 x 2.2 cm)
Closed - 10.08" x 5" x 1.18" / (25.6 x 12.7 x 3.0 cm)
Weight: 15.3 oz (433 g)
The keyboard is also available as part of the Matias Portable Office bundle, which includes our new iFold notebook stand. If you order them together, you'll save $20 (US).
Link: Matias Folding Keyboard
Sonnet Introduces Aria Extreme-n Draft 802.11n Wireless Mini-PCIe Card
PR: Sonnet Technologies announces the introduction of the Aria Extreme-n 802.11n wireless mini-PCIe card. This small form-factor card, measuring 2" x 1-1/8", delivers draft 802.11n wireless network connectivity to Mac Pro, MacBook, MacBook Pro, iMac (Intel), Mac mini (Intel), and Windows notebook computers with an available mini-PCIe slot. Sonnet delivers added value by including the specialized tools and detailed installation instructions that enable do-it-yourself installation for Mac mini, Mac Pro, MacBook, and MacBook Pro users.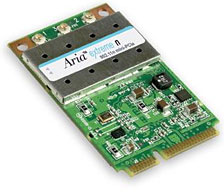 Aria Extreme-n adds 802.11n wireless connectivity to compatible Macs without a wireless card, and upgrades systems originally sold with an 802.11g AirPort Extreme card; Aria Extreme-n mounts into the AirPort card slot and connects to the computer's built-in antenna(s). Aria Extreme-n uses Mac OS X's AirPort drivers and configuration tools, configuration is completed in a few simple steps. Aria Extreme-n is backward compatible with 802.11a, 802.11b, and 802.11g routers and other equipment.
802.11n networks can deliver up to five times the speed and twice the range of 802.11g networks, the previous wireless networking standard. Sonnet's Aria Extreme-n can connect up to three antennas, depending on computer configuration, to maximize its performance with 802.11n routers that also feature multiple radios and antennas. 802.11n devices utilize MIMO (multiple input, multiple output) technology that enables multiple concurrent data stream transmission, and provides enough bandwidth to allow simultaneous high-speed Internet access, HD video streaming, large file transferring, VoIP telephony, and more. Aria Extreme-n supports AES, TKIP, WEP, and WPA2 encryption for secure network configuration, so you can work wirelessly with confidence.
Aria Extreme-n Key Benefits
Simple way to add 802.11n wireless networking capability to any compatible computer
Specialized tools and detailed instructions included for Mac mini, Mac Pro,
MacBook, and MacBook Pro installation
Internal card replaces original AirPort card
802.11n delivers up to 5x the speed and 2x the range of 802.11g network
Works with all AirPort, AirPort Extreme, and AirPort Express base stations and equivalent wireless hubs
Backward compatible with 802.11a, 802.11b, and 802.11g devices
Mac Compatibility
iMac (Intel-based)
Mac mini (Intel-based)
Mac Pro
MacBook
MacBook Pro
Mac OS X 10.4.9 and later
802.11n protocol requires Airport Extreme Base Station with 802.11n or AirPort Extreme 802.11n Enabler for Mac software (sold separately)
PC Compatibility
Notebook with mini-PCIe slot
Windows XP SP2 or Windows Vista
Suggested retail price: $129.95.
Link: Aria Extreme-n
Dualy Brings 802.11b/g/n Wireless to any Mac
PR: QuickerTek has just pushed the technology envelope with the Dualy. Now any Mac with a USB port can take advantage of wireless networking, whether the Mac has an AirPort wireless network card or not. Dualy also seeks out more distant wireless signals and locks them in with two 500 milliwatt transceivers coursing wireless across two antennas.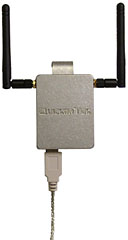 Dualy is an excellent solution for users who often find themselves accessing networks at work, school, hotels, coffee shops and other environments where signal strength and speed vary and who want maximum wireless performance.
Two 500 milliwatt transceivers inside each Dualy seize wireless signals from access points manufactured by a wide variety of common wireless hardware vendors. Most Mac laptops offer from 25 - 30 milliwatts of RF power, so it's very easy to see how Dualy can easily best any wireless connection from a stock laptop. And the dual 3 dBi antennas (one for each transceiver) provide the speed necessary for 802.11n wireless that runs in the 2.4 GHz range. Users may choose to upgrade these antennas for even greater distance and wireless speeds.
Dualy easily clips to the Mac laptop case and is powered from the USB port. It is also fully compatible with all Apple AirPort Base Stations. The Mac should run Mac OS X 10.3.9 or later, including Leopard (10.5x). An Apple AirPort card is not required to gain this powerful wireless performance, which makes it perfect for those users who have always wanted wireless, but either did not get an AirPort card or want to upgrade to the fastest wireless possible.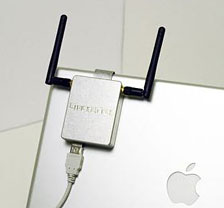 Dualy Compatibility
802.11b/g/n wireless hardware
Apple (highest speeds possible):
MacBook;
MacBook Pro;
iBook;
PowerBook
also works for any Mac with USB:
Mac Pro;
iMac;
Power Mac;
G4 Cube
Mac OS X version 10.3.9 or higher including 10.5.1; works with these Access points:
Apple 802.11 N Base Station Extreme (Square)
Apple 802.11 G Base Station Extreme (Saucer)
Apple AirPort Express
WAPs from dLink, Belkin, LinkSys, etc.
FCC, CE rated
SRP: $324.95
Like most QuickerTek products, the Dualy is backed with a one-year warranty on parts and labor.
Link: Dualy
Matias Releases iRizer Notebook Stand
PR: Matias has announced the iRizer, an ultra-slim, height-adjustable notebook stand, that helps prevent the neck & wrist pain that's so common among laptop users.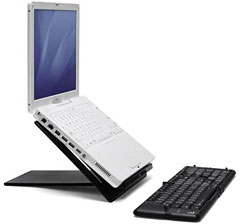 "Great for PC or Mac, the iRizer is the lightest, most versatile stand we offer," said Vesna Vojnic, Marketing Director for Matias. "The height adjustment feature makes it especially good for travel. You never know what height of table or desk you'll have to deal with on the road. With the iRizer, now you can set your laptop's keyboard & screen to the most comfortable angle for you."
"For even greater comfort, use the iRizer together with an external keyboard & mouse. Pair it with our recently announced Matias Folding Keyboard and you'll have a totally portable solution," said Vojnic.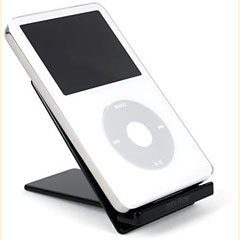 We've even included a special gift," added Vojnic. "Every iRizer comes with a free bonus MiniRizer, a credit-card sized version of the iRizer, that you can use as a stand for your iPod, cellphone, or even business cards."
Ideal for home, office, or travel, the iRizer helps prevent neck & wrist pain by raising your laptop's keyboard & screen to a more comfortable angle.
Whether you're tall or petite, whether your desk is too high or too low, the iRizer's sleek interlocking design lets you adjust your laptop to the height/angle that's most comfortable for you - 20°, 30°, 40°, or 50°.

For maximum comfort, use the iRizer together with a separate keyboard & mouse, and turn your laptop into a more comfortable desktop computer. Our Matias Folding Keyboard is a great addition to the iRizer.
For those times when you're without an external keyboard (on the road, on a plane) the iRizer puts your laptop's keyboard at a more comfortable angle for typing, allowing you to lean back in your chair and straighten your wrists, as recommended by leading ergonomists.
The iRizer allows air to circulate freely under your laptop, so it runs cooler and quieter. Your battery will last longer and it may even extend the lifespan of your computer.
Your laptop is portable. Your stand should be too! Stacked together, the iRizer's two slim acrylic plates are only 0.55" thick (14 mm) and easily fit into your notebook bag.
In the box:
iRizer stand
MiniRizer stand
Carrying sleeves
Instruction card
Compatibility: Fits virtually any laptop, PC or Mac.
Dimensions:
Flat - 11.42" x 8.92" x 0.55" / (29 x 22.65 x 1.4 cm)
Stand height - 2.25" - 6.5" / (5.7 - 16.5 cm)
Weight: 24 oz (685 g)
Features:
Sleek, interlocking design adjusts to 4 different heights.
Helps prevent neck & wrist pain, by raising your laptop's keyboard & screen to a more comfortable angle.
Use together with an external keyboard for even greater comfort.
Perfect for home, office, or travel.
Matias iRizer Portable Ergonomic Laptop Stand
$39.95 USD
Link: Matias iRizer
Matias iFold Laptop Stand
PR: The Matias iFold Laptop Stand raises your laptop to monitor height, giving you desktop computer comfort, without sacrificing the mobile convenience of a laptop. Simply plug in a separate keyboard & mouse to alleviate neck and wrist pain.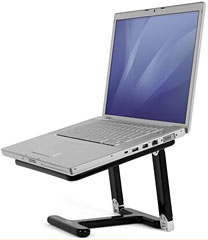 Made from the highest grade of acrylic, and embedded with chromed zinc alloy hinges, the iFold will look great in your home, office, or studio.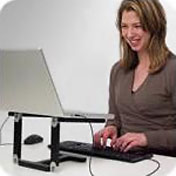 With its sleek "open air" design, the iFold keeps your laptop cool and quiet. Air circulates freely underneath, allowing your computer to run much cooler, and with a lot less noise from the fan switching on. Your battery will last longer and it may even extend the life of your computer.
Non-slip rubber pads on the iFold keep your computer securely in place.
When folded flat, the iFold makes a great cooling pad. If your notebook runs too hot to use on your lap, simply slide the iFold under it. Rubber pads hold your computer safely in place, while air passes freely underneath, keeping your laptop and your lap cool.
Your laptop is portable. Your stand should be too. The iFold's innovative folding mechanism allows it to fold completely flat, so that it easily fits into your notebook bag.
The iFold leaves all ports and slots on your computer accessible and free from obstruction. Whether your CD/DVD drive is on the front or the side, the iFold is ideal for your laptop.
Portable stand for your laptop.
Work in comfort with your laptop raised to eye level.
Use with a separate keyboard & mouse to eliminate neck and wrist pain.
Folds flat to fit in your laptop bag.
Matias iFold Portable Laptop Stand sells for $59.95
In the box: iFold stand & carrying sleeve
Compatibility: Fits virtually any laptop, PC or Mac.
Dimensions:
Folded - 11.25" x 8.88" x 0.69" / (28.6 x 22.5 x 1.75 cm)
Stand height - 7.38" (18.7 cm)
Weight: 2 lbs. (902 g)
Link: Matias iFold
Software
MiniBatteryStatus Widget Displays Battery Status
PR: MiniBatteryStatus is a small Dashboard widget that monitors battery status, charge percentage and remaining battery life. Integrated with Growl to alert you when it's time to recharge your battery.
MiniBatteryStatus widget monitors battery status and charge percentage. It displays colorful information to quickly notice your battery conditions.
The widget assumes different colors depending on the remaining charge of the battery. It is also aware of battery charging and plugged status. User can choose if the widget should display percentage, remaining time, capacity (current/maximum) and cycle count or just the charge gauge.
MiniBatteryStatus is definitely a must have for all Mac laptop users.
Features
Growl integration. Be aware of what happens to your battery even when you're not looking at Dashboard. MiniBatteryStatus tells you when it's time to recharge your battery, when you're done charging and when the power source has changed with Growl notifications.
Universal Binary. You can run MiniBatteryStatus on both PowerPC iBooks and PowerBooks and Intel MacBooks and MacBook Pro's.
Lots of colors. Thanks to the revolutionary "arcoiris" engine, the widget color varies with continuity from green to red. Enjoy a plenty of awesome nuances from acid green to coral red.
Small widget size to save Dashboard real estate. iBooks and powerbooks have limited desktop surface. Leave room to other cumbersome widgets, still monitoring your battery with style and no clutter.
Rewritten from ground up. Completely event driven. Same data from the system status item, instantaneous notifications.
Share battery data. The included battery data sharing service will make your battery remotely monitorable by MiniBatteryLogger. System administrators will be able to monitor the available energy supply of all laptops over the local network.
Minimum system requirements are Mac OS X 10.4 Tiger or later, and of course a battery-powered Macintosh. Suggestions for improvements are more than welcome. MiniBatteryStatus Widget is freeware, anyway you cannot redistribute it without written permission. Please contact me if you'd like to redistribute the widget.
New in version 2.6.4:
Used AppleGlassButton class for buttons
Fixed sharing status label always set to "inactive" after startup
Code cleanup
System requirements: Mac OS X 10.4 or later.
System support: PPC/Intel
Free
Link: MiniBatteryStatus
Bargain 'Books
Bargain 'Books are used unless otherwise indicated. New and refurbished units have a one-year Apple warranty and are eligible for AppleCare.
There are two different versions of WallStreet running at 233 MHz, the cacheless MainStreet version and the later Series II with a level 2 cache. It's not always possible to determine from the vendor's listing which is being offered, so we've included links within this paragraph to the two models. The same goes for the PowerBook G4/667 (VGA) and G4/667 (DVI), the titanium vs. aluminum 15" PowerBook G4 at 1 GHz, and 1.25 GHz to 1.5 GHz 15" PowerBooks.
PowerBook, iBook, and MacBook profiles linked in our Portable Mac Index.
Changes over the past two weeks with Apple refurb. 'Books include availability of 17" High Res. MacBook Pros and a paucity of refurb. MacBooks. cm
refurb 2.16 GHz Core 2 MacBook, black, 1 GB/160/SD, $1,249
refurb 15" 2.2 GHz Core 2 MacBook Pro, 2 GB/120/SD, $1,699
refurb 15" 2.33 GHz Core 2 MacBook Pro, 2 GB/120/SD, $1,899
refurb 15" 2.4 GHz Core 2 MacBook Pro, 2 GB/160/SD, $2,099
refurb 17" 2.4 GHz Core 2 MacBook Pro, 2 GB/160/SD, $2,399
refurb hi-res 17" 2.4 GHz Core 2 MacBook Pro, 2 GB/160/SD, $2,599
TechRestore is offering a $25 discount to 'Book Review readers off any PowerBook or iBook in stock. Just enter the code CWM during checkout when ordering online. The coupon code is valid from now through 2007.12.31.
15" PowerBook G4/1.5 GHz, 512/80/Combo, $799.99 less $25 = $774.99
15" PowerBook G4/1.5 GHz, 512/80/SD, $879.99 less $25 = $854.99
15" PowerBook G4/1.67 GHz, 512/100/SD, $979.99 less $25 = $954.99
15" PowerBook G4/1.67 GHz hi-res, 512/80/SD, $1,099.99 less $25 = $1,074.99
15" 1.83 GHz Core Duo MacBook Pro, 512/80/SD, $1,199.99 less $25 = $1,174.99
15" 2.0 GHz Core Duo MacBook Pro, 512/80/SD, $1,299.99
15" 2.0 GHz Core Duo MacBook Pro, 1 GB/100/SD, $1,349.99
17" MacBook Pro Intel Core Duo 2.16 GHz 1GB of memory, 120/SD, $1,599.99 less $25 = $1,574.99
12" iBook G3/500, 128/10/CD, $139.99
12" iBook G3/600, 128/15/CD, $169.99
17" 2.16ghz MacBook Pro, 1 GB/100/SD, $1,459.99
17" 2.16ghz MacBook Pro, 1 GB/120/SD, $1,499.99
17" 2.16ghz MacBook Pro, 1 GB/160/SD, $1,529.99
17" 2.16ghz MacBook Pro, 1 GB/200/SD, $1,619.99
Upgrade to 2 GB RAM (only valid with purchase) free install - $49.99
Free ground shipping
open box 2.16 GHz Core 2 MacBook, black, 1 GB/160/SD,warranty started, $1,399
open box 2.16 GHz Core 2 MacBook, black, 1 GB/160/SD, $1,469
open box 15" 2.2 GHz Core 2 MacBook Pro, 2 GB/120/SD, $2,899
open box 15" 2.33 GHz Core 2 MacBook Pro, 2 GB/120/SD, $1,949
open box 17" 2.4 GHz Core 2 MacBook Pro, 2 GB/160/SD, $2,699
12" iBook G3/700, 128/20/CD, AP, small crack, $249
15" PowerBook G4/550, 128/30/Combo, $349
15" PowerBook G4/667, 512/30/SD, AP, $549
17" PowerBook G4/1.33 GHz, 1 GB/120/SD, no modem, $699
12" iBook G3/600, 256/20/CD, some defects, $149
12" iBook G3/700, 256/20/Combo, $299
12" iBook G3/700, 384/20/Combo, $309
Add AirPort for $69
12" iBook G4/1.0 GHz, 512/30/Combo, $475
12" iBook G4/1.0 GHz, 512/30/Combo, AirPort, $509
Add AirPort Extreme for $39
12" iBook G3/500, 128/10/CD, $199.95
12" iBook G3/700, 256/20/CD, $229.95
12" iBook G3/800, 256/30/CD, $249.95
12" iBook G3/800, 256/30/Combo, $329.95
Pismo PowerBook G3/400, 192/6/Zip, $279.95
12" iBook G4/1 GHz, 512/30/Combo, $479.95
14" iBook G4/1 GHz, 512/40/Combo, $529.95
15" PowerBook G4/500, 256/20/DVD, $449.95

12" iBook G4/1 ghz, 40gb hard drive, 256 ram, with a CDRW/DVD Drive. OS X 10.4 installed, built in speakers, network card and modem, come with a working battery and power cord - $589.99
12" clamshell iBook G3/300, 512/3/CD, tested battery, power cord, OS X 10.3, $235

$189.99 with OS X 10.3 with 288 MB RAM
$149.99 with OS X 10.2 and 160 MB RAM

12" iBook G4/1.07 Ghz, 256/30/Combo, APX, $399
12" iBook G4/1.33 Ghz, 512/40/Combo, APX, $549.99
For more deals on current and discontinued models, see our MacBook deals, MacBook Pro deals, 12" PowerBook G4 deals, 15" PowerBook G4 deals, 17" PowerBook G4 deals, titanium PowerBook G4 deals, iBook G4 deals, PowerBook G3 deals, and iBook G3 deals.
Join us on Facebook, follow us on Twitter or Google+, or subscribe to our RSS news feed
Links for the Day
Mac of the Day: eMac, introduced 2002.04.29. 50 lb. 17" white G4 eMac replaced the iMac for the education market.
Recent Content
Custom Search
Follow Low End Mac on Twitter
Join Low End Mac on Facebook
Favorite Sites
MacSurfer
Cult of Mac
Shrine of Apple
MacInTouch
MyAppleMenu
InfoMac
The Mac Observer
Accelerate Your Mac
RetroMacCast
The Vintage Mac Museum
Deal Brothers
DealMac
Mac2Sell
Mac Driver Museum
JAG's House
System 6 Heaven
System 7 Today
the pickle's Low-End Mac FAQ
Affiliates
Amazon.com
The iTunes Store
PC Connection Express
Macgo Blu-ray Player
Parallels Desktop for Mac
eBay

Advertise