The iPod shuffle Is Overpriced and Underfeatured
Evan Kleiman - 2005.02.18
Macworld San Francisco brought us two things that the Apple Rumor Mill had been churning out repeatedly for the past several years - the "headless iMac" and the "flash iPod". With backorders and server slowdowns abundant within hours of the announcement of these products, the popularity of these two items is obvious.
While the Mac mini is a hot item up for much discussion, there's no doubt that the iPod shuffle will be one of the most debated moves Apple has made in recent history.
Apple has been known to remove "key" items, such as floppy drives, from its product line with much controversy and success. Will the iPod mini follow in the footsteps of the iMac? Let's see why and why not.
The Price
First and foremost, the iPod shuffle is expensive. If computed using last week's value equation, we see the shuffle costs US$150-200 a gigabyte. Relative to even the iPod mini, this price is outrageous! Given the feature set, you're paying quite a premium.
Compared to other iPod, you don't get equalizer features or even the game and organizer functions. Most importantly, it has no screen.
But let's talk about how his price is justified. The Apple brand has often been compared to BMW. Using this model, some things make a little more sense. Few people have a BMW, but those who do love it.
Either way, they pay a premium to own such an object. If one can say that you pay a premium for a regular iPod over other digital music players, then what about the shuffle?
The Style
If we've learned anything about both BMW and Apple owners, we know they're willing to pay a premium for three things that both companies are known for: quality, brand name recognition, and style
Looking at style gives us reason for the premium price for the iPod shuffle. It's small; people like that. They like the fact that this thing can be worn around their neck. Even owning "that MP3 player without a screen" has some bearing for the fashion conscious.
There are a few downsides to the style, though. Something the size of a pack of gum but costing more than thirty times as much shouldn't be as loseable as it is. While the included lanyard does make it a bit harder to lose, the shuffle can still be easily misplaced.
Owning an iPod mini myself, I cannot say I've never misplaced it. And how many of us have lost packs of gum? Of course this gum analogy is highly fallible, but it goes to show how easily it is to lose this US$100-150 object.
Comparing Apples to Apples
People can't keep comparing the shuffle to the regular iPod. It's just not the same. At risk of sounding lame, you cannot compare Apples to Apples here. The iPod shuffle is aimed at a "sport" type of market; it's meant to be used in different applications than a regular iPod. It's more conducive to use while running or biking. It uses solid-state memory, and it's very compact.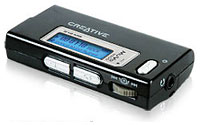 So let's compare the shuffle to a more comparable competitor, the Creative Muvo Micro. Priced closely to the iPod shuffle it adds quite a bit more. It has an FM radio, built-in microphone, and most importantly, an LCD screen. Battery life is also a tad better, but nothing to brag about (12 hours for the shuffle, 15 for the Muvo).
Stylewise, the shuffle comes ahead. Even though the Muvo Micro comes in several cool colors, the simplicity of the shuffle just plain out beats Creative's offering. While the Muvo Micro is small, the shuffle is smaller, weighing .02 ounces less than the Micro - before it even has a battery installed.
The shuffle does have some neat features, such as its ability to be used as a flash drive (or even a makeshift RAID array). Of course, this is not enough to justify the sacrifice you must make to get the shuffle.
The bottom line is that you're sacrificing quite a lot for Apple's style, quality, and name. Both of these devices are aesthetically pleasing, and while no one can really measure aesthetics and features based on equal pricing, it's not worth it for the shuffle when compared like so.
Let's Talk About the Screen
We've seen Apple do this before with the iMac when they sold it sans floppy drive. People went crazy for a while, but overall it was a huge success. Most computers today, Mac or PC are sold without a floppy drive.
But his comparison isn't too accurate. While at first there was no real way to use removable, recordable media with the iMac, Iomega, Imation, and others quickly came out with Zip, SuperDisk, and floppy drives to get around this problem. Later iMacs had removable, recordable media in the form of CD-RW.
Are we going to see after-market screens for the iPod shuffle? I doubt it.
Is it Worth It?
In the end, I doubt that all future iPods will go the way of the shuffle. It's selling like hot cakes now, and it will for a while because anything Apple makes like this will always have its niche. As far as people who want an iPod, they might as well save up the extra hundred dollars and buy the iPod mini.
For someone who really needs a small MP3 player, something along the lines of the Muvo is the better buy.
All in all, this product is not worth it.

Join us on Facebook, follow us on Twitter or Google+, or subscribe to our RSS news feed
Today's Links
Mac of the Day: Lisa, introduced 1983.01.19. The ancestor of the Macintosh had a mouse, a graphical interface, and a $10,000 price tag.
Recent Content
Custom Search
Follow Low End Mac on Twitter
Join Low End Mac on Facebook
Favorite Sites
MacSurfer
Cult of Mac
Shrine of Apple
MacInTouch
MyAppleMenu
InfoMac
The Mac Observer
Accelerate Your Mac
RetroMacCast
The Vintage Mac Museum
Deal Brothers
DealMac
Mac2Sell
Mac Driver Museum
JAG's House
System 6 Heaven
System 7 Today
the pickle's Low-End Mac FAQ
Affiliates
Amazon.com
The iTunes Store
PC Connection Express
Macgo Blu-ray Player
Parallels Desktop for Mac
eBay

Advertise