Macworld Keynote Address
Dan Knight - 2001.07.18
The setting and appearance are familiar by now: a dark auditorium, a huge Apple image projected on the front wall, a couple big Think Different posters, and The Beach Boys blaring through the sound system. There's a Power Mac G4 and flat panel display on the left side of the stage - and a bunch of what look like flat panel displays on the left.
Or could they be flat panel iMacs? Nope.
Apple Retail Stores
Results have been terrific because of a solutions-based approach to computer retailing, according to Steve Jobs. Four more stores are due to open in August, keeping Apple on target for 25 retail stores by the end of the year.
Steve showed a video about the store: The first 25% of the store displays every piece of hardware Apple makes. All are AirPort enabled, so you can just walk up to them and use them. The next half of the store is for solutions - software, DV camcorders, etc. At the back of each store is a theater, which Apple is using today to simulcast the keynote.
Shop different.
Mac OS X
Mac OS X has been shipping since March 24 and already have over 1,000 applications available. Apple asked developers to show of the 10 best apps for OS X.
The OS X version Microsoft Office will only run under OS X, not under the classic Mac OS. Microsoft has devoted a lot of time to making Office X fast and gorgeous.
Adobe Illustrator is under development for OS X, and the development version loads twice as fast as the current "classic" version of Illustrator. One nice new feature is slicing, which lets Illustrator automatically break projects into pieces for export to the Web. GoLive is also being ported to OS X, and InDesign is under development for OS X. Transparency ports from one application to another - very nice!
QuarkXpress 5 is finally in beta and an OS X version is being developed. Xpress will finally support tables and layers. Publishing for the Web is another strength of Xpress 5, and even includes exporting images to GIF, JPEG, or PNG automatically.
FileMaker Pro 5.5 for Mac OS X has already shipped and sold over 50,000 copies. FMPro 5.5 Server for OS X will be shipping by the end of the month.
Connectix showed a technology preview of VirtualPC for Mac OS X and supports all versions of Microsoft Windows through XP. If you're running Mac OS X and a registered VirtualPC user, you can download a "test drive" version of VPC from the Connectix site.
IBM ViaVoice for Mac OS X has been optimized for the G4 and takes advantage of multiple processors. It can be used for dictation as well as controlling your OS X-running Mac. It's very fast and very accurate. It will be available "later this year."
Worldbook 2001, the World Book Encyclopedia, is available in a stunning OS X-specific edition and includes a lot more than just text and images, such as movies and animation, along with Web links.
Every game Blizzard has ever released has been available for the Mac - and Warcraft III is being prepared for simultanous Mac and PC release. It's the first Blizzard game to use real time graphics. The carbonized version will run under Mac OS X - and should also work on the Classic Mac OS.
Aspyr showed of Tony Hawke Pro Skater 2 on Mac OS X, which lets you edit your own skateboarders and play over a network. The game will run under both Mac OS 9 and X.
Maya Technologies showed Alias/Wavefront, a powerful 3D imaging program. The new version is available today.
Mac OS X 10.1
Steve Jobs announced the first major upgrade to Mac OS X, version 10.1, which put a high emphasis on improving performance. It's really fast, at least on the G4 Jobs used to demonstrate it. Version 10.1 includes system icons in the menu for modem, AirPort, battery life, etc.
Several capabilities that had been classic OS only, such as DVD playback and burning data CDs, are now part of Mac OS X. A clever new feature is menus tied to dock icons - and you can now move the dock from the bottom of the screen.
Connecting a digicam to an OS X-equipped Mac will automatically mount the camera's images - if you can figure out how to turn on the camera. (Jobs had a real problem with that part. Maybe Apple needs to get involved with digicam design.) Once that's done, Mac OS X can automatically copy images from your camera to your pictures folder.
And, of course, 10.1 is a free upgrade for 10.0.x users.
New Hardware
The iBook has been widely hailed as a nearly perfect laptop by any number of publications. Apple shipped 182,000 iBooks in May and June - and was unable to meet retail demand.
The TiBook is wonderful, as are reviews. (I love mine!)
Three New iMacs
The short: 500, 600, and 700 MHz models, 128-256 MB standard, CD-RW on all models. 700 MHz due next month. More on our new iMac profile page.
The New Power Macs
Apple has updated the Power Mac G4 with their new "Quicksilver" design. Yesterday 733 MHz was Apple's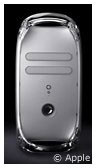 fastest computer - today it's Apple's entry-level speed. The Power Mac is also available with a single 867 MHz G4 or dual 800 MHz processors.
Apple has overhauled the case with a new appearance, but the insides are the same as before. Both the 867 MHz model and the dual 800 MHz machine include a SuperDrive. More on our G4 (Quicksilver) profile page.
G4 vs. Pentium 4
How does an 867 MHz G4 compare with a 1.7 GHz P4, the fastest Intel CPU currently available on the open market. The two computers had exactly the same hard drives and other components, as far as possible.
The first demo rendered an NTCS video - and the G4 smoked the Pentium, completing the job over twice as fast. Then on to Photoshop. Same old story.
MHz isn't everything. In fact, the G4/867 is 84% faster than the P4/1.7 at rendering exactly the same Photoshop project.
MHz Does Not Equal Performance
Shooting down the MHz Myth, there are four factors that contribute to performance:
process - G4, P4, Itanium, and UltraSparc are all 0.18 micron designs
size - the G4 is much smaller physically than the P4
pipeline - G4 has a seven-stage pipeline, while the P4 has 20 stages. It takes more cycles to complete a longer pipleline. (With Itanium, Intel has dropped to 10 pipeline stages at 800 MHz.)
cache - pretty much the same for all processors
Of course, two 800 MHz G4s are even faster.
One Last Thing
By the end of 2001, there will be 28 million DVD players in the US alone - one in four households. iMovie and Final Cut Pro are the two leading video editing programs on the planet. Everything else needed to create a DVD comes as part of the iDVD program.
Dual G4/800 lets you burn DVDS almost in real time.
Preview of iDVD 2 - adds motion menus, video on buttons and backgrounds, along with new themes. iDVD will be able to create 90 minute movies, up from 60 minutes under iDVD. It also does MPEG-2 conversion in the background while you're designing menus. Out in September as a free upgrade for iDVD users.
Custom Search
Follow Low End Mac on Twitter
Join Low End Mac on Facebook
Favorite Sites
MacSurfer
Cult of Mac
Shrine of Apple
MacInTouch
MyAppleMenu
InfoMac
The Mac Observer
Accelerate Your Mac
RetroMacCast
The Vintage Mac Museum
Deal Brothers
DealMac
Mac2Sell
Mac Driver Museum
JAG's House
System 6 Heaven
System 7 Today
the pickle's Low-End Mac FAQ
Affiliates
Amazon.com
The iTunes Store
PC Connection Express
Macgo Blu-ray Player
Parallels Desktop for Mac
eBay

Advertise