Owning the Market
Keynote Reflections
Dan Knight - 2001.07.19
A lot of us in the Mac media thought something was missing from the Stevenote yesterday. Faster computers and a faster, more feature laden OS X are good things, but Jobs seemed to be selling the steak, not the sizzle.
The information on the Apple retail stores was excellent - each store opening is like a mini-expo. Because of the loyalty of Mac users, each one is guaranteed huge first-day crowds. The success of the stores may have been the best part of the keynote.
That's a shame, because an address should build to a climax, not start at the top. From there, you can only go down.
OS X 10.1
A faster Mac OS X with more features is almost ho-hum, especially to the 90% of Mac users who aren't using it yet. Maybe that's why Jobs let others promote the software that will run under OS X - so the non-geeks could be wowed with the beauty of Aquified applications. OS X promises to be a stunning OS, but it's the applications that will make or break it.
Apple continues to address complaints about OS X, mostly how sluggish and incomplete 10.0.x was. Version 10.1 seems to address all the important issues. Nice, but for most of us OS X remains in the future - we won't switch until the right software is available, sticking with the familiar classic Mac OS while others blaze the Ten Trail.
Hardware
I think Jobs let a crucial bit of information drop when he explained that Apple had sold 182,000 iBooks in May and June - and was unable to meet retail demand. If you can't meet demand for a hot item for that, you don't want to siphon off components for the flat panel iMac. We'll see that someday, but Apple doesn't want to destroy the iBook's momentum.
Without a flat panel, the iMac got a speed and feature boost. Even the entry level model now has CD-RW, 128 MB of RAM, and 20 GB of hard drive space. Unfortunately, it also got a $100 boost in price. It's a nice enough machine at the $999 price - but as of September 2000 Apple had a $799 iMac available. (Update: Steve Wood notes that Apple has retained the 400 MHz iMac and 533 MHz Power Mac for the education market.)
I wish Apple had kept a lower cost iMac in the line for those who don't need CD-RW, especially the education market. On the other hand, the market for used, refurbished, and discontinued iMacs should be excellent - we'll update our "Best iMac Buys of the Week" report on Friday.
Quicksilver is Apple's project name for the new silvery Power Mac G4. The big difference is the case, which finally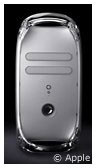 has two externally accessible 5.25" drive bays. The speaker has no grille, but the rest of the case is the same brilliant design Apple has been using and tweaking since the blue & white G3 of 1998.
Apple is putting faster processors on the G4 motherboard - but not nearly as fast as we'd like in the era of gigahertz Windows computers. Sure, the G4 is more efficient, but the masses buy the MHz Myth. (I'm working on an article about that. I hope to have it up later this morning.)
Still, an 867 MHz G4 only runs 18% faster than a 733 MHz one. On the other hand, the G4/867 isn't being marketed as the top end machine at $3,499. No, this is the midrange model at $2,499, and that includes a SuperDrive for burning DVDs. And that's the model Apple pitted against a Pentium 4/1.7 GHz machine.
At the top is the new dual processor G4/800. Thanks to OS X supporting multiple processors from the core, it should offer roughly twice the performance of today's entry level G4/733. Best of all, it has the same price tag as the old G4/733.
Still, that's a high end video production machine. It won't impact most of us in the least. We'd hoped for a flat panel iMac or 1 GHz G4. Not yet.
iDVD 2.0
Even the "one last thing," usually the high point of the keynote, was disappointing. iDVD 2 will probably be everything Jobs claims it to be, but like OS X 10.01, the speed bumped iMacs, and the Quicksilver Power Macs, it seemed strictly evolutionary.
You have to commend Apple for finding a new niche market they can own. After all, there are 28 million DVD players in the U.S. alone. However, the question is, "How many digital video camcorders are in use?" That defines the maximum size of the iDVD market, not the number of DVD players.
With the two most popular video editing programs in the world and the best consumer DVD creation program, Apple may own the market, but it's a small market.
However, niche marketing is the right approach. Apple used to own the education market; they remain a dominant player against a multitude of Windows brands. They once owned the desktop publishing market and probably still do. But what other market do they dominate?
This is where the solutions focus is important. AppleWorks, free with every iMac and iBook, provides all the writing, database, drawing, and spreadsheet power most users will ever need. iTunes, free with every Mac, makes creating an MP3 library and burning your own custom CDs easier than anything else on the market. iDVD does the same for burning DVDs that anyone with a DVD player can watch.
But I think Apple needs to expand the iDVD market tenfold, which requires two things:
While Apple is pushing the digital hub idea, there are a heck of a lot of analog video cameras out there that can't simply plug into a FireWire port. Apple should seriously consider marketing a PCI card and/or external video-to-FireWire adapter to attract those millions who have non-digital video cameras.
Apple also needs to make iDVD available in a consumer computer. Since iDVD requires a G4 processor, that means a G4 iMac with a SuperDrive.
The iMac DVD could run a 700-750 MHz G4, contain a SuperDrive, and either have built-in analog video ports or an external video-to-FireWire converter as an extra cost option. This would be a premium price computer, probably selling for at least $1,999 and possibly as high as $2,499.
This might also be the ideal model for Apple to introduce a flat panel to the iMac, helping to justify the higher cost. After all, if we're looking at $2,499, that's the same price as the G4/867 with no display - and just $100 less than the PowerBook G4/400, which has no SuperDrive option.
Then, instead of waiting for millions of users to replace their old analog camcorders with digital and then seeing the benefits of a Mac that runs iDVD, they could buy new Apple hardware now, edit their existing videos in iMovie, and then burn DVDs or export to VHS (please - there are a lot more VHS machines than DVD players).
That could increase the iDVD market tenfold. Is Apple prepared to support the older analog technology that most camcorder users already have? If so, Apple could solidify its hold on the iMovie/iDVD market before the Windows world gets a strong foothold.
And that's something that would have made a fitting climax to the Stevenote: iDVD 2.0 plus an Apple-marketed video-to-FireWire converter so the masses could use iDVD.
Custom Search
Follow Low End Mac on Twitter
Join Low End Mac on Facebook
Favorite Sites
MacSurfer
Cult of Mac
Shrine of Apple
MacInTouch
MyAppleMenu
InfoMac
The Mac Observer
Accelerate Your Mac
RetroMacCast
The Vintage Mac Museum
Deal Brothers
DealMac
Mac2Sell
Mac Driver Museum
JAG's House
System 6 Heaven
System 7 Today
the pickle's Low-End Mac FAQ
Affiliates
Amazon.com
The iTunes Store
PC Connection Express
Macgo Blu-ray Player
Parallels Desktop for Mac
eBay

Advertise