Pismo or Graphite iBook?
Dan Knight - 2000.02.08 - Tip Jar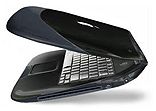 If you've been to The iMac NewsPage recently, you've seen this image from the Macintosh Users' Group Singapore site. It looks like a black, graphite, and white iBook, although some speculate it is the forthcoming Pismo PowerBook G3.
I haven't a clue if it's legitimate. My guess is this is an iBook photo manipulated in Photoshop by changing the color scheme and dropping in the slot-loading CD or DVD slot from the current iMacs. I don't think Pismo will look this much like an iBook - but Apple is full of surprises these days.
Regardless, it looks stunning. If Apple is to introduce a more professional looking iBook or an iBook Special Edition, I doubt they could make it look any more impressive than this.
Update: After the clamshell iBooks, Apple went with an all-white design until the iBook was discontinued to make way for the MacBook, the first polycarbonate 'Book to ship in black. From the May 2006 through the February 2008 models, Apple offered the polycarbonate MacBook in both black and white; since then, is has only been available in white.
Recent Content on Low End Mac
World Book Encyclopedia 2012 DVD, Tommy Thomas, Reviews, 2013.03.05. "You may be asking yourself, in an age of Wikipedia and instant information, is World Book still relevant?"
Vintage Computer Festival SouthEast, April 20-21, 2013, Simon Royal, Mac Spectrum, 2013.02.25. Old Apple gear and old PCs.
Latest Deals on Low End Mac
Custom Search
Follow Low End Mac on Twitter
Join Low End Mac on Facebook
Favorite Sites
MacSurfer
Cult of Mac
Shrine of Apple
MacInTouch
MyAppleMenu
InfoMac
The Mac Observer
Accelerate Your Mac
RetroMacCast
The Vintage Mac Museum
Deal Brothers
DealMac
Mac2Sell
Mac Driver Museum
JAG's House
System 6 Heaven
System 7 Today
the pickle's Low-End Mac FAQ
Affiliates
Amazon.com
The iTunes Store
PC Connection Express
Macgo Blu-ray Player
Parallels Desktop for Mac
eBay

Advertise