The Next PowerBooks
December 17, 1999 - Dan Knight - Tip Jar
For the record, I don't think Apple is going to introduce a new PowerBook at Macworld Expo -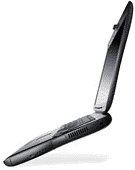 I expect to see three new portable Macs.
I've already covered The Next iBook; today I'll look at the business machines.
Code Name: Pismo
All the rumor sites have been talking about "Pismo" (not "Pepto-Bismol") for months. It will be faster, thinner, and lighter. And that's about all they agree on. It may have a bigger screen with more pixels (please!). It may have a larger footprint, or maybe a smaller one. It may not look like an iBook with bright colors, but at the same time may not look like the current black-and-white PowerBooks, either.
This isn't a rumor site. I don't have any inside sources. I do look at the rumor sites, weigh what they have to say, and come to my own opinion.
In the camera industry, we've seen a return to the brushed metal look over the past few years. Maybe the next PowerBook will go in that direction. It wouldn't surprise me at all.
Here are my predictions:
G4: Not in January. If Apple is planning ahead, the system board will be G4 ready, but export restrictions would limit sales - and may limit where users could bring it.
Speed: I fully expect Apple to finally adopt a 100 MHz system board with the new PowerBook. This means CPU speeds will be full or half multiples of 100 MHz. If I were a betting man, I'd put money on a 400 MHz entry level machine and a 500 MHz top-of-the-line model.
DVD: I suspect CD-ROM won't even be an option; DVD will be a standard PowerBook feature.
Memory: 64 MB on base model, 128 MB on deluxe, and ability to reach 512 MB total memory.
USB: Two independent USB busses, just like Power Mac G4 and iMac DV.
FireWire: This one's a no brainer. At least one FireWire port - and the ability to run in FireWire Disk Mode (like SCSI Disk Mode on older PowerBooks).
AirPort: count on it, possibly even as a standard feature.
Networking: definitely 10/100 ethernet, with an outside chance of gigabit ethernet; IrDA may disappear.
Modem: 56k with G.Lite support.
PC Card: one slot.
Video: ATI RAGE 128 2x AGP with 16 MB VRAM.
Screen: 1024 x 768 14.1" on base model, possibility of 1280 x 960 or 1024 15" screen on deluxe model.
Size: about 1.25-1.5" (30-40mm) thick, other dimensions about the same as Lombard (some Wintel laptops are only 1" thick).
Weight: about 5 pounds (2.25kg).
Appearance: who knows, although it would be nice if they turned the Apple logo so it appeared upright when you're using the computer.
Price: same as current PowerBook G3.
I don't expect any revolutionary breakthroughs with the new PowerBook G3. The case will probably look different enough for a quick visual identification, which is probably how Apple will refer to it (i.e., PowerBook G3 "brushed aluminum").
MyBook: The Other PowerBook
This one is pure speculation, but I think it's the kind of thing Steve Jobs would love to surprise us with.
Remember the Newton eMate? Remember the rumors of a very compact consumer portable? Remember the PowerBook Duo line and the 2400?
I think all the work that went into designing a rugged compact portable for the consumer market will show up in a new laptop smaller than Pismo. I don't think it will quite be a handheld computer (such as the Palm, Newton, or WinCE machines), but it will be very compact.
The lower limit on size is determined by the keyboard, which should be full sized. This means MyBook (my own name for it) will be about 11" wide (vs. 12.7" for Lombard and 13.5" for the iBook). Leaving room for a touchpad, MyBook would be about 7" deep (vs. 10.4" on the Lombard, 11.6" on the iBook).
From what I've seen on the Wintel side, Apple should be able to make MyBook under 1.5" thick - some of today's laptops are only 1" thick. And the weight could definitely be under 4 pounds, which is even lighter than the PowerBook 2400 was.
I speculated in an earlier article (MyBook: A More Portable Mac) that Apple might go with an unconventional aspect ratio for the screen. If they used something other than a trackpad, they could keep the computer small enough (maybe 5.0-5.5" instead of 7" or so) that this would be very helpful.
But if we assume a footprint roughly 11" x 7", a 1024 x 768 screen wouldn't be a problem at all. Leaving about a half-inch around the edge of the screen, Apple could comfortably use an 11-11.5" LCD. To save money and simplify supplies, Apple might use the same 12.1" screen currently used in the iBook, although I'd rather see something better than an 800 x 600 screen. (Still, if that's a necessary compromise, it's not a bad choice.)
The MyBook would come with 64 MB of memory and one memory expansion socket, allowing users to reach 320 MB. It would have bootable USB and FireWire ports - essential, since one way Apple would keep the size down is by eliminating any internal CD or DVD drive.
Like Pismo, it would operate in FireWire Disk Mode, making it easy to move files between it and a desktop computer. (Hmm, maybe USB Disk Mode would also be a possibility.) And, of course, AirPort is a must, whether a standard feature or a user-installed option.
Where the iBook is designed as a primary consumer computer and the PowerBook as a primary business computer, MyBook would act mostly as a field computer, a supplement to the user's main Mac.
Based on size, features, and market, I suspect this would sell for somewhat more than the iBook, but less than the entry-level PowerBook, probably somewhere in the US$2,000 range.
Of course, MyBook breaks out of Steve Jobs's 2x2 grid of desktop and laptop machines for the consumer and business markets.
Maybe Apple will have to think different about that grid.
Recent Content on Low End Mac
World Book Encyclopedia 2012 DVD, Tommy Thomas, Reviews, 2013.03.05. "You may be asking yourself, in an age of Wikipedia and instant information, is World Book still relevant?"
Vintage Computer Festival SouthEast, April 20-21, 2013, Simon Royal, Mac Spectrum, 2013.02.25. Old Apple gear and old PCs.
Latest Deals on Low End Mac
Custom Search
Follow Low End Mac on Twitter
Join Low End Mac on Facebook
Favorite Sites
MacSurfer
Cult of Mac
Shrine of Apple
MacInTouch
MyAppleMenu
InfoMac
The Mac Observer
Accelerate Your Mac
RetroMacCast
The Vintage Mac Museum
Deal Brothers
DealMac
Mac2Sell
Mac Driver Museum
JAG's House
System 6 Heaven
System 7 Today
the pickle's Low-End Mac FAQ
Affiliates
Amazon.com
The iTunes Store
PC Connection Express
Macgo Blu-ray Player
Parallels Desktop for Mac
eBay

Advertise