Road Trip Reflections
Dan Knight - 2000.07.10 - Tip Jar
Although I own a Macintosh Portable and a few older PowerBooks, I rarely use a portable computer. I've set up a lot at work for others to use, so I'm not unfamiliar with them, but the PowerBook I really want hasn't been built yet.
Field Computing
At the same time, my wife has had a PowerBook 150 since mid-1995, when I picked one up at the college bookstore for US$928. It was a very serviceable machine with just 4 MB of memory and a 120 MB hard drive, but she only uses one program at a time - and that's usually ClarisWorks. Although we picked up some inexpensive memory and a modem over the past year, that really didn't change the way she worked. Old habits die hard.
She used the PB 150 as her field computer for almost five years, sharing whatever desktop I had at the time (Centris 610, SuperMac J700, SuperMac S900) when she needed more power, Internet access, etc.
That pretty much came to an end in mid-May. I'd found a really good price on a used PowerBook 1400 with 32 MB of memory and a 500 MB hard drive. This was a laptop I knew and appreciated, and the $700 price tag seemed quite reasonable. I called my wife; she said it sounded like a good investment.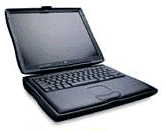 Then my buddy Dave Etterman from AMS dropped off some new equipment at work and said he had a customer who was preparing to replace her PowerBook G3 Series 2 with a Pismo to shave a couple pounds when traveling. Maybe he could get me a good price. He did.
I wiped the drive, installed Mac OS 8.6, and copied all my wife's files from her PowerBook and her partition on my SuperMac. It went very smoothly.
We have the PowerBook G3 "special edition," which is a Series 2 with a twist: instead of the normal 1024 x 768 14.1" screen, is has a smaller and less costly 800 x 600 12.1" screen. It runs at 233 MHz with a 512 KB level 2 cache, has ethernet and an internal modem, and offers most of what the iBook does for a lot less money.
Linda has been very pleased with her new PowerBook, toting it all over the state of Michigan for work. At home she plugs it into the wall for power and into our ethernet network for file transfer, Web access, email, and printing. She also plugs in an ADB mouse, since she finds it more convenient than the trackpad.
Road Trip
Other than setup and a little troubleshooting, I really hadn't used her PowerBook until we went on vacation last week.
Sunday, July 2
A lot of people had recommended Freewwweb.com as a great, Mac-friendly way to access the Internet on the road for free. I downloaded the software before we left, also throwing Norton Utilities and Alsoft DiskWarrior CDs into her blueberry West Ridge Designs iBookBag (available through Dr. Bott LLC). As an afterthought, I tossed in an EarthLink CD we had received months ago - just in case we had problems with Freewwweb.com.
Mini review: The PowerBook fits well and is well protected in the West Ridge iBookBag. My only complaint is a small one: the pocket on the back of the case has nothing to keep things inside; a little Velcro would work wonders there. Other than that, an excellent case.
It's a good thing I did that. Once we got settled into the Holiday Inn in Nashville, I tried to use the Freewwweb software I'd downloaded. (BTW, I had to use Netscape Navigator for the download; it refused to load in Internet Explorer.) I tried to configure Freewwweb, but just couldn't figure it out. I think it assumes you already have an active Internet connection, but ours was at home.
So we popped in the EarthLink CD and installed their software. It didn't assume an internet connection, so we had no problem setting up for the $19.95 per month service (plus a free USB digicam!). We connected at 38.4kbps in Nashville and everywhere else along the way. Linda was able to check email and I could upload new pages.
We also discovered that motel phones these days usually have data ports, making it easy to connect your modem. It wasn't too many years ago that road warriors carried all sorts of adapters to give them access to phone lines.
Also, gas was a lot cheaper in Indiana. We paid $1.839 at the local Admiral station when we left, making sure we had enough gas to get to Indiana. We tanked up at a Meijer gas station for $1.499 - a real treat, since $2/gallon gas was only a week or two behind us living in Michigan.
We made a brief stop at Six Flags Kentucky Kingdom in Louisville, Kentucky, to pick up season passes. Kentucky Kingdom itself isn't much of a theme park, but they do have the least expensive season passes - and you can use them at other Six Flags locations such as Six Flags Over Georgia (where we went on the 5th) and Six Flags Great America (where we go pretty much every summer).
Monday, July 3
Monday we spent some time in Nashville looking for the world's largest teddy bear (the store had moved) and then tried to visit the Parthenon, the only full-sized replica of the Parthenon. Alas, the Parthenon is closed Mondays.
We managed to get lost, get directions, and then get on the highway. We had lunch at Davy Crockett's Roadhouse and Tavern. (We liked it so much that we also stopped there on the way home.)
Then off to visit our friends in Powder Springs, Georgia (a bit north of Atlanta). There we learned how to change the access number for EarthLink. You need to have the CD with you, since that's where the information is stored. It's a good thing we installed EarthLink on the road; if I'd done it at home, I probably would have left the CD behind.
We had not trouble connecting. Linda got her email, I updated the site each day, and I even spent some time surfing the Web on Wednesday to see what was happening in the Mac universe.
Gas prices in Georgia were the best on the trip; we hear they may be the best in the nation. We paid $1.399 or less for each gallon we bought in Georgia.
Thursday, July 6
We had hoped to go as far as Louisville for our one night on the road while headed home. Unfortunately we were unable to find any rooms available online, so we settled for Cave City, KY. (We're huge fans of Mammoth Cave, so we're familiar with Cave City. If we'd had another day, I'm sure we would have taken a cave tour and maybe gone to Guntown Mountain.)
This was the only night we were unable to access the Internet. We had local phone access, but the lines were busy each time we tried to connect.
Friday, July 7
We had no trouble connecting Friday morning, so Linda downloaded her email, and I uploaded my site changes.
Back on the road, we made sure to gas up before leaving Indiana and reached home around 08.30 in the evening.
Conclusions
The PowerBook G3 is a very nice, very capable computer. Running at 233 MHz isn't bad at all, even though I'm used to 333 MHz on my home computer and 400 MHz at work.
Unlike my wife, I'm usually running several programs at once (Emailer, Home Page, Internet Explorer), so I was glad we boosted memory from 32 MB to 96 MB. I found the small screen constricting, the touchpad a bit too touchy, the keyboard a bit of a challenge, the Caps Lock key a downright nuisance, and the Enter key (to the right of the space bare) a real bother.
After her PowerBook 150, Linda loves the larger screen of the PowerBook. (Our original plan was an iBook, but budget never allowed that.) She is getting used to the trackpad but finds it too touchy. She also wished the "mouse button" was closer to the trackpad, something I believe Apple has done with newer PowerBooks and the iBook. Linda also finds the keyboard too flat, making it too easy to hit the Caps Lock or Enter keys by accident. She also notes that the PowerBook G3 runs a bit hot for laptop use.
Suggestion to Apple: put some feet on the PowerBook and iBook to elevate the back. Not only will this allow the heat to dissipate more readily (on a flat surface, if not on the lap), it will also place the keyboard at a more comfortable and familiar angle for typing.
Both of us are getting used to the trackpad. It just takes a little time.
Overall, I'm quite impressed with the PowerBook G3 Series 2. I wish it had a larger screen, but then I'm used to a 19"/1152 x 870 screen at home and a 21"/1280 x 1024 screen at work. Speed was certainly adequate, visibility was excellent, weight was not objectionable, and battery life was very good.
I'm holding out for a larger screen, but for a lot of users the 800 x 600 screen would be perfectly adequate.
I'm disappointed with Freewwweb.com, although that assessment might be different if we'd set everything up before leaving home. I'm pleased with EarthLink, which not only came through for us on the trip, but will also give my wife Internet access in most of Michigan when she's on the road.
Earthlink now has DSL service available in Grand Rapids, Michigan. I'm so frustrated with AT&T @home cable service, I just signed up for the service. I need a reliable Internet connection. (When the Internet connection goes down, my list servers can't find their mailboxes and tend to crash. All three were down by 12.30 p.m. on Tuesday, July 4.)
I'm distressed at how much more we have to pay for gas in Michigan. Prices are down a bit (just under $1.80 per gallon) since we left, but still 40¢ higher than in Georgia and almost 30¢ higher than Indiana. Sales tax makes up part of that difference, as does transportation, but I sure feel we're being gouged by the oil companies.
As for road trips, I'm glad we divided driving into two days each way, neither overly long. Too many hours on the road creates tension in the body and stress in the mind. Spending the night about midway between home and Atlanta helped reduce that.
Now I'm going to have to see if I can borrow my wife's PowerBook for Macworld Expo next week....
Recent Content on Low End Mac
World Book Encyclopedia 2012 DVD, Tommy Thomas, Reviews, 2013.03.05. "You may be asking yourself, in an age of Wikipedia and instant information, is World Book still relevant?"
Vintage Computer Festival SouthEast, April 20-21, 2013, Simon Royal, Mac Spectrum, 2013.02.25. Old Apple gear and old PCs.
Latest Deals on Low End Mac
Custom Search
Follow Low End Mac on Twitter
Join Low End Mac on Facebook
Favorite Sites
MacSurfer
Cult of Mac
Shrine of Apple
MacInTouch
MyAppleMenu
InfoMac
The Mac Observer
Accelerate Your Mac
RetroMacCast
The Vintage Mac Museum
Deal Brothers
DealMac
Mac2Sell
Mac Driver Museum
JAG's House
System 6 Heaven
System 7 Today
the pickle's Low-End Mac FAQ
Affiliates
Amazon.com
The iTunes Store
PC Connection Express
Macgo Blu-ray Player
Parallels Desktop for Mac
eBay

Advertise