17″ iMac G4/800 MHz (Mid 2002)
Announced at the Macworld Expo on July 17, 2002, the 17" G4 iMac has a wide aspect ratio "cinema" type screen and displays 1440 by 900 pixels - just perfect for DVDs. The new screen is about 1.6" wider than the old one and just a bit taller, and the new iMac is about 1-1/2 pounds heavier than the old one.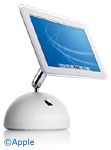 The 17" iMac is the top of the line with a SuperDrive, 800 MHz G4, and Nvidia GeForce 4 video.
Some Leopard users have reported problems with G4 iMacs that have GeForce2 or GeForce4 graphics. When the system wakes from sleep, the screen will be completely white, making the computer unusable. This is fixed by Leopard Graphics Update 1.0, which requires OS X 10.5.2 or later.
Details
introduced 2002.07.17 at US$1,999; replaced by 1 GHz model 2003.02.04
requires Mac OS 9.2.2 or later, OS X 10.1.2 through 10.5.x, 10.5 not officially supported
CPU: 800 MHz G4
bus: 100 MHz
performance:
RAM: 128/256 MB, expandable to 1 GB using one user accessible 144-pin PC133 SODIMM (up to 512 MB) and one 168-pin PC133 DIMM (also up to 512 MB)
Graphics: Nvidia GeForce4 MX with AGP 2x support
VRAM: 32 MB
screen: 17" 1440 x 900 flat panel display
L2 cache: 256 KB on-chip cache running at full CPU speed
hard drive: 80 GB Ultra ATA drive
SuperDrive (8/4/24x)
USB: 3 USB 1.1 ports
FireWire 400: 2 ports
modem: built-in v.90 56k modem
ethernet: 10/100Base-T
WiFi: 802.11b AirPort optional
Microphone: internal
power: 130W
PRAM battery: 3.6V half-AA
height: 13.03-20.0 in/33.1-50.9 cm
width: 16.7 in/42.3 cm
depth: 10.6-16.7 in/27.0-42.3 cm
weight: 22.8 lb/10.4 kg
Part no.: M8812
machine ID: PowerMac4,5
Upgrades
8x SuperDrive DVD±RW upgrade, MCE Technologies, $149. 8x4x12x DVD, 24x24x40x CD. 2 MB buffer. Must be installed by MCE or an MCE authorized upgrade center.
Online Resources
Go to the iMac and eMac index.