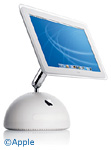 Announced at the Macworld Expo on July 17, 2002, the 17″ G4 iMac has a wide aspect ratio "cinema" type screen and displays 1440 by 900 pixels – just perfect for DVDs. The new screen is about 1.6″ wider than the one on the 15″ iMac and just a bit taller, and the 17″ iMac is about 1-1/2 pounds heavier than the 15″ model.
The 17″ iMac is the top of the iMac line with a SuperDrive, 800 MHz G4, and Nvidia GeForce 4 video.
Some Leopard users have reported problems with G4 iMacs that have GeForce 2 or GeForce 4 graphics. When the system wakes from sleep, the screen will be completely white, making the computer unusable. This is fixed by Leopard Graphics Update 1.0, which requires OS X 10.5.2 or later.
Details
Upgrades
Online Resources