Google's 'Really Good' iPhone App, 10 Alternatives to the iPhone, Car Care App, and More
This Week's iPhone, iPod, and Apple TV News
Compiled by Charles Moore and edited by Dan Knight - 2008.07.18
Mac notebook and other portable computing is covered in The 'Book Review, and general Mac news is in Mac News Review.
All prices are in US dollars unless otherwise noted.
News, Reviews, & Opinion
For iPods and iPhones
iPod and iPhone Deals
These price trackers are updated regularly.
News, Reviews, & Opinion
Google's iPhone App Is Really Good
ZD Net's Garett Rogers reports:
"Google has created a brand new mobile app for the iPhone/iPod touch that is currently available in the US App Store - apparently it will be available in other countries very soon. The app is more than a way to search the internet though, it lets a user search for everything a mobile user might be looking for.
"I would have expected this application to search only the web, but in true Google style, they took it to the next level...."
Link: Google's iPhone App Is Really Good
iPhone Owners May Not Need Apple's New 3G Model
Sci-Tech Today's Jennifer LeClaire says:
"Unlike many smartphones, owners of older versions of Apple Inc.'s iPhone can get many features of the new iPhone 3G with a 2.0 software upgrade, including enterprise support and document viewing. Whichever version of the iPhone you get, Apple is on track to capture 35 percent of the market for smartphones this year with 6.3 million sales.
"The Apple iPhone will account for 6.3 million of the 18.1 million touchscreen phones sold in the US this year, for an impressive 35 percent market share, according to Strategy Analytics....
"The only question is, which version of the iconic phone will you own? Doubtless, many first-generation iPhone users are likely to upgrade to the latest 3G model. But some analysts are suggesting that, unless you want the speed boost and the GPS capabilities, you may not need to spend money on the new device."
Link: iPhone Owners May Not Need Apple's New 3G Model
Original iPhone Comes Back to Life as iPod touch
MacUser's Dan Moren reports:
"A lot of people have come to us with questions, and one of the most common is this: what do I do with my old iPhone when I buy a brand spanking new iPhone 3G?
"Well, how about a free iPod touch - how would you feel about that? Because as far as I can tell, that's what you get when you set up a new iPhone 3G to replace your existing original iPhone...."
Link: Original iPhones Come Back to Life as iPod touches
iPhone 3G Complaints: Weak Batteries, Safari Crashes, Dead Pixels
InformationWeek's Paul McDougall reports:
"Apple formally introduced its iPhone 3G five days ago - more than enough time for fanatical tech fans to discover that the widely hyped mobile device is far from perfect.
"Complaints on Apple's iPhone 3G support forum are running a wide gamut, from reports of dead areas on the phone's display, to gripes about short-lived batteries and frequent crashes of Apple's Safari Web browser."
Editor's note: Other websites have noted that the iPhone has better battery life than competing smartphones. dk
Link: iPhone 3G Complaints Include Weak Batteries, Safari Crashes, Dead Pixels
Free Software Fans May Be Better Off Avoiding the iPhone
LifeHacker says:
"If you're a free software lover who's concerned about your privacy and the limitations of DRM, you don't want an iPhone. Amidst Apple's iPhone advertising blitz helped along by positively bubbly media coverage, the Free Software Foundation calls out the dark sides of the new iPhone.
"iPhone completely blocks free software. Developers must pay a tax to Apple, who becomes the sole authority over what can and can't be on everyone's phones."
Link: Why You're Better Off Avoiding the iPhone
It's Tough to Kill an iPhone 3G
PC World's Tim Moynihan reports:
"Apple's new 3G iPhone doesn't just look good. It's one resilient little bulldog.
"We put this faster version of the iPhone . . . through dropping, scratching, and dunking tests, and the device performed like a champ. In fact, it wouldn't knuckle under until we ran it over with a motorcycle."
Link: It's Tough to Kill an Apple iPhone 3G
iPhone 3G Unlocked
vnunet.com's Shaun Nichols reports:
"A group from Brazil has managed to unlock Apple's iPhone 3G handset.
"In an online video a Portuguese-language news blog, the unlocked iPhone is displayed and demonstrated. An unlocked iPhone can be used with any SIM card and service provider."
Link: iPhone 3G Unlocked
iPhone 3G Incompatible with Many iPod Accessories
InformationWeek's Paul McDougall reports:
"Buyers of Apple's new iPhone 3G are complaining that, unlike the original version, the device can't be used with many of the pricey charging stations, sound docks, and other accessories they had bought previously for their iPods."
Link: iPhone 3G Incompatible with Many iPod Accessories
'Apple Tax' Boosts Prices on iPod and iPhone Accessories
Popular Mechanics' Joel Johnson reports on how blockbuster sales of iPods and iPhones give Apple the muscle to impose restrictions - and extra fees - on technology partners. Inside the company's secretive "Made for iPod" and authentication chip programs.
The added cost of the Apple chip and license fees also increases retail prices for accessories. Basic products such as cabling can now cost up to 10 times their original amount.
Link: How the 'Apple Tax' Boosts Prices on iPod & iPhone Accessories
Does the iPod Matter Anymore?
AppleMatters' Hadley Stern says:
"Poor iPod. It once had all the glory. Remember when it first had video? That was so exciting. Or, remember those iPod games? Now it is the forgotten child, it's identity swallowed up by that thing Apple won't stop talking about. The iPod has been relegated to a menu item on the . . . iPhone.
"Which begs the question, does the iPod matter anymore?"
Link: Does the iPod Matter Anymore?
iTunes 7.7: Causing Major iPod/iPhone Connectivity Problems, Other Issues
MacFixIt reports:
"Apple this morning released iTunes 7.7, which enables connectivity with the iPhone 3G and installation of iPhone OS 2.0 for first-generation iPhones and iPod touches.
"The new release is available via software update or as a 48.3 MB standalone download.
"Freezes when iPod touch/iPhone is connected Users are experiencing some significant iPod touch/iPhone connectivity issues after the update, including system freezes when the devices are connected."
Editor's note: as of late last evening, version 7.7 seemed to have been pulled form the Apple download site and version 7.6 was the default version. cm
Link: iTunes 7.7: Causing Major iPod/iPhone Connectivity Problems, Other Issues
Cracking Open the iPhone 3G
ZD Net reports:
"Apple's iPhone 3G arrived on Friday with a bevy of new enterprise-ready features, including Exchange support, business-grade security, and third-party applications powered by an SDK. As with the first iPhone, we waited in line, bought our phone, signed an AT&T contract, and promptly began to crack open the case. Come along as we disassemble the Apple iPhone 3G."
Link: Cracking Open the Apple iPhone 3G
iPhone 3G Exposed
TechOnline's Patrick Mannion reports:
"Aside from some very surprising component choices in key parts of the up-graded communications section, as well as some software improvements and some basic design tweaks, the old adage 'if it ain't broke, don't fix it' has clearly shaped the design of the iPhone 3G, the follow-up to Apple's phenomenally successful launch of the iPhone line of handsets.
"'It's incrementalism at play,' said David Carey, president of teardown specialist Portelligent. 'They learned a bit from their 'Touch' solution and replaced two boards with one.'
"Instead of trying to reinvent the device, Apple focused on enhancing the user experience and expanding its fan base. It has done this by not only expanding its geographical footprint and speeding up its wireless connection, but also through the iPhone applications development network...."
Link: Under the Hood - Update: Apple iPhone 3G Exposed
Teardown Reveals Cost Reduction for iPhone 3G
DigiTimes' Michael McManus reports:
"The new iPhone 3G sports an evolutionary design that favors cost reduction instead of cutting-edge features, supporting Apple's goal of expanding its market share and achieving a worldwide presence for the product, according to a physical teardown analysis conducted this weekend by iSuppli.
"iSuppli's Teardown Analysis Service on July 11 obtained an iPhone 3G and commenced a dissection in order to identify component suppliers, as well as to determine preliminary part and system costs."
Link: Apple Stresses Cost Reduction for iPhone 3G, Teardown Reveals
Tearing Down the iPhone 3G
BusinessWeek's Arik Hesseldahl reports:
"Not only did Apple sell 1 million iPhone 3Gs in three days, but the company is making a healthy margin on each one sold. That's the conclusion of researchers at market research firm iSuppli, who took apart the new device to learn who made what inside, and how much Apple spent on the parts."
Link: Tearing Down the iPhone 3G
For iPods and iPhones
10 Alternatives to the iPhone
PR: Wirefly, the online leader in one-stop comparison shopping for cell phones and wireless phone plans, has announced its Top Ten cell phone alternatives to the Apple iPhone. The Blackberry Curve, LG Dare, and HTC Touch are among the most popular choices.
Phones that made the list include those that have the type of touchscreen and multimedia features that make the iPhone popular, plus many features that the iPhone lacks, such as a full keyboard, live TV, video recording, photo/video messaging, removable battery, stereo handsfree Bluetooth, and a memory card slot to expand memory capacity.
"One of the issues with the iPhone is that many consumers just don't want to get locked into the iPhone contract," said Brian Westrick, Wirefly's President. "The iPhone requires a two-year contract with AT&T and many of our customers are not interested in changing their current carriers. Also, even at lower prices, the iPhone is still more expensive than other smartphones. There is an abundance of cell phone alternatives to the iPhone that have the same 'gadget' appeal without the associated headaches."
According to Wirefly, the Top 10 cell phone alternatives to the Apple iPhone are:
LG Vu CU920 (AT&T) - This sleek touchscreen phone has a large display and a matte black finish, with 3G data speeds, widescreen virtual keyboard for texting, and streaming live TV.
LG Vu CU915 (AT&T) - If you can live without live TV on your phone, the new LG Vu CU915 may be the best deal in touchscreen phones today. It's the same phone as the LG Vu CU920 without live TV.
LG Voyager (Verizon Wireless) - The Voyager has a unique design with flip-up touchscreen and hidden full QWERTY keyboard, plus Verizon's EV-DO can be up to 40% faster than the iPhone 3G's maximum data speeds.
HTC Touch (Sprint/Alltel) - The most compact touchscreen phone on the market features the incredibly easy TouchFLO touchscreen technology and the faster EV-DO high-speed internet.
LG Dare (Verizon Wireless) - This brand new model for Verizon is super thin, with a brilliant huge touchscreen and EV-DO data speeds; 3.2-megapixel camera/camcorder includes face detection.
Samsung Glyde (Verizon Wireless) - Samsung's high-end phone is the best of both worlds, with a full touchscreen interface and a slide-out QWERTY keyboard, plus EV-DO high-speed internet.
HTC Tilt (AT&T) - This powerful and popular smartphone with a full tilt-up keyboard does it all, from WiFi to GPS to a 3 megapixel camera/camcorder, plus Microsoft Windows Mobile.
BlackBerry Curve (AT&T/Alltel/Sprint/T-Mobile/Verizon Wireless) - The best-selling BlackBerry is available for all carriers, with internet browsing, texting, instant messaging, plus camera, music, and video.
LG Glimmer (Alltel) - The cool slider phone for Alltel has a touch QVGA display plus a traditional keypad; music player, camera, and expandable memory round out the feature set.
Palm Centro (AT&T/Sprint/Verizon Wireless) - The slimmest and best Palm ever is power-packed with Microsoft Windows applications plus high-speed internet, camera, video and music player. [Editor's note: The Centro runs the Palm OS, not Windows Mobile. dk]
Westrick continued, "The iPhone is certainly a revolutionary device within the wireless marketplace and has been met with great enthusiasm. But with Apple locked into an exclusive contract with AT&T until 2012, it didn't take the other carriers and manufacturers long to come up with really worthy iPhone alternatives."
Wirefly.com has increasingly become a bellwether for consumer trends in wireless, as tens of thousands of people purchase cell phones and rate plans on Wirefly every month after comparing hundreds of phone models from all the major carriers. With that many shoppers, Wirefly has great insight into the hottest trends and more importantly, consumer buying behavior in the wireless market today.
Link: Wirefly
iPhone 3G Repair Guide Posted
PR: Welcome to the RapidRepair iPhone 3G take-apart and iPhone repair guide. Here we show (in nearly sickening detail) the internals of the new iPhone 3G and how to safely reach them in 20 easy steps. Be sure to check our iPhone parts pages for replacement iPhone screens, batteries and more.
Attention 1st Gen iPhone owners! Rapid Repair is subsidizing the newest toy in your chest with our iPhone buy-back program! We are paying up to $150 for your old, fully functional, iPhone! Apply the money towards the upgraded iPhone 3G: or maybe just the gas fund :( iPhone Buy-Back Program).
Link: iPhone 3G Repair Guide Posted
HyperOffice Beta Gives iPhone Users Shared Docs, Collaboration
PR: HyperOffice has launched a new public beta of business collaboration tools that do more than connect the first and second-generation Apple iPhones to secure corporate email, contacts, calendars, tasks and notes.
This second beta of HyperOffice for the iPhone includes usability enhancements and, more significantly, access to shared documents, using built-in tools that connect to corporate messaging systems and operate as an alternative to Microsoft Exchange and Sharepoint.
The beta also includes a 30-day free trial of HyperOffice, the award-winning webware that makes it easier for owners, employees, clients, partners and suppliers of growing businesses to collaborate, communicate, plan projects, share documents, schedule meetings and tasks, and manage information, anytime, from work, from home, while traveling, using any Internet connection.
"This is what the new iPhone 3G does not have," said Farzin Arsanjani, president of HyperOffice.
"MobileMe and support for Microsoft Exchange ActiveSync begin to finally give business users of the iPhone the ability to sync and share calendars, contacts, email and tasks. That's what we delivered back in January 2008 with the initial beta of HyperOffice collaboration tools for the iPhone.
"But they're still basically emailing files back and forth as attachments. You're not managing documents with online storage, version control, user rights and workflow," said Arsanjani.
"In contrast, with HyperOffice, five people in three cities in two time zones can all work with the same spreadsheet at the same time, trying to knock out a proposal by deadline."
HyperOffice operates as software-as-a-service. It works on the iPhone. It works on any smartphone - including the Blackberry. It works on any PC, Mac or handheld device. All users need is a browser and an Internet connection. There's nothing to download from iTunes. There's nothing to install, fix, upgrade and patch.
Just switch on your iPhone. Fire up Safari. Log into your HyperOffice account. That gives users a suite of web-based applications that deliver the power and productivity of collaboration software that only the largest company with a mammoth IT budget could otherwise afford.
Where iPhone 3G users can now sync email, calendars and contacts to personal desktop computers, HyperOffice transforms the iPhone into a business collaboration tool. At the office, at home or while traveling, users of the iPhone with HyperOffice may also share group and project calendars with team members and clients who also use Outlook and HyperOffice. Users may also retrieve, share and update address books, projects and tasks, and manage documents with online storage, versioning, user rights and commenting. HyperOffice also provides discussion groups, security and backup; and business-class email without spam and viruses.
Plus, if you're working on a Mac or PC, HyperOffice also offers web conferencing, Exchange and Sharepoint functionality, Outlook sync, Intranet/Extranet page and portal builders, time and expense tracking, and an online database application.
All for about $7 per user per month. In English - and in Spanish. At the same time. On a business trip to clients in Los Angeles, Maria can update sales orders with John in New York. Maria picks her language. John picks his. HyperOffice keeps track of who needs applications to display in which language.
"Bottom line, HyperOffice turns the iPhone into a business tool, not just a great phone," said Arsanjani.
HyperOffice Inc. is a leading provider of Enterprise Collaboration Software and tools for growing organizations. The company offers a simple and affordable suite of Intranet and Extranet software that provide new and growing businesses essential tools to collaborate, communicate, and manage information from any browser running on any platform. First launched in 1998, Online Business Collaboration Solutions provider HyperOffice is used around the world by a growing number of innovative businesses.
Box.net Announces iPhone Data Sharing Application
PR: Box.net's Kendra Ott writes:
Just wanted to let Low End Mac readers know about Box.net and our iPhone application, which allows any time, anywhere access to all of your online files - right from your iPhone. All you have to do is have a Box.net account, go to i.box.net from your mobile device and voilà! - Your online life on-the-go.
Here is a bit more about Box.net - Founded in March 2005, Box.net is a "leading provider of tools for managing and sharing data online". The service enables users to share, access, and collaborate on files of any type from anywhere. Box.net is the first web-native system for access and collaboration which allows a broad array of functionality.
With nearly 2 million users, over 1 million files served every day, and more than 1000 developers in the Box Enabled Network, the service is used by individuals, small businesses, and Fortune 1000 companies. In December 2007, the company launched its OpenBox platform which connects data from Box.net to other web-based applications and services (like Zoho - http://www.zoho.com/ , Picnik - http://www.picnik.com/ , and eFax - http://www.efax.com/ ), giving users the power to do more with their data. Box.net is a privately held company headquartered in Palo Alto, CA, and is backed by venture capital firms Draper Fisher Jurvetson and US Venture Partners.
I would love to know what you and your readers think of the application - so please let me know if you have any questions or comments. I will look forward to hearing from you soon.
Take good care,

Kendra Ott

Community Manager

www.Box.net
Link: Box.net
3G iPhone Inspires 'Bulky Case' Marketing Campaign
PR: On July 11, as the consumers lined up across the nation for the new iPhone 3G, thousands of soon-to-be owners were joined by giant, bulky, yellow cell phone cases. Zagg, makers of a full-body protective skin called the InvisibleShield, was responsible for this unique campaign introducing their military-grade ultra-thin, ultra-tough transparent skin that protects the new 3G (and over 2500 other gadgets) without adding bulk.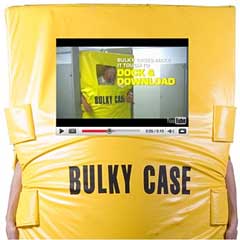 Early reviews of the iPhone 3G show that it scratches more easily than its predecessor. In order to tout their product's unique qualities, Zagg has launched a creative video campaign in which "Bulky Case," a man in an oversized yellow costume, struggles to perform daily tasks. From fitting into a bathroom stall to boarding an airplane, everything becomes more difficult when you add bulk. The videos have been featured as quick, punchy ten-second commercial spots on CNN, and even have their own website, bulkycase.com .
On the day the iPhone 3G became available in stores, Bulky Case greeted the lines of waiting customers at the Apple stores in New York, Chicago, Los Angeles, Atlanta, Houston, San Francisco and Denver. The costumed mascots handed out T-shirts, fliers, coupons and free invisibleShields to lines of customers that stretched for blocks. The event was met with enthusiasm, and within a few short hours supplies were exhausted.
"We were excited to implement this unique marketing campaign to educate the customers about our great alternative to bulky cases. And we are not at all surprised by the event's popularity. Who, after all, would want to hide their sleek new iPhone under a case when InvisibleShield can provide scratchproof protection showcasing the beauty of the product?" says Robert Pedersen, CEO of Zagg.
In the weeks preceding the iPhone 3G release, Zagg also e-mailed customers living in the major market cities, offering a free T-shirt with the Bulky Case logo on the front. Customers were invited to take a photo of themselves posing in front of an Apple store while wearing the T-shirt on the day of the iPhone 3G launch, and post it to zagg.com to earn a reward.
Car Care: Track Gas Mileage and Maintenance on Your iPhone


PR: By performing regular maintenance on your car, as suggested by Car Care, you can save money and have a healthier car.

Track your car's gas mileage and be reminded of regular car maintenance. Car Care helps you deal with high gas prices by automatically calculating your car's Miles Per Gallon. Car Care also reminds you when to perform scheduled maintenance on your car, such as oil changes and tire rotations, to help you get the best performance. Eliminate paper clutter in your life and let your iPhone take care of your car's health.
Gas mileage records - (metric units - liters, kilometers - coming soon)
Car maintenance reminders - Customizable oil change reminders and more
Care for your entire garage - Multiple car support
Graphics analysis - Set your car's photograph, and view your fuel trends in nice graphs
System requirements: iPhone or iPod touch
System Support: Intel
Price: $4.99
Link: Car Care can only be purchased through the iTunes App Store
Low-priced International Calling with Truphone
PR: Designed to provide low-priced international calls for Apple iPhone users, Truphone for the iPhone hit Apple's new App Store today.
James Tagg, Truphone's CEO, said: "What Truphone for the iPhone does is really simple but absolutely sensational: it gives people low-priced international calls, whether they want to phone someone abroad or avoid roaming charges when making calls from abroad.
"With just a few clicks to download and install Truphone, anyone can afford to take their iPhone on holiday this summer - or call their friends and family abroad." he added.
Truphone enables an iPhone to make calls to any number over the internet instead of over GSM, at Truphone's fabulous internet rates. The rates are especially competitive for international calls, including land lines in 40 countries at £0.03 [$0.06] per minute and mobiles at just £0.15 [$0.30] per minute. To Canada, the USA and China, even calls to mobiles are just £0.03 [$0.06] per minute.
Making a call using Truphone is exactly like making any other call on the iPhone: a single touch to bring the dialer up on the touch screen, touch-dial the number or choose from the iPhone's own addressbook, and a touch to start the call. [Visit www.truphone.com/iphone for a preview video.]
Truphone for the iPhone is available to download from Apple's new App Store for free. There are no monthly subscriptions or other charges.
WiFi calls to countries in the Tru Zone cost one flat rate, from anywhere in the world. A Truphone call on your iPhone to Sydney, London, Moscow or Rio always costs 3p/6c per minute to land lines and 15p/30¢ per minute to mobiles. The majority of the world's mobile users are in the Tru Zone - including the UK, Brazil, Australia, Thailand, Japan, Russia, Hong Kong, almost all of Europe, and more countries besides. Calls to USA, Canada and China are a flat 3p/min to call land lines and mobiles. Customers receive free credit worth £2.00 [4.00] when they sign up for Truphone.
Apple, iPhone, and Apple Store are trademarks of Apple Inc., registered in the US and other countries. Truphone is a trademark of Software Cellular Network Limited.
Truphone is not a replacement for an ordinary telephone service and emergency calls cannot be made using Truphone. However Truphone does not prevent emergency calls being made via a handset's normal cellular service provider.
Truphone cannot advise on the legality of VoIP services in specific territories or jurisdictions. It is the user's responsibility to confirm that use of the Truphone VoIP software and service is permitted in the location in which they use it.
Link: Truphone for the iPhone can only be purchased through the iTunes App Store
PostPath: Full Email Infrastructure Support for iPhone 3G Users
PR: PostPath, creator of the only email and collaboration server that is a drop-in alternative to Microsoft Exchange, announced today that it fully supports Apple's new iPhone 3G and iPhone 2.0 software. PostPath is the only non-Microsoft server that provides native ActiveSync support with no plugin or middleware enabling users to take full advantage of the iPhone's intuitive UI and the productivity benefits of mobile access to email, collaboration and shared calendaring. The iPhone's Mail and Calendar applications are also supported with no plugin, nothing to download and no modification to the device configuration.
In addition to iPhone 2.0, the PostPath Server's native support includes mixed environments and the spectrum of enterprises' most popular devices, including iPhone, BlackBerry, Windows Mobile, and other ActiveSync-enabled devices. With the PostPath Server, enterprise customers - including iPhone users - have access to full-feature, enterprise-grade messaging and collaboration at a significantly lower cost than Microsoft Exchange. Organizations can take advantage of the operational efficiency and cost savings of the PostPath server to roll out large mailboxes and mobile messaging to their users much easier and cheaper than with Exchange 2007.
The increasing reliance on email and mobile devices to support day-to-day business needs creates new messaging and collaboration requirements. Enterprises need the flexibility and performance of the PostPath Server and its native interoperability capabilities with Outlook, Active Directory Exchange and the rest of its ecosystem.
"We are seeing strong demand from our customers for iPhone support, and we applaud Apple's new offering," said Duncan Greatwood, president and CEO of PostPath. "We've already been successfully using the iPhone 2.0 Beta alongside our own production systems. As the only company to provide seamless support for ActiveSync on the iPhone 2.0, PostPath gives businesses the flexibility to support their mobile users with any device they choose. We're seeing strong growth in the enterprise market, and iPhone 2.0 is another indication of the importance of flexibility and native interoperability. Customers now have an open enterprise mobile platform capable of shared calendaring and email with large mailboxes, mobile CRM and custom applications built for their enterprise's specific needs."
PostPath offers native support for iPhone users and native interoperability with the Exchange ecosystem making it easy for customers to evaluate and deploy PostPath. PostPath's simplicity, flexibility and scalability make it possible and cost effective for those enterprises who have not adopted broad mobile support to now evaluate it and deploy it with confidence regardless of the device type. In addition to native email and calendaring support for their iPhone users, companies will be able to take advantage of other benefits of the PostPath email and collaboration server including:
Large mailboxes - Enterprises can provide every iPhone user - and every employee - with multi-gigabyte mailboxes even with commodity hardware and without administration nightmares.
High availability - With its standards-based, open-systems solution PostPath offers real-time business continuity and high availability for the critical application of email and collaboration at significantly lower cost than any alternative solution.
Improved performance - Handheld devices typically place a large load on Exchange resulting in diminished capacity and performance. PostPath Server is up to five times more efficient, enabling broad rollout of mobile devices without additional cost and headaches.
Support for leading browsers - PostPath provides WebMail support in the form of a browser-independent, easy-to-use AJAX web client and delivers full interoperability with Firefox, Safari and Internet Explorer. The Web 2.0 client offers email, shared calendaring and access to public folders similar to Outlook and can be used as a replacement for some or all users.
Lower infrastructure costs - PostPath lowers infrastructure costs by as much as 80% due to its efficient use of server resources and storage.
PostPath has developed the industry's first drop-in compatible alternative to Microsoft Exchange. Fully interoperable with the Exchange ecosystem, PostPath's email and collaboration server provides enterprises a lean, high-performance messaging infrastructure, a radically improved cost model, and an innovation-rich upgrade path for traditional and Linux-friendly messaging environments. PostPath was founded in December 2003 and is headquartered in Mountain View, California.
Link: PostPath
Free iPhone App Allows Users to Instantly Share, Store, and Manage Pictures Online
PR: Big Canvas, a creative developer of applications for the iPhone and Web, today announced its first application, Big Canvas PhotoShare. With PhotoShare, iPhone users can seamlessly share, store and manage images taken on their device. Photos can be uploaded live, moments after being taken, comments can be added to the images, and they can be easily categorized to share with designated groups. With a few simple touches, directly on the iPhone, users can easily take images captured from daily life and distribute these photos to friends, family, affinity groups, or even just mark them for public or private viewing. The core application and service are free.
"The iPhone has fundamentally transformed how people use mobile devices to interact with the Internet and communicate. Just as Instant Messenger and Twitter changed text-based communication, PhotoShare - with its ability to share pictures and provide commentary in real time - offers a totally new level of photo-based communication," said Satoshi Nakajima, founder and president of Big Canvas. "With PhotoShare, users can easily take pictures, decide who to share them with, and then the application does the rest - uploading the images for friends, family or the world to view online."
PhotoShare is an innovative new application built from scratch just for the iPhone, using the iPhone SDK. It combines a native iPhone application and a Web 2.0 service, which work in harmony to ensure customers get the best possible user experience on the iPhone. As part of the development initiative, the Big Canvas team has optimized the overall architecture - not only the application, but also the underlying network protocols - to take advantage of the iPhone's unique capabilities, features and requirements.
PhotoShare includes a variety of features designed to make the experience of taking, sharing and storing images fun and exciting.
Some of the key features include:
Family and Friends - share photos with family and friends directly from the iPhone (just as secure as sending private e-mail messages, but a lot more convenient)
Most Popular - when you save a public photo to your personal favorites, you essentially cast your vote for the best public pictures on PhotoShare; help distinguish the best-of-the-best from thousands of pictures posted by users, win great prizes
Following - subscribe to other user photo-casts and enjoy the ongoing photo postings instantly
Big Canvas PhotoShare is built around two key concepts - simplicity in its user interface and robustness in the underlying network replication protocols. It has been designed to seamlessly work, each and every time.
As part of these guiding principles, Big Canvas PhotoShare is free and does not require any registration or password for personal use and server storage. In addition, all changes the user makes (adding new photos, changing titles, changing permissions, etc.) are asynchronously replicated on the server in the background, achieving a seamless user experience. The application quits when necessary, and immediately resumes and completes any pending actions when selected, thereby hiding any network latency from the user. Finally, all changes persist locally across the application session until the server receives and confirms the replication - so even in the middle of uploading (asynchronous replication), the user is free to receive a phone call, and the application silently recovers from lost network connections.
Big Canvas PhotoShare is free and available immediately at the iPhone store on iTunes. Stay tuned for an enhanced "PRO" version, coming soon.
Link: Big Canvas PhotoShare can only be downloaded through the iTunes App Store
Free ShoZu iPhone App Simplifies Photo Uploads
PR: ShoZu Inc. has announced a new application that makes it possible to transfer iPhone and iPod touch photos to any combination of 50 social media sites with a tap of your finger. Available exclusively from the new Apple App Store today, the new iPhone edition of ShoZu's award-winning application also provides a variety of additional services that make it easy to stay connected with your favorite online communities, blogs and social networks on the go.
"A photo-friendly device like the iPhone needs an easy way to transfer photos to the Web, whether to Flickr, Facebook or beyond. ShoZu does that and more," said ShoZu CEO Mark Bole. "We have optimized our mobile social media service for the iPhone. There is no faster or easier way to share your favorite iPhone images with your various communities."
With ShoZu installed, iPhone users can upload any photo captured with the device's built-in camera or saved to the iPhone photo library to Facebook, Flickr, Photobucket, Kodak EasyShare Gallery, Google Blogger, WordPress and more than 40 other sites without opening a browser or creating multiple messages. Simply select the destinations of your choice from the ShoZu interface, add tags and titles, and tap "send."
It's fast, it's easy, and it eliminates the need to set up and send photos to your various social networks, photo communities and blogs individually. In addition, users can have friends' photostreams and status changes sent to the iPhone with a tap, and read and reply to comments posted on their destinations of choice - all from the ShoZu screen.
ShoZu for iPhone is a free download from the Apple App Store.
It is available internationally in English, with French, Italian, German and Spanish versions to be released shortly. It is compatible with the original iPhone, iPod touch and the new iPhone 3G.
Link: ShoZu for iPhone can only be downloaded through the iTunes App Store
BodyGuardz Transparent, Scratchproof Protection for iPhone 3G
PR: NLU Products, the developer of scratchproof, transparent skins for mobile devices, have announced that it is now shipping BodyGuardz for the new Apple iPhone 3G. The skins adhere to the iPhone 3G without causing damage to the item itself, providing seamless, residue-free protection of the phone's body, as well as a scratch-guard barrier for the phone's screen.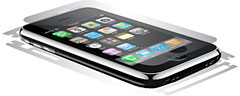 "People will ultimately buy the iPhone 3G for its incredible functionality, but a phone as beautiful as that deserves to say in mint condition," remarked Kirk Feller, President of NLU Products. "BodyGuardz skins help protect the exterior of the 3G from dings and scratches, allowing for a unique and protected user experience."
Made from the same material used to shield the fronts of automobiles from abrasive elements, BodyGuardz' protective skin adheres to the phone surface without leaving sticky residue. The transparent, easy-to-apply skins are custom-fit to protect the surface and screen of the iPhone 3G from scratches, maintaining the phone's sleek, elegant appearance without distorting its design.
In addition, NLU Products has also added the iPhone 3G to its ScreenGuardz and TatSkinz lines. ScreenGuardz are easy-to-apply phone screen protective skins, and TatSkinz, a new product line, provides quality protection while allowing iPhone 3G owners to customize the look of the phone's surface with the design of the owner's choice.
The BodyGuardz for the Apple iPhone 3G package (now shipping) consists of 2 custom-fit protective skins (including screen protection), the BodyGuardz application solution, squeegee card and application instructions. iPhone 3G BodyGuardz protectors are priced at $24.95, are protected by BodyGuardz' Advantage program, which includes lifetime replacements, and usually ship in 24 hours. iPhone 3G BodyGuardz, as well as all other BodyGuardz personal electronics custom-fits, can be purchased at bodyguardz.com or at many online resellers.
Link: BodyGuardz
World's First XyloT3 Touch-Thru Case for iPhone 3G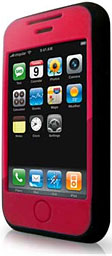 PR: ivyskin Technology, maker of the original XyloT2 Touch-Thru cases for iPhone, today announced XyloT3, a protective case for iPhone 3G with a built-in Touch-Thru screen. Simply snap iPhone 3G into XyloT3 polycarbonate case for protected screen as well as the protection from bumps and scratches that you expect from a premium-quality hard shell case.
The Xylo case by ivyskin (XyloT3) is a real breakthrough in the industry, as it is a unique, sophisticated and elegant case with the first complete advanced touch interface that you can control both iphone and iPod touch's screen from the case
ivyskin has worked hard on every aspect of the product, from super slim design of the case to its second to none hard screen touch thru design. At ivyskin, obsession with perfection is a way of life.
Xylo Touch-Thru (T2) case by ivyskin is the first of its kind to provide a hard screen shell over the iPhone. This German-designed material is second to none on the market today! Enables you to navigate the iPhone's screen with the hard scratch resistant shield. ivyskin has designed and manufactured the all new T2 case from scratch by using the latest technology available in crystal case manufacturing. Another breakthrough from a company that always think outside the box.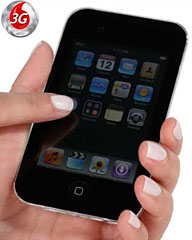 Surface Xylo Wave (SXW) technology passes ultrasonic waves that pass over the touch screen panel and transfer them to the iPhone's screen without interferences. When the panel is touched, a portion of the wave is absorbed. This change in the ultrasonic waves registers the position of the touch event and sends this information to the iPhone's screen for processing.

The touch screen panel is coated with a special patent pending material that conducts a continuous electrical current across the the shield. The human body is also an electrical device which has stored electrons and therefore also exhibits capacitance. It is an extremely durable screen that is suited for use in industrial control systems and other harsh environments. This rugged screen type is not affected by most surface contaminants, scratches or vibration. Responds to finger or gloved hand. However, not all touch screens are the same, and only ivyskin Xylo T2 is built with German materials.
Sleek and crystal clear qualities of a traditional polycarbonate case with the addition of an ultra-thin hard screen cover that stays on the case to protect the iPhone's screen from every angle. The Xylo T3 delivers on its promise to protect your iPhone. Made with polycarbonate crystal material, it is second to none on the market today. We are proud to be an all American company with intensive requirements to make every product that we manufacturer superior, to the standard of what a US-designed product should be.
Link: XyloT2 Touch-Thru Cases for iPhone 3G
Must-Have Accessories for iPhone 3G
PR: The release of Apple's newest product, the iPhone 3G, has created an explosion in the accessory market. With countless options available, it's time to separate the accessories you want from the ones you need.
According to a review in the Wall Street Journal, the more powerful 3G iPhone has a major drawback: shorter battery life. The new rechargeable 2-in-1 Charger & Back Up Battery ($49.99) by i.Sound solves that problem by providing hours of additional life for the iPhone, iPhone 3G and all iPod® models with a 30 pin connector. The smallest product of its kind, the 2-in-1 charger and back-up battery doubles as an iPod/iPhone charger, allowing it to recharge while simultaneously powering your device. This rechargeable battery includes both a USB and AC adapter. The compact device provides an additional 30 hours of music, 6 hours of video and 3 hours of talk time.
Other early reviews of the iPhone 3G have pointed out that the back is more susceptible to scratches than the original iPhone. The InvisibleShield by http://www.zagg.com/">Zagg is the first full body protective film available for the iPhone 3G. A patented adhesive film designed to protect high-performance electronic devices without adding bulk, the InvisibleShield was originally utilized by the US military to protect helicopter blades from wind, sand and the wear and tear of high-speed travel. Combining this military-grade scratch protection with precision-cut designs, the InvisibleShield, backed by a lifetime guarantee, allows customers to use their iPhone without fear of scratches or nicks. Prices start at $9.95.
Ultimate Ears, market-leading producer of in-ear-monitors for professional musicians including Van Halen, David Bowie and Daughtry, recently announced the release of its first voice-integrated product, the iPhone-compatible Super.fi 4vi ($149.99). Allowing you to talk on the iPhone as well as listen to your favorite music, the Super.fi 4vi features an answer button that pauses media applications, skips through songs and answers or ends calls. The inline microphone is positioned for maximum voice clarity.
Link: Ultimate Ears
Macally Debuts iPhone 3G Cases & Covers
PR: Like a Personal Body Guard New Macally Products Protect the iPhone 3G
Macally has announced that its upcoming line of sleek, functional and protective iPhone 3G accessories will be available at retailers next week.
"Anyone buying the new iPhone 3G will want to protect it with a durable, stylish and formfitting case designed to enhance its appearance and capabilities," said Andrew Saldana, VP Sales & Marketing of Macally. "Our cases let customers make the most of their new iPhone 3G, while also showing off the device's streamlined design. We even have two white protective cases to complement the new white color option available on the iPhone 3G."
Macally's new line of iPhone 3G cases and covers match the new design elements including the new slightly curved back of the iPhone 3G ensuring a tight protective fit.
The new innovative accessories include:
Bella- Protective leather case for iPhone 3G- Available in either black leather (Part #: BellaP) and white (Part # :BellaPW) to match the new dual color options of the iPhone 3G, the Bella protective leather cases features a stitch-seamed Nappa leather front with a high-density, soft and durable back panel to blend with a range of urban and casual fashion and accessories. It provides additional protection for the iPhone 3G from the inside with a microsuede interior. This case is finished off with a dark brushed metal carabiner for clipping on belts, purses and back packs. It comes with a neck lanyard and a scratch-resistant protective screen overlay. The Manufacturer's Suggested Retail Price (MSRP) for the Bella cases for iPhone 3G are $19.99.
Metro- Protective snap-on cover for iPhone 3G- This protective cover is made of highly durable rubberized plastic and snaps on to the iPhone 3G, locking it securely in place. The heat resistance ABS material offers a superlative surface quality, colorfastness and luster and gives the Metro a feel of rigidity, making it highly slip-resistant and comfortable to carry. The Metro's ultra-slim design is only 1mm thick, so it complements the sleek design of the new iPhone 3G. It comes with a scratch-resistant protective screen overlay. The Manufacturer's Suggested Retail Price for the Metro case in black (part#: MetroP) or white (part #: MetroPW) is $19.99.
MClip and IceCase for iPhone 3G - These highly functional and sleek protective belt clip holsters swivel for vertical or horizontal position on the belt. Once unclipped they also act as a stand with adjustable angles for viewing video or for use with speaker phone. Both the MCLIP2P and ICECASEP were specifically designed to ensure the new curved back of the iPhone 3G would fit snuggly into the clip and hold it firmly in place. The MClip offers a stylish black rubberized finished design and the IceCase offers a hip clear design to show off the new iPhone 3G. The Manufacturer's Suggested Retail Price for the MClip (part #: MCLIP2P) and IceCase (part #: ICECASEP) cases are $19.99.
MCase- Protective slip-on leather case for iPhone 3G - Offers an easy "slip-up" opening designed for users to easily dock the iPhone 3G without having to remove the case. This durable hard leather case protects the iPhone from bumps and scrapes. Cutouts provide easy access to all controls and ports, while the microsuede inner lining delivers enhanced cushioning. This case also comes with an optional scratch-resistant overlay protective film covering, ensuring the iPhone 3G stays in mint condition. The Manufacturer's Suggested Retail Price for the MCase (part #: MCASE2P) is $19.99.
MSuit - Offering a flexible thicker shock absorbing silicon, ribbed surface design and included scratch-resistant overlay, this hard working silicon case provides ultimate protection for the iPhone 3G against bumps and drops. The Manufacturer's Suggested Retail Price for the MSuitP case is $12.99.
Privacy Screen Protective Overlay for iPhone 3G - Designed to ensure privacy from any angle, It offers a unique privacy screen overlay so others can't see what is on the iPhone 3G screen of the user. The Manufacturer's Suggested Retail Price for the Privacy Screen Overlay (part #: IP-PH806) is $9.99.
Mirror Finish Screen Protector for iPhone 3G - Offers a mirror finish screen protector, when the iPhone 3G is turned off, all users see is a sleek mirror finish. When the device is turned on it looks like an ordinary screen, yet this mirror screen protector offers full time protection against dust, oil and scratches to iPhone 3G's screen. The Manufacturer's Suggested Retail Price for this mirror screen protector (part #:IP-PH807) is $9.99.
Link: Macally
USB Fever FM Transmitter and Handsfree for iPhone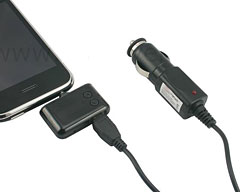 PR: This FM Transmitter is a combination of FM Transmitter and Handsfree for iPhone. When there is an incoming call while you are listen to music/songs, the song will stop and you can answer your call with the Radio speaker and the built-in microphone on this FM Transmitter. When the call end, the music will continue.
Features:
High Fidelity stereo
Digital PLL, transmission is stable in different environment
Fully frequency range
Mutes the music and switches to talk mode during calls
Handsfree talk via high quality built-in stereo microphone and the car stereo.
Powered by the car's Power source
Range: up to 10 meters
Compatibility:
iPhone 3G (or iPhone 2.0)
iPhone 2G (or iPhone 1.0)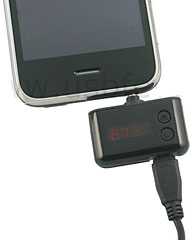 Package Contents:
FM Transmitter x 1
Car Cigarette Charger x 1
Note:
For optimal voice clarity, distance of 30 to 60cm between the speaker's mouth and the microphone is advised. If distortion or significant noise happens, please turn down the volume of mobile phone and tune up the radio.
The standard connection is plug the FM Transmitter to the 3.5mm audio out on the iPhone and plug the USB Mini 5 pin to the FM Transmitter and the USB Mini 5 pin to the cigar socket for power.
The FM Transmitter cannot work independently, it needs the power supply from the cigar Mini 5 pin Plug.
Link: USB Fever FM Transmitter and Handsfree for iPhone
USB Fever iPod Wired Remote Control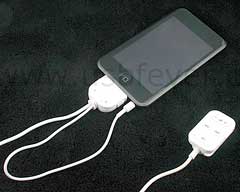 PR: Free your mind and your hands with this remote control for iPods/iPhone. This wired remote lets you fast forward, rewind, play/pause, and control the volume with four simple buttons. The hold switch allows you to lock your iPod remote so buttons can't be pressed.
Features:
Fully compatible with all iPod/iPhone with Dock Connectors
Lapel clip to attach the remote control on the collar/lapel or somewhere on your cloth while on the go
Streamline design
Fashionable
Light weight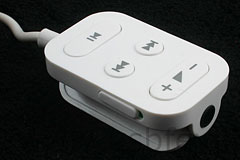 Buttons on the remote Control:
Volume up/down
Previous/Rewind
Forward/Backward
Play/Pause
Turn your iPod/iPhone On/OFF (* for some models only)
Compatibility:
iPod touch 3G (or iPhone 2.0)
iPod touch 2G (or iPhone 1.0)
iPod Classic
iPod nano 2nd
iPod Video
iPod touch
Specifications:
$11.99
Note: Your unlock button may be deactivated if this wired remote is plugged on.
Link: USB Fever iPod Wired Remote Control
USB Fever iPhone 3G Aluminum Case
PR: If the protection from Silicone case and Crystal case are not enough, then you have a better way to do it.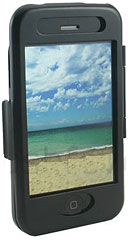 This case is made with aluminum, lightweight and hard. Inside the aluminum, it is filled with neoprene lining, comfortable and prevent from shocks.
Features:
Light weight, made of high grade aluminum.
Neoprene lining to prevent from shocks.
Removable 360 degree swivel belt clip.
Options:
Metallic Black (Default color to be shipped)
Metallic Silver
$19.99
Link: USB Fever iPhone 3G Aluminum Case
iPod touch/iPhone/iPhone 3G Car Mount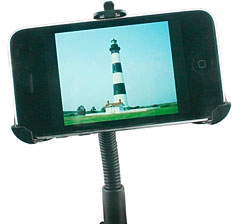 PR: Features:
Durable
Windshield Mount
Specially designed for iPhone, iPhone 3G
6 dimensional adjustable: left & right, back & fro and up & down, allow you to have unlimited possibilities to adjust.
Easy to lock and unlock
Designed for:
iPhone 2G (or iPhone 1.0)
iPhone 3G (or iPhone 2.0)
iPod touch (not perfectly fit for, but definitely tight enough)
$14.99
Link: iPod touch/iPhone/iPhone 3G Car Mount
Marware's Complete iPhone 3G Case Lineup Shipping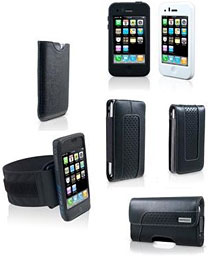 PR: Marware Inc., designer and manufacturer of innovative products for the Apple market, is pleased to announce six new iPhone cases that are shipping prior to the July 11 launch date for the iphone 3G. The CEO Glide strikes an uncompromising balance between slim profile, great protection and quick access.
The CEO Premiere is a stylish, premium leather hip case. The CEO Sleeve is a slim, attractive leather sleeve that combines elegant protection and quick access. The CEO Flip Vue is a sleek, Nappa leather flip-top holster case that provides the perfect balance between all-around protection and ease-of access.
The Sportsuit Convertible is the most versatile sport armband transforming into three cases: an armband case, a clip-on case for a belt or shoulder strap, or a slim profile sleeve for an extra layer of protection in a pocket, gym bag, backpack or purse. All of these carrying solutions come with a clear protective film, microfiber cleaning cloth and the Marware Lifetime guarantee.
Marware iPhone 3G cases are now available for immediate shipping. Please visit marware.com for individual pricing information. Marware is a leading provider of software and accessory solutions for Apple iPhones, iPods, and Notebooks.
Link: Marware
Join us on Facebook, follow us on Twitter or Google+, or subscribe to our RSS news feed
Links for the Day
Mac of the Day: Macintosh 128K, introduced 1984.01.24. 1984 wasn't going to be anything like 1984 thanks to the original Macintosh.
Recent Content
Custom Search
Follow Low End Mac on Twitter
Join Low End Mac on Facebook
Favorite Sites
MacSurfer
Cult of Mac
Shrine of Apple
MacInTouch
MyAppleMenu
InfoMac
The Mac Observer
Accelerate Your Mac
RetroMacCast
The Vintage Mac Museum
Deal Brothers
DealMac
Mac2Sell
Mac Driver Museum
JAG's House
System 6 Heaven
System 7 Today
the pickle's Low-End Mac FAQ
Affiliates
Amazon.com
The iTunes Store
PC Connection Express
Macgo Blu-ray Player
Parallels Desktop for Mac
eBay

Advertise