Undocumented iPhone 2.0 Features, Free SMS from iPhone, First iPhone Antivirus, and More
This Week's iPhone, iPod, and Apple TV News
Compiled by Charles Moore and edited by Dan Knight - 2008.07.25
Mac notebook and other portable computing is covered in The 'Book Review, and general Mac news is in Mac News Review.
All prices are in US dollars unless otherwise noted.
News, Reviews, & Opinion
For iPods and iPhones
iPod and iPhone Deals
These price trackers are updated regularly.
News, Reviews, & Opinion
Undocumented iPhone OS 2.0 Features and Tips
iPhone Atlas reports:
iPhone OS 2.0 has a few undocumented, useful features, including:
Screen Snapshots - Zoom and Snapshot
Mobile Safari Speaks Your Lingo
Link: Undocumented iPhone OS 2.0 Features and Tips
Send SMS for Free from iPhone
Mac OS X Hints contributor jamito says:
"With AIM available in the iPhone's App Store, you can now send and receive SMS messages without paying for a plan or individual messages. Also, this will be even better when the notification service works on applications sometimes this fall."
Link: Send SMS on iPhone for Free
Apple Posts iPhone 3G Battery Saver Tips
A new Apple Knowledge Base article says:
"Paying attention to just a few commonsense pointers will pay off with a longer battery lifespan and battery life for your iPhone. The most important thing is to keep your iPhone out of the sun or a hot car (including the glove box). Heat will degrade your battery's performance the most....
"Awareness of how you use your iPhone and knowing how long your battery typically lasts can help you improve your its battery life. You can view your iPhone usage statistics by tapping the Settings icon on the Home screen and choosing Usage. Under the "Time since last full charge" heading you'll see two items:
"Usage: Amount of time iPhone has been awake and in use since the last full charge. The phone is awake when you're on a call, using email, listening to music, browsing the Web, or sending and receiving text messages, or during certain background tasks such as auto-checking email.
"Standby: Amount of time iPhone has been powered on since its last full charge, including the time the phone has been asleep.
"Update to the Latest Software"
Link: iPhone 3G Battery Saver Tips
5 Things to Do with Your Old iPhone
Wired's Charlie Sorrel reports:
"So you've got your shiny, new iPhone 3G, you've discovered that you still can't get a signal in the house and 3-G doesn't cover your area. And worst of all, you have an all but useless first-gen phone on the kitchen table which, despite it's mechanical poker face, looks to be giving you puppy eyes. 'Why?' it seems to ask in a wheedling tone, 'What was wrong with me?'
"Sure, you could pass it on to friends or family, but who wants old hardware? Metal-backed iPhones are soo 2007. What you need to do is press your faithful old friend into a new role, something useful enough to assuage your guilt. Here are five things you can do with an old iPhone...."
Link: Five Things to Do with Your Old iPhone
iPhone Antivirus: Do We Need It?
IT Wire's Stephen Withers says:
"Security software company Intego is bragging that its VirusBarrier X5 10.5.3 is the first antivirus package that can scan the iPhone or iPod touch for malware. But is it just hype?
"According to Intego officials, 'Now that Apple has made it possible for users to add applications to the iPhone and iPod touch, there is a risk of installing applications that can harm these devices, or take control of them.'
"If people were going around downloading iPhone applications from all sorts of shady corners of the Internet, the risk might be significant. But given that Apple puts iPhone applications through an approval process before they can be sold in the App Store, I wouldn't be too worried about the risk of malware. (I don't own an iPhone, so maybe I can afford to take that attitude.)"
Link: iPhone Antivirus: Do We Need It?
Why the iPod touch Is Still a Viable Product in Canada
ehPhone's ruffdeezy says:
"Now that the iPhone is available in Canada and all over the world, do you think Apple will still have decent sales of the iPod touch? I think so.
"Here's why:
"Although the iPod touch is still comparatively expensive at $319 for the 8 GB, $419 for the 16 GB, and $519 for the 32 GB, when you look at the costs of owning an iPhone is the long run, the cost is way less.
"Owning an iPhone will cost you about $80 a month if not more. With the cost of the iPhone built in, you are looking at $1200 for the first year and about $1000 a year for each subsequent year. For many people that is just too expensive...."
Link: Why the iPod touch Is Still a Viable Product in Canada
Tangible Keyboard for iPhone in the Works
iPhone Alley's Zak Reiter reports:
"The iPhone keyboard is a brilliant innovation and a good time once users have grown accustomed to it. Crossover users who are used to feeling their keypad, however, might like that tangible comfort of knowing just where their fingers are supposed to go. Some researchers might have the answer.
"Tiny vibrations emitted from the vibrate component inside iPhone can imitate the feel of a button when users touch the keypad. This technology will actually allow you to feel the edge of each key. What occurs is that as users touch certain parts of the keyboard, different vibration patterns are emitted, triggering the feel of a smooth and round button. Also, this technology is capable of allowing users to feel the clicking of keys, as though it were being depressed and released."
Link: Tangible Keyboard for iPhone in the Works
AT&T Developing Voice-Controlled iPhone Apps
AppleInsider's Aidan Malley reports:
"AT&T has developed a software trick that will let modern mobile handsets, including Apple Inc's iPhone, recognize voice commands without the need for specialized voice recognition software.
"The research project is based on a new version of AT&T's WATSON speech recognition engine, dubbed Speech Mashups, that puts the entire feature on the Web as a service that can be called upon from anywhere a high-speed Internet connection is possible."
Link: AT&T Developing Voice-Controlled iPhone Apps
Downgrading the iPod touch with iTunes 7.5
Macworld's Christopher Breen reports:
"You've pungled up the 10 bucks necessary to install the 2.0 Software Update on your iPod touch. Yet after playing with the upgrade you suddenly become nostalgic for the old days. Is there a way to revert your iPod back to an earlier version?
"There is. And you do it this way...."
Link: Downgrading the iPod touch with iTunes 7.5
iPhone 2.0 Unlock Tool Released, Tested
Register Hardware's Tony Smith reports:
"Apple released the iPhone 3G on 11 July and nine days later, iPhone hacking crew the iPhone Dev Team posted the latest version of the their jailbreaking and unlocking utility, PwnageTool. I just had to give it ago.
"First, PwnageTool 2.0 won't unlock a 3G iPhone, but it will jailbreak one to allow third-party apps to be installed through an alternative channel to the one Apple provides. I didn't try PwnageTool with an iPhone 3G, but I did test it on my first-gen iPhone, which was running iPhone OS 1.1.4, unlocked using the excellent ZiPhone utility. PwnageTool 2.0 is supposed to be able to both jailbreak and unlock the 'old' handset. I also tried it out on a Mac - a Windows version is in the works, and may have even been released by now. If not, be patient - it'll come."
Link: iPhone 2.0 Unlock Tool Released, Tested Hands On
For iPods and iPhones
Intego VirusBarrier X5 First Antivirus to Scan iPhone
PR: Not only Macs are at risk from malware; now that users can install applications on the iPhone and iPod touch, these devices are open to attack as well. Intego, the Macintosh security specialist, today announced the release of VirusBarrier X5 10.5.3, an update to its acclaimed antivirus software that Macworld calls "the gold standard". This new version adds the ability to scan the iPhone and iPod touch for malware. VirusBarrier X5 is the only antivirus software that can eradicate malware from the iPhone and iPod touch.
Now that Apple has made it possible for users to add applications to the iPhone and iPod touch, there is a risk of installing applications that can harm these devices, or take control of them. And users "jailbreaking" (unlocking) an iPhone or iPod touch can install even more applications, increasing this risk. There are a number of security vulnerabilities that make these devices susceptible to attack; exploits for these vulnerabilities can be found easily, and future exploits are certain to be discovered.
VirusBarrier X5 now offers the ability to scan files and applications on the iPhone and iPod touch in search of malware or files that indicate that exploits have compromised the devices. Users connect an iPhone or iPod touch to their Mac, then choose the device and scan it with VirusBarrier X5.
When scanning an iPhone or iPod touch, VirusBarrier X5 copies all the files contained on the device to the user's startup volume in order to verify their security. If any malware or infected files are found, VirusBarrier X5 alerts the user and offers to repair or delete the infected files.
"With the release of the iPhone 2.0 software, and the ability to add applications, users are facing new vectors of attack," said Laurent Marteau, Intego's CEO. "It is essential that we not only protect Mac users from malware, but also protect their iPhone and iPod touch at the same time."
VirusBarrier X5 10.5.3 is available now. This version is a free upgrade for all users of VirusBarrier X5, and is available for download via NetUpdate, Intego's automatic update tool.
Link: Intego VirusBarrier
WebIS Introduces Note2Self for iPhone
PR: WebIS introduces Note2Self 1.0, their simple and easy-to-use audio recorder for Apple iPhone. Designed from the ground up to take advantage of the iPhone's unique abilities and interface, Note2Self is an incredibly simple application to keep track of task items via the email inbox.
As wonderful as iPhones are, they still lack an easy way to create actionable items with the most natural method of output: the human voice. Note2Self allows anyone to quickly record a voice note, save it in a Saved Notes list and automatically send it to a preset email address. All of this can be performed handsfree, without having to select a contact, type text, or any other distraction that could prove dangerous or difficult to do.
The key to unlocking productivity is for Note2Self to be incredibly streamlined and focused. Start Note2Self. Bring the iPhone up to the ear and start talking. Bring it back down and the recording stops. The recorded message is saved or emailed automatically.
Leveraging Apple's Cocoa Touch foundation, Note2Self is gorgeous looking and truly an easy to use application. It uses the proximity sensor to turn off the screen when the iPhone is brought up to the face. And likewise, the accelerometer toggles recording on and off automatically. Instant, hands free voice mail. Only on the iPhone.
Note2Self can record audio as long as there is free space, and offers two encoding options to help decide the quality of the voice message. AIFF uncompressed, or a 4x compressed IMA4 format. Both are playable with Apple's QuickTime software.
Note2Self Sending Service:
While the iPhone email client is capable of sending attachments, this ability is not yet available to Apple iPhone Developers. So for Note2Self to send email voice notes, WebIS has set up a passthrough server that accepts voice notes via a web service and then sends the email to the recipients.
Supported Languages: US English
System Requirements: iPhone 2.0
Pricing and Availability: Note2Self for iPhone is only $4.99 and will be available exclusively through Apple's App Store.
Link: Note2Self for iPhone can only be purchased through the iTunes App Store
USB Fever iPod/iPhone Bluetooth Stereo Dongle (Transmitter)
PR: If you've ever complainted by your "neighbourhood" when you are on the road that he/she tuned to the same frequency and receiving what you are listening to because you are using a FM Transmitter with your iPod or sometimes that the FM Transmitter's output is not so good, then there is a way for you to.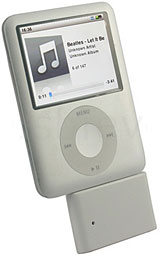 Features:
Powered by iPod/iPhone
Bluetooth Technology
Stereo (A2DP)
LED indicator
use the Bluetooth receiver to listen songs from your iPhone and iPods.
Compatibility:
iPhone 3G (or iPhone 2.0)
iPhone 2G (or iPhone 1.0)
iPod touch
iPod classic
iPod Video
iPod nano 3rd & iPod nano 2nd
Pairing:
1. There is no on/off button on the Bluetooth adapter. You just need to plug it into the dock connector directly.

Way one: Switch the iPod on. Plug the iPod Bluetooth adapter into the dock connector. The red LED (Status indicator) will flash quickly and the adapter is now in pairing mode.
Way two: When the iPod is playing a song or video, plug the iPod Bluetooth adapter into the dock connector, the red LED will flash quickly and the adapter is now in pairing mode.

2. Turn your Bluetooth headset on and the LED on the headset will flash in red and blue quickly. Place the Bluetooth adapter and headset close to each other (no more than 3 feet apart, and ensure there is no obstruction between them). The Bluetooth adapter and headset will start pairing automatically.
3. The LED on the 2 devices will flash quickly while they are paring.
4. The pairing should be completed in one minute. When you see both the red LED on the Bluetooth headset change to flash slowly, you can start using your iPod wirelessly.
Options: Color
Black (default color to be shipped)
White
$28.99
Link: USB Fever iPod/iPhone Bluetooth Stereo Dongle (Transmitter)
Marvel Apps to Release Fandora's Box for the Web and iPhone
PR: Marvel Apps LLC has announced that it will be releasing Fandora's Box for the Web and iPhone in August, 2008. Fandora's Box is your Web and mobile application designed to conveniently showcase all news, scores, and live game statistics. Track your favorite sports teams and athletes from the Olympics to the NFL. The Fandora's Box product line will keep you connected to all the sports information you crave and even help you dominate your Fantasy Football league.
The myth of Pandora's box states: "Only Hope was left within her unbreakable house, she remained under the lip of the jar, and did not fly away before Pandora replaced the lid of the jar." Hope is the fuel of sports fans everywhere and it resides inside Fandora's Box. Fandorasbox.com is the place for fans to go inside to get news, photos, forums, and other information about their favorite players and teams. Make your personal Fandora's Box and keep track of 'My Players' and 'My Teams' in one easy to navigate site.
Fandora's Box is also available on Apple's iPhone. Coupled with this breakthrough platform, your mobile sports fan experience will never be the same. Users will be able to access all of their favorite teams and player information with a touch of their finger.
Your ultimate mobile Olympics application, Fandora's Olympics™ provides Olympic events schedules, results, and news via your iPhone. Track your countries medal performance and see who is dominating the Olympics with the touch of your finger. Coming soon to Apple's App Store. Target release date is August 1, 2008.
Marvel Apps is also excited to announce their fantasy football advisor service: Fandora's Box Fantasy Advisor. Receive real time alerts for your players for both scoring and yardage milestones. Additionally, you will receive periodic 'box scores' for your teams throughout gameday and multiple emails during the week to help you field your best lineup.
To stay tuned in to the events leading up to the release of Fandora's Box, please register at their website.
Link: Fandora's Box can only be purchased through the iTunes App Store
Sybase iAnywhere Announces Wireless Enterprise Lotus Notes and Exchange Email Support for iPhone 3G
PR: Sybase iAnywhere has announced immediate support for the new iPhone 3G model to extend wireless email from Lotus Notes and Microsoft Exchange email systems. Sybase iAnywhere was early to market in offering iPhone users wireless email access to Lotus Domino with its product release in Q1 2008, and continues to innovate with support of the new iPhone 3G.
iAnywhere Mobile Office provides iPhone 3G users today with a unique approach to providing enterprise email support for the iPhone that reduces potential security concerns while providing a rich user experience utilizing native iPhone applications.
"Since the release of our wireless email product for iPhone earlier this year, we have seen strong interest from customers and partners - showcasing the demand for iPhone within the enterprise," said Terry Stepien, president, Sybase iAnywhere. "We are excited to be part of the iPhone ecosystem and are focused on offering companies the ability to support the iPhone for secure wireless email usage along with other mobile devices, such as Windows Mobile and Symbian."
In the near future, Sybase iAnywhere expects to enhance iAnywhere Mobile Office with additional components such as push email, contacts, corporate directory access and calendar.
Link: Sybase iAnywhere
ShopRMall.com Launches Custom Experience for iPhone, iPhone 3G, and iPod touch
PR: ShopRMall.com launches what could potentially be a new trend in mobile commerce, a new site that allows shoppers to browse and purchase products directly from their iPhone.
ShopRMall.com, a shopping portal that offers direct links, coupons, and special offers for online stores, has launched iphone.shoprmall.com, an iPhone/iPod touch version of the ShopRMall.com web site. The new site includes daily coupons and special offers along with easy access to over 1,000 name brand and specialty stores, all from a familiar iPhone interface.
Stores in ShopRMall.com include The Apple Store, Dick's Sporting Goods, Fingerhut, JCPenney, Overstock.com, Staples, Amazon.com, Bowflex, Macy's, Best Buy, and Brookstone.
This is not ShopRMall.com's first foray into the mobile realm. In 2001, Eric J. Katowitz, a professional multi-platform engineer and graphic designer with Cire Web Site Design & Hosting, along with his cutting edge team of experts, launched mobile.shoprmall.com for various mobile devices and cell phones, including those running the Blackberry, Palm, and Windows Mobile platforms. That site is a coupons only version that allows users to browse the latest special offers, but not purchase products directly.
ShopRMall.com and Cire Web Site Design & Hosting, owned by Cire Computer Productions, Inc., an e-commerce technology and interactive services provider, offers what could potentially be a new trend in mobile commerce. The keystone of this trend is the ability to allow shoppers to browse and purchase products directly from each merchant's online shopping web site via their iPhone or iPod touch.
Link: ShopRMall.com for iPhone and iPod touch
Leather Cases Styled by Ted Baker, Created by Proporta
PR: Proporta has some fresh new cases headed their way at the beginning of August, styled by the one and only fashion master - Ted Baker.
These funky cases have been designed to individually fit the iPod touch, iPod classic, and 3G iPod nano.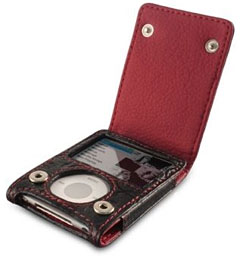 The Ted Baker Leather Case gives your Apple iPod the upper hand in the fashion stakes. Brains as well as braun, trust Ted (and Proporta) to keep your Apple iPod safe from any knocks and bumps caused by everyday use.
Available in a range of colour options, your Apple iPod can still be used whilst in its case due to all the necessary cutouts.
$49.95
USB Fever iPhone 3G Screen Protector (Ultra Clear)
PR: Features:
Ultra Clear
Customised to protect iPhone 3G, no need for any cuttings and resizings.
Ultra-thin and highly durable
No glue or adhesive is required for placement
Washable and reusable
Bubble free
Dust Free
Anti-Scratch
Resistance to erosion
$9.99
Link: USB Fever iPhone 3G Screen Protector (Ultra Clear)
Gadget Wrap Launches Nano Case Value Pak for iPod nano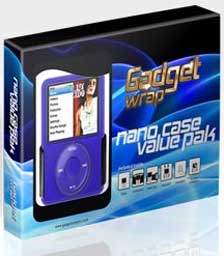 PR: Developer of high quality accessory products for Macintosh, iPod, and iPhone, Gadget Wrap, today announced the release of the Nano Case Value Pak, the next product in its new line of high quality, superior product offerings.
Designed for today's busy on-the-go lifestyle, the Nano Case Value Pak is constructed from durable silicone to ensure it provides exceptional protection and a tailor-made fit. In addition to a silicone case, each Nano Case Value Pak comes complete with a custom armband, belt clip, neck lanyard, screen protector, and fashionable matching ear caps, and is available in white, pink, blue, black, and black with white accents. The Nano Case Value Pak provides 3-in-1 functionality for easy portability at a very attractive price.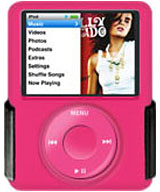 "We're very excited to bring our new product, the Nano Case Value Pak, to market," said Charleen Becchina, president of Gadget Wrap. "We know how busy our customers are, and the Nano Case Value Pak provides maximum versatility and value to go along with it maximum protection capabilities."
Priced at $29.99, The Gadget Wrap Nano Case Value Pak is available directly from the Gadget Wrap website.
Link: Gadget Wrap
iSkin Debuts New DuoBand Armband+Protector
PR: iSkin has announced its new DuoBand for iPod nano 3G. Fans can finally get powerful protection and a flexible armband solution in one complete, stylish package.

The DuoBand features a hybrid iPod protector that integrates a soft premium silicone layer with a two tone ViSOR accented with a sleek metallic finish for an elegant and sophisticated yet sporty look. The two layers work together to help protect the iPod nano against shock, impact, moisture, screen scratching and other damage caused by everyday use during leisure and recreational activities.
In addition, the armband section of the DuoBand features a slide-in design that enables users to transition their iPod between their active lifestyle and their leisure lifestyle - and back again - without skipping a beat. Through a unique bracket featuring a soft silicone "comfort zone", the iPod nano connects to a breathable, moisture-resistant band that keeps owners comfortably connected to their iPod during all levels of activity. And whenever they wish, users easily slide their fully protected iPod nano out of the armband bracket and continue enjoying their beloved device.
Offered in a choice of sleek and sporty color combinations: Amp (energy red with metallic accent) and Maxum (power black with carbon accent), the DuoBand is available online at iSkin.com and currently retails for $39.99.
Link: DuoBand
USB Fever iPhone 3G Crystal Case
PR: Features:
Unique ergonomic design
Crystal clear
Fully Protected from bumps and scratches
Light weight
Perfectly fit
Anti-dust
Easy access to all ports, buttons and sockets
$11.99
Link: USB Fever iPhone 3G Crystal Case
USB Fever iPhone 3G Armband & Sport Case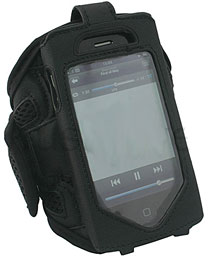 PR: Love your iPhone, take it with you no matter where you go. This Armband for iPhone keeps your iPod safe yet accessible while you are hiking, running, bike-riding, jogging, canoeing. It is sweat and impact resistant and can be adjusted to fit any size arm. This iPhone 3G armband is no fuss allowing you to enjoy your music while working out.
Features:
Sleek surface
Built-in iPhone screen protection
Machine washable,
one-size-fits-all human-built
Soft inner lining to house iPhone
$13.99
Link: USB Fever iPhone 3G Armband & Sport Case
USB Fever iPhone 3G Crystal case (Flowers in Purple)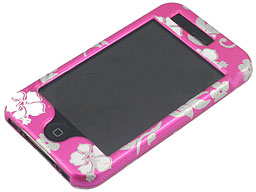 PR: Features:
Unique ergonomic design
Printed with Vivid Flowers in a Purple background
Fully Protected from bumps and scratches
Light weight
Perfectly fit
Anti-dust
Easy access to all ports, buttons and sockets
$16.99
Join us on Facebook, follow us on Twitter or Google+, or subscribe to our RSS news feed
Links for the Day
Mac of the Day: Macintosh 512K Fat Mac, introduced 1984.09.10. The first Mac with enough memory for serious work.
Recent Content
Custom Search
Follow Low End Mac on Twitter
Join Low End Mac on Facebook
Favorite Sites
MacSurfer
Cult of Mac
Shrine of Apple
MacInTouch
MyAppleMenu
InfoMac
The Mac Observer
Accelerate Your Mac
RetroMacCast
The Vintage Mac Museum
Deal Brothers
DealMac
Mac2Sell
Mac Driver Museum
JAG's House
System 6 Heaven
System 7 Today
the pickle's Low-End Mac FAQ
Affiliates
Amazon.com
The iTunes Store
PC Connection Express
Macgo Blu-ray Player
Parallels Desktop for Mac
eBay

Advertise