iPhone Slower after 2.0.2 Upgrade, Kill the Kill Switch, the iPig Sound System, and More
This Week's iPhone, iPod, and Apple TV News
Compiled by Charles Moore and edited by Dan Knight - 2008.08.22
Mac notebook and other portable computing is covered in The 'Book Review, and general Mac news is in Mac News Review.
All prices are in US dollars unless otherwise noted.
iPhone News, Reviews, & Opinion
iPod News, Reviews, & Opinion
For the iPhone and iPod
iPod and iPhone Deals
These price trackers are updated regularly.
iPhone News, Reviews, & Opinion
iPhone Download Speeds Fall Significantly after 2.0.2 Upgrade
Cult of Mac's Lonnie Lazar reports:
"The iPhone 2.0.2 upgrade seems to have caused a significant drop in download speeds, according to statistics gathered by the Test My iPhone website.
"The site, which allows iPhone users to test their iPhone's download and upload speeds, shows that speeds for iPhones tested in the past 24 hours are significantly slower than the average speed in tests done prior to Monday's release of the 2.0.2 firmware upgrade."
Link: Test Shows iPhone Download Speeds Fall Significantly after 2.0.2 Upgrade
iPhone 2.0.2 Fails to Fix 3G Reception Issues
iPhone Atlas reports:
"Apple has released iPhone OS 2.0.2 with its obligatory but unhelpful release notes indicating only 'bug fixes.'
"Unfortunately, a resolution to widespread, frustrating 3G reception issues is not among those fixes. In fact, some users have reported that the update manifests poorer 3G reception that 2.0.1, with devices now giving a 'No Service' message in previously 3G-accessible locations."
Link: iPhone OS 2.0.2 Released; Fails to Fix 3G Reception Issues
What's Behind the iPhone 3G Glitches
BusinessWeek's Peter Burrows reports:
"Complaints over dropped calls and choppy Web connections on Apple's iPhone 3G have sparked a wave of debate in the blogosphere over the root cause of the problems. Two well-placed sources tell BusinessWeek.com the glitches are related to a chip inside Apple's music-playing cell phone. The sources add that Apple plans to remedy the problems through a software upgrade rather than through a more disruptive step, such as a product recall.
"The news reinforces analysis by Richard Windsor of Nomura Securities, who said in an Aug. 12 report that the problem involves a communications chip made by Munich-based Infineon Technologies. Faulty software on the chip causes problems when the iPhone needs to switch from wireless networks that allow for faster Web downloads to slower ones, the people say.
"Users of the iPhone 3G complain they're unable to get the faster connections available on so-called 3G, or third-generation, wireless networks even in some areas where 3G networks are in place...."
Link: What's Behind the iPhone 3G Glitches
In-depth Guide to iPhone Connection Problems
Computerworld's Gregg Keizer says:
"Apple's iPhone 3G was just a couple of days old when reports began trickling onto the company's support forum from dissatisfied customers....
"Within a month, what had started as a few news reports grew dramatically, with several prominent newspapers, including The New York Times, Wall Street Journal and USA Today adding their voices to the chorus.
"What's going on? We may not have all the answers, but we do have questions. Here's our take on the griping about iPhone 3G reception."
Link: FAQ: iPhone 3G Reception - What's the Problem?
BlackBerry Bold Plagued by Same 3G Problems as iPhone
Gizmodo reports:
"The BlackBerry Bold has been out in Chile and Germany and drops in Canada tomorrow, so as much as analysts talk out of their ass, Citigroup analyst Jim Suva might not just be blowing hot air when he says that the Bold is plagued by the same 3G connection issues as the iPhone 3G (though 2.0.2 might've made them worse still). Apparently it has a similar penchant for dropping you to EDGE even when there's a perfectly decent 3G signal."
Link: BlackBerry Bold Plagued by Same 3G Problems as iPhone
Apple Banking on HSBC to Solve the iPhone Keyboard Conundrum?
ITWire's Davey Winder says:
"Could one banking giant be about to shake up the mobile business by cracking a BlackBerry addiction and making the move to iPhone instead? It might just mean the end of the slide-out keyboard iPhone prototype as well...
"Word is out that HSBC, one of the biggest banking groups on the planet, is considering moving away from the BlackBerry and into iPhone territory instead....
"So where does an Apple iPhone with a 'proper' keyboard come in, or go out, then?....
"Apple could, however, be tackling one of the major complaints head on: the lack of a full 'hard' QWERTY keyboard.
"While there has been much speculation about Apple releasing a corporate iPhone complete with a 'proper' keyboard, there has been little actual proof. Kewney, however, does mention that some operators 'notably Vodafone' have 'received prototype iPhones with pullout keyboards.'"
Link: Is Apple Banking on HSBC to Solve the iPhone Keyboard Conundrum?
What Happens If You Break Your iPhone 3G?
ehPhone's ruffdeezy says:
"What happens if you accidentally drop your phone and it doesn't work anymore? Any chance they will replace it for free or will it cost an arm and a leg? Breaking your iPhone is a devastating experience to begin with, not being able to afford a replacement or not having it covered under warranty is even worse. Sometimes accidents do happen, but it doesn't make things any easier. This is a valid topic and has not been brought up very often yet.
"ehPhone.ca reader Stephen F found himself in a similar situation, here is his story...."
Link: What Happens If You Break Your iPhone 3G?
How to Kill the iPhone Kill Switch
Dani Web's Davey Winder says:
"Nobody likes the iPhone kill switch that was recently confirmed by Big Brother Apple as being very much a reality.
"Apparently it is there for our own good, just in case something nasty gets on to the iPhone by way of a rogue App Store application. Apple can then remotely disable it, and the application you paid for, on your behalf without your permission.
"Nice.
"Unless, that is, you kill the killswitch first."
Link: How to Kill the Apple iPhone Killswitch
How to Disable Apple's Kill Switch
Ace of Tech says:
"As you may or may not know, Apple has implemented a feature into the new iPhone/iPod Touch firmware to allow them to disable apps remotely on your iPhone. Fortunately there is now a way to lock
"Apple out of your phone, all you need is a jailbroken iPhone with the 2.0 or 2.0.1 firmware."
Link: How to Disable Apple's Kill Switch
Make Your iPhone's Camera Go Zoom
Macworld's Scott McNulty says:
"There are those who bemoan the lackluster camera on the iPhone, and there are those who decide to do something about it.
"The iPhone 3G Mobile Phone Telescope is composed of a clear acrylic case that you snap onto your iPhone 3G, and an attachable lens which promises to give the built-in camera a 6x zoom...."
Link: Make Your iPhone's Camera Go Zoom
iPod News, Reviews, & Opinion
Retail Sources Say It's Closing Time for Current iPod Line
Appleinsider's Katie Marsal says:
"Resellers both near and afar are reporting signs that Apple's current line of iPod digital music players are on their way out the door, just as one prominent Wall Street analyst restates his claim that a $199 iPod touch is likely to be among the new models that will fill the void.
"Stateside, people familiar with the inventory management systems of mass merchandizer Target say all current iPod models have recently seen their status shift from 'Active' to 'Discontinued' when scanned with handheld PDA scanners used by employees...."
Link: Retail Sources Say Its (sic) Closing Time for Current iPod Line
Apple Blames Scorching iPods on Battery Problem
IDG News Service's Elizabeth Montalbano reports:
"Apple is blaming a problem with overheating iPods in Japan on faulty batteries, the company said in a statement Tuesday.
"In response to reports that Japan is investigating incidents of iPod nanos getting hot enough to scorch paper placed nearby, Apple acknowledged that 'in very rare cases' first-generation iPod nanos sold between September 2005 and December 2006 can overheat.
"This problem, which Apple said is extremely rare, causes 'failure and deformation of the iPod nano.'
"The company said it has received reports about less than 0.001 percent of first-generation iPod nano units acting in this way, and has traced the problem to a single battery supplier...."
Link: Apple Blames Scorching iPods on Battery Problem
Apple Will Replace 'Exploding' First-run iPod nanos
AppleInsider's Aidan Malley reports:
"After instances where first-generation iPod nanos' power has triggered minor but device-killing fires, Apple has agreed to replace for free any more of the music players that suffer the same problem.
"The Cupertino, Calif.-based electronics maker has released a statement to the press confirming the issue and solution while also attempting to minimize the scope of the problem.
"'Apple has determined that in very rare cases, batteries in first-generation iPod nanos sold between Sept. 2005 and Dec. 2006 can overheat, causing failure and deformation of the iPod nano,' the company explains. 'Apple has received very few reports of such incidents (less than 0.001 percent of first-generation iPod nano units), which have been traced back to a single battery supplier. There have been no reports of serious injuries or property damage, and no reports of incidents for any other iPod nano model.
"'Any first-generation iPod nano customers who have experienced their battery overheating should contact AppleCare for a replacement. Any other customers who have concerns about their first-generation iPod nano battery should also contact AppleCare.'"
Link: Apple Will Replace 'Exploding' First-run iPod nanos
For iPods and iPhones
iPig, the Stylish Music Companion for Your iPod or iPhone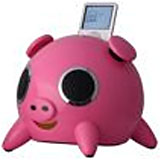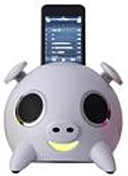 PR: Speakal announces the release of the iPig. As the sole North American distributor, Speakal is thrilled to deliver the most advanced docking station to date. The iPig combines quality, performance, compatibility and style into one compact iPod docking station. Audio engineers were able to design the iPig with 5 speakers pumping out 25 watts of premium sound, in spite of its small footprint. The acoustic design elements enable the iPig to disseminate 360° sound, insuring the entire room is filled with heart-pumping sound.
"We could not be more pleased to bring the iPig to the masses," said CEO David Solomone. "Today's consumer demands electronics that function at a high level while still being a welcomed addition to each individual's décor. The iPig satisfies both needs with superior sound quality and a unique, aesthetically pleasing design," added Solomone.
The iPig's key features include:
High Quality Sound - 4 speakers, a 4" subwoofer and 25 watts of powerful sound. Adjustable Bass Control with Bass Reflex Technology. 360° Sound Distribution. Onboard Hi-Fi amplifier, dynamic airflow optimizer, interior dynamic cooling exchange and high sound stabilization to produce a clear powerful sound.
Extensive Compatibility -
iPod dock with various included cradles, standard auxiliary 3.5 mm input jack providing connectivity to most portable and non portable audio players, gaming consoles, mobile gaming devices, cellular phones, desktop PCs, laptops and various other devices.
Unparalleled Design Elements - Patented volume control by touching the left and right ears. The iPig's small footprint easily masks itself as a decorative piece and includes rubberized feet to prevent rattling. The smiley mouth lights up when the iPig is powered on and blinks when receives commands from the remote. As GREEN and RoHS product, the iPig efficiently utilizes minimal energy and is designed using environmentally friendly components and non-hazardous materials.
Remote Control - Complete with audio controls as well as iPod menu functionality
Designer Colors include yellow, pink and white. The iPig retails for $139.99 and includes a 90 full days manufacturer's warranty.
Link: iPig
Boston Acoustics' Powerful New Horizon i-DS2 iPod Speaker System
PR: Boston Acoustics, Inc., a world-renowned manufacturer of high-performance loudspeakers, has announced the introduction of the Horizon i-DS2 iPod Speaker System (MAP: $179.99), a stylish and compact solution for bringing the music of any Apple iPod to life in great room-filling stereo sound. With built-in dual 3 1/2" full-range speakers and 60 watts of dynamic power, the Horizon i-DS2 is a high performance system with deep powerful bass and crisp clean stereo sound that lets users dock and charge their iPods while listening to their favorite music. And reflecting Boston Acoustics' Play Smart™ attitude, the i-DS2 features the company's innovative P.O.P. design concept, which lets users quickly and easily change the look of their unit to match any room's décor using a variety of different colored speaker grilles.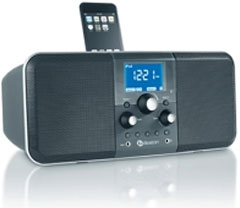 Boston Acoustics Sr. Vice President & General Manager Eli Harary, noted: "Our new Horizon i-DS2 is all about bringing a new level of fun, flexibility and performance to the iPod experience. The sleek and compact unit literally fits anywhere and can easily be moved from room to room. Best of all, with its premium quality high-performance loudspeakers and powerful 60 watt system, the i-DS2 lets users 'play DJ' to their heart's content."
Hip and Compact One-Piece Design; Acoustically Tuned Chamber
The Boston Acoustics Horizon i-DS2 iPod Speaker System features a hip and compact (5 1Ú2" x 12 3Ú4" x 5 13/16") one-piece design geared toward the needs of today's design-conscious, music-everywhere oriented consumer. With its appealing high gloss cabinet design and perforated metal front grille, the i-DS2 combines contemporary design with extraordinary performance. To ensure the highest quality audio performance, the i-DS2 features an acoustically tuned chamber for maximum bass response. For total flexibility, the universal iPod dock accommodates any model iPod, and the ergonomically designed "mini remote" gives users easy "across the room" access to familiar iPod commands.
A Great Performer with All the Right Connections
The Horizon i-DS2 features a composite video output that also lets users show off photos and videos from any video-capable iPod on their TV. In addition, a USB connector allows for iPod communication with iTunes and an auxiliary input allows connections to other media players as well.
Make It Your Own... with Boston Acoustics P.O.P.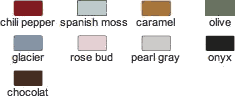 The Horizon i-DS2 iPod Speaker System comes in either gloss black or gloss white, with matching perforated metal grilles. However, to make it easy for customers to individualize the look of their i-DS2 and match it perfectly to the décor of any room in the house, today or anytime in the future (kitchen, den, bedroom, bathroom), it features Boston Acoustics' new Personal Options Plan (P.O.P.) design concept. P.O.P. lets users customize the look of their i-DS2 by offering optional metal grilles available in a wide variety of colors, including Glacier, Rosebud, Onyx, Pearl Gray, Caramel, Chocolat, Silver, Spanish Moss, Olive and Chili Pepper. To purchase a new grille, customers can simply visit the Boston Acoustics website www.bostonacoustics.com/POP ) and select the color of their choice or contact those dealers that will be stocking the grille color options.
The Boston Acoustics i-DS2 is available in select retailers and at Boston Acoustics.com.
Link: Boston Acoustics
Speck's New Slim SeeThru Hard Shell Cases for iPhone 3G Now Available
PR: Speck has announced they are now shipping their new SeeThru hard shell cases for iPhone 3G. The cases are the latest addition to their growing line of iPhone 3G accessories. Images of the sleek, translucent hard-shelled SeeThru can be found at www.speckproducts.com/content/iphone-3g-seethru .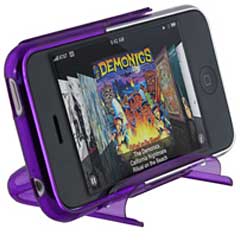 "We're proud of our commitment to offer consumers new and refreshing case designs for their iPhone 3G," said Irene Baran, CEO of Speck. "SeeThru cases are a great way to add subtle custom styling, protection and colorful accents to your new iPhone without adding bulk."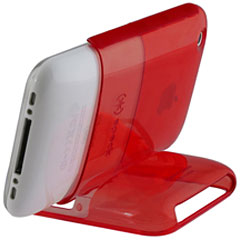 SeeThru's ultra-slim profile and silky hard-shell finish easily slips in and out of pockets. The cases feature rubberized, no-slip finger grip strips on each side and a two-piece, snap-fit design with removable bottom for docking. Once removed, the bottom of the case can also serve as a stand that holds the iPhone horizontally for hands-free viewing of photos and video. The SeeThru also offers access to all iPhone controls, ports and sensors without having to remove the case or deal with a smudgy screen protector. SeeThru for iPhone 3G currently comes in Amethyst Purple, Rose Quartz Pink, Garnet Red, Diamond Clear and Obsidian Black.
The Speck SeeThru is available at Apple stores and online at http://www.speckproducts.com/products/seethru/iphone-3g/142 and the Apple Store for $29.95.
HANDiBIBLE for the iPhone
TUAW's Steven Sande reports:
"As TUAW's own Robert Palmer noted a few weeks ago, there are over 20 Bible applications available for iPhone. Some require an Internet connection to query an online Bible database, while others store the text on the device.
"HANDiBIBLE (formerly Pocket Bible) is one of the latter apps, and is now available in the App Store (iTunes link). The developer, Jerry Beers, made an easily accessible (US$4.99) and usable Bible application and realizes that version 1.0 is just the start - he welcomes feature requests...."
Link: First Look: HANDiBIBLE for iPhone (HANDiBIBLE can only be purchased through the iTunes App Store.)
iPhone 3G Mounts Easily in Your Vehicle with the New ProClip iPhone Holder
PR: ProClip USA, Inc. has announced the launch of new device holders designed to securely mount iPhones to car, truck and SUV dashboards and consoles.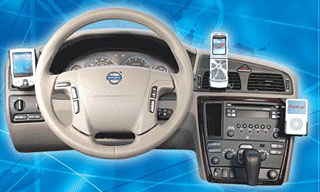 These holders, designed and manufactured by Brodit AB in Sweden, are custom made for the new iPhone and attach to vehicle specific ProClip dashboard mounts. Once this two part solution (Device Holder plus Vehicle Mount) is attached to the vehicle dashboard, the solution provides better viewing and easier access. ProClip holders may also be attached to other manufacturers' vehicle mounts or any other flat surface.
"Securely and conveniently mounting handheld devices like the iPhone, without damaging a vehicle's interior, is what we do best," says Bjorn Spilling, president of ProClip USA. "We offer mounting solutions that are custom designed for virtually every car in the world, and all popular handheld devices."
The Holder with Tilt Swivel is custom made with a neat and discreet design. It tilts 15 degrees in any direction for optimal viewing. The device easily slides in and out of the holder.
The ProClip Vehicle Mount is the only vehicle specific, consumer installable mounting bracket in today's global market. The mount clips into the dashboard seams, providing a very sturdy and tight fit. Average installation time is 2 minutes. No dismantling of the dashboard is required and there is no damage to the vehicle's interior.
Holders are also available for first generation iPhones.
Link: ProClip USA
Protect Your iPhone 3G with Amzer Form-Fitting Snap-On Cases
PR: Scratches and dings on cell phones can be unsightly and often ruin the outward appearances on the phones. With the sensitive technology inside those outer shells, phone owners can't do enough to protect their devices. The new Amzer Snap-On Case is designed specifically for the Apple iPhone 3G, made of lightweight, durable plastic that hugs every curve of the phone.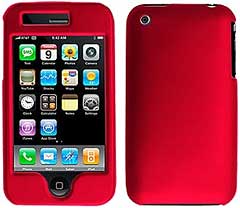 "The crystal faceplate covers the front, back and sides of the iPhone 3G, with cutouts for the touch-screen and buttons so the phone's functionality is not impeded," remarked Pallavi Dinesh, COO of Fommy.com. "The case snaps on for easy application and has openings precisely made for the top and side buttons, charger port/dock connector, headset jack and speaker for complete access to the phone."
The Amzer Snap-On Case is also available for the first generation iPhone, LG Dare, Blackberry Bold, Samsung Instinct, T-Mobile Dash, and all other models offered at Fommy.com.
The Amzer Snap-On Case for iPhone 3G is available for $14.95 plus shipping.
Amzer Jelly Case for Apple iPhone 3G
The case is made out of 100% premium silicone with a flexi-grip pattern on the back for an easy grip. The Amzer Jelly Case is a must-have for all iPhone 3G owners especially because the revolutionary technology keeps dust away from the case and more importantly the material is smooth not sticky as with other types of skins. The FlexiGrip provides you with a lasting grip on your device and exact cutouts allow speedy access to critical controls.
Amzer Rubberized Snap On Case for iPhone 3G
This Snap On Hard Case is available in vivid contemporary colors and gives you the best of both worlds. They are soft to the touch but have a hard plastic shell for great protection for your new iPhone 3G. The Rubberized Snap On Case combines a hard plastic shell with a thin layer of soft rubberized material giving your iPhone 3G a great stylized look with the safeguard of solid protection. The smooth surface provides you with a lasting grip on your device and exact cutouts allow speedy access to critical controls.
Link: Amzer
Join us on Facebook, follow us on Twitter or Google+, or subscribe to our RSS news feed
Links for the Day
Mac of the Day: Mac Pro, introduced 2006.08.07. The last Mac to go Intel, the Mac Pro has two dual-core Xeon CPUs at 2.0-3.0 GHz. 8-core option added in 2007.
Recent Content
Custom Search
Follow Low End Mac on Twitter
Join Low End Mac on Facebook
Favorite Sites
MacSurfer
Cult of Mac
Shrine of Apple
MacInTouch
MyAppleMenu
InfoMac
The Mac Observer
Accelerate Your Mac
RetroMacCast
The Vintage Mac Museum
Deal Brothers
DealMac
Mac2Sell
Mac Driver Museum
JAG's House
System 6 Heaven
System 7 Today
the pickle's Low-End Mac FAQ
Affiliates
Amazon.com
The iTunes Store
PC Connection Express
Macgo Blu-ray Player
Parallels Desktop for Mac
eBay

Advertise