iPhone #1 Worldwide, Google Voice Search for iPhone, iPhone 3G Battery Pack, and More
This Week's iPhone, iPod, and Apple TV News
Compiled by Charles Moore and edited by Dan Knight - 2008.11.21
Mac notebook and other portable computing is covered in The 'Book Review, and general Mac news is in Mac News Review.
All prices are in US dollars unless otherwise noted.
News, Reviews, & Opinion
Apps & Services
Accessories
Protection
iPod and iPhone Deals
These price trackers are updated regularly.
News, Reviews, & Opinion
iPhone Now the #1 Device Worldwide
PR: AdMob, the world's largest mobile advertising marketplace, today announced the iPhone is now the #1 device worldwide, displacing the Motorola RAZR, and in a regional feature focus highlighted traffic from Latin America and the Caribbean has more than doubled in the last year in the October 2008 AdMob Mobile Metrics Report. The iPhone experienced strong traffic worldwide to become the #1 device, with 37 percent of requests coming from outside of the US.
The iPhone experienced particularly explosive growth across AdMob's network after the company launched its unique ad units for iPhone sites and applications in July 2008. There are currently more than 400 applications and sites in the AdMob's iPhone Network. In October 2008, AdMob reached more than 4.5 million iPhones, 1 out of every 3 on the market.*
Other highlights from the October 2008 report:
17 percent of iPhone requests came from Western Europe and 8 percent from Asia. Top markets worldwide include the US, UK, France, Germany, Italy, Japan, Singapore, and Switzerland. In the US the iPhone is the #2 device behind the Motorola RAZR, and in the UK it is the #3 device, behind the Nokia N95 and Sony Ericsson K800i.
Traffic from Latin America and the Caribbean doubled in the past 12 months to 109 million requests in October 2008. The fastest growing countries in the region include Puerto Rico, Guyana, Costa Rica, Brazil, and Mexico.
Motorola, Nokia, and Sony Ericsson all have more than 20 percent market share in Latin America and are leaders in different markets. The Motorola RAZR is the top device in the market, followed by the iPhone.
Worldwide requests grew 13.8 percent month over month to 5.8 billion. US requests grew 7.9 percent to 2.2 billion and UK requests grew 16.0 percent.
Sony Ericsson passed Motorola to become the #2 handset manufacturer worldwide. Apple jumped ahead of LG and RIM to become the #5 handset manufacturer worldwide.
The top 10 devices worldwide, in order, are the Apple iPhone, Motorola RAZR V3, Nokia N70, Motorola KRZR K1c, Motorola W385, Nokia 6300, Nokia 3110c, Nokia N73, Motorola Z6m, and RIM BlackBerry 8300.
The full October 2008 report with additional details and all previous reports are available for free download at admob.com.
AdMob stores and analyzes handset and operator data from every ad request in its network to optimize ad serving. Each month, the Mobile Metrics Report aggregates this data to provide insights into major trends in the mobile ecosystem.
AdMob is the world's largest and highest quality mobile advertising marketplace, serving more than 5.0 billion mobile banner and text ads per month. Incorporated in April 2006, AdMob allows advertisers to reach their customers on the mobile Web and enables publishers to increase the value of their mobile sites. AdMob makes it easy for publishers to monetize their mobile traffic and for advertisers to target and reach customers on the mobile Web in more than 160 countries.
AdMob has been named a 2008 Technology Pioneer by the World Economic Forum, one of Wired.com's 2008 Companies to Watch, and VentureBeat's Mobilebeat 2008 Best Overall Mobile Startup/Best Mobile Infrastructure Company.
*AdMob can determine an individual iPhone by a unique identifier that is composed of various hardware properties such as the device serial number. This identifier is guaranteed to be unique for every device.
Link: AdMob
Google iPhone App with Voice Search Now Available
AppleInsider reports:
"The new version of Google's Mobile iPhone application that includes voice search recognition was made available as a free download on the App Store last night.
"'The new Google Mobile App for iPhone makes it possible for you to do a Google web search using only your voice,' said Dave Burke, Engineering Manager for Google's mobile team. 'Just hold the phone to your ear, wait for the beep, and say what you're looking for.'"
Link: Google Mobile iPhone App with Voice Search Now Available
British Accents Frustrate Google Voice Search
UPI reports:
"British iPhone users said a Google voice recognition program developed for the smart phone in the United States does not understand their accents.
"The free program, which was designed to translate voice commands into Google searches, was perplexed when users with accents from across England, Ireland, Scotland and Wales attempted a simple search for 'iPhone,' The Daily Telegraph reported Wednesday."
Link: British Accents Frustrate iPhone Program
The iPhone Is Unfixable
Popular Mechanics' Glenn Derene says that the problem with gadgets that "don't have any parts" is that you can't fix even very minor problems:
"I generally avoid using my tech columns to complain about glitches and failures of my own gadgets, but I've come to the end of my rope with my iPhone, and the only thing that will make me whole again is a public rant.
"The problem began almost imperceptibly several months ago. I found myself pushing my first generation iPhone's 'home' button two, sometimes three times before the device would respond . . . As time went on, I was pushing the buttons four or five times before I'd get a response . . . I'd have to exert multiple foot-pounds of force and hold it to get any sort of reaction from the increasingly fickle iPhone....
"...the genius behind the Genius Bar took my phone, plugged it into her diagnostic computer, and one minute later turned to me and said, 'I'm sorry, our database says that your phone is no longer under warranty.'
"'I could have told you that two and a half hours ago,' I said. 'I just want to know how to fix the stuck buttons. I'll do it myself if I have to.'
"'Oh, you can't do that,' she said. 'We don't open these things and fix them here. We just send them to the factory and get a replacement....'
"On any other phone, I would have pried off the faceplate, popped off the buttons, and used a set of precise tweezers to clean up the debris or bend the appropriate pieces back into place. Then I would have reassembled the thing like new. But there are no seams on the iPhone - thanks the autocratic aesthetic dogma of Steve Jobs and his lead industrial designer Jonathan Ive. To open up an iPhone or iPod is to question the creator himself. It is unfixable...."
Link: Dust in Your iPhone? It's Time for a New One
When Will Apple Add Copy/Paste to the iPhone?
ChannelWeb's Kevin McLaughlin reports:
"Apple is set to release version 2.2 of the iPhone operating system on Nov. 21, according to a Greek language post in enthusiast blog iPhone Hellas.
"In addition to a redesigned MobileSafari interface, the iPhone 2.2 update will reportedly add Google Street View, transit route information, walking directions and over-the-air podcast downloads, according to Gizmodo, which described iPhone Hellas as 'consistently reliable.'
"Gizmodo noted that because the 2.2 feature list hasn't changed from previous beta versions, it's possible that Apple could decide to sneak copy/paste into the 2.2 update, a development that could lead to a collective outcry of joy from iPhone users who've long been clamoring for this basic functionality."
Link: When Will Apple Add Copy/Paste to the iPhone?
Hack Your VW's Budvase for the iPhone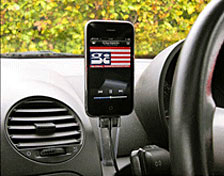 TUAW's Dave Caolo says:
"Perhaps you've seen a Volkswagen Beetle driving around with a flower in its dashboard bud vase. People put all sorts of things in there, but we say ditch the gerbera daisies and go for something more useful.
"Bug owner Nathan Barry has hacked his bud vase to accommodate his iPhone. By sawing away one slot for his USB car charger's cable and another to steady the iPhone, he made a clever stand that's easy to see from the driver's seat."
For the full report visit here:
Link: Hack Your VW's Budvase for the iPhone
Apps & Services
Calliflower on iPhone
PR: Calliflower on iPhone makes organizing and participating in multiparty calls simple and engaging by allowing participants to see the status of other callers, along with features such as interactive chat, intuitive conference controls, call archives, invitations and reminders, integration with calendars, and more.
Calliflower on iPhone will be free until Jan. 1, 2009, after which it will a one-time download charge of $9.99. The application will be available shortly in Apple's iPhone App Store.
Calliflower Premium
Calliflower Premium adds a new dimension to the Calliflower dashboard - the ability to share the contents of documents among all participants in a Calliflower conference call, which can enhance team productivity by reaching closure on points of discussion more quickly. Calliflower's document sharing is entirely web based, and requires no client download, which makes it easy to use.
Calliflower Premium will also support multiple organizers under a single account, and delegate access to allow executives' assistants to organize conference calls.
In addition, for Calliflower Premium users, Calliflower is being expanded globally via local-dial numbers in the United States, Canada, Mexico, the United Kingdom, Ireland, Australia, and Singapore, as well as via Voxbone's newly announced iNum '883' global toll-free country code.
Calliflower Premium is designed to help business users of Web conference-calling facilitate active participation in calls, share agendas and documents, coordinate participants' schedules, capture and share information discussed during conferences, and manage agreements, action items and follow-ups to keep projects moving.
Calliflower Premium is priced at the special introductory price of $50 per month, for two organizers, with a no-risk 30-day free trial period, until Jan. 1, 2009. Additional organizers cost $25 per month each.
Link: Calliflower on iPhone (only available through the Apple App Store)
Chinese Cuisine for iPod 3.5
PR: Chinese Cuisine for iPod - The electronic audio Chinese Cuisine software, designed especially for iPod users, gives a thorough introduction about Chinese dishes. With clear frame and precise arrangement, its major parts: the Overview, Eight Cuisines, Specialties, Local Cuisines etc. present the background of Chinese food culture, Chinese eight cuisine, specialties, and local cuisines. This software enables you to be an expert epicure at Chinese cuisine. You can order your favorite plates masterly in Chinese restaurants as well as prepare the delicious plates if you like.
System requirements: Mac OS X 10.3.9 or later, iTunes 4.2 or later, iPod with Notes reader feature, 60 MB free space on iPod.
System support: PPC/Intel
Free
Link: Chinese Cuisine for iPod
Free WikiTap Application for iPhone and Google Android
PR: Veveo, a driving force behind the video-anywhere revolution and the vtap web video service, today announced the launch of its WikiTap application, now available for both the iPhone and T-Mobile G1 (Google Android). WikiTap lets iPhone and G1 users quickly and easily search Wikipedia to get the most relevant results from the first keystroke. The WikiTap application also allows users to actively enhance and expand multimedia content relevant to an entry by uploading photos and videos. It is the first Wikipedia application developed for the iPhone and Android that allows people to not only read articles, but micro-contribute multimedia on the go, searchable by other members of WikiTap community.
"WikiTap gives iPhone and Android users a unique way to discover, enjoy, share and contribute to the already amazing amount of knowledge that exists in Wikipedia, all from the convenience of a mobile device," said Murali Aravamudan, CEO of Veveo. "Built on vtap technology, which delivers over 250 million media search queries per month, the iPhone and Android community now have the ability to easily search through millions of Wikipedia documents, and micro-contribute by uploading videos on any topic, from anywhere, making it an even more powerful knowledgebase for other users."
WikiTap lets iPhone and Android users make immediate contributions to Wikipedia content, wherever they are. WikiTap also enhances the Wikipedia experience by mashing in relevant videos from vtap's video search index. A Thumbs Up/Thumbs Down feature allows users to rate content relevance, tuning results for the community. Micro-contributions are then automatically shared with the community.
Veveo also plans to introduce new community-oriented mechanisms and partnerships with similar knowledge communities, to foster an active new community of mobile users who can incrementally enrich, refine, and annotate multimedia content on the go.
The WikiTap iPhone application is now available for free download in Apple's App Store on iPhone and iPod touch. Additional WikiTap iPhone features will be added in the coming weeks.
Link: WikiTap (only available through the Apple App Store)
ZappTek and InterLingua Bring EngLits to iPhone
PR: ZappTek and InterLingua Publishing are pleased to introduce EngLits, detailed audio and text summaries of classic books and plays that you can listen to or read on your iPhone and iPod Touch. Written by university professors, and recorded by professional actors to insure clarity, EngLits let students study for the next exam while riding on the bus, jogging, biking, lounging, and even walking the dog.
ZappTek and InterLingua Publishing are pleased to introduce EngLits, detailed audio and text summaries of classic books and plays that you can listen to or read on your iPhone and iPod touch. Written by university professors, and recorded by professional actors to insure clarity, EngLits provides students with a summary the full story of the required reading assignment, including all characters and events that are important.
With over 50 titles in the full collection, EngLits provides most of a student's required reading in easy to listen to or read audio and text. Some of the more popular titles include: A Christmas Carol, Great Expectations, Gulliver's Travels, Pride & Prejudice, The Adventures of Huckleberry Finn, The Adventures of Tom Sawyer, Othello, Macbeth, and Romeo and Juliet.
Each EngLit displays as an icon on the Home screen and the full featured reader includes:
Embedded audio summaries
Double-tap scalable text
Triple-tap inversion for low-light reading
Orientation locking
Opens to your last read page
Includes bookmarks
Add notes to any page
Supported Languages: US English
System Requirements: iPhone or iPod Touch 2.0
Pricing and Availability: EngLits are now available in the Education category of the iTunes App Store. Pricing is $5.99 per EngLit.
Link: EngLits (only available through the Apple App Store)
Free OpenTable iPhone App
PR: OpenTable Inc., a leading provider of free online reservations for diners and guest management systems for restaurants, today announced that its free application for iPhone and iPod touch is available on the Apple App Store. OpenTable for iPhone allows diners to check the real-time availability of multiple restaurants in the area, get the restaurants' location, make free, confirmed reservations, and then follow directions to the restaurant. Making it even easier for people to find and book online reservations while not at their computers, this application leverages the core functionality of the OpenTable.com website and the innovative location-based features of the devices.
"The combination of allowing people to match their actual location with availability at nearby restaurants makes OpenTable for iPhone and iPod touch unique," said Ann Shepherd, vice president of marketing at OpenTable. "All the necessary steps, from choosing a restaurant to actually confirming your reservation, can be done simply and quickly, without ever leaving the application or having to make calls to multiple restaurants."
Diners simply specify the desired date, time and party size, and they are instantly provided with a list of available tables at nearby restaurants. They can also view results on a map, get directions to the restaurants and send emails complete with reservation information to friends. Additionally, registered OpenTable members have the ability to see their upcoming reservations, earn OpenTable Dining Points and view their current Points balances.
OpenTable for iPhone was developed in close collaboration with Context Optional, a social marketing company.
"Context Optional was selected to help OpenTable with the development of this application because of its relevant experience and deep expertise with building and launching consumer-facing iPhone applications," added Shepherd. "We also worked with Context Optional when developing the OpenTable Facebook application, so we were quite familiar with its high-quality work already."
Context Optional is a social media company based in San Francisco. Context Optional is regularly sought by agencies and big brands to provide measurable results across multiple social networks allowing clients to expand their online presence and increase consumer engagement. In the year since Context Optional first entered the social media landscape, they have deployed more than 30 social marketing promotions for more than 20 Fortune 500 companies. Some of the campaigns launched by Context Optional utilizing the Social Marketing Platform include, but are not limited to ABSOLUT, Bank of America, Digitas, Electronic Arts, Kellogg's, Microsoft, Ogilvy, OpenTable, Paramount, Samsung and Travel Channel.
Link: OpenTable for iPhone (only available through the Apple App Store)
BibleReader Improves iPhone Support - Thanksgiving Sale
PR: This week, several BibleReader updates were released on the App Store at iTunes. These updates offer an important new feature: the ability to access your Olive Tree account via your iPhone. Once you're there, you can download any of your previously purchased titles that have been converted for iPhone.
Three BibleReader products on iTunes currently offer Olive Tree account access:
NIV Bible for BibleReader
NKJV Bible for BibleReader
ESV Bible for BibleReader
If you've already purchased any of these products for iPhone, you can download the updated version for free. Updates for other Olive Tree Apps may be available soon. Check the version number: BibleReader versions 4.03.025 and higher allow Olive Tree account access.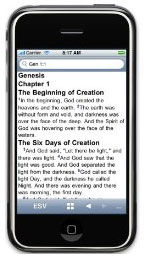 When you view your Olive Tree account via your iPhone, you'll see which titles are compatible and can be downloaded to your device. But not all titles have been converted yet please be patient! The Olive Tree Library contains over 550 titles, and we're working to get them all updated to the new BibleReader 4.0 format. See <#Support Tips>Support Tips below to learn more about what these upgrades to BibleReader mean for iPhone users.
More Support Improvements
When BibleReader for iPhone was first released on the App Store, iPhone users could only get Olive Tree resources through iTunes and couldn't transfer any of their previously purchased titles. For longtime Olive Tree users, used to the flexibility of their Personal Library at OliveTree.com, this was a serious gap in the service they'd come to expect from Olive Tree.
This week's release of BibleReader version 4.03.025 is closing that gap.
With BibleReader versions 4.03.025 and higher, you can access your Olive Tree account and Personal Library from your iPhone. If titles you have previously purchased for other platforms have been converted for BibleReader 4.0, you can download them to your device, free of charge. This development unlocks many titles that have not previously been available through iTunes.
If you are an Olive Tree user on iPhone, there are several things to keep in mind:
You can now select "Apple iPhone" as your device at OliveTree.com.
You can view a complete list of titles available for iPhone here.
You can still keep up with the latest news about BibleReader for iPhone at the iPhone information page. More developments are on their way!
Thanksgiving Special Offer
Happy Thanksgiving from Olive Tree Bible Software! To celebrate the Thanksgiving holiday, use the coupon code Thanksgiving2008 on the checkout page at OliveTree.com to save 22% from now through Thanksgiving weekend. (This coupon works only at OliveTree.com, not at iTunes.)
ESV Study Bible Coming Soon on BibleReader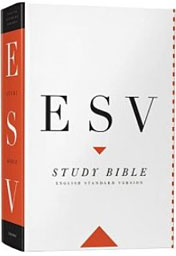 Olive Tree also announces the upcoming release of the ESV Study Bible for BibleReader in December 2008. It will be available for iPhone, BlackBerry with Media Card, Palm, Windows Mobile Professional, and Windows Mobile Classic (Pocket PC) devices. Support for Android and Symbian platforms is planned for 2009.
The ESV Study Bible is a highly anticipated new release from Crossway Books, combining the best and most recent evangelical Christian scholarship with the acclaimed ESV Bible text, and including the following key features:
20,000 notes focusing on understanding the Bible text and providing answers to frequently raised questions.
Over 50 articles including articles on the Bibles authority and reliability, biblical archaeology, theology, ethics, and personal application.
More than 200 charts offering key insights and in-depth analysis in clear, concise outline form; located throughout the Bible.
Over 200 full-color maps created with the latest digital technology, satellite images, and archaeological research.
80,000 cross-references to encourage easy location of important words, passages, and biblical themes.
40 all-new illustrations including full-color renderings and architectural diagrams of the Tabernacle, the Ark of the Covenant, Solomons temple, Herod's temple, the city of Jerusalem in Jesus time and throughout the history of Israel, and many more.
All together the ESV Study Bible includes 2 million words of Bible text, insightful explanation, teaching, and reference material equivalent to a 20-volume Bible resource library. On your mobile device, the ESV Study Bible includes all features, notes, images, and supplemental materials of the print version, plus the easy interface of BibleReader and and the convenience and portability of handheld use. Olive Tree's electronic version lets you read and study with the complete resources of the ESV Study Bible wherever you go!
Look for the ESV Study Bible for BibleReader in December 2008.
...of course, if you follow Olive Tree on Twitter, you already know this.
Link: Olive Tree (only available through the Apple App Store)
Speed Trap Alerting Hits the iPhone
PR: Njection LLC introduces Njection Mobile (NMobile), their worldwide speed trap notification system for iPhone 3G. Designed specifically to take advantage of the 3G's unique abilities and interface, NMobile was built for drivers so they can be notified to the location of speed traps, red light cameras, and speed detection devices.
Njection Mobile is the first to use a native Microsoft Virtual Earth Web Services (VEWS) implementation, leveraging the mobile tile set to speed up map displays, and provides one of the best mapping experiences on the iPhone.
Drivers may be alerted audibly to approaching speed traps based on several different criteria. The application uses Active Intelligence Selection System to alert users to the most relevant speed trap, based on speed, direction of travel, and current time. Users can submit and verify speed traps directly from the iPhone as well.
For business, personal travel, delivery service or anyone who spends time on the road, NMobile is the most advanced Speed Trap notification system available for the iPhone 3G.
Other Feature highlights include:
Speech notification of Speed Traps based on current moving direction, speed of the driver, and distance to closest point using Active Intelligence Selection System (AISS)
First software outside of Microsoft to use Microsoft Virtual Earth Web Services (VEWS) that uses SOAP and mobile tiles for faster downloads and lower bandwidth utilization.
Live Updates of speed traps updated from the website or other iPhone users
Support for Landscape and Portrait mode
Speed Trap Ranking based on level of enforcement and time of day area is monitored
3G and 2.5G Compatible
Submit Speed traps from the iPhone or on the website
Rate Speed traps from the iPhone or on the website
Njection LLC has also simultaneously released VirtualEarthKit, a Software Development Kit used in the development of Njection Mobile. Available under the BSD license, VirtualEarthKit is a Cocoa framework that will allow developers to access Virtual Earth's services, such as geocoding, reverse geocoding, imagery and more. VirtualEarthKit runs on both Mac OS X and the iPhone platform. It will be managed by Consonance Software.
Supported Languages: US English
System Requirements: iPhone 3G or Edge (but may not work as well without GPS)
Njection Mobile 1.0 for iPhone is only $9.99 and available exclusively through Apple's App Store. Media review copies are available on request.
Link: Njection Mobile (only available through the Apple App Store)
Briefcase for iPhone Available Worldwide
PR: Hey Mac Software announces the first update to its popular Briefcase for iPhone software is now available at all iTunes app stores. Briefcase can now handle images of arbitrary size: using image tiling to increase the iPhone's one mega pixel display limit up to two mega pixels. Images larger than this are scaled down to two mega pixels automatically in order to maintain a high-quality viewing experience. The app also offers an improved interface for saving passwords as well as for connecting to local and remote networks.
Additionally, there is now improved user support through an iPhone-based FAQ screen and an entertaining new spy-themed demo video at <http://www.heymacsoftware.com/demo> that walks users through the Briefcase workflow. Prior to today, Briefcase was available in the US, Canadian and the EU App Stores only. Version 1.1 of the free Briefcase Lite app is expected to become available through the App Store shortly.
"Despite the fact that it's only been out for a few weeks and that it's aimed at the smaller Mac marketplace, Briefcase Lite has already made it into many countries' "top 20 most popular productivity apps' list," says Mike Taylor, president of Hey Mac Software. "Not only have people been enthusiastic about the products, they've given us positive feedback about where we could improve the experience for them. We've listened to what they've had to say and rolled as many features and fixes as we had time for into this update. There'll be more major features to come in the next couple of months as we continue to grow and develop these apps."
Briefcase and Briefcase Lite
Briefcase gives Mac users a much simpler, iPhone-centric workflow than other file transfer apps. As such, it requires no cables, no client software, no switching back and forth between the iPhone and Mac, and no typing of an IP address. Briefcase is priced at $4.99 and is available in 10 languages. Briefcase Lite is a free version of the software that gives users access to all of the most common features and functionality of Briefcase.
Link: Briefcase for iPhone (only available through the Apple App Store)
Accessories
Handy Battery Pack for iPhone 3G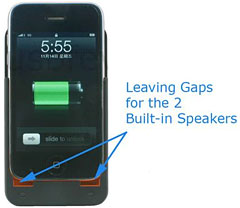 PR: If you are long away from office or home, how you can give juice to your mobile phone, it is easy, either bring a second battery with your or have an portable charger.
However, if your mobile phone is iPhone, how you rejuice it? The only way probably is to bring a portable charger with you. However, it is too bulky.
Unlike other iPhone chargers, it is not bulky, it is handy!
Features:
Perfectly fit for your iPhone 3G
Recharge your iPhone in a convenient way
Still access to key buttons and ports.
LED indicator for charging
You can still have it for Photo-taking (still can use your camera).
Leaving Gap for the 2 built-in speakers
This accessory is compatible with iPhone 3G
Colors: Black
Specifications:
Input Voltage: DC5V + / 2 0.5V
Input Capacity: 1000mAh
Note:
For iPhone 3G only.
You may rejuice your iPhone while at the same time connector it to your PC for charging, but you cannot sync your iPhone with your computer thru the battery.
$29.99
Link: Handy Battery Pack for iPhone 3G
Universal Slim USB Car Charger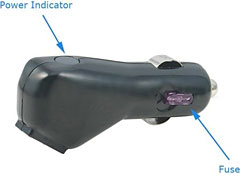 PR: We want to fight against the so-called Financial Tsunami with you
We want you to be one of our customers!
We wish you Merry Christmas too!
So we've arranged this quality USB Car charger for you!
The 1st piece is $0.01 with the shipping charges $0.01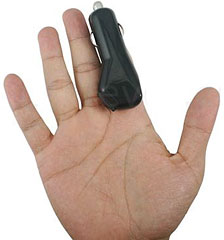 As the quantity is limited and we want more people to benefit from it, so basically each person is limited to 1pc, however, we understand that some people may also want this as a gift for their family, loves . . . we allow everyone to buy up to max 10 pcs in a time but we to charge the shipping cost, so each additional item is $3 with shipping charges. (* see notes below)
It is at the basis of first-come-first-serve and we reserve all the rights to have more terms and conditions as we deem it is suitable at any time.
For shipment, we normally ship this item out in 5~7 days, we will try our best to ship in 2 days, however.
Notes: Our system is not so smart still, so if you place more than 1 pc at $0.01/pc without paying the shipping charges, we reserve the rights to cancel your order (and refund your money to you) or just ship you 1pc and refund you the surplus. Thanks for your cooperation.
Highlights: It is a Car to USB adaptor!
Features:
Sleek Surface
Ergonomic: 110° angle, make the USB connector in a safe place that you will not accidentally bump / knock to.
high power (1000mA)
Probably world smallest
Specifications:
Input: DC 12-24V DC (Simply just plug into your car cigarette socket)
Output: DC 5V, 1000mA
With output connector of USB female head.
Works with any USB charger cable.
LED power indicator.
This accessories can charge the following device:
iPhone 3G (or iPhone 2.0)
iPhone 2G (or iPhone 1.0)
iPod Classic
iPod Touch 1st
iPod Touch 2nd
iPod 5th Gen (Video)
iPod 4th Gen (Photo)
iPod 3rd Gen
iPod Nano 2nd, iPod Nano 3rd, iPod Nano 4th
iPod Mini
other USB Powered devices
Color: Black
$9.99
Price $0.01 Additional Unit:
Link: Universal Slim USB Car Charger
Sport Armband for iPod nano 4G and Nike + iPod Sport Kit Receiver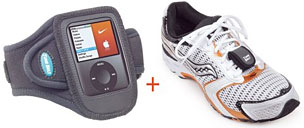 PR: Tune Belt has just introduced two new items including a Sport Armband which holds a 4G nano and a connected Nike + iPod Sport Kit Receiver. The armband's features include a hidden pocket to hold a key or money; a clear protective window cover with full navigational control; a cord management flap to control and store the earphone cord; and reflective materials for nighttime visibility. The armband is ultra slim and lightweight, and fully covers the nano, including the entrance, for enhanced protection during workout rigors.
Tune Belt's new Sensor Case holds the Nike + iPod Sport Kit Sensor allowing the Sport Kit system to be used with nearly any shoe. It quickly and easily attaches around shoe laces to securely hold the sensor.
Car Windshield Mount with Twin Holders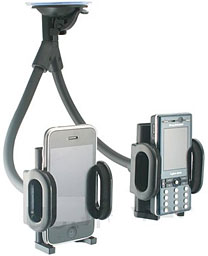 PR: The most practical and convenient in-car holder on the market has just got even more convenient as it is now available with DUAL goosenecks. This allows mounting of two items at the same time so that it can hold both a mobile phone and a sat-nav device simultaneously.
A strong suction mount allows the holder to be easily installed or removed on the inside of a windscreen within seconds and it can be set in the preferred position by adjusting the flexible goosenecks.
Whilst accessories are continually evolving and developing it is still the basic products that account for the largest percentage of our business. Whether it's leather cases, car chargers, batteries, transparent cases, mains chargers or portable handsfree we ensure our range is constantly refreshed to cater for all current phone models.
Features:
Allows to hold TWO devices at the same time!
Strong Suction Cap
Easy to mount on all cars.
Flexible goose-Pipe allows you to adjust to an angle that is most friendly / convenient to you while driving
180" Swivel tip allows any angle you need which allows landscape or portrait viewing
Holding device from 45mm to 115 mm wide, 30mm deep, 100mm high.
Smooth Arm opening
Wide Texture Finished
Lightweight
Superior Quality
Usage:
Hold iPhone + another Phone
Hold GPS + Phone
Capable to mount the following devices.
iPhone & iPhone 3G
iPod Touch, iPod Video (5G), iPod Classic (6G), iPod Nano, iPod Photo (4G)...
Zune
MP3 / MP4
GPS
Game Console
PMP / PDA
Mobile phone (Cell phone, -Handset)
Blackberry / HTC / Dopod / Palm / T-Mobile G1
Dell Axim / HP iPaq
Palm Treo
etc.
This accessory can coupled with the following items to have other functions:
Air Vent
Bike
Car (alternative)
To be shipped at the end of Nov 2008
Link: Car Windshield Mount with Twin Holders
Protection
'SeeThru' Protective Hard Shell Cases for 4G iPod nano and 2G iPod touch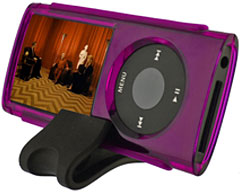 PR: Speck announces sale of their line of ultra-thin SeeThru hard-shell cases for the new family of Apple iPods. Presented in a wide array of colorful options, these compact, protective cases are available at Apple Stores, apple.com or speckproducts.com .
"The SeeThru is one of our trademark, signature designs and its popularity spans from iPhone to MacBook to iMac and is now coming to the newest of Apple's iPods," says Irene Baran, CEO of Speck. "Customers have come to know and love SeeThru as it offers an extremely lightweight, form-fit minimalist design while allowing personalization through the many color choices that suit lots of different tastes and styles."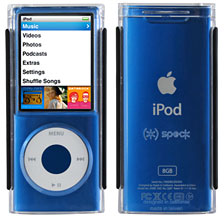 The SeeThru for iPod nano 4G features a two-piece top-loading design and an all new black rubberized earphone cord organizer that attaches to the bottom of the case and that can double as a viewing stand when removed. The translucent hard-shell includes integrated rubberized side rails for extra grip, built-in durable hard plastic screen protection to further protect from scratches and scuffs and complete access to all ports and controls. Colors include: Obsidian Black, Diamond Clear, Quartz Pink, Amethyst Purple, Garnet Red and Emerald Green. With the variety of colors available, users can mix and match SeeThru case colors with their iPod nano color to create new and interesting personal color blends.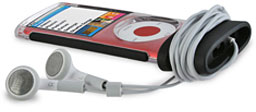 The SeeThru for iPod touch 2G features a two-piece custom-fit hard shell design with a top and bottom that slides together. The bottom portion of the case can be removed for easy docking and also doubles as a viewing stand. Rubberized no-slip finger rails on the sides add extra grip and there's complete access to all ports, controls and sensors. Colors available are: Obsidian Black, Diamond Clear, Quartz Pink, Amethyst Purple, Garnet Red and Emerald Green.
The Speck SeeThru for iPod nano 4G and iPod touch 2G are available at Apple stores and online atspeckproducts.com and Apple Store for $24.95 and $29.95 respectively.
Link: Speck Products
ivyskin Introduces QuattroPower SmartCase for iPhone 3G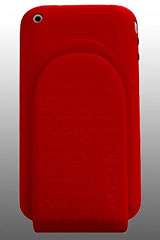 PR: ivyskin LLC has unveiled the $99.99 QuattroPower case, a new iPhone 3G accessory that brings a premium power and protection experience to iPhone's owners. It offers ivyskin's newest Glass touch Thru case called Quattro T4 bundled with the new QuattroPac battery. With the introduction of the world's first Xylo touch-thru case for iPhone, and recently a breakthrough Glass Quattro Touch-Thru cases for iPhone 3G; It's time to introduce the world's first SmartCase With host of new cases exploding onto the scene, ivyskin is innovating once again with an entire line of Glass touch-Thru with battery cases that maximize the iphone performance for every level of user.
iPhone 3G no longer have to sacrifice performance in one area to achieve it in another, as a result, new buyers are investing in converged devices and in the accessories that maximize device performance. After witnessing the phenomenal success of its Touch-Thru cases, ivyskin anticipated growing demand for SmartCase that would offer consumers their favorite ivyskin case packaged with an internal battery. With the QuattroPower cases, iPhone enthusiasts at every level can enjoy a premium protection with an added 200% of battery life to their iPhone 3G.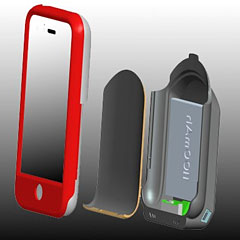 With Apple offering the first true medium, audiences from casual users to musicphiles, moviephiles and constantly-connected business users can get it all from one device. They want the same from accessories - one high-performance, bundled accessory that maximizes everything their device offers - and this is exactly what ivyskin is delivering with its new Quattro line.
ivyquattro.jpg
QuattroPower SmartCase Features:
The QuattroPower sends a signal to the iPhone to drain its power first before using the iPhone's battery. This advanced power distribution system, enables the iPhone to receive an additional 200% battery life
6 light LED battery status indicator
The QuattroPower case can be charged without removing the case, it includes a USB cable and a power charger
QuattroPower has a full rechargeable lithium polymer battery embedded into the Quattro case that provides a non-slip, soft grip case
Polycarbonate hard shell case with Polysilicon coating provides a protection that is second to none in the market today
Features:
Standby Time - Up to 350 hours
Talk Time - Up to 6 hours on 3G | Up to 12 hours on 2G
Internet Use - Up to 6 hours on 3G | Up to 7 hours on WiFi
Audio Playback - Up to 28 hours
Video Playback - Up to 8 hours
A. QuattroPower
QuattroPower Jet: $99.99 retail price; $119.99 MSRP
QuattroPower Alpine: $99.99 retail price; $119.99 MSRP
QuattroPower Royal: $99.99 retail price; $119.99 MSRP
QuattroPower Raz: $99.99 retail price; $119.99 MSRP
B. QuattroPac
QuattroPac Jet: $49.99 retail price; $59.99 MSRP
QuattroPac Alpine: $49.99 retail price; $59.99 MSRP
QuattroPac Royal: $49.99 retail price; $59.99 MSRP
QuattroPac Raz: $49.99 retail price; $59.99 MSRP
Link: QuattroPower SmartCase for iPhone 3G
Incase Introduces Power Slider Case for iPhone 3G
PR: Integrated case and power solution more than doubles battery life of device, available at retail this holiday season
Incase, creators of premium protective solutions, announced today a new product set to meet the growing power needs of iPhone) 3G users. Available this holiday season, Power Slider is the first accessory of its kind to more than double the battery life of iPhone 3G while providing integrated sync and charge capabilities and complete device protection.
Power Slider features a low profile, complementary design and innovative functionality, serving as both a case and power solution. A custom engineered lithium-ion polymer battery with efficient circuitry was created for Power Slider to allow for a slim design and maximum power output. The optimized power management system provides continuous charge to the internal battery of iPhone 3G. When in use, power drains first from Power Slider so that the device's internal battery remains fully charged and is only depleted once the battery of Power Slider has been drained.
"We developed Power Slider for the large and growing community of iPhone 3G users that utilize the device to its full extent as an all-in-one communication and entertainment tool and, as a result, find themselves in need of extended battery life," states Erik Wahlstrom, President and CEO of Incase. "Power Slider more than doubles the battery life of iPhone 3G in the form of a hardshell protective case, in addition to allowing for syncing and charging without removing the device. These features create a seamless iPhone user experience that enable users to continue to take full advantage of the iPhone 3G as the platform continues to grow in its scope and utility."
An integrated sync mode allows Power Slider users to easily sync and charge their devices while iPhone 3G is in Power Slider. A five-light LED battery status indicator gauges battery life and also denotes sync mode and charging. Included with every Power Slider is a custom USB 2.2 cable that allows for high capacity charging and data exchange for optimal charging and syncing. Additionally, Power Slider is compatible with all USB charging ports that provide 5V at 1A output.
Power Slider provides the best in hardshell protection and extended battery life for iPhone 3G. The design of Power Slider is an evolution of the Slider Case, one of the most popular iPhone cases by Incase. Power Slider maintains the durable, lightweight hardshell construction of the Slider Case and features soft-touch coating for added grip and durability.
Certified by the Apple "Works with iPhone" program, Power Slider has been designed to connect specifically to iPhone 3G and meet Apple's performance standards.
Additional battery life provided by Power Slider
Standby time: up to 330 hours
Audio playback: up to 26 hours
Talk time: up to 5 hours on 3G network and 10 hours on 2G network
Video playback: up to 7 hours
Internet use: up to 5 hours on 3G network and 6 hours on WiFi
Power Slider will be available Holiday 2008 for a suggested retail price of $99.95 through the Apple Store and Apple's retail stores worldwide, and in the US through Best Buy Mobile and the Incase webstore.
Join us on Facebook, follow us on Twitter or Google+, or subscribe to our RSS news feed
Links for the Day
Mac of the Day: Macintosh 512K Fat Mac, introduced 1984.09.10. The first Mac with enough memory for serious work.
Recent Content
Custom Search
Follow Low End Mac on Twitter
Join Low End Mac on Facebook
Favorite Sites
MacSurfer
Cult of Mac
Shrine of Apple
MacInTouch
MyAppleMenu
InfoMac
The Mac Observer
Accelerate Your Mac
RetroMacCast
The Vintage Mac Museum
Deal Brothers
DealMac
Mac2Sell
Mac Driver Museum
JAG's House
System 6 Heaven
System 7 Today
the pickle's Low-End Mac FAQ
Affiliates
Amazon.com
The iTunes Store
PC Connection Express
Macgo Blu-ray Player
Parallels Desktop for Mac
eBay

Advertise