iPhone 2.2 Software Update Released and Jailbroken, Advent Calendars for Your iPhone, and More
This Week's iPhone, iPod, and Apple TV News
Compiled by Charles Moore and edited by Dan Knight - 2008.11.26
Low End Mac will be closed Nov. 27 through 30 for the Thanksgiving holiday, so we're posting our news roundups on Wednesday this week. We'll be back on Monday with new content.
Mac notebook and other portable computing is covered in The 'Book Review, and general Mac news is in Mac News Review.
All prices are in US dollars unless otherwise noted.
News, Reviews, & Opinion
Apps & Services
Accessories
Protection
iPod and iPhone Deals
These price trackers are updated regularly.
News, Reviews, & Opinion
'Superlative' 2G iPod touch Does Almost Everything an iPhone Does
BusinessWeek's Cliff Edwards reports:
"They say sequels often fail to live up to the original. That's not so with the second generation of Apple's iPod touch. Apple has managed to make the touch look better, work better, and deliver more features - all for a $229 starting price, significantly cheaper than the previous entry-level $299 version. The changes, while subtle, are so significant that I give the second-generation touch a rare perfect score.
"The touch, while an iPod, is close to the iPhone in lineage. It has the same touchscreen, plays music and videos the same way, and includes a wireless Internet connection that lets you access the Web from your home network and wireless hotspots, such as those set up by AT&T in Starbucks."
Link: Apple's Superlative Sequel: The Latest iPod Touch
Photos Straight from iPhone to the Web
From Apple:
"Your MobileMe Gallery was designed to live up to the "mobile" in its name. It's easy to upload photos into your online albums from wherever you need to using a browser, and even easier directly from iPhone. Before you can send photos from your iPhone to the web, you need to set up an album in the Gallery web application at me.com. In Gallery, select (or create) an album, click the Adjust Settings button and then check the box to allow adding of photos via email or iPhone."
Link: Photos Straight from iPhone to the Web
The Best Thing About the 2.2 iPhone Software Update
CNET's Kent German says:
"When it comes to iPhone software updates, I'm all about the basics. Apple could enable the iPhone to cook my dinner every night, but if it added multimedia messaging in the same update, then that's the thing that would excite me. Remember last January's update 1.1.3 for the iPhone Classic? While the quasi-GPS functionality got the most attention, I was much more excited that you could now send a text message to multiple people.
"So for the iPhone 2.2 software update that Apple released today, it's the ability to turn off the auto-correction in the keyboard that excites me the most. It is useful most of the time, but other times the feature drives me crazy. Almost every other cell phone on the planet allows you to do this, so it's nice to see that the iPhone now does the same. Of course, the other additions are more than welcome - here's hoping that the Safari Web browser really gets "Improved stability and performance" - but I know what I like."
Link: The Best Thing About the 2.2 iPhone Software Update
Users Face Serious iPhone OS 2.2 Problems
iPhoneAtlas reports:
"Users who have updated to iPhone OS 2.2 are facing some significant issues, including problems with third-party apps, Internet connection issues, problems deleting email and more.
"Third-party Applications broken Some third-party applications will no longer function properly under iPhone OS 2.2 due to API changes and other modifications. These include a number of applications that make use of CoreAudio. These applications will generally need to be updated by their developers. However, you can try uninstalling then reinstalling applications for problems that do not involve API or other strict compatibility problems."
Link: Users Face Serious iPhone OS 2.2 Problems
Why the iPod touch Didn't Get Google Street View
Wired's Charlie Sorrel reports:
"The new 2.2 update for the iPhone brings a lot of great new features. Google Street View, direct viewing, listening and download of podcasts and a few small but neat tweaks. The iPod touch also got a 2.2 upgrade, but it lacks one headline feature: Street View. Why? To answer that, we should take a look at the different goals Apple seems to have in mind for the two products, and also at arbitrary, software-based product differentiation in general....
"Yes, I'd like to have Street View, but I don't expect to get it soon. As a long time Apple customer, I've learned that I have to do things the Apple way, whether I like it or not."
Link: Why the iPod touch Didn't Get Google Street View
iPhone 2.2 Update Jailbroken
PC World's Daniel Ionescu reports:
"If you're into iPhone gimmicks and unsupported Apple applications, DevTeam released PwnageTool 2.2 to help you jailbreak the latest 2.2 iPhone software update available from Apple since Friday.
"Two free software tools are available from the DevTeam to help you jailbreak your iPhone, namely QuickPwn and PwnageTool. However, only the latter preserves the iPhone's baseband firmware, giving you the maximum chance for any upcoming software unlock. As usual, using just the iTunes update method will lock back any previously jailbroken iPhone."
Link: iPhone 2.2 Update Gets Jailbroken
Hack Enables Street View on iPod touch
MacUser's Aayush Arya reports:
"Apple may not have wanted you to be able to check out the streets and buildings from up close in Google Maps but there's not much they can do to stop the hackers from figuring out ways around the artificially imposed restraints. It didn't take long for someone to come up with a workaround that enables Street View and other new features that Apple withheld from iPod touch users in the software update 2.2.
"As you might expect, it's a fairly complicated process which requires having jailbroken your device and the ability to modify system-level files on it remotely using the Terminal. If that sort of thing is right up your alley and you don't mind the potential voiding of warranty coverage, check out this post from iPod touch Fans Forum member 'timmyj9'."
Link: Hack Enables Hidden Google Maps Features on iPod touch
2G iPod touch Fastest 'by Far' of the Apple Family for Games
CrunchGear's Devin Coldewey says:
"Ah, yes. Another factoid to put under the 'wipes the smile off an iPhone user's face' category. See, I don't have anything against iPhones, but I sure have trouble with people talking as if they're in some secret, privileged club. As it turns out, the 2G iPod touch has an advantage of almost 100 MHz over the rest of Apple's touchables, and that makes a major difference when you're talking games and almost certainly other apps."
Link: 2G iPod touch Fastest 'by Far' of the Apple Family for Games
Top 20 BlackBerry Storm Questions Answered
PC Mag's Sascha Segan:
"On Monday, I asked Gearlog readers to ask me everything they wanted to know about the new BlackBerry Storm 9530 for Verizon Wireless. Now I have the answers. Here's the original thread on Gearlog.com.
"I re-ordered the questions by theme, and eliminated a few duplicates and a few that I still can't answer. (Battery life tests can take days.) Hopefully, this will answer some of your questions, too."
Link: The BlackBerry Storm: Your Top 20 Questions, Answered
Microsoft Phone Made by Nvidia
ITNews's Charlie Demerjian reports:
"What do you get if you take an iPhone, remove the clean UI, user friendliness, nice industrial design, battery life, cachet, functional OS, and in general everything else that makes it worthwhile?
"The new Microsoft phone, powered by Nvidia.
"Yeah, you heard it right, MS is going to make its own branded phone....
"The phone is slated to be announced at 3GSM this coming February....
"We think this 'me too' phone will have all the success of the Zune."
Link: Microsoft Makes a Phone with Nvidia
Apps & Services
iAdvent Gives Advent Calendars an iPhone Makeover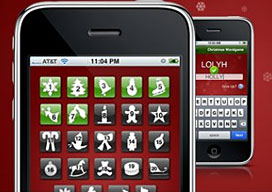 PR: iAdvent is a Christmas Countdown calendar that helps you keep track of how many days left until Christmas. Like traditional advent calendars, each day has a box for you to click on. Inside each box is a fun Christmas fact, which you can email to your friends and family if you choose. The boxes are designed to emulate the look of iPhone app icons, giving Advent a modern look that goes with the sleek design of your favorite gadget.
Also like traditional calendars, iAdvent begins counting down on December 1st. Until then, play the fun Christmas word game included and download 5 Christmas-themed wallpapers for your iPhone!
iAdvent is only 1.6 MB, leaving you plenty of space for all the other organizational, entertainment, and game apps you'll need this holiday season. Enjoy Advent! And Merry Christmas!
There are other Advent calendar apps out there, but Josh gave iAdvent the look and feel of the iPhone interface.
iAdvent will work next Christmas, too, so it can be removed and reloaded this time next year - or just kept on the phone until it's time to use it again in 2009.
Each day offers a new piece of trivia about Christmas, which can be emailed to friends and family.
But the most important part is just knowing how many days are left to Christmas.
Link: iAdvent (only available through the Apple App Store)
iChristmas Advent Calendar iPhone/iTouch Application
PR: Advent Calendar iChristmas is a simple, easy to use app that will help you relive your childhood and the anticipation of opening a gift every day in the lead up to Christmas.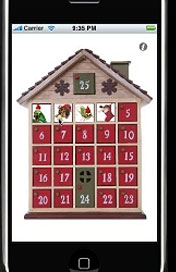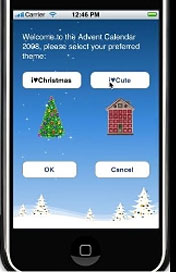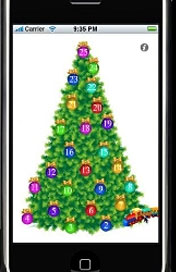 Advent Calendar - iChristmas application is just like the Traditional Advent Calendars with something to open each day, just it is on your iPhone/iTouch. It also has the added benefit of a countdown timer to Christmas so you always know how long till Christmas.
Advent Calendar - iChristmas has two themes:
iChristmas - based on the principle of receiving a gift everyday to decorate your Christmas Tree
iCute - for lovers of animals - each day they can open a unique Christmas image.
You can switch between these two themes at any time.
Don't forget you can't open any of your gifts until the 1st of December. But if you really cant wait - you can change your date settings to December and have a sneak peak.
So what are you waiting for? Download this great application now and enjoy the thrill and anticipation of your own iPhone/iTouch advent calendar in the lead up to Christmas 2008.
Link: iChristmas Advent Calendar (only available through the Apple App Store)
Softpress Releases iPhone Update for Freeway, Launches Black Friday Promotion
PR: Softpress Systems today released Freeway 5.3, a free update to its award-winning web design software. The release offers a new solution to the problem of displaying Flash Video (FLV) content on the iPhone by placing both FLV and iPhone-friendly QuickTime formats of the movie on the page, and serving the appropriate one for the viewer's device.
Additionally, Softpress has announced a special Black Friday promotion. From today until December 7th, anyone purchasing full-priced copies of Freeway Pro or Freeway Express directly from the Softpress Store will receive an iTunes gift certificate via email. Certificates are fully transferable, and make great holiday gifts. Freeway Pro buyers will receive a $50 certificate and Freeway Express buyers will receive a $20 certificate. More information can be found on the Softpress website.
"The absence of Flash video support on the iPhone has been a headache for many designers," Softpress US Marketing Manager Ian Schray said. "With Freeway 5.3, web developers can use Flash movies in their sites, and be confident that iPhone owners won't be left out."
New Features:
In addition to the groundbreaking features in its initial release (CSS menus, Google Actions, Blogger templates, script.aculo.us Actions and dozens more), Freeway 5 now includes iPhone Actions to create QuickTime reference movies of varying qualities, automatic device and connection type detection, and the ability to serve the most appropriate content to each individual user.
Also, Freeway now allows website developers to employ iPhone redirects - iPhone or iPod touch user can be redirected to a page that has been designed specifically them. The very useful "Building websites for the iPhone with Freeway" document can be found on the Softpress website.
Freeway 5.3 is a free download for all registered owners of Freeway 5. Updates can be downloaded from the Softpress website. Freeway 5 Pro and Freeway 5 Express are both available for purchase and immediate electronic delivery directly from the Softpress Store.
Full versions of Freeway 5 Pro can be purchased for $249, and Freeway 5 Express is $79. Upgrades from Freeway 4 Pro to Freeway 5 Pro are $99, upgrades from Freeway 4 Express to Freeway 5 Express are $59. Owners of Freeway 5 Express can upgrade to Freeway 5 Pro for just $169.
For a limited time, owners of Dreamweaver CS4 or GoLive 8 or later can purchase Freeway Pro at a huge discount. See the Silver Lining page on the Softpress website for more info.
Freeway, famous for its ease-of-use and clean standards-compliant code generation, is the tool of choice for professionals and home Mac users who prefer to focus on design issues, not on coding!
Bjango Introduces Darkness 1.2 for iPhone and iPod touch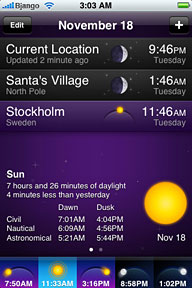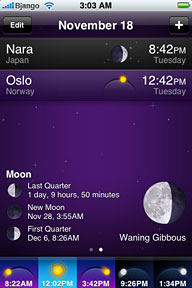 PR: Bjango introduces Darkness 1.2, an advanced world clock with some unique and interesting features. Darkness lets you see the current moon phase, the next 3 major moon phases, time for sunrise, noon, sunset, moonrise and moonset for any city in the world.
Darkness features a huge database of well over 8500 cities and 180 countries. Custom cities can be added in the unlikely event that you can't find what you're after. If you do enter a custom city, it can be sent to Bjango for inclusion in a future version of Darkness.
A special 'Current Location' city can also be used, which will track your position dynamically using GPS, giving you sunrise, sunset and other information for exactly wherever you may be.
Everything Darkness needs is stored in the app itself, so no internet connection is required.
Darkness is now localized for German and partially localized for several other languages, including French and Spanish, with more languages to follow in future versions.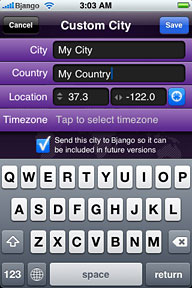 New in version 1.2:
Added "Current Location" city that uses your current location from GPS.
Added 6000 new cities (over 8500 in total now).
Fixed time zone bugs with several cities.
Added editing of custom cities.
Added German localization.
Added partial localization for French, Italian, Japanese, Chinese, Swedish, Dutch, Portuguese, Russian, Spanish.
Updated moon images.
Improved accuracy of moon phase calculations.
Now shows exact time of moon phases.
Supported Languages: US English, UK English, German. Partial localization for French, Italian, Japanese, Chinese, Swedish, Dutch, Portuguese, Russian, and Spanish.
System Requirements: iPhone or iPod touch 2.0 or later
Darkness 1.2 for iPhone and iPod touch is $1.99 and available exclusively through Apple's App Store.
Link: Darkness (only available through the Apple App Store)
VelaClock: A World Clock with Sun/Moon Info for iPhone/iPod touch
PR: Vela Design Group announces VelaClock 1.3 for iPhone 3G, the original iPhone, and iPod touch. VelaClock is a world clock with an easily configurable user interface. Users can quickly display the time of sunrise, sunset, and three kinds of twilight (civil, nautical, astronomical) for both dawn and dusk, duration of daylight, moonrise, moonset, moon phase and tilt and more. VelaClock is especially popular among photographers looking for the magic hour.
VelaClock displays a list of cities and corresponding local times. The rows in the city list can show a daylight bar that gives the user a picture of 24 hours of natural light (bright daylight, three kinds of twilight and night). The daylight bar (24 hours of light) may be centered at noon or the current time. A thin white bar indicates when the moon is visible.
The detail area, below the list of cities, has three panels. A quick swipe of the finger will move between the three panels.
Detail Panel descriptions:
1. First panel shows:
Time of and countdown to the next sunrise or sunset.
Time of and countdown to the moonrise or moonset.
Name of the current moon phase.
An image of the moon as seen in the sky above the currently selected city. This image accurately depicts the moon's phase, and the angle at which the moon's crescent appears to be rotated from the vertical. Because this angle can change rapidly, it is updated once a minute.
Time until the next moon phase (new, quarter, full).
2. Second panel shows, for current day:
Times for sunrise, sunset, moonrise, moonset, and three kinds of twilight (civil, nautical, astronomical) for both dawn and dusk.
Azimuth of sunrise, sunset, moonrise and moonset. Azimuth (compass direction) is specified in degrees, 0 to 360, clockwise from North.
Daylight duration in hour and minutes. Change in minutes of daylight from the previous day.
3. Third panel shows:
Dates, times and images of the next four moon phases.
Up to 50 cities may be added from a selection of over 500 cities.
What's new for VelaClock 1.3:
Added support for Current Location. Users may add a "Current Location" place to their list of cities. The current location is recalculated each time VelaClock is launched. If network access or GPS is not available, the last current location will be used. This feature is compatible with iPhone 3G, the original iPhone, and iPod touch.
Added a Home Location place. Users may enter city name, latitude, longitude, and time zone for their Home Location. The Home Location is designed for users whose home cities are not included in the built-in list of cities.
Updated Daylight Saving Time rules for Argentina, Brazil, Mauritius, and Syria.
VelaClock 1.3 is priced at $3.99 and is available exclusively from Apple's App Store. Existing VelaClock iPhone app users may upgrade for free. VelaClock 1.0 was available on July 11th, 2008, the first day the App Store was open. VelaClock works with iPhone 3G, the original iPhone, and iPod touch. VelaClock does not require a network connection to function.
Link: VelaClock (only available through the Apple App Store)
WeSeed's iPhone App Named 'Staff Pick' by Apple
PR: Get your stock ideas anytime, anywhere
iPhone junkie? Good News! WeSeed - the site designed to demystify the stock market for real, everyday people - just took a step closer to changing the game on Wall Street as WeSeed's new iPhone application was featured as a "Staff Pick" by Apple.
The app - the first of its kind - allows users to instantly get stock ideas based on what they know and love, whether they're on the road, at the gym, or in the office. It was featured by Apple on November 14th.
WeSeed features an innovative, proprietary search tool - WeSearch - designed to deliver stock ideas based on what users know - whether it's their passions, professions, or location. Passionate about a greener world? A tech junkie? Or just a hot fashionista? Great, because WeSearch gives you instant ideas and then lets you "test drive" them in a safe, risk-free place before investing in the real world.
In essence, WeSeed brings the Peter Lynch approach of investing in what you know to the Internet, providing an opportunity for the 100 million Americans who don't directly own stock to understand what it means to be an owner - and not just a consumer - of American companies.
WeSeed, slated to launch mid-December, features stock ideas, expert commentary, community networking, and a virtual trading platform so users experiment with their stock ideas using fake WeSeed dollars. For more information about WeSeed, visit:
Link: WeSeed (only available through the Apple App Store)
Accessories
Portable Power Station for iPhone 3G with Photo Light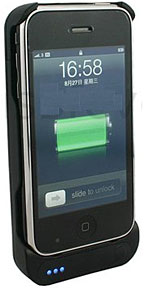 PR: If you are long away from office or home, how you can give juice to your mobile phone, it is easy, either bring a second battery with your or have an portable charger.
However, if you mobile phone is iPhone, how you rejuice it? The only way probably is to bring a portable charger with you.
However, it is too bulky.
Here we have an alternative for you, to have a portable power station for your iPhone. Yes it is bulky, but it is the only handy alternative.
Features:
Perfectly fit for your iPhone 3G
Recharge your iPhone in a convenient way
Still access to key buttons and ports.
LED indicator when power is on
On / Off Buttons
With a built-in Speaker
Volume Controls for the built-in Speaker
You can still have it for Photo-taking (still can use your camera)
with Photo Light, you can turn it on while you are taking a picture or reading something(see note below)
This accessory is compatible with: iPhone 3G
Specifications:
Input Voltage: 4.8V ~ 5.5V
Current Input: 500-1000mA
Voltage Output: 5.0 ~ 5.5V
Current Output: 100-1000mA
Capacity: 2400mAh
Li-Ion battery
Charging Time: around 3 hours
Discharging Time: round 3 hours.
Power of Amplifier Speaker: <=1.5W
Colors: Black
Note:
The Photo Light is a LED light that you can turn it on and off any time, it is not a flash light!!!
The Photo light effective range is 30cm (or 1 foot)
The photo light version is introduced on 20 Nov 2008.
For iPhone 3G only.
The speaker is both for call and music, but still recommended for call only.
You may press and hold still the ON/OFF button to turn the Battery off, but in case you would like to turn it on to charge your iPhone 3G, you may need to take your iPhone 3G out and put it back again.
If you want to rejuice (charge up) the battery, you need to take the iPhone 3G out of the battery.
You cannot sync your iPhone with your computer thru the battery.
Price: $43.99
Link: Photo Light
Protection
Sustainability Dresses Up with ReCover's Rubber iPod Cases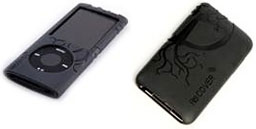 PR: ReCover launches Revive, a new line of iPod cases for ecologically-minded trendsetters. Made of thermoplastic elastomer (TPE), a recyclable copolymer that combines plastic and rubber, TPE requires less energy to produce than other plastics, and yields a durable product that can last a lifetime.
Revive cases feature a stylish organic design, and come in silver, white, brown and black. Available for both iPod nano and iPod touch, the cases' design protects the device, while leaving screens and click-wheels easily accessible.
True to ReCover's mandate, the cases are 100% recyclable. Packaging consists of 100% renewable plastic and 90% recycled paper.
The Revive line is the newest addition to ReCover's ranges of eco-friendly iPod cases. Earlier this year, the company, previously known as Imoeba World, debuted the Alpine range. Made of bonded leather, a man-made material comprised of genuine leather scraps which are near-impossible to eliminate and destined for a landfill, the Alpine case is the perfect item for eco-conscious consumers looking for both durability and style in their iPod cases.
"We are delighted to add the Revive rubber cases to our range of successful, environmentally-friendly lifestyle iPod products," says Lawrence Leung, Chief Executive of ReCover. "These sleek cases are perfect for today's consumers wishing to combine style with sustainability."
Each Revive purchase gives back to our planet. A portion of all proceeds to Earth911, the US's leading source for environmental information. GC has also partnered with tree-planting movement SeedTree, committing to plant one tree for every Recover case purchased. SeedTree assists communities in Nepal, India and Peru in planting indigenous trees and conserving traditional botanical knowledge. SeedTree strives for balance between forest ecosystems and human ecology.
ReCover has also expanded the Alpine range; in addition to alpine green and white, the Color Series is now available, with red and silver cases.
Revive iPod nano and touch cases in black and clear retail for $24.99. Alpine Color Series cases are available in silver and red, also for $24.99. All cases can be purchased at Best Buy and Fry's Electronics in the US and Future Shop in Canada.
Join us on Facebook, follow us on Twitter or Google+, or subscribe to our RSS news feed
Links for the Day
Mac of the Day: 20th Anniversary Mac, introduced 1996.03.20. Honoring Apple's 20th anniversary, the TAM was the first flat panel desktop Mac and had a unique design.
Recent Content
Custom Search
Follow Low End Mac on Twitter
Join Low End Mac on Facebook
Favorite Sites
MacSurfer
Cult of Mac
Shrine of Apple
MacInTouch
MyAppleMenu
InfoMac
The Mac Observer
Accelerate Your Mac
RetroMacCast
The Vintage Mac Museum
Deal Brothers
DealMac
Mac2Sell
Mac Driver Museum
JAG's House
System 6 Heaven
System 7 Today
the pickle's Low-End Mac FAQ
Affiliates
Amazon.com
The iTunes Store
PC Connection Express
Macgo Blu-ray Player
Parallels Desktop for Mac
eBay

Advertise