Spreading iPod Shortage, Turn iPod touch into a Phone, Christmas Ringtones for Your iPhone, and More
This Week's iPhone, iPod, and Apple TV News
Compiled by Charles Moore and edited by Dan Knight - 2008.12.05
Mac notebook and other portable computing is covered in The 'Book Review, and general Mac news is in Mac News Review.
All prices are in US dollars unless otherwise noted.
News, Reviews, & Opinion
Apps & Services
Accessories
Presentation
Protection
iPod and iPhone Deals
These price trackers are updated regularly.
News, Reviews, & Opinion
iPod Shortage Spreading
AppleInsider's Katie Marsal reports:
"Although Macs and iPhones were seen as Apple's ticket to a healthy holiday quarter, the electronics maker has reportedly been struck by surprising demand for iPods and is now scurrying to restock some of its reseller channels...."
Link: Apple's Unexpected iPod Shortage Spreading
iPod Sales May Have Peaked
BusinessWeek's Arik Hesseldahl says:
"With fewer iPod users upgrading, the days of explosive growth are over. And that leaves iPhones and Macs picking up the slack.
"Strange as it may sound, Apple may have an iPod problem. The iconic music player cemented the company's reputation for innovation and fueled its financial success in recent years. But those days appear to be over. Legions of iPod owners see little reason to upgrade, especially with the rocky economy. As a result, some analysts believe this will be the first quarter since the iPod was introduced in 2001 that sales will decline from the year-earlier quarter...."
Link: Apple's iPod Problem
More Women than Men Buy iPhones
The Herald Sun's Richard Conrad reports:
"The fad iPhone has surprised the tech set by finding more homes in handbags than suit pockets.
"Australian mobile phone companies confirmed more women than men were buying Apple's fancy iPhone, with one source saying up to 70 per cent of iPhone sales were to females.
"Vodafone's general manager for Victoria and Tasmania, Paul Guerra, said the company hadn't researched why women had turned out to be much more receptive to the iPhone than men, despite early assumptions it would appeal more to men."
Link: More Women than Men Buy Apple's iPhones
Cell Phones Distract Drivers More Than Passengers Do
PC World's Jeff Bertolucci reports:
"Cell phones distract car drivers more than talkative passengers, and hands-free devices don't make for safer driving, according to a recent Reuters report on a new study published by the Journal of Experimental Psychology: Applied. Even worse, drivers who use mobile phones are as impaired as those who are legally drunk."
Link: Cell Phones Distract Drivers More Than Passengers Do
Apple Taking Orders for New In-ear Headphones
AppleInsider's Sam Oliver reports:
"Apple this week began accepting orders for a pair of new headphone options designed for iPods, nearly three months after the accessories were first announced at a September media event.
"The Apple online store is now reflecting availability of the $79 Apple In-Ear Headphones with Remote and Mic within 7-10 business days, while the $29 Apple Earphones with Remote and Mic carry a 3-4 week wait, and thus may not ship in time for the holidays."
Link: Apple Finally Taking Orders for New In-ear Headphones
Has Apple Finally Got Safari for the iPhone Right?
ZD Net's Adrian Kingsley-Hughes says:
"Is it me or has Apple finally managed to get Safari for the iPhone/iPod touch right?
"I ask because I, along with about a dozen people who took the time to email me, have noticed a stark improvement in the reliability of Safari on the iPhone/iPod touch platform since installing the 2.2 firmware update...."
Link: Has Apple Finally Got Safari for the iPhone Right?
Wireless Connection Can Extend Battery Life of Devices Like iPhone by Up to 12 Times
Canwest News Service's Sarah Schmidt reports:
"An Ottawa inventor has pulled off something the titans of innovation behind the iPhone couldn't - find a way to reduce power consumption of the 'power-sucking' device to increase battery life.
"Atif Shamim, an electronics PhD student at Carleton University, has built a prototype that extends the battery life of portable gadgets such as the iPhone and BlackBerry, by getting rid of all the wires used to connect the electronic circuits with the antenna.
"Research on the invention, to be published in the upcoming edition of Microwave Journal, has already received international accolades."
Link: Wireless Connector Can Extend the Battery Life of Devices Like the iPhone and BlackBerry by Up to 12 Times
Make Your Own Cardboard iPhone Dock
Geeky-Gadgets' Fatgadget says:
"The 3G iPhone doesn't come with a dock , unlike the 2G version, instead you have to spend an extra $29 on an Apple iPhone 3G Dock.
"So we decided to make our own iPhone dock, that was easy for anyone to make and can be made from readily available materials.
"We decided to make our dock out of cardboard, and wanted anyone to be able to print one off on their printer so we kept the size to A4.
"Initially we weren't sure if cardboard would be strong enough to use as an iPhone dock, but after playing about with various designs and thickness of cardboard we found out it works really well."
Link: Make Your Own Cardboard iPhone Dock - Full Instructions
Linux Running on the iPhone
The Register's Bill Ray reports:
"The iPhone DevTeam has managed to get a Linux image to boot up on an iPhone, at least to console level, though they've resolutely failed to explain why one would want to do such a thing.
"It's hard to imagine there are many iPhone users out there who love the hardware but are unhappy with the OS and interface, but that's never stopped the Linux crowd before. They won't be happy until the little penguin has been replicated everywhere, and today it's the turn of the iPhone to feel the touch of rebel code."
Link: Tux Makes Home on the iPhone
Apps & Services
Truphone Turns iPod touch into a Phone
PR: Described by Apple itself as the "funnest" iPod ever, the iPod touch may now be the "useful-est," too, thanks to free software, Truphone for iPod touch - that effectively turns one into a mobile phone*.
Not only is the software free, but calls made using Truphone's application for the iPod touch are also free - just in time to save precious cash when making those holiday calls to friends and family.
Once installed, and with the addition of a microphone adaptor (Truphone microphone adaptor available soon)*, iPod touch owners can make free calls - no matter where they are in the world - to other iPod touch owners, to customers of Truphone's Internet telephony service, and to users of Google Talk instant messaging service.
Truphone for iPod touch will become a one-stop-shop social hub with the following features coming soon:
Calling to landlines (PSTN) at low cost (simply set yourself up with a Truphone account);
Instant messaging to Skype and MSN (free);
Calling to Skype users (free);
Calling to MSN users (free);
Check and set facilities for Twitter (free);
Check and set facilities for Facebook (free).
Truphone for iPod touch is easily downloaded from Apple's App Store in exactly the same way as any other iPod touch application.
The software uses the iPod touch's WiFi connection to carry calls over the Internet to its destination. There is no monthly line rental, no subscription or other hidden charges.
*Microphone adaptor accessory currently available at the Apple Store.
Truphone is not a replacement for an ordinary telephone service and emergency calls cannot be made using Truphone. Truphone cannot advise on the legality of VoIP (voice over IP) services in specific territories or jurisdictions. It is the user's responsibility to confirm that use of the Truphone VoIP software and service is permitted in the location in which they use it.
Types of free calls that can be made:
iPod touch to iPod touch
iPod touch to Truphone (some Nokia handsets)
Truphone (same Nokia handsets plus iPhone) to iPod touch
iPod touch to Google Talk PC user
Requirements
A second generation iPod touch (i.e., current model)
A free download of Truphone for iPod touch
A headset and microphone like those for the iPhone. These may be bought at high street electronics retailers or from an Apple Store
Friends also using Truphone!
Making a Truphone call on an iPod touch
This couldn't be simpler: The Truphone application provides you with a virtual keypad that enables you to make the call.
How it works
Truphone works by routing calls over the Internet through a WiFi connection.
The first true mobile Internet network operator, Truphone allows users of WiFi-enabled mobile phones to make and receive regular telephone calls, and to send and receive SMS (text) messages, using only a WiFi connection and the internet. It has users in 149 countries.
Truphone is the trading name of Software Cellular Network (SCN). SCN is privately owned, funded by both venture capital investment and angel investors.
Link: Truphone (only available through the Apple App Store)
RingtoneFeeder Offers Christmas on Your iPhone Theme
PR: RingtoneFeeder has announced their "Christmas on your iPhone" theme. This holiday season, RingtoneFeeder is wishing iPhone owners a Merry Christmas with 24 unique iPhone optimized Christmas ringtones. You get 6 ringtones each week for 4 weeks this December for only $4.99 - starting Monday, December 1, 2008.
The theme is "Christmas on your iPhone", and the concept is in line with the RingtoneFeeder business model of subscription ringtones for the iPhone. The twist is that these tones are all one theme and they are all released during December 2008. This product is one-time payment, unlike the monthly or annual subscription services which are recurring.
The subscribers will be receiving 6 iPhone ringtones every week for 4 weeks in December via iTunes. All the ringtones will be made available in two versions, with and without a ringing sound embedded. The concept is to be able to have a variety of cool ringtones this holiday season and by releasing 6 every week the subscribers will have enough to literally have a new Christmas ringtone on their iPhone every day until Christmas.
"We are really pleased with the strong subscriber base we have built up since the launch of RingtoneFeeder earlier this year. We will continue to expand and improve our product range - Christmas is an obvious theme and we are excited about this new type of product." said Geoff Smith, Partner and Producer at RingtoneFeeder.
RingtoneFeeder is a new and innovative approach to ringtones offering a subscription model which automatically installs new original ringtones on the iPhone via iTunes every week. The earlier a subscription to the service is made the bigger collection the subscriber will have. When a ringtone has been released it will not appear in the weekly updates ever again. The 10 latest ringtones are delivered when subscribing and then an additional two new ringtones every week.
RingtoneFeeder Plus provides access to the entire archive of ringtones produced by RingtoneFeeder in two separate feeds - one for vocal and one for instrumental iPhone ringtones from just $9.98 (an active annual subscription is required) or $29.95 for an annual subscription with archive access.
There is a free demo feed available so the service can be tried out with no obligations. The free feed contains sample ringtones as well as an introduction video and a PDF guide to managing ringtones via iTunes.
Geoff Smith has been producing and playing music most of his life and is mostly known online from his jingles heard on Adam Curry's Daily Source Code Podcast, GeekBrief, Tips from The Top Floor, ScreenCasts Online, the successful iYule project and recently the theme song for TWiT Live. Geoff began composing jingles and theme songs for podcasters back in 2005 and has literally written hundreds.
Link: RingtoneFeeder (only available through the Apple App Store)
Zicam Launches 'Cold & Flu Companion' Mobile Application
PR: Matrixx Initiatives, Inc., makers of Zicam Cold Remedy, have announced the launch of the Zicam Cold & Flu Companion mobile application for the T-Mobile G1, the world's first Android-powered phone. The same mobile application will be released for the iPhone in mid-December. The application enables on-the-go consumers to take charge of their health by checking cold and flu activity by zip code, among other features.
In time for the start of cold and flu season, this application allows active users to access up-to-date information from any location. On Tuesday, Nov. 11, Google launched Flu Trends, a Web service that can show if the number of flu cases is increasing in areas around the United States. The Zicam Cold & Flu Companion mobile application provides greater detail than this service by showing users the percentage of sick people in any given zip code, what types of symptoms are most prevalent and which ones to look out for in a specific area. The application also keeps users updated on the latest cold and flu news. Zicam Cold & Flu Companion provides vital information to keep consumers healthy and informed whether on the move around town, traveling for business or going on vacation, so they are prepared no matter where they are.
"The Cold & Flu Companion offers an innovative and customizable resource for consumers to prepare for the cold and flu season," said Tim Connors, vice president of marketing at Matrixx Initiatives, Inc. "Knowing the latest cold and flu news and understanding the cold, flu and cough activity in a localized area can aid consumers in being aware of the risks around them."
The application also provides a tool to receive valuable coupons for Zicam products and location-based directions identify nearby retailers where products can be purchased and coupons redeemed.
The application is currently available for Android-powered phones at the Android Marketplace on the user's T-Mobile G1 device and will be available in mid-December for the iPhone at the iTunes App Store.
1 Hirt M, Nobel S, Barron E. Zinc nasal gel for the treatment of common cold symptoms: A double-blind, placebo-controlled trial. Ear Nose Throat J. 2000;79:778-780, 782.
2 Mossad SB. Effect of zincum gluconicum nasal gel on the duration and symptom severity of the common cold in otherwise healthy adults. QJM. 2003;96:35-43.
Link: Zicam Launches 'Cold & Flu Companion' (only available through the Apple App Store)
Apple iPhone Configuration Utility 1.1 for Mac OS X
PR: Create, maintain, sign configuration profiles, install profiles, more.
iPhone Configuration Utility lets you easily create, maintain, and sign configuration profiles, track and install provisioning profiles and authorized applications, and capture device information including console logs.
Configuration profiles are XML files that contain device security policies, VPN configuration information, WiFi settings, APN settings, Exchange account settings, mail settings, and certificates that permit iPhone and iPod touch to work with your enterprise systems.
System requirements: Mac OS X 10.5 or later.
System requirements: PPC/Intel
Link: Apple iPhone Configuration Utility 1.1 for Mac OS X
FastCall Streamlines Making Calls on Your iPhone
PR: Say hello to FastCall. Now there's a faster way to find, call, SMS, and e-mail your contacts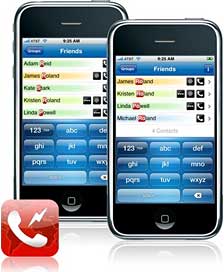 If you find that you spend most of your time looking for people in your Address Book, you're not alone. What if the built-in Address Book was smart enough learn from your usage habits and intelligently help you find the right person? Say hello to FastCall. Now there's a faster way to find, call, SMS, and e-mail your contacts.
Friends, family members, and colleagues are just a few quick taps away. And no, you don't need a QWERTY keyboard and some good luck to find them. As you press keypad buttons to narrow down the search, FastCall uses every trick in the book to pull the right name out of a hat.
FastCall's uniquely designed keypad combines multiple letters on each button, making it ideal for one-handed searching. Typing accuracy is improved because each button has a larger surface area than the standard onscreen QWERTY keyboard. And with less buttons, the search naturally becomes fuzzier resulting in more results - a trait that's helpful when you're having a difficult time finding someone.

FastCall is quick for making phone calls and sending e-mails/text messages, too. The Quick Connect view displays only connection-friendly fields (and hides the rest) so you'll be talking and texting in no time.
With Heatmap, you can find out who you communicate with most often. Contacts that you frequently access appear in hot colors. All the others are displayed in cooler colors. What's more, Heatmap learns from your usage habits, so it's always getting smarter. You can even sort by Most Frequently Accessed so that the hottest contacts always appear at the top of the search results.
FastCall is most effective when it comes to searching a massive number of contacts. Advanced caching systems and finely-tuned search engine code keep FastCall fast. Throughout the development process, FastCall was benchmarked and optimized for use with thousands of contacts. So no matter how large (or small) your Address Book is now and how much it grows in the future, you can be sure that FastCall will remain just as effective.
FastCall is available in the App Store for $2.99
Link: FastCall (only available through the Apple App Store)
Weightbot 1.1 for iPhone and iPod touch Released
PR: Tapbots announces Weightbot 1.1, the newest version of the best weight tracking program for the iPhone and iPod touch. Weightbot is a weight-tracking robot. Whether you are trying to lose (or gain) weight, tracking your progress has never been more fun. Set your goal, record your weight, view your BMI, and see your progress on a beautiful graph. Weightbot was designed for everyone to use.
New in this version:
Month and year graph views
Moving average line in graph views
Backup and restore
Features:
Input your weight up to once a day with a streamlined user interface
Easily change or remove your weight from any day
Instantly view your BMI as you set your weight
Set your goal weight to know where the finish line is
View your weight over time on a beautiful and easy to read graph
Toggle units between lb./kg for weight and ft/cm for height
Set a numeric passcode to protect your data from being viewed by others
Coming Soon (Free Updates):
Export data into a portable format
Data summary view. Tells you average weight lost per week/month, forecasts, and more
Localization
System requirements: iPhone or iPod touch with OS 2.0 or later.
Weightbot 1.1 is available now worldwide and can be purchased from the iTunes App Store for $3.99.
Link: Weightbot (only available through the Apple App Store)
Free iPhone App in the Zumobi Network Connects Users with Social Networks
PR: Zumobi has announced the availability of Ziibii, a free iPhone App now available on iTunes. Ziibii users enjoy a new way to stay in-touch and in-the-loop with friends, photos and the world around them. Blending Facebook, Twitter, Flickr , YouTube, and web content into a fresh experience, Ziibii is easy-to-use, fun to explore, and offers great features for wireless consumers as well as brands.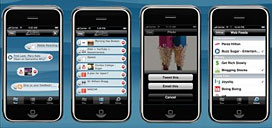 Ziibii enables real-time social interaction between users across a variety of popular social media applications, as well as ongoing discovery of news, stories and blogs throughout the day. Displayed on the screen of the handset, Ziibii's visual expression metaphor is a river with content "rafts" floating with the user's predefined content, including direct-connect to social networking sites and RSS feeds. A video of the demo can be seen on YouTube and additional information can be found at Ziibii.com
Branding Opportunities
Ziibii's highly engaging environment also offers a unique showcase for brands. With Ziibii's creative inventory of advertising and sponsorship opportunities, brands are seamlessly immersed into content flow, becoming part of the user's ongoing engagement and product experience. Offering compelling content discovery and real-time interaction between wireless users, Ziibii offers a creative inventory of mobile advertising, sponsorships and media units to maximize brand impact, and features advanced reporting tools and analytics for usage and behavior.
"Smartphones have clearly emerged in the mainstream marketplace, no longer used solely by the business community, and the advent of the iPhone took the concept of the smartphone to the next level," said John SanGiovanni, Co-Founder and Vice President of Product Design. "As consumers flood to what Zumobi refers to as 'Superphones,' Ziibii brings benefits to brands looking for a new way to engage users while providing a unique and fun way for people to stay connected to the content they want."
About Zumobi & The Zumobi Network
Zumobi is a mobile media company that creates innovative applications which run on next generation smartphones. These applications provide unique and compelling opportunities for brands to engage and interact with their target audiences.
Link: Ziibii (only available through the Apple App Store)
Exercise Smarter, Not Harder, with New iPhone Application
PR: New Leaf's Active Metabolic Training program and test is offered in select health clubs, personal training studios, medical fitness facilities, and performance training centers throughout North America and the UK where a simple 10-15 minute assessment determines your unique response to exercise through measurement of the amount of oxygen and carbon dioxide you breathe.
For more information and to locate the nearest New Leaf Active Metabolic Training facility, visit newleaffitness.com This unique metabolic profile allows New Leaf to assign personalized heart rate training zones and programmed exercises to take the guesswork out of how to Make Every Workout Count?. The profile also enables the tracking of the actual fuel source - fats or carbs - of your caloric burn rate. Consumers can access their information and track workouts at New Leaf's online portal, eNewLeaf.com.
Leveraging the iPhone's internet connection to eNewLeaf.com, iNewLeaf downloads a user's customized exercise plans and training zones as well as other data. iNewLeaf tracks not only standard metrics such as heart rate and cycling speed, power and cadence but also provides actual calories and fat calories burned, TRUcal and FATcal. After a workout, iNewLeaf effortlessly uploads the workout data to eNewLeaf.com without the need to perform any synching process or procedure.
"New Leaf is once again helping redefine fitness by personalizing each workout to give you real results," said Rod Young, CEO and President of Angeion. "iNewLeaf reports TRUcal and FATcal metrics on the iPhone as you exercise, giving you an actual caloric snapshot that guides your training to improve metabolic efficiency regardless of whether your goal is to lose unwanted fat or win the next marathon," Young continued.
"Common exercise equipment, heart monitors and fitness apps provide estimates of calories burned based on basic personal settings like age, weight and gender. Some estimates are better than others, but iNewLeaf is the first truly "smart" fitness app on a smartphone because true calories are calculated based on a user's unique metabolic data and heart rate while exercising," said Michael Williams, founder and CEO of iTMP.
Additional hardware required: iTMP's SMHEART LINK is a wireless bridge from the iPhone to fitness sensors such as heart rate straps or cycling speed, cadence, and power sensors on your indoor or outdoor bikes. SMHEART LINK also stores an entire workout's worth of data, compiling information even if the iPhone is interrupted by a call or if the iPhone is not present. The result is an uninterrupted workout profile that can be reviewed during or after a workout and uploaded to New Leaf's training and tracking website, http://eNewLeaf.com
SMHEART LINK has a suggested retail price of $149.95 and will be available for the holiday and New Year's resolution seasons online, where users can also find additional product information and request to receive updates. Until that time, iNewLeaf is available on the iPhone App Store running simulated heart rate data so users can see how the application monitors and manages their cardio fitness.
Link: SMHEARTLINK (Active Metabolic Training for iPhone only available through the Apple App Store)
Major Update to Flick Fishing for the iPhone and iPod touch
PR: iPhone game developer Freeverse announces that Flick Fishing, currently the #1 selling game in the Apple iTunes App Store, is set to receive a major update in the next few days. The Flick Fishing update to version 1.2, already submitted to Apple for approval, adds a slew of new features that enhance an already immersive fishing experience.
New to this version of Flick Fishing is the ability to play in 'Quest' Mode, where you must help the Old Guy in the Lighthouse with his new job running the Island's virtual aquarium by catching fish. There is also an unlockable 'eXtreme Fishing' Mode, where you can hook much bigger fish, but with more skill required to reel them in.
Other changes include:
Unlockable new fishing location: Night Fishing
4 New fish: Brown Trout, Bream, Wahoo and a new 'named' fish - Lures and Spinners now work without floats and add a different fishing action
Various secret 'power-ups' that can be unlocked to help catch bigger fish
3, 5, and 10 minute tournament length options
Ducks retuned
CPU player reeducated in tournament ethics
Various bug fixes, tune ups and improvements
Flick Fishing, the groundbreaking game created exclusively for the iPhone and iPod touch, combines detailed "living" environments with intuitive real-life controls to create the best fishing game available for any mobile device. Cast the line with a flick of the wrist. With your skillful combination of bait, location, and technique you'll hook your fish - now you just need to reel it in! You'll have to reel carefully to avoid snapping the line and losing your fish. Larger fish are strong, and won't be hauled in easily!
Flick Fishing is immediately available for just $0.99 from Apple's App Store.
Link: Flick Fishing (only available through the Apple App Store)
Accessories
New Battery Triples Battery Life of iPod, iTouch, G3 iPhone
PR: QuickerTek has debuted a new external battery that works across the range of Apple mobile products. Now iPod, iTouch, and G3 iPhone users get up to three times the battery life. This new external battery is available from QuickerTek and dealers for $44.95.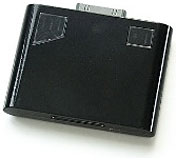 Rick Estes, QuickerTek, Inc. said, "This new battery extends the mobile experience of Apple portables from the G3 iPhone to the iPod. Our users have asked us to extend the battery line from laptops to the "i" products, and we engineered a way to make this outstanding battery technology work. Our testers loved the 30 extra hours of music, 6 hours of video and 3 extra hours of talk time on the iPhone," Estes stated.
QuickerTek battery simply attaches to the iPod/iTouch/G3 iPhone. It has a retractable USB charging cable, making it easy to recharge after a long stretch of battery use. And this same cable not only charges the external QuickerTek battery, but also charges the internal battery as well.
Like most QuickerTek products, the iPod/iTouch/G3 iPhone Battery & Charger is backed with a one-year warranty on parts and labor.
Link: iPod/iTouch/G3 iPhone Battery & Charger
2 Way Cigarette Outlet Adaptor with Dual USB Port
PR: The universal car cigarette outlet adaptor with 2 outlet holes allows you to use your car cigarette lighter with dual USB port to charge more than one portable product at the same time. Now you can charge your cell phone, iPod, PDA or MP3 while using your radar detector or GPS on the go.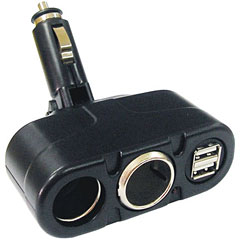 Features:
Dual way splitter (12~24V) for charging all in car accessories
With TWIN USB Port (5V, 100mA)
LED indicator (ON when power is on)
Short Circuit Protection (with 5A fuse Protection)
Flame Retardant Matering (Casting)
Sleek Surface
Specifications:
DC Cirarette Outlet input: 5A max.
DC5V +/- 0.25V, 1000mA with resistive loading
5A Fuse Protection
The accessory is capable to charge:
Cellphone
PDA
Pocket PC
iPhone 3G (or iPhone 2.0)
iPhone 2G (or iPhone 1.0)
iPod Classic
iPod touch 1st & iPod touch 2nd
iPod 5th Gen (Video)
iPod 4th Gen (Photo)
iPod 3rd Gen
iPod shuffle 2nd
iPod nano 4th
iPod nano 3rd
iPod nano 2nd
Palm devices... etc.
iPod Video
$14.99
Link: 2 Way Cigarette Outlet Adaptor with Dual USB Port
Universal Travel Charger for iPhone/iPod/etc.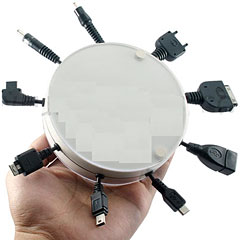 PR: Want to be centre of attractions? Guess everyone wants to be, but not everyone can do that. However, we can! Not our appearance, but something that you just need to have creativeness with hardworking.
The charger can charge almost 99% of nowadays mobiles (major brands) because it has connector tips for Nokia, Sony Ericsson, Samsung, LG, Motorola ...
What's more???
It has a USB Female socket, which means you can still connect something that it has no yet built-in connectors for e.g. GPS, PDA...
Of course, a connector tip for iPhone and iPod is at no way to drop out!!!
Lastly, it has an internal rechargeable battery (rechargeable by AC Power), so you can TAKE IT ANYWHERE with you.
Features:
Designed as a hub for charging your cell phone, PDA, GPS, iPhone / iPod
Charge up to 3 devices at a time (see notes below)
Up to 9 charger cable allows you charger 99% of major brand's phones
With internal rechargeable battery that lets you use it remotely (you may take it to anywhere you like)
LED indicator
USB A Female socket that makes extension is possible (to charger other USB BUS Powered devices but not in the 9 built-in connector tip
Recharged by AC Power
With Short Circuit Protection
Flame retardant material Casting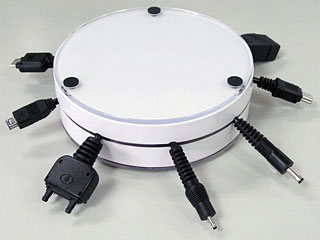 Specifications:
Input: AC100 ~ 240V 50~60Hz
Output: DC5.0V ~ 5.8V +/- 0.30V, 500mA ~ 1000mA (see note below)
Operating Temperature??10? to ?40?
Storage Temperature??20? to ?70?,
The accessory is capable to charge:
Cellphone
PDA
Pocket PC
iPhone 3G (or iPhone 2.0)
iPhone 2G (or iPhone 1.0)
iPod classic
iPod touch 1st & iPod touch 2nd
iPod 5th Gen (Video)
iPod 4th Gen (Photo)
iPod 3rd Gen
iPod shuffle 2nd
iPod nano 4th
iPod nano 3rd
iPod nano 2nd
Palm devices... etc.
iPod Video
HTC PDA Phone (including T-Mobile G1)
Options: Power Plug
US Power Plug (default option to be shipped)
EU
UK
(We will try our best to ship the desired one to you, but we reserve to ship you a US Power Plug regardless which Power Plug that you've selected)
Note: The internal battery is Lithium Ion (Li-Ion) 1300 mAh
You can charge up to 3 devices at the same time, but optimally it will be better that just charge one device at a time
To turn on the Multi-Charger, you should use a pin or pen-tip to press the Power Button to the On position
It approximately takes 2 hours to have the internal battery fully charged
The current setting for Sony Ericsson, Nokia Connectors are 5.8V; Micro USB, USB A Female socket & iPod/iPhone is 5.0V; Samsung, LG & Mini USB 5 pin is 5.3V
$49.99
Accepting Pre-Orders, will be able to ship on/before 31 DEC 2008
Link: Universal Travel Charger
The iPhone Book: How to Do the Things You Want to Do with Your iPhone, 2nd. Ed.
PR: Fully updated to cover Apple's new iPhone 3G, this show-me-how-to-do-it book skips all the confusing techno-jargon and just tells you, in plain simple English, exactly how to use the iPhone features you want to use most.
The iPhone Book is from Scott Kelby, the award-winning author of the smash bestseller The iPod Book, who takes that same highly acclaimed, casual, straight-to-the-point concept and layout and brings it to learning Apple's amazing iPhone. Scott teams up once again with tech guru and leading iPhone authority Terry White to put together a book that is an awful lot like the iPhone itself: simple to use and fun to learn.
The book's layout is brilliant, with each page covering just one single topic, so finding the information you need is quick and easy, with a large full-color photo on each page so you can see exactly how it works. You'll quickly learn how to use the most useful and most requested iPhone features so you can start having fun, and start really using your iPhone today - right now. If you're ready to learn just the funk and not the junk, it's all here in the only book of its kind and you're going to love it.
Author(s): Scott Kelby, Terry White
Publishers: Peachpit Press
Published: September 2008
Format: Paperback, 264 pages
Dimensions: 6.0 x 9.0 in./15.24 x 22.86 cm
$19.95
Presentation
iRhythms Portable iPod Speaker Perfect for the Home and On the Go
PR: The leading internet retailer of iPod speakers and iPod accessories easyishop.co.uk has the answer to listening to music aloud on the go and in the home. While travelling on a business trip or on a holiday, it's easy to take all your music with you in your iPod. It's harder to share that music though, which is why portable iRhythms A-491 Portable Speaker dock is ideal for iPod's and so useful.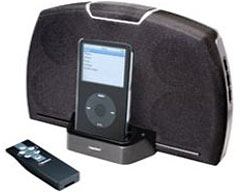 The portable iPod speaker system made by iRhythms is the perfect accessory for any iPod as it enables the user to listen to high quality sound from a single unit whether it is in the home or elsewhere. The iRhythms A-491 Portable Speaker is the perfect accessory for taking outdoors as it has the possibility to be run on long lasting rechargeable batteries. Due to its small size and the protective carry case which comes with the speaker, it allows the user to move it around with them very easily.
As is traditional for iRhythms , it has a dock that is compatible with all iPod's (except shuffle) which sits in front of the speakers. When the iPod is docked it is also charged by the speakers AC adapter which is included or by the built in rechargeable battery. It also comes with a wireless remote control which lets the user operate their iPod and browse their content from anywhere in the room.
At the back of the speakers there are holes for attaching a supplied bracket, making it easy to mount to a wall. This wall mounting is why the ports at the back are located on a rotating central piece - so that they can point down and still be accessible. The connectors are the power switch, the AC power connector, the auxiliary line in, with a cable supplied, and an S-Video out, so you can watch your iPod videos on the big screen.
"The ability to use this in the home and mount it up against a wall while being able to take it outdoors is great and the iRhythms A-491 Portable Speaker is a perfect speaker for anyone that is often on the move" says James Nicholson, Managing Director of Micro Heaven Ltd.
The iRhythms speaker comes with a 'Made for iPod' logo which indicates that this product has been designed specifically to work with iPod. The product has the same high standards of quality and performance that you expect from iPod and Apple.
The iRhythms A-491 Portable Digital Speakers are priced at £49.99 and are available online via the easyishop.co.uk website or by the sales line.
Link: iRhythms Portable iPod Speaker
Protection
SwitchEasy NeoTouch for iPod touch 2G
PR: SwitchEasy Limited announces the immediate availability of its latest creation, NeoTouch full polycarbonate hard case solution for iPod touch 2G.
NeoTouch is the world's first hard case solution with patent pending 7-point locking mechanism for iPod touch 2G.
Features:
World's first 7-point locking mechanism safely secures your iPod touch 2G inside the case.
Ultra-thin TactileThin membrane silicon inner skin to protect iPod touch's delicate finish from scratches.
Hard shell made with ultra durable GE LEXAN polycarbonate plastic.
Extra thick tactile silicon buttons for enhanced sensory experience.
Revolutionary patent-pending space age H-Frame shock resistant design protects your iPod touch 2G from accidental drops and misuse.
360º full protection with connector protection.
Universal dock adapter allows safe charging on all universal dock compatible speakers and accessories.
Our NeoTouch package includes:
One NeoTouch unit
(2) TactileThin silicon membrane
(2) Two antistatic Screen Guards
One Microfiber Wipe
One Screen Guard squeegee applicator
One 30-pin connector protector
One Universal Dock Adapter
One 3.5mm Headphone Adapter
One Video Stand
SwitchEasy NeoTouch comes initially in two primary colors (black and white) which will complement any fashion needs. The suggested retail price of SwitchEasy NeoTouch is $29.99 in US and Canada, and open price for the rest of the world.
Link: SwitchEasy NeoTouch
ShadesCases Releases Shades for the 4G iPod nano & 2G iPod touch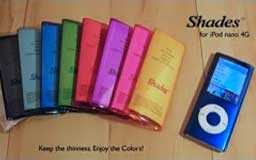 PR: ShadesCases Inc. releases Shades Cases for the new iPod touch 2G & iPod nano 4G The new cases are now available to purchase online at shadescases.com, starting at $14.95 for the nano 4G cases and $16.95 for the Touch 2G cases.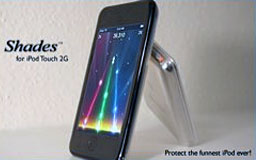 The new cases keep the same thin, sleek look as the original Shades iPod cases - measuring only .4mm thin and weigh an airy 0.5ozs with built-in ultra-clear screen protection. A new important Feature, is now the Shades Cases are sprayed with a special coating causing the cases NOT TO stick to the iPod's screen creating a better viewing experience! The new cases will come in "11 different colors" (10 for the iPod nano 4G). Shades for the new iPod nano 4G & iPod touch 2G have a sleek cool appearance that both compliments and enhances the the iPod's and matches all the cool new colors of the new iPod nano 4G.
Getting Excellent reviews, ShadesCases Inc. sells iPod & iPhone Cases that are ultra thin and stylish. The company is built upon the the goal set forth by ShadesCases inc. CEO to provide cases showing the iPod's unique design while not being bulky or impractical.
Join us on Facebook, follow us on Twitter or Google+, or subscribe to our RSS news feed
Links for the Day
Mac of the Day: Mac Pro, introduced 2006.08.07. The last Mac to go Intel, the Mac Pro has two dual-core Xeon CPUs at 2.0-3.0 GHz. 8-core option added in 2007.
Recent Content
Custom Search
Follow Low End Mac on Twitter
Join Low End Mac on Facebook
Favorite Sites
MacSurfer
Cult of Mac
Shrine of Apple
MacInTouch
MyAppleMenu
InfoMac
The Mac Observer
Accelerate Your Mac
RetroMacCast
The Vintage Mac Museum
Deal Brothers
DealMac
Mac2Sell
Mac Driver Museum
JAG's House
System 6 Heaven
System 7 Today
the pickle's Low-End Mac FAQ
Affiliates
Amazon.com
The iTunes Store
PC Connection Express
Macgo Blu-ray Player
Parallels Desktop for Mac
eBay

Advertise