iPhone at Walmart Soon?, Best Way to Unlock iPhone, File Storage for iPhone, and More
This Week's iPhone, iPod, and Apple TV News
Compiled by Charles Moore and edited by Dan Knight - 2008.12.12
Mac notebook and other portable computing is covered in The 'Book Review, and general Mac news is in Mac News Review.
All prices are in dollars unless otherwise noted.
News, Reviews, & Opinion
Apps & Services
Accessories
Protection
iPod and iPhone Deals
These price trackers are updated regularly.
News, Reviews, & Opinion
Save $2: iPhone to Debut at Walmart
PC World's Daniel Ionescu reports:
"Wal-Mart will reportedly become the second major retail chain - after Best Buy - to sell Apple's iPhone. The iPhone 3G will be sold for $197 for the 8 GB version, a whopping $2 cheaper than in AT&T and Apple stores."
Link: iPhone to Debut at Wal-Mart: $2 Price Drop
Wal-Mart iPhone a Done Deal?
The Register's Rik Myslewski reports:
"It's now a virtual certainty that you'll soon be able to pick up an iPhone 3G at America's biggest retailer.
"According to stories published today by the San Jose Mercury News and Bloomberg, Wal-Mart employees have confirmed that the iPhone will soon join smartphones from RIM, Samsung, Pantech, Palm, and others on the shelves of the American mega-mart."
Link: Wal-Mart iPhone a Done Deal?
Apple Headed for an iPod Shortage?
PC Mag's Chloe Albanesius says:
"First the Amazon Kindles sell out. Are iPods next?
"Apple is struggling to keep up with the demand for iPods, which could lead to a shortage during the holiday season, according to a Wednesday research note from Kaufman Bros. analyst Shaw Wu."
Link: Is Apple Headed for an iPod Shortage?
Over Half of iPod Users Could Face Hearing Loss
T3.com reports:
"Will you be swapping your ear plugs for a hearing aid?
"Loud music levels might blank out the outside world, but they might also be blanking out your ability to hear in later life. Well, according to the Royal National Institute for the Deaf (RNID) anyway.
"It found that two thirds of people tested played their MP3 players at levels which can cause hearing loss, that's at a level over 85 decibels if you're interested. The RNID also found that 54 per cent of users were listening to their devices at dangerously high volumes for longer than the four hour recommended daily limit.
"The research is backed up by the World Health Organisation, which claims continued exposure to such volume will lead to permanent hearing damage...."
Link: Over Half of iPod Users Could Face Deafness
Hardware the Best Way to Unlock Your iPhone
American Chronicle's Darren Chow says:
"Lots of iPhone users have been searching if the 3G iPhone can be unlocked long before the official release of the phone. And even if it's possible to unlock the 3G iPhone, it will probably take ages before someone discovers with a working software unlock that will allow the 3G iPhone to connect to any provider.
"However, to everyone's surprise, a hardware solution instead of a software unlock was released shortly after the release of the 3G iPhone. A video is hosted to the most popular video website on the Internet, YouTube, and it clearly carrier simply by sliding in a simple piece of hardware."
Link: The Best Way to Unlock Your 3G iPhone
Earn Money with Your iPhone 3G?
The Apple Blog's Darrell Etherington says:
"My iPhone bleeds money. I buy apps, the bulk of which I never look at again. My monthly bill, in order to guarantee enough data available, is pretty expensive, especially when compared to what I was paying for earlier phones. And, to top it all of, I buy tons of accessories for my iPhone, spoiling it like a loving grandparent. Occasionally (not often, but occasionally), I find myself asking what my iPhone has ever done to pay me back? Yes, it's a great tool, but I mean really pay me back, in cold, hard cash. Now, the folks at Navizon have come up with a way for you to get a little return on your investment."
"The most interesting feature of the app, one that I hinted at earlier, is how you can receive cash rewards for using it."
Link: Earn Money with Your iPhone 3G
Firm Touts Anti-radiation Chip for Mobile Phones
Register Hardware's James Sherwood reports:
"If you believe that mobile phone use puts your brain at risk from electromagnetic radiation, then a Belgian firm's latest offering may put your mind at ease. It's a gadget that's said to neutralise a phone's potentially harmful rays.
"The E-Waves Phone Chip is essentially a bulky sticker that attaches to the back of your handset and works by using 'interference technology'."
Link: Firm Touts Anti-radiation Chip for Phones
EMI Artists Join iPhone Apps Game
PC Mag reports:
"You've played the iPhone app. Now get the soundtrack.
"EMI Music has become the first major label to line up multiple artists for an edition of Tapulous' popular iPhone game application Tap Tap Revenge.
"The new version of the rhythm game, called Tap Tap Dance, features songs by five EMI acts - Moby, the Chemical Brothers, Digitalism, Daft Punk and Basement Jaxx - as well as independent acts Justice, Junkie XL, Soul Magic Orchestra and Morgan Page."
Link: EMI Artists Join iPhone Apps Game
Apps & Services
PhoneView: Use Your iPhone for File Storage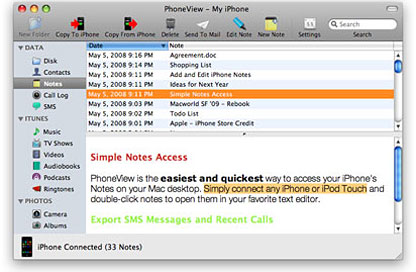 PR: With PhoneView, formerly known as MegaPhone, on your Mac, you can:
Use your iPhone as a Disk
Create, Edit and Save Notes
Play and Export Music
View and Export Call History
View and Export SMS
Export Synched Photos
Download Camera Photos
Export Contacts
Just a few more things your iPhone does. Use your iPhone or iPod touch for file storage, ensuring that you always have your important data backed up.
Send text files, PDFs, or Word files to the iPhone Notes application for reading and editing on the go.
PhoneView also provides easy access to your iTunes media, photos, notes, SMS messages, call history and contacts. Drag and drop music, videos, notes and phone data from the iPhone to your desktop or just double-click to copy.
File Storage Made Easy
PhoneView's familiar Mac OS X interface makes it simple to transfer files between your Mac and your iPhone. Use your iPhone's unused storage space as a disk drive to backup data or transfer between Macs.
Note: Files stored on the iPhone using PhoneView cannot be viewed on the iPhone screen.
Play Your iPhone's Music on any Mac
Simply double-click music stored on the iPhone or iPod touch to play it on your Mac! To add the song to iTunes with the click of one button.
Powerful Notes Access
PhoneView is the easiest and quickest way to add, view and edit your iPhone's Notes on your Mac desktop. Simply connect any iPhone and view your existing notes, or drag new notes right onto your iPhone or iPod touch.
Export SMS Messages and Recent Calls
Need access to the call history or your SMS messages stored on your iPhone? Simply drag it from PhoneView to your desktop. The information can be viewed in your favorite text editor or spreadsheet program.
Recover from Disaster
In the event of a Mac disk crash, if your music, photos, and contacts are safely stored on your phone, PhoneView is the easiest path to recovery.
Features:
Simple interface.
Store any type of files.
Access music, videos, podcasts and photos.
Instant access to Notes.
Easily create new Notes.
Export iPhone SMS and recent calls.
Use your iPhone for backup.
Bring your data between home and office.
Try before you buy
New in version 2.11:
Fixes a possible crash on launch observed by some new users.
System requirements: iPhone or iPod touch, Mac OS X 10.4.11 or later, iTunes 7.3 or later
System support: PPC/Intel
$19.95 demoware
Link: PhoneView
NetSketch Adds Drawing Replay and Rich Community Integration
PR: Gotow.net announces the release of NetSketch 1.4, a collaborative drawing application for the iPhone and iPod touch. NetSketch sports a powerful vector graphics engine that has been fine-tuned for mobile artists. Create detailed drawings with infinite pan and zoom, a full-spectrum color picker, and a fast eyedropper tool. Take NetSketch to a meeting or lecture and use it's WiFi sharing features to draw with people on other iPhones in real-time. Version 1.4 adds the much-requested replay feature and a new community browser!
Since it's release, NetSketch has included an online community where users can post their work. Now, you can watch replays of drawings by other NetSketch users, leave comments, and explore the best of NetSketch - without leaving the app! Explore thousands of drawings uploaded to My NetSketch and upload your own work for a community experience unmatched in other drawing apps.
NetSketch allows you to draw on the iPod's screen using a full range of colors and brush sizes. You can share drawings over the wireless network, and others using the NetSketch application can contribute to your work. As you draw, everyone's changes are reflected in real time.
Unlike other drawing programs, NetSketch features infinite pan and zoom based on familiar gestures. It is the only iPhone app to render drawings in a fully scalable vector space independent of the size of the iPhone's screen. When you zoom in, you get smooth, accurate lines - not huge pixels.
System Requirements: iPhone or iPod touch. Wireless network required for collaboration and community features.
NetSketch is $5.99, and is available for immediate download on the iTunes App Store. For a free promotional copy of NetSketch 1.4 and more information about the app, contact Ben Gotow.
Link: NetSketch (only available through the Apple App Store)
Mac Software for Innovative Home Office Phone System from Plantronics
PR: Plantronics, Inc. now offers Macintosh compatibility for the Calisto Pro system, a home cordless phone with an integrated Bluetooth headset that simplifies communications for professionals who work from home. The new Calisto Pro for Mac software allows users to import Apple Address Book contacts to the phone and take calls over Skype through a USB connection.
"Response to the Calisto Pro since it was introduced last year for PC users has been very positive due to its simplicity, elegance and value," said Joyce Shimizu, vice president and general manager, Home and Home Office at Plantronics. "Mac users can now easily manage landline, mobile phone and Skype calls with one communication system."
Calisto Pro for Mac Software Simplifies Communication
Manage and transfer 200 contacts from the computer's Apple Address Book into the handset's phonebook
Remotely answer or end a Skype call using the Calisto Pro headset or handset
The new software is a free download and compatible with any Calisto Pro System
Stay Connected Handsfree, Anywhere
The Plantronics Calisto Pro features a compact cordless phone and integrated Bluetooth headset nested in a clean, elegant charging base. The headset enables work-at-home professionals to manage landline, mobile phone and computer-based calls at the touch of a button. No longer burdened by cradling a phone between the neck and shoulder, users can talk handsfree while accomplishing tasks such as reaching for a file, taking notes or even signing for a package while on a long conference call.
The phone is built on digitally encrypted, voice-dedicated DECT™ 6.0 technology to provide exceptional audio clarity free from interference with other home devices including wireless networks and microwaves. It provides up to 300 feet of roaming range, a built-in speakerphone and flip-up waist clip for on-the-go dialing and Caller ID viewing.
The headset combines a robust noise-canceling microphone and an extended boom to reduce background noise. The headset can be connected to both the Calisto Pro phone and a mobile phone to easily answer both landline and mobile calls. Work-at-home professionals can also use the Calisto Pro headset with their Bluetooth mobile phone while on the road, and it will automatically reconnect with the Calisto Pro phone upon their return.
Excellence in Design and Functionality
Announced in August 2007, the Calisto Pro has received both industry and consumer accolades for innovation in design and technology.
International Design Excellence Award '08 Finalist
2008 CES Innovations Honoree
Andrew Seybold Choice Awards: Most Innovative New Design Concept: 2008 Finalist
Andrew Seybold Choice Awards: Most Innovative Wireless Device: 2008 Finalist
Calisto Pro has an average ranking of 4 stars from Amazon reviews
The Calisto Pro for Mac software and User Guide addendum is only available online and can be downloaded free of charge at http://www.plantronics.com/downloads
Plantronics Calisto Pro has a MSRP of $279.95 and is available at several e-tailers including Amazon.com, Buy.com and Headsets.com. It is also available nationwide at Staples, Office Depot, and select Office Max stores.
Link: Calisto Pro
Astraware Board Games for iPhone and iPod touch
PR: Handmark has announced Astraware Board Games, a collection of eight classic board games including Chess, Backgammon, Ludo, Checkers, Reversi, Nine Men's Morris, Snakes & Ladders, and Tic Tac Toe, is now available for the iPhone and iPod touch on the Apple App Store.
"Astraware Board Games is a perfect pastime for families getting together over the holiday season," said Cassidy Lackey, vice president of Handmark Studios. "These timeless classic games for iPhone and iPod touch are easy to learn so that everyone can join in with the fun."
The award-winning Astraware Board Games pack is perfect for families to enjoy together. Many of the games include customizable rules and a range of difficulty levels, but are tailored to non-expert, casual players.
Optimized for play on the iPhone and iPod touch, Astraware Board Games allows players to shake their device to shake the dice, touch and slide their piece to move it, and enjoy enhanced graphics that take advantage of the high-quality screen on the devices. In addition, players have the choice of playing against the CPU, against friends using "hotseat" multiplayer on one device, or against a friend on two separate devices using a local WiFi connection.
Astraware Board Games is available for $4.99 from Apple's App Store on iPhone and iPod touch.
Link: Astraware Board Games (only available through the Apple App Store)
Dress Up as Santa Claus with Your iPhone
PR: Enabling Labs has announced "Fabulous Christmas Greetings" for iPhone and iPod touch. E-mail individual Christmas greetings personalized with a photo of themselves or a friend dressed up as Santa Claus from any place in the world. Send funny Christmas Greetings to your friends and beloved, dressed up properly like the real Santa in hats, caps, beards, glasses and lots of other items. Pick from a huge range of Santa accessories to disguise your photo individually, freely and originally.
iPhone and iPod touch users now can e-mail individual Christmas greetings personalized with a photo of themselves or a friend dressed up as Santa Claus - directly and from any place in the world with "Fabulous Christmas Greetings" by Enabling Labs.
Send fabulously funny Christmas Greetings to your friends and beloved, dressed up properly like the real Santa in hats, caps, beards, glasses and lots of other items. Pick from a huge range of Santa accessories to disguise your photo individually, freely and originally.
The handling is quite easy: The user takes a photo with his iPhone camera of whoever he wishes to appear in that greeting, or selects one from the iPhone photo library. With a few touches on the screen, the person in the picture can be dressed with a hat, adorned with a variety of beards or glasses and decorated with one of the many seasonal framings.
Finally some personal lines and seasons greetings can be added in a color, size and text style of one's choice, and the personal greeting card is finished. The user then saves the greeting card to the iPhone photo library, from where it can be sent off directly by e-mail or transferred to a Mac or PC to be printed out.
Fabulous Christmas Greetings is available at the iPhone App Store at a price of $1.99. Evaluation copies available on request.
Link: Fabulous Christmas Greetings (only available through the Apple App Store)
Accessories
Battery in Sleek Leather Sleeve Doubles iPhone 3G Battery Life
PR: Tekkeon unveils myPower for iPhone, a sleek leather sleeve that doubles the iPhone battery life while protecting the iPhone from everyday wear and tear. A rechargeable, reliable and safe lithium polymer battery keenly hidden within myPower for iPhone powers the iPhone on the go. This innovative iPhone battery also acts as a dock, enabling users to automatically sync and charge iPhone.
"With the growing number of apps available for iPhone, power has become an increasingly important issue for iPhone users who want to increase their power capacity without adding bulk to their iPhone," says Jerry Yang, president of Tekkeon, Inc. "Our new myPower for iPhone acts like an espresso shot for the iPhone, giving it a boost of power for up to five additional hours of talk time, or internet usage."
To ensure iPhone users will never be without power, myPower for iPhone includes an easy-to-read capacity indicator that provides the power level in the battery. The battery can be charged via a computer, or USB power adapter. In the latter case the iPhone and myPower for iPhone can be charged simultaneously.
myPower for iPhone, which is a Works with iPhone certified product, includes a USB cable for connection to a computer or USB power adapter, and myGuard™ screen protector for iPhone 3G.
The MSRP for myPower for iPhone MP1200 is $69.95. Pre-orders for this product are being accepted on the Tekkeon web site, and will begin shipping on December 15. Tekkeon products are available through retail and major on-line stores including Airport Wireless, B&H Photo Video, Buy.com, DataVision, eCOST, and NewEgg, and from the Tekkeon store.
myPower for iPhone comes with a one-year limited warranty.
Link: myPower for iPhone
Audioengine W2 Premium Wireless Adapter for iPod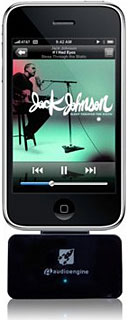 PR: The Audioengine W2 Turns Your iPod Into the Ultimate Wireless Remote, Allowing You To Play All Your Songs Wirelessly From Your iPod to Any Stereo System Without Any Compromise in Audio Quality
Audioengine has announced the release of the Audioengine W2 Premium Wireless Adapter for iPod. Plug the digital Sender into your iPod and connect the included Receiver to your stereo and you'll have complete control of your music from your iPod. No need to learn how to work a separate remote and the AW2 is super-easy to hook up, with no batteries needed.
"It's exciting to have another wireless product to compliment our already successful AW1 wireless adapter," said Brady Bargenquast, Audioengine co-founder. "The Audioengine W2 gives you the convenience of using your iPod as a remote control and is the perfect way to get great quality music wirelessly to your stereo."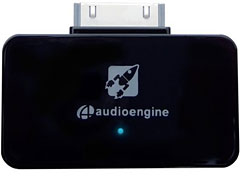 Why buy a dock? Think of the Audioengine W2 as the "dockless dock." With a rock-solid wireless connection that beats Bluetooth, FM, and even other 2.4 MHz systems, the AW2 is preconfigured out of the box so there are no buttons to push and no software to configure.
"The best thing about the W2 is that not only do you no longer need a dock, but your wireless music will actually sound better than most wired docks," explained Dave Evans, Audioengine co-founder.
Tech Stuff
The AW2 uses uncompressed CD-quality transmission technology with no network setup, software, or computer required. The WiFi-based wireless is an all-digital PCM encoded stream sent over a closed network that includes some clever error correction and low latency, which means that your music gets to your stereo fast without any lag, loss in sound quality or interference.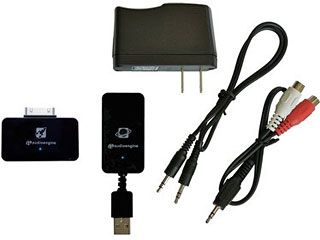 AW2 Features
Use your iPod for total wireless music control
Quick setup, Receiver included
Super-compact size, no batteries needed
No separate remote or base station needed
Uncompressed CD-quality digital transmission
No dropouts, static or interference
WiFi technology beats Bluetooth and FM
HOP feature works with up to 8 receivers
Specifications
WiFi frequency band: 2.4-2.4835 GHz
THD+N (A-weighted): <0.03%
Latency: <20mSec
Range (typical): 30ft (9 meters)
Audio frequency response: 20 Hz to 22 kHz (+/-1.5db)
Output voltage: 830mV
Channel separation: 65dB
Dimensions (each): 100x30x10mm
Pricing and Availability
The Audioengine W2 (AW2) Premium Wireless Adapter for iPod is priced at $169 and is available from an authorized Audioengine reseller or online.
Link: Audioengine W2 Premium Wireless Adapter for iPod
Protection
Speck Launches 'QwickDraw' Holster Case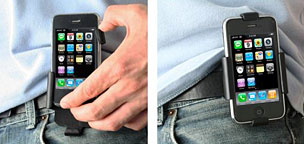 PR: Speck has expanded its case offerings for iPhone 3G and iPhone with the announcement of QwickDraw. The new holster-style case, available now, features super secure Speck "Qwick Latch" technology that keeps your phone locked in place so it wont fall out, even during the most rigorous of activities.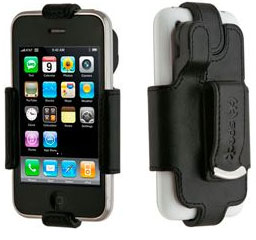 Commenting on the announcement, Speck CEO Irene Baran said, "Our QwickDraw design offers users a near foolproof way to confidently secure their phone, while doing so it all in a very stylish and accessible way. And with the spring-loaded Qwick Latch feature, customers can be confident their phone will stay where they want it without falling out and be available at a moments notice."
Featuring a sleek, unassuming design, QwickDraw's soft, lined snug-fit cradle securely holds your phone without scratching or scuffing. The versatile rotating belt clip allows for a full range of horizontal or vertical positions on a waistband or belt and offers fast, easy access and removal of the phone via the Qwick Latch feature. The case comes in black and has a textured surface with stitching details. The QwickDraw fits both iPhone 3G and the original iPhone and is available now for $29.99. iPhone owners can find the QwickDraw holster at Apple Store online and at speckproducts.com
Link: QwickDraw for iPhone
Join us on Facebook, follow us on Twitter or Google+, or subscribe to our RSS news feed
Links for the Day
Mac of the Day: 20th Anniversary Mac, introduced 1996.03.20. Honoring Apple's 20th anniversary, the TAM was the first flat panel desktop Mac and had a unique design.
Recent Content
Custom Search
Follow Low End Mac on Twitter
Join Low End Mac on Facebook
Favorite Sites
MacSurfer
Cult of Mac
Shrine of Apple
MacInTouch
MyAppleMenu
InfoMac
The Mac Observer
Accelerate Your Mac
RetroMacCast
The Vintage Mac Museum
Deal Brothers
DealMac
Mac2Sell
Mac Driver Museum
JAG's House
System 6 Heaven
System 7 Today
the pickle's Low-End Mac FAQ
Affiliates
Amazon.com
The iTunes Store
PC Connection Express
Macgo Blu-ray Player
Parallels Desktop for Mac
eBay

Advertise