iPhone Economics, iPhone at Walmart Dec. 28?, Christmas iPhone Apps, and More
This Week's iPhone, iPod, and Apple TV News
Compiled by Charles Moore and edited by Dan Knight - 2008.12.19
Neither Apple nor Walmart are confirming this one, but rumor has it that Wali World will begin selling the iPhone on Sunday, December 28 - $197 for the 8 GB model, $297 with 16 GB. Walmart will be the fourth US retailer, along with Apple, AT&T, and Best Buy.
A related development: AT&T is now selling the iPhone online with at-home activation, providing just one more way to acquire the world's hottest smartphone.
Mac notebook and other portable computing is covered in The 'Book Review, and general Mac news is in Mac News Review.
All prices are in US dollars unless otherwise noted.
News, Reviews, & Opinion
The WaliPhone
Apps & Services
Protection
iPod and iPhone Deals
These price trackers are updated regularly.
News, Reviews, & Opinion
The $1,500 iPhone: Stupidity for the Credit Card Economy
Unicom's chip says:
"Hello there happy iPhone user. How much do you love your iPhone? What would you say if I offered you $1500 if you gave me your phone?
"I am absolutely serious. Will you take me up on this offer?
"If you decide to do it, then please follow these instructions: First, carefully wrap your Apple iPhone in layers of protective wrap. Next, get a ball peen hammer. Then, smash your phone into tiny little pieces. Finally, keep an eye on your bank account. A year from now you'll have $1300 that you wouldn't have otherwise. You can get the full $1500 if you wait a couple more months. Or, if you just hadn't bought the stupid thing in the first place.
"My wife was phone shopping a couple months back, worrying about the prices on the various phones, especially the smart phones. I made her stop that. 'The phone is free,' I explained. It doesn't matter whether the phone costs $20 or $300, the cost of ownership is predominated by the monthly service fee....
"I think the iPhone thrives on the stupidity that has given us the now failing credit card economy. You can't afford the ticket, but you can afford the monthly payment. So you buy it, without thinking whether it's really worth the total cost of ownership...."
Editor's note: An interesting perspective, but using an iPhone with a data plan costs $30-35 more per month than voice-only service, so your net additional cost over two years is $720 to $840 plus the cost of the iPhone. dk
Link: iPhone: Stupidity for the Credit Card Economy
How the iPhone Reshaped the Mobile Industry
BusinessWeek's Stephen H. Wildstrom says:
"A few years ago, if someone asked what sort of cell phone you had, your response would probably be to name a network, like Sprint or Cingular. Wireless carriers so completely controlled the business, especially in the US, that many manufacturers weren't even allowed to put their brand names on handsets. Now this relationship is changing in ways that will reduce the power of carriers and, with luck, increase consumers' choices.
"The relationship started to shift when people began using phones for more than voice calls and text messages. As browsers and e-mail systems became important, it mattered more whether you had a Palm Treo or a BlackBerry than whether your phone ran on the Verizon Wireless or AT&T network. Then along came Apple's iPhone to rewrite the rules completely."
Link: How Apple's iPhone Reshaped the Industry
AT&T Brings Back Online iPhone Sales with At-home Activation
Gadgetell's JG Mason says:
"Yes! AT&T is now offering the iPhone online with home activation. I found this by looking for info on another phone, but found this advert when landing on their site. At first, I figured I was reading it wrong, so I chatted up an AT&T rep and sure enough, we are back in 2007: buy it online and activate it at home."
Link: Apple Left Out? AT&T Brings Back iPhone Online and At-home Activation
Optimize iPhone Photo Retrieval with Apple's Image Capture Utility
The Apple Blog's Bob Rudis says:
"Despite the iPhone having a less-than-stellar camera, I wind up taking more pictures with it than any other device we own. This becomes a painful reality every time I connect my phone up to my MacBook Pro since I am reminded that I have enabled the launching of iPhoto whenever there are new pictures to retrieve. More often than not, these quick snaps do not make it to my iPhoto library (due to image quality) but that does not mean I do not want to do some non-mobile processing with them. Enter Apple's Image Capture application (which can be found right within your Applications folder)."
Link: Optimize iPhone Photo Retrieval with Apple's Image Capture Utility
The WaliPhone
Do We Really Want to See the iPhone at Walmart?
PC World says:
"A lot has been made of Apple's seemingly sure move to Walmart as a point of sale for the iPhone. Whether or not Apple releases an 'everyman' $99 4 GB iPhone still remains to be seen, but this isn't the main point. The macro trend, if you haven't recognized it yet, is that the iPhone has gone beyond mainstream.
"And the Apple brand? Don't worry, it will be fine. Walmart sells Coke and GE products, which are by some accounts the world's most valuable brands. They aren't suffering any dilution."
Link: Do We Really Want to See the iPhone at Walmart?
Another Look at the Walmart Factor
Eric Savitz of Barron's says:
"The Street continues to crunch the numbers on what a distribution deal with Wal-Mart might mean for Apple's iPhone sales.
"Earlier this week, I took note of Piper Jaffray analyst Gene Munster's analysis, which concluded that Wal-Mart could sell as many iPhones next year as Apple's own retail stores.
"This morning, Bernstein Research analyst Toni Sacconaghi runs through the numbers, and comes up with slightly different conclusions...."
Link: Apple: Another Look at the Wal-Mart Factor
Walmart iPhone Deal Will Effectively Kill Google's Android
Seeking Alpha says:
"Recently, Apple did not announce that they would be selling their iPhone at Walmart. In fact, the San Jose Mercury news said that a $99 4-GB version would be sold at the #1 retailer - before Christmas; and the leading rumor site for all things Apple countered with 'only the $198 8-GB version will be available at WMT, and that would be after the 28th of Dec.'
"Either way, this will significantly increase the number of people who desire to own an iPhone [or an iPod touch]. Obviously, this is not aimed at expanding Apple's presence in the business community [not aimed at the Blackberry market], but instead, Joe-6-Pack [or is that Joe the plumber?]. In the unfortunate event that the potential buyer just signed a contract with another cell carrier, they could be cross-sold an iPod touch - at Walmart...."
Link: Apple's Walmart Deal Will Effectively Kill Google's Android
Apps & Services
The Salvation Army Brings Holiday Music to the iPhone
PR: The Salvation Army, one of the largest charitable organizations in the United States, announced the availability of the Salvation Army Holiday Music application in the iPhone Application Store for $2.99, with proceeds to benefit The Salvation Army.
The application streams hundreds of holiday favorites, ranging from time-honored classics such as Nat King Cole's "The Christmas Song" and Bing Crosby's "White Christmas" to a selection of The Salvation Army's own signature brand of brass-flavored holiday tunes. For $2.99, consumers get unlimited listening.
"The Salvation Army is excited to spread the good cheer of the season through music while offering a new way for our supporters to contribute to one of their favorite causes," said Major George Hood, National Community Relations Secretary for The Salvation Army. "This is one music download that can make a real difference in people's lives."
This Christmas, The Salvation Army's Red Kettle campaign is hoping to top the record $118 million donated in 2007. To do that, the Army is harnessing a range of technology and social media. This includes adding credit card scanners at some of its iconic Red Kettles, as well as an Online Red Kettle application, Facebook widgets, and the ability to donate via text message.
Now, The Salvation Army is teaming with Seattle startup Melodeo to bring The Salvation Army Holiday Music service to iPhone users. Melodeo is a leader in streaming media on the Web and on mobile devices with its Mobilcast and nuTsie products.
"The iPhone and the App Store have changed everything in the mobile market. The App Store, in particular, has been an unprecedented success, with over 200 million apps downloaded in fewer than 100 days," said Melodeo CEO Jim Billmaier. "We feel privileged to partner with The Salvation Army to offer the first major philanthropic initiative in the App Store."
The Salvation Army, an evangelical part of the universal Christian church, has been supporting those in need in His name without discrimination since 1865. Nearly 29 million Americans receive assistance from The Salvation Army each year through the broadest array of social services that range from providing food for the hungry, relief for disaster victims, assistance for the disabled, outreach to the elderly and ill, clothing and shelter to the homeless and opportunities for underprivileged children. About 83 cents of every dollar raised is used to support those services in more than 5,000 communities nationwide.
nuTsie parent company Melodeo, Inc. is a leader in delivering music and other media to the Web and mobile devices. Through products such as nuTsie and Mobilcast, Melodeo combines powerful content, a simple user interface and access from any device, making it easy to enjoy and share entertainment anytime and anyplace. Melodeo reaches more than 50 million wireless customers through distribution deals and customer relationships with Alltel, AT&T, T-Mobile, Handmark, Thumbplay, Danger, Motorola, Rogers, 3, China Unicom, Sony BMG Music Entertainment & Warner Music Group in China, TDC in Denmark, Korean Telecom Freetel (KTF) and M1. Melodeo's mobile entertainment services are compatible with the majority of mobile handsets on the market.
Link: The Salvation Army USA (available through the Apple App Store)
Memento Xmas for iPhone and iPod touch
PR: Tapping It introduces Memento Xmas 1.1, a free, lite version of their e-card creation and sending app for iPhone and iPod touch. Designed from the ground up to leverage the iPhone's unique abilities and interface, Memento is an elegant e-card sending application offering a natural feel and ease-of-use.
Just in time for the holidays, Tapping It has released this Lite version of Memento specifically for Christmas. Version 1.1 includes all new Christmas styles. Now is a perfect time to send a Christmas e-card for free to family and friends straight from the iPhone, as well an opportunity to try out the functionality of Memento (Regular $4.99).
Memento's emails are of unmatched quality and richness. Its built-in designer styles support and enhance anyone's photos, and help convey a mood or feeling. Easily compose a card (Full version includes beautiful 14 styles) add a favorite photo, enter personalized text, and email just the perfect postcard. So much more than a plain e-card, Memento's emails are of unmatched quality and richness.
"This is just one of those applications that is cool, and has a variety of uses. If you're looking to surprise grandma with pictures of her grand kids, then this is the application for you." - TUAW first look
Feature highlights include:
4 Christmas designer styles (more in the full Memento)
Visual, Fully WYSIWYG display of Cards
Multiple Email Recipients
Amazing yet familiar User Interface
Compatible with Mac OS X Mail, Thunderbird, Yahoo! Mail, Gmail, MobileMe
Supported Languages: US English, German, French, Italian, and Dutch
System Requirements: iPhone or iPod touch 2.1 or later
Memento Xmas 1.1 for iPhone is free and available exclusively through Apple's App Store.
Link: Memento Xmas (available through the Apple App Store)
ESV Study Bible for BibleReader Mobile Released
PR: Published in print by Crossway Books & Bibles in October 2008, the ESV Study Bible has already become the US's most popular study Bible, selling more than 140,000 print copies.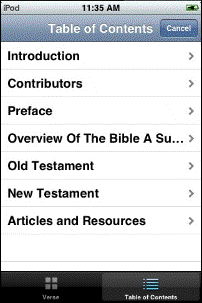 Olive Tree has announced that the ESV Study Bible is now available for your mobile device. The mobile version offers complete access to all features, notes, images, and supplemental materials of the ESV Study Bible in print - plus the familiar interface, quick navigation, and powerful features of the BibleReader program.
The ESV Study Bible combines the best and most recent evangelical Christian scholarship with the acclaimed ESV Bible text, and includes the following features:
20,000 notes - focusing on understanding the Bible text and providing answers to frequently raised questions. Over 50 articles - including articles on the Bible's authority and reliability, biblical archaeology, theology, ethics, and personal application. More than 200 charts - offering key insights and in-depth analysis in clear, concise outline form; located throughout the Bible. Over 200 full-color maps - created with the latest digital technology, satellite images, and archaeological research. 80,000 cross-references - to encourage easy location of important words, passages, and biblical themes. 40 all-new illustrations - including full-color renderings, architectural diagrams, and much more.
The ESV Study Bible includes 2 million words of Bible text, insightful explanation, teaching, and reference material - equivalent to a 20-volume Bible resource library in a portable, handheld format. Olive Tree's electronic version lets you read and study with the complete resources of the ESV Study Bible wherever you go.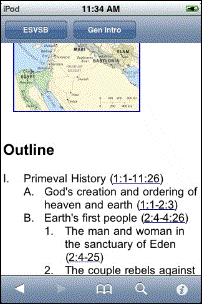 The ESV Study Bible is available for the following platforms: iPhone and iPod touch, BlackBerry with Media Card, Palm, Windows Mobile Professional, and Windows Mobile Classic (Pocket PC). Support for Google Android and Windows Mobile Smartphone is planned for 2009.
The ESV Study Bible is available today at OliveTree.com and on iTunes (for iPhone only).
Gift Certificates from Olive Tree
Want to introduce a friend or family member to all the Bible resources available at OliveTree.com?
Not sure what mobile device they have, or which books they would like best?
Olive Tree is pleased to offer Gift Certificates, a perfect gift for any occasion. In a few easy steps, you can purchase a gift certificate redeemable for any purchases on OliveTree.com, and have it emailed to the recipient. You can also include a personalized message to add holiday greetings or any personal touch for the recipient.
Gift Certificates take the guesswork out of sharing Olive Tree products with friends and family, making sure they get a product that works perfectly with their handheld device. They also get to choose the titles that excite them most
Access Your Olive Tree Account on iPhone
Just a reminder. An update to iPhone BibleReader now lets you access your Olive Tree Account and your Personal Library - including any of your previously purchased titles that are available for iPhone. On iTunes, look for Version 4.03.025 or higher of BibleReader. Update your BibleReader App and sign in to your Olive Tree account.
Need more details? See the iPhone information page at OliveTree.com. Also, many more Olive Tree titles are now available for iPhone - and you can purchase them at OliveTree.com. Also see the growing list of titles for iPhone at OliveTree.com.
Link: ESV Study Bible (available through the Apple App Store)
Vatican Approves iTunes Prayer Book
The Telegraph's Simon Caldwell reports:
"The Vatican has approved a computerised prayerbook for a new generation of gadget-loving Roman Catholic priests.
"It has sanctioned the sale of the 'iBreviary' - the book of prayers, readings and services used by priests every day. It includes the complete Roman Missal - the order of the Mass - and the main Catholic prayers. It was created for the iPhone by the Italian priest Father Paolo Padrini and can be downloaded from iTunes for just 79p.
"Officially endorsed by the Vatican's Council for Social Communications, it is the first iPhone application approved by the Holy See."
Link: Vatican Approves iTunes Prayer Book (iBreviary is available through the Apple App Store)
Television for iPhone
PR: Makayama Software has released 'Television' for the iPhone. Television lets you watch TV on the iPhone and iPod touch. Watch 50 shows from 30 channels on demand from the best prerecorded content from the USA, UK, France, and Germany. Get the latest news, sports, and entertainment. Television allows you to watch TV whenever and wherever you like, with the touch of a finger, instantly and on-demand via WiFi.
Makayama Software has released new software for the iPhone called 'Television'. The name says it all - this app lets you watch TV on the iPhone and iPod touch. Watch 50 shows from 30 channels on demand. It's not live TV, but the best prerecorded content from the USA, UK, France, and Germany. Get the latest news, sports and entertainment on your iPhone. Television allows you to watch TV whenever and wherever you like, with the touch of a finger, instantly and on-demand via WiFi.
The software includes 20 English language channels, such as CNN, NBC, CBS, MTV, Comedy Central, VH1, and many more. British TV from the BBC, ITV, and SKY. Australian, French, and German channels are also included. We've picked the best available content from around the web and put it in an easy to use iPhone app. With daily updated content, Television keeps you informed when on the go. Get the latest headlines on your iPhone or iPod touch. Works over WiFi only, not via 3G.
Full channel and programmes overview:
USA:
CNN - Now in the News, In Case You Missed CBS - Eye to Eye, Face the Nation
NBC - Nightly News, Meet the Press
CNBC - Fast Money
Comedy Central - Standup Highlights
VH1 - Celebrity Rehab, The Pickup Artists Onion Network - All videos
College Humor TV - All videos
Digg - Diggnation
CNET - First Look, Buzz Report
Discovery Channel - Highlights
National Geographic - Highlights
MTV - MTV News, music videos
NBA - News and match highlights
United Kingdom:
BBC - Highlights from Top Gear, Torchwood, Goodness Gracious, QI
SKY - Sky News
ITN - News and Showbizz
Megawhat - Tech News
France:
TF1 - Le Journal, Meteo
M6 - Six Minutes
BFM - Première Edition
iTele - iTele News
Germany:
RTL - News, Aktuell, Wetter, Exclusiv
ARD - Tagesschau, Das Wetter
NDR - Ratgeber Technik
WDR - Die Sendung mit der Maus, Käptn Blaubär
ZDF - Heute, Wetten Dass Backstage, Aktuelle Sportstudio
Link: Television for iPhone (available through the Apple App Store)
The BachPod - Complete Bach Edition
PR: Originally released on 172 CDs to commemorate the 250th anniversary of Bach's death, the Edition Bachakademie has become one of the most highly regarded collections of Bach's music ever recorded - and it's now available on a limited edition 120 GB Apple iPod Classic on Passionato for £499.
Renowned Bach conductor Helmuth Rilling is joined by Thomas Quasthoff, Christoph Prégardien, Christine Schäfer and many other fantastic soloists, ensembles, choirs and orchestras on this truly outstanding set of award-winning recordings from prestigious German label Hänssler.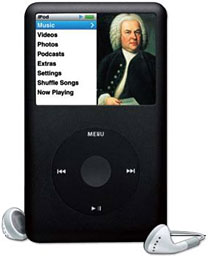 The BachPod Includes:
A limited edition 120 GB Apple iPod classic.
175 hours of Masterpieces by J.S. Bach preloaded in 128 KB AAC digital sound
Huge memory capacity: in addition to the complete works of J.S. Bach, there's an extra 63 GB of available memory to download thousands more albums
3 back-up DVDs, containing the audio files for the complete Bach Edition to protect against any possible loss of data
Free Postage & Packing anywhere in the UK*
iPod Product Details
Dimensions: 10.3 cm x 6.1 cm x 1 cm
Weight: 140 grams
Playable through any sound-system - even your car stereo - when attached to the Apple docking station (not included)
Usually dispatched in 2-3 working days when in stock, see FAQs for more details.
To ensure delivery in time for Christmas order before 4 p.m. on Monday 15th December
Link: The BachPod
Citysearch Launches New App for iPhone and iPod touch
PR: Citysearch, a leading online local guide and an operating business of IAC has announced its new application for iPhone and iPod touch is available on the Apple App Store. The app means users can more easily access rich, local editorial content, browse nearby listings, sort by preferences and write reviews on-the-go.
"We set out to build the most convenient and trustworthy local city guide on the iPhone," said Dinesh Moorjani, vice president of IAC Mobile. "As consumers grow accustomed to relying on mobile devices to inform urgent decisions and share local, user-generated content, Citysearch on the iPhone and iPod touch empowers users with mobile reviews, featured write-ups on local neighborhood venues and hyper-local content including user and editorial reviews."
Utilizing the location-based technology in the devices, Citysearch identifies local restaurants, hotels, bars, spas and shops nearby, so that users can find what they are looking for faster than ever. People can also search for any business listing or category nearby by keyword and map the results to find their desired destination.
Citysearch features for iPhone and iPod touch include:
Search nearby destinations: food, bars, spas, shops and hotels
Search listings by keyword, category and location and map the results
Review listing details: address, phone, maps & directions, photos, hours of operation and more
Submit user reviews instantly, without a lengthy registration process
View previous searches & recently viewed listings
Browse editorial recommendations, user reviews and advice from business owners
Featured write-ups on what's hot in a local neighborhood or city
Sort results by key listing attributes including distance, cost and Citysearch rating
Bookmark your favorite listings
Citysearch is available for free worldwide from Apple's App Store on iPhone and iPod touch.
Link: Citysearch (available through the Apple App Store)
ClairMail Launches Mobile Banking Web Solution for iPhone
PR: ClairMail, Inc., the leader in 2-way mobile phone-based customer interaction, has announced the latest release of the ClairMail System that includes a premier mobile web solution optimized for the iPhone. The iPhone solution includes the comprehensive mobile banking and payments functionality found in ClairMail's traditional mobile web offering - account management, fund transfers, bill payments, ATM/branch locators and more - presented on the iPhone's rich user interface.
ClairMail's highly secure mobile web solution possesses the intelligence to adjust its user interface based on the capability of the mobile device. If a customer accesses the mobile web from an iPhone, for example, the user interface is presented in a style and format appropriate for the iPhone. If a customer accesses the mobile web from a different device, the user interface is presented in a format appropriate for that particular device - all from the same mobile web URL.
"As iPhone use continues to rise, it becomes increasingly important for financial institutions to offer a convenient, secure and easy-to-use mobile banking and payments solution that leverages the rich user interface capabilities of the iPhone," said Joseph Salesky, CEO of ClairMail. "Along with numerous other enhancements in our new release, iPhone optimization will appeal directly to iPhone-owning bank customers, supporting our objective of delivering exceptional consumer adoption and usage for financial institutions."
ClairMail's newest release delivers new features and functional enhancements throughout the ClairMail System. Its latest release introduces functional support for Microsoft SQL Server and for bill pay integration via OFX; in addition, ClairMail provides functional enhancements to its already rich offering in terms of customer support, systems management and reporting.
ClairMail is the first and only solution provider capable of delivering 2-way mobile banking and payments functionality on all mobile phones across all three user interface options - messaging, mobile web and client applications. On one platform with a single implementation, the ClairMail System seamlessly and securely integrates with a bank's systems of record and provides bank customers with a comprehensive suite of 2-way mobile banking and payment services. The ClairMail System incorporates a powerful Event Engine that can easily handle the potential transaction volumes from banks of any size and deliver real-time, 2-way Actionable Alerts.
"Nearly six out of ten smartphone owners use a browser to conduct mobile banking services, and the Apple iPhone is setting consumer expectations for what a smartphone should look like and be capable of doing," said James Van Dyke, Founder and President of Javelin Research. "Under current market conditions, the browser provides a logical foundation for mobile banking, with text-based services as an obvious complement because they provide a means to send dynamic, real-time alerts."
ClairMail is the only comprehensive 2-way mobile platform for banking, payments and card services. Deployed either on-premise or as a managed service, ClairMail optimizes any mobile phone for 2-way customer interaction. Only the ClairMail System offers 2-way mobile banking, payments and card applications that utilize any phone's existing messaging and mobile web software and extend the capabilities of third-party client applications. On one platform with a single implementation, ClairMail empowers financial institutions to generate and deliver 2-way Actionable Alerts to their customers and provide easy and immediate account management, secure transactions and no-hold customer service. Unlike other 1-way, proprietary and inflexible point solutions which lack the application intelligence to generate 2-way alerts, the ClairMail System is a turnkey, standards-based 2-way offering that seamlessly and securely integrates with existing systems, delivers the fastest time to value and provides an alternative to more costly channels like call centers and IVR. Founded in 2004, ClairMail is headquartered in Novato, Calif. The company is privately held and funded by Norwest Venture Partners, Outlook Ventures and JAFCO Ventures. For more information call (415) 884-7270 or visit:
Link: ClairMail (available through the Apple App Store)
Wide Email Update for iPhone Adds Typing Shortcuts
PR: LizzardWerks has announced an update to Wide Email, a landscape email program for the iPhone. Write emails on the iPhone much faster by tapping just a few letters to automatically insert common phrases, sentences, or even whole paragraphs. The latest update to Wide Email, a landscape email program for the iPhone, adds this timesaving feature, called "Typing Shortcuts."
For example, typing "adr" could automatically insert a user's entire 3-line mailing address. Or typing "js" could insert "John M. Smith Jr., MD, Ph.D." Users can add, edit, and delete an unlimited number of custom typing shortcuts.
Wide Email also lets iPhone users type emails faster and more accurately by using the wider, landscape-mode keyboard, which is not available in the iPhone's built-in email program. The horizontal keyboard has wider keys that are easier to see and to hit, even for people with big thumbs. Combined with the wider keyboard, typing shortcuts makes writing emails on the iPhone much faster and more enjoyable.
Wide Email is the only landscape email app for the iPhone that has this feature. This new feature adds to the other features in Wide Email, including unlimited saved drafts, full international character support, and autosaving of drafts and sent drafts.
Link: Wide Email (available through the Apple App Store)
Unity iPhone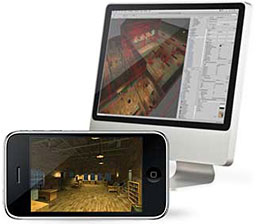 PR: Whether on an iPhone or an iPod touch, you will be able to dazzle your audience with the finest content available in the App Store. 2D or 3D, touch or tilt - if you can think it, you will be able to build it.
Increased Performance
From changes to the default settings to the addition of iPhone script call optimization, this release is focused on helping to ensure that your games continue to redefine what gamers expect to find on a phone.
Improved Live Preview
Improvements to the reliability of UnityRemote ensure that all touch phases and accelerator changes are registered while viewing and testing your game inside the Unity Editor.
Compressed Audio
With MP3/M4A compressed audio playback, you can include longer playing audio files in your games without compromising your distribution size.
Unity iPhone 1.0.1 update
Additional Features, improvements, and changes
New Features and Improvements
Added support for compressed MP3/M4A audio playback. Note that iPhone hardware supports only one compressed audio clip at a time
Improved performance of script to engine calls by an order of magnitude (e.g. calling transform.localPosition is 300% faster). This optimization is disabled by default and should be enabled via Project Settings | Player | iPhone script call optimization property. Note that exception handling will not work correctly when this optimization is enabled
Improved Mono runtime stability
Improved gathering of referenced assemblies while building player
OnApplicationQuit callback gets called while quitting Unity player
OnApplicationPause callback gets called once Unity player becomes inactive
Added support for Application.OpenURL
Exposed UnityPause function to ObjectiveC for better interoperability between custom code and Unity player
Status bar is now hidden on startup
Introduced support for explicitly defined bounding volume areas for occlusion culling
Improved occlusion culling volume generation
Made input in UnityRemote more reliable. All touch phases and accelerator changes are guaranteed to reach the Editor
Improved UnityRemote connectivity by exchanging echo packets with Editor to ensure that connection is valid
Improved internal profiler statistics with various aspects of engine performance being displayed
Internal profiler statistics are disabled by default for better performance
kFPS set to 60 by default to provide stable frame-rate
Bug Fixes
Fixed PlayerPrefs bug preventing it to store persistent data
Fixed memory leak when loading scenes
Fixed Horizontal/Vertical slider crash
Fixed occasional crash during Mono garbage collection
Fixed crash in AOT cross compilation which subsequently left process hanging on in the background
Fixed number of bytecode stripping bugs
Fixed graphics related crash
Worked around OpenAL bug which caused audio clips sometimes to stop playing
Fixed trail and line renderers
Fixed issue where WWW class preventing data to be sent immediately on 3G/Edge
Fixed issue with transparent sorting
Fixed default GUI skin failing to pass build step verification
Fixed split screen support in the Editor
Fixed AudioSource playback to respect AudioListener volume
Fixed assert when skinned characters come into view
Fixed Screen.width/height briefly reporting wrong values in the Editor
Fixed bug where installer pops up old version warning
Link: Unity iPhone (available through the Apple App Store)
Dow Jones Posts Proprietary iPhone App
iPodNN reports:
"Market tracker Dow Jones has launched Dow Jones: Sales Triggers, a new iPhone app that provides alerts on business-related news. The app uses predefined news categories for its triggers; alerts can be raised, for instance, by management changes, such as a CEO, CFO or other major player leaving or joining a company. Mergers, acquisitions and new investments can also be triggers."
Link: Dow Jones Posts Proprietary iPhone App (available through the Apple App Store)
New iPod touch-iPhone Downloads Packed with Array of Financial Calculators and Tools
PR: Whether you are someone who works full-time in finance, a business student or a businessman, here are two new downloadable programs that turn your iPod into a powerful and important tool for you to use in these trying economic times.
Formulator - the dynamic $6.95 download that contains over 90 of the most useful financial calculation formulas
Personal Formulator - a 99 cents version that contains only personal financial calculation formulas.
Formulator makes it easy to quickly find what you need. You can search, mark formulas as favorites, or access recently used formulas.
Formulator combines a financial dictionary with financial calculator. The program contains over 70 useful financial calculation formulas. Each formula both calculates the entered values and explains the meaning and importance of those calculations.
Formulator includes calculation formulas used by consumers (e.g. mortgage and lease calculators), as well as formulas needed by financial analysts, (e.g. Acid Test Analysis, or a Z credit score analysis.)
Other areas of formulas found in Formulator include: Insurance calculations, interest formulas, stock valuations, bonds, cash flow analysis and sales ratios, investment formulas, debt ratios.
Personal Formulator is among the first of a series of iPhone products being created by Multieducator.
To download these programs go to the Apple iTunes Gift Store and look for Formulator and Personal Formulator.
Just featured in the December 15, 2008 issue of Business Week.
Detailed List: Formulator contains the following formulas: Actual Cash Value, Insurance Reimbursement, Future Value, Daily Interest, Interest Computation, Days of Savings, Annual Percentage Rate, Discounted Value of Note, Holding Period Return, Capitalization Rates, Equivalent Taxable Yield, Housing Affordability, Car Lease Payments, Interest Rate on Car Lease, Acid Test, Debt Service Ratios, Interest Coverage, Asset Utilization, Accounts Receivables Turnover Ratios, Bad Dept to Sales Ratios, Debt Ratio, Debt to Equity, Delinquent Sales Outstanding, Inventory Turnover Ratio, Depreciation-Yearly, Cash Flow to Total Debt Ratio, Cash to Current Liabilities, Cash to Working Capital, Cash Flow Ratios, Cash Coverage Ratios, Current Ratio, Free Cash Flow, Net Working Capital, Z Formulas, Sales to Debt, Sales to Receivables, Sales to Current Assets, Sales to Administrative Costs, Sales to Cash, Sales Per Person, Selling Expenses vs. Net Sales Ratios, Gross Profit Margin, Profit Margin of Sales, Inventory Turnover, Breakeven Analysis-Units, Operating Cycle in Days, Inflation Adjusted Price, Horizontal Analysis, Working Capital in Days, Cost of Debt(Bonds), Cost Preferred Stock, Cost of Common Stock, Bond Yield, Cost of Credit, Effective Annual Yield, Investors Capital To Sales, Capital to Noncurrent Assets, Return on Investment, Cash on Cash Investment, Opportunity Cost, Authorized to Issued Shares, Stock Options vs. Shares Outstanding, Book Value Per Share, Price To Earnings Ratio, Earning Rate on Investments, Price to Sales Ratio, Payout Ratio and Price to Book Ratio.
Thirty formulas are included in the personal addition of the Formulator Whether you are shopping and want to know how a purchase will increase your minimum monthly payments, or you need to calculate what your final cost will be after multiple discounts, this application is for you. The program also includes conversion formulas for many daily needs: such as miles to Kilometers, or meters to feet... Cooking conversions formulas that convert tablespoons to milliliters or ounces to grams... tip calculations, car loans, insurance reimbursements, and monthly car loans. All formulas can be saved for future reference. In addition you can create your own list of preferred formulas AND our formulas each include a description that explains the calculations
Marc Schulman has been an Apple Developer since 1982. He developed a few of the very early Mac products. "Back in those days the biggest problem was distribution. I remember a time when Apple would hold conventions for Mac and any developer who had a product could exhibit for free. When I heard about the iPhone products I thought back at some of those early products, and an opportunity to develop some similar products."
For the past 25 years he has been developing software products including a line of Multimedia history CD and now DVD-ROM. He calls himself a Multimedia Historian.
Background on the Development of this Product:
The FORMULATOR Series is the result of a unique partnership between MultiEducator, Inc., an American company and an Israeli programmer named Nimi Peleg. When MultiEducator began developing the Formulator, it became clear it did not have the in house talent to complete the project on its own. Marc Schulman made what seemed like an unlikely connection. A friend had made Aliyah and moved to Avtalyon, a small village in the Northern Galilee. He could not stop talking about his new friend Nimi who was an expert on the Mac.
"I contacted Nimi," said Schulman, "and he was immediately interested in partnering on the project. We made all the arrangements by e-mail and both began working."
This summer while visiting Israel I met Nimi for the first time" said Schulman. Since then we have been working closely together. Marc and Nimi video chat a couple of times each week and exchange code. It has been a very rewarding partnership, a partnership made possible by technology.
Technology has made it possible for a talented Israeli living far from Israel's technology centers to collaborate as if he was next store.
Nimi and Marc are working together on additional products in the FORMULATOR line. They are hoping to release version 2.0, which will be a major upgrade, in spring 2009.
Link: Formulator (available through the Apple App Store)
Former equinux CTO Launches New iPhone Venture, Acquires Where To App
PR: In a transaction worth $70,000 the new iPhone software company FutureTap acquired "Where To?", the leading iPhone point of interest app. The app was acquired from day-zero iPhone developer tap tap tap after their split of the company.
The driving force behind FutureTap is Ortwin Gentz, cofounder and former CTO of equinux. equinux is best known for their quality Mac applications such as iSale, a two-times AppleDesign Award winner. Based in Germany (Munich area), FutureTap today commenced operations by relaunching Where To in the iPhone App Store.
Where To brings the power of a commercial GPS "points of interest" feature to the iPhone. Where To enables users to find food, places to shop, fun things to do and much more with just a few taps. Where To includes over 600 categories and brands, so that users can find whatever they're looking for without having to type in search terms. The new version offers German localization and newly added categories and brands.
"We're excited to have Where To, the best point of interest app for the iPhone, back in the App Store", says Ortwin Gentz, FutureTap CEO. "The launch in Germany, Austria and Switzerland is just the beginning of our efforts to go international. And we've some exciting new features in the pipeline", he adds.
"When we put Where To on the market, our biggest concern was that it would fall into the hands of someone who wouldn't properly nurture it. But thankfully, because of Ortwin's past experience and drive to succeed, I'm confident that the app will have a very prosperous second life", said John Casasanta, tap tap tap CEO.
Version 1.5 is available starting today in the iPhone App Store and is being sold for $2.99.
Link: Where To (available through the Apple App Store)
Protection
USB Fever Aluminum Case for iPod touch 2nd (Black)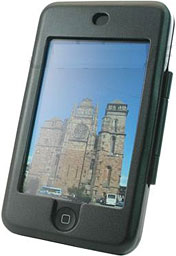 PR: If the protection from Silicone case and Crystal case are not enough, then you have a better way to do it.
This case is made with aluminum, lightweight and hard. Inside the aluminum, it is filled with neoprene lining, comfortable and prevent from shocks.
Features:
Light weight, made of high grade aluminum.
Neoprene lining to prevent from shocks.
Options:
Black (Default color to be shipped)
Silver
$19.99
Join us on Facebook, follow us on Twitter or Google+, or subscribe to our RSS news feed
Links for the Day
Recent Content
Custom Search
Follow Low End Mac on Twitter
Join Low End Mac on Facebook
Favorite Sites
MacSurfer
Cult of Mac
Shrine of Apple
MacInTouch
MyAppleMenu
InfoMac
The Mac Observer
Accelerate Your Mac
RetroMacCast
The Vintage Mac Museum
Deal Brothers
DealMac
Mac2Sell
Mac Driver Museum
JAG's House
System 6 Heaven
System 7 Today
the pickle's Low-End Mac FAQ
Affiliates
Amazon.com
The iTunes Store
PC Connection Express
Macgo Blu-ray Player
Parallels Desktop for Mac
eBay

Advertise