iLounge Pavilion Planned for CES, Apple Says No to iPhone nano, Sanctuary Charging Station, and More
This Week's iPhone, iPod, and Apple TV News
Compiled by Charles Moore and edited by Dan Knight - 2009.01.23
Mac notebook and other portable computing is covered in The 'Book Review, and general Mac news is in Mac News Review.
All prices are in US dollars unless otherwise noted.
News, Reviews, & Opinion
Apps & Services
Accessories
iPod and iPhone Deals
These price trackers are updated regularly.
News, Reviews, & Opinion
iPod, iPhone Vendors to Take Stage at the 2010 International CES iLounge Pavilion
PR: The Consumer Electronics Association (CEA) has announced the official launch of the iLounge Pavilion, a unified iPod/iPhone pavilion at the 2010 International Consumer Electronics Show, the world's largest trade show for consumer technology. The iLounge Pavilion, cosponsored by CEA and iLounge.com, will be located in the Las Vegas Convention Center (LVCC) and will feature a special exhibition area for manufacturers and retailers of iPod and iPhone accessories, related products, and services. The 2010 International CES is scheduled for January 7-10, 2010, in Las Vegas, Nevada.
iLounge, established in 2001, is the world's leading independent authority on Apple's iPod, iPhone, their accessories, and software, with thousands of published reviews and four million readers per month. "We are excited to announce that iLounge and CEA are partnering on this dynamic new CES pavilion," said Gary Shapiro, president and CEO, CEA. "The accessories market, driven by the popularity of iPods, iPhones, and other MP3 and smartphone technologies, will grow this year to a nearly $15 billion market. This new pavilion is one more innovative way the 2010 CES will be the epicenter of consumer technology."
"iLounge is proud to be working with CEA and the world's leading iPod and iPhone developers to fulfill a common goal," said Jeremy Horwitz, editor-in-chief, iLounge, "to give these exciting companies and products a prominent stage at the center of the industry's most important technology trade show. We are especially glad that readers, exhibitors, and retailers will finally be able to find all of the best new iPod and iPhone products of 2010 in one excellent place."
"Our goal is simple: create an easily findable, walkable, and engaging iPod and iPhone destination at the 2010 CES," said Karen Chupka, senior vice president, events and conferences, CEA. "This launch means that the space has been established and the wait/priority list for the pavilion is now open. We believe that CES attendees will make this pavilion a 'must-see,' and based on early inquiries we think this area, already set for thousands of square feet, will very rapidly sell out."
The 2009 CES featured exhibitions from more than 2,700 technology companies, including 300 first time exhibitors. Companies interested in exhibiting at the 2010 iLounge Pavilion at CES should contact Tira Gordon, National Account Manager for CES, at tgordon@ce.org.
The Consumer Electronics Association (CEA) is a trade association promoting growth in the $173 billion US consumer electronics industry. More than 2,200 companies enjoy the benefits of CEA membership, including legislative advocacy, market research, technical training and education, industry promotion and the fostering of business and strategic relationships. CEA also sponsors and manages the International CES - Where Entertainment, Technology and Business Converge. All profits from CES are reinvested into CEA's industry services.
iLounge is a leading independent resource for information on Apple's iPod, iPhone, and iTunes, as well as their accessories and software. As the respected publisher of annual, multi-million-copy Buyers' Guide and Book publications, iLounge has focused on Apple's digital media initiatives since 2001, maintaining the most comprehensive archives of information, forum discussions, and photography on these products. iLounge's prestigious annual "Best of Show" Awards are issued solely on the basis of merit to the industry's leading products and companies, and will be exclusive to the International CES in 2010.
iLounge Bringing iPod/iPhone Pavilion to 2010 CES
The Register's Rik Myslewski reports:
"The Consumer Electronics Association (CEA) announced today that it will co-sponsor (with iLounge.com) a 'unified iPod/iPhone pavilion' at next year's Consumer Electronics Show (CES), raising more questions about the continued existence of Macworld Expo.
"CES will be held in Las Vegas on January 7-10. Macworld Expo - if it survives this latest blow - will overlap two of those dates. It's scheduled January 4-8 at San Francisco's Moscone Center.
"Apple announced in mid-December that the 2009 Macworld Expo would be its last. Without its central exhibitor, many observers feel that Expo 2010 would, at best, be a shell of its former self...."
Link: iPhone iLounge Threatens Jobsian Cult Reunion
Control All Your Computers from One iPhone
McClatchy-Tribune News Service's Craig Crossman says:
"I've gone on record defining the iPhone to really be a mobile computer that can also make cell phone calls. It uses OS X, the Macintosh operating system to run software such as productivity, game, Internet applications and more. A platform is an underlying computer system on which application programs can run....
"The iPhone is becoming an important computer platform that continues to expand in its abilities. And now there's a new iPhone application that lets you totally and remotely control all of your other computers...."
Link: Control All Your Computers from One iPhone
Apple Rules Out 'iPhone nano,' Not Keen on Mac Netbook
AppleInsider's Prince McLean reports:
"Apple exposed its complete lack of interest in building a stripped down, voice-only iPhone or a Mac-based netbook during its fiscal first quarter conference call Wednesday afternoon...."
Link: Apple Rules Out 'iPhone nano,' Not Keen on Mac Netbook
Gloves Come Off for iPhone Users at Inauguration
The LA Times' Carla Hall reports:
"Here's a blow to gadget geeks in town for Barack Obama's presidential inauguration, particularly ones from balmy California: Gloved fingers can't control the iPhone.
"It's cold in DC, and as women who have long fingernails understand, the iPhone's innovative touch screen needs the electrical charge emitted by fingertips to function properly....
"There are a few solutions...."
Link: The Gloves Come Off for iPhone Users at Inauguration
Annoy-A-Teen Developer Considers Charges Over Pirated iPhone App
RealTechNews's Michael Santo reports:
"The developer of an iPhone app that uses high-frequency sound which most teens can hear, and almost no adults over 30 can hear, to . . . well, annoy teenagers, is considering criminal charges after the app was pirated."
Link: Annoy-A-Teen Developer Considers Charges Over Pirated iPhone App
Apps & Services
Version 2.0 of The BlackBook Mobile Guides iPhone Application
PR: BlackBook Media Corp. has announced the release of version 2.0 of The BlackBook Mobile Guides iPhone application - the ultimate insider curated database of restaurants, nightlife, hotels & shopping in 28 fashionable international cities. The fully upgraded application includes substantially increased functionality including expanded filtering, keyword search, and interactive maps for instant information and reviews and shopping for New York, Los Angeles, and St. Barts.
In addition to BlackBook's renowned editorial staff giving users access to search restaurants, bars and clubs in 28 fashionable cities worldwide, the update allows users to search for shopping venues in New York, Los Angeles and St. Barts. BlackBook worldwide, local editors have filtered out the clutter and narrowed down the listings to those places worth checking out!
In addition to the GPS "near me" functionality, users have the ability to sort their preferences by city, neighborhood, cuisine, price, type (e.g. dive bar or posh sips), vibe and the list of BlackBook's editor's features. Users can sort by features for restaurants including "Late Night Bites", "Celeb Sightings" and "Euro Trash Warning" and for bars & clubs including "Live Music", "Better After Midnight", and "Happy Hour Standout." The new interactive maps enable users to plot their results in relation to where they are, provide instant information and reviews, and provide door-to-door directions.
"The ability to deliver our local restaurant, nightlife and shopping content on the mobile device to the BlackBook user on-the-go is the 'killer app' for our guides," commented Ari Horowitz, BlackBook CEO. "The additional functionality that we will deliver to directly connect venues with our insiders in real-time is a game changer. This is a big step forward in the mobile revolution becoming an even bigger part of our lives."
The BlackBook Mobile Guides iPhone application is the most recent effort by BMC to bring BlackBook's authoritative and irreverent guide listings directly to users in ways that best suit their digital lifestyles. It is currently available for free on Apple's iTunes Application store.
BlackBook is the insiders' guide to style and culture. We deliver our fashion and entertainment guides through mobile applications, BBook.com, pocket-sized city guide books & a visually arresting monthly magazine. The BlackBook Guides on BBook.com provide highly configurable search parameters and are the ultimate curated source to find the best restaurants, bars & clubs, hotels, shopping and more in major US and international cities. For more information, visit:
Link: BlackBook (available through the iPhone App Store)
Where To? for iPhone and iPod touch Updated to 1.6
PR: FutureTap announces that "Where To?", the premier location and navigation app for the iPhone and iPod touch, has recently been updated to version 1.6. Changes include the ability to "Shake for Surprise", for those times when you can't decide where to have dinner or drinks. Where To? 1.6 also introduces a revolutionary new feature, the ability to translate your queries into the local language of the country you happen to be in. For example, suppose you are vacationing in Berlin, and suddenly become ill. With Where To you can find directions to the closest hospital quickly and easily, without knowing the word "Krankenhaus". This feature is currently available for German, and more languages (French, Spanish, etc.) will be added in a future update.
Changes in the Where To? 1.6 Update:
Added Shake for Surprise
Added on-the-fly translation: Browse in English, search in German (and vice versa)
Search language automatically set by geo-location
New Settings panel for shake detection and selection language
Shipping service brands added to find the nearest UPS/FedEx/DHL store
Category improvements and new brands added
Where To? is the clever way to find your next destination, using your iPhone and iPod touch. Far more than just a restaurant and bar locator, Where To allows you to quickly and easily locate the closest bank, hospital, movie theater, and more! Need to find the nearest ATM? Want to know where the closest public transport station is? Let Where To show you the way! Initially developed by tap tap tap, Where To is now being sold and published by FutureTap.
Where To? is available for just $2.99 from Apple's App Store on iPhone and iPod touch
Link: Where To? (available through the iPhone App Store)
PayShield for iPhone and iPod touch
PR: Creolabs has released PayShield, the most complete way to have full access to your PayPal account for the iPhone and iPod touch. With PayShield you can easily check your online balance, get transaction details, refund a transaction, send money to anyone with an email address, and much more.
PayPal is the safer, easier way to pay and get paid online. The service allows anyone to pay in any way they prefer, including through credit cards, bank accounts, buyer credit or account balances, without sharing financial information. With PayShield you have the power of PayPal just a touch away from your iPhone and iPod touch.
PayShield can also be used to monitor your eBay transactions (paid with PayPal) and it enables you to check your online sales very easily.
Key features are:
Complete Balance information (also on multiple currencies)
Advanced search for all the past transactions
Complete transaction details
Refund transactions
Send money to anyone with an email address
Password protect access to your data
Requirements:
PayShield works with all iPhones and iPod Touches running version 2.2 software or later
WiFi, Edge, or 3G Network required to use the access your PayPal account
A business or premiere PayPal account
PayShield is based on the PayPal API Credentials and it is available worldwide. PayShield is now at the Apple App Store at a special introductory price of $3.99.
Link: PayShield (available through the iPhone App Store)
Juicy Development Adds Audio Stream to Talk Radio for iPhone
PR: Juicy Development LLC has released version 2.0 of Talk Radio for iPhone. Talk Radio is the perfect companion for truck drivers, business travelers, and vacationers. Using location-aware searching, Talk Radio identifies where and when a user's favorite shows are available. The update version adds audio streams in addition to a number of new host programs. By using Talk Radio listeners will never need to miss their favorite host or worry about being bored on the road again.
Using the Talk Radio application is easy - users simply select the host they wish to listen to. With a simple click, Talk Radio uses the iPhone's Core Location technology and a proprietary algorithm to present a list of radio stations and program air times in the users area. A manual search option allows users to find exactly what they want no matter where they are.
Talk Radio tracks program including Rush Limbaugh, Dr. Laura, Sean Hannity, Alan Colmes, Glenn Beck and other popular hosts on both AM and FM frequencies. Additional hosts are being added regularly and users are encouraged to submit requests online. Designed to take advantage of the iPhone location and network capabilities, Talk Radio learns from users who report coverage, corrections, or changes and transmits that information to everyone with the application automatically. Left wing, right wing, or just wanting to hear the latest gossip, every radio listener will want this application.
Version 2.0 also adds the ability to listen live to many of the stations via audio stream on the iPhone. Product manager David Kyle stated "This was our most requested feature so we asked our developers to rush development. What they created is exciting."
Currently Talk Radio works well within the United States but, as a "learning application", collects information from our listeners who report in. International entries in our database are growing quickly.
The cost of the application will be increased to $2.99 but all existing users will receive a free upgrade.
Link: Talk Radio for iPhone (available through the iPhone App Store)
BreakThru Radio 'Live Studio' Comes to the iPhone and iTouch
PR: BreakThru Radio (BTR) claims to be the world's source for the best independent music on the Internet, where expert DJs expose the rich underground of sound not found on commercial radio. Live Studio, one of BTR's most popular shows, aggregates about 1,800,000 total listens per broadcast. Live Studio's Director, Maia McDonald presents the twice weekly shows which capture intimate live performances and compelling interviews which are prerecorded at Dubway Studios and Shelter Island Sound in New York.
BreakThru Radio (BTR) claims to be the World's source for the best Independent music on the Internet, where expert DJs expose the rich underground of sound not found on commercial radio. Whether it's Indie-Rock, Dancehall, Dubstep, Hip-Hop, Skronk, Roots, Country, Reggae, Electronica, Acid Jazz, Ambient Beats, Dub, Two-Step, Death Metal or Folk; whatever genre you can imagine, BTR's on-demand programming has it well-stocked, and with no expiration date.
Live Studio, one of BTR's most popular shows, aggregates about 1,800,000 total listens per broadcast. Live Studio's Director, Maia McDonald presents the twice weekly shows which capture intimate live performances and compelling interviews which are prerecorded at Dubway Studios and Shelter Island Sound in New York.
Having had an array of artists/ bands on the program such as: Ra Ra Riot, New Buffalo, Longwave, The Brunettes, Langhorne Slim, Jason Collett and Matt Keating, Live Studio is excited to be in the position to solidify its position as one of the most dynamic and diverse live music shows on the Internet.
The program's eclectic mix of quality music guests continues in 2009 with performances scheduled for: Red Wire Black Wire, Gabriel Kahane, Drink Up Buttercup, Greta Gertler & The Fondles, Andy Friedman & The Other Failures, The Jones Street Boys, Kelley McRae and The Loom.
Stay tuned for more announcements from BTR's Live Studio in the coming weeks!
In a world where independent music is becoming infinitely more accessible on the Internet, the need for informed sources to filter out the best of it has become a necessity. "Music for music lovers," is BTR's motto, and one that its DJ's take very seriously.
Unlike other radio stations, BTR offers complete, on-demand programming; a first in internet radio. Listeners can cater to their specific musical preferences, whatever the genre, and at the same time discover the best independent and unsigned artists from across the world. Access the BTR iPhone/ iTouch application application by navigating to the website in Safari on their device.
Link: BreakThru Radio on iPhone (available through the iPhone App Store)
SlotZ Racer Released for the iPhone and iPod touch
PR: Freeverse has announced the release of SlotZ Racer, the ultimate slot car racing game for the iPhone and iPod touch. Developed by Strange Flavour, the creators of Flick Fishing, SlotZ Racer puts the thrill of realistic 3D slot cars in the palm of your hand. Relive those great childhood memories of building tracks, burning rubber, and racing with your friends and family!
SlotZ Racer lets players race against the computer or friends; a unique control system allows up to 4 people to race on a single iPhone! Compete for laps or against the clock in Time Trials, drive an endurance race, (with simulated days and nights), or play a 'Quick Race' to jump straight into the action. SlotZ Racer features an intuitive track editor to give the player the ultimate freedom to design their very own courses, and offers a wide selection of cars to race. The game also includes unlockable new circuits, cars, track locations and championship challenges to keep the action exciting and fresh! Players have the option to play with lane changing, or fixed lanes for the racing purists.
SlotZ Racer sells for $2.99 and is immediately available from Apple's App Store on iPhone and iPod touch or from here.
Link: SlotZ Racer (available through the iPhone App Store)
HiQ International Develops AirFight, a Flight Simulator for iPhone
PR: At the request of the Swedish software company Ocko AB, HiQ has developed a special application called AirFight, an advanced flight simulation game for iPhone. The game was launched before Christmas and the market's initial reaction has been positive.
"AirFight is an advanced 3D flight simulation game for iPhone which offers an exceptional gaming experience. It's easy to learn but is a considerable challenge to master. It's a social game where players can play simultaneously on their iPhone or iPod touch devices. Developing AirFight was an exciting project from start to finish and was made possible through close collaboration with HiQ. HiQ's expertise in mobile applications and advanced software development was critical for the success of this project," says Fredrik Gustavsson, founder of Ocko AB, the company behind Air Fight.
In AirFight the integrated accelerometer and multitouch feature are used to control the plane. With a special setting on the phone you can select an energy-saving mode enabling you to play much longer than usual without having to recharge. The user can also plug the phone into a home entertainment system to experience the fantastic 3D sound effects.
"AirFight can be played by one or two players. Single players engage with the phone's own fighters. Two players can fight against one another in the multiplayer mode. This is one of the few multiplayer games developed so far for iPhone and we are very satisfied with the result," says Johan Sanneblad who has a PhD in Mobile IT and was responsible for the project at HiQ.
"HiQ has unique expertise in developing mobile applications and we see great potential in developing this type of application. I have worked with mobile application development for more than ten years now and I've never come across a mobile platform where it is possible to move so quickly from concept to finished product as iPhone, which means it's of great interest to Swedish companies wanting to launch new mobile applications," continues Johan Sanneblad.
The game concept comes from the Swedish company Ocko AB and its founder Fredrik Gustavsson. Ocko AB is based in Ljungskile on the west coast of Sweden and develops software for iPhone.
HiQ is an IT and management consultancy company focusing on high-tech solutions in the fields of communications, software development and simulation technology. The company is a leading player in these fields and the Nordic region is its domestic market. HiQ employs nearly 1,200 people at offices in the Nordic region and Eastern Europe. HiQ is listed on the Nordic Exchange's MidCap list.
Link: AirFight (available through the iPhone App Store)
iPhone Finds New Use in Treating Stuttering
PR: Scientists at Hollins Communications Research Institute (HCRI), a leading center for stuttering research and treatment innovation, have just completed successful trials using Apple's iPhone as a stuttering therapy tool to enhance the transfer of new fluency skills from the clinical setting into real-life situations.
The iPhone device was programmed at HCRI with a sophisticated voice monitoring system that evaluates and scores speech behaviors taught during stuttering therapy. When clients use the device during training in outside situations, such as in a shopping mall, restaurant or business setting, fluency measurements for each utterance are displayed on the iPhone screen. Having this data immediately available to stuttering therapy program participants makes speech practice more effective and helps improve the speed with which fluency results are achieved.
In addition, the iPhone records every speech sample in an onboard file for later transmission to HCRI. This information enables the institute's therapists to provide more detailed and precise training to clients, as they learn to apply new speech capabilities in everyday situations.
The iPhone has exceeded expectations during trials with stuttering therapy participants, according to HCRI Founder and President Ronald L. Webster, Ph.D. Client scores in outside trials were similar to those made in the clinical environment, indicating that quality transfer of fluency skills was being attained.
"Our clients now have a dynamic, easy-to-use tool that can be used in virtually any setting to evaluate how well they are using newly learned fluency skills," Dr. Webster said. "In addition, the device provides training feedback and performance data that were previously available only with our clinic-based computers."
Webster added that client responses during the trials, which were completed last week, have been extremely positive. He attributes the device's strong appeal to the fact that the iPhone is a practical and fun piece of technology to use for the advancement of stuttering treatment outcomes .
The iPhone will become a regular component of HCRI's stuttering treatment during the week of January 26, 2009. HCRI's stuttering program, Hollins Fluency Program: Advanced Speech Reconstruction for Stuttering™, helps people who stutter learn how to replace faulty muscle contractions that cause stuttering with new muscle behaviors that generate fluent speech. By helping people learn how to reconstruct muscle actions that drive movements of the tongue, lips, jaw, vocal folds, and breathing mechanisms, individuals who stutter can acquire and sustain the ability to speak fluently.
An estimated 66 million people worldwide suffer from the effects of stuttering, with three million living in the US, according to the National Institutes of Health. There is no cure for the condition - only stuttering treatment can help.
Hollins Communications Research Institute, founded in 1972 by Ronald L. Webster, Ph.D., has grown into a world-leading center for the investigation and treatment of stuttering. The 501 (c) (3) nonprofit institute is unique from other stuttering organizations in that work focuses on developing scientifically based treatment methods, as well as administering stuttering therapy.
More than 5,600 people from 23 countries have come to HCRI for stuttering therapy. Clients include John Stossel of ABC TV's 20/20 program; Arthur Blank, cofounder of Home Depot; and Annie Glenn, wife of senator and astronaut John Glenn. HCRI is located at 7851 Enon Drive, Roanoke, Virginia, 24019. Contact HCRI at admin@stuttering.org or 540-265-5650. For video speech samples and more information, visit:
Link: HCRI (available through the iPhone App Store)
Accessories
iFlyz Secures Mobile Electronics for Handsfree Viewing While Traveling
PR: iFlyz International announces iFlyz, an in-flight, handsfree solution designed specifically for air travelers. The iFlyz's suction cup firmly grasps any device, relieving the strain of holding it for long periods of time while watching a movie, surfing through music, or reading online. iFlyz is simple, durable, and compact and ideal for anyone constantly on the go.
It's a unique product that offers a helping hand for those trying to juggle a mobile electronic device while trying to relax on a plane trip. The iFlyz device is an in-flight, handsfree solution designed specifically for air travelers. The iFlyz's suction cup firmly grasps any device relieving the strain of holding it for long periods of time while watching a movie, surfing through music or reading online. The iFlyz device uses an adjustable clamp to attach to either an upright and locked seat tray or one that is open during drink or dinner service and has a flexible gooseneck that allows the attached mobile device to be turned any angle or direction.
iFlyz has a simple three step process: attach your phone or media player to the iFlyz suction cup; clamp it to a meal tray in either the stowed and locked position or unlocked and down position; and simply adjust the flexible gooseneck to the ideal angle. The product is simple, durable and compact; ideal for anyone constantly on the go. It is compatible with iPhones, iTouches, iPods, BlackBerrys, smartphones, and PMPs of various brands. The iFlyz is 5 1/2 inches long and 2 1/2 inches wide, and weighs only two ounces.
Up to now, travelers were forced to hold their electronic devices or get creative with some crude, off-balance way to try to position it for viewing. There's even a blog article and video circulating the internet showing how people are using barf bags on airplanes as shoddy, makeshift holsters for the electronic devices. The iFlyz eliminates the need for such makeshift efforts.
The idea for iFlyz came as a way to make life easier for travelers trying to relax. "Being an early iPhone adopter and frequent flyer, I took note of all the other users on my weekly flights taking advantage of their time in the air to catch up on their favorite movies and TV shows," said Alastair MacGregor, iFlyz International CEO. "It was immediately evident that I wasn't the only person loving the new technology but hating that I had to hold my device to be able to watch any video content."
MacGregor says that while there are a few multipurpose device mounts or cradles on the market, the iFlyz is the only one designed specifically for air travel and the only one that works with the tray up or down.
Pricing and Availability: iFlyz sells for $29.99 and is available now online.
Link: iFlyz
USB Fever Transmitter with Car Charger for iPhone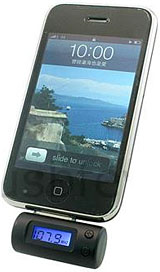 PR: Features:
High Fidelity
Stereo
With Digital PLL, Singal transmission and reception will be minimized even under extreme whether
Full Frequency range (87.9 MHz ~ 107.9 MHz (interval 0.1 MHz)
Memory for last frequency
Charger for iPhone / iPod with car cigarette socket
Blue backlight
Compact
Plug-N-Play
Mode: Play (just plug it into your iPhone / iPod) or Play + Charging (iPhone / iPod + FM Transmitter + Car Charger)
Specifications:
Frequency response: 100 Hz ~ 15000 Hz
Separation: >=30dB
Operating current: 20+/-3mA
Transmission Range: 87.9 MHz 107.9 MHz (interval 0.1 MHz)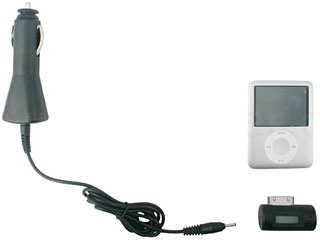 This accessory is compatible with:
iPhone 3G / iPhone
iPod Touch 1st Gen / iPod Touch 2nd Gen
iPod Classic
iPod Nano 4th
iPod Nano 3rd
Option: Color
Black (default color to be shipped)
Silver (*)
Blue (*)
Purple (*)
Red (*)
Green (*)
White (*)
* currently out of stock, if you need it, pls send an email to us after check-out.
$28.99
Link: USB Fever Transmitter with Car Charger for iPhone
The Sanctuary Charging Station in Dark Wood Color
PR: One of 2008's most exciting products has a whole new look
The Sanctuary, Bluelounge's best-selling integrated charging station, has been released in a new dark wood color version. In addition to charging electronic devices, Bluelounge's warm design provides the perfect safe haven for credit cards, wallets, money clips, loose change, keys and other often-misplaced personal items. The Sanctuary's award-winning design has received overwhelming critical acclaim and has been featured in such major publications as Wired, The Financial Times, Playboy, Metropolitan Home, Metropolis and many more. It was recently on display at the Wired Pop-Up Store in New York City. The new Dark Wood Sanctuary features an exclusive PU leather inner tray and retails for $149.95 US Dollars. It is available immediately through:
"The new Dark Wood Sanctuary exemplifies our mission of designing items that are technologically useful but completely invisible in the household," said Bluelounge Principal Dominic Symons. "It's a seamless addition to almost any home."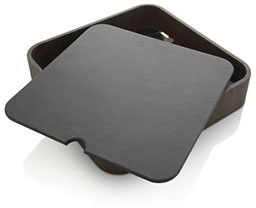 With The Sanctuary, users can now charge their cell phone, iPod®, PDA and headset simultaneously in one compact location. It contains a universal cellphone charger compatible with over 1500 electronic devices from over 35 brands and hundreds more via a USB port. The Sanctuary user can be confident that their personal electronics will be compatible without having to purchase additional tips and connectors. Fashionably concealing these multifunctional electronic capabilities, this Bluelounge product is also a chic and accessible destination for all of one's personal affects.
The Sanctuary performs its functions with ease and elegance. It is designed for daily use at one's kitchen counter, bedside table, or office desk. Bluelounge Design's use of materials creates a substantial weight to the product, combining innovative technology with high quality craftsmanship. The Sanctuary is made from injection molded ABS, which is then coated for a high-end gloss finish. The inner tray is finished with flocking in black and tan (reversible) and the base is manufactured with a flat injection molded rubber plate.
Link: Bluelounge
Join us on Facebook, follow us on Twitter or Google+, or subscribe to our RSS news feed
Links for the Day
Mac of the Day: MacBook Core Duo, introduced 2006.05.16. The iBook's replacement has a 13" widescreen display and a 1.83-2.0 GHz Intel Core Duo CPU.
Recent Content
Custom Search
Follow Low End Mac on Twitter
Join Low End Mac on Facebook
Favorite Sites
MacSurfer
Cult of Mac
Shrine of Apple
MacInTouch
MyAppleMenu
InfoMac
The Mac Observer
Accelerate Your Mac
RetroMacCast
The Vintage Mac Museum
Deal Brothers
DealMac
Mac2Sell
Mac Driver Museum
JAG's House
System 6 Heaven
System 7 Today
the pickle's Low-End Mac FAQ
Affiliates
Amazon.com
The iTunes Store
PC Connection Express
Macgo Blu-ray Player
Parallels Desktop for Mac
eBay

Advertise