3G iPod shuffle Smallest Yet, 320 GB Upgrade for Apple TV, Document Scanning App, and More
This Week's iPhone, iPod, and Apple TV News
Compiled by Charles Moore and edited by Dan Knight - 2009.03.13
Mac notebook and other portable computing is covered in The 'Book Review, and general Mac news is in Mac News Review.
All prices are in US dollars unless otherwise noted.
News, Reviews, & Opinion
Apps & Services
Protection
iPod and iPhone Deals
These price trackers are updated regularly.
News, Reviews, & Opinion
3G iPod shuffle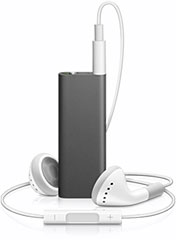 PR: Apple on Wednesday introduced the all-new iPod shuffle, the world's smallest music player at nearly half of the size of the previous model, and the first music player that talks to you. The revolutionary new VoiceOver feature enables iPod shuffle to speak your song titles, artists and playlist names. The third generation iPod shuffle is significantly smaller than a AA battery, holds up to 1,000 songs and is easier to use with all of the controls conveniently located on the earphone cord. With the press of a button, you can play, pause, adjust volume, switch playlists and hear the name of the song and artist. iPod shuffle features a gorgeous new aluminum design with a built-in stainless steel clip that makes it ultra-wearable.
"Imagine your music player talking to you, telling you your song titles, artists and playlist names," said Greg Joswiak, Apple's vice president of iPod and iPhone™ Product Marketing. "The amazingly small new iPod shuffle takes a revolutionary approach to how you listen to your music by talking to you, also making it the first iPod shuffle with playlists."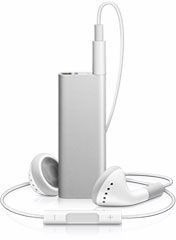 iPod shuffle is based on Apple's incredibly popular shuffle feature, which randomly selects songs from your music library. And now, when you can't remember the name of a song or an artist playing, with the press of a button iPod shuffle tells you the name of the song and artist. iPod shuffle can even tell you status information, such as battery life. With the ability to hold up to 1,000 songs and the VoiceOver feature, you can now easily switch between multiple playlists on your iPod shuffle. iPod shuffle can speak 14 languages including English, Czech, Dutch, French, German, Greek, Italian, Japanese, Mandarin Chinese, Polish, Portuguese, Spanish, Swedish and Turkish.
The new iPod shuffle comes in silver or black and features a sleek and ultra-wearable design with a built-in stainless steel clip. iPod shuffle is the smallest music player in the world and is incredibly easy to clip to almost anything and take with you everywhere you go. iPod shuffle features up to 10 hours of battery life.*
The third generation 4 GB iPod shuffle is now shipping and comes in silver or black for a suggested price of $79 through the Apple Store ( www.apple.com ), Apple's retail stores and Apple Authorized Resellers. iPod shuffle comes with the Apple Earphones with Remote and the iPod shuffle USB cable. iPod shuffle requires a Mac with a USB 2.0 port, Mac OS X v10.4.11 or later and iTunes 8.1 or later; or a Windows PC with a USB 2.0 port and Windows Vista, Windows XP Home or Professional (Service Pack 3) or later and iTunes 8.1.
*Battery life and number of charge cycles vary by use and settings. See www.apple.com/batteries for more information. Song capacity is based on four minutes per song and 128-Kbps AAC encoding; in 256-Kbps AAC format, song capacity is up to 500 songs; actual capacity varies by encoding method and bit rate.
Link: 3G iPod shuffle
10 Surprises - Half Good, Half Bad - in 3G iPod shuffle
iLounge's Jeremy Horwitz says:
"It's a great day whenever Apple releases a new iPod - even if it's just a new iPod shuffle, the model that has historically been better known for its size and low pricing than anything else....
"There are 10 important points - half positive, half negative - that you should know about what the new shuffle means for the iPod family...."
Link: Ten Surprises - Good + Bad - in Apple's Third-Gen iPod shuffle
New iPod shuffle: Who's Got the Button?
Macworld's Dan Moren says:
Steve Jobs hates buttons.
"That shouldn't come as a surprise to you: the Apple CEO has been on a crusade to wipe moving parts from the face of Apple's products as early as the replacement of PowerBook trackballs with trackpads* or the removal of the physical scroll wheel from the original iPod. The iPhone and iPod touch were further steps towards a button-free world, relegating as many controls as possible on the touchscreen.
"And now we have the buttonless iPod shuffle....
"If you ask me, the war on buttons has gone too far...."
Editor's note: Apple replaced the trackball with the trackpad in 1994 with the PowerBook 500 Series. Steve Jobs was not at Apple in 1994. dk
Link: New iPod shuffle: Button, Button, Who's Got the Button?
Macworld's New iPhone Superguide
Macworld's Jason Snell says:
"In the two-plus years since the original iPhone was introduced, Macworld has written tens of thousands of words about Apple's snazzy touch-screen device. And now we're releasing the latest in our Superguide series of books, the iPhone Superguide (Second Edition), which takes the very best stuff we've written about the iPhone over that time and boils it down into a useful 154-page volume...."
Link: Macworld's New iPhone Superguide
How to Copy Data Files from Your Mac to Your iPhone
Tiplet's Davis Strom says:
"If you have an iPhone, one of your frustrations is that you don't easily have any way to make copies of your files from your Mac desktop and view them. You can use iTunes to move videos, photos and music files, but anything else is an issue.
"It is an odd omission: Any iPod since the very early days has the ability to act as an USB-connected hard drive and you can drag and drop files to it - as long as you have enough room on your iPod, that is. Luckily, there is a solution - actually, several solutions. You'll need to download an app for your iPhone, and we found many of them that claim to offer this feature. Sadly, none of them allows this simple configuration of being able to plug your iPhone into your computer via USB. But since the iPhone is chock full of connectivity, there are several ways to skin the file transfer cat. We tested a variety of apps that can connect in between your desktop and iPhone in some interesting, and perhaps too clever, ways...."
Link: How to Copy Data Files from Your Mac to Your iPhone
Apps & Services
320 GB Upgrade for Apple TV
PR: MacService has announced 320 GB Apple TV Upgrades. Love your Apple TV? Unlock the full potential of yours by upgrading it to the largest drive available. You can now store up to 400 hrs of video, 72,000 songs or 200,000 pictures. No funky software, just the same elegant interface with more storage on demand. These drives are fully compatible with iTunes and other media player software.
320 GB Apple TV Upgrade - In Stock - $295
What the price includes:
A new 320 GB hard drive, free roundtrip shipping, professional installation, data transfer and a shipping container. Your old drive is returned to you to be used as a backup or secondary drive. These 320 GB drives are brand new and come with a 3 year warranty.
How the service works:
MacService sends a custom shipping container to you. Once it arrives, simply pack your Apple TV and send it back using the prepaid UPS shipping label. Once your Apple TV arrives at MacService, an Apple Certified Technician installs the new 320 GB hard drive and transfers your data. Your Service Advisor will keep you informed every step of the way. After the service is complete, your Apple TV is cleaned, tested and sent back to you along with your old drive. All services are completed within 24 hours of arrival.
Link: Apple TV Upgrades
'American Idol' Now on iPhone
PC Mag reports:
"Production company FremantleMedia is launching a new mobile application for fans of its hit reality contest 'American Idol.'
"Apple iPhone and iPod touch users will be able to get videos of the current 13 finalists in a confessional format, along with bios, pictures, news and other behind-the-scenes content from the reigning TV ratings leader."
Link: 'American Idol', Now on iPhone
Doc2email, Mobile Document Scanning for iPhone
PR: Roy Couchman announces Doc2email for iPhone. Doc2email uses the image capture capability of the iPhone to allow information on paper documents to be collected and sent by email from anywhere at any time. Users can now capture paper based information for use in business processes such as expense reports, insurance claims, order entry and other time and security sensitive applications.
The Apple iPhone development platform makes it possible to extend the use of the iPhone by downloading applications to the device. Most applications developed to date have been focused on entertainment, games or personal use, but the iPhone also has tremendous potential for becoming a part of traditional business processes and applications.
Doc2email is one of the first iPhone applications that is designed to integrate the iPhone into paper intensive business systems such as submitting copies of receipts for expense reporting or adding hand written notes to insurance claims or medical records. Doc2email allows the iPhone to operate much like a fax machine with no wires attached! Workers who travel frequently or work remotely will be able to submit images of documents at any time rather than only when a fax machine or network attachment is available.
Doc2email is a document capture application that increases the efficiency and speed of operations by using the iPhone to take a photograph of a paper document, convert it into the appropriate format and email it to:
Store in an archive
Share with a colleague
Send to a company who wants a document with a wet signature
Start a workflow or business process
Use in any other, typically fax or scanner, document imaging application
The electronic document is sent as an email attachment that is easy to extract and can be in any of the following formats:
Black and white, which is like a fax
Grayscale, which is like a black and white photograph
Color
Doc2email can also be used as part of a distributed document imaging solution to add the extra dimension of mobile capture to conventional scanning software. It can thereby truncate paper by moving document capture to the place where paper first enters an organization.
Doc2email is now available on Apple iTunes for immediate purchase worldwide.
Link: Doc2email (available through the iPhone App Store)
iTookThisOnMyPhone for the iPhone
PR: iTookThisOnMyPhone.com, Inc. has announced that its camera application, iTookThisOnMyPhone is now available for the Apple iPhone through Apple's App Store.
Apple iPhone users will now have the functionality to automatically and seamlessly save their mobile photos to their own, password-protected website hosted by iTookThisOnMyPhone.com. Images can be managed on the iPhone or online, where users can share their favorite photos and videos with friends, colleagues and family members. Users can set up iTook to automatically delete the photos from their phones after a successful upload so that stored photos do not fill up limited iPhone memory.
iTookThisOnMyPhone for the iPhone features Unified Access, a convenient way to send photos and videos from the iPhone to many popular social networking websites including Facebook, Snapfish, YouTube, Flickr, Webshots, Photobucket, Facebook, TwitPics, and Picasa. Users simply take a photo and the photos are automatically uploaded to the sites they've selected
iTookThisOnMyPhone enables simultaneous, automatic uploads as the photo is taken. Map coordinates are uploaded as well and users can add captions to their photos. Users choose if they want their photos or videos to be shared with others, or remain private, and they can see all of their photos on their website in seconds.
Designed to keep a lifetime of photos and videos in one convenient place, iTook photos are always stored in one secure photo gallery so that when users upgrade to future iPhones or other mobile devices, their photos and videos will continue to flow into their same personal web account.
Stephen Burns, Founder and CEO of iTookThisOnMyPhone.com, commented, "Users can choose any or all of the destinations for their photos and be confident that all of their photos will be safe and secure in their personal web gallery." Research shows that users want to easily upload and store their photos without technical issues, connecting wires, and concern. "iTookThisOnMyPhone does everything for them and it's free,"
Founded in 2007 by industry veterans who have built several leading third-party applications, iTookThisOnMyPhone.com's patent-pending media management and workflow system is a complete solution that enables users to easily manage the photos and videos they take with their camera-equipped BlackBerry smartphones, WindowsMobile phones and Apple iPhones.
Since its launch last year, iTookThisOnMyPhone has proven itself to be an extremely popular and easy-to-use application with an ever-expanding user base in more than 80 countries.
Link: iTookThisOnMyPhone.com (available through the iPhone App Store)
Frugal 1.0: Find the Best Deal
PR: Tidal Pool Software announces the release of Frugal 1.0 for Apple iPhone, iPhone 3G, and iPod touch. Frugal compares grocery prices to help find the best deal while shopping. It handles products in imperial (US and UK) and metric units to find out which actually has the best price and by how much. Sometimes buying in quantity is not always cheaper. Find out with Frugal and lower your grocery shopping bill.
Feature Highlights:
Fast and easy grocery item entry
Imperial (US and UK) and metric units for comparing product items, weight, volume, and length
Compare two or more items at a time
Converts and shows quantities in both imperial and metric units
Shows how much more expensive products are relative to the best deal
History for checking your past price comparisons
Supported units:
Items - item, dozen
Weight - ounce, pounds, milligram, gram, kilogram
Volume - fluid ounce (US/UK), pint (US/UK), quart (US/UK), gallon (US/UK), millilitre, litre
Length - inch, foot, yard, millimetre, centimetre, metre
Requirements:
Apple iPhone OS 2.2.1 or later
Apple iPhone, iPhone 3G, or iPod touch
Frugal is now available for purchase on the Apple App Store for just 99¢.
Tidal Pool Software:
Link: Frugal (available through the iPhone App Store)
Police Scanner for iPhone
PR: Juicy Development has released Police Scanner for iPhone, a useful tool for locating and listening in on police dispatch frequencies throughout the country. Over 500 EMS operations stream their dispatch communications on the Internet. Police Scanner for iPhone connects to these streams and allows listeners to stay informed.
Great for "on call" volunteer fire fighters, news crews, and emergency responders. Allows you to listen in (but not broadcast) on police, fire, and EMS activities across the country. Juicy Development Operations Officer Tod Hadley said, "This product is designed to help EMS operations save costs. A volunteer can now pick up the stream and listen in without purchasing expensive radio hardware that is usually locked into a specific frequency."
At this time slightly over 500 city and county broadcasts have been added to the system, but Juicy Development adds additional streams as quickly as they can find them. Anyone who discovers a compatible stream can simply email the company or send a message through our support web page. The stream will usually be added within a few days. As additional stations, counties, and cities are added, the database is automatically updated and the stream instantly becomes available to all Police Scanner users. No complicated or time consuming update needed. In addition, it is expected that all future updates will be free to those who purchase early.
Police Scanner uses the location-aware technology built into the iPhone to help users locate streams near them, or allows them to search through a list of all available streams from across the country. A few international streams have been added and the international directory is expected to grow.
Want to know the location of all the speed traps? Want to find out what is really happening beyond that police line or get the inside scoop on the search for that missing person? Then Police Scanner is for you. Listen in and find out every time your friends get pulled over for speeding.
Not All Areas Broadcast An iPhone Compatible Stream. This is still a new technology for many police, fire, and dispatch centers. A stream from your local city may not yet be available. Any user that has a stream they would like us to add should contact technical support and provide the web link to the stream they desire.
Police Scanner is available now in the Apple iTunes store for the introductory price of only $1.99 and works on the iPhone or iPod touch. Requires 2.0 software update and a network connection.
Link: Police Scanner for iPhone (available through the iPhone App Store)
Protection
SwitchEasy RebelSerpent for iPhone 3G Now Available in White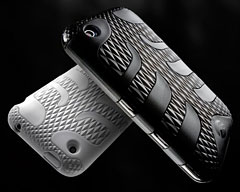 PR: SwitchEasy Limited announces immediate availability of its latest creation, RebelSerpent White for iPhone 3G.
RebelSerpent is an additional revision to CapsuleRebel following its successful launch in July 08, SwitchEasy have taken all the goodness from CapsuleRebel and offered up a little something extra. With its unique faceted texture, RebelSerpent has truly raised the bar in case design.
ADSP (Adaptive Dynamic Soft Polymer) for iPhone protection. - This high tech material is stronger and UV resistant than silicone, yet soft enough to protect the delicate finish of the iPhone 3G
UltraFrame Lexan polycarbonate protection system. Patent pending frame system covers over 60 percent of the unit with all the impact prone points protected. They have achieved this without sacrificing the thickness of the case unlike other offerings of the same type in the market. It's actually a hard case with a soft heart.
Ultra Shock Proof design. - Unique design fuses both the hard polycarbonate element with the soft ADSP element into one case. The UltraFrame holds the full case tightly in place so nothing will fall apart when there is an accidental impact.
Grip Easy - With its mixed media design, RebelSerpent provides the best grip experience than any cases can offer. Unlike any silicon counterparts, the unique UltraFrame spine allows easy pocket slide-in as well as firm grip response. With its unique design element, RebelSerpent is unique in its class.
Ultra Tactile Keys - SwitchEasy have paid extra attention on the tactility of all the buttons our case covers. All the button elements are meticulously engineered for easy access and ultimate tactile response.
Everything but the Kitchen Sink - We have included everything you need to protect and accessorize your new iPhone 3G.
Product package includes
One RebelSerpent unit
Two anti-static Screen Guards
One Microfiber Wipe
One Universal Dock Adapter
One Video Dock Stand
One connector protector
SwitchEasy RebelSerpent comes initially in 2 fantastic colors: (Black, White), which will complement any fashion needs.
The suggested retail price of SwitchEasy RebelSerpent is $26.99 in US and Canada, and open price for the rest of the world.
Link: SwitchEasy
You Don't Need the Luck of the Irish When You Have OtterBox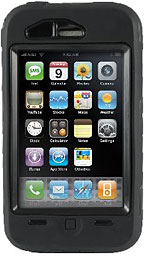 PR: You won't need to rely on the luck of the Irish this St. Patrick's Day when you have the protection of OtterBox. As innovators of protective solutions for mobile handheld technology,
OtterBox offers superior quality cases for the top selling tech devices without having to spend a pot of gold.
OtterBox customer John Hyde attests to the idea that if you have an OtterBox on your device, you don't need luck. While unloading demolition at the dump in Tipton, Tenn., Hyde unknowingly dropped his BlackBerry in the tracks of a 50,000 pound bulldozer. The next morning, Hyde found his smartphone lying in the compressed path of the machine. Luckily his device was unharmed. The OtterBox Defender Series case for his BlackBerry 8830 World Edition had protected his phone from the intense force of the bulldozer.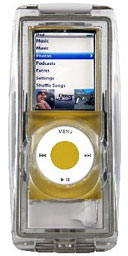 Trying his "luck" at a local casino later that day Hyde realized, after losing $150, it wasn't because of luck his device survived; it was because of OtterBox. The case saved Hyde from paying a $150 deductible to replace his BlackBerry and the hassle of losing his contacts and other important information. "The OtterBox case is extremely durable. I can't say enough about it," Hyde says.
With three layers of durability, OtterBox Defender Series cases offer the ultimate protection:*
Layer 1: An optional, thermal-formed membrane covers the screen and keyboard to prevent nicks and scratches
Layer 2: A hi-impact polycarbonate shell encases the device
Layer 3: Durable silicone absorbs bumps and shocks
"No other case offers the armored protection that OtterBox does," Hyde said.
Stop chasing leprechauns and searching for the end of the rainbow; with OtterBox you have all the luck you will ever need!
OtterBox, never out of its element!
*Defender Series does not protect against water. Will provide some added protection against drop, bump and dust. not professionally tested or recommended to be run over by a bulldozer. See online technical specifications for case details.
Link: OtterBox
Pink Lady Flip Top Mirror Leather Case for iPhone 3G
PR: Do you want to have a unique case for your iPhone 3G and... also for you? If a mirrior and iPhone are necessary parts in your bag, will you consider to integrate them together? Here we provide a solution for you.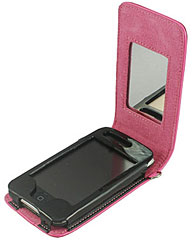 Features:
Unique ergonomic design
Flip Top
Fully Protected from bumps and scratches
Easy access to all the vital controls and switches
High-grade textured leather
Magnetic closure
Secure
with hand strap (detachable from the leather case)
With a mirror so that your can make-up yourself anytime!
This accessory is suitable for: Apple iPhone 3G
Note:
This leather case is for iPhone 3G, not for iPhone 2G (iPhone 1st Generation).
This leather case is made of PU Leather
$34.99
Link: Pink Lady Mirror Leather Case for iPhone 3G
15% Off Proporta Products on St. Patrick's Day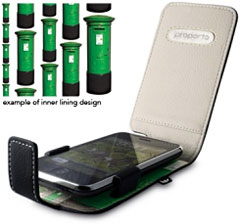 PR: Ever the celebrationists, Proporta has created two Limited Edition products in honour of St. Patrick's Day - exclusively available to Proporta online customers.
The Aluminium Lined Leather Case for the iPhone 3G and Leather Memory Wallet have both received a makeover and now boast a green pillar box lining to give them that special St. Paddy's Day feel.
In true Proporta style, the Aluminium Lined Leather Case for the iPhone 3G is handcrafted from the finest leather and custom designed to protect your Apple iPhone 3G. Designed exclusively to commemorate St. Patrick's Day - only 25 in existence, so you'll have to be quick.
Also handmade from the finest quality black leather, the St. Patrick's Day Leather Memory Wallet features essential secure storage space for your memory and phone SIM cards as well as separate compartments for safe storage of your credit cards and cash.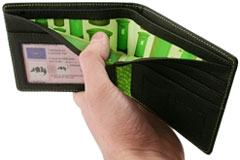 And the celebrations don't stop there . . . Proporta is offering all their online customers a 15% discount for one day only. Simply enter the promotion code PADDY at the cart page on Tuesday 17th March to receive your discount.
P.S. If you decide to purchase Proporta's Aluminium Lined Leather Case for the iPhone 3G and Leather Memory Wallet , they're adamant you'll want to keep it in good nick. Check out Proporta's Leather Care Guide for some handy tips on how to keep your leather products looking fine and dandy.
Join us on Facebook, follow us on Twitter or Google+, or subscribe to our RSS news feed
Links for the Day
Mac of the Day: Unitron Mac512, introduced 1985. Unauthorized Brazilian clone of the Mac 512K.
Recent Content
Custom Search
Follow Low End Mac on Twitter
Join Low End Mac on Facebook
Favorite Sites
MacSurfer
Cult of Mac
Shrine of Apple
MacInTouch
MyAppleMenu
InfoMac
The Mac Observer
Accelerate Your Mac
RetroMacCast
The Vintage Mac Museum
Deal Brothers
DealMac
Mac2Sell
Mac Driver Museum
JAG's House
System 6 Heaven
System 7 Today
the pickle's Low-End Mac FAQ
Affiliates
Amazon.com
The iTunes Store
PC Connection Express
Macgo Blu-ray Player
Parallels Desktop for Mac
eBay

Advertise