iPhone Dominates Growing Smartphone Market, Unlocked iPhone No Bargain, InstallerApp, and More
This Week's iPhone, iPod, and Apple TV News
Compiled by Charles Moore and edited by Dan Knight - 2009.03.27
Mac notebook and other portable computing is covered in The 'Book Review, and general Mac news is in Mac News Review.
All prices are in US dollars unless otherwise noted.
News, Reviews, & Opinion
Apps & Services
iPod and iPhone Deals
These price trackers are updated regularly.
News, Reviews, & Opinion
iPhone and Android Taking Everyone Else's Market Share
VentureBeat's Eric Eldon reports:
"The iPhone's operating system provided 50 percent of US advertising requests to Admob last month, according to a report the mobile ad network published today.
"Meanwhile, the seminal Android-powered G1, built by HTC, has grown to 5 percent only three months after launch, the report says. These numbers don't provide a comprehensive window into the smartphone web and app market - Admob is just adding up requests that its graphical and text ads receive due to mobile traffic on the more than 6,000 devices and 1,000 applications where they appear...."
Link: Report: iPhone and Android Taking Everyone Else's Market Share
Smartphone Market Share Increased Rapidly in Past 6 Months
PR: AdMob, the world's largest mobile advertising marketplace, highlights smartphone growth in its February 2009 Mobile Metrics Report. Despite challenging economic conditions, smartphones continued to gain significant market share worldwide over the past six months, rising from 26% to 33% of requests in February 2009.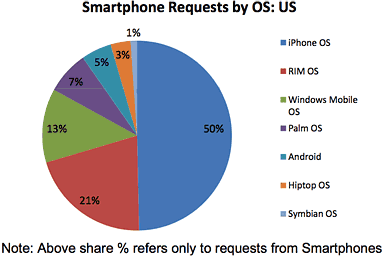 The launch of the HTC Dream (G1) and BlackBerry Storm propelled increases in Android and RIM Operating System (OS) requests in the US. This growth is based on mobile Web usage, not the number of handsets sold, and demonstrates the high consumer engagement with these touchscreen devices. The top handsets on AT&T and Sprint are also touchscreen devices, the iPhone and the Samsung Instinct.
Other highlights from the February 2009 AdMob Mobile Metrics Report:
Worldwide the top five smartphones are the iPhone, Nokia N70, BlackBerry 8300, Nokia N80, and Nokia N73. The top five US smartphones are the iPhone, BlackBerry Curve, BlackBerry Pearl, Palm Centro, and HTC Dream (G1).
The BlackBerry Curve has overtaken the Pearl as the number one RIM device. The BlackBerry Storm is the number one device on Verizon with 14 percent of requests.
Symbian lost market share, but is still number one worldwide with 43 percent of requests. The top 10 Symbian devices have not changed in the past six months.
The Samsung BlackJack II is the top Windows Mobile device worldwide. Six of the top 10 Windows Mobile devices are from HTC.
Android accounts for 5 percent of the US smartphone market.
iPhone generated 33 percent of smartphone traffic worldwide and 50 percent in the US.
97 percent of BlackBerry requests came from their OS Version 4.2 or higher. These devices will all have access to BlackBerry App World when it goes live.
Symbian and Windows Mobile have a significant percentage of their user base on devices running old versions of their OS. These devices many not have access to their application stores when they launch later this year.
Visit AdMob's Metrics Report site to access the full February 2009 report, view past reports or to sign-up to get email notification when future reports become available.
Link: Smartphone Market Share Increased Rapidly Worldwide According to AdMob February 2009 Metrics Report
iPhone 3.0 OS v. Palm Pre, Blackberry, Android, More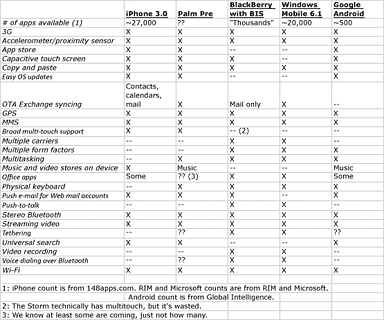 PC Mag.com's smartphone chart, reduced in size.
PC Mag.com reports:
"Apple put a whole bunch of new features in their iPhone 3.0 release, so we thought we'd round up some of the most prominent smartphone features and see how the new iPhone OS compares.
"In our full pop-up chart, you'll see how Apple's handset fares against the BlackBerry OS, Windows Mobile, the Palm Pre, and Google Android on 25 features, including everything from over-the-air Exchange syncing to music and video stores."
Link: iPhone 3.0 OS v. Palm Pre, Blackberry, Android, More
AT&T 'No Commitment' iPhone Pricing Is No Bargain
PC World's Yardena Arar says:
"Word on the street is that AT&T is finally preparing to add a new (but previously announced) pricing option for the iPhone 3G that does not require committing to a two-year data plan, or activating on site. But the offering (as outlined in a supposedly leaked presentation on Boy Genius Report) is so expensive - $599 for the 8GB model and $699 for the 16GB model - and so loaded with restrictions that it's hard to see who'd benefit from the deal, which supposedly will be offered starting March 26...."
Editor's note: The Apple Store is also selling the iPhone at the same price. dk
Link: AT&T 'No Commitment' iPhone Pricing: No Bargain
Online Retailer Offers Unlocked iPhone 3Gs
The Register's Tony Smith says:
"Play.com is punting unlocked iPhones for folk who don't fancy being tethered to O2. The downside: freedom from carriers doesn't come cheap."
Link: Online Retailer Offers Sim-free iPhone 3Gs
iPhone Becomes a Gaming Powerhouse
The Toronto Star's Marc Saltzman reports:
"It happened as inconspicuously as Sam Snake sneaking around enemy territory. Over the past 18 months, the Apple iPhone 3G has quietly evolved into a portable gaming powerhouse.
"This is likely owing to the combination of a large touch screen, integrated tilt sensors (the 'accelerometer') and wireless connectivity used to download thousands of games from the App Store (part of iTunes) or to link players for head-to-head matches...."
Link: iPhone Becomes a Gaming Powerhouse
InstallerApp Is Like iTunes for Jailbreakers
Macworld's Dan Moren reports:
"Despite the long history of jailbreaking on the iPhone - the ability to hack your phone to install third-party apps pre-dates the App Store - Apple's officially provided solution has always offered a few features that jailbreaking couldn't match. The new program InstallerApp aims to eliminate some of those advantages.
"RipDev's InstallerApp is an application for your Mac (soon to be available for Windows PCs as well) that allows you to download iPhone apps on your computer and transfer them to your device over a USB connection. If that sounds a bit like iTunes for jailbreak apps, well, that's because it is...."
Link: InstallerApp Is Like iTunes for Jailbreakers
InstallerApp Opens iPhone to All Apps without Jailbreaking
Cult of Mac's Lonnie Lazar reports:
"If you've been on the fence about whether or not to jailbreak your iPhone due to trepidation over wading into deep geek water, Ripdev's release of InstallerApp might be just the tipping point you've been waiting for.
"It's an application for Mac (soon to be available for Windows PCs as well) that allows you to download iPhone apps on your computer and transfer them to your device in a friendly iTunes-like interface, without 'jailbreaking' your phone."
Link: InstallerApp Opens iPhone to All Apps without Jailbreaking
iPhone Keyboard Hack Uses Extreme Geekery
Macworld's David Dahlquist reports:
"In what must be one of the most unnecessarily complicated hacks in iPhone history, a couple of brainy engineers at Perceptive Development have devised a way to connect an infrared keyboard to an iPhone using a 1200 baud modem that connects to the iPhone via the headphone port."
Link: iPhone Keyboard Hack Uses Extreme Geekery for Heroic Means
iPhone Tweaked (Not Hacked) to Work with External Keyboard
Wired's Brian X. Chen reports:
"A major new feature in Apple's upcoming iPhone 3.0 operating system is the ability for applications to communicate with special third-party accessories. But engineers of Perceptive Development have already figured out how to do that with the current OS, getting an infrared keyboard to work with the iPhone. And here's the kicker: They didn't have to Jailbreak the iPhone. They used the iPhone 2.0 SDK."
Link: iPhone Tweaked (Not Hacked) to Work with External Keyboard
6 GB iPhone Plans Disappearing from Rogers Accounts?
MacNN reports:
"Some Canadian iPhone subscribers are suddenly finding themselves overcharged for their data usage, a customer complaint received by MacNN suggests. The customer notes that as with a number of Canadians, he signed up to Rogers Wireless' initial data plan for the iPhone 3G, which cost $30 per month for 6GB. Several months later however a bill for 'hundreds of dollars' was received, a result of the original data plan having mysteriously disappeared from his account."
Link: 6GB iPhone Plans Disappearing from Rogers Accounts?
How to Turn Your iPod touch into an iPhone
The Age's Andrew Vanacore reports:
"I try to keep a stiff upper lip about not having an iPhone. Just couldn't afford it.
"I could, however, afford the $329 iPod touch - and got it as a gift, as it happened. It has most of the same goodies: a web browser, email, YouTube. And it stores way more music than the iPhone. (Ha!)
"Plus, the other day I used it to call China.
"Yup, a call around the world - on a device that doesn't have a phone. A handful of applications on Apple's iTunes store will let you do this, as long as you're in a Wi-Fi hot spot...."
Link: How to Turn Your iPod into an iPhone
iPhone to Get OLED Screen
Register Hardware's James Sherwood reports:
"Apple may launch a host of gadgets with OLED displays later this year, including an OLED-equipped iPhone, it has been suggested.
"Unnamed moles in Korea have been quoted by numerous online sites saying that the gadget line-up will also include netbooks, monitors and a new iPod touch.
"It's worth noting that the source of the rumour is Korea, because Korean firm LG last year signed a $500m agreement with Apple last year to supply it with unspecified types of displays until 2013.
"A separate Korean source has since claimed Apple already has a working prototype of a netbook fitted with an OLED screen supplied, of course, by LG...."
Link: Apple iPhone to Get OLED Screen, Claims Mole
How Ready Are You for the iPod Monopoly?
PC Mag.com's Lance Ulanoff says:
"The transition is complete. My formerly heterogeneous home MP3 environment has transformed into a one-company, one-brand house. Everyone is using Apple iPods. If my home is a microcosm of the market, the MP3 industry has a major problem.
"It wasn't always this way at my house. ....
"...It's different with the Apple iPods. In my son's case, I fear he may have glued the iPod touch to his hand. Interestingly, the other day he commented, 'No one wants a Zune.' He then asked me, 'Does anyone buy them?' Yes, some people are buying Zunes, but they've clearly become more of a punch line than a viable product....
"...is anyone really still competing with iPods?
"...Take a look around you. How many music players aside from iPods (of all stripes) and iPhones do you see?"
Link: How Ready Are You for Apple's MP3-Player Monopoly?
3G iPod shuffle: A Step Too Far?
Appleinsider's Aidan Malley reports:
The iPod shuffle has taken on an unusual role in Apple's lineup both as its price leader and as an example of the company's efficiency in design. But with its third version now out the door, there may be signs Apple isn't sure of where to go next with its least expensive media player....
Link: Apple's 3G iPod shuffle Reviewed: A Step Too Far?
Dell Smartphone or Mobile Internet Device on the Way
eWeek's Michelle Maisto reports:
"Michael Dell, speaking at Computerworld in Tokyo on March 24, confirmed what analysts and enthusiasts alike already suspected: that the PC giant was at work on a smaller form factor device . . . but it's not clear whether that device is a smartphone, mobile Internet device or both."
Link: Michael Dell Confirms: Dell Smartphone or MID on the Way
Dell Smartphone Would Face Big Hurdles
BusinessWeek's Olga Kharif says:
"Dell CEO Michael Dell has done little to dispel rumors that his company is working on a mobile computing device. In fact, he all but confirmed them while traveling in Japan on Mar. 24 when he said: "It is true that we are exploring smaller-screen devices."
"What form those devices will take remains a matter of heated debate....
"Dell has tried its hand at smartphones before, with little success....
"Maybe now is not such a good time to launch a smartphone. Instead, Dell might want to introduce a different kind of handheld known as a mobile Internet device, or MID. These machines are larger and more powerful than smartphones, yet they're far smaller and of lighter weight than even the tiniest notebook computers known as netbooks...."
Link: A Dell Smartphone Would Face Big Hurdles
Apps & Services
Mariner Calc for iPhone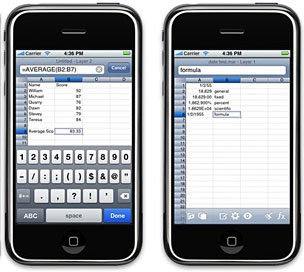 PR: Mariner Software, developers and publishers of professional and personal software, earlier this month announced the immediate availability from the Apple App Store of their first iPhone and iPod touch application, Mariner Calc. In development for more than a year, Mariner Calc takes advantage of the company's nearly two decades of spreadsheet experience on the Macintosh operating system. It also introduces leading edge functionality for the iPhone - the ability to view and edit native Microsoft files (.xls format Excel 97 and up).
Whether you're a business user on the road or a home user in need of access to Excel files on an iPhone or iPod touch, Mariner Calc is the perfect solution. Mariner Calc includes 24 math functions, 18 finance functions, 17 trig functions, 13 statistics functions, 14 lookup functions plus logic, date, text, and info functions - with many more on the way. It also supports splitting panes and freezing, as well as creating borders and changing fonts, colors and alignment. Landscape and portrait views are both available.
Other features include:
View native excel files (.xls format Excel 97 and up - Windows and Mac)
Edit native Excel files (.xls format Excel 97 and up - Windows and Mac)
Wirelessly transfer files to and from your computer
32,000 by 256 column support
Supports cut, copy, paste, undo, and redo
145 functions!
Support for multiple sheets
CocoaTouch native application
"While there are other spreadsheet apps out there, the differentiator is Mariner Calc for iPhone supports both reading and writing of Microsoft Excel files," said Michael Wray, President of Mariner Software. "We think it's going to be one of the most sought-after apps for the business and enterprise market, particularly for users that need to not only view but also edit their spreadsheets on the road."
Mariner Calc is now available for purchase from the Apple App Store for $9.95.
Editor's note: Mariner Software isn't as well known as Microsoft of Apple, but the company has a long legacy of excellent software. Mariner Calc had its origins as a HyperCard stack in 1989, became a Mac app in 1993, and is also available as a lightweight, full-featured spreadsheet for the Mac. Mariner Write, introduced in 1996, is the company's lightweight, full-featured word processor. The programs are compatible with Excel and Word files, respectively, and are available in a downloadable version for $50 each - or $70 for both. If you're a blogger, MacJournal ($25) might interest you. All can be downloaded for a 30 day trial. dk
Link: Mariner Calc for iPhone (available through the iPhone App Store)
Your Own 'Miracle on the Hudson' for 99¢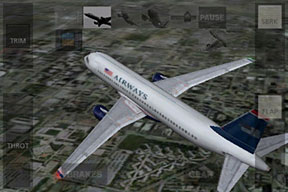 PR: Sully's Flight is X-Plane's latest app that re-creates Chesley Sullenberger's flight from LaGuardia to the Hudson River pretty accurately.
Sully's Flight presents hoops showing you Chesley's ACTUAL flight-path, and ACTUAL ATC communications and flight dynamics throughout the event. You can fly the crippled A-320 through the actual course that Chesley did with pretty accurate physics . . . Chesley was able to land in one piece after the bird-strikes . . . can you?
System requirements:
Compatible with iPhone and iPod touch
Requires iPhone 2.0 Software Update
Link: X-Plane (available through the iPhone App Store)
Smule's Ocarina Available for iPod touch
PR: Smule, a premiere developer of interactive sonic applications for the iPhone, has released an enhanced version of the acclaimed Ocarina. With Ocarina 1.3 you can now play it using touch or wind. This feature enables the product to have compatibility with 2nd generation iPod touch devices.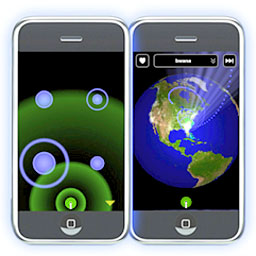 Users of the iPhone will have access to both modes - wind via blowing against your microphone, or touch. In touch mode, you only need to hold down holes to create sounds and music.
The Ocarina synthesizes sound in real-time, just like a regular instrument, based on actual gestures including wind input, tilt, and finger placement over the four holes overlaid on the multi-touch pad. Unlike other iPhone audio apps, the sound is not pre-compiled but is generated by the notes, gestures and nuance of the individual performer. As a result, it allows an iPhone user to explore and master the musical sounds of an entirely iPhone-native version of an ancient flute-like instrument.
Ocarina is the first true musical instrument created for the iPhone. Both experts and beginners will be amazed by this innovative player. Ocarina is sensitive to your breath, touch and movements, making it even more versatile than the original. Unlike other musical applications, there are no pre-compiled riffs so musicians will find unlimited opportunities for self-expression. Advanced options allow you to choose between diatonic, minor and harmonic scales. Or channel your favorite video game adventurer with Smule's Zeldarian mode.
Like most Smule products, Ocarina is a social application. Tap on the globe icon and you will see and hear other Ocarina players throughout the world. The globe view will highlight the source of the music. Rate your favorite performances so that others may benefit from your judgment. Name your Ocarina if you want listeners around the world to identify your performances. With this robust application beautiful music is created, appreciated and shared.
For inspiration and material for your next gig (or just to bug the guy in the next cubicle), visit Smule's Sheet Music Forum to share in the community and view scores ranging from The Legend of Zelda: Ocarina of TIme, to Amazing Grace. Check it out!
In the Ocarina Forums, share your music, videos and performance tips, or find answers to your questions by members of our amazing ocarina.smule.com community.
Play The Ocarina
Blow into your microphone to play music
Hold down combinations of holes to change pitch
Tilt your phone to change vibrato rate and depth
Advanced users can change keys and modes, including C-Major and the new Zeldarian mode
Or, instead of using your breath, simply press the holes to make music in touch mode
Hear Melodies from Around the World
Tap the globe icon to hear Smule Ocarina players from around the world
Show love for your favorite melodies and listen to most loved melodies
Record and Share Your Melodies
Manually or automatically record your melodies while you're playing
Share your melodies with friends and family over email right from your phone
Archive and display your melodies on your own "My Ocarina" webpage
Link: Ocarina (available through the iPhone App Store)
Firemint Real Racing - The Most Realistic, Most Connected Handheld Racer Ever
PR: Firemint, the multi award winning Australian game developer, is gearing up to bring iPhone users the most realistic racing experience on the platform with Firemint Real Racing.
Featuring high definition graphics, surround sound and accelerometer support, Firemint Real Racing will be available on the App Store this April.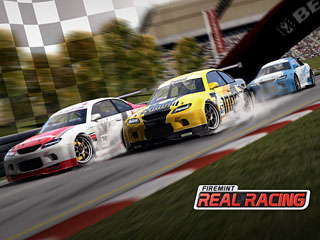 "With Firemint Real Racing, we've pushed the iPhone's capabilities to its limits," said Robert Murray, CEO and founder of Firemint. "While it's true that there is no shortage of racers on the platform, we are confident that Firemint Real Racing offers the absolute best quality and gameplay. We've extended the experience with instant uploads of players' best laps to YouTube, recurring global tournaments and enabling the use of existing social media networks to allow friends to compare performances."
"As one of the select groups of game developers who worked on the original Apple iPod, we saw the immense potential in the iPhone platform from the day Apple announced the App Store," said Kynan Woodman, Development Director of Firemint. "In Firemint Real Racing, we'll be delivering the culmination of more than a year of development and innovation. We drew on the experience, knowledge and tools we gained developing more than thirty games. With Firemint Real Racing we feel we've really set the standard that all handheld racing games will be scrambling to catch up to."
Firemint Real Racing is one of the first titles to utilize Firemint's proprietary social media integration platform, Cloudcell. The technology enhances gaming experiences by automatically integrating with social media sites such as Facebook, YouTube and iGoogle.
Firemint Real Racing features include:
Boasting via Broadcast - Upload video replays of your laps to YouTube with the push of a button.
Unique In-Car View - Cockpit view with animated driver and instruments showing race data.
Control Options - Firemint Real Racing includes combinations of accelerometer or touch-based steering, automatic or touch-based acceleration and automatic or touch-based braking.
Pick Your Ride - 36 cars, 12 tracks, four modes of play, three classes and three divisions provide exciting variety and replay value.
iPhone Racing Simulator - Players can experience the thrill of racinganytime, any place.
Connected Car Racing - In addition to YouTube functionality, players can sign up for league racing online and use social media networks to compare their times with friends.
Advanced AI - Opponents each have different personalities affecting the way they compete. Some are aggressive, some are careless, and they all want to outrace you!
Link: Firemint Real Racing (available through the iPhone App Store)
Join us on Facebook, follow us on Twitter or Google+, or subscribe to our RSS news feed
Links for the Day
Mac of the Day: Lisa, introduced 1983.01.19. The ancestor of the Macintosh had a mouse, a graphical interface, and a $10,000 price tag.
Recent Content
Custom Search
Follow Low End Mac on Twitter
Join Low End Mac on Facebook
Favorite Sites
MacSurfer
Cult of Mac
Shrine of Apple
MacInTouch
MyAppleMenu
InfoMac
The Mac Observer
Accelerate Your Mac
RetroMacCast
The Vintage Mac Museum
Deal Brothers
DealMac
Mac2Sell
Mac Driver Museum
JAG's House
System 6 Heaven
System 7 Today
the pickle's Low-End Mac FAQ
Affiliates
Amazon.com
The iTunes Store
PC Connection Express
Macgo Blu-ray Player
Parallels Desktop for Mac
eBay

Advertise