Forrester Up on iPhone in Enterprise, Teens Love iPod but Reject Zune, ATM Hunter App, and More
This Week's iPhone, iPod, and Apple TV News
Compiled by Charles Moore and edited by Dan Knight - 2009.04.17
Mac notebook and other portable computing is covered in The 'Book Review, and general Mac news is in Mac News Review.
All prices are in US dollars unless otherwise noted.
News, Reviews, & Opinion
Apps & Services
Accessories
iPod and iPhone Deals
These price trackers are updated regularly.
News, Reviews, & Opinion
Forrester Research: We Were Wrong, iPhone Ideal for Enterprise After All
Macworld's Jim Dalrymple reports that market-research firm Forrester on Monday released a report that looks at several companies using the iPhone in the enterprise market. You can check it out at:
Link: iPhone Finds a Home in the Enterprise Market
Apple 2.0's Philip Elmer-DeWitt also riffs on the $749 Forrester report, which is titled "Top 4 reasons IT should support the iPhone," noting that it marks an about-face from a Dec. 12, 2007 Forrester Research report entitled "The iPhone Is Not Meant For Enterprises," which he describes as "a devastating critique that savaged the iPhone from its virtual keyboard to its non-removable battery," making it "all the more notable that Forrester's second look at the device, published last week, is so laudatory."
Link: Forrester: Top 4 Reasons IT Should Support the iPhone
Computerworld's Matt Hamblen also weighs in commenting on the Forrester report, which he says affirms that iPhones make workers happier and more productive and has and lower support costs as well, although there are still some caveats such as combining iPhone and ActiveSync for calendaring functions, and that iPhone's guaranteed message delivery tools are "weak" in comparison with the BlackBerry Enterprise Server.
Link: Forrester: iPhone Corporate Users Happier, More Productive
Google Improves Gmail for iPhone
Cnet's Stephen Shankland reports:
"Google has released a new Web-based version of Gmail that gives iPhone and Android phone users a more sophisticated version of the online e-mail service, including access to messages that's faster and that works even when offline....
"Google demonstrated the Web-based mobile version of Gmail last week and announced its availability Tuesday on the Google Mobile blog. 'You'll notice that it's a lot faster when performing actions like opening an e-mail, navigating, or searching. And if the data network drops out on you..., you'll still be able to open recently read messages and to compose over a flaky, or non-existent, network connection,' said Google mobile engineer Joanne McKinley."
Link: Google Improves Gmail for iPhone, Android
Apple Near Saturation Point for iPod, iTunes Use by Teens
AppleInsider's Sam Oliver reports:
"The results of Piper Jaffray's 17th bi-annual teen survey are in, showing Apple to have broadened its lead in the areas of iPod consumption and iTunes usage - both of which are nearing their saturation point - as the company moves to translate these successes to its iPhone business.
"'We believe that the teen demographic is a critical component of long-term growth in the digital music and mobile markets, and Apple is taking its leading position in music and moving aggressively into the mobile market,' analyst Gene Munster wrote in a summary of his firm's findings...."
Link: Apple Near Saturation Point for iPod, iTunes Use by Teens
Teens Reject Microsoft's Zune
The Register's Gavin Clarke reports:
"[a] survey of teenagers has found 100 per cent will buy one of Apple's music players in the next year.
"Piper Jaffray's biannual report even suggests these could be the new owners' second iPods. While 92 per cent already owned an MP3 player, 86 per cent already had an iPod.
"Just four per cent owned a Zune....
Link: Teens Reject Microsoft's Zune
Microsoft May Copy 2007 iPod touch to Create Zune HD
AppleInsider's Prince McLean reports:
"Based entirely upon a leak of abstract new marketing graphics from Microsoft, bloggers have announced a new generation of music players that will apparently do most of what the iPod touch did when it arrived in 2007...."
Link: Microsoft May Clone iPod touch as Zune HD
RIM Hires Mastermind Behind iPhone's User Interface
Citing a mocoNews report, Yahoo Finance's Tricia Duryee says that BlackBerry-maker Research In Motion has quietly hired Don Lindsay, one of the original developers of the iPhone user interface.
Link: Update: Industry Moves: Research In Motion Quietly Hires a Key iPhone Designer
Sweaty Workouts Killing iPhones
Cnet's David Martin notes that some iPhone owners are finding that perspiration generated by workouts or even jogging can damage iPhones, iPod touches, and iPods.
The solution? Get a case.
Link: Sweaty Workouts Killing iPhones
DIY Steam Powered iPod Charger
CrunchGear's Scott Merrill reports on a project that connected a Lego Technic Motor to a Jensen #75 steam engine to make a steam age iPod charger that reportedly actually works.
Being a steam power fan, I find this somehow satisfying.
Link: DIY Steam Powered iPod Charger
Apps & Services
MasterCard Launches 'ATM Hunter'
PR: MasterCard Worldwide has announced that its MasterCard ATM Hunter application is available on the Apple App Store. The app lets iPhone and iPod touch users easily locate the nearest ATM no matter where in the world they are.
"MasterCard is focused on delivering innovative applications and services that help make life easier not only for MasterCard cardholders, but for all consumers," said Cheryl Guerin, Senior Vice President, Global Digital Marketing, MasterCard Worldwide. "With MasterCard ATM Hunter for iPhone and iPod touch, users will no longer be detoured and slowed down looking for the nearest ATM and can instead spend time doing things they enjoy."
The MasterCard ATM Hunter utilizes the iPhone or iPod touch's location awareness technologies to pinpoint the search. Users can customize their hunt based on their unique banking needs - such as focusing their search to a specific financial institution if they need to make a deposit or wish to avoid ATM withdrawal fees. MasterCard ATM Hunter can also pinpoint wheelchair accessible, drive-through, or 24-hour access ATMs and provide the directions to get there. Additionally, MasterCard ATM Hunter automatically provides users with helpful ATM safety tips.
MasterCard ATM Hunter is available for free from Apple's App Store on iPhone and iPod touch.
MasterCard ATM Hunter is the first in a series of free applications that MasterCard is developing specifically for iPhone and iPod touch.
Link: MasterCard (ATM Hunter available through the iPhone App Store)
Free Wall Street Journal Mobile Reader for iPhone and iPod touch
PR: The Wall Street Journal Mobile Reader for iPhone delivers the latest global news, financial events, market insights and information to keep you ahead of the curve. Get the information you depend on plus entertainment, culture, and sports coverage when, where, and how you want it from the most credible source for news and information.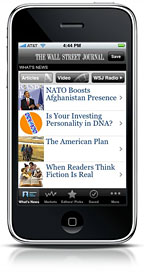 The WSJ Mobile Reader for iPhone is a mobile application built specifically for iPhone (and iPod Touch) device. It automatically updates your iPhone with the top headlines, video, and audio from The Wall Street Journal. You can save full-text articles for reading when offline, without a wireless connection.
The WSJ Mobile Reader for iPhone features business, finance, and technology news and analysis, opinion column and lifestyle articles from WSJ.com, as well as content from other WSJ Digital Network sites including MarketWatch.com, Barrons.com and AllThingsD.com. The articles you see on the WSJ Mobile Reader for iPhone are the top articles from WSJ.com. Additional articles and features are available on WSJ.com.
The email "email" button allows you to share articles with your friends and colleagues. You can access your contacts, send an article to yourself, or enter an email address. You can save multiple articles at a time from the section view. You first click on the "Save" button on the top right hand corner, and then can select (check mark) multiple articles from the section list view. Click "Done" button to complete the save. These articles will be moved to your Saved section. Please note - only full text articles can be saved for offline viewing. Saved video and audio files cannot be played without a network connection.
You can configure your tab bar with your favorite WSJ sections. Go to the "More" section and click on the "Edit" button on the top right hand corner. You can drag and drop your favorite sections to the tab bar to customize the first three positions. Click "Save" to save your personalized navigation.
The WSJ Mobile Reader for iPhone application has two types of WSJ audio:
WSJ Radio - found only on the "What's News" section; this audio is a short 2-3 minute audio update published twice hourly during business hours. Clicking on this button will immediately launch the audio player with the most recent WSJ Radio update
Audio - found on other sections (where applicable); this audio is a longer format and topic based. Clicking on this button will present a section list of audio clips to choose from
Features:
Essential News and Information
Exclusive WSJ Video
WSJ Radio Podcasts
Customized Navigation
Articles to Save and Share
System Requirements:
WSJ Mobile Reader for iPhone is a download in the iTunes App Store.
Price: Free
Link: Wall Street Journal Mobile Reader for iPhone and iPod touch (available through the iPhone App Store)
Thumbs Up for the New Superpages.com iPhone App
PR: Superpages.com introduced today its new Superpages MobileSM iPhone application where users can rank and review businesses on the spot with an interactive thumbs up/thumbs down scale. Most local search iPhone apps only allow users to read reviews but Superpages.com is one of the few to allow users to submit reviews.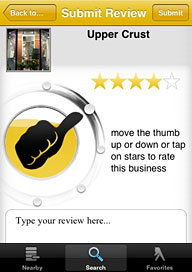 The Superpages Mobile app brings the power of Superpages.com to your iPhone or iPod Touch, which means access to more than 17 million US businesses - wherever you go.
"User generated content will be one of the next big feature integrations for local search apps on the iPhone and other mobile devices," said Michael Boland, Program Director at The Kelsey Group, the leading provider of research, data and strategic analysis on directories, small-business advertising, online local media, vertical market advertising and mobile advertising. "Superpages.com's iPhone app is one of the first with a set of local review tools, including its 'thumbs up' feature, an intuitive way to rate local merchants."
Search by keyword or choose popular categories - like automotive, entertainment, restaurants, services and stores - and view as much or as little information as you like. Use the scroll bar at the top of the search results to minimize or expand business information. Go from business name and number to full business address and services to viewing search results on a map.
Plus, Superpages Mobile has the powerful backing of the new SuperGuaranteeSM program where services provided by select advertisers on Superpages.com and the Verizon Yellow Pages are guaranteed. Find SuperGuarantee businesses from your iPhone or iPod Touch by looking for the SuperGuarantee shield next to listings.
Other cool features:
Add Photos: Did your food taste as good as it looked? Take a snap shot before you chow down and upload it when you rate your experience.
Find Movies Fast: Search by movie or theater and see show times, read reviews, watch trailers or browse movie posters.
Get Directions: Get step-by-step interactive driving directions with an option to have multiple stops on the way to your destination.
Locate Local WiFi Hotspots: Find free and pay-for-use WiFi hotspots near you.
See your local five-day forecast with current conditions, conduct a reverse lookup of people or businesses and access your My Superpages account to easily see your previous searches.
The Superpages.com iPhone application is free and available in Apple's App Store.
Link: Superpages.com (app available through the iPhone App Store)
Free Yellow Pages iPhone App Reaches #1 Download Status
PR: Avantar, LLC, a sister company to Yellow Pages Directory, is a leader in local mobile search which created the Yellow Pages iPhone app. Yellow Pages is a free application available for download in the App Store that uses the mobile device's GPS functionality to first locate where the user is, and then provides relevant local business information, the ability to immediately make a call to that business, add the business contact information to the contact book, get driving directions, and more.
"We are at the forefront of a drastic change in consumer utilization of local information, now available to us in an instant, via wireless devices, wherever we are," said Adrian Ochoa, President of Avantar. He added, "Our users desire instant gratification, and they get it. If they are searching for a local pizza place, they will find those in their vicinity within a couple of seconds through their mobile devices. They don't have to hunt down a printed phone book or wait until they get home to log into their computer."
Mr. Ochoa continues, "We have created a medium where hundreds of thousands of consumers are proactively seeking advertisers, at nearly two million searches per month, which fits perfectly with the needs of the consumer and the advertiser. This strategy also places Avantar at forefront of the next generation in mobile interactive location-based advertising based on a click-per-call/lead-generation model for advertisers, where advertisers pay only for qualified calls to their business."
Link: Yellow Pages (available through the iPhone App Store)
TwittMS 1.0 for the iPhone and iPod touch
PR: Pleasant Software today announces its new iPhone application TwittMS 1.0 for iPhone and iPod touch. TwittMS is an application for sending and receiving direct messages within the Twitter network. TwittMS keeps track of your conversations in chat-style views, so it's easy to pick up a conversation where you left off. Packed into a gorgeous application, you are finally able to use Twitter's Direct Messaging the way it's meant to be.
Pleasant Software releases its new iPhone application TwittMS for sending/receiving Direct Messages within the Twitter network. TwittMS is an application for sending and receiving Direct Messages within the Twitter network. Never before has this feature been offered in an easy to use way. By concentrating on this specific task, TwittMS finally does it right and offers unmatched features: Conversations are displayed in chat-style views, contacts can be grouped on multiple pages, and much more.
TwittMS offers the slickest way to send and receive Direct Messages within the Twitter network: just open TwittMS, tap on one of your buddies and type in your message. What is more, TwittMS keeps track of your conversations in chat-style views, so it's easy to pick up a conversation where you left off. Packed into a gorgeous application, you are finally able to use Twitter's Direct Messaging the way it's meant to be.
Features include:
View your conversations as ongoing chats
Group your favorite contacts on multiple pages
Optimized for responsiveness and low bandwidth networking
Exquisite user interface and animations
System requirements: iPhone or iPod touch with OS 2.0 or newer
TwittMS costs $1.99 and is available on the iTunes App Store.
Link: TwittMS (available through the iPhone App Store)
Reid Minion 1.0 - Enhanced Document and eBook Reader for iPhone
PR: Minion Software has unleashed a new minion named Reid, an iPhone application which provides enhanced document and book reading on the iPhone and iPod touch. Reid allows the user to set their preferred font, contrast, and many other settings as well as offering two different assisted-reading modes to meet the needs of both low-vision readers and speed readers.
In addition to providing free ebook content, Reid allows you to log into your own Google Documents account and download anything you've stored there. This gives you access to ebooks you've uploaded yourself, personal documents, or anything else you've stored online. Reid was designed to give the user the control to customize the reading interface to their own unique needs. Reid includes the following features:
For low-vision users, the ability to use large fonts and control the display contrast and polarity to maximize their ability to read clearly
For speed readers, the ability to set reading display and style to minimize fatigue and help the reader maintain focus at a high speed
Highlight mode which presents a moving highlight to help the user keep pace at a preset speed
Word flash mode which presents words in a flashcard style, allowing the use of large fonts while maintaining readability and comprehension
Access to free ebooks
Access to the user's own Google Documents account so the user can read their own documents or load their own ebook content
Minimum Requirements: iPhone and iPod Touch with OS 2.0 or better
Reid Minion 1.0 is $2.99 and available exclusively on the iTunes AppStore.
Link: Reid (available through the iPhone App Store)
Leaf Trombone World Stage - First Massively Multiplayer, Musical Game for iPhone and iPod touch
PR: SonicMule, Inc. (Smule), developer of interactive sonic applications for the iPhone platform, announced today the availability of Leaf Trombone World Stage, the world's first massively multiplayer musical game for the iPhone and iPod touch.
Smule, the company behind Ocarina and Sonic Lighter, presented a sneak peek of the Leaf Trombone World Stage at Apple's iPhone 3.0 event last month. As the name suggests, anyone can perform a tune on the Leaf Trombone before a global audience. A player can also request a panel of self-appointed judges, randomly selected from anywhere in the world, providing an instant critique of the performance, using a combination of emoticons and text. Judges can reward a performance or veto it mid-note.
Leaf Trombone World Stage includes new, never-seen-before iPhone features, such as:
Self tutorial - a music box accompanies users as leaves softly float toward the correct notes, enabling users to learn the song, simply by following the leaves on the screen and moving the Leaf Trombone up and down; similar in concept to Guitar Hero
Judging capabilities

Anyone can perform a tune on the Leaf Trombone before a global audience
Once a player has submitted a song to the World Stage, self-appointed judges, randomly selected from anywhere in the world, providing an instant critique of the performance, using a combination of emoticons and text
Judges can rate each performance using a 1-10 scale. The evaluation is then added to player's standings and the player's rank is updated

Sophisticated browser-based composition tool provides unlimited new music

A new interactive learning tool enabling anyone to compose and create music for the Leaf Trombone
The World Stage will separate the Music Gods from the Wannabes. "People can play at home, alone, as badly as they want. It's like singing in the shower. Where's the challenge? The thrill?" asks Smule CTO and cofounder Dr. Ge Wang. "We are inviting people to abandon their egos and put it all out there, before a global audience and a potentially merciless tribunal."
Inspired by traditional Chinese leaf instruments, Smule's Leaf Trombone is ideally suited to both the iPhone and iPod touch platform. Users move the slide up and down to change pitch, and, with iPhones, blow into the microphone to create sound. Leaf Trombone ships with a group of songs already loaded, so users can immediately begin learning how to play the instrument. A music box provides accompaniment, and floating leaves show beginners where to place the slide to achieve the correct note. Once users have mastered a song, they're ready to perform on the World Stage
"Leaf Trombone was developed to unleash people's creativity and their inner rock star." said Wang. "Now, with the Leaf Trombone, anyone can perform on the World Stage."
This is the sixth in a series of innovative applications from Smule based on the developer's innovative mobile audio platform.
Link: Leaf Trombone (available through the iPhone App Store)
Hitachi Launches GazoPa for iPhone Image Search Application
PR: Hitachi, Ltd. has announced the release of GazoPa for iPhone application (app). Available free at Apple's iPhone App Store, GazoPa for iPhone app allows users to search for similar images on the web by uploading any photo captured with camera on iPhone. This makes it possible for users to search for images similar to the items in front of them. Since GazoPa use image features such as color and/or shape, users can look for images without typing any words. This gives users easy and unique way of searching images on the web.
In addition, searching by user's drawing is also available on GazoPa for iPhone app, that is very popular feature at GazoPa.com. This search by drawing enables users to search for items that users have in their mind. Users only need to draw what they want to search when they feel difficulty in expressing them in words or have no photo related to those items. Hitachi's advanced similar image search technology allows users to find images similar to their drawing.
GazoPa for iPhone app also has a search option such as search by color, layout, shape and the ability to filter by size, video thumbnail. This gives users more chances to find their desired images. And GazoPa for iPhone app takes advantage of the advanced capabilities of the iPhone user interface and is a great way to search images on iPhone.
The GazoPa for iPhone app can be found by searching for 'GazoPa' in the iPhone App Store.
GazoPa is a Hitachi Web image search engine in private beta release, that uses features from an image to search for and identify similar images. In addition to images found using keyword searches, GazoPa enables the use of users' own photos and drawings, and images found on the Web, as search keys to locate similar images. GazoPa can support not only photos but also the search of video thumbnails. For more information on GazoPa, visit its website.
Link: GazoPa (app available through the iPhone App Store)
Zagg Inc. and Clever Coding LLC Partner for Unique iPhone App Promotion
PR: For the first time, Zagg Inc., producer of iPhone accessories including the popular InvisibleShield, has partnered with Clever Coding, an iPhone Application Development Company, to bring a unique promotion to the iPhone and iPod touch. Starting today, anyone who purchases the Clever Coding App "Paper Pilot" will be able to receive up to a 50% discount on any future Zagg purchase. The in-app promotion is the first of its kind on the iPhone.
The first 3,000 people who purchase Paper Pilot and submit their request for the discount code will receive 50% off any order from Zagg. The next 1000 entries will receiver a 40% discount. A 30% discount will be given to the next 1000 entries and everyone else will receive a 20% discount. In effect, customers pay $2.99 for the iPhone game to potentially save $40 or more on orders made through the Zagg website.
Paper Pilot was originally released on the Apple App Store on January 12th, 2009. The immersive 3D environments and intuitive controls gained wide praise for the game throughout the iPhone community. The game was built on the Unity game engine which allowed "Paper Pilot" to bring some of the most professional-level graphics onto the iPhone. The movie quality graphics, also provided by the Unity engine, achieve a realism not previously seen on the iPhone and iPod touch.
Zagg has become the industry standard in gadget screen protection. The InvisibleShield is the toughest, most durable gadget scratch protection film available on planet Earth. The film has its origins in the US military, where it was used to protect the leading edges of helicopter blades from wear and tear while traveling hundreds of miles per hour. The film is a clear, urethane plastic with unique properties that allow it to provide self-healing qualities and unparalleled abrasion resistance. The film's flexibility allows it to be custom designed wrap around any device, including the screen, front, back, edges, corners, and sides. The precision cut InvisibleShield is available for both the iPhone and iPod touch.
In addition to screen protection, Zagg also offers a full array of iPhone and iPod touch accessories, including Award Winning In-Ear Headphones that include an iPhone microphone.
Link: Paper Pilot (available through the iPhone App Store)
Postcards: From Your iPhone to a Loved One's Refrigerator
PR: Stolen Bases announces "Postcards", a new iPhone Application. Postcards is a free download, available now, from Apple's App Store. Postcards, is an easy to use application that allows anyone to create and mail a physical postcard directly from an iPhone or iPod Touch.
Postcards has a simple elegant interface that allows the user to select-or take-a photo, click a button and have a 6" x 4.25" postcard sent via the US mail to any US address in the iPhone's address book. Optionally a caption can be put on the front and a longer message on the back.
"In this digital age it's especially touching to receive something tangible. We give each customer two free postcards to show off the high quality printing and finishing" says Michael Angst, CEO of Stolen Bases. "We have kids; our kids have grandparents; we use this app ourselves."
To get a polished user interface, Stolen Bases teamed up with Big Stone Phone, maker of Twittelator Pro. "Postcards was a fun side-project. Tweets are instantaneous, ephemeral and you never know who is receiving them. Postcards are the perfect complement" says Andrew Stone, founder of Big Stone Phone.
Postcards is the first phone-specific application for the WYWH Postcard service, available to all mobile-phone users.
Link: Postcards (available through the iPhone App Store)
7sql Releases iBrowseTwo 1.0 - First Dual Web Brower for iPhone OS
PR: 7sql releases iBrowseTwo 1.0 for iPhone. iBrowseTwo is an application which enables users to have two websites displayed simultaneously on the screen. Never before has this feature been offered in the iPhone application. Website pages are displayed together with the innovative navigation bar which packs all the basic functionality into a small screen space.
Compact navigation bar delivers nearly full-screen experience without sacrificing the user comfort. There is no need to shake iPhone, use multi-finger gestures, etc. While employing standard gestures it innovates the web navigation and makes it more intuitive. Both browsed websites also respond to standard taps, pinches, and scrolling. They can also be resized by dragging the navigation bar up and down.
iBrowseTwo's unique navigation bar packs following functions in a small space (30 pixels high and screen wide):
Tap the address labels to enter/edit URL
Double tap the address labels to refresh/stop loading
Swipe the address labels left/right to go back/forward
Drag/swipe navigation bar up and down to resize/maximize the web windows
Colors - green bar means connectivity, red - no Internet connection
Feature Highlights:
Browsing two pages at the same time (both visible on the screen)
Innovative navigation bar
Handling links with "_blank" target
Handling of SSL links/connections (automatically opened in Safari even if redirected from standard http)
Resizing the web space by dragging/swiping the navigation bar (it snaps to top and bottom for easier operation)
Reloading both browsed pages after restart
Minimum Requirements:
iPhone, iPhone 3G, iPod touch 1G, or iPod touch 2G
iPhone/iPod touch OS 2.0 Software Update
iBrowseTwo 1.0 is available now worldwide and can be purchased from the iTunes App Store for 99¢ for a limited time.
Link: iBrowseTwo (available through the iPhone App Store)
Mark On Call 1.2 & Free Mark On Call Lite Home Design Apps Released
PR: The Mark On Call Virtual Interior Designer - a recent New & Noteworthy iTunes featured selection and rapidly taking the design world by storm - is the design tool created by interior designer, Mark Lewison, based on his home decorating book, What Would You Do With This Room? My 10 Foolproof Commandments to Great Interior Design.
Available exclusively in the Apple App Store, Mark On Call offers its users the ability to create accurate custom-sized rooms, access and resize 154 furniture and architectural elements, lay down surfaces, and render fabrics chosen from a palette of preset options or custom-created using the phone's camera or photo library. Owners of the application can also make and share detailed shopping lists, and email their room designs to clients, family, and friends.
Version 1.2 of Mark On Call now features a precision-touch measure tool, allowing for improved accuracy in placing objects. Scope-like crosshairs let the user see precisely where they are measuring, virtually eliminating the possibility of minute mistakes.
Also new to Mark On Call is a feature which lets the user store customized room items in a separate location. These customized items can be saved to the new "My Items" category and then accessed in multiple rooms of the user's floor plans.
A brand new version - Mark On Call Lite - is now available free of charge to all iPhone and iPod Touch owners. Many full version features can be explored risk-free, including the popular custom rendering and color palette selections. Mark On Call Lite lets the user design within a pre-sized room, add and place a sample selection of furniture and architectural elements, measure distance with the precision-touch measuring tool, as well as play with scale utilizing the "go bigger" option. Mark On Call Lite is perfect for those who want to coordinate colors, fabrics, finishes, and flooring materials prior to making real-world purchases; and helpful to those who would like to try out some of the features before purchasing the full version of Mark On Call.
Link: Mark On Call (available through the iPhone App Store)
The First iPhone App to Detect Wind Speed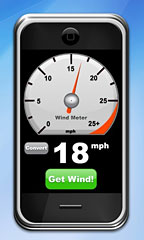 PR: The "Wind Meter" Application for iPhone was developed by a start up group of young engineers who work in the Silicon Valley area and who happen to enjoy solving technical problems. They were the first to come up with this concept of using the iPhone microphone for detecting wind speed about 6 months ago and began working with the necessary sound conversions, algorithms and programmers. It has taken a considerable amount of testing time and program updating for this device to give good approximate wind readings. One has to appreciate the idea of having a wind meter that gives good approximate readings and a phone all in one device. The wind meter is a fun gadget, but also has many practical uses in many activities where wind is often a factor.
In various tests by different groups, the "Wind Meter" iPhone App has been found to be "surprisingly accurate in steady winds".
The price for this amazing tool is almost embarrassing, considering that it is selling at a hefty 99¢ and 0.78 Euro, which is a typical price for iPhone applications.
The "Wind Meter" page contains a full description of this iPhone application; it can be obtained at Apple I Tunes APP store.
Link: Wind Meter (available through the iPhone App Store)
Radiation Passport Tracks Radiation Exposure
PR: Tidal Pool Software today released Radiation Passport 1.0 for iPhone and iPod Touch. Radiation Passport keeps track of radiation exposure and calculates cancer risks due to radiology and imaging-related exams and procedures as well as common/background radiation. The purpose of Radiation Passport is to educate about the radiation and cancer risks associated with medical imaging exams and procedures that physicians want you to undergo.
Tidal Pool Software has announced the release of Radiation Passport 1.0 for Apple iPhone and iPod Touch. Radiation Passport keeps track of radiation exposure and calculates cancer risks due to radiology and imaging-related exams and procedures as well as common/background radiation.
X-rays, CAT scans, fluoroscopy (including angiography/angioplasty), and nuclear medicine exams all cause ionizing radiation to be delivered to the body, which can cause cancer. Over the last 15 years, the use of medical imaging has been rapidly increasing. There have been recent estimates that up to 1.5-2% of all cancers within the US are caused by radiation from CAT (CT) scans.
The purpose of Radiation Passport is to educate about the radiation and cancer risks associated with medical imaging exams and procedures that physicians (and dentists) want you to undergo, to keep track of radiology and imaging-related exams and procedures, and to provide an estimate of risk of developing cancer because of this radiation.
The radiation exposure and associated risk numbers are based on published scientific journal papers, however, are in each case an estimate. There are different methods by which to estimate the associated risk.
Key Features:
Log radiology and imaging-related exams and procedures including the exam/procedure type, date, dosage, and notes
Estimate background radiation exposure taking into account location and lifestyle
Includes average dosage values for over 140 exams and procedures and support to enter a custom value
Calculates total radiation exposure
Estimates cancer risks (based on radiation exposure) taking into account the age of exposure
Displays other common risks for comparison
Check the average dosage and related cancer risks associated with a particular radiology or imaging-related exam or procedure
Graphs show radiation exposure, cancer risks (based on radiation exposure), and the sources of exposure and risk
Extensive background section with links to relevant studies and reports
Email a report of radiation exposure and related cancer risks
System Requirements:
Apple iPhone OS 2.2.1 or later
Apple iPhone, iPhone 3G, or iPod Touch
Radiation Passport is available now for purchase on the Apple App Store for just $2.99.
Link: Radiation Passport (available through the iPhone App Store)
WebIS Updates Pocket Informant for iPhone and iPod touch
PR: Texas-based WebIS Inc. has announced its popular PIM, Pocket Informant, for the iPhone and iPod touch is has been updated to version 1.01. Pocket Informant offers Calendaring and To do management in one easy to use application and is the premiere Personal Information Manager for Windows Mobile and BlackBerry devices.
In the first week on the Apple App Store Pocket Informant reached #3 on the best selling Paid Application list for Productivity. Version 1.0 offered Agenda, Week, Month, and Day views for the calendar, a Today view, a Tasks view with full GTD capability, Context, Projects, Next Action, Inbox, Search, as well as synching with Google Calendar and ToodleDo. Version 1.01 adds several customer requested features such as shared calendar synching, customizable First Day of Week, ISO week number displays and greatly improves performance and reliability.
"Version 1.00 was a great success and with version 1.01 we think we're showing our customers how important their feedback is." says Alex Kac, founder and CEO WebIS Inc. "The day after release our teams had to double their efforts to answer questions about our existing features and our planned ones. We look forward to bringing full filtering, per-calendar time zone support, desktop sync and more to our future versions."
Pocket Informant was the first full PIM (personal information management) for Windows Mobile in 2000, and listed at number 6 of all sales for WinMobile apps. "We have a long history of creating powerful and easy to use solutions for the mobile professional". Alex continues. "We are Apple fans here. All of our desktops/laptops are Macs; our servers are XServes; some of us have even worked at Apple. So we know what Mac OS X users like, expect, and deserve." Pocket Informant for the iPhone is truly focused on making productivity fun and easy, yet focused.
Features Include:
A calendar built the way an iPhone Calendar should be
Today, Month, Day, Week, Agenda, Todo, and Search views
Swipe between Months, Days, and Weeks
Easily jump to any date in Day and Month views
Timebars to show your free/busy time at a glance
Expanded detail view to see events and todos on any day
Todos integrated in the Calendar Views
Full Search of Contacts, Todos, and Calendar items
Send Appointment Meeting Requests
Getting-Things-Done (GTD) management of Todos
Franklin Covey ABC/1-99 Prioritization of Todos
Filters to quickly find active, due, overdue, and completed Todos
Today View to show your current appointments, Todos and meeting attendees
Over-the-air synching with Google Calendar and Toodledo (read the Quickstart at our site to learn how to sync with Outlook and iCal)
Starring/Flagging Todos
Settings such as ISO Week Numbers, First Day of Week, and more
System Requirements: iPhone or iPod Touch 2.2 or later
Pocket Informant 1.01 for iPhone is available exclusively through Apple's App Store at a introductory price of $12.95.
Link: Pocket Informant (available through the iPhone App Store)
Accessories
Never-Locked iPhone 3G 16 GB with Full Apple Warranty
PR: Apple iPhones have typically been locked to only use on the AT&T network, so they are not capable of being used on other GSM carriers such as T-Mobile or for overseas travel.
Hackers were able to break the software to use the iPhone on carriers other than AT&T, but any connection to iTunes or any software updates provided by Apple lock the iPhone and render it useless.
Now the iPhone is available without any locks or restrictions to any GSM carrier.
Also, the Apple guarantee is valid for all never-locked iPhones.
You are now able to:
Connect the iPhone to iTunes
Update the iPhone software when the updates are available from Apple
Purchase apps from the iTunes library or the Apps store on the iPhone
Use AT&T or T-Mobile in the USA Or one of the 30 different GSM carriers all over the US.
Use with any GSM carriers globally Introducing iPhone 3G. With fast 3G wireless technology, GPS mapping, support for enterprise features like Microsoft Exchange, and the new App Store, iPhone 3G puts even more features at your fingertips. And like the original iPhone, it combines three products in one a revolutionary phone, a widescreen iPod, and a breakthrough Internet device with rich HTML email and a desktop-class web browser. iPhone 3G. It redefines what a mobile phone can do again.
Phone - Make a call by tapping a name or send a text with the intelligent keyboard.
iPod - Enjoy music and video on a widescreen display and shop for music with a tap.
Internet - Browse the web, get HTML email, and find yourself with GPS maps.
3G Speed - 3G technology gives iPhone fast access to the Internet and email over cellular networks around the world. iPhone 3G also makes it possible to do more in more places: Surf the web, download email, get directions, and watch video even while you're on a call.
Maps with GPS - Find your location, get directions, and see traffic all from your phone. Maps on iPhone 3G combines GPS, WiFi, and cell tower location technology with the Multitouch interface to create the best mobile map application ever.
App Store - Tap into the App Store and you'll find applications in every category, from games to business, education to entertainment, finance to health and fitness, productivity to social networking. These applications have been designed to take advantage of iPhone features such as Multitouch, the accelerometer, wireless, and GPS. And some are even free. You can download them wirelessly and start using them right away.
Microsoft Exchange - What makes iPhone a great business phone? Simple. The same features that make it a revolutionary mobile device. With iPhone 2.0 software, iPhone does even more for your enterprise. It supports Microsoft Exchange ActiveSync, delivering push email, calendar, and contacts. And it gives mobile users secure access to corporate resources with Cisco IPSec VPN and wireless network services with WPA2 Enterprise and 802.1X authentication.
Special Returns Policy: This item can only be returned to the distributor under a 30 day distributor Limited Warranty.
Buy.com Total Price: $799.99
Link: Apple iPhone 3G 16 GB Never Locked
Ultimate Ears Creates Pro-Quality Audio Experience for Your iPod
PR: You live to hear your favorite band live. There's something indescribably beautiful about great music as it's meant to be heard - and experienced. That's what Ultimate Ears by Logitech has introduced with the new Ultimate Ears 700 noise-isolating earphones. The earphones deliver the kind of audio quality used by 75% of the world's touring professional artists - including acclaimed rock bands The Killers, Green Day, and Fall Out Boy - all in a comfortable, compact design.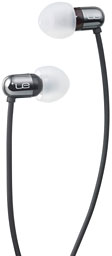 Any way you get your music - from your iPod, other MP3 players, or your computer - the Ultimate Ears 700 noise-isolating earphones offer superior sound without cramping your style. And unlike other high-quality in-ear earphones, the Ultimate Ears 700 earphones use a custom-tuned dual-armature microdesign that delivers highly accurate sound reproduction in a compact design - each earphone is smaller than a dime.
Featuring a custom-tuned dual-armature layout that separates the broad frequency response - 10 Hz to 16.5 kHz - into two high-fidelity channels per ear, the Ultimate Ears 700 earphones deliver music the way it's meant to be heard.
"Ultimate Ears legacy of creating custom in-ear monitors for rock stars directly benefits people who love great music," said Philippe Depallens, Logitech vice president and general manager of the Ultimate Ears product unit. "After designing thousands of in-ear monitors for professionals, we've put everything we know about delivering great sound quality into the Ultimate Ears 700 earphones."
The Ultimate Ears 700 earphones include an assortment of ear cushions so you can choose the fit that's best for you. You can choose between small, medium and large soft-silicone ear cushions or use the included Comply foam cushions for optimum comfort, fit and seal. The custom fit provides passive noise-isolation of up to 26 dB, allowing you to get fully immersed in your tunes.
For your traveling convenience, the Ultimate Ears 700 earphones also come with a pocket-ready hard case. At just 11.6 grams, the earphones are light enough to wear whether you're relaxing, riding the bus to work, or going for a jog. And thanks to its compact and comfortable design, you'll experience less ear fatigue, leaving you free to enjoy pure music.
The Ultimate Ears 700 noise-isolating earphones are expected to be available in the US and Europe beginning in April for a suggested retail price of $229.99.
Link: Ultimate Ears 700
Join us on Facebook, follow us on Twitter or Google+, or subscribe to our RSS news feed
Links for the Day
Mac of the Day: MacBook Core Duo, introduced 2006.05.16. The iBook's replacement has a 13" widescreen display and a 1.83-2.0 GHz Intel Core Duo CPU.
Recent Content
Custom Search
Follow Low End Mac on Twitter
Join Low End Mac on Facebook
Favorite Sites
MacSurfer
Cult of Mac
Shrine of Apple
MacInTouch
MyAppleMenu
InfoMac
The Mac Observer
Accelerate Your Mac
RetroMacCast
The Vintage Mac Museum
Deal Brothers
DealMac
Mac2Sell
Mac Driver Museum
JAG's House
System 6 Heaven
System 7 Today
the pickle's Low-End Mac FAQ
Affiliates
Amazon.com
The iTunes Store
PC Connection Express
Macgo Blu-ray Player
Parallels Desktop for Mac
eBay

Advertise