1 Million iPhone 3GS Sold, iPhone 3.0 Feature Compendium, iPhone 3GS Teardowns, and More
This Week's iPhone, iPod, and Apple TV News
Compiled by Charles Moore and edited by Dan Knight - 2009.06.26
Mac notebook and other portable computing is covered in The 'Book Review, and general Mac news is in Mac News Review.
All prices are in US dollars unless otherwise noted.
News, Reviews, & Opinion
Apps & Services
Accessories
Protection
iPod and iPhone Deals
These price trackers are updated regularly.
News, Reviews, & Opinion
Over One Million iPhone 3GS Models Sold First Weekend
iPhone 3.0 Software Downloads Topped Six Million
PR: Apple has announced that it has sold over one million iPhone 3GS models through Sunday, June 21, the third day after its launch. In addition, six million customers have downloaded the new iPhone 3.0 software in the first five days since its release.
"Customers are voting and the iPhone is winning," said Steve Jobs, Apple's CEO. "With over 50,000 applications available from Apple's revolutionary App Store, iPhone momentum is stronger than ever."
The new iPhone 3GS is the fastest, most powerful iPhone yet, packed with incredible new features including improved speed and performance - up to twice as fast as iPhone 3G - with longer battery life, a high-quality 3 megapixel autofocus camera, easy to use video recording and hands free voice control. iPhone 3GS includes the new iPhone OS 3.0, the world's most advanced mobile operating system with over 100 new features such as Cut, Copy and Paste, MMS1, Spotlight Search, landscape keyboard and more. iPhone 3GS customers get access to more than 50,000 applications from Apple's revolutionary App Store, the largest application store in the world where customers have already downloaded over one billion apps. iPhone 3GS offers twice the capacity for the same price with a 16 GB model for just $199 and a new 32 GB model for just $299.2 And iPhone 3G is available at the breakthrough price of just $99 for the 8 GB model - a huge milestone for the high end smartphone market.
MMS messaging is available only on iPhone 3G or iPhone 3GS; fees may apply. MMS may not be available in all areas. MMS support from AT&T will be available in late summer.
Qualified customers only. Requires a new two year AT&T rate plan, sold separately.
iPhone 3.0 Excels at WiFi Hotspots
Macworld's Glenn Fleishman says:
"Thanks to improvements in the iPhone OS 3.0 software update released Wednesday, connecting to a WiFi hotspot with your iPhone or iPod touch should become almost as easy as roaming on the cellular network. Two new features radically improve the process of logging in (when you've already got an account with the WiFi hotspot provider) and filling out information when it's required for free access. However, there are some catches, and - wouldn't you know it? - an incompatibility or two."
Link: iPhone 3.0 Excels at WiFi Hotspots
The iPhone 3.0 Feature Compendium
Macworld's Dan Moren says:
"About halfway through writing the enormous tome of an iPhone 3.0 review, I realized that there just wasn't enough room. For every huge new feature, like landscape keyboard, cut-and-paste, etc., it seemed like there were a dozen more smaller improvements and enhancements that cried out for equal attention.
"Having painstakingly documented most of these changes during my thorough investigation of 3.0, it seemed only fair to share these results with our dear readers, who themselves have already started chiming with things they've discovered. Even with that, I'm sure there are features and changes that we haven't found yet, so feel free to chime in below if we've missed something."
Link: The iPhone 3.0 Feature Compendium
Which iPhone 3.0 Features Does My iPhone Support?
A new Apple Knowledge Base article says:
"iPhone OS 3.0 is a free software update offering many new features for all iPhone models. Features and capabilities vary between iPhone models, with some features available only on newer models.
"Products Affected: iPhone, iPhone 3G, iPhone 3GS
"Use this table to determine which features in iPhone OS 3.0 are available for your iPhone model...."
Link: Which iPhone 3.0 Software Features Does My iPhone Support?
One-Third of iPhones Fail in First 2 Years, Mostly from Accidents
PR: A SquareTrade Research study on reported iPhone failures from normal use and accidental damage analyzed iPhone failure rates for over 10,000 iPhones covered by SquareTrade Care Plans and found over 30% of the handsets fail in the first two years of ownership. Only one-third of these failures were malfunctions from normal use; accidental damage caused the other two-thirds of failures.
Link: One-Third of iPhones Fail Over 2 Years, Mostly from Accidents
Link: SquareTrade
$99 iPhone 3G vs. $199 3GS for Value
Internet News's Don Reisinger says:
"The iPhone 3GS was released last Friday to much fanfare . . . and . . . the iPhone 3G - once the crown jewel of the iPhone product line - was left sitting on store shelves . . . The iPhone 3G is old news . . . but there's one catch: The iPhone 3G costs just $99 now. The iPhone 3GS . . . costs $199 for the 16 GB model and $299 for the 32 GB model . . . And once the early adopters get out of the way and logic starts playing into buying decisions, consumers will need to ask themselves an important question: Is the iPhone 3GS worth the extra $100 or $200?
"I don't think it is."
Link: $99 iPhone vs. 3GS for Value
Buy an iPhone? No Thanks, I'm Going Nokia
Cnet's Marguerite Reardon reports:
"Collins Osei, who had bought an iPhone 3G last year, came to the AT&T store Friday not to buy the latest-generation iPhone 3GS, but instead he wanted to downgrade to a less expensive Nokia phone.
"Osei said his decision to go back to a basic-feature phone was all about cost. The iPhone and its service plan are simply too expensive...."
Link: Buy an iPhone? No Thanks, I'm Going Nokia
People Will Dump Their Blackberry for an iPhone
TGDaily's C Shanti reports that four out of 10 Blackberry users are tempted to switch to an iPhone, while iPhone users are fanatically loyal to the Apple device, according to a survey by Crowd Science, also noting that the survey shows only 14% of non-Blackberry smartphone users will buy a Blackberry - and 82% of iPhone users are loyal followers of the Apple fashion.
Link: People Will Dump Their Crackberry for an iPhone
IT Rejoice: Easier Than Ever to Manage iPhone Security and Access Options
Computerworld's Doug Dineley says:
"Users love the iPhone, but IT does not. The biggest complaints: The iPhone can't be managed for security and access policies like a BlackBerry can....
"For some time now, Apple's offered its free iPhone Configuration Utility for Windows and Mac that lets IT set up and install configuration profiles on iPhones in BlackBerry-like breadth. But it doesn't provide the over-the-air reach, the granularity of control, or the visibility that BlackBerry Enterprise Server offers....
"But last week, Apple shipped the iPhone 3.0 OS that adds improved support for Microsoft Exchange ActiveSync policies, and it made available the 2.0 version of its iPhone Configuration Utility, with significant new management and security capabilities...."
Link: Can't Manage an iPhone Like a BlackBerry? Not So Fast
iFixit: iPhone 3GS Teardown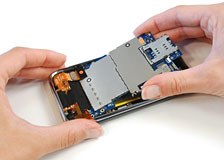 Removing the logic board.
iFixit's Miro Djuric writes:
"Apple released the phone at 8 AM local time, so we decided to fly our CEO, Kyle Wiens, to London to get the iPhone 3GS several hours before the US release. He was one of the first people in line at the Regent Street Apple Store to get the device, and enlisted the help of Macworld UK and some locals to make one of our best teardowns yet.
"We managed to video the dismantling of an iPhone 3GS WITH another iPhone 3GS. The videos are linked off the teardown.
"This teardown features our usual world-class photography and exclusive hardware analysis. We'll be adding more information over the next few days as we continue to research the hardware design."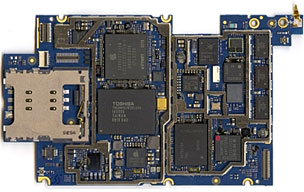 The logic board, up close and personal.
Points of interest:
Thankfully, opening the iPhone 3GS is as simple as the 3G. After removing two Phillips screws, the two halves of the phone are separated easily using a suction cup.
The iPhone is differentiated externally only by a new model number, A1303. The lettering on the back is now shiny, like the Apple logo.
The internal physical design is virtually identical to the iPhone 3G. A random passerby on the street would not know the difference. Heck, even we were struggling to differentiate the two.
The new graphics core should drastically improve performance, meaning Apple's serious about the handheld gaming market.
There's still a "Do not remove" sticker above the logic board. Naturally, we removed it.
Nearly all components have been relocated to the front side of the main PCB, including the Bluetooth, WiFi, and Flash memory chips.
The battery is 4.51 Watt-hours, or 1219 mAh. That's about 6% larger than the iPhone 3G's battery. Hopefully the hardware runs more efficiently, since increased battery life will not come from the battery itself.
There is an additional antenna connection near the dock connector. We're not sure what for just yet. However, we do love exploring these teasers... Stay tuned!
For those who are wondering about the fingerprint-resistant coating on their iPhone 3GS screen: The oleophobic, or oil-proof, technology evolved from waterproofing. Oil-proof technology is harder to achieve as oil has a much lower surface tension than water, so it spreads out easier and thus is harder to get rid off. MIT's solution was to create a coating material which creates a layer of micro fibers, but with a much larger contact angle between the oil droplets and the fibers.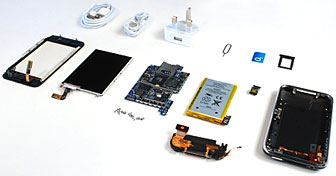 The aftermath
Some comments on usability of the 3GS:
Camera quality is much improved from the 3G. Close-up shots were possible down to about 5 cm, and the brightness adjusted well when picking a focus area.
The oleophobic screen does seem to clean slightly easier than the 3G's normal screen.
Google Earth (duration of the spinning load wheel) (over WiFi): 3GS: 4.9 sec; 3G: 22.2 sec. A bit faster than Apple's claim of 2X speed improvement - although we know that one simple test of one application means little in the real world.
Link: iPhone 3GS Teardown
RapidRepair iPhone 3GS Repair Guide Posted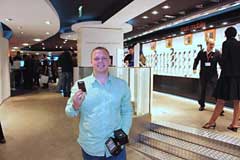 Orange Boutique in Paris, France (June 18th
2009, approx. 6:37 PM EST), RapidRepair
CEO Aaron Vronko picks up the iPhone 3GS
PR: The RapidRepair iPhone 3GS take-apart repair guide shows (in painstaking detail) the internals of the new iPhone 3GS and how to safely reach them in a few easy steps.
RapidRepair was lucky enough to be one of the 1st companies in the world to obtain the new iPhone 3GS. Turns out that Orange Boutique in Paris, France did a midnight release (6 PM EST) so they were able to obtain this new piece of technology before anyone else in the world.
The good people at BricoMac were kind enough to let them do the teardown in their store. Special thanks to David & Julien for making this happen on such short notice. Visit BricoMac: Mac computer & iPod Repair in France for all your Mac/iPod repair needs. Be sure to check BricoMac next week for a French version of this guide.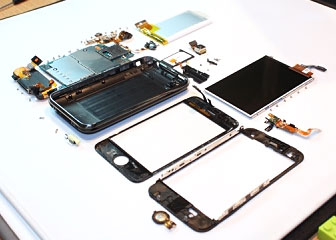 Fully disassembled iPhone 3GS
RapidRepair has put together a helpful chart to compare the older iPhones along with the newly released Palm Pre.
Tools required: Small Phillips Screw Driver, Small Flathead, heat gun, X-acto razor & Safe Open Tool. Repair Toolkit available from RapidRepair.
Be sure to check RapidRepair's repair parts page for easy to use toolkits, screen repair, batteries and more for your iPhone 3GS (SPEED).
Link: RapidRepair iPhone 3GS Repair Guide
Etymotic Research hf2 Headset Recognized as Best iPhone Accessory
PR: Etymotic Research, the original inventor of noise-isolating, high fidelity in-ear earphones, today announced that Macworld UK has honored their new hf2 Custom-Fit headset with its prestigious iPhone Accessory of the Year award. Combining industry-leading fidelity with the first off-the-shelf customized earphone program, the custom version of the hf2 further addresses consumers' growing demand for quality sound, comfort and handsfree telephony capabilities. The hf2 and hf2 Custom-Fit are compatible with the new Apple iPhone 3GS that went on sale Friday.
Launched in 2008, the hf2 features noise-isolating eartips that block out more noise than bulky, battery-powered noise-canceling headphones. Designed with high-definition drivers and outfitted with a built-in, high-sensitivity microphone for voice calls, the hf2 became a worldwide hit, riding the wave of the popular Apple iPhone that merged music player and phone functionality.
In the nation's capitol this week, where he is discussing hearing protection at the MENC inaugural Music Education Week in Washington, Mead Killion, Ph.D., Etymotic's president remarked, "We're pleased that the industry is beginning to recognize the benefits of noise-isolating earphones. Peer-reviewed research studies prove that when external noise is blocked, people choose lower, safer listening levels," continued Killion. "This has become increasingly important as consumers are listening to their music players for longer periods of time."
This year Etymotic partnered with ACS, the premier UK developer of custom earmolds and monitors for musicians, to create a custom version of the hf2 headset. A video overview of the custom version of the hf2 can be found at http://www.etymotic.com/video/hf2customfit.swf
Pioneering technology for safer mobile listening
Etymotic designed the first noise-isolating, high fidelity in-ear earphones. This technology, originally developed for clinical hearing testing and auditory research, ultimately gained popularity with audiophiles and sound engineers who demanded accurate sound reproduction.
Preservation of hearing is a large part of Etymotic's mission, and eliminating outside noise while listening to music players and mobile phones leads to safer listening levels. The hf2 is Etymotic's 5th generation of earphones that use this technology.
Not lost on the voters of the Macworld award was the unmatched sound quality of the hf2. "All of our headsets and earphones are carefully designed to deliver the most accurate, unaltered sound of any earphone today," said audiologist Dr. Gail Gudmundsen, sales and marketing director for Etymotic.
The hf2 Custom-Fit is available exclusively at Apple stores in the UK. While Etymotic is exploring bringing the Custom-Fit to North America, hf2 is available worldwide through Apple, Amazon, other retailers and Etymotic Research online. The hf2 is also compatible with most Blackberry Smartphones, such as Curve, Storm, and Bold.
The name "Etymotic" (pronounced "et-im-oh-tik") means "true to the ear" in ancient Greek. Currently, Etymotic Research holds over 100 patents issued and pending on in-ear earphones, hearing devices and hearing protection products. The name "hf2" stands for "high fidelity + handsfree."
Link: Etymotic Research
Apps & Services
Men's Health Magazine Debuts iPhone Workout App
PR: Men's Health, the largest men's lifestyle magazine brand in the world, announced today the launch of its first iPhone application, Men's Health Workouts. The $1.99 application includes 18 exclusive workouts and 125+ exercises from the world's top strength coaches, athletes, and fitness experts. Each workout features step-by-step instructions, high-quality photos, advanced logging functions, and is powered by a one-of-kind circuit training interface.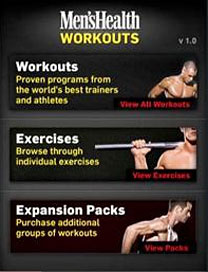 Circuit training is one of the most efficient ways to burn fat and build muscle, and we re excited to be the first application to bring this free-flowing, fast-acting fitness approach to the iPhone, said SVP/Editor-in-Chief, David Zinczenko. Whether guys want to get back in shape or target specific fitness goals, Men's Health Workouts can help them see results in record time.
Men's Health Workouts is also one of the very first applications to utilize the newly released iPhone OS 3.0's In App Purchase function, allowing users to purchase additional groups of workouts directly within the application itself. Available expansion packs at launch include, The Ultimate Abs Pack, Build a Beach Ready Body, Huge Arms in a Hurry, and The Ultimate Golf Workout.
Men's Health is leading the industry by adapting our print products to emerging digital platforms, said SVP/Editor-in-Chief, David Zinczenko. While other magazines have offered iPhone applications before, we are the first to embrace Apple's In-App purchase function, and in doing so, we are the first to deviate from these traditional marketing methods. In essence, we are creating a distribution channel within the iPhone for our content.
Men's Health Workouts is available for the iPhone and iPod touch for $1.99 from Apple's App Store. Additional expansion packs can be purchased for 99¢ and up.
Link: Men's Health Workouts (available through the iPhone App Store)
Best Seller The Love Dare Comes to iPhone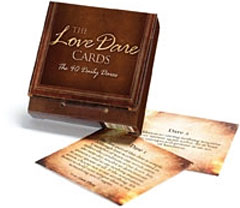 PR: Have you seen the movie Fireproof? It's the story of a marriage on the rocks, and it shows how one couple was able to rescue their relationship from the flames of divorce and temptation. Using biblical principles, sound marriage advice, and the dare to perform simple acts of love for your spouse, the book The Love Dare, based on this movie, guides couples through a transformative program of marriage strengthening and enrichment.
Now available for the first time on iTunes, Olive Tree announces two new BibleReader applications:
The Love Dare - ebook, plus the Holman Christian Standard Bible, $9.99
The Love Dare: 40 Dares - a short devotional version of the 40 daily dares, 99¢
Specially designed by Olive Tree, these Apps have an all-new look and feel that transfers the complete Love Dare experience, based on the Broadman & Holman print books and devotional cards, directly to your iPhone. In addition, you can use them to read any other Olive Tree books and Bibles that are available for iPhone.
For a visual demonstration of how these new Apps look and how their features work, check out this video demo of The Love Dare and The Love Dare: 40 Dares on iPhone, presented by Broadman & Holman Publishing.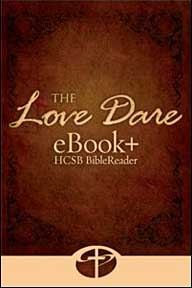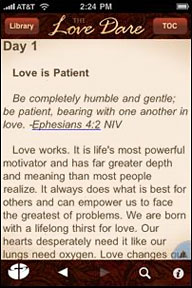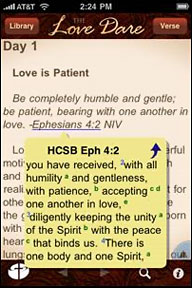 The Love Dare and The Love Dare: 40 Dares are also available as individual titles from OliveTree.com for all major platforms: iPhone, BlackBerry, Palm, Windows Mobile/Pocket PC, and Symbian. But please note - while the books at our website have the same content, they do not come with the branded look and interface of the iPhone Apps.
Link: The Love Dare (available through the iPhone App Store)
Postman: Send Personalized Postcards Instantly from Your iPhone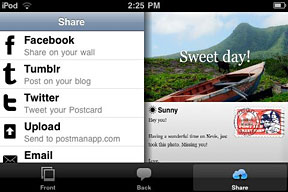 PR: Postman, the new way to keep in touch using your pictures, greetings and even your geolocation, is now available on the iTunes App Store. Utilizing exciting and brand new iPhone OS 3.0 advances such as the Map API, Postman offers exciting new ways to compose and send beautiful postcards.
Postman makes it easy for users to create their very own instant picture-postcard simply by snapping a photo, editing greetings and adding personalized messages. iPhone OS 3.0 Map technology works with Google Maps for location identification and enables user selectable weather. Users can then share their creations on Facebook, Twitter, blr, the Web or via email with a one-click upload straight from the App.
"The new iPhone OS 3.0 offers a wealth of great new technologies and we're already digging in. Postman is an amazingly fun app and just the first step along a very exciting path." said Ian Lynch Smith, President of Freeverse.
Postman was developed by Taptivate, inc. and is exclusively for iPhone OS 3.0.
Link: Postman (available through the iPhone App Store)
NextWorth Announces Easy Upgrade Program for iPhone Owners
PR: NextWorth, a specialist in consumer electronic upgrades and trade-ins, announces its new trade-in service for third generation iPhones providing enough trade-in cash to cover an upgrade to the new 3GS iPhone. Some customers will not only receive enough trade in cash to purchase a new iPhone but also have money left over after the new purchase. Trade-ins are now easier than ever with NextWorth's website redesign, offering existing 3G iPhone customers an easy, fast, and financially sound way to upgrade to the iPhone 3GS.
Building upon the success of last year's iPhone upgrade program which allowed customers to essentially upgrade from the first generation iPhone to the iPhone 3G for free, we are currently able to offer even higher dollar exchanges for existing iPhone users looking to upgrade to a phone two times faster and more responsive than the current model the iPhone 3GS, said Dave Chen, CEO of NextWorth. Continued strong market demand for the existing devices and the AT&T subsidies associated with purchasing a new iPhone 3GS are allowing us to put more dollars than ever back in the hands of consumers and make the upgrade process easier and more compelling than ever.
For the time being, NextWorth customers can receive as much as $255.50 for a 16 GB iPhone 3G1 when trading in their phone. With current 3GS prices starting at $1992 for the 16 GB 3GS, trade-in amounts will fully or nearly cover the cost of an upgrade. iPhones purchased by NextWorth in any condition will be refurbished and resold by NextWorth, keeping the old devices out of the waste stream, thereby promoting recycling and reuse.
Trading in an old iPhone is simple, with current market values and the condition of the device determining the trade-in value. NextWorth customers visit NextWorth.com , enter the model, condition and any original accessories that may be included in the trade, and a value is instantly displayed. If customers accept this value and proceed, a free shipping label is provided to return the iPhone to NextWorth and the price quote is locked for up to 21 days. Once received, NextWorth examines the product, verifies the estimate and sends the customer payment in the form of a certified check, PayPal, or a Target or Amazon Gift Card. A customer can expect to receive a check, PayPal deposit, or gift cards in as little as seven to 14 days, or instantly at participating retailers such as J&R Computer World in NYC. A list of participating retailers and more information on NextWorth can be found on the company Web site. In addition to iPhone trade-ins, NextWorth also offers trade-in services for Apple iPods and Laptops, BlackBerry!" phones, digital cameras, GPS systems, video games and video game consoles.
Headquartered in Lawrence, Massachusetts, NextWorth is a leading player in consumer electronic upgrades and trade-ins. NextWorth helps people Stop Depreciation!" by facilitating the sale and trade-in process for such leading products as iPods and iPhones online and through select retailers. NextWorth strives to create hassle-free, high-value exchanges to ease the upgrade process for consumers.
Link: NextWorth
Device listed in Like New condition with all of the original accessories included. Trades are also accepted for more heavily worn and broken iPhones as well. Prices are dynamically generated based on market conditions. Quoted buy price reflected as of 6/18/09 and are subject to change.
Requires new two-year AT&T wireless service contract. Existing AT&T customers should use www.apple.com/iphone/buy to find out if they are eligible for early upgrade pricing.
Accessories
Wire-Free Charging for the iPhone and iPod touch Available from WildCharge

PR: WildCharge Inc. announces the availability of WildCharge Skins for the iPhone and the iPod touch. Consumers and licensing partners have been anxiously awaiting the skins, which enable the popular Apple devices to be charged by simply placing them on the WildCharger Pad, or on other surfaces that are embedded with the WildCharge technology, where they will begin charging immediately. The iPhone and iPod touch skins add to a growing list of WildCharge solutions that enable wire-free charging for a variety of portable devices. The iPhone skin is compatible with all iPhone models, including the new 3GS.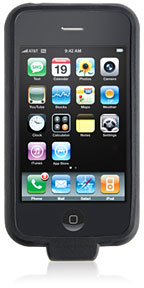 "The market is demanding a move toward wire-free charging, and WildCharge is thrilled to answer that call by adding Apple devices to our lineup of commercially available products," said WildCharge chairman and CEO Dennis Grant. "With the addition of these two 'Made for iPod' and 'Works with iPhone' approved designs to our reference design library, WildCharge is solidifying our position as the leading wire-free charging developer in the industry."
The WildCharge Skins are durable, protective formfitting cases that when placed on the WildCharger Pad, transfer wire-free power from the Pad to the device inside the skin. The soft cases provide the same protection consumers already enjoy from traditional skins, but have the added value and convenience of enabling a wire-free charge.
The WildCharger Pad, used in conjunction with the skins, delivers full power to multiple devices, allowing them to simultaneously charge together on the Pad while eliminating the clutter caused by multiple chargers and power cords. The iPod touch skin is available for order today and the iPhone skin will be available in early July. WildCharge Skins are also available for the Blackberry Pearl and Curve, and all are sold for $34.99 at WildCharge.com.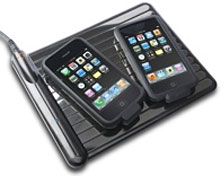 In addition to the Skins, WildCharge recently announced a Universal Adapter for mobile devices that works with the WildCharger Pad. The Universal Adapter is able to charge over 150 different cell phone models from major brands such as Motorola, RIM, and Nokia through the use of interchangeable tips, with the list of compatible devices constantly expanding.
WildCharge provides the only commercially available technology that enables licensing partners to deliver wire-free charging to a variety of devices that require varying amounts of power. From cell phones that require only a few watts of power to laptops that need over a hundred watts, virtually any device that has a rechargeable battery can be powered from a single, contiguous, and non-discriminating charging surface. WildCharge technology has met the industry's most stringent regulatory and safety standards, including UL, CE, FCC, RoHS, and has been certified across all of the GSM bands. WildCharge enables licensees to bring new items to market quickly and cost effectively through its reference design library, which features wire-free products that have been conceived, engineered and tooled with a pre-established supply chain.
WildCharge is a Boulder, Colo.-based company that is revolutionizing power delivery to portable electronic devices by commercializing - through licensing partnerships - its proven, wire-free power technology. WildCharge is the first company to offer commercially available wire-free charging technology that works with multiple devices across multiple brands. WildCharge's Technology Licensing Program provides the design and manufacturing guidance allowing original equipment/design manufacturers to quickly and cost effectively integrate highly efficient, wire-free, technology into their products.
Link: WildCharge
Monster Shipping Wide Range of iPod and iPhone Accessories
PR: Monster, a manufacturer of advanced consumer electronics accessories, has announced it has begun shipping seven new accessory products geared for Apple iPod and iPhone use that significantly enhance iPod and iPhone capabilities for in-car, at-home and on-the-go portable use. Like all Monster products, the new high-quality iPod and iPhone accessories are designed for total reliability, convenience and ease-of-use.
Exciting New On-the-Road Capabilities and Features, Plus More At-Home Flexibility
The new Monster iCarPlay Wireless 1000 ($99.95) and iCarPlay Wireless 800 ($79.95) devices provide consumers with innovative and easy-to-use solutions for transmitting music wirelessly via their iPhone or iPod through any car radio FM radio station while on the road. In addition, both devices let users enjoy their music on the road while charging their iPhone or iPod at the same time. This ensures that power depletion during long road trips will be a thing of the past, and iPhones and iPods will always have plenty of power upon arrival.
Adding to its flexibility and usage options, the iCarPlay Wireless 1000 FM transmitter can be used both in the car as well as at home or in the office. Users simply unplug the USB cord from their car's Cigarette Lighter Adapter (CLA) and then power the iCarPlay Wireless 1000 from any standard powered USB port or via a Monster iSlimCharger or iCharger Travel USB wall charger. When the iCarPlay device is not in use in the car, that same CLA with the USB plug can be used to power other electronic devices designed to charge via a USB connection. Users simply employ the charging cable that was supplied with that device along with the iCarPlay Wireless CLA plug - eliminating the need to carry along multiple chargers.
A variety of breakthrough technologies allow the Monster iCarPlay Wireless devices to achieve a new level of performance and convenience in wireless iPod transmission. For instance, thanks to Monster AutoScan 3D technology, the iCarPlay Wireless 1000 and 800 automatically scan the entire FM spectrum three times to lock onto the clearest FM frequency available. In addition, the iCarPlay Wireless 1000 and 800 both output line-level audio signals for full-range dynamic sound with minimal distortion for an incredible listening experience. The iCarPlay Wireless 800 features the innovative Monster "M-Drive" multifunction control, a one-knob control that lets users keep their eyes on the road at all times.
For users with vehicles equipped with an Auxiliary Input and who want to be able to charge their iPod or iPhone on the road, the Monster iCarCharger 1000 ($49.95) uses a 30-pin dock connector to charge the device while playing audio through a mini-jack cable with internal cable management, and features built in navigation controls on the back of the cigarette lighter adapter plug for easy music playback.
Note: the iCarPlay Wireless 1000, Wireless 800, and iCarCharger 1000 are Works With iPhone certified products for iPhone and iPhone 3G.
Monster's new iCarPlay Cassette 800 ($19.95) adds even more on-the-road flexibility, letting users play iPod and iPhone tunes through their car stereo cassette players. It features an improved cassette head for superior sound quality, as well as a high-fidelity chipset and digital display. In addition, it features easy cable routing, with four cable ports to fit virtually any tape cassette.
The new iCable 800 (SRP: $14.95) and iCable 1000 (SRP: $29.95) offer users a simple high-performance in-car connection solution. Many of today's car audio systems have a convenient 1/8 inch minijack audio input for easy hookup of any iPod, iPhone or other portable media player. Unlike wireless transmitters and cassette tape adapters, the iCable 1000 and 800 devices provide a direct wired connection from your iPod or iPhone to your car's audio system so it can deliver your music with full fidelity that's free of static and FM interference (3- or 7-foot lengths available).
Monster is also helping consumers maximize their enjoyment of Apple iPod and iPhones products in the home entertainment space with its new high-performance iSplitter 1000 ($19.95), which lets users customize the volume for the personal tastes of two separate listeners, providing a high quality stereo mini-splitter that output to two sets of headphones with independent volume controls and mute.
Revamped High-Impact Packaging
Monster has completely revamped the packaging for the Apple accessory line, featuring a new emotion-evoking design with metallic finishes, red and black accents that mirror the products' industrial design as well as large windows to showcase the products clearly, plus easy-to-understand key technology call-outs on the front.
Link: Monster
Protection
Get in the Spirit of Summer with Stylish OtterBox iPod Protection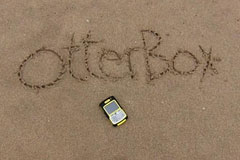 PR: Relax on sandy beaches and cool off in the ocean waves with the waterproof OtterBox Armor Series case line. Newest additions include protection for the iPod nano 4th generation and iPod touch 2nd generation.
Summer has finally begun and the beckoning of a much-needed vacation is on the horizon. Whether it's a trip to the beach, an outdoor adventure or just a day in the city, OtterBox has protective and stylish solutions to keep your technology safe so you can have a more enjoyable trip.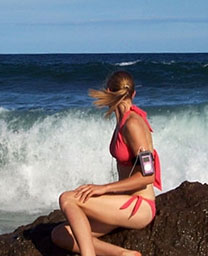 Relax on sandy beaches and cool off in the ocean waves with the waterproof OtterBox Armor Series case line.1 Newest additions include protection for the iPod nano 4th generation and iPod touch 2nd generation. Take your tunes along and know they are safe and protected from drops, sand and water. Or protect cameras, wallets, car keys, sunglasses and cell phones in standard OtterBox cases designed to fit a variety of valuables.
Get outdoors with the OtterBox Defender Series line. This drop, scratch, dust and dirt-proof case is the perfect sidekick for camping trips, hikes, walks, bike rides, runs and more.2 Devices such as iPhone, iPods, BlackBerry, and Palm smartphones aren't designed to withstand the rigors of your active lifestyle so protect them with Defender Series cases. Have peace of mind so you can enjoy Mother Nature without worrying about your fragile device.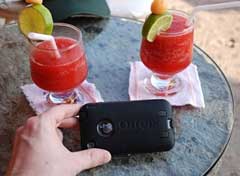 Catch a movie, try out a new restaurant or sidewalk shop in the city and know your device is safe from bumps with the Impact Series line.3 OtterBox provides a thin and sexy skin-style case to safeguard iPods and smartphones from the hustle and bustle of city life.
No matter where your summer activities take you, OtterBox offers a selection of completely interactive cases to protect devices from simple everyday ventures to the most extreme summer journeys.
For more information, visit otterbox.com or call 888-695-8820.
Link: OtterBox
Armor Series cases are not adapted to withstand pressures experienced by scuba diving. Using the incorrect case may cause leakage. OtterBox is not responsible for personal property when used in the incorrect case. For more details, please see the warranty.
Defender Series cases do not protected against water. Will provide some added protection against drop, bump and dust. not intended for protection against water intrusion.
Impact Series cases do not protect against water. Will provide some added protection against bump and shock.
XtremeMac Debuts iPhone 3GS Cases
PR: XtremeMac, a portfolio brand of Imation Corp. and an innovator of accessories for Apple products, announced today a new line of custom-designed cases to provide ultimate protection and style for the new iPhone 3GS.
"With the exciting introduction of the new iPhone 3GS, we wanted to provide a line of accessories with the style and function that XtremeMac products are known for," said Bob Garthwaite, general manager, Imation Electronic Products. "Customers should look forward to even more innovative XtremeMac releases, including new cases, charging and audio solutions later this year."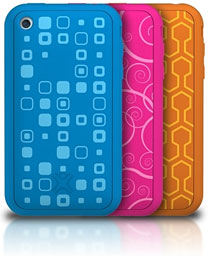 XtremeMac's new line of cases blends fashion with functionality, protection and style. Each case is custom designed to protect the iPhone 3GS and will be available at select retailers nationwide and at xtrememac.com with select styles starting mid-July.
The Tuffwrap line of high quality, formfitting silicone cases are designed to fashionably protect the new iPhone 3GS. The Tuffwrap line offers four versions including the solid color Tuffwrap, two-tone Tuffwrap Accent, and Tuffwrap Tatu, which features unique laser-etched designs. Each case offers full access to all switches and jacks and includes a screen shield for added protection. The Tuffwrap Accent and Tuffwrap Tatu also include a viewing stand. The Tuffwrap line of cases carries suggested retail prices of $19.99- $29.99.
The Microshield line of durable plastic cases is custom designed to protect the new iPhone 3GS without adding bulk. Included in the line are the original, clear or smoke Microshield cases with snap-on back and textured sides, Microshield Accent with an ergonomic rubber border in a variety of colors, and Microshield Tatu with a clear snap-on back and textured sides, but also with chic, custom-designed artwork. Each case offers full access to all switches and jacks and includes a screen protector. The Microshield and Microshield Tatu also include a viewing stand. The Microshield line carries suggested retail prices of $24.99-$29.99.
Sportwrap is a high-performance, lightweight armband designed for the active user. Constructed with soft and durable Lycra and neoprene, it is designed to protect the iPhone 3GS while keeping it in place even during the most rigorous workout. The unique mask on the Sportwrap allows the user to easily insert and remove the device while offering full access to all controls. Sportwrap has a removable cord wrap and is designed to fit almost any arm size. Sportwrap carries a suggested retail price of $29.99.
The Tuffshield lightweight durable screen shields offer superior protection against scratches, dust and dirt. Tuffshields come in two versions, one clear-gloss set and one anti-glare set depending on personal preference. Both have static cling adhesion for easy application and removal. Each Tuffshield package contains three screen protectors and a cleaning cloth for the iPhone 3GS. Tuffshield carries a suggested retail price of $14.99.
Link: XtremeMac
Join us on Facebook, follow us on Twitter or Google+, or subscribe to our RSS news feed
Links for the Day
Mac of the Day: Lisa, introduced 1983.01.19. The ancestor of the Macintosh had a mouse, a graphical interface, and a $10,000 price tag.
Recent Content
Custom Search
Follow Low End Mac on Twitter
Join Low End Mac on Facebook
Favorite Sites
MacSurfer
Cult of Mac
Shrine of Apple
MacInTouch
MyAppleMenu
InfoMac
The Mac Observer
Accelerate Your Mac
RetroMacCast
The Vintage Mac Museum
Deal Brothers
DealMac
Mac2Sell
Mac Driver Museum
JAG's House
System 6 Heaven
System 7 Today
the pickle's Low-End Mac FAQ
Affiliates
Amazon.com
The iTunes Store
PC Connection Express
Macgo Blu-ray Player
Parallels Desktop for Mac
eBay

Advertise