8GB iPhone 3GS Soon?, Texting Makes Kids Dumber, 2 Twitter Apps, Mobile Calls Cost Most in US, and More
This Week's iPhone, iPod, and Apple TV News
Compiled by Charles Moore and edited by Dan Knight - 2009.08.14
Mac notebook and other portable computing is covered in The 'Book Review, and general Mac news is in Mac News Review.
All prices are in US dollars unless otherwise noted.
News, Reviews, & Opinion
Apps & Services
Accessories
iPod Deals
These price trackers are updated regularly.
News, Reviews, & Opinion
8 GB iPhone 3GS Inbound?
Register Hardware's James Sherwood says:
"Screenshots of documents entitled 'Rogers 8 GB iPhone transitioning to 3GS' were picked up by website Boy Genius Report and seem to hint that the retailer's running down its stocks of the 3G, while also adding an 8 GB 3GS to its inventory."
Link: 8 GB iPhone 3GS Inbound?
5 Parent-proof Reasons You Need an iPhone
Macworld's Dan Moren says:
"Going off to college can be scary, especially if it's your first time on your own. But you know what makes it less scary? Getting your own iPhone. So, kids, here are five great reasons you can use to convince your folks that the one thing you absolutely need when going off to college isn't a laundry bag or clean towels, but the most advanced smart phone on the face of the earth."
Link: Five Parent-proof Reasons You Need an iPhone
Mobile Phone Text Messaging Is Making Children More Impulsive
The Telegraph Science Correspondent Richard Alleyne reports:
"Researchers believe the mobile phone system makes youngsters less thoughtful and more prone to making mistakes elsewhere in life.
"Hitting a few keys and then seeing the desired word appear in full trains children to be fast but inaccurate when doing other things, according to scientists.
"They warn that the effects of this could have repercussions on a whole generation...."
Link: Mobile Phone Text Messaging Is Making Children More Impulsive, Claim Researchers
Texting Makes Kids Faster but Dumber
The Register's Bill Ray reports:
"Predictive text is making kids lazy and inaccurate and the collapse of civilisation can only be prevented by bringing back multi tap.
"The idea that using predictive text is making kids more impulsive and less patient is apparently borne out by a study from Professor Michael Abramson of Monash University, Melbourne, Australia."
Link: Texting Makes Kids Faster and Dumber
Mobile Phone Use Associated with Changes in Cognitive Function of Young Adolescents
An abstract published in Bioelectromagnetics on a study directed by Michael J. Abramson, School of Public Health & Preventive Medicine, Monash University, The Alfred, Melbourne, Victoria 3004, Australia and funded by the National Health Medical Research Council of Australia reports:
"As part of the Mobile Radiofrequency Phone Exposed Users' Study (MoRPhEUS), a cross-sectional epidemiological study examined cognitive function in secondary school students. We recruited 317, 7th grade students (144 boys, 173 girls, median age 13 years) from 20 schools around Melbourne, Australia. Participants completed an exposure questionnaire based on the Interphone study, a computerised cognitive test battery, and the Stroop colour-word test. The principal exposure metric was the total number of reported mobile phone voice calls per week. Linear regression models were fitted to cognitive test response times and accuracies. Age, gender, ethnicity, socio-economic status and handedness were fitted as covariates and standard errors were adjusted for clustering by school. The accuracy of working memory was poorer, reaction time for a simple learning task shorter, associative learning response time shorter and accuracy poorer in children reporting more mobile phone voice calls. There were no significant relationships between exposure and signal detection, movement monitoring or estimation. The completion time for Stroop word naming tasks was longer for those reporting more mobile phone voice calls. The findings were similar for total short message service (SMS, also known as text) messages per week, suggesting these cognitive changes were unlikely due to radiofrequency (RF) exposure. Overall, mobile phone use was associated with faster and less accurate responding to higher level cognitive tasks. These behaviours may have been learned through frequent use of a mobile phone."
Link: Mobile Telephone Use Is Associated with Changes in Cognitive Function in Young Adolescents
Would You Give Up Using Your iPhone in the Car for Increased Safety?
The iPhone Blog's Rene Ritchie says:
"Our sibling site, TreoCentral.com, reminds us about the NY Times report that even hands-free cell phone (including iPhone) use while driving radically increases the risk of accidents....
"TiPb's curious what you think about talking on the phone while driving, and what, if anything, you think should be done about it?"
Link: Poll: Would You Give Up Using Your iPhone in the Car for Increased Safety?
iPod Dying? Does Apple Care?
PC World's Todd R. Weiss says:
"The beloved and oft-copied iPod MP3 music player has been a huge part of Apple's bread and butter success since the first edition launched in 2001, but iPod sales revenues are apparently dropping and being eclipsed by revenues for Macs and iPhones.
"So does that mean that the iPod is dead? Could it be? Will the iPod go the way of Pontiacs, Edsels, and steam locomotives?"
Link: iPod Dying? Does Apple Care?
iPhone Cut-and-Paste: Mysteriously Improved?
IT World says:
"The iPhone's cut-and-paste functionality was one of the most long-awaited features of iPhone OS 3.0....
"But what I found when I downloaded iPhone OS 3.0 was that cut-and-paste actually made my iPhone text experience more irritating....
"I had been meaning for a while to write a blog post about this on a slow Apple news day . . . so I got out my iPhone and my digital camera in an attempt to document my irritation. But lo and behold, every time I tried to reproduce the problem, the cursor acted exactly the way I wanted it to...."
Link: iPhone Cut-and-Paste: Mysteriously Improved?
Mobile Calls Cheapest in Finland, Netherlands, and Sweden; Highest in US
Finland, the Netherlands, and Sweden have the lowest prices for mobile phone calls among OECD countries, according to the latest OECD Communications Outlook. The highest rates were found in Canada, Spain, and the United States.
Comparing prices on a medium-use basis for a package of 780 voice calls, 600 short texts (SMS), and eight multimedia (MMS) messages, the survey found monthly prices ranged from $11 to $53 dollars across countries as of August 2008.
The report adds that text messaging continues to be a particularly lucrative market for operators and that recent marketing developments are increasingly offering SMS-based packages targeted at young subscribers.
Link: OECD Communications Outlook 2009
Apps & Services
Twittelator Pro 3.1
PR: Stone Design, aka Big Stone Phone has released a free upgrade to its top-selling Twitter client Twittelator Pro optimized for iPhone OS 3.0.1. Twittelator Pro was recently featured at the top of the Summer's Hottest iPhone Apps in an Apple/AT&T full page ad in the Wall Street Journal and New York Times, and runs on all models of the iPhone and iPod touch.
"Resting on our laurels is not an option" said Stone Design CEO Andrew Stone, @twittelator. "Each month for the last 12 months we have released a free update to Twittelator Pro, and this month brings unique features like muting noisy tweeters, video uploading to TwitVid with co-upload to YouTube, and the fantastic TwitLonger which lets you write blogs in Twittelator and have them automatically linked from the posted tweet! Tweet translation is fantastic for understanding your global friends."
The key new features recently added to Twittelator Pro v3.1 include:
Translate a tweet into your native language
Shoot, Edit and Upload Video tweets (requires iPhone 3GS)
Support for uploading videos to YouTube via TwitVid
Send really long tweets (aka blogs) via TwitLonger
Muting (temporarily ignoring) tweeters without unfollowing
Record and Upload Audio tweets (all models - Touches require mic)
Shake to Refresh
Copy just part of a tweet
5 fun bird sounds when you get new tweets via autorefresh
Offline tweeting and reading - great for iPod touches!
Shake to undo composed tweets before publishing
Paste an image from another application into your tweet
Instant access to over 560 dingbats and colorful emoji
Email tweets and links without leaving the application
See street, satellite or hybrid map of location of any tweeter
Set your location as a place name accurately using Google's reverse geocoding
Ready for second coming of the Twitpocalypse (> 4,294,967,295 tweets)
With so many other power features including multiple accounts, unlimited drafts, offline tweeting, unlimited sub groups of friends, Twittelator Pro v3.1 packs the most features into a Twitter client, mobile or desktop.
"With the added ability to use TwitLonger to post those tweets that you just can't get to fit into 140 characters, along with the myriad features already present, Twittelator has become one of the most comprehensive Twitter clients available on the iPhone platform", said Stuart Gibson, TwitLonger developer.
"Twittelator has been so successful and the twitterverse response to it so positive that we just keep going," remarked Mr. Stone. "What has been particularly gratifying is to see our features get picked up by other clients, even on the desktop platform!"
Twittelator Pro was listed on the top of "16 of the summer's hottest new releases" in the New York Times, Sunday August 2nd and the Wall Street Journal, Monday August 3rd in full page Apple and AT&T advertisements. Twittelator Pro was chosen as Editor's pick for best iPhone Twitter client by Mac|Life in May 2009 issue.
Minimum Requirements: iPhone or iPod touch 3.0 or later
Twittelator Pro is available for $4.99 from Apple's App Store on iPhone and iPod touch or via iTunes.
Link: Twittelator Pro (available through the iPhone App Store)
SimplyTweet 2.1: Full Featured iPhone Twitter Application with Push
PR: MotionObj today announced SimplyTweet 2.1, an update to their full featured Twitter application for iPhone and iPod touch. SimplyTweet combines a fast, simple user interface and advanced functionality. It supports push notifications for new mentions and direct messages, customized timelines with saved views, read conversations, themes, import accounts from HootSuite, multiple accounts, landscape drafting, landscape built-in browser, text and URL shrinking, photo search, and more.
SimplyTweet 2.1 is a full featured iPhone Twitter Application that combines a fast, simple user interface and advanced functionality. It supports advanced functionality such as push notifications for new mentions and direct messages, themes, photo search, and picture posting to sites such as TwitPic and Posterous.
It is developed by MotionObj, run by independent software developer, Hwee-Boon Yar who is based in Singapore. The completely redesigned SimplyTweet 2.0 has been approved by Apple and is now available on the iTunes App Store for both iPod touch and iPhone. It was primarily developed because the developer could not find an iPhone Twitter client that satisfied his personal needs.
SimplyTweet 2.0 features:
Fast and simple user interface
Push notifications for new mentions and direct messages
Customized timelines with saved views (groups)
Conversation view
Themes
Import accounts from HootSuite
Multiple accounts support, with quick switch support
Landscape drafting
Landscape built-in browser
Text and URL shrinking
Notes for accounts
Photo search
Updating of user profile including profile picture
Picture posting to sites such as TwitPic and Posterous
Requirements: iPhone or iPod touch with OS 3.0 or newer
SimplyTweet 2.0 is $4.99 exclusively through Apple iTunes App Store.
Link: SimplyTweet (available through the iPhone App Store)
TheCarrot.com iPhone App 2.0: Comprehensive Health, Nutrition, Fitness & Lifestyle Tracking
PR: TheCarrot.com, provider of life-management tracking and reporting, announced today that a significant upgrade to its popular iPhone application (app) is now available. TheCarrot.com offers more than 30 trackers, the broadest range of health and lifestyle trackers available on a single iPhone app, and the 2.0 application provides a more intuitive and enjoyable experience combined with improved functionality. Users can now better track an ever-expanding array of daily activities such as food intake and workouts as well as better manage health conditions such as diabetes, hypertension and asthma.
The free upgraded iPhone app provides real-time, on-the-go access to all tracker histories, photos and journal entries, and the ability to search for nutritional information, medications, symptoms and more. Information can be entered in a variety of formats, depending on user preference. Individuals who track their exercise patterns, for example, can choose to record the date, time, duration, location, distance and/or perceived exertion with accompanying photos. People tracking what they eat now have instant access to nutritional information on more than 20,000 foods.
"We're excited to bring users the newest version of TheCarrot.com's iPhone app, designed to empower consumers who want to take charge of their health and well-being," said Douglas Trauner, CEO and founder of Healthcare Analytic Services, creator of TheCarrot.com. "The benefits of ongoing monitoring to encourage healthy behavior have long been recognized, but until now there wasn't a mobile, one-stop option for all areas of interest. We are proud that TheCarrot.com is helping transform lives."
TheCarrot.com also offers users the unique ability to correlate tracked items into a personalized report to determine how one behavior impacts others, such as: How does mood impact food intake? Do certain foods trigger headaches? Does the timing of a medication affect sleep or blood pressure? Identifying these trends and triggers can motivate users to proactively change habits and behaviors. The robust reporting feature also enables users to share this information with physicians, nutritionists, trainers, coaches and other professionals.
TheCarrot.com 2.0 app is available for free from Apple's App Store. The app can be used with an iPhone (OS 2.0 or later) and iPod touch.
Link: TheCarrot.com (available through the iPhone App Store)
Travel Assistant Pro Adds TripIt Pro & iPhone OS 3.0 Support
PR: nodconcept announces a major new version of its flagship travel itinerary application, Travel Assistant Pro for iPhone and iPod touch. The new version adds full support for TripIt's new TripIt Pro service and implements a variety of new features available in iPhone OS 3.0.
Travel Assistant Pro 3.0 builds on its extensive list of features by fully integrating support for TripIt Pro, TripIt's itinerary monitoring and travel alerts service. Travel Assistant Pro is the first and only app to implement support for TripIt Pro. Using TripIt in Travel Assistant Pro is as easy as emailing your travel itineraries and launching Travel Assistant Pro. The app will automatically download your itinerary, so it is with you everywhere you go.
Taking advantage of the devices' accelerometer, users can update itineraries in Travel Assistant Pro by simply shaking the device. This allows you to reload the full itinerary or individual events, so you can monitor and check the status of any upcoming flights or travel plans, giving you status changes, estimated departure and arrival times, gate assignments and baggage claim locations.
"We are really excited to see the Travel Assistant Pro App supporting our TripIt Pro service," said Scott Hintz, VP Business Development for TripIt. "Travel Assistant Pro is a simple and easy way for travelers to take advantage of services like flight monitoring and mobile travel alerts."
Travel Assistant Pro stores Rewards accounts and balances for multiple people, as well as providing a Travel Log for users to store information. Travelers also have the convenience of having a built-in Lists tab for to-do's, packing lists and more.
In addition, Travel Assistant Pro 3.0 adds a host of features enabled by iPhone OS 3.0:
Share itineraries with other people via in-app email
Add current location to Travel Log entries using location services and integrated map technology
Shake device to clear checked items in the app's Lists tab
Double-tap list items to disable/re-enable the item
Data detectors automatically turn phone numbers and URLs into tappable links in itinerary notes fields and Travel Log items
Shake device to sync with TripIt, shake again to cancel
Minimum Requirements: iPhone or iPod touch 2.1 or later
Travel Assistant Pro 3.0 is available immediately as a free update for existing users and $9.99 for new users from the iTunes App Store on iPhone and iPod touch.
Link: Travel Assistant Pro (available through the iPhone App Store)
Interest Calculator Pro 1.3 for iPhone and iPod touch
PR: Paolo Grifantini today released Interest Calculator Pro 1.3 for iPhone and iPod touch. Interest Calculator Pro is one of the most flexible and advanced interest calculators for iPhone and iPod touch. Due to its complete set of features and maximum flexibility in the choice of what to calculate, this is the ultimate tool for people looking to detailed and complete money investment evaluation and plans, also including inflation impact on interests evaluation.
Interest Calculator Pro is complete, because it supports any kind of interest options (simple, compound or continuous capitalization; fixed or yearly variable interest rates; civil year, commercial year or mixed day counting convention); flexible, allowing the user to set any element of the interest equation as the unknown: thus users can either calculate the final amount, or the principal, or the interest rate, or the start date, or the end date of your investment; also, users can evaluate the impact of taxes on interests and inflation (many world countries past inflation rates are included for use, including US and UK past inflation rates ranging from 1900 to 2008)
The application features a practical summary view, showing the users an year over year view of their investment plan. Finally, an handy and flexible percentage calculator is included as well. Interest Calculator Pro is localized in English, Italian, French and Spanish.
Interest Calculator Pro 1.3 is $1.99 and available exclusively through Apple's App Store.
Link: Interest Calculator Pro (available through the iPhone App Store)
PixelMags Turns Magazines, Newspapers, and Books into iPhone Apps
PR: Announcing the launch of PixelMags, a company dedicated to bringing magazines, newspapers, books, catalogs, and brochures to the iPhone and iPod touch via the iTunes Store. With the first dedicated iPhone App platform to be accredited by the Audit Bureau of Circulation (ABC), all downloads will count towards your crucial circulation figures. Publishers will now be able to easily digitize their publications with custom-made Apps with no set up or monthly fees and publish them on the App store as a free or paid App.
PixelMags will first be available for Apple's iPhone and iPod touch. In addition, PixelMags is developing this application for use on Google Android, Blackberry, and Nokia OVI platforms. Also in the works is a web-reader and integration into social networking sites such as Facebook and MySpace, enabling readers to keep friends updated with their latest PixelMag activity.
Standard PixelMags Platform Features Include:
A custom-built iPhone App with the publication's title and branding
A custom-made App icon
A custom-designed App store page
App Hosting and content delivery
Payment processing
User statistics
Data Management
Push notifications
Zoom up to 300%
Reading publications offline (no data connection necessary)
The most realistic page turning experience available
A fast and easy Search feature
Contents menus, making it even easier to find specific articles
Bookmark features - no more dog-eared pages
Sharing PixelMags with friends just like in the real-world
Social networking integration
In App purchasing, allowing publishers to sell subscriptions and back-issues or add their own products such as merchandising
Everything about PixelMags is fully interactive and user-friendly. We offer true paperless editions, putting publishers at the forefront of eco-friendly publishing. It's an easy and innovative way of distributing publications, starting from a simple PDF file. Digitizing publications through PixelMags will increase advertising capabilities and subscription sales while decreasing printing and distributing costs.
PixelMags offers all these features with no upfront or monthly fees. Instead, we work on a small split of subscription sales and advertising pages. If you have a publication you are interested in publishing through the PixelMags platform, please contact us to discuss your requirements.
Link: PixelMags
New NLT Study Bible from Olive Tree
PR: Olive Tree announces the release of the NLT Study Bible, their most feature-rich study Bible yet. Also released is BibleReader 4.07 for iPhone, an App compatible with iPhone OS 3.0 that offers some great new features and some short-term problems. Learn how to enjoy the features and avoid the problems below. In addition, we've got special Greek and Hebrew projects going on this summer, a Classic version of BibleReader for Palm Pre, as well our usual helping of New Releases and Updated Files.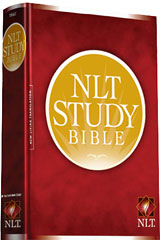 For the best deal on the NLT Study Bible, or any other Olive Tree books and Bibles, be sure to use this month's discount coupon to get 22% off on any of your purchases at OliveTree.com between now and August 15, 2009.
NLT Study Bible
The NLT Study Bible offers a new Table of Contents that indexes maps, charts, and in-text articles for easy navigation and study. And BibleReader 4.0 platforms (iPhone and BlackBerry) include unique icon hyperlinks to notes and other materials. See screenshots of these features on iPhone. For BibleReader 3.0 platforms (Palm, Windows Mobile Professional, and Windows Mobile Standard), use split-screen scrolling to read the notes and supplemental study materials.
The NLT Study Bible combines the scholarly resources of a cross-denominational team of biblical experts with the NLT(se) Bible text, acclaimed for its readability and clarity. Each note and supplemental resource is designed to help readers hear God's message with clarity, accuracy, and life-changing power.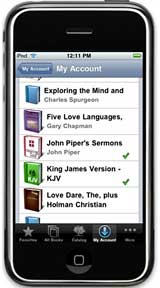 The NLT Study Bible on your mobile device includes the text, features, notes, images, and supplemental materials of the print version, plus the familiar interface of BibleReader and the convenience of mobile handheld use. Look for these study materials in the NLT Study Bible:
25,900 Study Notes - almost one note per verse throughout the entire text of the Bible.
313 Theme articles - on important subjects such as Original Sin, the Thousand Years, and the Sovereignty of God.
262 Visual Aids - including maps, timelines, charts, illustrations, and diagrams of genealogies and chronologies; ideal for visual learners.
93 Person Profiles - more information about key people in the Bible.
143 interior maps - to show where the action is taking place.
66 timelines - to help the reader understand how each important event relates to the entire flow of Bible history and secular history.
Chain references - listing 100 key Hebrew terms in the Old Testament, and 100 key Greek terms in the New Testament.
Other supplemental resources include articles on how to study the Bible, overviews, summaries, setting information, literary outlines, and thought-provoking quotations from each Bible book. To find out more about the new features included in the NLT Study Bible, see this article at the Olive Tree Blog. Book formatter Adam H explains how the new Table of Contents feature makes the NLT Study Bible supplemental materials even easier to find and use.
The NLT Study Bible is available now for the following Olive Tree platforms: iPhone, BlackBerry, Palm, Windows Mobile Professional, and Windows Mobile Standard. Click here to learn more about the NLT Study Bible for your mobile device.
Note: The NLT Study Bible files are quite large (125 MB), and some users may experience difficulties in downloading them because of their size. See this Support Tips article for the best ways to install large files to your mobile device.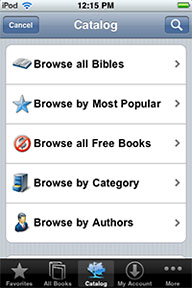 New iPhone Features:
Download All, Browse, and Copy
New iPhone BibleReader Features
Browse Categories on iPhone
Copy a Verse on iPhone
Browse the Olive Tree Library by categories.
Copy a verse.
Download them all. You can now add all the books from your Personal Library to your iPhone at once. When viewing the My Account screen inside BibleReader, scroll to the bottom of the list of titles in your account and you'll see a button that says "Download All." Touch it and all your previously purchased titles will be downloaded directly to your phone. Be patient - depending on how many books you have, this could take a while!
Find free books. Right below the "Download All" button, you'll see a button for "All Free Books." It shows a list of all Olive Tree titles you can download for free. Currently, we offer over over 100 free books and Bibles for iPhone! Scroll through the list and touch a title to download it to your phone.
Which titles have I downloaded? New in version 4.07, book titles listed in My Account will show a green check mark beside them if you have already installed them to your iPhone. Check marks are shown in the My Account list of titles you've purchased and in the list of all free books.
More ways to browse. When you choose "Catalog" to look at titles from OliveTree.com, there are now more ways to browse. You can select Bibles, Most Popular, All Free Books, Category, or Author. With over 400 titles to choose from, this feature makes exploring the Olive Tree library much easier.
Full product descriptions. When you want to know more about a book or a Bible you find in the catalog, touch the title and you'll see the full product description - the same description as at OliveTree.com.
Copy verse. When you're reading any Bible, touch the verse number and select "Copy Verse" from the pop up menu that appears. The verse is automatically copied, and you can paste it into a note within BibleReader or into any other iPhone application that accepts pasted characters - email, text messages, an internet browser, and more.
Bookmarks and notes are two additional features of BibleReader 4.07, but we've discovered a serious bug in the bookmarks/notes function that, if encountered, may cause users to lose bookmark or notes information. BibleReader 4.08, which fixes this bug, has already been submitted to Apple and we hope to see it available on iTunes very soon. Watch for it, and upgrade BibleReader on your iPhone or iPod touch as soon as possible. For more information on the bookmark bug and how to avoid it in BibleReader 4.07, see the Support Tips section below.
Please note: BibleReader 4.07 for iPhone is designed for iPhone OS 3.0, so you must upgrade your phone or your iPod touch to OS 3.0. to use it.
Price: $29.99
Link: NLT Study Bible (available through the iPhone App Store)
Accessories
The Original Thiphone for iPhone
PR: The Original Thiphone was designed to hold your iPhone, iPod, or any mobile device securely on your thigh so that you can use your hands for other stuff . . . like driving, reading, or eating peanuts on a plane.
The Thiphone swivels 360° so you type vertically or horizontally, watch a movie, or just look cool. Adjustable elastic strap works for most people.
Color Availability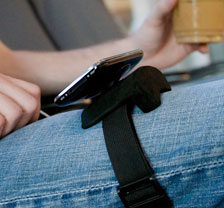 $29.95
Ships in 5-7 days.
Link: The Original Thiphone
Two New iPod Speaker Docks from Logitech
PR: If you want a dock for your iPod that also makes it fun and easy to share your music with your friends and family, then Logitech has an iPod speaker dock for you. Today, Logitech unveiled the Logitech Rechargeable Speaker S315i and the Logitech Portable Speaker S125i. Offering exceptionally long battery life, the Rechargeable Speaker S315i delivers up to 20 hours of listening time, while the Portable Speaker S125i let you crank up the bass in your bedroom, kitchen, living room - even in your backyard.
"Millions of people have fallen in love with the iPod, but want a speaker dock so they can share their music with friends," said Mark Schneider, vice president and general manager of Logitech's audio business unit. "Logitech's newest iPod speaker docks help improve your iPod listening experience at home, at work or anywhere you enjoy your music. With Logitech's new speakers, you'll hear every note - loud and clear."
Logitech Rechargeable Speaker S315i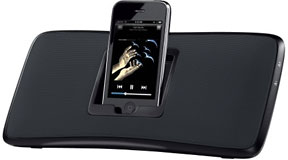 Because you don't always have time to recharge your iPod at home, and it's inconvenient to carry your charger when you're out and about, the Logitech Rechargeable Speaker S315i gives you a full day's (or night's) worth of music on a single charge - up to 20 hours of power (in power-saving mode). Plus, unlike other iPod speaker docks, the Rechargeable Speaker S315i can play your music while it's plugged in and charging your iPod.
But Logitech does not stop with exceptional battery life. The Rechargeable Speaker S315i uses custom, full-range drivers to accurately reproduce the highs and lows of your favorite songs. And, with its slim design - it's less than two-inches thick - and durable metal grills, the S315i is ready for the rigors of your suitcase, backpack or car.
When you need to charge your iPod or iPhone, just dock it in the Rechargeable Speaker S315i. The Rechargeable Speaker S315i works with the iPhone and any iPod model with the Apple Universal Dock Connector.
Currently available from Amazon.com for $129.99 shipped
Logitech Portable Speaker S125i
Ideal for first-time iPod owners ready to move and groove, the Logitech Portable Speaker S125i is an easy-to-transport speaker dock with extra bass when you need it. You can use it to play and charge any iPod model with the Apple Universal Dock Connector or connect other music players using the 3.5mm auxiliary input. And you'll feel the beat even more with one push of the Bass Boost button.

At less than one pound, the portable, power-smart and compact Portable Speaker S125i runs on AC or battery power - up to 10 hours of battery-powered music (4 AA not included) - so it can go just about anywhere inside or outside the home.
Both the Rechargeable Speaker S315i and the Portable Speaker 125i offer a standard 3.5 mm jack so you can plug in any portable music player, and even your PC or CD player.
Currently available from Amazon.com for $69.99 shipped
The Logitech Rechargeable Speaker S315i and Logitech Portable Speaker S125i are expected to be available in the US and Europe in August for a suggested retail price of $129.99 and $69.99, respectively.
Link: Logitech iPod/MP3 Speakers
CAZE Introduces a New Style of Metallic Case for iPhone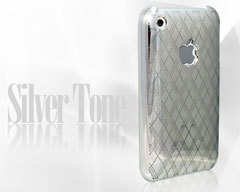 PR: iPhone CAZE introduces Silver Tone - a new style of its metallic series for iPhone 3G/3GS. Silver Tone features a bright mirrored surface and extremely thin design. Combining with its Free Mirror Screen protector, your iPhone will be wrapped in pure reflection and received the best protection. Buy now to receive a Bonus iPhone case and 70% discount off to purchase a Swarovski Crystal Apple logo. Free shipment and 30 Days Money Back Guarantee are provided.
iPhone CAZE designs and manufactures high quality, fashionable and unique iPhone cases for iPhone 3G/3GS in a wide assortment of styles and colors. iPhone CAZE offers a variety of cases of different materials from leather, metallic, fabric, silicone to Swarovski crystal.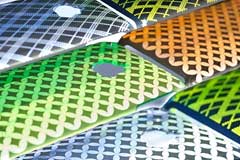 Silver Tone is a new member of CAZE's Metallic Series. It is a patterned version of its Mirror Go. It possesses not only a cool and mirror-like outlook but also features fashionable square and circle pattern. If you feel bored of a bare metallic case, Silver Tone would be your choice.
In addition to the Silver Tone, CAZE also introduces Slim Fit of its Leather Series. Slim Fit is a slip-in case which provides full protection to your iPhone while maintaining a fashionable style. Free shipment and online order tracking are available. Products will be shipped within 24 hours during weekday and 30 Days Money Back Guarantee is provided.
Starting from today till end of August, customers purchase any case from iPhoneCAZE website will get a special gift that worth up to $24.99 and also 70% off to buy a Swarovski Crystal Apple Logo. This promotion ends on August 31st, so hurry up and get a iPhone CAZE with your personal style!
Join us on Facebook, follow us on Twitter or Google+, or subscribe to our RSS news feed
Links for the Day
Mac of the Day: Macintosh 512K Fat Mac, introduced 1984.09.10. The first Mac with enough memory for serious work.
Recent Content
Custom Search
Follow Low End Mac on Twitter
Join Low End Mac on Facebook
Favorite Sites
MacSurfer
Cult of Mac
Shrine of Apple
MacInTouch
MyAppleMenu
InfoMac
The Mac Observer
Accelerate Your Mac
RetroMacCast
The Vintage Mac Museum
Deal Brothers
DealMac
Mac2Sell
Mac Driver Museum
JAG's House
System 6 Heaven
System 7 Today
the pickle's Low-End Mac FAQ
Affiliates
Amazon.com
The iTunes Store
PC Connection Express
Macgo Blu-ray Player
Parallels Desktop for Mac
eBay

Advertise