Handsfree Phones More Dangerous?, Texting PSA Too Graphic?, iPhone App Takes on SAD, and More
This Week's iPhone, iPod, and Apple TV News
Compiled by Charles Moore and edited by Dan Knight - 2009.08.28
Mac notebook and other portable computing is covered in The 'Book Review, and general Mac news is in Mac News Review.
All prices are in US dollars unless otherwise noted.
News, Reviews, & Opinion
Apps & Services
Accessories
iPod Deals
These price trackers are updated regularly.
News, Reviews, & Opinion
Why Can't Smartphones Kill Netbooks?
PC Mag's Sascha Segan says:
"If you put a smartphone in a dock, it could replace a netbook. So why hasn't anyone succeeded at doing that?"
"It looks like over the past decade, the industry has gone backwards on this issue. There hasn't been a new Bluetooth keyboard for smartphones since 2006. Phones with video-out ports for large displays come and go without much notice. I'd love to write articles using one of my smart phones the same way I did on a Palm III in 1999, but the Palm III had better keyboard options....
"So why can't smartphones give netbooks a run for their money? . . . what I think is the real answer: carriers and Apple don't want it to happen...."
Link: Why Can't Smartphones Kill Netbooks?
Driving Using Handsfree Cellphones More Dangerous than Using Handhelds?
The Halifax Chronicle-Herald's Kelly Shiers reports that a Dalhousie University researcher has determined it's no safer for a driver to chat on a handsfree cellphone than on a handheld, and in fact, it it could even be more dangerous. Ph.D. student Yoko Ishigami, co-author of a new study published in the National Safety Council's Journal of Safety Research told the reporter that the impression handsfree phones are safe "is not true."
A meta-analysis of comparative studies on driving and cellphone use in Canada, the UK and the US by Ms. Ishigami and Dalhousie professor Raymond Klein found that in terms of use while driving, handsfree or handheld are equally distracting, but handheld phones may actually be less hazardous since consciousness of having phone in hand will make the driver take steps to compensate for the risks they're taking, but handsfree phone users tend to be overconfident, with a false sense of security because they can drive with two hands on the steering wheel when they talk.
Texting of course is even worst than gabbing. A US study released last month found truck drivers texting behind the wheel had as much as a 23x increased risk of being in a crash, and British study found reaction times of drivers who text are slower than those of legally impaired motorists.
Link: Talking Unsafe at any Speed
Is PSA about Texting while Driving Too Graphic?
MSNBC/NBC's Michael Inbar reports that a violent and bloody new PSA originating out of Gwent, Wales, that warns teens about texting while driving is stirring controversy. The PSA currently isn't being aired on US television, and for Americans to even view the ad on YouTube, they must affirm they are at least 18.
Link: Is PSA about Texting while Driving Too Graphic?
RealNetworks Aims to Bring Rhapsody to the iPhone
BusinessWeek's Arik Hesseldahl reports:
"Another week begins, and already there is what appears to be another potential controversy around iPhone applications. RealNetworks says it has developed an iPhone application that brings the Rhapsody music service to the iPhone and iPod touch."
Link: RealNetworks Aims to Bring Rhapsody to the iPhone
3-way Fight over Real's Rhapsody iPhone App
The Register's Rik Myslewski reports:
"Apple has another embarrassment brewing, as its secretive App Store guardians ponder whether to allow an app from RealNeworks onto the Store's virtual shelves.
"As we reported earlier today, RealNetworks has submitted an iPhone/iPod touch application to Apple that will allow users of those devices to access Rhapsody's eight-million-plus song collection."
Link: Three-way Fight for Real's iPhone-Rhapsody Application
DIY iPhone/iPod touch Dock
A modmyi.com forums poster says:
"Noticed this DIY iPhone dock while trolling around on Flickr earlier; it's a bit old, but I couldn't pass this one up.
"Apple included an iPhone dock with the first release of the iPhone but has since removed the dock as a prepackaged accessory....
"Seeing as the iPhone already comes with a dock plate, it was just a simple matter of gluing the dock cable to the plate and mounting it onto a box."
Link: DIY iPhone/iPod touch Dock
Nuts and Bolts iPhone Dock
Geeky Gadget's Fatgadget says:
"We have seen quite a few homemade iPhone Docks and stands here on Geeky Gadgets, like our own Pencil iPhone stand and Recycled CD iPhone Dock, the latest one is this fun Nuts and Bolts iPhone Dock, which was sent in by Geeky Gadgets reader Frederick P Weller...."
Link: Nuts and Bolts iPhone Dock
App Developers Should Concentrate on 'iPhone Moms' - 29.5% of iPhone Users
PR: Greystripe reveals new information on the community and shopping behavior of the "iPhone mom", a term that Greystripe coined to describe this unique audience segment.
Greystripe's insights report shows the iPhone mom is becoming the most significant purchase influencer and decision maker in the iPhone community. As the iPhone becomes a central tool to manage finances, family budgets and vacations, it's proving to be an essential tool and communication lifeline for moms.
Greystripe, the leading mobile brand advertising network, released their quarterly Advertising Insights Report, detailing statistics on the demographics and preferences of moms in their ad network. Among the recent findings, Greystripe reveals new information on the community and shopping behavior of the "iPhone mom", a term that Greystripe coined to describe this unique audience segment. Greystripe's mobile brand network is attracting marquee advertisers who value the demographic targeting capabilities that it offers.
On average, 96.2% of moms who own iPhones are involved in household purchase decisions, and the fewer children women have, the more likely they are to be the primary purchase decision maker. Forty-five percent of iPhone moms with one child are the primary decision makers in the household compared to 30.8% with four or more children.
When making household purchase decisions, iPhone moms with four or more children are 21.2 % more likely than iPhone moms with one child to base their purchase decisions on ads. Of iPhone moms with four or more children, 92.3% own a gaming console compared to 50% of iPhone moms with one child, with a whopping 69.9% owning a Nintendo Wii.
Greystripe's Advertising Insights Report showed the average iPhone mom with children is 43.5 years old, and the more children iPhone mom have, the younger they skew. iPhone moms with one child range in age from 45 to 54; women with two or three children range from 35 to 44 years old; and women with four or more children range from 25 to 34 years old.
iPhone moms with one child are more likely to be employed and hold a master's degree compared to iPhone moms with two or more children. Compared to the iPhone community as a whole, iPhone moms with one child are more likely to be employed with a master's degree or higher by over 15 percent.
"Our brand advertisers are very sophisticated in the quest to understand their customers. Greystripe goes far beyond just offering banners for media buys. We are strategically helping brands move their customers into and further down the purchasing consideration funnel," said Michael Chang, CEO of Greystripe. "Our insights report shows the iPhone mom is becoming the most significant purchase influencer and decision maker in the iPhone community. As the iPhone becomes a central tool to manage finances, family budgets and vacations, it's proving to be an essential tool and communication lifeline for moms."
Link: Download Advertising Insights Report (PDF)
Complete 24K Gold iPhone 3GS 16 GB or 32 GB Available Now
PR: Officially Unlocked by Apple, the gold 3G iPhone from 24ct, its flagship product, has become a firm bestseller, constantly in demand, with the rose gold, white & gold, black & gold, and of course the platinum versions also proving to be very strong selling models.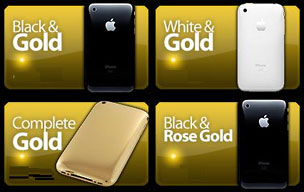 24ct was born in Bolton, Lancashire in 2008. It is the brainchild of its two owners, with an ultimate aim to create innovative, unique, and stylish yet affordable luxury items, fashioned in precious metals, primarily 24K gold, but also to include silver, white gold, rose gold, and platinum.
The first breakthrough was the fully 24K gold 3G iPhone. 24ct were the first in the world to offer the gold iPhone for sale to the general public.
The gold 3G iPhone from 24ct, its flagship product, has become a firm bestseller, constantly in demand, with the rose gold, white & gold, black & gold, and of course the platinum versions also proving to be very strong selling models.
24ct don't intend to stop there and are now offering a Gold Plating Service, their most popular request is the Complete Gold iPhone 3GS. 24ct provide the full rear housing, bezel, and buttons, plated in any precious metal of your choice. The various finishes available can range from white gold, 18K rose gold, platinum, and chrome, to of course, 24K gold. Prices range from as little as £599.
This is only the beginning - many more projects are currently in the pipeline, and are due to be unveiled in due course, through the website, and other media, such as press releases, blogs, and media reviews.
Link: 24ct Gold iPhones
Apps & Services
New iPhone App Relieves Seasonal Depression, Fatigue, and Drowsy Driving
PR: A new iPhone application uses focused blue light to fight seasonal depression and fatigue by fooling the body's internal clock. The BluWave iPhone app uses Light Emitting Diode (LED) technology to deliver blue light adjustable in specific Nanometers (nm). Blue light therapy has been clinically proven to combat Seasonal Affective Disorder (SAD), depression, fatigue and general body clock issues. While blue spectrum technology is presently used in modern light therapy devices, BluWave is the first device offered on mobile phones. BluWave can also be used to combat jet lag, night worker fatigue and drowsy driving when used as directed.
Here's How It Works:
The human body reacts to specific wavelengths of light through receptors in the back of the eyes. When these receptors sense certain colors in specific wavelengths, they signal the brain to release chemicals that control the body and mind. These receptors are extremely sensitive and even react when the eyes are closed. When these receptors sense blue light between 450nm and 490nm, they trigger the release of natural chemicals that increase energy, vitality and mental alertness by fooling the biological clock into thinking it's morning. When aimed directly on the skin, blue light also triggers receptors in skin cells that fight acne and blemishes by killing bacteria and promoting healing.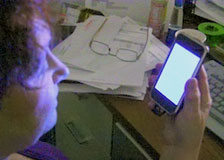 Many clinical studies show blue light to be even more effective than caffeine for sustained alertness. In 2006, a Harvard Medical School study found blue light to be more effective than white light for increasing energy in men and women. In 2008, scientists at Rensselaer Polytechnic Institute, New York tested blue LED light to combat drowsy driving. They found that blue light delivered at 470nm was highly effective for drivers of all ages.
According to Wayne Perry, CEO of GSC Products, blue light therapy opens up a new dimension for modern cell phones by delivering natural health benefits.
"Blue light therapy really works. In just 15 to 30 minutes a day, this application invigorates your mind and body as well as expensive light boxes. The light is effective when placed anywhere within four feet of your face at any angle. You can lean it up on a phone stand or lay it on your desk or kitchen table. It's also highly effective for long road trips and night driving without interfering with the driver's vision. This application is also great for college students who need to focus for late night study sessions," says Perry.
Since the BluWave app is easily adjustable, users can program the wavelength of light that best suits their needs. BluWave also features an audio mode with relaxing natural sounds including rain, ocean, nature, wind and waterfalls.
While stand alone light therapy devices cost hundreds of dollars, BluWave can be downloaded for just $1.99 at the iTunes App Store. Since BluWave is stored on a cell phone, it can be used anywhere. So whether you're feeling that 3 p.m. afternoon slump or just waking up with a morning cup of coffee, BluWave is ready to go in the palm of your hand.
BluWave is presently available for the iPhone and iPod touch with more versions coming soon for the Blackberry and Palm platforms. BluWave is a proprietary application available only from GSC Products. For more information visit. Free trial downloads are available for qualified media personnel and reviewers upon request at PocketPainDoctor.com
Link: BluWave iPhone app (app available through the iPhone App Store)
iSing on iPhone and iPod
PR: Introducing iSing - the worldwide talent show for iPhone and iPod touch where everyone can be contestant, audience and judge. With Island Labs' iSing, iPhone users can record and publish their audition, then vote for or against others in a worldwide battle for the most fans
Contestants are now lining up around the country to audition for Randy, Simon, Kara, and someone other than Paula - but now anyone can audition before the entire world with iSing, the worldwide talent show via iPhone and iPod touch. iSing, created by games and entertainment producer Island Labs, enables anyone with an iPhone or iPod touch to record a 30-second audition, publish it, then watch their recording climb the charts as their "fans" vote for (or against) it in this worldwide competition for stardom.
"iSing is karaoke meets talent show meets social networking," said Morgan Slain, CEO of Island Labs. "We are very excited about providing a fun, lively venue on the mobile web for people to sing, share and compete for fame on the iSing talent show."
Upon launching iSing, users are presented with a list of song entries by iSing contestants. To listen to an entry, they simply tap on the thumbnail picture of the contestant, and use "thumbs up" and "thumbs down" buttons to vote. Users can also find entries by searching for the latest, best and worst of the current month, best and worst of all-time, or by location, which will present all the entries from a particular city.
Users can also search for specific friends and build their own network of iSing contestants.
Over time, they will be able to track which contestants soar to the top, and which sink to the bottom.
Competing in iSing is very simple, enabling contestants to record a 30-second audition with the tap of a button. After recording, the singer can review and re-record the song prior to being submitted to Island Labs for review. Once approved, the contestant will receive an email letting them know their audition is now "live" and they can share it with friends who will vote for it.
A video demonstration of iSing can be viewed at www.isingoniphone.com/video/intro. iSing is available for iPhone and iPod touch in the App Store for 99¢.
Link: iSing (app available through the iPhone App Store)
Money 1.0, Small-Business Accounting for iPhone
PR: Jumsoft, developer of high-quality applications for Mac OS X, again raises the bar for business and finance tools created for Apple fans. The company today released a free version of its most popular product, Money, adapted for the new iPhone OS 3.0 and approved by Apple. Jumsoft Money 1.0 for iPhone features an easy-to-use interface, smart accounts, powerful reports, management of bills, budgets, and payees, and the ability to sync with the desktop version of Money 3.4.
Money was first released in 2003 and has gained wide popularity among small businesses and home users of Mac since. Fans of Money appreciate the combination of its high usability and effectiveness for finance management. Money allows users to track transactions to and from the user's wallet, bank accounts, or share trading accounts; make budget plans and monitor the actual outcome; manage bills; and generate income/expense reports. From now on, iPhone owners will be able to access all of these features on the go.
"It is really a high point for Jumsoft. I'm very proud of the company and of the product we have managed to create," Algirdas Unguvaitis, the general manager of Jumsoft, says. "At the moment, Money is one of the best finance applications in the market with one of the lowest prices. It's value for money in its most literal sense. Even more, Jumsoft Money 1.0 for iPhone is completely free of charge."
Money 1.0 for iPhone has most of the features that helped Money to achieve its current popularity. Users are able to create different types of accounts for cash, bank accounts, credit cards, and investments to keep track of transactions to, from, and among them. The Budget Monitor helps users to follow a pre-planned budget, while the Bills section reminds users of amounts due to be paid. Its report capability allows for the analysis of past income and spending and helps users pinpoint areas for improvement. Users will also be able to synchronize the financial data in Money 3.4 on their Mac computers with Money 1.0 for iPhone. All of the features are wrapped in Money's trademark classy design and easy-to-use interface.
Minimum Requirements: iPhone or second generation iPod touch 3.0 or later
Jumsoft Money 1.0 for iPhone is free and can be downloaded from iTunes App Store. After downloading the program, it will be automatically installed on users' iPhone. The Money 3.4 upgrade is free for Money users and $39 for new customers.
Link: Jumsoft Money 1.0 for iPhone (app available through the iPhone App Store)
Innovative, User Friendly iPhone Unlock Software Released for iPhone 2G, 3G, 3GS 3.0.1
PR: iPhone Unlocking Ltd. are ruling the world of iPhone Unlocking. They have kept in mind the conveniences of the users and therefore have developed the easiest and safest iPhone unlocking software on the market. iPhone Unlocking Ltd. are also proud to say that since their launch in August, 2007, their software has been downloaded by more than one million customers worldwide located in over 145 countries, and still counting. Their Unlock iPhone Software is compatible with all generations of the iPhone including the latest iPhone 3GS up to the latest firmware version 3.0.1.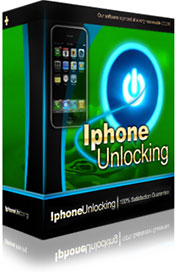 What's more exciting - The solution also has the amazing feature of enabling the user to relock their iPhone to ensure that the warranty on the iPhone remains valid. This is an unparalleled feature compared to other service providers. If you want to avail the jailbreak facility, simply select the jailbreak option from within the software. The software also unlocks iPhones with beta firmware versions. Unlocking the iPhone is absolutely seamless and safe, with no hazardous risk of bricking your iPhone.
Unlocking Apple's firmware version 3.0.1 was not possible until recently. It was only supported for iPhones operating on AT&T's service, but now, iPhone users hooked to any other service provider "worldwide" can also unlock the iPhone 3.0.1 with this amazing software. One breakthrough technique to unlock iPhone 3.0.1 has introduced an additional debugging functionality that is not available with any other software solution. The text messaging bug has also been resolved and also the very short battery life issue has been resolved that many iPhone users have been experiencing recently.
iPhone Unlocking Ltd. are 100% confident in the performance and safety of their iPhone Unlock Software. So much so, that they are offering a 100% full-money-back guarantee on all orders. If our product fails to perform and you are displeased in any way, iPhone Unlocking Ltd. will refund you the cost in full, no questions asked.
$24.99
Link: iPhone Unlocking
Accessories
Plantronics Discovery 975 Bluetooth Earpiece Headset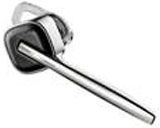 PR: Plantronics, Inc., manufacturer of premium headsets, today announced the new Plantronics Discovery 975 Bluetooth earpiece. The Plantronics Discovery 975 is the next generation of the Discovery 925, which was lauded for its superior audio quality and innovative lightweight design. Customers will enjoy an improved audio experience with advanced AudioIQ2 and WindSmart technologies, which deliver natural sounding voice in harsh noise environments, coupled with Plantronics' legendary inbound audio quality, comfort, and durability.
"Consumers expect great outbound noise cancellation in a premium headset, but they are tired of sacrificing usability, comfort, and quality," said Renee Niemi, vice president and general manager of the Plantronics Mobile and Entertainment Division. "At Plantronics we have spent nearly five decades perfecting all aspects of headset design from inbound audio quality to fit. For customers seeking the perfect blend of innovative design and advanced audio technologies, the Discovery 975 is the ingeniously simple solution."
Industry-Leading Performance
The Discovery 975 features AudioIQ2, the next generation of Plantronics' AudioIQ digital signal processing (DSP) technology, and two microphones to precisely capture the user's voice and simultaneously cancel background noise. Users don't have to worry about pressing special buttons or having sensors touch their face to activate the noise-canceling capabilities - AudioIQ2 works automatically wherever the user is having a conversation.
Plantronics Discovery 975 addresses wind noise with three layers of WindSmart technology. It features grooved vents on the boom and acoustic fabrics that surround the microphones to block wind. In addition, electronic filters within AudioIQ2 remove wind noise during conversations and help deliver your clear, natural voice to the listener.
The Plantronics Discovery 975 also provides the great inbound audio quality for which Plantronics is known. The earpiece includes an adaptive 20-band equalizer that delivers rich, full voice and works with AudioIQ2 to automatically adjust incoming calls to comfortable listening levels based on the noise level around you.
One-of-a-Kind Charging Case
The Discovery 975 comes with an improved rechargeable carrying case that can triple talk time from 5 hours to up to 15 hours while protecting and storing the earpiece. The new case includes an LCD screen that displays the battery and earpiece charge levels, as well as Bluetooth connectivity. With the rechargeable case, users don't have to worry about constantly finding a wall outlet and can finally see the charge level in their headset, so they won't run out of battery life in the middle of a call.
Intuitive User Experience & Simple Design
At only 8 grams, the Plantronics Discovery 975 is a lightweight headset featuring Plantronics' signature boom, which captures speech close to the mouth to ensure your voice sounds natural. Perfect for quick on/off wearing, the earpiece uses the same patented soft gel ear tips customers loved on the Discovery 925 for a stable, comfortable fit that doesn't invade the ear canal. The Discovery 975 includes two buttons for ease of use: one button for powering on/off and call answer/end and another button for volume control and mute. The Discovery 975 features voice prompts for low battery warnings, mute status and Bluetooth connectivity.
The Plantronics Discovery 975 has a retail price of $129.99 and is available at www.plantronics.com and for pre-order at BestBuy.com and Amazon.com today. The Discovery 975 will be available in Best Buy and Apple stores in late August. Availability in AT&T, Radio Shack and Sprint stores follows in September/October.
Link: Plantronics Discovery 975 Bluetooth Earpiece Headset
SendStation Releases Tiny PocketDock Line Out Mini USB Adapter for iPod
PR: SendStation Systems has released the world's smallest Mini USB-to-iPod adapter with integrated Line Out jack: the brand-new PocketDock Line Out Mini USB.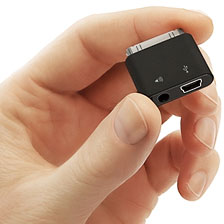 Mini USB has become the connectivity standard for portable electronic devices and the latest addition to the PocketDock family of iPod & iPhone adapters addresses that: now you can sync & charge your iPod or iPhone using the same cables, wall or car chargers found with digital cameras, portable hard drives, GPS devices, PDAs and many more. Additionally the integrated 1/8" (3.5 mm) Line Out jack offers pristine audio quality for connecting the iPod or iPhone to your home or car stereo or DJ equipment.
"This is the best PocketDock we've ever created", says SendStation's President André Klein. "Not only did we further improve our already known, excellent built-quality, but we were also able to shrink the size by an incredible 66% over our existing USB Line Out model."
The new PocketDock Line Out Mini USB comes in black color, weighs merely 4 grams and with 7 by 25.5 mm has the same footprint as Apple's iPod plug, thus fits through the dock connector opening of any case. Like all SendStation accessories with 30-pin dock connector, it is "Made for iPod" certified.
SendStation has also redesigned the included set of slim audio cables: the RCA (Cinch) plugs feature a flattened top to accept the thumb, which, by slightly turning while pulling, helps to unplug them easily.
The SendStation PocketDock Line Out Mini USB is immediately available from SendStation Systems at www.sendstation.com and from authorized dealers worldwide. Suggested retail price across Europe is EUR 29.95, respectively $29.95 in the US and the rest of the world.
Link: PocketDock Line Out Mini USB
USB Fever Super USB Mobilephone Charger (for iPod/iPhone/Sony PSP/Cellphone)
PR: If something is to be called "super", it should have something that very unique and superior.
If you are looking for one for your mobilephones, this one probably is your no-other choice.
It has 10 connectors that can connect up to 10 types of mobilephone connectors for charging.
If your Mobilephone (or MP3) is iPhone (or iPod), you can even use it as a cable for charging and Data HotSync.
Features: One cable for all cell phones (up to 10 types of mobilephone connectors (see connector list and notes below))
Connector List:
Nokia 2.06mm (or 2mm)
Nokia 3.5mm
Sony PSP
Motorola (V3 series) & HTC and other phones using USB Mini 5 pin as a charging port
Micro USB (for Motorola V8...)
LG
Samsung (20P (s))
Samsung (20P (M))
Sony Ericsson Fast Port
iPhone/iPod (for charging and Data HotSync
Notes:
This is a charging cable, NOT for Data HotSync (except iPhone/iPod)
For iPhone/iPod, you can use it as a charging cable and Data HotSync cable.
You may NOT connect to more than one device at the same time.
For Nokia Phones, a voltage Booster may be necessary for charging which will be included.
$9.99
Link: USB Fever Super USB Mobilephone Charger
USB Fever Magnetic/Detachable Super Macro Lens for iPhone/Cellphone/Camera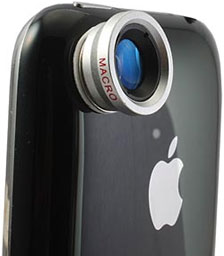 PR: Features:
Portable and detachable, you can take photo with your device at any time
Use it as a Close-Up Lens, you can use this conversion lens to have close-up pictures
Strong: Made of top-grade Aluminium
Applicable to any devices with camera interface suitable for a washer of inner diameter 9.30mm/outer diameter: 12.90mm
You can use this conversion lens to make the object away from your camera as close as 10mm (effective distance 10mm~23mm)
How to attach the Lens to your device?
Attach the Lens directly to the device cover (front of Camera)
use the Magnetic washer with self-adhesive tape (if you cannot attach directly to the device surface)
How to use?
Device + Lens (applicable to some device only)
Device + washer + lens (applicable to ALL devices)
Specifications (Wide Angle):
Super Macro
Lens Construction: 1 element in 1 group
The shot distance is between 10~23mm approximately
Dimensions(main body): 15.8mm (diameter) x 6.5mm (length) approximately
Dimensions (magnetic washer): 13.06mm (outer), 9.38mm (inner) approximately
Weight: 2.0g (main body)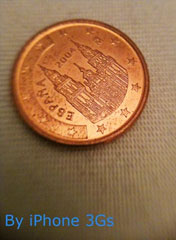 Applications: Taking pictures in a very short distance.
Suitable for: (Please have a reference to the dimension of the Lens and Rings)
iPhone 1st Gen/iPhone 3G/iPhone 3GS
HTC Phones/Blackberry
NDS DS-i
Notebook/Netbook (eg. Mac/Macbook/eee-pc/laptop)
Mobilephone/PDA/Smartphone...
Degital Camera
Package Contents: (as showing in the picture here)
Magnetic/Detachable Marco Lens x 1
Lens Cap (plastic) x 1
Detachable Magnetic washer x 2
Keychain strap x 1
Note:
You should determine if it will fit for your devices
This Lens is not part of our Wide Angle Lens though the functions are included in the wide angle lens.
You can change among our Wide Angle Lens, Fish Eye Lens and Telephoto Lens for your specific purpose
You may click here for all the lens for Electronic products with camera that we have.
The lens part is made of High-Clarity Plastic
$9.99
Join us on Facebook, follow us on Twitter or Google+, or subscribe to our RSS news feed
Links for the Day
Mac of the Day: 20th Anniversary Mac, introduced 1996.03.20. Honoring Apple's 20th anniversary, the TAM was the first flat panel desktop Mac and had a unique design.
Recent Content
Custom Search
Follow Low End Mac on Twitter
Join Low End Mac on Facebook
Favorite Sites
MacSurfer
Cult of Mac
Shrine of Apple
MacInTouch
MyAppleMenu
InfoMac
The Mac Observer
Accelerate Your Mac
RetroMacCast
The Vintage Mac Museum
Deal Brothers
DealMac
Mac2Sell
Mac Driver Museum
JAG's House
System 6 Heaven
System 7 Today
the pickle's Low-End Mac FAQ
Affiliates
Amazon.com
The iTunes Store
PC Connection Express
Macgo Blu-ray Player
Parallels Desktop for Mac
eBay

Advertise