AT&T Allows VoIP, Adobe Flash Pro iPhone Apps, Bell Canada Gets iPhone, Vonage App, and More
This Week's iPhone, iPod, and Apple TV News
Compiled by Charles Moore and edited by Dan Knight - 2009.10.08
We're posting our weekly news roundups a day early this week, because we taking a long weekend to attend my son's wedding. Congratulations, Brian and Michelle! dk
Mac notebook and other portable computing is covered in The 'Book Review, and general Mac news is in Mac News Review.
All prices are in US dollars unless otherwise noted.
News, Reviews, & Opinion
Apps & Services
Protection
iPod Deals
These price trackers are updated every month.
News, Reviews, & Opinion
Adobe Flash Professional CS5 Applications for iPhone
PR: Flash Professional CS5 will enable you to build applications for iPhone and iPod touch using ActionScript 3. These applications can be delivered to iPhone and iPod touch users through the Apple App Store.
A public beta of Flash Professional CS5 with prerelease support for building applications for iPhone is planned for later this year. Sign up to be notified when the beta starts.
At MAX 2009, Adobe showed a number of applications and games for iPhone that have been built using a prerelease version of Flash Professional CS5. These applications are available now for you to download from the Apple App Store:
Chroma Circuit
Trading Stuff
Fickleblox
Just Letters
South Park
That Roach Game
Red Hood
A public beta of Flash Professional CS5 including support for building applications for iPhone is planned for later this year.
The tooling update allows developers to use Flash technologies to develop content for iPhone and iPod touch, devices that were previously closed to them. Developers can write new code or reuse existing web content to build applications for iPhone. Because the source code and assets are reusable across the Flash Platform runtimes, - Adobe AIR and Flash Player - it also gives developers a way to more easily target other mobile and desktop environments.
The new support for iPhone applications in the Flash Platform tooling will not allow iPhone users to browse web content built with Flash technology on iPhone, but it may allow developers to repackage existing web content as applications for iPhone if they choose to do so.
Flash Player uses a just-in-time compiler and virtual machine within a browser plugin to play back content on websites. Those technologies are not allowed on the iPhone at this time, so a Flash Player for iPhone is not being made available today.
Flash Professional CS5 will enable developers to build applications for iPhone that are installed as native applications. Users will be able to access the apps after downloading them from Apple's App Store and installing them on iPhone or iPod touch
Developers can deliver applications built with Flash Platform tooling just like any other iPhone application. This will require the developer to be a member of the iPhone Developer Program and follow the program guidelines.
A developer certificate from Apple is required in order to test and deploy applications to iPhone.
* Delivery through the App Store requires participation in the iPhone Developer Program and approval of the application by Apple.
Link: Adobe Flash Professional CS5 Applications for iPhone
AT&T Allows VoIP over Cell Network for iPhone
Macworld's Dan Moren says:
"All engines, full reverse! That's the order AT&T seemed to be giving on Tuesday when it announced that it would be altering its existing policy to allow Internet phone applications such as Skype to place calls over the iPhone's cellular data connection."
Also see Vonage Goes Mobile: First of New Calling Applications Now Available (below)
Link: AT&T Changes Tune, Allows VoIP over Cell Network for iPhone
iPhone OS Takes 40% of Mobile Web Market Share
AppleInsider's Neil Hughes reports:
"The iPhone and iPod touch dominate most of the world in the mobile Web browsing battle, taking a 40 percent global total that bests rival Nokia, a new study has found.
"In its latest Mobile Metrics Report released Wednesday, AdMob discovered that the iPhone OS market share has increased 7 percent in the last six months, while Nokia's global share has dipped from 43 percent to 34 percent. Research in Motion carries 8 percent in the August report, Android with 7 percent, and Windows Mobile with 4 percent."
Link: Apple's iPhone OS Takes 40 Percent of Web Market Share - Study
How Bell Canada Got the iPhone
Fortune's Philip Elmer-DeWitt says:
"A Bell Canada press statement Tuesday made official what the Canadian press has been reporting since Monday: that the company, in partnership with Telus Corp. will start carrying Apple's iPhone in November.
"The deal puts an end to the exclusivity that Rogers Communications (RCI) has enjoyed - to the dismay of many Canadian iPhone owners - for more than a year."
Link: How Bell Canada Got the iPhone
AT&T 3G MicroCell to Offer Unlimited iPhone Calling for $20 Extra
AppleInsider's Prince McLean reports:
"AT&T customers who live or work in one of the company's many pockets of poor or dead 3G service will soon have the option to pay $20 extra to obtain unlimited calling over 3G using their own Internet access."
"Bundled with AT&T-supplied Internet (if available in your area), the monthly fee drops to $10, and with AT&T Internet and landline service (if you also pay to have one of those old plugin type phones), the monthly fee goes away entirely."
Link: AT&T 3G MicroCell to Offer Unlimited iPhone Calling for $20 Extra
iPhone, Android, Pre Trump Others in Satisfaction
Electronista reports:
"Modern touchscreen phones like the iPhone, Android devices and the Palm Pre are proving to be much more enjoyable to use than conventional smartphones - at times in spite of their networks, according to a CFI study. About 83 percent of US iPhone owners are satisfied with their phones while the other two touch-first platforms, Google's Android and Palm's webOS, are close with 77 percent each. In comparison, 73 percent of BlackBerry owners can say the same while those using Palm Treos of different varieties claimed 70 percent satisfaction."
Link: iPhone, Android, Pre Trump Others in Satisfaction
Troubleshooting Your iPod touch
MacFixIt's Joe Aimonetti says:
"We don't do a lot of iPod posts here at MacFixIt, though with the rising popularity of the iPod touch, I think keeping tabs on one of Apple's hottest products is a pretty good idea. If you're finding issues with your iPod touch, there are some basic first steps you can do that could possibly save you from a trip to the Apple Store or a phone call to AppleCare."
Link: Troubleshooting Your iPod touch
Apps & Services
Vonage Goes Mobile: First of New Calling Applications Now Available
PR: Vonage has launched Vonage Mobile, its first mobile calling application for smartphones. Vonage Mobile is a free downloadable application (app) that provides seamless, low-cost international calling while on WiFi or cellular networks*. Once downloaded, the service saves customers more than 50% on calls to dozens of countries versus the rates charged by wireless carriers while providing far more convenience than calling cards. Vonage Mobile will be available for download on the iPhone, BlackBerry and iPod touch at vonage.com and the iTunes App Store later today.
With Vonage Mobile you can call around the world from home, a WiFi hotspot, or while traveling around the country. Vonage Mobile is easy to use. There are no access numbers or new phone numbers to give to friends and family. Simply enter an international number or select a contact from the existing contacts on your iPhone or Blackberry and hit send. Vonage does the rest.
This app will give customers exceptional per-minute rates to any country they want to dial. In the fourth quarter 2009, we will enhance the app to include the popular Vonage World plan that was introduced for home service in August. This enhancement extends the ability to make unlimited calls to over 60 countries for one flat monthly fee to mobile users, giving customers the choice to pick the plan that fits them best.
"Our new mobile app is an important step in establishing Vonage as a software technology company that enables high-quality voice and messaging across any device in any location, providing great value over any broadband network," said Marc Lefar, CEO of Vonage.
Vonage Mobile beats the competition on value, convenience and ease-of-use
Rates are better than traditional wireless and landline carrier rates
Lets you make calls while on WiFi or cellular networks, providing full mobility
Uses your existing contact list - just click and dial - no extra steps
Utilizes your existing cell phone number so the people you call will recognize who is calling
Real-time balance updates and the ability to automatically replenish funds in your account
No more trips to the store to buy calling cards, no 800 numbers or access codes, and no connection charges
"When developing Vonage Mobile, we focused on creating a more convenient alternative for customers who use calling cards or WiFi only applications," said Mike Tempora, Senior Vice President of Product Management for Vonage. "Vonage Mobile is easy to get and use, and gives customers the best possible calling experience from a trusted provider."
*iPhone allows calls on both cellular and WiFi networks. BlackBerry allows calls over cellular networks. iPod touch allows calls over WiFi networks. Service subject to minimum monthly usage fee, taxes, and certain other fees. Forfeiture rules apply. See Terms of Service for details. There are important 911 limitations when using Vonage for Mobile service. See vonagemobile.com/tos for details.
Link: Vonage
Adobe's First iPhone App Now Available
Adobe blogger John Nack says:
"It's certainly not the flashiest (no pun intended) application, but I'm happy to see that LiveCycle Workspace Mobile for iPhone is available via the iPhone App Store. This simple app gives customers an easy way to review & approve items (expense reports, purchase orders, loan applications, etc.)."
Link: Adobe's First iPhone App Now Available
IBM Adds iPhone Support to Lotus Domino
The Register's Austin Modine says:
"IBM is rolling out a new version of Lotus Domino today that introduces native support for the iPhone. The software update now lets users automatically sync email, contacts, and calendar data over the air to their Apple handset."
Link: IBM Adds iPhone Support to Lotus Domino
BabySitter2Go
PR: Digital Chocolate has announced that BabySitter2Go is now available on the App Store. BabySitter2Go is perfect for entertaining your toddler or young child and putting him/her to sleep with a popular, classical nursery rhyme melody.
BabySitter2Go comes with Rattle mode, Drawing mode, and four interactive and educational scenes including Garden, Ocean, Jungle, and Naptime. The game leverages the devices' innovative Multi-Touch user interface allowing players to easily tap or swipe at pigs, stars, submarines, butterflies and more.
"BabySitter2Go is much more than just an educational game, it's a world of imagination where your child can explore different destinations and entertain him/herself for hours," said Trip Hawkins, CEO of Digital Chocolate. "This is a great way for parents to keep their children busy and have them learn at the same time."
BabySitter2Go is available for 99¢ from the App Store on iPhone and iPod touch or at www.itunes.com/appstore/. There is also a free version available that will provide a limited number of levels.
Link: BabySitter2Go
American Family Insurance Launches Cell Phone Apps to Expand Customer Self-Service
PR: American Family Insurance is making it much easier for its customers to conduct insurance business using their cell phones.
The company has unveiled new cell phone applications customers can use to file a claim, pay insurance bills, check their accounts and locate the nearest American Family agent.
The new applications are designed for Apple iPhone and Blackberry Storm users. A new, streamlined version of the company's Web site is also available to all mobile phone users.
"Our customers are doing more from Web-enabled phones and other portable communication devices," says Bill Simon, American Family Insurance's digital marketing director. "People rely on mobile technology so they can do business with us from virtually anywhere at any time."
The new applications and mobile Web site deliver a better user experience on mobile devices with smaller screens and potentially slower Internet connections. By eliminating much of the graphic and multimedia extras, the clean interface quickly links users to business functions.
The iPhone and BlackBerry applications are downloadable programs that allow the user to quickly access commonly used functions of the company's Internet site. For example, the new applications will allow customers to immediately report a claim from the scene of an accident and even locate nearby vendors that can help repair their vehicle.
The iPhone application is now available for download from the iPhone App Store and amfam.com. The BlackBerry application (for the Storm model only) will soon be available from amfam.com and from the Built for BlackBerry store.
Many mobile phone users access the Internet on a mobile device other than an iPhone or BlackBerry. Like the iPhone and BlackBerry applications, the American Family mobile site will have fewer graphics and multimedia, making it easier for users to navigate it on a small screen. It will be optimized to display the site correctly on any mobile device making the request.
Based in Madison, Wis., American Family Insurance offers auto, homeowners, life, health, commercial and farm/ranch insurance in 19 states. American Family ranks 388th on the Fortune 500 list and is the nation's third-largest mutual property/casualty insurance company.
Link: American Family Insurance
TouchPad 2.0 for iPhone and iPod touch
PR: Montreal based Edovia announces a new version of TouchPad for iPhone and iPod touch. TouchPad 2.0 now includes a media remote, which now makes three devices in one app. Tired of having a keyboard and a mouse laying around in your living room? Get rid of that lousy setup with TouchPad!
Use your iPhone or your iPod touch to remotely control you computer through WiFi. With TouchPad's intuitive use, you'll feel right at home if you have already used a track pad on a MacBook. It's almost like having a micro laptop in your hands! The new 2.0 version now makes TouchPad a very complete tool that is very easy and fun to use.
New Features:
Media remote that mimics the Apple Remote
4 finger gestures (Expose and Switch applications)
New extended keyboards (arrows, page up/down, shortcuts, etc.)
More languages supported
More responsive
Feature Highlights:
Super-easy setup
Modifier keys (Ctrl, Option/Alt, Cmd, Shift)
Tab, Esc keys included
1 finger, 2 finger, 3 finger and 4 finger gestures
Vertical, horizontal scrolling
Swipe left or right with 3 fingers (Back and Forward)
Horizontal and vertical orientation supported
Pad still works while keyboard is visible
Easy to use Connection Manager
Requirements:
Supports with OS X 10.5 (Leopard), OS X 10.4 (Tiger)
Windows and Linux not supported
Connects through a WiFi connection and Bonjour
Screen Sharing or VNC server required
QWERTY, QWERTZ and AZERTY keyboards supported
iPhone, iPhone 3G, 3GS, iPod touch (1st & 2nd gen)
TouchPad 2.0 is $3.99 and available exclusively through the App Store. Promo codes available upon request.
Link: TouchPad for iPhone and iPod touch
Random Ideas Announces Free 3G 32 GB iPod Touch Giveaway
PR: Random Ideas has announced the release of Edibles 2.5, which includes the ability to search a food database containing over 500,000 food items. This food database was contributed primarily by users of Edibles over the last nine months.
To show our gratitude to these users, we're going to be giving away a brand new, 3rd Generation, 32 GB iPod Touch to one of them. The winner will be chosen at random from among all Edibles Online users on October 31, 2009 at Midnight, MST. No purchase is necessary. To enter, simply sign up for a free Edibles Online account.
This is a great opportunity, if you have an older iPhone or iPod Touch, to upgrade to the latest technology. Alternatively, if you know someone who has been thinking about getting an iPod Touch and who might be interested in Edibles or Edibles Online, have them sign up, and maybe they could win!
Jiva DeVoe, Random Ideas founder, and Chief Software Craftsman said, "We're happy to give back to our users who have given us so much over the past year. Without them, we are nothing. I'm looking forward to drawing the name for the giveaway on October 31!"
Random Ideas, LLC has set up a special web site specifically for more information about the giveaway. Please visit it for more information including the official contest rules. This contest is void where prohibited or restricted by law. Employees of Sponsor and family members of such employees are not eligible to enter.
Link: Edibles
Eye Glasses Gives iPhone Users Some Optical Help
LoopInsight's Peter Cohen says:
"I'm depressed to realize I actually find this app useful, but my vision is going. Too many years of toiling away in dimly lit monasteries working on illuminated manuscript, I expect.
"Eye Glasses is a brand new app from Freeverse that can help keep you from squinting. It's like having a pair of virtual bifocals."
Link: Eye Glasses Gives iPhone Users Some Optical Help
Coupons.com Expands to Include Mobile Phones and 12,000+ Hyper-Local Offers
PR: Coupons.com, Incorporated, the leader in digital coupons, today announced that it expanded its industry-leading digital coupon offerings with three new major initiatives: Save to Card coupons that can be loaded directly onto supermarket loyalty cards; Show & Save coupons, including over 12,000 hyper-local offers that can be redeemed directly from a mobile phone; and new applications for mobile phones, including expanding the company's digital coupon network to mobile phones and an upgrade to its critically acclaimed Grocery iQ application.
"For over a decade, we have been transforming the multibillion dollar coupon industry by ushering coupons into the digital world that were traditionally distributed via newspaper inserts," said Steven Boal, CEO of Coupons.com, Incorporated. "Today's announcement provides a road map for the future of the coupon industry. A future in which coupons are accessible to consumers 24/7/365 at home, at work or on the go and a future in which manufacturers and retailers have more tools at their disposal to reach those consumers in order to move their products off store shelves."
New Ways to Save
In addition to offering the largest selection of online printable coupons available anywhere, Coupons.com now offers coupons that can be saved to store loyalty cards as well as coupons that can be displayed on mobile devices for redemption at checkout.
Boal continued, "Since the launch of mobile coupons, manufacturers and retailers have struggled to incorporate multiple digital coupon providers into their marketing plans. With today's launch, Coupons.com offers a unified digital coupon solution to address this complex problem, backed by the Coupons.com brand and our industry-leading digital coupon network."
Save to Card
"Save to Card" allows shoppers to save coupon offers directly to their store loyalty cards.
Shoppers simply register their loyalty cards at Coupons.com or across the Coupons.com digital network of over 2,000 sites, browse available coupons with the "Savings Card" tab on their mobile device or computer and select the offers they want to save to their card. When the consumer's loyalty card information is entered at checkout, coupons are automatically deducted from the total all without the need for clipping or scanning printed coupons. Mobile users can even browse for offers and add coupons to their loyalty card while they shop.
The Coupons.com Save to Card capability works with loyalty cards from Safeway, VONS, Dominick's, GENUARDI'S, Randalls, Tom Thumb, PAVILLIONS and CARRS. These brands span over 1,700 stores in the Western, Southwestern, Rocky Mountain, Midwestern and Mid-Atlantic regions of the United States and in Western Canada.
"Our customers are always looking for savings and have already saved millions of dollars with the printable coupons that Coupons.com provides on our Web site," said Mike Minasi, President of Marketing, Safeway Inc. "Now with the ability to save Coupons.com coupons directly to their Club Card, shoppers have the flexibility to use coupons the way they prefer either printed or on their loyalty card."
"Coupons.com already enables us to engage with consumers using printable coupons on the extensive Coupons.com network and directly via our brand's Web sites. Now, we are excited to extend the reach of our coupon offers through Coupons.com's Save to Card," said Roxie Lowther, Director of Business Development at Litehouse Foods, makers of the popular Litehouse dressings, dips and sauces. "With the new capability, Coupons.com provides a single solution for all our digital coupon needs. A single vendor saves us time and effort, but it also saves us money, because it foils the stacking of multiple coupons for single unit purchases, which is an issue currently facing manufacturers using multiple digital coupon partners."
Coupons.com's clients include over 20,000 retail outlets, including those operated by CVS, H-E-B, Kmart, Kroger, Safeway and Walgreens. Additional retail chain partners for its Save to Card program will be announced in the near future.
Show & Save
"Show & Save" enables shoppers to save an electronic coupon on a mobile device and then show that coupon on the device at checkout at the local retailer or service provider.
With the Coupons.com iPhone application, users simply browse a list of available coupons and click the ones they want. They can also browse coupons from nearby retailers and service providers based on their GPS location and even pull up a map leading them directly to the merchant offering the savings. Shoppers can browse offers ahead of time or browse at the point of service, and simply show the coupons right on their phones for savings.
Users can also access Show & Save coupons from their computers using the new "Local" tab at Coupons.com. Shoppers simply print the offers and present the printed coupons to the issuer at checkout.
Over 12,000 offers are available today via Coupons.com's partnership with Money Mailer and other providers including savings from local restaurants, retailers, and services from pizzerias to plumbers and dry cleaners to dog walkers.
"With shoppers looking for savings now more than ever, Show & Save coupons are a great opportunity to save money at local businesses," said Steven Gray, COO of Money Mailer Direct Marketing. "With their Show & Save offers, Coupons.com is providing our thousands of retail and services customers a new avenue through which to advertise their business, which allows Money Mailer to become an even more integral part of our customers' marketing budgets."
Additional Show & Save offers will continue to be added from Coupons.com's network partnerships, including newspaper and local television stations for which mobile coupons are a value-added tool for their ad sales efforts.
Coupons.com also announced new partnerships with several leading mobile application providers to integrate Show & Save coupons into local and location-based services to deliver savings directly to their users. Partnerships include a new relationship with Loopt, whereby the companies are collaborating to integrate coupons from Coupons.com into Loopt's interoperable social-mapping service. Loopt allows individuals to use their location to discover the real world around them enabling them to find the people, places, and events that mean the most right here and now using their mobile phones. Loopt is available across all major U.S. carriers and supported on over 100 different mobile handset models.
"By integrating Show & Save coupons from Coupons.com into upcoming versions of our applications, the Loopt community will be able to take advantage of special offers from the leading retailers and services around them that they care about the most," said Eric Carr, Vice President of Location Technologies at Loopt.
Additional integration partnerships were announced with Sherpa, the location-triggered discovery application developed by Geodelic, and Aloqa's award-winning app that automatically notifies users of popular places, great events, recommended bargains, and Facebook friends close by.
Coupons.com Mobile Applications
"Our ongoing goal is to provide shoppers the coupons they want, when they want them, wherever they want them," commented Boal. "Our new mobile couponing offerings further extend our reach and also attract an even younger demographic to our platform."
Grocery iQ 2.0
Grocery iQ is the critically acclaimed iPhone and iPod touch application for creating and managing grocery lists. Touted as the best grocery list management application by the New York Times (July 9, 2009), the application recently has been a Top 25 Paid application and the Number 1 Paid Lifestyle application in the Apple App Store.
Version 2.0 introduces important new features, including:
Barcode scanning Use the iPhone camera to scan bar codes on product packaging to automatically add items to grocery lists. Why bother with pen-and-paper lists that are easily misplaced or left at home? As soon as you finish a product, simply scan the barcode before you throw it away and Presto!, it's added to your shopping list no writing or typing required.
Integration of coupons
Grocery iQ now includes coupons from Coupons.com so users can browse coupons and add items to their shopping list by simply selecting coupon offers. The application also automatically matches coupons for items on grocery lists, when offers are available. Users can also browse and select Save to Card coupons. Users can print their shopping lists wirelessly via HP printers or send lists to an email address for printing from a computer.
Synchronized list sharing
With synchronized list sharing, multiple users can share a single shopping list. Someone already in the store doing the shopping? No problem, just add a last-second item to your Grocery iQ list at home and it is automatically displayed in real time on the list of the person shopping in the store. Or, split up in two different parts of the store with the same list and get the shopping done twice as fast.
Version 2.0 builds on the popular features of previous versions including ability to: create one or more lists for multiple chains or store locations; add items to your shopping list by simply entering the first few letters of a brand or product or by typing the barcode; add commonly purchased products to an easy-to-access list for quickly creating new lists in the future; and automatically arrange items based the aisle layout of the local grocery store.
Grocery iQ version 2.0 is priced at 99 cents and available as a free upgrade to previous versions. The product will be available soon at the Apple App Store. Versions of Grocery iQ for Android phones and other mobile operating systems are in development and will be released in the near future.
Coupons.com Application for iPhone
"Coupons.com" is a new application for the iPhone and iPod touch. The application includes Coupons, Savings Card and Local tabs that make it easy to browse and select printable, Save to Card and Show & Save coupons.
Users can print coupons wirelessly on their HP printers or send a link to their email account, which will take them to Coupons.com where their coupons are already clipped and ready to be printed.
"The HP iPrint application revolutionized printing from the iPhone," said Antonio Rodriguez, Chief Technologist of Inkjet and Web Solutions at HP. "We are thrilled to be working with partners like Coupons.com on integrating our iPhone printing technology into their applications and helping shoppers get the most out of their iPhone and HP printer investments."
The Coupons.com application is free to download and will be available soon at the Apple App Store.
Coupons.com Mobile Interface
Coupons.com Mobile is a completely new version of Coupons.com that optimizes content for viewing in mobile Web browsers and will soon be available to support Web-connected devices, including WAP-enabled mobile phones.
From any Web-connected device, including basic Web-enabled mobile phones, users can easily browse Coupons.com offers and select the ones they want. When they are finished selecting offers, a message is sent to their email address with a link to Coupons.com where selected coupons are clipped and ready for printing.
Users can also browse and select available Save to Card coupons and save them directly to their loyalty card.
"Our mobile offerings will appeal to the fast-growing world of mobile phone users who are downloading and using a new breed of connected, location-aware applications," said Steve Horowitz, CTO of Coupons.com, Incorporated. "We are building the Coupons.com mobile experience to ensure that all users can use Coupons.com on their devices from sophisticated smart phones to web-enabled feature phones to save on the brands they love, trust and buy every day."
Link: Coupons.com
Protection
OtterBox Commuter & Commuter TL Series Cases for iPhone 3G & 3GS
PR: As an avid iPhone user, you exemplify the definition of cutting-edge, but the cool fad will quickly fade with a scratched or dented iPhone.
Introducing two new case lines from OtterBox for the Apple iPhone 3G and iPhone 3GS: the Commuter and Commuter TL Series. Fusing rugged elements from the Defender Series line and sleek characteristics from the Impact Series, the Commuter and Commuter TL offer the best of both worlds.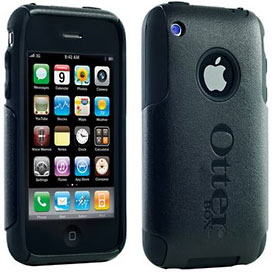 "These new cases combine the most innovative features from previous lines to give customers style and protection," Curt Richardson said, founder and CEO of OtterBox. "The Commuter Series is an inverse design of the Defender; the hard plastic is now on the outside of the case with protective silicone on the inside. This new design slims-down the size and changes the look and feel of the case."
Both case lines were custom designed to highlight the true beauty of the iPhone in three slender, yet sturdy layers*:
First, a self-adhering screen cover protects from scratches (touch screen remains completely functional).
Second, a silicone skin wraps over the device to protect corners from bump and shock. Dust intrusion is reduced with the use of silicone plugs over audio port and dock connector.
Finally, a smooth one-piece, custom molded polycarbonate shell hugs tightly around the silicone allowing the case to slide easily into a pocket or purse.
Looking for a case to sport during the workweek? The OtterBox Commuter Series is the perfect sidekick for a lunch meeting, business trip or workout. A fortified polycarbonate shell wraps around the top, bottom and side grip areas of the case for a sleek feel, which also enables a smooth transition in and out of a purse, pocket or briefcase. The corners of the iPhone are protected with durable silicone to safeguard against bumps and shocks. Users can also choose between two optional accessory kits; each kit includes three interchangeable colored shell options, coming soon.
Want to individualize your iPhone? The OtterBox Commuter TL Series will be sure to draw attention from every trendsetter in town, available now in black and coming soon in six eye-catching colors. Inner coring along the vertical sides offers added protection and the textured exterior side grips provide an ergonomic feel and stylish detailing. Don't worry Apple lovers; the logo is safe and protected by a transparent polycarbonate shield.
"Color has been a huge interest for our iPhone customers and we're eager to fill that need," Richardson said. "The new Commuter Series offers optional, interchangeable color shells and the Commuter TL comes in a variety of colorful choices that enable users to individualize their OtterBox."
Both Commuter and Commuter TL Series cases come with a microfiber cleaning cloth and installation card for easy application of the self-adhering screen.
Join us on Facebook, follow us on Twitter or Google+, or subscribe to our RSS news feed
Links for the Day
Mac of the Day: Lisa, introduced 1983.01.19. The ancestor of the Macintosh had a mouse, a graphical interface, and a $10,000 price tag.
Recent Content
Custom Search
Follow Low End Mac on Twitter
Join Low End Mac on Facebook
Favorite Sites
MacSurfer
Cult of Mac
Shrine of Apple
MacInTouch
MyAppleMenu
InfoMac
The Mac Observer
Accelerate Your Mac
RetroMacCast
The Vintage Mac Museum
Deal Brothers
DealMac
Mac2Sell
Mac Driver Museum
JAG's House
System 6 Heaven
System 7 Today
the pickle's Low-End Mac FAQ
Affiliates
Amazon.com
The iTunes Store
PC Connection Express
Macgo Blu-ray Player
Parallels Desktop for Mac
eBay

Advertise