iPhone Tops in Reliability, iPhone OS 3.1.2, iGMail, 3G 802.11n Travel Router, and More
This Week's iPhone, iPod, and Apple TV News
Compiled by Charles Moore and edited by Dan Knight - 2009.10.16
Mac notebook and other portable computing is covered in The 'Book Review, and general Mac news is in Mac News Review.
All prices are in US dollars unless otherwise noted.
News, Reviews, & Opinion
Apps & Services
Accessories
Protection
iPod Deals
These price trackers are updated every month.
News, Reviews, & Opinion
iPhone Tops Cell Phones Service & Reliability Survey
PC Mag's Sascha Segan reports:
"Like the dude, our readers' love affair with the Apple iPhone abides, as it was the only phone brand they rated significantly better than average, making it the clear Readers' Choice with a SBA 9.0 out of 10. Amusingly, the iPhone's overall score went up between 2008 and 2009 even though individual ratings for coverage, call quality, and sound quality all went down! The iPhone didn't rate spectacularly as a phone, but it received great scores as a messaging device, music player, video player, and gaming device."
Link: Cell Phones Service & Reliability Survey 2009
iPhone OS 3.1.2 Released
PR: The free iPhone OS 3.1 Software Update includes some great new features, as well as all the features from previous updates. iPhone OS 3.1 gives you Genius recommendations for apps, lets you download ringtones wirelessly, offers a new way to organize apps on your iPhone, and more.
Genius Recommendations for Apps
Get recommendations for apps you might like based on apps you've already downloaded.
Genius Mixes
Have iTunes automatically create mixes based on what's already in your library. You don't even have to choose a sample song.1
Download Ringtones Wirelessly
Choose from thousands of iPhone ringtones on the iTunes Store and buy them with a tap.
Organize Apps in iTunes
Use iTunes on your computer to drag apps onto virtual Home screens, then sync them to your iPhone.1
iPhone OS 3.1 also includes these features and updates:
Improved syncing for music, movies, TV shows, podcasts, and photos1
iTunes U content organization1
Redeem iTunes Gift Cards, codes, and certificates in the App Store
Display available iTunes account credits in the App Store and iTunes Store
Save video from Mail and MMS into Camera Roll
Option to "Save as new clip" when trimming a video on iPhone 3GS
Better iPhone 3G WiFi performance when Bluetooth is turned on
Remotely lock iPhone with a passcode via MobileMe
Use Voice Control on iPhone 3GS with Bluetooth headsets
Paste phone numbers into the keypad
Option to use Home button to turn on accessibility features on iPhone 3GS
Warn when visiting fraudulent websites in Safari (anti-phishing)
Improved Exchange calendar syncing and invitation handling
Fixes issue that cause some app icons to display incorrectly
iPhone OS 3.1 also includes these features from iPhone OS 3.0:
Cut, Copy & Paste
Quickly and easily cut, copy, and paste text from application to application. Select entire blocks of web text with a tap. Copy and paste images from the web, too.
Landscape Keyboard
Want more room to type? Rotate iPhone to landscape to use a larger keyboard in Mail, Messages, Notes, and Safari.
MMS
Send MMS messages and include photos, audio, and contact info.2 Even tap to snap a picture right inside Messages.
Spotlight Search
Find what you're looking for across your iPhone, all from one place. Spotlight searches all your contacts, email, calendars, and notes, as well as everything in your iPod.
Voice Memos
Capture a memo, a meeting, or any audio recording on the go. Voice Memos works with the built-in iPhone microphone or with the mic on your headset.
Improved Calendar
Create meetings via Microsoft Exchange ActiveSync and subscribe to calendars with new CalDAV support.
Buy Movies, TV Shows, and Audiobooks
Download movies, TV shows, music videos, and audiobooks from the iTunes Store on your iPhone.3
Enhanced Stocks Application
Get more at-a-glance information and view charts in landscape.
Safari Improvements
Enjoy faster performance, autofill user names and passwords, and more.
Internet Tethering
Share your Internet connection with your laptop with Internet tethering via Bluetooth or USB.4
Not currently offered in the US and some other countries. See your carrier for availability.
Stereo BLUETOOTH
Connect compatible Bluetooth stereo headphones, car kits, or other accessories.
Automatic WiFi Login
Log in to a WiFi hotspot and iPhone automatically logs you in when you connect again.
Sync Notes
Never leave a note behind. Now you can sync all the notes you write on your iPhone back to your Mac or PC.
Parental Controls
Decide what music, videos, and apps your kids can access.
iTunes Store Account
Create and log in to one or more iTunes Store accounts directly from your iPhone.
YouTube Login
Log in to your YouTube account to save and sync bookmarks and rate favorites.
Shake to Shuffle
Give iPhone a shake and it shuffles to a different song in your music library.
New Languages
iPhone supports 30 languages and more than 40 keyboard layouts.
MobileMe Find My iPhone and Remote Wipe
Find your iPhone if you lose it and protect your privacy with Remote Wipe.
Run the Latest Apps
Run the next generation of iPhone apps, like peer-to-peer games and more.
Apple iPhone OS can be downloaded from iTunes by connecting your iPhone and clicking the Update button.
New in version 3.1.2:
Resolves sporadic issue that may cause iPhone to not wake from sleep
Resolves intermittent issue that may interrupt cellular network services until restart
Fixes bug that could cause occasional crash during video streaming
System requirements: iPhone
Apple Breaks Jailbreakers' Hearts with iPhone 3GS Patch
The Register's Kelly Fiveash says:
"Apple has reportedly tweaked the way its iPhone is coded in an effort to freeze out users who jailbreak the company's handsets."
Link: Apple Breaks Jailbreakers' Hearts with iPhone 3GS Patch
Make an Easy iPhone Alarm Clock Stand
instructables.com says:
"This is a one piece flat stand to use with your iPhone when it is charging from the cable. For me it means I can use it as an alarm clock by my bed whilst being able to see it. Its also a one piece design so its very easy to make. I got the idea from a Kensington stand that I had seen on the Internet, obviously this is less technical, uses less materials, does exactly the same."
Link: How to Make an Easy iPhone Alarm Clock Stand
Apps & Services
Photoshop.com Mobile for iPhone
PR: Adobe Systems Incorporated has introduced Photoshop.com Mobile for iPhone application, delivering Adobe industry-leading digital-imaging technology to users on the go. Photoshop.com Mobile provides consumers a convenient way to edit photos, apply effects and share images instantly with friends - all with the flick of a finger. Seamless integration with users' free Photoshop.com accounts enables photo sharing and data back-up, saving them valuable space on their iPhones. The application is available free of charge at Apple's App Store.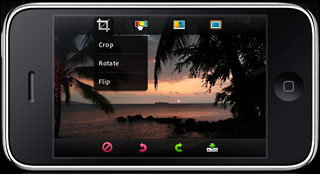 "As the digital imaging leader, Adobe is excited to bring Photoshop.com Mobile to iPhone users," said Doug Mack, vice president and general manager of Consumer and Hosted Solutions at Adobe. "Now, with access to powerful editing and sharing tools, iPhone users are armed with the resources to document all of life's unexpected moments, make them look their best and then relive those memories with friends and family."
Photoshop.com Mobile for iPhone provides a fun, seamless experience to view photos with full-screen previews and edit images with gesture-based editing. Consumers can transform their photos with essential edits like crop, rotate and flip. Users can correct and play with color by adjusting the saturation and tint, enhancing the exposure and vibrancy and converting images to black and white.
Photoshop.com Mobile for iPhone also offers eye-catching special effects. The Sketch tool helps photos look like drawings, and Soft Focus can give photos a subtle blur for artistic effect. With just one click, users can also apply dramatic changes to the look and feel of their photos with effects such as Warm Vintage, Vignette and Pop. Edits or changes can be undone or redone so users can experiment without the worry of losing the original photo.
After making personalized edits, users can upload photos from their iPhone to their Photoshop.com account to view and retrieve their images at a later time from any Internet-connected computer. In addition, Photoshop.com Mobile for iPhone provides the ultimate digital photo wallet, giving users access to their entire Photoshop.com library directly from their iPhone. Photoshop.com offers 2 GB of free online photo storage, which equates to over 1,500 photos.
Adobe Photoshop Family
Adobe Photoshop CS4 and Photoshop CS4 Extended are at the heart of the Photoshop family, joined by solutions for users at every level who want to bring out the best in their digital images. Photoshop Lightroom addresses the workflow needs of professional and serious amateur photographers. Photoshop Elements provides exciting tools and sharing options for photo enthusiasts. Lastly, snap shooters can access Photoshop.com for free online photo editing to simply fix and enhance photos and quickly share those images on social-networking sites or through Photoshop.com online galleries.
Pricing and Availability
The Adobe Photoshop.com Mobile for iPhone application is available as a free download from Apple's App Store on iPhone and iPod touch. The application is available in the US and Canada only.
Link: Photoshop.com Mobile for iPhone
Conservative Talking Points on Your iPhone
The Atlantic Monthly's Chris Good says that if you find yourself discussing the merits of health care policy with a conservative friend, and he pulls out his iPhone and starts thumbing around on it, he's probably purchased the Conservative Talking Points iPhone app (below), approved by Apple for sale and now available for $1.99 at the App Store.
Link: Conservative Talking Points on Your iPhone
Conservative Talking Points App
PR: America's culture war has hit the Apple iPhone with the new and one-of-a-kind Conservative Talking Points (CTP) iPhone application A shot over the liberal bow has been fired with this political debate tool for the iPhone
Those of the conservative persuasion can now arm themselves with the Conservative Talking Points (CTP) iPhone App as a powerful arsenal to debate those "emotional and ill-prepared liberals." This collection of sourced facts, historic data, direct quotes, and common sense knowledge is organized in a quick reference format for easy lookups during a spirited discussion or a heated argument.
The CTP iPhone App is loaded with 50 political topics with filled with 205 talking points backed by over 965 supporting facts and figures. It will be updated often to reflect the political headlines and subject matters to keep conservatives armed with the data points and factual weaponry to conduct this war on what conservatives consider ignorance and liberal idiocy.
Since liberals are known to frequently resort to ad hominem attacks or shift focus to another subject, CTP users can hold their feet to the fire with these Conservative Talking Points to help win debates on any subject they wish to engage.
The CTP iPhone App is specifically designed for immediate access to short and concise informational ammo organized under debate topics and subtopics. For example, when lefties trot out the boilerplate about the rich not paying their fair share, CTP users can immediately access the conservative data points on how producers are already being soaked to support the non-producers as they have been for decades now.
Conservatives can contribute to the Conservative Talking Points database arsenal by emailing information and suggestions to the developers. Also, you can get additional information on conservative activism at the CTP website.
Now available at iTunes App Store Reference Category for $1.99
Link: Conservative Talking Points
Scanner Pro Transforms iPhone into Portable PDF Scanner
PR: Readdle announces the release of Scanner Pro 1.0, an iPhone application that transforms the device into portable scanner. It lets iPhone owners scan multi page documents into PDF files, send them by email, access over WiFi and even upload to MobileMe iDisk or any other WebDAV enabled server. Scanner Pro is available exclusively on the Apple App Store at USD $6.99.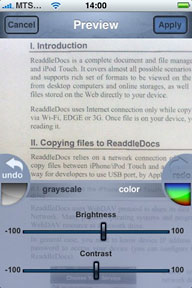 Scanner Pro is designed to scan multi page documents and transform them into industry standard PDF files. It allows people to set password on PDF document to protect data with 40-bit RC4 level encryption. This feature is very important for those who use iPhones for work since many business documents contain sensible information that should be protected from unauthorised access after scanning.
To overcome weaknesses of the iPhone camera, Scanner Pro uses special algorithms to enhance image quality. Additionally, users can manually adjust brightness and contrast to make text look even better. Also, since major documents are text based, Scanner Pro can automatically convert all documents into grayscale thus greatly reducing size of the resulting document.
Scanner Pro supports a number of ways to share PDF documents after scanning. The file can be uploaded to MobileMe iDisk, Box.Net, Humyo and any other WebDAV enabled file storage; sent by email using current iPhone Mail account and even transferred to Mac or PC computer over WiFi.
"Situations when there is printed document that should be send by email and there is no scanner nearby is familiar to many business people including myself," explains Alexander Tyagulsky, Readdle CMO. "Scanner Pro is made to save the day when this happens to you."
Scanner Pro 1.0 is available exclusively on the Apple App Store at $6.99 (USD) in the Business category. The application is compatible with iPhones running iPhone OS 2.2.1 and later.
Link: Scanner Pro
iGmail, a Native Gmail App for the iPhone
iPhoneFreak's Robert Nelson reports:
"I hit up the App Store yesterday in search of the name of a push notification app for Gmail, and naturally I did a search for Gmail. Well to my surprise, there was an app that appears to have been recently (August 24, 2009) released called iGmail. Of course, this is not what I was looking for, but instead something that I found to be a little more interesting - it is actually a native Gmail app for the iPhone."
Link: iGmail, a Native Gmail App for the iPhone, Now Available in the App Store
Smart Mobile Solutions Launches New iPhone App for DocuSign
PR: DocuSign, provider of on-demand electronic signature solutions, today announced the release of ESIGNControl, a new Apple iPhone application from Smart Mobile Solutions. Available now from the iTunes store, ESIGNControl enables DocuSign customers to use their iPhone to track, view and control documents sent for electronic signature. Smart Mobile Solutions, an ISV that specializes in applications for mobile devices, created ESIGNControl using DocuSign's software development kit (SDK) and through active participation in the DocuSign DevCenter. By using DocuSign's developer resources Smart Mobile Solutions blended its expertise in mobile computing to create a powerful utility for DocuSign users.
With DocuSign's award-winning electronic signature service, businesses can accelerate their sales cycles and obtain complete visibility into their agreement process. ESIGNControl extends the value of DocuSign to the iPhone handset, empowering busy professionals to run reports on their DocuSign transactions, view details of documents in process, and even make corrections on the fly right from their iPhone. DocuSign, combined with ESIGNControl, supercharges business development and operational professionals, sales teams, real estate agents and mortgage brokers who rely on the DocuSign e-signature service to close deals online in minutes.
The iPhone is quickly becoming a must-have business productivity tool and ESIGNControl makes it easy for DocuSign clients to remain equally productive when away from the office as they are at work, said Tony Tonchev, founder of Smart Mobile Solutions. Using DocuSign's SDK and developer account, we created ESIGNControl control to offer DocuSign's customers a fast, convenient and mobile method to use DocuSign from any iPhone.
How It Works
ESIGNControl ( www.esigncontrol.com ) is a DocuSign transaction remote control that lets users manage documents sent for signature from any iPhone. ESIGNControl makes it fast and easy for DocuSign users to:
See time based reports about documents in process
Track and access documents in process
View document signing status
Download and view sent documents on the iPhone
Revise and resend documents
ESIGNControl is available now from iTunes for $6.99.
With DocuSign, businesses save time, cut costs and eliminate errors by automating the signing process, said Tom Gonser, founder and vice president of product strategy at DocuSign. ESIGNControl takes electronic signature document management to the next level by letting users quickly and easily access their documents and manage business at a moment's notice from any location. This new application is a testament to the power of DocuSign's DevCenter in arming developers with the resources and support to launch new products and services using DocuSign's APIs. ESIGNControl, combined with DocuSign's recently released Designed for Mobile web signing experience, means iPhone users have 100 percent of what they need to manage their business anywhere, anytime.
The DocuSign DevCenter
The DocuSign Developer Center provides developers access to the most robust and flexible electronic signature and electronic contract execution APIs available today that can be used to reduce costs associated with contract execution processes, while driving untapped business opportunities. DocuSign APIs adhere to the latest version of the WS-Security (Web services security) protocol to ensure the integrity and confidentiality of DocuSign-powered Web services messaging. The cornerstone of the Developer Center is DocuSign Connect, a suite of integration services designed to extend DocuSign service capabilities into existing systems or new applications.
DocuSign Connect includes:
DocuSign Connect API Enables the exchange of information between the DocuSign platform and enterprise business applications, allowing developers to create custom DocuSign enterprise Web applications.
DocuSign Connect Service A standards-based Web service that pushes DocuSign contract transaction data into disparate applications over HTTPS protocol.
To learn how DocuSign can accelerate your business, visit www.docusign.com or call (866) 219-4318. Subscribe to company's blog at docusign.com/blog
Link: ESIGNControl
Nissan's iPhone App Encourages Better Driving
IDG News Service's Sumner Lemon reports:
"Nissan and the Japanese city of Yokohama plan to offer an iPhone application that's intended to encourage local residents to drive more efficiently, hoping to help them save gas and go easy on the environment.
"Developed by Nissan, the iPhone eco-driving application links to the car over a WiFi connection and monitors the acceleration, cruising speed and deceleration of the vehicle. The data is then uploaded to a central server, where it's compared to optimal driving profiles to rate the user's driving in these three areas on a scale from one to five...."
Link: Nissan's iPhone App Encourages Better Driving
Hands on with Nissan's Eco-driving System
IDG News Service's Martyn Williams reports:
"If my driving and the environment were together in a room they probably wouldn't get on very well. I don't drive at steady speeds, I wait too late to brake and my acceleration isn't up to scratch - or so Nissan's iPhone eco-driving application told me when I took it for a test drive on Wednesday...."
Link: Hands on with Nissan's Eco-driving System
Accessories
Zoom Shipping 3G Wireless-N Travel Router
PR: Zoom Telephonics, Inc. has announced the first volume shipments of the Zoom 3G Wireless-N Travel Router, Model 4506. Almost any 3G mobile broadband modem can be plugged into the router to instantly create a WiFi compatible Hotspot for a wide range of devices including Windows and Macintosh computers, the iTouch and Blackberry, mobile phones, barcode readers, and game stations. The shirt-pocket-sized router operates on either its rechargeable batteries or its AC adapter.
Model 4506 has an estimated US retail of $99 and represents a significant new price point for 3G wireless-N travel routers.
The Travel Router provides easy sharing of a 3G connection anywhere a 3G mobile broadband modem works - office, home, work site, trade show, airport, hotel, park, beach, or almost anywhere. The Travel Router connects to the Internet through a plugin 3G USB modem, and provides Internet access for up to 253 devices simultaneously through the Router's wireless n/g/b network or a wired Ethernet connection.
Zoom's Travel Router even lets a user's WiFi compatible devices go where 3G signal strength is low. A user can put the Travel Router and 3G modem where 3G signal strength is high, and then connect to WiFi compatible devices through the router's extended-range wireless-N capability.
Model 4506 is compatible with almost every USB mobile broadband modem model ever built. A modem compatibility list is at http://www.zoom.com/travelrouter/comp
When powered by its built-in rechargeable lithium-ion batteries, the Travel Router lets a user stay on-line for 3 hours or more, depending on usage. Model 4506 also works and recharges when its small power cube is plugged into a power outlet.
The Travel Router can even be used as a router for DSL and Cable modems, with automatic broadband backup if a 3G USB modem is plugged in.
Link: Zoom 3G Wireless-N Travel Router
USB Fever Super Chargers for iPhone 3G/iPhone 3GS
PR: Are there bigger capacity iPhone batteries out there?
The lithium powered rechargeable battery extender for iPhone that has a whopping 3000 mAh capacity. It will extend your talk time 8.5 hr, online time 8.5 hr and video playback time 40 hr (estimated). It is not bulky either as it just extends a little at the bottom, it would be great for flights or long car rides.
No more shutting down applications, fully utilize your iPhone 3G, 3GS functions.
Features:
Super Capacity - 3000 mAh, make your iPhone as a whole day partner.
LED indicators (see notes below)
No bulky, it extends a litt at the bottom
A great assistant to boost your iPhone 3G/iPhone 3GS
Protects your iPhone while extending your battery life
Uses your own Apple cable (USB - Dock cable) to charge battery
Black high-gloss finish (same material as your iPhone)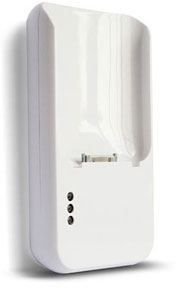 Options: Color
Black
White (currently white version is not available to order, but if you would like a white one, please send us an email after checking out, we will be able to ship to you in 7 days after receiving your order)
Specifications:
NET Weight: 3.6 oz (105g)
Capacity: 3000 mAh
Measures: 4.5 x 2.6 x 0.9 (11.5 cm x 6.6 cm x 2.4 cm)
Measures: 6.3" long with iPhone attached
Output voltage: DC 5.5V
Output current: 500 mA
Estimate use time:
Standby time: Up to 500 hours
Talk time: Up to 8.5 hours
Internet use: Up to 8.5 hours
WiFi: Up to 10 hours
Audio play: Up to 40 hours
Video play: Up to 11 hours
This accessory is suitable for:
$59.99
Link: USB Fever Super Chargers for iPhone 3G/iPhone 3GS
Protection
New SeeThru for iPhone 3G & 3GS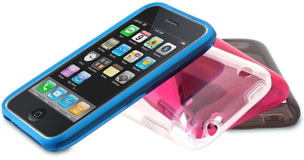 PR: Speck has launched its completely redesigned one-piece polycarbonate SeeThru hard shell case for the iPhone 3G and 3GS. Expanding upon the already immensely popular SeeThru designs, these stylishly sleek patent-pending cases offer iPhone 3G and 3GS owners the ultimate defensive buffer from the abuse of the normal daily hectic lifestyle
"If you were a fan of our initial SeeThru release for the iPhone 3G, you'll fall head over heels in love with our new single-piece design," says Irene Baran, CEO of Speck. "The new cases maintain the sleek looks of the iPhone while adding the simplicity of a more flexible one-piece design and extra level of comfort and grip to help keep your phone scuff and scratch free."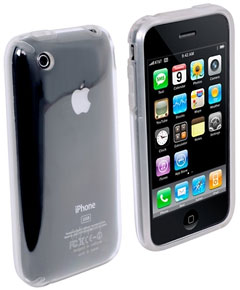 The stylish and translucent, form-fitting case features all the protective benefits from the previous generation SeeThru, but has been updated to an easy-to-use single-piece design that also includes an integrated rubberized grip ring around the entire front bezel of the case for superior grip and increased shock-absorption. And true to SeeThru's minimalist, lightweight mission, the case also protects without adding bulk and offers complete access to all controls, buttons and sensors. The new SeeThru cases come in a variety of colors to please any iPhone user, including clear, black and pink. The additional colors of aqua blue and red are available exclusively through AT&T online and retail stores. Red is also available internationally. All new SeeThru cases for iPhone 3G and 3GS are $29.95 MSRP (USD).
Founded in 2001, Palo Alto-based Speck is a leading designer and maker of original, high quality cases for the latest popular portable electronic devices. The company is best-known for its focus on creating refreshing designs that offer quality, thoughtful features, and distinctive style. For more information, visit: http://www.speckproducts.com
Join us on Facebook, follow us on Twitter or Google+, or subscribe to our RSS news feed
Links for the Day
Mac of the Day: Mac Pro, introduced 2006.08.07. The last Mac to go Intel, the Mac Pro has two dual-core Xeon CPUs at 2.0-3.0 GHz. 8-core option added in 2007.
Recent Content
Custom Search
Follow Low End Mac on Twitter
Join Low End Mac on Facebook
Favorite Sites
MacSurfer
Cult of Mac
Shrine of Apple
MacInTouch
MyAppleMenu
InfoMac
The Mac Observer
Accelerate Your Mac
RetroMacCast
The Vintage Mac Museum
Deal Brothers
DealMac
Mac2Sell
Mac Driver Museum
JAG's House
System 6 Heaven
System 7 Today
the pickle's Low-End Mac FAQ
Affiliates
Amazon.com
The iTunes Store
PC Connection Express
Macgo Blu-ray Player
Parallels Desktop for Mac
eBay

Advertise