iPhone Worms, Android vs. iPhone, Radio Shack to Retail iPhone, Sticky Stand for Car, and More
This Week's iPhone, iPod, and Apple TV News
Compiled by Charles Moore and edited by Dan Knight - 2009.11.13
Twice in the past week we've seen malware for jailbroken iPhones - a relatively innocuous one that "Rickrolls" the iPhone and changes its wallpaper, and a much more serious one that can access and copy anything from a jailbroken iPhone. In both cases, all you need do to protect yourself is change the default password to something else. This does highlight the risks involved with jailbreaking.
Mac notebook and other portable computing is covered in The 'Book Review, and general Mac news is in Mac News Review.
All prices are in US dollars unless otherwise noted.
Security
News, Reviews, & Opinion
Apps & Services
Accessories
iPod Deals
These price trackers are updated every month.
Security
Worm 'Rickrolls' Jailbroken iPhones
Mac Observer's Jeff Gamet reports:
"Owners of jailbroken iPhones in Australia are getting a bit of a surprise thanks to hackers that released a worm that 'Rickrolls' them by installing a new wallpaper with Rick Astley's face. Only iPhone owners that hacked their iPhone to install unauthorized third-party apps and also failed to change their default password after installing SSH are affected....
"The worm works by trying to find other jailbroken iPhones on the same cell phone network. If the jailbroken iPhones are still set with their default SSH password, the worm installs itself and changes the wallpaper....
"It appears that at least four variants of the worm have been written so far, and they don't do anything other than install the Rick Astley wallpaper. Since all four variants are available in the wild, however, there is the possibility that someone could add a more malicious payload to the code."
"These hacks work only on jailbroken iPhones, so unmodified iPhones won't be affected. Users that do jailbreak their iPhones should change the default SSH password to avoid the worm, too.
"Since many iPhone owners don't understand the potential security risks involved with jailbreaking, however, there will likely be a large base of phones for hackers to target. 'My prediction is that we may see more attacks like this in the future,' Mr. Cluley said."
Link: ikee Worm Rickrolls Jailbroken iPhones
iPhone/Privacy.A Worm Snoops on Jailbroken iPhones
PR: Intego has released their important November 11, 2009 Security Memo. Following the recent discovery of a worm that changes wallpaper on iPhones, Intego has spotted another piece of malware that attacks iPhones, one that is far more dangerous than the ikee worm. This hacker tool, which Intego identifies as iPhone/Privacy.A, takes advantage of the same vulnerability in the iPhone as the ikee worm, allowing hackers to connect to any jailbroken iPhone (iPhones hacked to allow installation of software other than through iTunes) whose owners have not changed the root password.
Exploit: iPhone/Privacy.A
Discovered: November 10, 2009
Risk: Low
It is important to note that standard, non-jailbroken iPhones are not at risk; it is extremely dangerous to jailbreak an iPhone because of the vulnerabilities that this process creates. (Estimates suggest that 6-8% of iPhones are jailbroken.)
When connecting to a jailbroken iPhone, this tool allows a hacker to silently copy a treasure trove of user data from a compromised iPhone: email, contacts, SMSs, calendars, photos, music files, videos, as well as any data recorded by any iPhone app. Unlike the ikee worm, which signals its presence by changing the iPhone's wallpaper, this hacker tool gives no indication that it has invaded an iPhone.
Hackers using this tool will install it on a computer - Mac, PC, Unix, or Linux - then let it work. It scans the network accessible to it, and when it finds a jailbroken iPhone, breaks into it, then steals data and records it.
This hacker tool could easily be installed, for example, on a computer on display in a retail store, which could then scan all iPhones that pass within the reach of its network. Or, a hacker could sit in an Internet cafe and let his computer scan all iPhones that come within the range of the WiFi network in search of data. Hackers could even install this tool on their own iPhones, and use it to scan for jailbroken phones as they go about their daily business.
Means of protection: Intego VirusBarrier X5 detects and eradicates this program on Macs and identifies it as iPhone/Privacy.A. While it is not possible to protect the iPhone from this hacker tool - it does not install anything on an iPhone - VirusBarrier X5 can ensure that Macs, especially in businesses, are protected from this hacker tool being installed.
We would like to stress that users who jailbreak their iPhones are exposing themselves to known vulnerabilities that are being exploited by code that is circulating in the wild. While the number of iPhones attacked may be minimal, the amount of personal data that can be compromised strongly suggests that iPhone users should stick with their stock configuration and not jailbreak their devices.
Link: iPhone/Privacy.A Exploit
News, Reviews, & Opinion
Droid vs. iPhone: 10 Rounds
Consumer Reports' Mike GikaMay says:
"The Motorola Droid, available today from Verizon for $200 after rebates, is the latest in series of phones, including the Blackberry Storm, T-Mobile G1, and Palm Pre, to be floated as a potential threat to Apple's iPhone, the undefeated champion of the smart-phone world. Other media who've weighed in on the showdown include Walt Mossberg of the Wall Street Journal, Gizmodo, and Engadget....
"...here's my 10-round preliminary take on how the new Verizon smart phone fares against the iPhone 3G S, which remains - at least for now - the highest-rated smart phone in our Ratings (available to subscribers)."
iPhone wins 5 rounds, Droid 3, and they tie on 2.
Link: Droid vs. iPhone: A 10-round Bout
No Droid for Me, iPhone Is the PC of Smartphones
PC World's David Coursey says:
"There is no piece of technological wizardry that I want so much as a Droid. Yet, I have decided to hold onto my iPhone. Why? Because the iPhone is the PC of smartphones.
"...Yes, Google's Android operating system may someday - probably will - become the standard for comparison among smartphones.
"That time, however, is not here and may not arrive for several years. In the meantime, if I want just one smartphone, it will be an iPhone. The iPhone today represents compatibility and standards . . . the opposite of the situation that Apple finds itself in with computers."
Link: No Droid for Me, iPhone Is the PC of Smartphones
Radio Shack to Sell iPhone in Texas, New York
PR: As part of its ongoing mobility strategy, Radio Shack has announced announce that it will introduce Apple's iPhone 3G and iPhone 3GS in a limited number of company-owned stores in the Dallas-Fort Worth and New York City metropolitan areas beginning later this month.
Radio Shack expects to introduce iPhone in stores nationwide in 2010.
iPhone Owners Up-Close & Personal
Retrevo.com's Jennifer Jacobson reports:
"As one of the most publicized gadgets in recent history, it's no surprise that Apple's iPhone has won over the hearts & minds of many a smart-phone owner. But who are the iPhone users really? What makes them tick? In a recent Gadgetology study Retrevo set out to learn the answer to these and other questions. The result; a snapshot profile of a typical iPhone owner.
"The findings are considerably less than flattering."
Link: iPhone Owners. Up-Close & Personal - Maybe Not So Much
Apps & Services
Stick It: Quick-Glance Reminders for Safer Driving
PR: TapFactory has released Stick It 2.1 for iPhone and iPod touch. Using your iPhone or iPod while driving can be dangerous (and in some places illegal), but for those times when we must, an app like "Stick It" can help keep it to a minimum, so you can keep your eyes on the road.
"Stick It" is a utility that allows you to quickly and easily take notes, customize their look, and create beautiful wallpapers for your lockscreen to function as quick reminders (a feature many have lamented should have been built into the device OS itself).
"In addition to lockscreen reminders being an iPhone/iPod touch feature sorely missed by many users," says TapFactory, developers of "Stick It", "we've developed Stick It to provide users with a way to view notes and reminders without having to unlock their device. This results in safer driving, higher productivity, and another fun way to increase the iPhone/iPod touch's usefulness in their daily lives."
TapFactory continues, "Imagine it's 5:30 p.m. after a long day at the office. You're cruising down the freeway on your way home, in a daze from the whirlwind of paperwork you left behind. You glance at your phone to see the time - only a quick glance because you don't want to veer off the road - and with a single push to the home button you see your reminder that your significant other asked you to pick up some steak on the way home, otherwise you're eating oatmeal for dinner. Now if you had typed this into your Notes app or a "to-do" app, would you have ever remembered? Probably not. And if you had, the concentration it took to unlock your phone, navigate to the proper app, and open it to view your reminders while driving could easily result in an accident. Thanks to Stick It, you had loaded your custom designed reminder notes to your lockscreen wallpaper, instead of them being tucked away inside an app."
Released in June 2009, "Stick It" has maintained its position in the Top 100 Paid Utility Apps since. TapFactory says they are constantly encouraging feedback and listening to their user's feature requests. "Stick It" Version 3.0, which will include a host of new features and user interface improvements, is currently in development and is slated to be submitted to Apple in mid December 2009.
"We're constantly pushing the iPhone/iPod touch platform to add functionality that makes the device more fun and useful in people's daily lives," says TapFactory, "and if we've achieved that with a little $.99 app then we are fulfilled."
Feature Highlights:
Create fully customized notes with over 20 note styles, over 30 backgrounds, and plenty of fonts to choose from
Preview feature which allows you to preview your lockscreen with your current Stick It layout to give you an idea of how it will look without having to leave the app
Stick It will automatically save your notes so you can pick up where you left off
Email your notes directly from the app
Device Requirements: iPhone or iPod touch 3.0 or later
Stick It 2.1 is 99¢ and available worldwide exclusively through the App Store in the Utilities category.
Screenshot: http://www.tapfactoryapps.com/stickit/screenshot.jpg
Link: Stick It
World's Biggest Online Newspaper Kiosk Now an iPhone Application
PR: PressReader from NewspaperDirect lets millions of iPhone and iPod touch users download and read more than 1,400 full-content digital replicas of their favorite newspapers and magazines.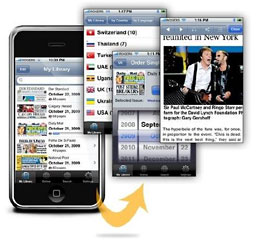 NewspaperDirect Inc., the world leader in multichannel newspaper and magazine content distribution and monetization, has launched an iPhone version of its popular PressReader application. Using the iPhone PressReader application, millions of iPhone and iPod touch users can now download their favorite daily read from a selection of more than 1,400 newspapers and magazines available on PressDisplay.com, the world's biggest online newspaper kiosk.
PressReader for iPhone puts 1,400 newspapers and publications in the palm of your hand
PressReader is the easiest way to view offline the hundreds of publications available on PressDisplay.com, in a convenient, portable format. PressReader presents publications as full-content digital replicas in their original layout. Every article, advertisement, crossword puzzle and cartoon is presented in its original context in the paper, with the ability to instantly zoom in on any element. PressReader offers rich-graphics or text-only viewing options, an interactive table of contents, cross-title searching, sharing of articles, and live, clickable elements such as URLs, telephone numbers, email addresses and hyperlinks to other articles.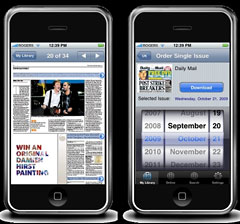 The PressReader iPhone application and (during November) the first seven titles are free downloads from the iTunes App Store. Then, for the price of a local newspaper on the street, users can download any of the growing list of prestigious international and national titles PressReader has to offer, wherever they are, including: The Washington Post, New York Post, Globe and Mail, National Post, The Guardian, Daily Mail, International Herald Tribune, The Australian, Gazeta Wyborcza, Corriere della Sera, Bangkok Post, and Kommersant, to name just a few.
"Other news applications for the iPhone offer limited website access or a reduced version of the publisher's content, whereas PressReader delivers your favorite publication in its entirety and original layout; it's just like reading the paper," said Alex Kroogman, CEO of NewspaperDirect. "We're continually enhancing PressReader for iPhone, and we're looking forward to offering the application on new devices Apple might announce such as the highly anticipated Apple tablet."
PressReader has been completely optimized for iPhone and iPod touch, enabling users to flip through pages just as they would browse a real newspaper, and then zoom in to view any article or photograph in stunning clarity.
PressReader lets news fans:
Easily navigate publications using thumbnails or tables of contents
View full graphics or easy-to-read text views
Access on-demand audio
Search online across newspaper titles and select the title you wish to download
Jump to next page using article hyperlinks
Share articles by email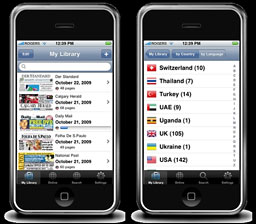 PressDisplay.com is popular with consumers who want access to multiple news sources, and corporate customers who need to monitor printed media for business-critical news. With more than 1,400 full-content digital replicas of newspapers and magazines from 88 countries in 42 languages, it has also become the standard in over 2,500 libraries around the world. PressDisplay.com and PressReader have also been optimized for Windows PCs, Macs, and other handheld e-reading devices.
NewspaperDirect delivers the world's newspapers and magazines to millions of readers the way they want to receive them - in print, online, or on their mobile device or e-reader - wherever they live, travel, work or play. With the most innovative digital publishing technology in the industry and the only no-operational-cost business model, NewspaperDirect is recognized as the world leader in multichannel content distribution and monetization, and is the chosen partner of over almost 1,400 publishers from 90 countries.
Optimized for PCs, Macs, Smartphones, iPhone, iPod touch, BlackBerry and various popular e-readers, NewspaperDirect's flagship products (PressDisplay.com and PressReader) go beyond the traditional RSS or text-based formats of other digital editions and deliver full-content publications that are compliant with international audit bureau requirements. PressDisplay.com also enhances the reading experience with powerful features such as cross-title search, monitoring, article ranking, bookmarks, instant translation, on-demand audio and social features that allow readers to comment on content and the quality of reporting, share articles, and interact with other readers.
SmartEdition, powered by PressDisplay technology, offers publishers a fully customizable digital edition platform with powerful and proprietary back office reporting and analysis tools (Reading Map, Ad Value Map) that help them optimally manage their content and advertisers. NewspaperDirect provides full hosting, payment acceptance, customer service management and technical support.
Mark On Call Home Design App Adds Rooms Gallery Feature, More
PR: M.O.C. Interior Designer, LLC releases Mark On Call 2.0 for the iPhone and iPod touch, a major update to the incredibly popular interior design app, that makes sharing even easier! Now room designs can be published and stored on the Web where owners of the application can peruse the new "Rooms Gallery", an aggregated area of all users' published rooms. From directly inside the app, users can download, customize and apply the room designs of others to their own personal space. The gallery lets users backup rooms, move rooms to another floor plan, create room templates, and collaborate with other designers, clients, friends, family, or Mark On Call users.
Additionally, users of the application may discover fabrics or finishes on someone else's furnishings in a published room, import that room, and automatically collect and apply these newfound custom color presets. A custom color preset is created when a user takes a picture of an actual finish, fabric, rug, paint color, wallpaper pattern, or flooring material and "skins" the image onto an item or surface in their room using the iPhone's camera or an image from their photo library.
The "Rooms Gallery" features a Cover Flow interface and can filter results by "Just My Rooms" or by room type. Published rooms can be deleted only by the original creator. The Rooms Gallery will soon be publicly viewable from the Mark On Call website.
The new Room Editor, where rooms can be accurately drawn and measured to scale, offers nine room shape templates, customizable with a "touch and drag" system. Not only can walls be moved, but now corners can be added (or deleted) and repositioned to create precise angles. To assist with architectural accuracy, walls turn green at 0, 30, 45, 60 and 90 degrees and display the degree number next to the wall measurement.
A customizable background option that can be used to represent wall paint or a wallpaper pattern has also been added to version 2.0, and functions the same as rendering a room item or floor surface. Users may coordinate rugs, flooring and other room items to their walls in this virtual space before actualizing their design plans.
Based on Mark Lewison's home decorating book, "What Would You Do With This Room? My 10 Foolproof Commandments to Great Interior Design", Mark On Call is truly home design in the "palm of your hand". Users can access and customize 156 furniture and architectural elements, choose from a palette of preset color, fabric and finish options, take advantage of the easy-to-use color wheel, add snapshots of floor models corresponding to items in their room designs, create and share detailed shopping lists, and send images of their room creations via in app email. It's an excellent tool for interior designers to help them conceptualize, design, store and shop for clients, or anyone planning their fantasy or actual living space.
The application works in both the Metric and Imperial measurement systems.
Summary of New Features in Mark On Call 2.0:
First-use (one-time-only) popup help screens to navigate through new and core features
New Rooms Gallery to backup and publish room designs, move rooms to another floor plan, create room templates, and collaborate with other designers, clients, friends, family, or Mark On Call users
In app "import" feature lets users download published room designs and custom color presets created by other Mark On Call users
New angled and multidimensional wall design feature to create infinite angles, recesses, and irregular floor plan features
Room background color option to represent wall paint or wallpaper
Mark On Call 2.0 is priced at $4.99 and is available exclusively from Apple's App Store. Mark On Call 2.0 works on the iPhone and iPod touch. Minimum system requirement: iPhone OS 3.0. Mark On Call 2.0 Rooms Gallery feature requires a network connection.
Link: Mark On Call
iPhone Bible Software Will Access Up to 10,000 Books
PR: Logos Bible Software has released a free iPhone app designed to help people get more into Bible study than ever before. Unlike most Bible related iPhone apps, which are merely Bible readers, the Logos Bible Software iPhone app delivers tools and resources to help you study the Bible with your iPhone or iPod touch in ways never before implemented on a mobile device.
"When we set out to develop our iPhone app, we wanted to replicate the functionality of our desktop software," said Bob Pritchett, President of Logos Bible Software. "Not only did we do it, but we are now able to reach our greater goal of getting more people into the study of God's Word by giving this app away for free."
Currently the Logos Bible Software iPhone app is a free download that can access 30 of the Bibles available at Logos' Online Bible with no registration at all. If a user would like to access even more titles, they may register for an account and get access to an additional 30+ titles from devotionals, to commentaries, to original biblical language resources including:
Treasury of Scripture Knowledge
Easton's Bible Dictionary
Systematic Theology (Strong)
New Nave's Topical Bible
Morning and Evening
Strong's Concise Dictionary of the Words of the Hebrew Bible and the Greek Testament
Dictionary of the Vulgate New Testament
And many more...
If you have the newest version of Logos Bible Software's desktop application, Logos 4, then you will also have access to many of the books from your Logos base package. Currently more than 2,000 titles can be viewed on the Logos Bible Software iPhone app and more will be added regularly until more than 10,000 titles are available on the iPhone.
The Logos Bible Software iPhone app is designed to help you do more than just read the Bible. Dig deeper into the Scripture with the Passage Guide. Enter a verse and click "go" to receive a report linking directly to commentaries referencing your verse. The Passage Guide also provides a cross reference list, media resources, topics, and interesting words. All linked to resources in your library.
A second way to get deeper into Bible study is through a Bible Word Study. Tap and hold any word in a Bible with a reverse interlinear and a popup will display the English word along with all the original language information. From this popup, click Bible Word Study to see the definition, pronunciation, translations, and example uses of the various translations.
Finally, complete your Bible study by comparing verse across various translations with the Text Comparison tool. Open a verse in Text Comparison and see exactly where each translation differs. No other Bible app for the iPhone provides the depth of tools for Bible study that the free Logos Bible Software app provides.
Harrap's Talking French-English Dictionary for iPhone
PR: Translate while you text, tweet and blog using your iPhone and iPod touch with the easy-to-use Harrap's 'Talking' French-English & English-French Dictionary Premium linguistic content with over 375.000 words from the world's top publisher, 90.000 native audio pronunciations for the most difficult English and French words, fast and effortless translation in a single tap all in pocket format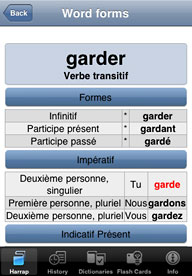 Paragon Software Group, the leading software developer of electronic dictionaries for desktop PCs and smartphones, has just released the 'talking' Harrap's English-French & French-English Dictionary for iPhone and iPod touch devices (also, available for Android, BlackBerry, Java, Windows Mobile, Symbian OS). The dictionary is based on the original Harrap's Shorter French Dictionary, the most popular dictionary in the French-speaking world. Harrap's comprehensive and up-to-date words and translations accompanied by real English and French voice pronunciations, grammar tips, multiple usage samples, learning tools, and free online content updates provide a new model for dictionaries developed for mobile devices.
In the era of texting, tweeting and blogging, we are all professional writers extensively using English language skills. Harrap's English-French & French-English Dictionary covers more than 375,000 words and phrases, including contemporary vocabulary from areas such as technology, business and science, and even regional usage and spelling from a variety of English-speaking areas. Useful information on English culture and traditions is also included, making Harrap's English-French Dictionary the most essential source for communication in English.
Features include:
Audio pronunciation for 90,000+ words, prerecorded by native speakers;
No Internet connection required to use the application: simply download the dictionary once and use it without any further expense;
Hyperlinks allow users to quickly switch between related entries and language directions;
"Fuzzy search" and wildcard ("*", "?", etc.) features help to find and translate words even if the user does not remember the exact spelling;
Words are translated using any grammatical form;
Flash Card Quiz enables you to add new words to flash cards and test your knowledge as many times as you wish;
Search History shows the last 100 translated words.
Compatibility: iPhone OS 2.0-3.0. The same dictionary is also available for desktop PCs and other mobile smartphones.
Harrap's English-French & French-English Dictionary for iPhone/iPod touch is available for $24.99 (19,99 EUR) via download from the AppStore.
Link: SlovoEd Talking French-English Dictionary for iPhone
iAlcohol: Professional BAC Tester
PR: Macsoftex announces iAlcohol 1.1, an update to their blood alcohol content app for iPhone and iPod touch. Intuitively easy to use, iAlcohol determines the level of alcohol in a person's blood and calculates the required break in driving. The formula calculates the influence of factors on the duration of the phases of alcohol intoxication, providing 90% accuracy. The application will help you choose a suitable drink and the amount you are allowed to consume within this interval of time.
iAlcohol - iPhone App which determines the level of alcohol in a person's blood and calculates the required break in driving. iAlcohol is a unique development, whose developers excelled at using the previous experience of work with similar programs. For the first time they managed to accumulate and evaluate the majority of all the conclusive parameters, which had not been taken into account when calculating the speed of alcohol elimination from a blood.
The calculation formula for the application takes into account the maximum number of factors that affect the result, thus providing 90% accuracy. The formula calculates the influence of factors on the duration of the phases of alcohol intoxication: phase Absorption and phase Elimination of alcohol.
The app is intuitively easy to use. You may plan to drink alcohol and know the exact time when you plan to start driving. The application will help you choose a suitable drink and the amount you are allowed to consume within this interval of time. It is also possible to calculate alcohol concentration in situations when different types of drinks are consumed simultaneously. A timer will inform you about the time when you can start driving. It will still count time if you exit the app. The application allows registering several user profiles, remembering each user's name, weight, gender and history of measurements for each user separately.
Feature Highlights:
Display of current BAC in real-time
Counting down timer
History of measurements
Influence of food on alcohol concentration
Influence of height, weight, gender, kind of activity on alcohol concentration
Over 230 drinks and cocktails
Mixing drinks
Forecasting of the break in the driving
Add drinks after the timer is on
Change a kind of activity after the timer is on
Multiple user profiles
Parallel calculation for multiple users
New in Version 1.1:
Bag fixes (crash when using fl.oz in calculation)
Added statistics of alcohol consumption
Added graph of alcohol consumption by day, week, month
Added description of current alcohol intoxication
Improved user interface
Coming Soon:
Drinking games;
Tests with accelerometer: balance, straight line
Hand-Eye Coordination Test
Device Requirements: iPhone or iPod touch 3.0 or later
iAlcohol 1.1 is $1.99 and available worldwide exclusively through the App Store in the Entertainment category.
Link: iAlcohol
Readdle Scanner Pro Gets Evernote Integration
PR: Readdle has announced the release of Scanner Pro 1.1, new version of their popular iPhone application that transforms the device into portable scanner. Scanner Pro 1.1 introduces highly anticipated Evernote integration that lets people convert printed documents, receipts and even handwritten notes into searchable information accessible from anywhere.
Scanner Pro processes a photo of a poorly lighted document, a snapshot of a business card at a wacky angle, or an off-kilter receipt into a straightened, cleaner version of its former self. Version 1.1 is capable to save these enhanced images directly to the Evernote accounts and allows Evernote recognition servers to convert these scans into searchable notes. Both free and premium Evernote users can use this integration.
To make integration more robust, Scanner Pro downloads information about tags and notebooks of the particular Evernote subscriber. Thus appropriate set of tags and notebook for upload can be chosen directly from Scanner Pro application.
"We are excited to discover new experience for iPhone users. Joint power of Scanner Pro and Evernote is so impressive that we can't even count all possible usages for this bundle", says Igor Zhadanov, Readdle CEO. "Capturing notes, business cards, gym schedules or even entire agreements combined with Evernote's flexible tagging system allows you to collect and access any information you may need in your everyday life."
At the same time Scanner Pro 1.1 implements several user suggested improvements like more stylish, intuitive and easy to use interface and significantly improved image processing engine. New version produces sharper and whiter images, features real time image adjustments and adds image export to iPhone photo library. The latter function allows usage of Scanner Pro together with popular iPhone fax applications.
Scanner Pro 1.1 is available on Apple App Store at $6.99 to the new customers and as a free upgrade for existing users. The application is compatible with iPhones running iPhone OS 2.2.1 and later.
Link: Scanner Pro
Accessories
iPod: The Missing Manual, 8th Edition
PR: Apple's gotten the world hooked on portable music, pictures, and videos. One thing they haven't delivered, though, is an easy guide for getting the most from your sleek little entertainment center. That's where this book comes in.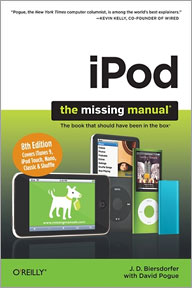 J.D. Biersdorfer and David Pogue come to the rescue with the latest edition of their chock-full-of-tips, full-color guide: the world's most popular iPod book. iPod: The Missing Manual (O'Reilly, $19.99), now in its 8th edition, provides a no-nonsense view of the latest iPod line, including the tiny Shuffle, the video-capable Nano, the high-capacity Classic, and the WiFi-enabled Touch. With crystal-clear explanations and easy-to-follow color graphics, the book provides expert guidance on all of the amazing things you can do.
"The latest line of iPods, especially the Touch and the Nano, have many new features and this book introduces new owners to each one so they don't miss out on any of the fun. There's also a new version of iTunes and the iTunes Store, and this book explains all the cool new stuff you can do with your iTunes library as well as how to find your way around the newly overhauled iTunes Store," says Biersdorfer.
Here's the important stuff you need to know:
Fill 'er up. Load your Nano, Classic, Touch, or Shuffle with music, movies, and photos, and learn how to play it all back.
Share music and movies. Copy music between computers with Home Sharing, beam playlists around the house, and whisk your Nano's videos to YouTube.
iTunes, tuned up. Pick-and-choose which music, movies, and photos to sync; create instant playlists with Genius Mix; and auto-rename "Untitled" tracks.
iPod Power. Create Genius playlists on your iPod, shoot movies on your Nano, tap the Nano's FM radio and pedometer, and add voice memos to your Touch.
Tour the new iTunes store. Find what you're looking for in a snap, and get lyrics, liner notes, and more with iTunes LP.
Even if you don't have one of the brand new iPods, this Missing Manual has plenty of information on iTunes 9, the App Store, and everything else you'll want to know. iPod: The Missing Manual is as useful, satisfying, and reliable as its subject.
J.D. Biersdorfer is the author of iPod: The Missing Manual and The iPod Shuffle Fan Book, and is co-author of The Internet: The Missing Manual and the second edition of Google: The Missing Manual. She has been writing the weekly computer Q&A column for the Circuits section of The New York Times since 1998.
David Pogue, Yale '85, is the weekly personal-technology columnist for the New York Times and an Emmy award-winning tech correspondent for CBS News. His funny tech videos appear weekly on CNBC. And with 3 million books in print, he is also one of the world's best-selling how- to authors. In 1999, he launched his own series of amusing, practical, and user-friendly computer books called Missing Manuals, which now includes 100 titles.
For more information about the book, including table of contents, index, author bios, and cover graphic, see: http://tinyurl.com/ykrvszn
J.D. Biersdorfer, David Pogue
ISBN 13: 9780596804312,
300 pages
Book Price: $19.99,
EBook Price: $15.99
order@oreilly.com
1-800-998-9938
1-707-827-7000
Purchase link: Available from Amazon.com for $13.49. Free shipping on orders over $25.
World's First iPhone/iPod Projector
PR: Watch media directly from your iPhone/iPod.
handheld pico projector - only 4.5" x 3" x 2.5"
watch media directly from your iPhone/iPod
charge your iPhone/iPod while you watch
built-in external stereo speakers with audio out
high capacity battery - 2.5 hour run time per charge
Includes: mini projector, tripod, removable base, VGA connection cable, AV connection cables, charger
US and Canada - $495 + shipping
Link: iPhone/iPod Dock Pico Projector
Gigaware HD Radio for iPhone/iPod touch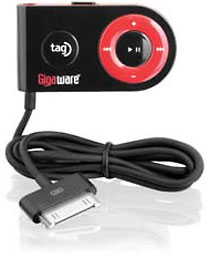 PR: Upgrade your iPhone listening experience with this inline control with HD Radio from Gigaware. Simply attach it to the dock connector on your iPhone (also fits iPod touch) and start enjoying HD radio. Featuring more choices, crystal-clear sound and no subscription fees, it lets you enjoy your music the way it was meant to be heard. Song information, such as title and artist, appears on your iPod's display and iTunes Tagging allows you to "tag" songs you hear on the radio for subsequent purchase via Apple's iTunes. Plus, the inline remote replicates the click wheel of the iPod, giving you a handy extra set of controls.
Easily connects to your iPhone and iPod touch via the dock connector
Receive HD radio signals that offer CD-quality sound
Song information, such as title and artist, appears on your iPod's display
iTunes Tagging saves artist and song information to your iPod for purchase via Apple's iTunes
Discover HD2 substations hidden between your regular stations that only HD radio can deliver
Play, Stop, Pause, Forward, Backward and Scan controls that your fingers can locate by touch
$79.99
Link: Gigaware Inline Control with HD Radio for iPhone
Sticky Stand for Your Cell Phone/iPhone/iPod/GPS in a Car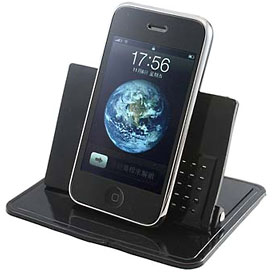 PR: This is an accessory with 2 sticky blades and one stand (angle adjustable) that allows you to "stick" your mobile phone, iPhone, iPod, GPS, MP3 . . . in a user-friendly place, e.g. in front of your work desk or on your the flat place above your operating panel of your car.
The stick blades allow you stick your gadget it in a quick and easy way or get it from, while the adjustable stand allows you to adjust to an angle that is most friendly to you.
Features:
Holds your gadgets firmly
Shock absorbent
Water washable (the 2 stick blades)
Holds your gadget in a place that is most friendly to you.
You may have your gadget in any flat surface in any angle the is most friendly to you.
$12.99
Link: Sticky Stand
Kensington Accessories for Smartphones and Netbooks Make Happy Holiday Gifts
PR: Kensington Computer Products Group has announced today, a wide variety of products to make holiday gift giving easy and affordable. Kensington's sleek and stylish must-have devices for accessorizing smartphones and netbooks will make ideal gifts for the holiday season and won't leave you sulking over an empty wallet.
The recent October 2009 Consumer Electronics Holiday Purchase Patterns Study* projects that 93% of U.S. adults (an estimated 215 million people) will be purchasing gifts during the upcoming holiday season. Interestingly, though the research indicates that a third of these holiday shoppers are planning to spend less on holiday gifts compared to 2008, the average dollar amount allocated for consumer electronic gift purchases is a respectable $222 - an amount that has actually increased by 8% from last year.
"We understand the importance of making smart consumer electronic purchases this holiday season, and Kensington is helping its customers meet that need," says Christine Dumery, Director, Marketing Communications, Kensington. "Demand for products that help enhance usage of mobile devices continues to grow considerably. Our accessories make thoughtful gifts that will keep families connected with the personal technology they depend on in their everyday lifestyle, while still being affordable for their holiday budget."
Smartphone Lovers, Pack Some Power in a Stocking Stuffer
Leave the clutter behind, Kensington offers a compact charger made just for USB-powered devices so that smartphones and other mobile equipment are ready to work at all times. Stuffing stockings this holiday season is now easy and affordable for the mobile moguls on your holiday list.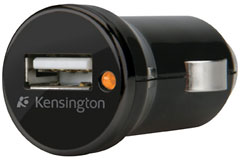 Kensington USB Car Charger (SKU K38054US; SRP $9.99)
Charge your Blackberryor any other USB-powered device without cluttering up your car. The Kensington USB Car Charger has all the power you need in an ultra low profile design that fits right into your vehicle's interior and especially your holiday stocking.
Charges any USB-powered device, including mobile phones/smartphones, iPhone, iPod, MP3 players and more. (USB Power Tips sold separately, for more information, visit www.kensington.com)
Compatible with most vehicle power ports
Includes a LED power indicator
Netbook Enthusiasts, Small Sizes and Small Prices Make Big Gifts
More popular than ever, netbooks remain a high priority on every gadget geek's holiday wish list and Kensington's collection of netbook accessories make ideal complements to these miniature wonders. Don't let the small size and small price fool you, these products go a long way to making a bigger and better experience with any netbook.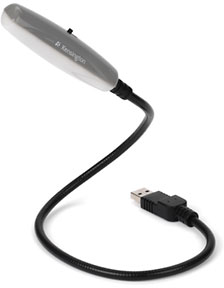 Kensington Video Chat Light for Netbooks (SKU K33932US; SRP $14.99)
Brighten up your video chats this holiday season with the Kensington Video Chat Light for Netbooks. It plugs into any USB port and easily adjusts to help you look your best whether you're at the office or relaxing on the sofa.
Brightens up your video chats to help you look your best
Flexible gooseneck adjusts easily to direct light wherever it's needed
On/off and dimmer switch to clearly see and be seen
Kensington Essentials Kit for Netbooks (SKU K66619EU; SRP $39.99)
Here is an all-in-one gift collection of simple, reliable accessories made just for your netbook. From a wired mobile mouse that make surfing a joy to a Neoprene sleeve and a self-coiling lock that will protect your netbook when on the go. Each Kensington netbook accessory is sized to suit your netbook and fit easily in your travel bag. So visiting the school library or your local coffee shop is as easy as visiting your favorite website.
Wired Mouse for Netbooks: Plug-n-play via USB and built-in scroll wheel
Security Lock for Netbooks: Attaches to the Kensington Security Slot found on netbooks with 10,000 personalized combinations
Reversible Sleeve for Netbooks: Stores & protects up to a 10" netbook
iPhone and iPod Aficionados, Give Gifts that Keep on Giving
Any iPhone or iPod owner can tell you, their device goes where they go all year round, so keeping connected is a must. Kensington's variety of accessories for iPhone and iPod put the pleasure back into giving and receiving. These smart made simple devices provide the power, entertainment, and navigation needed for your iPhone and iPod in any environment.
Kensington Windshield/Vent Car Mount with Sound Amplified Cradle for iPhone (K66627US ; SRP $39.99)
Give your iPhone GPS, podcasts, and phone calls a sound boost this holiday season. The built-in amplification system in the cradle doubles the volume coming from your iPhone speaker, making it easier to hear your turn-by-turn directions, calls and more. The cradle mounts in seconds to the windshield or vent and holds your iPhone securely on even the roughest terrain.
Amplifies iPhone speaker for twice the volume with no added battery drain
iPhone Compatible to fit iPhone 3GS, iPhone 3G and iPhone with or without a case
Works with any navigation application for iPhone (inclusive of Navigon, TomTom, and more)
Cradle pivots for vertical or landscape modes and includes both windshield and vent mounts for preferred proximity in vehicle
*For a video quick start guide please visit: www.car1.kensington.com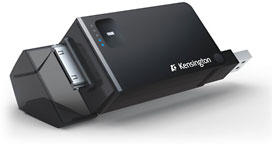 Kensington Travel Battery Pack and Charger for iPhone and iPod touch (SKU K33456US; SRP $69.99)
Perfect for those long flights home for the holidays is a big boost of power with zero charging cables to pack in your travel bag. Everything you need to charge and power your device is built in to the Kensington Travel Battery Pack and Charger for iPhone and iPod touch. It even doubles as a kickstand for hands-free landscape viewing of movies and videos when you're on the road. All-in-one design; no cables needed.
Built-in dock connector to charge your iPhone and flip-out USB tip to recharge without the mess of extra cables
Extends play time up to 23 hours music, up to 7 hours of video and up to 5 hours of talk time. Extended play time listed based on iPhone 3G
LED battery gauge displays remaining battery pack power level
Rechargeable lithium-ion battery for iPhone and iPod touch
Kensington Charging Dock with Mini Battery Pack for iPhone and iPod touch (SKU K33457US; SRP $69.99)
Here is a gift that gives back all year round. It is all the power you need and is never far away. The compact dock recharges your iPhone (including new iPhone 3GS) or iPod so you can leave home with it fully charged. The dock also charges the included Mini Battery Pack so you can take an extra boost of backup power with you on the go.
Dock simultaneously charges your iPhone or iPod and Mini Battery Pack
Includes detachable USB charging and synching cable, USB wall adapter, and iPhone 3G dock insert
Mini Battery Pack extends play time up to 30 hours of music*; 6 hours of video*; 3 hours of talk**
*iPod nano 3rd Generation
** iPhone
All Kensington products are currently available at Amazon.com, Kensington.com, and other major retailers.
Download hi-res images of the products at http://www.us.kensington.com/html/17562.html
Purchase Links from Amazon.com
USB Fever 8x Telescope for iPhone 3G/3GS
PR: Want to turn your iPhone to superb stuff? Now you have one more kit.
This telescope has a superb 8x expansion that can help you to close up any objects from afar 8 times.
It is a telescope with manual focus, just turning the ring in the front of the scope to the clearest shot. It comes with a stand that you may have your iPhone 3G/iPhone 3GS clipping on the stand to take pictures and movies.
Advantages:
Avoid the contortion of image
Detachable from the crystal case
Superb 8x optical zooming
Manual Focus adjust
Comes with a stand for taking pictures and movies
Recommend of usages:
Watching the match,
Watching the concert
Travel
shot remotely in a zoo
This accessory is compatible with:
Package Contents:
8x Telescope with manual focus
Hard Case x 1
Holder x 1
Mini Tripod x 1
Note: This is a fixed 8x optical lens, not a gradual/changeable optical zoom
$28.99
Join us on Facebook, follow us on Twitter or Google+, or subscribe to our RSS news feed
Links for the Day
Mac of the Day: MacBook Core Duo, introduced 2006.05.16. The iBook's replacement has a 13" widescreen display and a 1.83-2.0 GHz Intel Core Duo CPU.
Recent Content
Custom Search
Follow Low End Mac on Twitter
Join Low End Mac on Facebook
Favorite Sites
MacSurfer
Cult of Mac
Shrine of Apple
MacInTouch
MyAppleMenu
InfoMac
The Mac Observer
Accelerate Your Mac
RetroMacCast
The Vintage Mac Museum
Deal Brothers
DealMac
Mac2Sell
Mac Driver Museum
JAG's House
System 6 Heaven
System 7 Today
the pickle's Low-End Mac FAQ
Affiliates
Amazon.com
The iTunes Store
PC Connection Express
Macgo Blu-ray Player
Parallels Desktop for Mac
eBay

Advertise