1.4M iPhones Sold, iPhone/iPod touch SDK Promised, Composite Video from Apple TV, and More
This Week's iPhone, iPod, and Apple TV News
Compiled by Charles Moore and edited by Dan Knight - 2007.10.25
Mac notebook and other portable computing is covered in The 'Book Review, and general Mac news is in Mac News Review.
All prices are in US dollars unless otherwise noted.
iPhone News, Reviews, & Opinion
iPod News, Reviews, & Opinion
Apple TV News, Reviews, & Opinion
iPhone/iPod Add-ons
iPhone Add-ons
iPod Add-ons
iPod and iPhone Deals
iPhone News, Reviews, & Opinion
1.4M iPhones Sold - 250,000 Unlocked

The Register's Tony Smith reports:
"More than a quarter of a million people have purchased Apple iPhones and unlocked them, the handset's manufacturer admitted last night.
"With total sales of the phone now topping 1.4m units, according to Apple, that's a staggering 18 per cent of buyers who've chosen not to tether themselves to AT&T's cellular network."
Link: Apple: 1.4M iPhones Sold, 250,000 Unlocked
iPhone Has 'Outstanding' Customer Satisfaction Rating

Macsimum News' Dennis Sellers reports:
"ChangeWave's latest consumer cell phone survey - completed Oct. 2 - focuses on key market share changes among the major manufacturers and service providers. A total of 3,654 Alliance members participated in the survey, which found the iPhone doing great.
"The iPhone has been on the shelf just three months, but its impact is clearly being felt by the major phone manufacturers, according to ChangeWave. Apple's cell phone market share among the respondents (two percent) has increased by one percentage point since our last survey in July - solid growth in line with previous expectations."
Link: Survey: iPhone Has 'Outstanding' Customer Satisfaction Rating
iPhone Helps AT&T Gain 2M Subscribers

Electronista reports:
"AT&T saw its largest number of new cellular subscribers during a summer quarter, the company announced today as part of its latest quarterly report. The telecom firm's wireless division reported an effective gain of about two million new subscribers in the quarter following the iPhone's release in late June, a 46.8 percent increase over the same period a year ago and an all-time record for the season for the carrier, which was already considered the largest in the US. Customer 'churn,' or the turnover of subscribers, was also lower for the period at just 1.7 percent of the total user base, AT&T said."
Link: iPhone Helps AT&T Gain 2M Subscribers
iPhone AT&T Top Seller
PR: The latest Strategy Analytics data from its ProductTRAX program projected that nearly 1.1 million units were delivered to US consumers through the combined AT&T and Apple outlets during Q3, totaling 1.325 million units since the iPhone was launched in late Q2. "The iPhone has become AT&T's top selling device, commanding some 13 percent of AT&T's overall handset sales, and the 4th top selling handset in the US market," according to Barry Gilbert, VP of the Strategy Analytics BuyerTRAX programs.
"Although the iPhone hasn't had an expansionary impact in the market, the iPhone has quickly assumed a leading market share position and raised the ante for smart devices," according to Mr. Gilbert. "The sales trajectory we are observing with the iPhone could make it the top selling device in the US over the next 1-2 quarters."
Currently, the top selling handset in the US continues to be Motorola's RAZR V3, however, this appears to be losing momentum as new and more competitive models that erode both its share and popularity are being introduced. ProductTRAX research notes that the top 10 handset models account for approximately 25 percent of total handset sales in a typical quarter despite an increasing number of device offerings.
"The typical iPhone buyer is upwardly mobile, college educated with a six-figure household income," according to David Kerr, Vice President of the Strategy Analytics Global Wireless Practice. "While the largest percentage of iPhone buyers is between 20-30 years old, the fact that nearly 25 percent were between 50-60 years old demonstrates that the device attracts buyers across a broad age spectrum." Thus far, iPhone users are quite satisfied with phone design and features, however, they are slightly less enamored of actual iPhone reliability, battery life, documentation and customer support.
ProductTRAX from Strategy Analytics captures these quarterly key metrics for handset buyers to support its sell-through volume estimations.
Link: Strategy Analytics
Re-lock Your iPhone So You Can Safely Upgrade to 1.1.1

Ars Technica's Justin Berka reports:
"The release of unlocking solutions for 1.1.1 iPhones and of downgrading utilities for anyone who hastily updated took care of many iPhone owners' problems, but one group was left out. Specifically, anyone wanting to upgrade from an unlocked 1.0.2 iPhone to the new firmware was left out. Some clever hackers have figured out how to re-lock or 're-virginize' 1.0.2 iPhones, and have posted instructions."
Link: Re-lock Your iPhone So You Can Safely Upgrade to 1.1.1
Apple Gives Blessing to Third Party iPhone Applications
An Apple Hot News Posting authored by Steve Jobs says:
"Let me just say it: We want native third party applications on the iPhone, and we plan to have an SDK in developers' hands in February. We are excited about creating a vibrant third party developer community around the iPhone and enabling hundreds of new applications for our users. With our revolutionary multitouch interface, powerful hardware and advanced software architecture, we believe we have created the best mobile platform ever for developers.
"It will take until February to release an SDK because we're trying to do two diametrically opposed things at once - provide an advanced and open platform to developers while at the same time protect iPhone users from viruses, malware, privacy attacks, etc. This is no easy task. Some claim that viruses and malware are not a problem on mobile phones - this is simply not true....
"The SDK will also allow developers to create applications for iPod touch...."
Link: Third Party Applications on the iPhone
Apple to Allow Outside Applications on iPhone

Reuters reports:
"Apple Inc. Chief Executive Steve Jobs said on Wednesday that outside developers will be allowed to create programs for the iPhone, changing a policy that had angered many.
"Blocking outsiders from making programs that would run easily on the iPhone has been one of a series of restrictions that have annoyed users, even leading to some lawsuits.
"Jobs, in comments on Apple's Web site, said a kit for developers still will not be available until February, as the company works out how to open up the phone without exposing it to malicious programs.
"'We think a few months of patience now will be rewarded by many years of great third party applications running on safe and reliable iPhones,' Jobs said on the Web site at http://www.apple.com/hotnews/."
Link: Apple to Allow Outside Applications on iPhone
Why the Open iPhone Frenzy Misses the Point

Fortune BigTech Blogs says:
"When Apple CEO Steve Jobs declared in an open letter this week that the company will soon let developers write software for its popular handset, the 'open iPhone' news dominated headlines. After all, this is what hackers everywhere have been begging for: Clear rules for tapping into the iPhone's power.
"Too bad an open iPhone wasn't the truly big news. Tucked in at the end of Jobs's letter is the real bombshell: Apple will let developers write software for the iPod touch.
"Who cares about the iPod touch?
"A lot of people, it turns out . . . for software developers, the open iPod touch actually will be a bigger deal than the open iPhone...."
Link: Why the Open iPhone Frenzy Misses the Point
'Unnecessary' iPhone SDK to Ship February

The Register's Bill Ray reports:
"The iPhone and iTouch are to get a Software Developers Kit in February next year, allowing developers to create proper native applications for the platform and allowing it to properly compete with other smart phones, Steve Jobs announced on the company's website today.
"Just four months after declaring that '...no software developer kit is required for the iPhone' at the Apple Worldwide Developers Conference in June, the Apple CEO said such an SDK will be available, and was always planned once the wrinkles had been ironed out."
Link: Apple Opens Up iPhone to App Developers - 'Unneccessary' [sic] SDK to Ship February
Apple Ready to Own the Smartphone Market
PalmAddicts' Neil Tomlinson says:
"The iPhone is truly an awesome device, there really is no point in trying to deny that. But as good as the iPhone is, I could never see it truly being a competitor to either Palm OS or Windows Mobile devices, because unlike those devices the iPhone has been severely limited due to the fact that it's a closed platform, meaning running applications that didn't come installed on the device was quite a task and one that required the user to hack their phone.
"In a way this closed platform has been extremely beneficial to the user as it meant the iPhone is an enormously stable device, rarely requiring the user to reset the device due to the phone locking up. As nice as stability is, there is a flip side to this route to stability, which has been having a device that could do only so much and no more. Unlike Windows Mobile and Palm OS devices, the iPhone is generally used only in the way Apple wanted users to, unless users were brave enough to try the aforementioned hacks.
"Well all that is about to change, Apple now seems really ready to take on the Smartphone market as they have announced they are now developing a software development kit (SDK from here on out) for the iPhone, which will allow developers to officially make applications for the iPhone (and iPod touch)...."
Link: Apple Ready to Own the Smartphone Market - I Just Can't Wait to See How Palm and Microsoft Answer Apple's Move
Orange's Apple Deal to Bear Unlocked iPhones

The Register's Tony Smith reports:
"Orange will indeed offer Apple's iPhone on France, but the most interesting aspect of the two firms' partnership will be the availability, for the first time, of officially unlocked handsets.
"French law prevents carriers from tying handsets exclusively to their networks - consumers have to be able to move to a different network provider and take their phones with them. The upshot is that Orange will sell a locked iPhone for Euro 399 alongside an unlocked model for a price that's yet to be specified by either party."
Link: Orange's Apple Deal to Bear Unlocked iPhones
Opera and Mozilla Step Up Mobile Browser Pressure

The Register's Wireless Watch says:
"The first key milestone on the road to a genuinely appealing mobile web experience is an effective browser, and the competition to provide that vital tool is heating up. The Apple Safari open source platform has made the running so far, both in the iPhone and Nokia's homegrown browser, which is Safari-based.
"Microsoft is still struggling to make Internet Explorer really at home on a mobile device and Google's promised offering has not yet materialised. Outside Safari, the strongest contender has been Opera, which has now signed up new allies Freescale and NEC to push its technology further into the mobile mainstream - just as internet players like Mozilla raise their own challenge, ahead of the inevitable attack from Google.
"Opera, though it gained tiny market share on the PC, has fared far better against Microsoft in the mobile and embedded worlds, and recently has been doing a good job of partnering with key chipmakers to marry its browser with their handset architectures....
"Meanwhile, open source organisation Mozilla is stepping up efforts to make its Firefox browser dominant on the mobile platform. Already supported by Intel for the UMPC (UltraMobile PC) platform, Mozilla now plans to release a mobile version of its software early next year, geared to cellphones."
Link: Opera and Mozilla Step Up Mobile Browser Pressure
Accessorizing the iPhone
The position of Associated Press (AP) is that you may not quote more than 5 words from any of its copyrighted articles without paying $12.50 or more for a "quotation license". Rather than pay this fee or risk the wrath of AP, we are removing all AP quotes from the site along with links to those articles.
We regret any inconvenience to our readers, but we will never pay for what is considered Fair Use under copyright law. We consider brief quotations in our news roundups to be Fair Use and a benefit to the site that we quoted from and linked to. (We adhere to the Open Link policy, and our Fair Use policy specifically allows quoting up to 50% or 300 words of our original content, whichever is less.)
Fixing iPhone Signal Loss
TUAW's Erica Sadun reports:
"Yesterday, Scott forwarded me along a question from TUAW reader John Stuart. He wrote in asking about his cell signal. When put on sleep/hold, the signal fades out and he can't receive calls. His phone is unlocked and in the UK, and this signal loss appears to be a common fault.
"As a temporary measure, John started playing back music on repeat, with the volume cut off. As you might imagine, this runs down the battery and prevents him from actually using the iPod features without having to do extra work.
"TUAW to the rescue. After polling the developer community, ApolloIM developer Alex 'Arminius' Schaefer came to the rescue. He remembered that SummerBoard supported a mode that would retain your signal even in sleep mode.
"The hack works like this...."
Link: Fixing iPhone Signal Loss
Type Accented Characters on iPhone 1.1.1

Mac OS X Hints' svorsk says:
"I discovered that it is possible to type email, text messages, and enter text in most western languages...."
Link: Type Accented Characters on iPhone 1.1.1
iPhone 'a Plain Lousy Phone'

PC Magazine's Sascha Segan and Tim Gideon say:
"When he announced the iPhone, Steve Jobs said to expect three things: 'an incredibly great cell phone,' 'the best iPod we've ever made,' and 'the Internet in your pocket.' One out of three isn't bad. Yes, the iPhone is the best iPod ever - ironic for something not even called an iPod! But it's just a plain lousy phone, and although it makes some exciting advances in handheld Web browsing, it's not the Internet in your pocket."
Link: Apple iPhone
iPod News, Reviews, & Opinion
iPod classic Hit with Endless Disk-spinning Bug?

Engadget's Nilay Patel says:
"The tubes are buzzing this morning with reports that the recent iPod classic 1.0.2 update has a nasty bug in it that causes the drive to constantly spin - a glitch that's a little more troubling than those freezing issues we heard about, since bumping a spinning platter is a sure way to kill your drive dead."
Link: iPod classic Hit with Endless Disk-spinning Bug?
Apple TV News, Reviews, & Opinion
How to Get Composite Video from an Apple TV

The Register's Tony Smith reports:
"I've been playing with Apple's Apple TV set-top box this week, and I have to say I like it. But Apple's missing a trick by not allowing those of us - me included - without HD TVs to make the most of the device. No matter: a simple hardware trick solves the problem.
"I've found Apple TV to be a great way of getting content not simply from a computer onto a TV, but for taking the computer (almost) out of the equation. My approach isn't for everyone - plenty of Register Hardware readers have way more downloaded music and video content, in a broader array of formats than I have, but I like to keep things simple."
Link: How to Get Colour Composite-video from an Apple TV
iPhone/iPod Add-ons
PhoneValet 5.3 Landline Voicemail for all iPods and iPhone
PR: Parliant Corporation has announced PhoneValet 5.3, which provides playback of voicemail and call recordings on all iPods and iPhone products.
"With PhoneValet, landline visual voicemail is at your fingertips anywhere in the world," said Kevin Ford, Parliant president. "We believe there's no need to constantly call in to check messages. With PhoneValet, your messages find you!"
Each device has its own capabilities, and PhoneValet makes the best of each:
For iPhone: PhoneValet 5.3 instantly emails messages. Listening to them on iPhone is a snap and you can even return calls with a simple click!
For iPhone and iPod touch: you can access voice mails and recent calls through a visual voicemail interface that works just like the iPhone's wireless voicemail application. This web application comes with PhoneValet Anywhere, an add-on package that extends PhoneValet's capabilities to remote computers.
For iPhone and all iPods: review voice mail messages anywhere! Voice mail and recorded conversations can be automatically loaded onto your iPod or iPhone whenever you synchronize through iTunes.
PhoneValet Anywhere's web pages are now optimized to substantially increase speed on iPhone or iPod touch browsers, especially on the EDGE network.
Parliant's multi-award winning PhoneValet Message Center turns a Mac into a multiline virtual call center. It features an automated attendant, unlimited voice mail call tree, call blocking, recording, logging and screening, automated dialing and Interactive Voice Response (IVR) capabilities. Its patent pending technology does all this and more using standard telephone lines - with no need for an expensive phone switch. Standard telephone lines include traditional local phone lines, cable phone lines and voice-over-internet (VOIP) services that allow users to connect a standard telephone.
PhoneValet Message Center retails at $169.95 per line (including software and hardware) from Parliant's website, Apple and many retailers. PhoneValet Anywhere is $59.95 per PhoneValet server. PhoneValet 5.3 is a free upgrade for users of PhoneValet 5.x.
About Parliant Corporation
With facilities in Ogdensburg, New York and Ottawa, Canada, Parliant Corporation is a world leader in developing and deploying Mac-based computer telephony products for business and consumer use.
Difusi, Inc. Announces New iPod nano, classic, touch, and iPhone Cases
PR: Difusi Inc. is set to release a series of premium cases and accessories exclusively for Apple's new iPod nano, iPod classic, iPod touch and iPhone.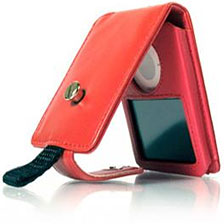 Mike Wright, President and CEO of Difusi said, "Difusi is today announcing the release of its new line of cases designed for the newest iPod nano 4 and 8-gigabyte models called the Prop, Flip, Sleeve, and the completely new, redesigned nanoValet."
Each of the new cases are handcrafted from the highest quality leather and use stainless steel and shatter proof plastics in the production of its accessories. Difusi cases are designed and built to exacting specifications and standards to ensure a snug, perfect fit for each supported Apple device. All of the new Difusi cases were designed to provide easy access to each of the iPod or iPhone's features while maintaining a sleek, elegant, and refined look.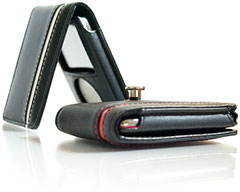 Difusi is dedicated to offering reasonably priced, high quality cases that provide easy access to all the new iPod features and look fantastic in the process. The body of Difusi's new cases are made from high quality leather and offer scratch-free protection by providing top to bottom coverage. With the release of four new cases, Difusi is sure its new styles will appeal to a much larger audience.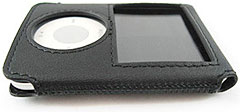 Also new to the Difusi product lineup are a series of interchangeable parts, including a shatterproof belt clip, removable stainless steel clip holder, ClearGuard screen, full body and wheel protection, a super-sturdy cotton lanyard, and stand that offers handsfree viewing of video content.
The new line of cases support Apple's recently introduced iPod nano third generation and Difusi will soon introduce additional cases designed for Apple's new 80 GB or 160 GB iPod classic, the iPhone and iPod touch.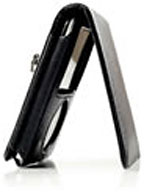 The new Difusi cases are priced between $19.95 and $39.95, with the higher-end exotic designer series collection made from exotic leathers and precious metals, priced at $69.95 and up. Difusi products are available to order from its website, as well as through a variety of high quality retail locations throughout the USA, Canada and elsewhere.
Based in USA, Difusi has been designing and developing high quality products for the Macintosh market since its founding in 1999. The company designs its products in the USA and has manufacturing partnerships worldwide.
A portion of proceeds from the sale of all Difusi products are donated to the American Cancer Society. Please visit www.melanoma.com to get the facts about protecting yourself and your family from Melanoma cancer.
Visit Difusi online to learn more about its current line of products and accessories.
Link: Difusi
Unlock Source Code for iPhone/iPod touch Released
MyTablet's Chris Davies reports:
"If you've been itching to get elbow-deep in the iPhone/iPod touch unlock code and have a good rummage around to see what's going on - or if you'd like to use it as a learning tool, and maybe help out with future exploits - then head over to Toc2rta where Chris has released the source code for their unlocking tool.
"Of course, there's no need to download the package if all you want to do is unlock your handset - you need only follow the team's instructions and go to the http://jailbreak.toc2rta.com page...."
Link: Unlock Source Code for iPhone/iPod touch Released
iPhone Add-ons
Tunewear Releases IceWear for iPhone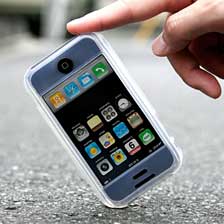 PR: IceWear for iPhone is a strong and beautiful silicone case for iPhone. Like all IceWear products, IceWear for iPhone utilizes our patented rib technology for a strong grip. Made of the same high-density silicone used in diving masks, IceWear for iPhone protects iPhone from accidental bumps and drops.
IceWear for iPhone leaves the iPhone multitouch display unobscured, allowing for complete control and viewing of the screen. We added embossed edges around the screen to help prevent scratching. TuneFilm, a clear protective film that covers the multitouch display of the iPhone for extra protection, is included free with every IceWear for iPhone.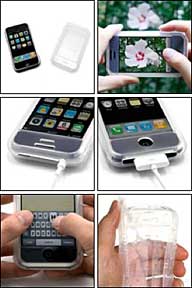 With IceWear for iPhone, all ports on iPhone are open for easy access. The headphone jack, dock connector, camera lens, and buttons are easily accessible. You can attach and use the USB docking cable without the need to remove IceWear for iPhone from your iPhone.
IceWear for iPhone features
High-density transparent silicone
Easy to put on, easy to take off
Complete access to iPhone multitouch display and connectors
Patented rib design grips in your hand and grips to almost any surface
Clear protective film TuneFilm included free
Washable with soap and water
$29.95
Link: Tunewear Releases IceWear for iPhone
OtterBox for iPhone
PR: OtterBox for iPhone Defender Series offers sleek protection for your delicate iPhone. Ready for your vibrant lifestyle, the OtterBox for iPhone Defender Series includes a hi-impact polycarbonate shell that snaps together to safeguard the device and a completely interactive, scratch-resistant polycarbonate membrane to protect screens from dust and light water intrusion.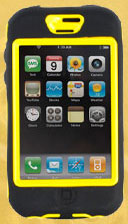 Slim, yet rugged, stylish, yet protective . . . introducing the OtterBox for iPhone, the first semi-rugged iPod case from Otter Products, LLC. Satisfying the need for protection without compromising style, this "skin on steroids" offers interaction with volume control, camera, touchscreen and phone functions in an attractive new line known as the Defender Series™.
"Traditionally our OtterBox for iPod line has been completely rugged, but when the iPhone was introduced we wanted to offer an option that paralleled the look of the device while still providing protection from drops, dust and scratches," said Curt Richardson, CEO of Otter Products, LLC.
Ready for your vibrant lifestyle, the OtterBox for iPhone Defender Series includes a hi-impact polycarbonate shell that snaps together to safeguard the device and a completely interactive, scratch-resistant polycarbonate membrane to protect screens from dust and light water intrusion.(a) Additionally, a silicone skin wraps over the shell to add grip and absorb bump and shock with innovative retaining features to hold it in place. iPhone lovers now can safeguard 4 and 8 GB devices with confidence.
Three Donaldson Acoustic Vents protect front speaker, bottom speaker and microphone openings of the iPhone case to allow clear sound transmission while keeping out dust and moisture. Case provides access to sync/Charge and headphone jacks through a silicone plug and proximity sensor remains fully functional. Home, sleep/wake and volume buttons remain accessible through silicone pass through buttons. Includes holster style swivel belt clip for handsfree carrying.
OtterBox plans to release a fully rugged iPhone case before the holidays as well as rugged and semi-rugged cases for the new iPod classic, touch and nano devices.
"This semi-rugged design is a new adventure for us and now we can meet the needs of consumers who want the most rugged protection as well as those who just need a safeguard from day-to-day mishaps," explained Richardson.
Environmental Protection:
Drop and Shock: MIL 810F, 36" to plywood on concrete
Water Protection: IPX2 - Protected against dripping water
Dust Intrusion: IP 4X - Protected against solid objects greater than 1mm
Colors
Layer 2 (polycarbonate shell): Black or Yellow
Layer 3 (silicone): Black
Belt Clip: Black
Dimensions: 4.81" X 2.675" X .76"
Weight (Case Only): 1.9 oz.
(a) Notes: Case not fully protected against water. The case will provide some additional protection against drop, scratch, bump, and dust. Not intended for underwater use.
For more information, visit otterbox.com or call 888-695-8820.
Link: OtterBox for iPhone
iPod Add-ons
Mobile Learning Just an iPod touch Away with dominKnow's Touch Learning Center

PR: Mobile e-learning promises to get easier as dominKnow Inc. announces the beta version of its iPod touch and iPhone-optimized portal for the dominKnow Learning Content Management System (LCMS). With access to the dominKnow Learning Center through the iPod touch-optimized portal, learners can log in and take full online courses, access reference objects and open documents and Web links added as resources to any course. Learners can also access progress reports and their internal dominKnow LCMS email inbox.
dominKnow designed the Touch Learning Center portal using the http://www.joehewitt.com/iui/, a framework and sample code released by Joe Hewitt, a software engineer and major contributor to the iPhone development community.
dominKnow's Touch Learning Center portal comes in the wake of an article (July 2007 - PDF) on Mobile Learning in which 66% of 940 e-learning professionals surveyed said they are actively researching mobile learning initiatives. It also reported that, of members who have implemented mobile learning and are able to evaluate Return On Investment, 88% report a positive ROI.
"Our office has been buzzing with excitement since the iPod touch was released in Canada two weeks ago," says Chris Van Wingerden, Vice President at dominKnow Inc. "We knew that this device could open up tremendous new access to mobile e-learning - all because of Apple's focus on the user experience. The ability to zoom in and out of web content means that the experience of taking a course online is so much more intuitive than the experience on many other mobile devices."
iPod touch and iPhone users can try this experience for themselves. dominKnow has posted a short sample course online in the Touch Learning Center portal. To access the portal, go to http://demo.dominknow.com/mobile/ and create a user account.
Visit dominKnow to find out more about dominKnow's LCMS, and to read Vice President Chris Van Wingerden's blog.
Blue Raven Maestro 1070 iPod Speaker System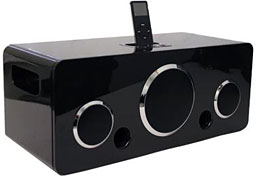 PR: This powerful, versatile speaker system is a perfect fit for any room that needs outstanding digital musical playback without stereo gadgets. Experience your iPod MP3 Player music like you've never heard before with rich, full sound from across the room.
Included is a convenient wireless 12-key remote that lets you easily control the sound and music from a distance. The included auxiliary cable lets you use this with almost any audio device, and a video-out cable even lets you watch your iPod MP3 Player movies and videos on your nearby TV, with the amazing sound of the Maestro 1070.
Features:
12-Key Wireless Remote Control
Navigate iPod With the Remote
3-Key Backlit Speaker Controls
Auxiliary Cable
Video Out jack
iPod Universal Dock
Price: $199.95
Link: Blue Raven Maestro 1070 iPod Speaker System
Griffin Evolve Intelligent Speakers for iPod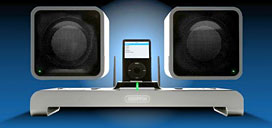 PR: Welcome to the no-wires freedom of the Evolve wireless sound system. Evolve uses wireless digital transmission to play your music wherever you want. Inside, outside, anywhere.
Incredible sound where you want it. Evolve's intelligent speakers charge while they sit on the Base Unit and play for up to 10 hours on a single charge. And whenever you place a speaker on the Base Unit, Evolve tells it to be a Right or Left stereo channel.
4-inch aluminum driver
Lit LED indicates Left or Right channel
Charging pad recharges internal batteries
Power-saving on/off switch
(inside) Rechargeable lithium-Ion battery, digital receiver
Evolve is the no-wires freedom your music has been waiting for. Play your music on rechargeable wireless speakers that you can put anywhere you want within 150'. Inside or outside. Upstairs or down. Anywhere.
Evolve's remote control puts you in command of Evolve and your iPod.
Use Evolve alone or integrate with your existing home entertainment system. Having a party? Headed to one? Take your speakers with you and pair with a friend's Evolve Base Unit to play your music in more places.
Dimensions:
15.7" (400mm) wide x 5.1" (140mm) deep.
4.7" (120mm) tall w/o speakers in place
Total height 7.5" (190mm) w/ speakers in place.
Outputs:
Composite Video Out, S-Video Out (5th gen iPod Only)
Right/Left Audio Out (female RCA connectors)
Inputs:
iPod universal Dock insert accommodate all iPod models with dock connectors.
Right/left Auxiliary Audio in - female RCA connectors.
Power:
AC Power: 100-240V AC, 12V/5A
DC Power: 3.7v/5.2Ah
Speakers:
Effective range: 150' (45.7m) from Base Unit
Dimensions (ea.): 5.1" X 5.1" X 5.1" (140mm x 140mm x 140mm)
Self-contained RF module.
Broadcast Transmission latency ("wireless delay") < 20ma.
Internal lithium-ion battery, rechargeable- 3.7v/5.2Ah with overcharge/undercharge protection.
Hours of operation at normal listening volume: 10 hours.
Remote:
4.01" (102mm) long x 1.64" (42mm) wide x 3.9" (10mm) thick.
Range: 150 (45.7m)
RF-transmits to 150' (45.7m) @ 433 MHz.
Functions: Play/Pause, Volume Up/Volume Down, Next/Fast Forward, Previous/Fast Rewind, Shuffle, Repeat, EQ, System Power
Power: Button cell type CR2032 3V lithium-ion battery.
Compatibility:
Evolve is Made for iPod, and is a Made for iPod licensed product. However, the system is designed to allow play from just about any sound component.
iPod Compatibility List
iPod with video (30 GB, 60 GB, 80 GB)
iPod nano (2nd generation)
iPod photo
iPod with color display
iPod nano (1st generation)
iPod mini
iPod with scroll wheel (3rd generation)
The Evolve system sells for $349 - street price may be less.
Link: Griffin Evolve Intelligent Speakers
Blue Raven Audio Recorder for iPod Dock Connector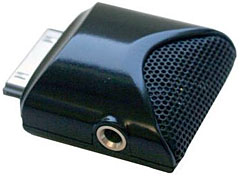 PR: Now you can use your iPod as a digital voice recorder. The Blue Raven Voice Recorder is a microphone that plugs directly into your iPod, letting you record important meetings, lectures, memos, conversations or any other audio directly onto your iPod.
The microphone, which is battery-free and powered by your iPod, lets you easily use the iPod's 'Voice Memo' function to record audio from the Voice Recorders mono microphone. It's as simple as plugging it in. You can even use the stereo line-in jack to record from an external microphone or even record from another audio device. Voice recording has never been easier than this.
Price: $51.39
Link: Blue Raven iPod Video/nano Audio Recorder
Blue Raven Clear Crystal Case for Video iPod
PR: Crystal clear, rigid polycarbonate outer shell protects your iPod Video from dust, dents, dings and scratches while allowing access to all ports and controls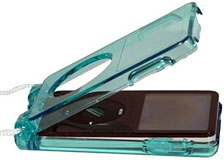 Features
Hard-sided protection for your iPod Video
Flip-top design for easy insertion and removal
Easy access to the headphone jack, iPod controls and remote port
Neck strap and detachable belt clip included
Price: $19.95
Link: Blue Raven iPod Video Clear Crystal Case
USB Fever Elastic Armband for 3G iPod nano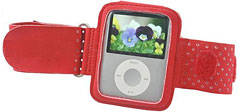 PR: Love your iPod, take it with you no matter where you go.
This Armband for iPod keeps your iPod safe yet accessible while you are hiking, bike-riding, jogging, canoeing...
Features:
Built-in screen protection
one-size-fits-all human-built
Soft inner materials to house iPod nano 3rd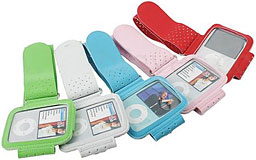 Options: Color
Red (Default color to be shipped)
Blue
Green
Grey
Pink
Package Contents: - iPod nano 3rd elastic Armband x 1
$11.99
Link: USB Fever iPod nano 3rd elastic Armband
USB Fever Retractable iPod Dock to Audio Stereo Cable
PR: USB Fever iPod Retractable Dock to Audio Stereo Cable
Highlights: Connect your iPod to your Audio stereo, to have music playback in other devices (e.g. Hi-Fi, other music players, even TV, VCD player for playing music).
Features: Retractable
Package Contents: iPod Dock to Audio Stereo Cable x 1
Notes: For Audio transfer only, NOT for Video transfer.
$6.99
Link: USB Fever iPod Retractable Dock to Audio Stereo Cable
USB Fever iPod Cable Warp
PR: Cable Warp - Cableman
Package Combinations:
Package 01: Blue (default package to be shipped)
Package 02: Purple
Package 03: Pink
Package 04: Orange
Package 05: Green
Package 06: Black
Package 07: White
Package 08: Random 3 different colors (+ US$4)
Package 09: All of them (+ US$8)
Package Contents:
For package 01 ~ package 07, 1 pc in one purchase
For package 08, 3 pcs in one purchase
For package 09, 7 pcs in one purchase
$3.99
Join us on Facebook, follow us on Twitter or Google+, or subscribe to our RSS news feed
Links for the Day
Mac of the Day: Power Mac 8200, introduced 1996.04.22. The minitower version of 7200 was never sold in America.
Recent Content
Custom Search
Follow Low End Mac on Twitter
Join Low End Mac on Facebook
Favorite Sites
MacSurfer
Cult of Mac
Shrine of Apple
MacInTouch
MyAppleMenu
InfoMac
The Mac Observer
Accelerate Your Mac
RetroMacCast
The Vintage Mac Museum
Deal Brothers
DealMac
Mac2Sell
Mac Driver Museum
JAG's House
System 6 Heaven
System 7 Today
the pickle's Low-End Mac FAQ
Affiliates
Amazon.com
The iTunes Store
PC Connection Express
Macgo Blu-ray Player
Parallels Desktop for Mac
eBay

Advertise