Control Your Mac from iPhone/iPod touch, WeatherBug Goes Mobile, In-Car Video Hack, and More
This Week's iPhone, iPod, and Apple TV News
Compiled by Charles Moore and edited by Dan Knight - 2007.11.29
Mac notebook and other portable computing is covered in The 'Book Review, and general Mac news is in Mac News Review.
All prices are in US dollars unless otherwise noted.
iPhone News, Reviews, & Opinion
iPod News, Reviews, & Opinion
iPhone/iPod Add-ons
iPhone Add-ons
iPod Add-ons
iPod and iPhone Deals
iPhone News, Reviews, & Opinion
iPhone Fear Causes Canadian Carriers to Slash Rates
Network World Canada's Howard Solomon reports in Macworld UK:
"The influence of the iPhone is already being felt in Canada - even though the device can't be bought in the country yet - forcing Telus and Bell to slash wireless data prices.
"That's the opinion of the SeaBoard Group, which said in a report that the certainty Rogers Communications would soon be selling the handset in Canada had forced its main competitors to strike early and make what the telecommunications consultancy calls 'breathtaking' data price cuts.
"'The deals now are fabulous,' said Iain Grant, SeaBoard's Montreal-based managing director and until now an outspoken critic of Canadian carrier pricing."
Link: iPhone Fear Causes Canadian Carriers to Slash Rates
Fast Company Posts Video on Hacking the iPhone
Just how vulnerable is the "iPhone" to an unscrupulous hacker? Could it really be turned into a tool of espionage?
To find out, Fast Company magazine purchased an iPhone for Rik Farrow, a UNIX specialist and consultant from Sedona, Arizona, and commissioned him to crack through its defenses, which he did using H D Moore's Metasploit, a popular platform for testing security systems. The result is this video, in which Farrow was able to take complete control of an iPhone and demonstrated the ability to eavesdrop on conversations, intercept voice mail and email, and upload nefarious software programs. "Physical access to an iPhone," Farrow points out, "is not required."
In the video posted on fastcompany.com, Farrow shows what is possible for an iPhone or any other smart phone. Most, including Motorola, Nokia, Samsung, and Sony Ericsson run on the Symbian operating system, which has been targeted by dozens, if not hundreds of viruses (it's hard to know just how many). Windows Mobile and Linux, which have scant mobile market share, are also vulnerable to digital influenza.
Link: Fast Company
iPhone Tricks for the New iPhone Owner
NewiPhoneTricks' Kirk Scott says:
"If you own an iPhone, you will want to learn some of the cool iPhone tricks. If you are a new owner of an iPhone, then congratulations! You now have a very handy and powerful piece of technology that can virtually do it all. And it is so easy. With your new iPhone, everything can be done with your index finger. So let the tapping begin."
Link: iPhone Tricks for the New iPhone Owner
RIM 'Developing Touchscreen Device to Rival iPhone'
MacUser UK reports:
"RIM is rumoured to be working on a brand new operating system and handheld device to meet the challenge of the iPhone.
"The BlackBerry maker is said to be developing a new 9000 Series platform that will be targeted at the consumer market, according to Carmi Levy, an analyst at AR Communications."
Link: RIM 'Developing Touchscreen Device to Rival iPhone'
iPod News, Reviews, & Opinion
iPod touch In-car Video Hack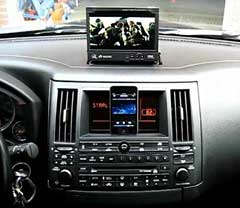 apple-touch.com says:
"For some, an in-car install is an FM transmitter and maybe an iPod cradle that clips onto a vent. In this Infiniti FX35, however, it consists of a very slick hack of the Apple AV cable, which feeds music and video directly through the factory-fit radio and onto the aftermarket pop-up screen on the dash-top and a flip-up DVD screen in the rear."
Check out the video of the setup in action, after the cut....
Link: iPod touch In-car Video Hack
iPhone/iPod Add-ons
WeatherBug Goes Mobile
PR: Mobile Alerts - Stay informed with severe weather alerts and forecasts text messaged to your mobile phone. Learn more about Mobile Alerts.
Mobile Weather - Live local weather with full interactive features like radar maps, cameras and more, now for your mobile phone. Learn more about Mobile Weather.
Mobile on Demand - Instant Weather for when you need it most, for any US ZIP Code.
iPhone/iPod touch users point your Safari to <iphone.weatherbug.com>
Link: WeatherBug Mobile
Control Your Computer Remotely with Files2Phones and Your iPhone or iPod touch
PR: 1stWorks, a real-time communications software company with solutions for secure multimedia conferencing, collaboration and content delivery, today announced the immediate availability of Files2Phones 2.0 - a powerful desktop application that enables your iPhone to function as a real time remote control for your computer - securely, encrypting your data in transit.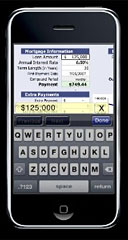 Any application or file type, documents, presentations, spreadsheets, CAD drawings, even custom applications- any application that can be opened on your own desktop can now be viewed and controlled remotely from your iPhone. To set up F2P, simply drag and drop the local directories, applications or files you want to access remotely into public, private or guest folders on your desktop PC or Mac. The files are immediately added to your personal F2P directory at your personal .myf2p.com page - where they can be viewed and controlled using the iPhone's Safari browser. All display transfers use our patent pending compression technique for maximum efficiency and performance.
Or choose to view an instantaneous image of your desktop PC display right on your And if you have multiple monitors on your system, you can view them all. This remote access facility also includes launching the webcam on your desktop PC to see the image on your iPhone in either single shot or continuous view mode. Great for security when you are traveling, or checking in to see the view from the desktop, anytime.
Want to use Skype to call your friends? Go ahead. Display your phone list, select the person to call and Files2Phones will make the connection.
Adding camera pictures to your online F2P directory at your myf2p.com page is easy too. Take the picture with your iPhone camera, email it to your personal directory at your .myf2p.com page and Files2Phones will automatically add the image, in date and time sequence, into your published picture file. Keep your friends in the picture, simply and immediately.
For security, access to the files in the private and guest directories is managed by username and password as well as by time frame, while all access requests and file transfers are recorded to a log file on the desktop computer, including the name of the file or application accessed and a timestamp as well as the requesting IP address, port and connection type.
Interestingly, these same desktop and webcam display capabilities described above, delivering images instantly to your iPhone, also enable parents to remotely access the desktop to see what their children are viewing or doing at that instant.
Files2Phones is available immediately for download for your free trial, and licenses can be purchased online for $29.95 for 3 months or $99.95 for a year, with no hidden data or usage charges.
Link: Files2Phones
iGet Mobile Enables Remote Mac Access from iPhone and iPod touch
PR: Nakahara Informatics, Inc. today announced the immediate availability of iGet Mobile, a brand new product in the company's iGet line of remote access software. iGet Mobile is a new Mac application that allows users to easily and securely access the Mac's documents and files from an iPhone, iPod touch, Windows PC, or other non-Mac device.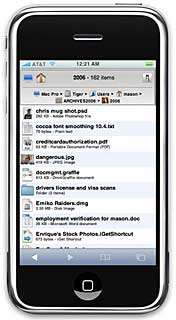 Nakahara Informatics, Inc. today announced the immediate availability of iGet Mobile, a brand new product in the company's iGet line of remote access software.
iGet Mobile is a Mac application that allows users to easily and securely access the Mac's documents and files from an iPhone, iPod touch, Windows PC, or other non-Mac device.
The original iGet, Nakahara's highly acclaimed Mac file transfer tool, has always provided a secure way to access and manage files remotely, but it does require a Mac on both ends of the connection.
By contrast, iGet Mobile allows users to access their home or office Mac remotely when they don't have a Mac handy. It provides a lightweight web interface to the Mac, with special features geared toward users of the iPhone and iPod touch.
"Since the very first day that the iPhone was released, we've been asked when we'll have a version of iGet that works with it," said CEO Christopher Martin. "People don't necessarily want to take their laptops with them as much as before, and yet they still want to be able to connect back to their Macs and access their documents, maybe for business reasons, or maybe just to find something to read while waiting at the dentist's office."
iGet Mobile lets users do that and more. It can not only browse the Mac remotely, but also perform on-the-fly document conversions that make many common Mac file types more compatible with mobile devices. This means that a 50 MB high-resolution Photoshop image file can be reduced in size and converted to a standard image format, or that a rich-text RTFD document can be instantly converted to PDF format, before being viewed on an iPhone.
While designed with the iPhone specifically in mind, iGet Mobile allows users to access their Macs from "any decently web-capable device", Martin added.
iGet Mobile 1.0 is available immediately from the company's web site. The software will run in full-featured demo mode, allowing users to try out all of its features before purchasing a license.
iGet Mobile was designed from the ground up using the latest Apple technologies, and it requires Mac OS X 10.5 or later. It will run on any Mac that supports this version of the OS.
iGet Mobile 1.0 is available immediately from the company's web site, at www.nakahara-informatics.com. Regularly priced at $39, the software is currently available for the special introductory price of only $29, for a limited time.
For more information, visit the company's website or call (888) 550-0505.
Link: iGet Mobile
Venturi Mini Features Stereo Bluetooth for In-Car Music and Handsfree Calling
PR: NextGen Venturi Ltd. announces the Venturi Mini, the new music phone and MP3 adapter for in-car music and voice calls. The Venturi Mini introduces the first true convergence of Bluetooth music streaming, handsfree calling and USB-style charging. When plugged into a vehicle's 12 volt adapter, the Venturi Mini uses Bluetooth to stream stereo music from the phone and wirelessly route calls through the in-car sound system. The Venturi Mini also has a built-in charger to power your devices on the move and is designed to work with all vehicles.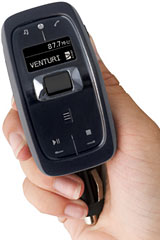 "The Venturi Mini combines advanced technology and the sleekest design to set a new standard for in-car entertainment and communication products," says Harbans Dass, Managing Director of NextGen Venturi. "With the explosive growth of music enabled phones, the Venturi Mini brings a new dimension to the in-car music experience, while allowing safe handsfree calling."
The Venturi Mini becomes a personalized in-car radio station, playing music from your MP3 enabled phone using wireless A2DP Bluetooth technology. Featuring Bluetooth 2.0 EDR, the Venturi Mini allows high quality stereo audio to be transferred from your phone or MP3 player. You can connect up to four separate Bluetooth devices and also attach your iPod or MP3 player by cable.
Using new noise eliminating technology, the Venturi Mini provides crystal clear handsfree audio for mobile calling. A new generation of digital FM transmitter using RDBS technology displays information on the in-vehicle radio screen, including phonebook contacts, device menus and calling party identification. The Venturi Mini will automatically pause music to answer incoming calls and resume playback afterward.
Unique to the Venturi Mini is the ability to charge your devices on the go, featuring a standard USB style 5v port. The Venturi Mini will continue to play music, take and make calls and ensure you arrive with your devices charged and ready to go.
The stylish Venturi Mini is designed and manufactured in the United Kingdom. Additional features include an autosensing audio-in socket for MP3 players, advanced noise reduction technology to minimize background noise and an ambient light sensor that adjusts the white OLED display's brightness for all conditions. A stereo audio-out connection also provides a direct connection to the car audio system.
The Venturi Mini is a CES Innovations 2008 Design and Engineering Award Honoree for the In-Vehicle Accessories product category. The product will be showcased in the Sands Expo at IP222. The Innovations Design and Engineering Awards program recognizes the most innovative consumer electronics products in the industry's hottest product categories - becoming a hallmark for the best designed products in consumer technology.
Measuring just 8.4cm x 4.3cm, the ultra compact Venturi Mini is fully transportable between vehicles and family members with no installation required. The Venturi Mini has an MSRP of $129 and will be available for retail nationwide December 2007. In addition, the Venturi Mini will be available through other distribution channels such as Superior Communication, Xentris and online.
Link: Venturi Mini
iPhone/iTouch Dev Team Presents 1.1.2 Jailbreak
PR: the iPhone/iTouch Dev Team says:
Download the 1.1.2 jailbreak here:
http://conceitedsoftware.com/iphone/1.1.2-jailbreak.zip
Support our cause
We have worked very hard on this jailbreak. If you feel like supporting our cause, please consider donating.
Link: 1.1.2 Jailbreak
iPhone Add-ons
i.Sound RoadTalk Transforms Car Stereo into a Handsfree Mobile Phone
PR: First auto-system compatible with iPhone launched by dreamGear
Forget the burden of tricky headsets. i.Sound's latest addition to their innovative speaker accessory line, the i.Sound RoadTalk, is a handsfree wireless car kit that synchronizes your Bluetooth mobile phone with your car stereo - and is the first device of its kind that is iPhone compatible. This multitasking gadget gives you the latest hand-free Bluetooth technology with full-frequency FM transmission of audio from mobile phones, iPods and other MP3 players, state-of-the-art microphone technology and wireless MP3-to-car stereo direct conversion.
The small FM transmitter plugs directly into the car's cigarette lighter and immediately transmits your conversation through your car stereo. Compatible with any Bluetooth-enabled mobile phone, this feature is no longer confined only to luxury car owners as RoadTalk brings this convenience and safety to any car stereo system. Gone are the days of fidgeting with uncomfortable Bluetooth earpieces that are so easily misplaced.
Many states have outlawed the use of handheld mobile phones while driving, classifying these drivers as "high risk" and as major contributors to car accidents - and are handing out hefty tickets to those who don't comply. According to an April 2006 study by the National Highway Safety Administration and the Virginia Tech Transportation Institute, 80 percent of crashes and 65 percent of near-crashes involved some form of driver distraction within seconds of impact. RoadTalk is the solution to keeping you safe and ticket-free.
"The i.Sound RoadTalk was created with the understanding of not only what the consumer wants, but what the consumer needs. The i.Sound RoadTalk pairs convenience with safety, tying both to the quality digital sound Bluetooth users have come to expect," says dreamGear's cofounder Richard Weston.
Never before has a wireless device been able to automatically transfer your calls from phone to car speakers, play your MP3 music, and provide full-frequency FM transmission all in one. Enjoy the wireless technology of the future today, without sacrificing sound quality or breaking the bank.
Going handsfree is now easy, fun and affordable with i.Sound RoadTalk.
Link: i.Sound
iPod Add-ons
FastMac Expands 'Just Say No to Crack' iPod Rehab Program
PR: FastMac has announced the expansion & inclusion of Apple's 3rd Generation iPod nano (with Video) & the new iPod Classic into its "Just Say No To Crack" iPod rehab program, featuring same day LCD replacements for iPods. The hugely popular program offers repair and replacement of scratched or cracked iPod LCD screens, either as a Do It Yourself (DIY) kit with tools & instructional videos or via a same day mail order service provided by FastMac directly. FastMac uses only Apple original parts to guarantee quality as well as fit and compatibility.
FastMac's iPod LCD rehab program for the 3rd Generation iPod nano & iPod Classic is available now, with special introductory pricing that starts at $49.95 & $59.95 respectively. LCD screens for other iPod models are also available from $29.95. Each screen carries a 1-year warranty and a 30-day money back guarantee.
FastMac's LCD rehab program replaces the iPod's original display with a 100% matching Apple original part & includes all necessary tools and instructions required to open the iPod. 24-hour installation services are also available for an additional $39.95. Using a box in the mail service provided by DHL, FastMac will pick up the customer's iPod, install the LCD screen and provide a thorough checkup & light cleaning before shipping back to the customer, all within 24 hours. During the rehab process, FastMac will diagnose any other problems that the iPod may be experiencing, and offer a free estimate for repair or upgrade, including battery & hard drive upgrades, or logic board repairs.
Compatibility - FastMac's LCD rehab program is available for the following iPods:
iPod 4th Gen
iPod 5th Gen (with Video)
iPod Classic
iPod nano all models
iPod mini all models
More information about FastMac's "Just Say No to Crack" LCD rehab program is available online.
Link: 'Just Say No to Crack'
DLO iBoom Travel Portable Alarm Clock with FM Radio and iPod Dock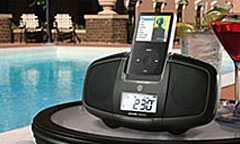 PR: Bedside to poolside, Enjoy your favorite playlists wherever you go - at home, on the road, in the office, or even your own backyard
Enjoy your favorite playlists wherever you go - at home, on the road, in the office, or even your own backyard. iBoom Travel is the first 2-in-1 portable iPod speaker system and travel alarm clock that gives you supreme portability and the convenience of a clock radio all in one sleek take-with-you package.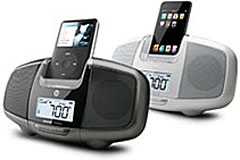 Why buy both when you get everything you need from the iBoom Travel. As an alarm clock, simply place any dockable iPod into iBoom Travel and you can fall asleep or awaken to your favorite iPod playlists, FM radio or "old school" alarm buzzer.
Not Just for the Nightstand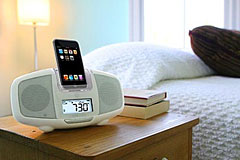 The iBoom Travel allows you to enjoy your favorite music 'on-the-go' without the hassle of headphones. Yet its sleek, portable design, convenient travel pouch, and clock radio make it ideal for even the most discerning road warriors. The iBoom Travel features a soothing blue backlight and programmable sleep settings so you can drift off to your favorite sleep-inducing playlist. And, just like a good night's sleep gives you power to start your day, your iPod will be charged and ready to go after being docked in the iBoom Travel for the night.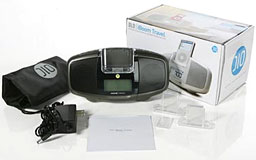 Features:
Convenient travel pouch included for supreme portability
Use included AC adaptor or AA batteries
Charge your iPod while docked
Sleep function lets you drift off to your iPod
Stereo speakers provide sound clarity in small package
Bass Boost button for even better sound from your iPod
Available in Graphite and Classic White
The iBoom Travel includes iPod fit inserts, compact AC adapter, travel pouch with outer pocket, and a manual to get you going in 5 easy steps.
$89.99
Link: iBoom Travel
Griffin Releases Classic TuneBuds in 6 New Colors
PR: Crisp, clear highs; powerful, deep bass; maximum comfort; and colors to match your iPod
Along with great sound and maximum comfort, Griffin has always valued good looks. You have a red iPod nano . . . why should you have to be content with white or black earphones? You don't.

TuneBuds reinvent what a simple, in-ear earphone is capable of. We've married superb sound with unparalleled comfort. The secret is neodymium dynamic drivers, and specially engineered ear cushions, shaped to perfectly conform to the shape of the inside of your ears. The result is not only an amazingly comfortable fit, but also enhanced audio isolation from outside distractions. With TuneBuds, you'll find that you can enjoy your music at lower overall volume levels, yet still hear all the music clearly.
With 3 sizes of interchangeable soft washable silicone ear cushions included in every package, all sizes of ears are assured of comfort that they can wear all day without fatigue.
Available in silver, pink, light green, blue, light blue, and red, TuneBuds complement the colors of your iPod.
Earphones worthy of your music. Colors worthy of your player. Griffin TuneBuds.
Features:
Exceptional noise isolation
Superb sound output and enhanced bass
Neodymium dynamic micro-drivers
46" earphone cable (Not too short. Not too long. Just right.)
Lightweight (0.4 ounces/12 grams)
Three different sizes of washable silicone inserts for secure fit and maximum comfort
Available in 6 designer colors:
Blue
Pink
Silver
Light Green
Red
Light Blue
$19.99
Link: Griffin TuneBuds
Tune Belt Open View Armband for 3G iPod nano & Nike + iPod Sport Kit Receiver
PR: Tune Belt is introducing two Open View Armbands for Apple's latest 3G iPod nano.
The first holds just an iPod nano and the second holds an iPod nano and a connected Nike + iPod Sport Kit receiver.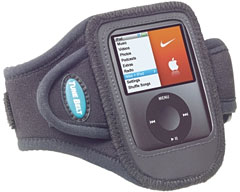 Made with lightweight and comfortable neoprene, both cases feature an ultra slim design, a clear, protective window cover that provides full navigational control; a flexible, cushioned Velcro armband that adjust from 8 to 18 inches; a flap for storage and management of the earphone cord; a reflective logo and trim for nighttime visibility and safety; and a design that allows the user to wear the armband right side up or upside down so the screen is easier to read when viewed on the arm.
The Open View Armband for iPod nano sells for $19 and the Open View Armband for iPod nano and Nike + iPod Sport Kit Receiver sells for $20.
Both armbands are available immediately.
USB Fever iPod USB-Dock Adaptor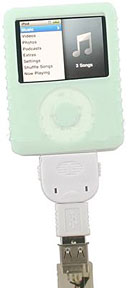 PR: Highlights:
Tired of tingling cables? why not use an adaptor?
Features:
For Synching and Charging
Compact and easy to go
lightweight
No tangling cables
space-saving
Options: Colors
Compatibility list:
iPod Video
iPod Classic
iPod nano
iPod touch
iPhone
$7.99
Link: USB Fever iPod USB-Dock Adaptor
AudioBytes Introduces Luxury Hi-fi Computer Speaker System
PR: Music: You've been waiting for a computer speaker system that sounds so good it makes you want to crank it up and sing along. Finally, award-winning Axiom sound is available from your computer or iPod system. Either connect the compact AudioBytes to your PC to enjoy your favorite tunes, or connect the speakers and 55-watt-per-channel amplifier to your iPod dock for great music listening while your iPod charges.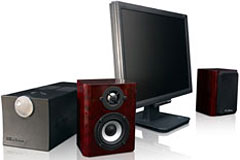 Movies: Watching movies on your computer just became a completely immersive experience with truly dynamic sound reproduction in a near-field application. Add the optional isobarically loaded dual-cone subwoofer to add powerful bass impact and depth to your experience. Available in black.
Gaming: Whether you're a casual gamer or you lined up for days to get the first copy of Halo 3, the Axiom AudioBytes will add unprecedented realism to the demanding sound requirements of today's games. You won't believe what you've been missing until you switch to the truly high-fidelity playback of the Axiom AudioByte.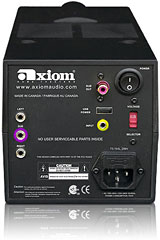 Add EPZero Subwoofer for $179.
Product starts shipping December 5th.
AudioByte Computer Speaker Specifications
Enclosure: Sealed
Freq Resp +/-3dB: 100- 20 kHz
Impedance (Ohms): 8
SPL In-Room 1w/1m: 87dB
SPL Anechoic 1w/1m: 83 dB
Tweeter: 1" titanium dome
Woofer: 3" aluminum cone
Dimens. H W D (inches): 6.5" x 5.5" by 4"
Dimens. H W D (mm): 165 x 140 x 101
Weight (lbs) each 2.7
Weight (kg) each 1.24
AudioByte Amplifer Specifications
Watts 55 per channel
Dimens. H W D (inches): 5" x 5 " x 12 3/8"
Dimens. H W D (mm): 127 x 127 x 314
AudioByte EPZero Passive Subwoofer Specifications
Cross over Adjust Fixed
Woofer dual 6.5"
Room Trim flat, half boost & boost
Anechoic Response +/- 3dB 35 Hz to 150 Hz
Room Response +3dB/-9dB 25 Hz to 150 Hz
Introducing the first luxury hi-fi computer speaker system. . .
Performance, beauty and fidelity in one package.
Prices range from $349 for basic solid color finish to $559 for full-zoot real wood burled Walnut Cherry
Link: AudioByte Computer Speakers
iSkin Introduces iPod touch Protector
PR: iSkin Inc. has introduced the all-new iSkin for iPod touch. Aptly named the iSkin touch, it once again shows the company's commitment to premium iPod accessories. The iSkin touch captures the essence of the iPod it protects in a simple yet sophisticated design. Made from premium high-grade silicone, it features smooth lines, textured surfaces and two-tone color arrangements topped with well thought out features.
Unlike most iPod cases, the iSkin touch protector is designed with iPod owners in mind. The product is elegantly designed to snugly encapsulate the iPod without adding bulk or affecting overall aesthetics and usability. The iSkin touch protects both the iPod's home and power buttons and features integrated port plugs that keep dust and dirt from entering its docking and earphone ports when not in use.
The iPod touch's touch screen was also addressed with the inclusion of a touch-friendly screen film. The protective film overlays the screen without adhesives and features antiglare and anti-fingerprint properties - while still maintaining a clear view. For customers looking for iPod touch screen privacy, the company offers a privacy version of the film via their online store, sold separately.
The iSkin touch finishes off with an included removable belt clip. The clip comes preinstalled but can be completely removed in a few easy steps. The clip itself is low profile yet durable. It rotates to ninety degrees in either direction helping to keep iPod owners and their iPods firmly connected.
The unique two-tone design offers anything but the generic look, giving iPod touch owners' options for customizing with their accessories. The iSkin touch comes in a variety of two-tone designs. The colors are well matched and provide a unique yet elegant touch of color to the iPod. The available color options are: NightHawk (espresso+black), Diablo (red+black), Oxygen (black+clear), Electra (black+blue) and Vanity (black+pink).
The iSkin touch is available now for order at iSkin.com and will arrive at participating iSkin resellers in the coming weeks. The product includes both the iSkin touch and Touch friendly Screen Film. Product will retail for $29.99.
Link: iSkin for iPod touch
iSee Cases for 3G iPod nano and iPod touch
PR: Contour Design announces its new iSee nano V3 for the iPod nano (with video) and iSee Touch for iPod touch.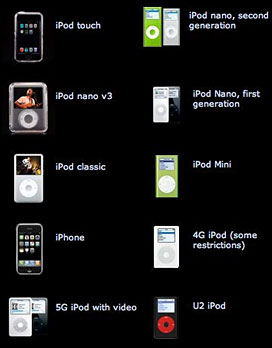 They're as pure as iPod cases get - crystal clear, lightweight, and extremely durable to defend and display the iPod. And yet, they're redefining what an iPod case should be. From the ergonomic belt clip to the highly polished crystal clear shell, the iSee line of cases could only come from Contour Design.
The iSee encases the iPod in crystal clear plastic while remaining completely unobtrusive. It shields the iPod while providing easy access to all connections and controls. You and your iPod are always on the go, and your iPod will stay secure and protected in its iSee case.
Both snap-together cases come with two backs: a simple, smooth back that makes for a slimmer profile, and a belt clip-compatible back, featuring a new clip attachment.
The new belt clip can be mounted in four positions or replaced with a plug to close the attachment point. In addition, hinged Dock Connector protectors open partially for access to the headphone jack only, or fully for additional access to the Dock Connector and hold switch.
Other features include a play-through Click Wheel protector on the iSee nano V3 and a silicone hold switch cover for the iSee Touch.
"As the iPod nano has gotten sleeker and smaller, it becomes even more important for a case to look great and offer complete protection," notes Contour's Mike Jackle. "And while the glass screen of the iPod touch doesn't need scratch protection, we made sure to protect everything else and still leave the controls accessible."
iSee nano V3 and iSee Touch are both available immediately, selling for $25 and $30, respectively.
Link: iSee Cases
TuneWear TuneShell for 3G iPod nano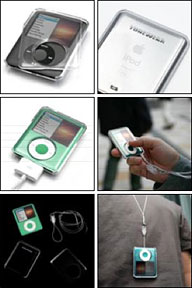 PR: TuneShell is made of crystal-clear polycarbonate allowing you to enjoy the full color of your iPod nano 3G while protecting it from dirt and scratches. This hard but thin case seems almost invisible when installed, barely increasing the size of your iPod.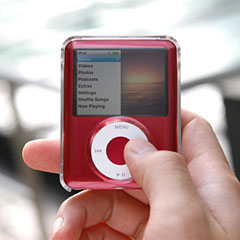 TuneShell includes a neck lanyard with quick-release clasp, making iPod nano 3G even more convenient for viewing movies or choosing music. With TuneShell, you can easily slip your iPod nano into your pocket or bag, or keep it handy using the lanyard.
TuneShell easily snaps on to your iPod nano 3G, but leaves the headphone jack, bottom dock connector and Click Wheel open for complete access.
$19.95
Link: TuneShell for 3G iPod nano
Buy an iPod Preloaded with Your Entire Music CD Collection
PR: Have an MP3 player? Considering getting one? Now get your entire CD collection transferred to your player, perfectly and easily.
Did you know that over half of iPod and MP3 player owners are not listening to their music? From independent research firm Ipsos, over 50% of consumers who are 25 years and older have not loaded their CD collection onto their media players.
Consumers describe the problem:
"The iPod my boyfriend got me for Christmas is still sitting in its box."
"I was going to load my 200 CD collection, but ran out of steam after about 20 CDs."
"We keep meaning to transfer the music, but other things seem to always take precedence."
But now help is at hand, just in time.
TunesGenie.com sells new iPods that are ready-to-play with consumers' entire music CD collections preloaded. TunesGenie also transfers consumers' CD collections to MP3 for easy loading onto existing media players.
TunesGenie delivers a flawless and easy service that is just right for you and your music. Nationwide, music lovers get their music back within a week and reconnect with the music they almost forgot they had. Gift certificates are available for instant gratification.
TunesGenie sends a customized shipping kit directly to a customer's doorstep
The customer puts their CDs in the box and calls FedEx for pickup
After loading the music CDs, TunesGenie returns them along with a handy back-up of MP3s
The CDs will be cleaned and repaired as needed, free
At 7 cents per song, it costs less than downloading the music from iTunes
"For many consumers, it's simply too much work, to put one CD after another, after another, into the computer. Our customers tell us that they love how fast and easy our service is - and they love being able to hear their lifetime of music again," said TunesGenie CEO John Bachmann.
TunesGenie is a leading digital music specialist that transfers music CD collections to iPods, MP3 players, and all digital media players. TunesGenie provides a flawless service to those who love music.
Link: TunesGenie
Parrot Multimedia Product Range Now Compatible with Apple Products Thanks to Leopard
PR: Parrot, the specialist in wireless peripherals around the mobile phone, announces that Apple lovers can seamlessly connect their devices with a full range of Parrot multimedia Bluetooth products thanks to Mac OS X Leopard which now supports Bluetooth Stereo (A2DP). The car kit range is also evolving to offer full iPod compatibility with the new Parrot RK8200 car kit Made for iPod.
The new Mac OS X Leopard now supports Bluetooth Stereo (A2DP), enabling Mac users to wirelessly stream their music files via iTunes to any wireless speaker from the Parrot audio range. Apple lovers who want to make the most of their playlists can now forget about cables and enjoy their favorite tracks on high quality speakers such as the Parrot DS1120, a set of trendy Hi-Fi Bluetooth speakers with a 30W output and extraordinary sound quality. If they want to listen to their music when out on the move, the Parrot PARTY is a stylish portable set of speakers with incredible sound power for such a tiny device - only 9 inches wide and 11 ounces.
Parrot wireless digital photo frames are also compatible with iPhoto®, which means users can wirelessly send all their favorite photo albums directly onto the wide range of digital photo frames from Parrot. They can display their favorite pictures on the Parrot PHOTO VIEWER 7" which holds more than 500 images and has a seven-inch active-matrix TFT screen for exceptionally bright, crisp photo images. When in the office, Apple users can be reminded of their loved-ones thanks to the new Parrot DF3120, an adorable 3.5" digital photo frame that fits perfectly on a desk or night stand.
New Parrot Car Stereo with iPod Connectivity
Parrot's car kit line is also evolving to offer full iPod compatibility. The company's just-introduced Parrot RK8200 made-for-iPod FM/AM RDS car stereo incorporates an iPod-specific connector so users can enjoy their favorite tunes while driving.
Whether they have the iPhone, the latest iPod nano, the iPod shuffle, the iPod classic or the iPod touch, drivers can now play their favorite tracks directly through the Parrot RK8200. They can also enjoy the added convenience and control of handsfree calling with the iPhone (or any other cell phone). No need to touch the phone while driving because the Parrot RK8200 with integrated cell phone capability and voice recognition does all the work -handsfree!
Parrot sports a wide range wireless audio systems:
The Parrot BoomBox is a stylish and sleek compact Hi-Fi stereo speaker system with a 60W power input, with two wide bands and a woofer for high level sound, whatever the music
The Parrot DS1120 is a set of two wireless stereo Hi-Fi speakers that work seamlessly with your Bluetooth mobile phone, MP3-player, or laptop, delivering unrivaled sound quality in the house
The Parrot PARTY is a stylish portable set of speakers with incredible sound power for such a tiny device - only 23 cm wide and 620 g
The Parrot DS3120 an innovative home stereo that combines Parrot's award-winning wireless music and handsfree calling technology in one unit
Parrot sports an entire range of wireless digital photo frames:
The Bluetooth Parrot PHOTO VIEWER 7" sports an internal memory of 500 photos with a high quality screen and a large range of stylish leather outer frames
The Parrot DF7220 offers a wide range of connectivity options: with its SD card slot, USB port and Bluetooth functionalities, you can enjoy your favourite pictures whatever the source on a trendy customizable white frame
The Parrot DF3120 is a 3.5" wireless Bluetooth digital photo frame with a SD card slot and USB port, to make the best of the pictures taken with your cell phone
Founded in 1994, Parrot has rapidly established itself as a pivotal global player for wireless mobile telephone accessories. Drawing on its tried-and- tested expertise on voice recognition and signal processing technologies, Parrot was one of the very first companies to produce Bluetooth-based wireless hands free car kits, having identified this standard's vast potential as early as 1999. In 2006, Parrot sold about 3 million units.
Determined to accompany the wireless peripherals' irresistible breakthrough into our day-to-day lives, Parrot has been developing since 2006 a new wireless range of sound and image products.
Today, Parrot truly has a major international focus: 90.5% of its sales are generated outside of France, and a large percentage of its production is outsourced to carefully selected partners, enabling it to achieve the best possible level of quality and responsiveness. Parrot is now particularly well positioned to capitalize on the bright future opening up for mobile telephone devices.
Parrot has achieved strong growth in its consolidated revenues, up from 80.9 million Euros pro forma in 2005 to 166.9 million Euros in 2006.
Link: Parrot
Belkin TuneStudio for iPod Receives a CES 'Best of Innovations' Award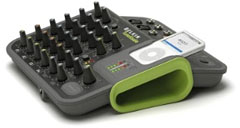 PR: Belkin International, Inc., has been honored with the CES Innovations 2008 Design and Engineering "Best of Innovations" Award in the Portable Media Accessories category for its TuneStudio for iPod. In addition to this award, Belkin has also accepted CES Innovation Distinctions for five other products: TuneBase™ FM, N1 Vision Wireless Router, Network USB Hub, Wireless USB Hub, and Washable Mouse.
Winning entries will be displayed during the 2008 International CES, January 7 - 10, 2008, in Las Vegas at:
The Innovations 2008 Showcase, booth #70621, Innovations Plus at the Sands Expo and Convention Center
The Belkin booth: #30368 South Hall
Sponsored by the Consumer Electronics Association (CEA) and endorsed by the Industrial Designers Society of America (IDSA), the Innovations Design and Engineering Awards highlight product advancements in technology design and engineering. All entries were judged by a preeminent panel of independent industrial designers, independent engineers, and members of the trade press.
TuneStudio for iPod (F8Z109) - $399.99
TuneStudio is the first 4-channel audio mixer that lets you create high-quality digital recordings directly onto your iPod.
Records directly to iPod in 16-bit, 44 kHz quality
Streams audio through built-in USB interface to and from a PC or Mac computer
Each channel is equipped with 3-band EQ, pan and level controls
Phantom-power-enabled XLR inputs provide up to 60 dB of microphone gain
High-quality stereo compressor with makeup gain enhances audio dynamics and keeps audio levels within recording limits of the iPod
TuneBase FM for iPod (F8Z176) - $89.99
TuneBase FM mounts, powers, and plays your music and is now equipped with ClearScan technology. With one push of a button, it automatically seeks out the clearest FM frequency.
Includes line-out for use with car-stereo inputs or cassette adapter
PRO setting optimizes audio and boosts volume
Multiple cradles fit any docking iPod
N1 Vision (F5D8232-4) - $179.99
N1 Vision features an advanced interactive network display that allows you to view the activity of your network and offers the best in networking performance.
Plug-and-play "CD-less" setup
Operating Range: Up to 1,600 ft.
Link Rate: Up to 300 Mbps in 20/40 MHz channel mode
Ports: WAN - 1 Gigabit port; LAN - 4 Gigabit ports
Network USB Hub (F5L009) - $129.99
The Network USB Hub works with your existing wireless router to give you wireless access to printers, media readers, and external hard drives.
Features 5 USB ports
Supports multiple users - one user can be connected to each device at a time
Supports isochronous transfers
Wireless USB Hub (F5U302) - $199.99
This 4-port Wireless USB Hub gives you wireless access to your USB devices without the clutter of cables.
Connects USB printers, cameras, scanners, hard drives, and other devices to your computer
Transfers at speeds of up to 480 Mbps
Washable Mouse (F5L007-SCROLL) - $29.99
Washable Mouse is a water-resistant mouse that can survive spills and can be hand-washed under the faucet to stay clean.
A versatile scroll pad lets you scroll vertically and horizontally with one easy touch
Works on many household surfaces including upholstery and wood
Powered via USB cable
Ernesto Quinteros, Vice President of Design for Belkin International, Inc. says:
"We had fun this year developing these new products, and we appreciate the CEA's acknowledgment of our work with these six CES Awards.
"We're especially honored to win a 'Best of Innovations Award' for our TuneStudio. As a stereo recording/mixing device for the iPod, it introduces Belkin to an entirely new audience: musicians!"
Link: Belkin
Join us on Facebook, follow us on Twitter or Google+, or subscribe to our RSS news feed
Links for the Day
Mac of the Day: Macintosh 512K Fat Mac, introduced 1984.09.10. The first Mac with enough memory for serious work.
Recent Content
Custom Search
Follow Low End Mac on Twitter
Join Low End Mac on Facebook
Favorite Sites
MacSurfer
Cult of Mac
Shrine of Apple
MacInTouch
MyAppleMenu
InfoMac
The Mac Observer
Accelerate Your Mac
RetroMacCast
The Vintage Mac Museum
Deal Brothers
DealMac
Mac2Sell
Mac Driver Museum
JAG's House
System 6 Heaven
System 7 Today
the pickle's Low-End Mac FAQ
Affiliates
Amazon.com
The iTunes Store
PC Connection Express
Macgo Blu-ray Player
Parallels Desktop for Mac
eBay

Advertise