Macintels to Debut at Macworld?, What to Expect from Macintel, and Intel's Virtualization Technology Arrives
Compiled by Charles Moore and edited by Dan Knight - 2005.11.17
This Week's Macintel News
Speculation is rampant that Apple may debut Macintel hardware at Macworld Expo in San Francisco this coming January. From all the press this rumor/speculation is receiving, you'd think it was a done deal....
On the tech front, Intel has begun shipping CPUs with virtualization, a technology that allows one computer to run multiple operating systems concurrently. Think OS X plus Windows or Linux on Macintel hardware.
PowerBook, iBook, and other portable computing news is covered in The 'Book Review. General Apple and Mac desktop news is covered in The Mac News Review. iPod news is covered in The iNews Review.
Macintel at Macworld?
News, Analysis, and Opinion
Tech Developments
Macintel at Macworld?
Pieces Fall into Place for Macintel
eWeek's John G. Spooner and Daniel Drew Turner report:
"Apple Computer Inc.'s plan to move to Intel Corp.'s processors appears to be coming together.
"New Intel platforms are just around the corner, while Apple's Mac OS X for Intel processor machines has been brought up to speed, according to developers....
"Based on the availability of Intel hardware and its own software, analysts speculate the Apple-Intel systems could come out as soon as the second week of January, when the Macworld Conference and Expo arrives in San Francisco....
"Intel, of Santa Clara, Calif., will officially launch its Napa platform, a collection of notebook chips that Apple has been widely expected to adopt at least in part, the week prior to Macworld.
"Intel will use the Consumer Electronics Show in Las Vegas - where its CEO, Paul Otellini, will give a keynote speech - to showcase Napa, which is essentially the latest version of its Centrino chip bundle for wireless notebooks, and to discuss its Viiv brand for home computers, sources familiar with its plans said.
"Although Apple might not use the Napa as a whole, analysts expect it to adopt Yonah, the forthcoming dual-core capable Pentium M processor, in its portables and possibly in its Mac Mini."
Link: Pieces Fall into Place for Intel-Apple
New Intel Macs to Arrive in January
The Inquirer's Nick Farrell says:
"The latest prediction, from those who claim to know, is that the entertainment gear maker Apple will make a surprise announcement in January that it is releasing the new Apple Mac with Intel on board earlier in the New Year than expected.
"Apparently Apple is preparing a surprise announcement at Macworld this January and all the Wall Street analysts and Macperts say the safe money is on an early launch of the Mac.
"Apple has so far suggested that the IntelMac will hit the shops in June, but Macworld has been chatting to the supply chain and the world on the street is that the new Apples will be flogged long before June."
Link: New Intel Apple to Arrive in January
First Macintels to Arrive in January?
ZD Net's Jason O'Grady says:
"Last week I reported that the first Intel Macs may be coming sooner than originally expected. New PowerBooks and iBooks built on Intel hardware are rumored to arrive as soon as April or May 2006 - just in time for the back-to-school buying season. This week rumors are swirling that the first Intel Macs could arrive even sooner, possibly in as little as two months."
Link: First Intel Macs to Arrive in January?
Intel-based Macs at Macworld SF?
ars technica's Eric Bangeman says:
"When Steve Jobs announced the Big Switch at the Worldwide Developers Conference last summer, he promised that there would Intel-based Macs available by the time he took the stage for the 2006 WWDC keynote. June 2006 may have been a worst-case scenario, and it's starting to look like we may see Intel-based Macs introduced at Macworld San Francisco.
"The debut of x86 Macs is likely to happen faster for a handful of reasons. While sales since the announcement have been strong, Apple fears that may change as we move into 2006. That is due in no small part to the tendency of Mac users to put off purchases when they believe updates are imminent. In the past, waiting might gain you an extra 200 MHz of CPU speed and a better graphics card. At this point, putting off your purchase will get you a whole different architecture, one that Apple is banking the future of its computing platform on.
"Another factor is Intel. The CPU maker's move to the 65nm fabrication process is going swimmingly, in stark contrast to the problem-plagued transition to 90nm. In particular, development of the 32-bit Yonah CPU - likely to be used in the PowerBook, iBook, and Mac mini - is going very well. Intel could end up shipping Yonah by the end of 2005 instead of waiting for the CPU's formal introduction early next year."
Link: Intel-based Macs at Macworld SF?
News, Analysis, and Opinion
Apple's Paradox: Go Intel and Keep the Hardware Sales
Mac Dev Center's Derrick Story says:
"Since WWDC I've been thinking about this. There are many ramifications involved with Apple moving to Intel. But one that confounds me, and certainly concerns Apple, is how to preserve its grip on hardware sales while doing so.
"Apple has always been about the hardware. Mac OS X is about selling computers. iTunes is about selling iPods....
"At a time when Apple hardware sales are on the rise, the Intel switch seems, well, shall we say 'bold'?"
Link: Apple's Paradox - Go Intel and Keep the Hardware
What Should You Expect from a Macintel?
Gene Steinberg says:
"Sure, it would be intriguing to see the first Mac with an Intel processor appear early in 2006. Some are suggesting that the Mac mini will get the honors and they've already got the chip selected, and that's Intel's forthcoming "Yonah" processor, a dual-core product designed for mobile use. The chip is indeed expected to hit volume production next year, so it seems logical, and having it installed in the cheapest Mac might be a real way to begin the transition in high style.
"But it's not just the chip. Is there something unique you should expect from these new Macs? Well, it's a sure thing that Apple isn't undergoing a major transition just to keep you and I talking about it. Intel's forthcoming mobile processors, for one thing, are supposed to be more power efficient and deliver a lot more number crunching power. You know what two processors or a dual-core chip can do on a Power Mac. Imagine buying a $499 Mac with a dual-core?
"Although there's no official confirmation, some folks are also suggesting that the x86 chips will seriously speed up Mac OS X's resource hungry user interface. They remind us that the guts of the operating system were optimized for Intel long, long ago, so we shouldn't be surprised."
Build Your Own Macintel
Extreme Tech says:
"Building a Mac seems like a crazy enough idea. Throw in Intel hardware and the men in white suits should be rounding the corner. Yet the unfortunate leak of an early developer build let anyone do just that-anyone willing to risk the wrath of Apple's famous lawyers, that is. We risk it for you, and weigh the new platform's pros and cons....
"Whatever you make of Apple's decision, it's definitely a sea change, especially after more than 20 years of using dedicated hardware in their Macintosh line. Three years ago, this would have been considered unfathomable. After all that Intel bashing over the years, it's enough to make your eyes cross.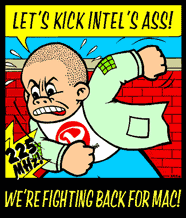 Heck, back in 1996, Power Computing even invoked the Sluggo character from the comic strip Nancy, saying 'Let's Kick Intel's Ass!' So much for that, right?
"So if OS X will already run on the Intel platform, and all Intel-compatible stuff is more or less interchangeable, doesn't that mean you could get an early build of it running right now on a PC? You'd want to separate it from your main PC, of course, but the potential is certainly there. There's only so many times you can set up a dual-boot Linux system before it gets boring, so why not try something different? Besides, OS X looks sooo cool. Not so fast, Sluggo....
"Judging by what we've seen while putting together this story, we think Apple's transition will go over really well. OS X already runs great, and we're still more than half a year away from Intel Macs...."
Link: How to Build an Intel Mac
Tech Developments
Intel Brings Virtualization to Desktop PCs
eWeek's John G. Spooner reports:
"Virtualization technology has begun its arrival on the desktop.
"Intel Corp. on Monday began offering desktop PC processors with virtualization, a technology that can partition a computer to run multiple different types of software simultaneously.
"The Santa Clara, Calif., chipmaker sees offering features such as its Virtualization Technology, in addition to making the move to dual-core processors, as a new way of driving greater PC and server performance."
Link: Intel Brings Virtualization to Desktop PCs
Intel Debuts Virtualisation on the Desktop
The Register's Tony Smith reports:
"Intel has begun shipping the eagerly anticipated pair of Pentium CPUs equipped with its 'one processor, multiple operating systems' Virtualisation Technology (VT).
"As expected, the two P4s are numbered 662 and 672, and with the exception of VT match the specifications of the current 660 and 670 chips. The pair are clocked at 3.6 GHz and 3.8 GHz, respectively, and incorporate 2 MB of L2 cache. Both operate across an 800 MHz frontside bus."
Link: Intel Debuts Virtualisation on the Desktop
More Mac News
PowerBook, iBook, and other portable computing news is covered in The 'Book Review. General Apple and Mac desktop news is covered in The Mac News Review. iPod news is covered in The iNews Review.
Join us on Facebook, follow us on Twitter or Google+, or subscribe to our RSS news feed
Today's Links
Mac of the Day: Lisa, introduced 1983.01.19. The ancestor of the Macintosh had a mouse, a graphical interface, and a $10,000 price tag.
Recent Content
Custom Search
Follow Low End Mac on Twitter
Join Low End Mac on Facebook
Favorite Sites
MacSurfer
Cult of Mac
Shrine of Apple
MacInTouch
MyAppleMenu
InfoMac
The Mac Observer
Accelerate Your Mac
RetroMacCast
The Vintage Mac Museum
Deal Brothers
DealMac
Mac2Sell
Mac Driver Museum
JAG's House
System 6 Heaven
System 7 Today
the pickle's Low-End Mac FAQ
Affiliates
Amazon.com
The iTunes Store
PC Connection Express
Macgo Blu-ray Player
Parallels Desktop for Mac
eBay

Advertise