iPod a Security Threat, Maximize iPod Battery, Podcast Searching, PodLock iPod Security, and More
Compiled by Charles Moore and edited by Dan Knight - 2005.04.15
This Week's iPod News
PowerBook, iBook, iPod, and other portable computing is covered in The 'Book Review, and general Apple and Mac desktop news is covered in The Mac News Review.
iPod News
iPod Tips
iPod Reviews
New Products
iPod News
iPod as a Security Threat
Inc. Magazine's Lora Kolodny reports:
"We all know the financial and cultural wonders Steve Jobs unleashed with the iPod - but did he also unleash a security threat? According to an FBI/Computer Security Institute study, insiders commit 70% of computer intrusions and system hacks that damage businesses. As the popularity, storage capacity, and connectivity of gadgets like the iPod increase, experts say, so will the use of such devices to perpetrate these crimes at work. 'Laptops in 2000 had about the same storage capacity as iPods today,' say Mark Komisky, the CEO of BlueFire Security Technologies."
Bush's iPod
The New York Times' Elisabeth Bumiller reports:
"In between his return on Friday from Pope John Paul II's funeral in Rome and his meeting Sunday with Israeli Prime Minister Ariel Sharon, President Bush spent an hour and a half on Saturday on an 18-mile mountain bike ride at his Texas ranch. With him, as usual, was his indispensable exercise toy: an iPod music player loaded with country and popular rock tunes aimed at getting the presidential heart rate up to a chest-pounding 170 beats per minute.
"Which brings up the inevitable question. What, exactly, is on the First iPod? In an era of celebrity playlists - Tom Brady, the New England Patriots quarterback, recently posted his on the iTunes online music store - what does the presidential selection of downloaded songs tell us about Bush?"
Easy Listening with George W
The Scotsman's Victoria Ward says:
"When it comes to the latest trends, US President George Bush knows how to keep up with the kids - but what exactly does the leader of the free world listen to on his iPod?
"Joni Mitchell, traditional country, a smattering of popular rock - it's a 'little hardcore and honky tonk', according to the experts.
"The president likes nothing more than old country favourites George Jones, Alan Jackson and Kenny Chesney."
2,000 Talmud Tapes - or One Loaded iPod
The New York Times' Alex Mindlin reports:
"Last month, about 26,000 Orthodox Jews crowded into Madison Square Garden to mark the completion of the Daf Yomi, a 7 1/2-year cycle of Talmud learning....
"At the door, handing out leaflets beside the Jews for Jesus and the teenage collectors for Jewish charities, was a 23-year-old entrepreneur named Yehuda Shmidman, who was passing out glossy brochures showing a bearded, black-hatted Orthodox Jew, in silhouette, wearing a pair of white ear buds.
"Shmidman's product, the ShasPod, is a solution to a vexing question: How does a commuter study a 2,711-page book?"
FAA to Buy iPods for Airport Neighbors
San Jose Inside's John McEnery IV reports:
"Angry airport neighbors, up all night listening to America West planes land, were awakened early this morning by a knock on their door from FAA agents delivering the popular Apple iPod MP3 player and an apology.
"In a bold move to alleviate the complaints associated with allowing 'curfew busting' planes to land after hours, the FAA has decided to spend $9.4 million on the popular MP3 players so that neighbors of the airport 'can listen to their favorite music rather than the shrill sound of jet engines all hours of the night.'"
iPod Hits Town - on a Scooter
Extreme iPod's Ian Betteridge reports:
"Terminally hip scooter riders who want to combine the latest in environmentally-friendly transport with the sound of the iPod may soon have their dream machine, if a concept vehicle from Yamaha comes to market.
"Yamaha has produced a special version of its EC-02 electric scooter which feature stereo speakers built-in to the side, linked to a fourth-generation iPod dock in front of the seat. The arrangement allows the rider to play music for the masses as he rides around town."
iPod Reviews
6 GB iPod mini Review
"In a hundred years' time, if there one object was to be chosen to represent the Western world of the early 21st Century, the iPod would be a strong contender. Once merely a music player it's become the 'must have' fashion accessory of the moment. And even with its ubiquity, there's no backlash yet in sight, writes Benny Har-Even.
"Introducing the Mini was certainly a very smart move on Apple's part, and the player could be seen as the most important of the entire current iPod line-up. By moving from a 1.8in HDD to a 1in drive, Apple was able to shrink the already svelte iPod to an irresistibly cute, highly pocketable package. It opened up the iPod to a whole range of new listeners, such as girls and accountants, to whom having a tiny, cool looking MP3 player was far more important than being able to carry round their entire music collection."
iPod shuffle vs. Rio Forge Sport Teardown Analysis
"In the trendy market for MP3 players, the 'cool factor' counts for a lot. But what makes one MP3 player cooler than another?
"A dissection of two hot products - Apple Computer Inc.'s iPod Shuffle and Rio's Forge Sport - conducted by iSuppli Corp.'s Teardown Analysis service, shows the design tradeoffs and marketing choices made by MP3 manufacturers as they strive to attain coolness, while attempting to balance off other considerations, such as cost and power consumption. The teardown also illustrates how a small, simple and elegantly designed product can be more appealing to consumers - and cheaper to manufacture - than a larger, more complex device with a less sophisticated design."
iPod Tips
How to Change iPod's EQ Setting
A new Apple Knowledge Base article says: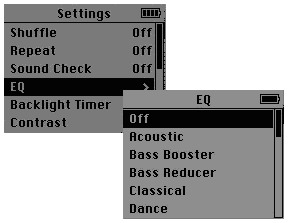 "With the introduction of iPod Software 1.5, iPod Software 2.3, and iPod Software 3.0.2, the EQ setting is no longer displayed in the Settings menu....
"Instead, to see the current EQ setting, you will need to select EQ in the Settings menu (Settings > EQ). On the next screen the current EQ setting will be highlighted. This change makes the EQ setting identical to the iPod mini and iPod photo."
Maximizing iPod Battery Life
A new Apple Article says:
"Paying attention to just a few common sense pointers will pay off with a longer battery lifespan and battery life for your iPod. The most important thing is to keep your iPod out of the sun or a hot car (even the glove box). Heat will degrade your battery's performance the most.
"'Battery life' means the time your iPod will run before it must be recharged (sometimes this is also called 'playtime' or 'runtime'). 'Battery lifespan' means the total amount of time your battery will last before it must be replaced."
-36 Error When Syncing iPod in iTunes
A new Apple Knowledge Base Article says:
"When you sync your iPod with iTunes, iTunes may display an error message that reads, 'An unknown error has occurred (-36).' This can happen with any iPod.
"-36 errors can occur anytime iTunes can't write information to the iPod. Here are some things that can cause this...."
New Products
iPod & iTunes 'Missing Manual' - Make Your iPod Do More Than You Thought Possible
PR: "You know how Macintosh computers inspire such emotional attachment from their fans?" asks author and New York Times tech columnist J. D. Biersdorfer. "The iPod inspires similar devotion: iPod web sites, iPod shareware add-ons, an iPod accessory industry - in short, the invasion of the iPod People." But conspicuously absent from this profusion of iPod gear is an iPod manual. Thankfully, for Podlings everywhere - or anyone about to become one - there's iPod & iTunes: The Missing Manual, Third Edition, (O'Reilly, US $24.95), written by Biersdorfer and edited by Missing Manual series creator David Pogue.
For getting much more out of an iPod, as well as putting much more into it, this newly updated edition blows open the secret doors of the chrome-and-white beauty and its many siblings, including the iPod mini, iPod photo, and the tiny iPod Shuffle. "This book is one-stop shopping for iPod reference and information," promises Biersdorfer. "It takes you on a joyride through the iPod subculture. And it guides you through all the cool musical and nonmusical things you can do with your iPod, from looking up phone numbers to checking the weather report. You'll also find heaping helpings of the Three T's: tips, tricks, and troubleshooting."
Both geek obsession and fashion statement, the iPod can be many things to many people. With humor and authority, Biersdorfer lays bare an astonishing collection of iPod secrets and shortcuts like these:
iPod as PalmPilot: The iPod can become a handy personal organizer by sucking in the calendar, address book, to-do list, and notes from a Mac or PC and then displaying them at the touch of a button. It also doubles as an alarm clock and sleep timer.
iPod as eBook: The pocket-sized iPod makes an excellent electronic book reader, capable of displaying and scrolling through recipes, driving directions, book chapters, and even web pages.
iPod as GameBoy: While it's not exactly a GameBoy, the iPod's games are perfect time-killers for waiting rooms, bus rides, and lines at the DMV.
iPod as hard drive: An iPod can serve as an external drive to be used for copying, backing up, or transferring gigantic files from place to place.
Totally up to date and covering all iPod models for both Mac and Windows, iPod & iTunes: The Missing Manual, Third Edition is the ultimate guide to the iTunes software, the iTunes Music store for both Mac and Windows, and the online world of iPod People.
Free iStory Creator Creates Interactive Stories for Your iPod
PR: iStory Creator is an application made to allow people the opportunity to create their very own iPod text games. It allows people with absolutely no HTML or coding experience the chance to be able to contribute games for the iPod that are engaging and rich with fun. "iStories" are text games for the iPod that have a block of text like a book and then when certain things happen in the story, the user is able to make choices that affect how the story ultimately progresses. This can lead to games that are similar to RPG's, quiz-type games, tutorials, demos, references and basically anything you can think of doing with a linked text files. The iStories can be very similar to a "Choose your own ending" type of novel or can be anything else you put your mind to authoring. These games make for some great entertainment. So, be sure download the creator, start thinking of a fun idea for an iStory and get cracking on making a great text game!
New in this version:
Built in iStory Preview
Built in help system
6 extra link choices
Story Preferences for Author name, email etc
iPod Detection and upload
And much more...
System requirements: Any Macintosh with Mac OS X 10.3 or above
iStory Creator is freeware.
iPresent It Presentation Software for iPod photo
PR: Who needs a laptop to give a presentation?
Make your next pitch using your iPod photo. With iPresent It you can convert your PowerPoint, PDF and Keynote presentations into slideshows that are synced with your iPod photo. Never carry a laptop into a presentation again; it's all on your iPod!
Features:
Create slideshow images from any of your PowerPoint, Keynote or PDF presentations.
Saves presentations as albums in iPhoto or sub-folders of a folder (such as the folder being used to sync to your iPod photo via iTunes).
Keynote 2 support includes full build extraction, each build step is converted into a unique image for displaying via your iPod photo.
Easily update your slideshows whenever you make changes to a presentation. With built-in tracking to indicate which presentations need updating you'll never be caught without your latest changes.
Easily remove slideshows when they are no longer needed. Removing them from iPresent It ensures they will be removed from your iPod photo the next time you sync.
Preview slides as they're converted into a slideshow.
Also works with digital cameras and projectors that support USB flash drives (see the FAQ for details).
$17.95
Trial version limits slideshows to the first 6 slides of a presentation
Requires Mac OS X 10.3 or greater
HP Introduces Spring iPod Lineup
PR: HP has announced two additions to its Apple iPod from HP line of digital music players. The new iPod products allow consumers to carry and enjoy an extensive music and photo library wherever they go.
The Apple iPod from HP is available in two sizes - 30 GB, which holds up to 7,500 songs, and 60 GB, which holds up to 15,000 songs. In addition to a music library, the new players can each store up to 25,000 digital photos and can display them on a vivid, high-resolution color display.
Consumers can use an optional audio-visual cable accessory to share slideshows on big screen televisions and projectors.
"HP offers consumers simple, fun ways to enjoy and personalize their music and photo experiences," said Siobhan O'Connor, vice president, Consumer Brand and Marketing, HP. "Along with products such as our new Media Center PCs, now available with an integrated iPod dock and pre-installed Apple iTunes software, these new iPods round out a complete music solution from HP."
The players come with a USB 2.0 cable to connect easily to a PC for syncing of music, playlists, photos and album artwork. Plus, extended battery life gives users up to 15 hours of music playback or up to 5 hours of slideshows.(3) Both models are backed by HP's Total Care customer support, which includes one year of phone support and a one-year warranty.
The new iPods are also compatible with HP Printable Tattoos, HP's innovative way to allow consumers to personalize their iPods with artwork, designs and photography. At http://www.hp.com/music, consumers can find a gallery full of tattoo designs, including album art from the hottest bands and recording artists, as well as unique artwork and images.
Consumers can also upload their own photos and images to print as Tattoos at home. The ultra-thin HP Printable Tattoos are easy to apply and remove from the player's exterior. Durable and water-resistant, they help to protect from scratches while adding a touch of personal style.
HP Printable Tattoos are sold in 10-packs of printable glossy paper that are pre-cut to fit any Apple iPod from HP. The retail price for HP Printable Tattoos is $14.99. The Apple iPod from HP 30 GB is $349 and the Apple iPod from HP 60 GB is $449. HP also continues to offer the popular Apple iPod from HP 20 GB for $299.(4) The new Apple iPod from HP models and HP Printable Tattoos are available online at hpshopping.com and at many major retailers, including Circuit City, Radio Shack, Sears and Walmart.
PodLock by Micromat
PR: Your iPod is probably your favorite gadget. You can make it even better using PodLock from Micromat.
PodLock helps you and your iPod in many ways:
Backup and restore. PodLock allows you to seamlessly backup and restore your primary iPod volume to your Macintosh drive (excluding your music files). This is especially useful if you store files for transport on your iPod.
Optimize the data on your iPod. By using PodLock's defragment tool, your iPod's drive will run faster. This means songs will load more quickly and data can be retrieved much faster.
Hide your important files. PodLock allows you to create an "invisible" partition. It's like having a secret drive for your data files that only you can see by entering your personal password.* If you use your iPod as an external drive to transport data, you'll want this protection in case you should ever lose your iPod.
Manage pictures and voice recordings. PodLock gives you an easy and convenient way to access other types of data on your iPod.
Learn Technical Details about your iPod. Find out when and where your iPod
was manufactured, the current version of the iPod system software as well as other important technical information.
* PodLock's secret partition only prevents casual observers from gaining access to your iPod data. For truly secure data protection, you should also use the file encryption features of FileVault, which is included with the Mac OS X operating system.
New in this version:
Added support for new 30 GB and 60 GB iPod photo models.
Added support for new 4 GB and 6 GB iPod mini models.
Added identification support for iPod shuffle models.
Added format field to main status display.
Added iPod photo support for Photos folder.
Fixed application screen position on initial launch.
Other minor fixes and updates.
System requirements:
Mac OS X 10.3 or higher
FireWire connection
An iPod
PodLock price: $39.97
iPodderX Podcasting and Podcast Directory
PR: "Podcasting is the way of the future, and iPodderX is the premiere Podcast client for the Mac. It receives Internet-based Podcasts, automatically downloads those files to your computer, ready to be heard, seen, or read.
iPodderX uses the power of RSS 2.0 feeds to bring fresh content to your desktop automatically. Just like a newspaper or a cable TV subscription, RSS feeds can contain different types of content. Depending on which RSS feeds or Podcasts you subscribe to, iPodderX will deliver Audio, Movies, Images, Documents, and any other kind of file right to your computer. With iPodderX, you'll always have fresh content!
iPodderX Does Audio - Whenever your Podcast subscriptions contain audio files, iPodderX can move these files into iTunes so they're ready for you to listen to them. If you've got an iPod, simply sync it with iTunes, and you've got internet radio to go!
iPodderX Does Images - iPodderX is also integrated with iPhoto. If your feed contains images they'll automatically be moved into their own iPhoto folder. Subscribe to your favorite Flickr feed, and you will always have fresh images delivered right to you.
iPodderX Does Video - With its built-in media viewer, you can watch movies and listen to audio right in iPodderX - no extra software required.
iPodderX Does Any Kind of File - Whatever your RSS feeds bring you, iPodderX can handle. Files are stored in a download folder specified by you. Organize your downloads by Date or by Feed - whichever you prefer!
You can use iPodderX with any RSS 2.0 feed with enclosures. If you don't know of any feeds using enclosures, you can browse our Podcast Directory for the most comprehensive list of Podcasts on the 'Net!
Podscope, the First Engine to Search Within a Podcast
PR: TVEyes, the real-time broadcast search provider, has announced Podscope, the first engine to search within a Podcast. TVEyes' Podscope, which makes every word searchable within a podcast, enables the audio indexing of podcast content, which is equally applicable to video blogs and personal videos. Podcasts are essentially downloadable radio programs distributed through RSS that can be put onto a digital media music player or iPod. Podscope will be generally available later this month.
This announcement comes in the wake of TVEyes' recent partnership with Yahoo! to provide real-time broadcast search for Yahoo! TV.
TVEyes, which has been indexing television and radio broadcasts since 1999, crawls the web with Podscope looking for podcasts and creates an index against every word, thereby making the contents searchable. The user can search on a term, generate a list of results ranked by a variety of methods to find the most relevant podcast and click to play or click to download.
"With a looming explosion in such user generated rich content as Podcasts and video blogs, there is a growing need to empower consumers to find and subscribe to programs that meet their diverse interests," commented Allen Weiner, Vice President and Research Director at Gartner. "Searching and indexing these varied audio and video programs will not only benefit content-hungry consumers, it also adds legitimacy and velocity to this burgeoning space."
AudioOutfitters, LLC Introduces iPodez Line of Accessories
PR: Audio Outfitters, LLC have announced the introduction of the iPodez (pronounced iPod easy) line of accessories for the Apple iPod. With the iPodez product line, AudioOutfitters, has brought to market great products that are ez to understand, ez to use, and ez to store, and ez to buy.
According to Charlie Bernstein, President of AudioOutfitters, LLC "The iPod is such a uniquely popular product across all age groups and musical tastes. One of the successes of the iPod is its' ability to support a large variety of accessories. iPodez accessories compliment and enhance an iPod owner's experience. Customer feedback has been outstanding."
All iPodez products work with iPods with dock connectors including the iPod mini, 3rd Generation iPods, 4th Generation iPods, HP iPods, and iPod Photos. Some will work with all models of iPods. There are three initial products in the iPodez product line - The ezCharge" Car Charger, ezPower" Wall Adapter, and ezLink" Cables.
The ezCharge Car Charger - The ezCharge car charger works with all iPods with Dock Connectors, includes a fuse for protection and an LED. The cord is coiled so that it stays neat in your car. The ezCharge's list price is $18.99.
The ezPower Wall Power Adapter - The iPod ezPower wall power adapter, includes a multi-voltage power supply with a built in LED, and comes in three models - ezPower US for US AC sockets, ezPower UK for United Kingdom sockets, and ezPower Euro for European sockets. The US version is UL certified and the UK and Euro versions have CE certification. The ezPower List price is $27.99 for the US and Euro versions, and $28.49 for the UK version.
The ezLink Data Cables - ezLink data cables work with all iPods with Dock Connectors. There are currently two ezLink products available. ezLink USB provides a USB 2.0 connection on one end and a Dock Connector on the other. ezLink Combo (USB & Firewire) provides the Dock Connector on one end and then has two cables, one with USB 2.0 and the other with Firewire. The ezLink USB list price is $15.99. The ezLink Combo's list price is $18.99.
iPod Deals
For current iPod prices from a variety of sources, see our Best iPod Deals.
Join us on Facebook, follow us on Twitter or Google+, or subscribe to our RSS news feed
Today's Links
Mac of the Day: 20th Anniversary Mac, introduced 1996.03.20. Honoring Apple's 20th anniversary, the TAM was the first flat panel desktop Mac and had a unique design.
Recent Content
Custom Search
Follow Low End Mac on Twitter
Join Low End Mac on Facebook
Favorite Sites
MacSurfer
Cult of Mac
Shrine of Apple
MacInTouch
MyAppleMenu
InfoMac
The Mac Observer
Accelerate Your Mac
RetroMacCast
The Vintage Mac Museum
Deal Brothers
DealMac
Mac2Sell
Mac Driver Museum
JAG's House
System 6 Heaven
System 7 Today
the pickle's Low-End Mac FAQ
Affiliates
Amazon.com
The iTunes Store
PC Connection Express
Macgo Blu-ray Player
Parallels Desktop for Mac
eBay

Advertise