8 GB iPod mini, Free Beethoven Downloads, iPod Linux, Tiny iChant Speakers, Pod Genius, and More
Compiled by Charles Moore and edited by Dan Knight - 2005.06.17
This Week's iPod News
PowerBook, iBook, iPod, and other portable computing is covered in The 'Book Review, and general Apple and Mac desktop news is covered in The Mac News Review.
All prices are in US dollars unless otherwise noted.
News and Comment
Tips
Products and Services
News and Comment
iPod mini to Hit 8 GB?
Macworld UK reports:
"It's possible Apple may soon ship an 8 GB iPod mini, with news of Seagate's first 8 GB 1-inch drive....
"The new 8 GB drive incorporates several technologies of use for manufacturers in the digital device market, including a technology that guards against skipping which Seagate calls RunOn Technology."
Free Beethoven Symphony Downloads from BBC Radio 3
The Guardian's David Ward reports:
"Forget the Crazy Frog. The iPod generation is to be given the chance to enjoy a more enriching download diet: Beethoven's entire collection of nine symphonies. Following Radio 3's Beethoven marathon, which ended at midnight on Friday, the BBC is making the complete cycle of the composer's symphonies - more than six hours of listening - available for free.
"Listeners can visit the Radio 3 website and download as MP3 files the complete set performed by the Manchester-based BBC Philharmonic under the direction of its principal conductor, Gianandrea Noseda."
iPod Battery Settlement Explained
iPodlounge's Jeremy Horwitz reports
"In early June 2005, Apple Computer settled a United States-based class-action lawsuit over battery problems in specific iPod models, offering compensation and/or free repairs to affected individuals. As of today, a web site called AppleiPodSettlement.com has been established, and a Claim Form provided for free download. iPod owners registered with Apple are already receiving the same Claim Form in the mail, along with a Notice describing the settlement. This new iPodlounge page serves as a clearinghouse for information and "frequently asked questions" reference for iPod owners with battery problems."
Music Phone iPod's Biggest Threat
PowerPage's Jason D. O'Grady says:
"The biggest threat to the iPod is a combined mobile phone/music player. Let's face it, if you pretty much take your cell phone everywhere, why take along another piece of hardware to play music?
"Music players like the iPod can be cumbersome and are just another thing to carry, charge, store, etc. If a mobile phone/music player hybrid (like the Sony Ericsson W600, pictured) had good speed, storage space and a decent interface (an area the iPod hasn't exactly excelled at), it could really give the iPod a run for its money."
Install Linux on Your iPod
PR: iPod-Linux Installer is an easy to use GUI application that enables Mac OS X user to install Linux on HFS+ formatted iPods while still allowing you to keep and use the Apple supplied OS.
Currently this project supports 1G, 2G, and 3G iPods. Photo, 4G, U2, and Mini iPods are still not supported officially. Support for these and other iPods will come according to what progress is made on the iPodLinux kernel.
Installing Linux on your iPod gives you more functionality in terms of games, recording, image viewing, and more!
New in this version:
Includes the newest iPodLinux Kernel and Podzilla as of April 4th, 2005.
Fixed update, mount/unmount bug.
Added eject button, enabled users to select installer output, clarified output text, and corrected typos.
Installer creates recording directory if one is not already present.
Installer tells user if they have a windows iPod.
Installer checks to ensure Mac OS X is not installed on the target iPod.
Updated the installed iPodLinux kernel, user-land, and Podzilla.
System requirements:
Mac OS X 10.2.8 or higher
1st, 2nd, or 3rd generation iPod
iPod-Linux Installer is freeware.
Small Dog Electronics Offers Free Recycling for iPod Components
PR: Small Dog Electronics has announced that it is expanding its e-Waste Take Back program to include free recycling for iPod batteries and hard drives.
For customers to recycle old iPod batteries, Small Dog Electronics will include a pre-labeled return envelope and instructions in orders of replacement iPod batteries. Shipping and return instructions will be included with orders of ATA hard drives. Customers can send the old batteries and hard drives back to Small Dog Electronics, which will dispose of them properly. Recycling services are free (a value of $0.25 per pound); customers are responsible for postage only.
"Discarded batteries and old electronic waste are serious environmental issues. Small Dog is a company that wants to make it easy for our customers to deal responsibly with their old electronics and used batteries, and we've expanded our e-Waste Take Back program to help them do so with even more products," said Don Mayer, CEO of Small Dog Electronics. "It truly is a shared responsibility to protect our planet for future generations."
Small Dog Electronics is a leading specialty retailer of personal computers and accessories, consumer electronics, and software, launched its e-Waste Take Back program in 2004 to great success. To date it has recycled more than 10,467 lbs of electronics.
E-Waste is the fastest growing stream of trash in the US. Small Dog Electronics' e-Waste Take Back Program at its Waitsfield showroom accepts televisions, computers and peripherals, cell phones, digital cameras, digital music players, monitors, printers, and now iPod batteries and hard drives. As a public service, Small Dog Electronics is offering to take back old electronics at their Route 100 Waitsfield showroom for $0.25 per pound, their cost to recycle electronics properly. The cost for most computers is $5 -10.
Small Dog Electronics is a leading specialty retailer of personal computers and accessories, consumer electronics, and software found online and at its showroom in Waitsfield, Vermont. Small Dog Electronics is the top Apple Computer reseller in New England with more than $20 million in sales and is known for its social and workplace policies, which includes offering electronics recycling.
Tips
iPod Troubleshooting Basics
An updated Apple Knowledge Base Article says:
Having trouble with your iPod? This list of troubleshooting steps and service options will show you the smoothest path to resolving your issue. Be sure to perform the appropriate troubleshooting before submitting a service request.
Playing Audio Books on Your iPod shuffle
An updated Apple Knowledge Base Article says:
"iPod shuffle can play audio books just like other iPods.
"The Autofill feature of iTunes will not add audiobooks to iPod shuffle. Instead, you should manually add audiobooks to iPod shuffle by dragging them to the iPod shuffle playlist.
"When iPod shuffle it set to shuffle mode it will play all the audio files on iPod shuffle that are not audiobooks. To play an audiobook that is on iPod shuffle, set the switch on iPod shuffle to play in order. This way the audiobook will play in the correct order."
Products and Services
Tiny iChant Active Speaker for iPod
PR: Tired of using that irritating, ear-aching headset to listen to your iPod?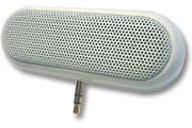 Now you can finally free your ears and share your music with others. Eliminate the hassle of always being connected to your iPod now! Maximize your listening and sharing experience with the iChant Active Speaker.
Ultra-Portable &endash; Now share music with friends
Perfect for home or work
On/Off switch to save battery life
Made of durable ABS plastic with a steel metal grille
Intuitive design, easy to operate
Crystal clear quality sound. Up to 8 hours on one AA battery.
Link: iChant Active Speakers
Small Dog Offers Portable, Folding iPod Speakers
PR: Want portable iPod speakers with high-quality sound without paying a fortune? Small Dog Electronics today began offering the Groove Cube, a foldable, portable iPod speaker with sound quality to rival that of pricier competitors.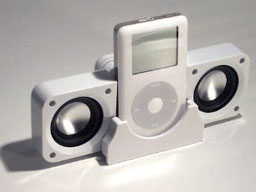 "We're very particular about music here at Small Dog and we did an extensive search to be able to offer a top-quality, sub-$30 speaker for iPods," said Don Mayer, CEO of Small Dog Electronics. "We relied on our decade of experience in sourcing electronics to find a product that would meet customers needs: portable, quality sound and good value. At $29, the Groove Cube is a high-quality, inexpensive addition to any iPod user's gear bag."
The Groove Cube, a 52mm 0.9 Watt speaker set with amplifier, comes complete with audio cable, carrying case, and iPod holder. This small compact speaker set is just 2" square by 3.5" long when folded, making it ideal for travelers, mobile professionals, students, and music aficionados alike. It runs either on four AAA batteries or an optional AC adapter.
The Groove Cube is $29.
The optional AC adapter is an additional $9.
The Small Dog Groove Cube is just one of many high-quality iPod accessories offered in the Small Dog Electronics product line. Other accessories include an iPod car charger with dock connector, iPod FireWire retractable cable, iPod straight USB 2.0 and FireWire cables, iPod windshield mount, an iPod replacement battery kit, and iPod battery recycling.
ezGear ClearCase 60 for iPod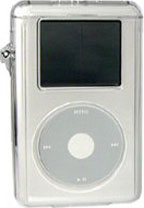 PR: ezGear, a leading marketer of iPod accessories, announced the introduction of the ClearCase 60 for Apple iPod. The ClearCase is a crystal clear case that provides a full 360 degree view of your iPod. The case is made of ultra-clear acrylic, has openings on the top and bottom for access to all ports, and an opening for the clickwheel. The top of the ClearCase flips open for easy installation and removal of your iPod. The ClearCase comes with a detachable ClearClip and a lanyard. The ClearCase 60 works with the iPod photo 30 GB, iPod 4th Generation 40 GB, iPod photo 40 GB, and iPod photo 60 GB.
According to Charlie Bernstein, President of ezGear "The iPod is such a great looking product that should be heard and seen. The ClearCase 60 enhances the stunning look of your iPod photo and protects it at the same time. When iPod users see this case, they are impressed with the simple elegance it adds to their players."
The ClearCase 60 for the iPod suggested retail price is $19.98. The ClearCase 60 for the iPod is available at various iPod resellers and distributors including MicroEnterprises.
Black and Silver TransPod Direct for iPod and iPod mini
PR: Digital Lifestyle Outfitters (DLO), inventors of the DLO iBoom and other exciting accessories for the iPod, have announced new Black and Silver versions of their popular TransPod Direct Car Solution for iPod and iPod mini. The DLO TransPod Direct comes with a built-in charger for the iPod, a cradle to position it for easy access to its controls, a cassette adapter and a mini plug cable. Most importantly, the DLO TransPod Direct provides customers with a direct connection to their car stereos that integrates the high-quality line-out audio signal from the bottom of the iPod. The TransPod Direct Silver, TransPod Direct Black, as well as the original white version, are available for purchase at everythingipod.com and at retail stores nationwide for $69.99.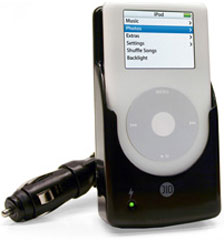 The best sound output available from an iPod comes from the 30-pin port on the bottom of the iPod. Merely connecting from the headphone jack at the top of the iPod with a cassette adapter or mini cable does not achieve this level of sound quality. The DLO TransPod Direct Car Solution connects directly to the line output in the bottom dock connector. Users can then plug in either the auxiliary mini cable or cassette adapter to the jack on the side of TransPod Direct to connect to their car stereos.
"The TransPod Direct is the next best thing to a full custom install, and it's only 60 bucks," said Andrew Green, VP of Marketing for DLO. "You just install the TransPod Direct, plug into your system and never think about it again. It's a great semi-permanent solution for the iPod in your car."
Like the DLO TransPod All-in-one Car Solution, the TransPod Direct mounts the iPod for easy access to its controls while keeping the iPod charged at the same time. The rotating base arm allows users to position the iPod or iPod mini in their car for super-easy access. The new Black and Silver TransPod Directs now match most car interiors perfectly and work equally well with the 20G iPod, U2 iPod, iPod photos as well as the iPod minis. The DLO TransPod Direct package includes the TransPod Direct Dock, a cassette adapter, a mini auxiliary audio cable, a charger arm and an extension arm so customers can adjust iPod to any position in their car.
The DLO TransPod Direct for iPod and iPod mini in white, black and silver is available and shipping now. Online orders can be placed at everythingipod.com for $69.99.
Pod Genius Software for Mac OS X
PR: Prosoft Engineering announces Pod Genius for Mac OS X. Prosoft will demonstrate Pod Genius, along with four other award-winning products - including Data Rescue, Drive Genius, Data Backup and Picture Rescue - at MacExpo Germany in Cologne, June 16-18, 2005.
Pod Genius for Mac OS X is a comprehensive software utility geared specifically toward iPod users. It will be introduced and demonstrated at Mac Expo Germany on Thursday.
"iPods have quickly become the hottest must have gadget. With all the songs and files, our iPods can quickly become overloaded with files. Mechanical parts wear and fatigue, your iPod begins to operate more slowly, and eventually fails. Your only defense is to carefully monitor and manage your iPod so you can be sure it is in good health and working at peak efficiency at all times &endash; You've invested a lot into your iPod and music, you want to make sure your iPod will faithfully perform and your investment is well-protected," states Greg Brewer, CEO of Prosoft Engineering. "We are dedicated to providing a feature rich, easy to use software utility that will let you take control of your iPod, and your digital life."
Pod Genius &endash; Maintain, Manage, and Optimize Your iPod.
Pod Genius is the only comprehensive software utility geared specifically toward iPod users. Recover lost or damaged music, repair corrupted data structures, backup your iPod to an exact copy, permanently delete unwanted files, or optimize the file layout of your music. You've invested a lot into your iPod and music, with Pod Genius, you can be sure your iPod will faithfully perform and your investment will be protected.
Pod Genius's Eight Must-Have Utilities In One Package.
Backup: Make an exact clone of your iPod for safe keeping. Use your backup as protection against data loss.
Optimize: Increase battery life and minimize wear-and-tear. Your songs get optimized in the order that you want to hear them, minimizing hard drive access and reducing the work your iPod has to do.
Undelete: Accidentally deleted music? Undelete quickly recovers them in perfect condition.
Shred: Permanently delete your songs and files from your iPod. Do your part to protect against music piracy... if you sell or donate your iPod, shred your music to prevent unauthorized use.
Duplicate: Make an exact copy of your iPod on another iPod &endash; perfect when you are migrating your music to a newer iPod model.
Scan: Analyze your iPod's hard drive for media defects that can endanger your music files.
Info: Display detailed information about your iPod's hard drive to enable sophisticated troubleshooting.
Link: Pod Genius
Pod2Go: News, Weather, Movies, Lyrics & More on Your iPod
PR: With Pod2Go, you can read the news from thousands of websites, get the forecast for cities around the world, view movie showtimes for your local theaters, find your way around town with driving directions, or even sing along to the lyrics of your favorite song - all from your iPod!
Pod2Go turns your iPod into a PDA. Calendars, contacts, to-do's, notes, and much more can be quickly accessed. If you need a PDA but only need to view your data, Pod2Go and your iPod are a perfect match. You can also read your unread messages from Apple's Mail, or even your Stickies.
Every time your sync your iPod, Pod2Go simply formats text downloaded from the Internet into an iPod-friendly format, and then writes it to your iPod. Pod2Go works with all existing iPods, including the iPod photo! Older iPods with the mechanical scroll wheel will have their data stored as contact files, and newer iPods (touch sensitive) will use the notes feature.
Pod2Go is very customizable to suit your needs. Pod2Go can automatically sync at certain times of the day, and when your iPod is connected to your computer. It can also eject your iPod when its finished syncing, so you don't even have to touch your mouse.
New in this version:
Dropped support for Podcasts.
iPod menu has been greatly improved. Previously you could notice very often a slight lag when accessing the menu on first click of the icon in the menu bar.
During syncing, the iPod menu icon will blink, alternating with black and white (I tried colors like red and blue, but they weren't as obvious to the eye).
The Eject menu in the iPod menu now supports multiple iPods if more then one is connected. It will look the same if only one iPod is connected. (It now supports the iPod shuffle too)
The "About" menu in Pod2Go has been removed for each tool. You can view the version for each tool by the toolbar item's tooltip.
The code to add the P2GHelper app to the login items has been reworked, and it should now not cause any crashing (this was the #1 reason for the iPod menu crashing).
Pod2Go is now fully compatible with Tiger, and is compiled as a universal binary, so it will run natively on the first Intel Mac's that Apple ships.
Removed all kainjow.com RSS feeds. I no longer will host them simply because its a pain to maintain - and you can find equivalent feeds elsewhere.
Also fixed the CNN feeds
and added more too.
Significantly improved the lookup of symbols (works in the background). Also mutual funds should work now too.
Added syncing of PDF's in Tiger
Added *unlimited* subfolders if you are syncing a folder of files
Directions has been reworked, and now supports many more websites, and more can be added quite simply.
Besides support for MapQuest (USA, Canada, and most of Europe) I have added support for Mappy.com (Europe), Google Maps (USA and Canada), and Whereis.com (Australia).
You can also add a custom set of directions (basically a plain text file) by holding the Option key and clicking + in Pod2Go.
Fixed iCal so it will sync correctly in Tiger (Note: now that iTunes supports syncing calendars and contacts, it may work better.)
Run Automator workflows just by selecting your .workflow file and adding it to Launcher
System requirements:
Mac OS X 10.2.7 or higher
iPod Software 1.3
Pod2Go is $12 shareware.
The Boom Box Software Suite for iPod
PR: Roxio™ has launched The Boom Box™, a Mac software suite comprised of five premium applications designed to reveal the iPod's full power and potential. The versatile suite enables iPod users to optimize their music enjoyment by expanding and enlivening their portable music collections and broaden their audio entertainment beyond music to include podcasts and Internet radio broadcasts. In addition, The Boom Box allows users to convert Web pages, emails and other text-based documents into audio files and create their own personal audio books that they can listen to on the go.
"The Boom Box is a smart compilation of excellent tools," said Larry Angell, News Editor of leading iPod resource iPodlounge. "Each of the applications offers iPod owners a simple way to add great new content or better organize their existing libraries."
The Boom Box features two applications that enable iPod owners to rediscover their music collections. CD Spin Doctor offers a straightforward way to digitize vintage vinyl and tape recordings including powerful features for automatically detecting tracks, removing unwanted noise and enhancing overall sound quality. MusicMagic Mixer is a personal, portable DJ. Using sophisticated algorithms, MusicMagic Mixer analyzes acoustic elements of each song in a user's collection to automatically generate compelling, complementary playlists.
The Boom Box also includes three applications that empower iPod owners to broaden their listening experience. Audio Hijack is a powerful component that captures audio from an application in real-time. Users can schedule the recording of a favorite Internet radio show and then listen to it at a time that is most convenient. iPodderX™ makes it easy for users to subscribe to their favorite podcasts and have them automatically delivered to their desktop ready for transfer to their iPod. Covering topics that range from sports to technology and from movies to children's programming, podcasts offer a distinct alternative to mainstream content. Rounding out the suite is iSpeak It, which makes it easy for users to convert text-based documents such as e-mails or web pages into spoken word audio files or even create their own personal audio books that they can enjoy during their morning commute.
"Roxio will stand out in the thriving market of over 500 iPod accessories that until now has focused largely on personalizing the outside of the device," said Dave Habiger, president and chief operating officer, Sonic Solutions. "The Boom Box is a versatile suite that focuses on the inside of the iPod and promotes greater music enjoyment and delivers refreshing new audio experiences."
The Boom Box is available from Roxio and will be widely available at retail later this month for a suggested retail price of $49.95. The Boom Box includes special discount coupons and offers from Wiley books, Audible.com, and Belkin Corporation.
birdPodMaker Guide to Bird Songs for iPod
PR: birdPod is an iPod loaded with bird songs - and lots more. Unlike a typical bird song CD set, birdPod's bird songs are organized to enable quick identification of bird songs in the field. We think birdPod is the best tool yet for learning bird songs. And, it's fun!
birdPod makes use of the Apple iPod, considered by most critics to be the best digital music player on the market. Its major strengths - an intuitive and easy-to-navigate interface, small size and light weight, make it the perfect tool to adapt for bird study - particularly for bird study in the field.
At it's core, birdPod is an extremely well organized series of bird song playlists. Generated from a large collection of excellent recordings (the Stokes Field Guide to Bird Songs, Eastern Region), these playlists group birds by habitat or family group - which makes the playlists very useful for both learning bird songs and the identification of birds.
And, because birdPod uses the iPod, it's easy to pick a playlist to match any need even on the spur of the moment. For field work, we carry our birdPod on our belt (we have a case that we will recommend), along with ear buds (we have another recommendation for these). We have what we truly believe is the most portable, easy-to-use, quality tool available for learning and identifying birds through their songs.
How well does it work? Here at birdPod we can typically identify an unknown bird song in a couple of minutes - sometimes almost immediately (the list of unknowns is getting shorter and shorter, thanks to birdPod!). Pick the habitat or group, eliminate the birds you know ... and, there it is!
For some reason, after we go through this process, the bird songs we correctly identify seem to stick in our minds. We find that the next time we hear that same song we are likely to identify the bird more easily. That's our goal: to facilitate the learning of bird songs.
A few playlists included with birdPod are:
All Eastern North American birds
Fields
Forest
Marsh
Nocturnal
Paddlers
Shorebirds
Warblers
Wetlands
Plus playlists for all sections as seen in the Stokes Field Guide to Bird Songs, Eastern Region
New in this version:
Version 1.01 adds two additional playlists:
All birds in Phylogenetic Order
Sparrows
System requirements:
Mac OS X 10.2.8 or higher
iTunes 4.7.1 or higher
Stokes Field Guide to Bird Songs, Eastern Region (can be purchased from the ibirdpod website)
birdPodMaker sells for $69.
iPod Deals
For current iPod prices from a variety of sources, see This Week's Best iPod Deals.
Join us on Facebook, follow us on Twitter or Google+, or subscribe to our RSS news feed
Today's Links
Mac of the Day: 14" 600 MHz iBook G3, introduced 2002.01.07. The first 14" iBook ran at a comfortable 600 MHz.
Recent Content
Custom Search
Follow Low End Mac on Twitter
Join Low End Mac on Facebook
Favorite Sites
MacSurfer
Cult of Mac
Shrine of Apple
MacInTouch
MyAppleMenu
InfoMac
The Mac Observer
Accelerate Your Mac
RetroMacCast
The Vintage Mac Museum
Deal Brothers
DealMac
Mac2Sell
Mac Driver Museum
JAG's House
System 6 Heaven
System 7 Today
the pickle's Low-End Mac FAQ
Affiliates
Amazon.com
The iTunes Store
PC Connection Express
Macgo Blu-ray Player
Parallels Desktop for Mac
eBay

Advertise