iTunes Phone Soon, HP Drops iPod, 20 GB iPod Top Seller, iPod Health Threat, and More
Compiled by Charles Moore and edited by Dan Knight - 2005.08.04
This Week's iPod News
PowerBook, iBook, iPod, and other portable computing is covered in The 'Book Review. General Apple and Mac desktop news is covered in The Mac News Review. News about Apple's transition to Intel CPUs and other Intel developments is covered in The Macintel Report.
All prices are in US dollars unless otherwise noted.
News and Comment
Advice
Products and Services
Software
News and Comment
Motorola iTunes Phone Expected August 20-21
The Street's Scott Moritz says:
"The iPod-inspired music phone - which Motorola twice pulled from introductions earlier this year, apparently under orders from Apple chief Steve Jobs - will debut in the UK next month.
"The planned venue is a four-stage 'V Festival' concert sponsored by Virgin Mobile UK on Aug. 20-21, says American Technology Research analyst Albert Lin."
HP and Apple End iPod Affair
The Register's Ashlee Vance reports:
"Doing its best to erase Carly Fiorina's mistakes, HP has culled an iPod reselling agreement in place with Apple since January of 2004.
"HP delivered a rather confusing message for the move, telling us that the reselling deal 'met or exceeded our internal expectations' but then adding that 'the iPod doesn't fit in with our digital entertainment strategy.' Last quarter, Apple shipped 6.2m iPods worth more than $1bn in revenue. HP captured about 5 per cent of total iPod sales on average per quarter. The deal, however, never really took on the shape in the way HP had hoped. It got off to a slow start, as HP received new product some considerable time after Apple released it, and without the ability to customize the gear as much as HP desired."
HP and the iPod: Does Anyone Care?
Gene Steinberg, the Mac Night Owl, says:
"The great experiment is over. HP has decided that reselling iPods no longer fits within its strategic vision. When the announcement first came at the Consumer Electronics Show in January 2004, it emerged out of left field. Of all the things one expected Apple to do in order to boost sales for the iPod, cutting a deal with HP to market the product would have been last on the list."
20 GB iPod Still Top Seller
Gene Steinberg, the Mac Night Owl, says:
"In the corner, there's a digital music player, and in this corner, there's an iPod. Superficially, they may seem nearly the same. Both are portable electronic devices that can grab your music library from your computer and place it in your pocket and purse. But there's where the resemblance ends, and as we all know, the iPod exists in the rarefied atmosphere of the cultural icon."
iPod Nation Marches to a High-tech Beat
The Detroit News's Susan Whitall says:
"It was one of those sweltering summer nights when even a torrential rain can't tamp down the temperature, but on this special 'iPod night,' things couldn't have been cooler inside the Ferndale nightclub the bosco.
"Sipping the inevitable chilled vodka, a few dozen folk on the green side of 40 were negotiating the summer's cultural handshake, the 2005 equivalent of 'What's your favorite record?' or 'What's your sign?'
"This summer it's, 'What's on your iPod?'"
Musical Hallucination Threat?
The Register's Lester Haines reports:
"The increasing use of iPods and greater exposure to music generally may lead to an increase in 'musical hallucinations', a psychiatrist has claimed. These are not, explains Victor Aziz of Cardiff's Whitchurch Hospital in today's Guardian, simply a case of getting Crazy Frog stuck in your unwilling brain, but the full-blown equivalent of visual hallucinations.
"As Adrian Rees, an expert in auditory neurology at Newcastle University, elaborates: 'It's not like having a tune going around in your head. This is something you can't turn off or change to another record.'"
iPods No Threat to Health
ameinfo.com reports:
"iPods have been given a clean bill of health by medical experts who judged the benefits of music outweighed any potential psychological damage from isolation...."
Tux on iPod mini
Linux on your iPod has many advantages over Apple's default menu navigation appearance. With Linux you can have the ability to play a wider set of fun games, unlock infinite expandability of your portable hard drive, navigate faster through menus (without the slow slide effect), play with fun little applications built in and have a wider variety of playable audio file formats. Plus, you can have this and still dual boot your normal Apple iPod mini OS without damaging any files or options. Although, it is recommended that you make a backup of your mini first. This article will explain the process to install iPodLinux on only an iPod mini. All other iPod installations check the website.
Advice
Troubleshooting Songs that Skip
An updated Apple Knowledge Base Article says:
"Find out what you can do if a song skips while playing.
"iPod's skip protection works best with compressed audio files. This allows multiple songs to fit into iPod's 32 MB memory cache."
How Equalizer Settings Transfer from iTunes to iPod
An updated Apple Knowledge Base article says:
"iTunes and iPod software allow you to control the equalization or 'EQ' of a song.
"iPod's equalizer has the same equalizer presets as iTunes (except Loudness). This allows a high level of integration between iPod and iTunes.
"After you encode or 'rip' a song using iTunes, you can assign that song one of 22 equalizer presets. Once you assign a preset to a song, iTunes will use it each time you play the song. When you copy the song from your computer to iPod, the equalizer preset you chose in iTunes is also copied, and iPod will play the song with the same preset. For example, if you assign a song the 'Rock' preset in iTunes, iPod will play that song with the 'Rock' preset and iPod will play the song with the same preset as long as the EQ on the iPod is not set to off
"If you don't assign a preset to a song, iTunes and iPod simply play the song as it was encoded, unless you turn on the general equalizer, which applies to all songs being played. In this case, though, that equalizer preset is not saved with each song."
Products and Services
iFM Radio, Remote, and Recorder for iPod
PR: iFM integrates FM radio tuning, recording and remote control functionality to the iPod, all in a tiny aluminum enclosure. With the flip of a switch users can now switch seamlessly between controlling their music library and listening to their favorite FM radio programming. Use the iFM as an inline remote to control the iPod's transport controls, great for workouts, biking or hiking. iFM is also a recording device, with a built in microphone to record voice, or change modes to capture live FM radio directly to the iPod!
The integrated white backlit LCD shows the operating mode of the iFM at a glance.
Features:
Radio*
Digital auto station scan with wraparound
Band-Switch function to switch between US, European and Japanese FM bands
6 station presets per band
Remote*
Controls play, pause, fast forward, rewind, next song, previous song, volume
Recorder**
Records FM radio
High quality omnidirectional built in microphone for recording voice memos
Automatically saves to the iPod
One-touch start and stop recording***
Recording time only limited by amount of available space on the iPod
(*) 3G/4G/Photo/mini models
(**) 3G/4G/Photo models
(***) 4G/Photo models

Price $49
NewerTech 2200mAh G1/G2 iPod Replacement Battery
PR: Newer Technology Inc. is introducing a new 2200mAh iPod battery replacement kit for first- and second-generation iPods.
For only $34.95, the new 2200mAh battery replacement offers 78 percent more runtime capacity than the original battery shipped by Apple. As with all NewerTech batteries, installation tools and instructions are included. A video installation guide is also viewable online.
With the introduction of the 2200mAh battery, NewerTech is discontinuing its 1800mAh and 2100mAh iPod battery replacements for first- and second-generation iPods. Prices for the discontinued batteries are:
1800mAh for 1G and 2G iPod, $19.99 while supplies last
2100mAh for 1G and 2G iPod, $29.95 while supplies last
"This new battery blows others out of the water &endash; more time to listen to your tunes and for a lower price than the batteries our new model replaces," said Larry O'Connor, president of NewerTech. "Although we've found the majority of iPod users want the most runtime possible, the 2100mAh and 1800mAh first- and second-generation batteries are a great deal while their supply lasts too!"
NewerTech's full line of iPod replacement battery kits include:
2200mAh 1G and 2G replacement battery kit, $34.95 - 78% more run time capacity vs. the factory original
900mAh iPod photo replacement battery kit, $34.95 - up to 28%t more run time capacity
850mAh 3G replacement battery kit, $25.99 - up to 30% more run time capacity
750mAh 4G replacement battery kit, $29.95 - up to 20% more run time capacity
600mAh iPod mini replacement battery kit, $24.95 - up to 50% more run time capacity
NewerTech products are available from fine retailers. More information on the full line of NewerTech iPod battery replacements is available online.
iPodRestore 1000mAh iPod Upgrade Battery for 4G iPod, Color iPods
PR: Battery running low on your iPod photo or color screen iPod? With iPodRestore's 24-Hour battery replacement, you'll be charged back up in just 24 hours.
Once you add this item to your shopping cart and checkout, we'll speed an iPodRestore box to you overnight, pickup your iPod and bring it back to TechRestore via overnight courier. Once we receive your iPod, we'll install a new iPod battery with over 50% more power for 4th generation iPods and 38% more power than the original color iPod battery. We'll then overnight your iPod back to you, ready to be put back into service.
The best audio player on the planet deserves the fastest battery replacement service! Please note: this service is for addresses in the continental US only.
Price: $69
TechRestore 1000mAh Battery Upgrade for iPod photo, Color iPods, 4G Models
PR: Renew your iPod with a high capacity battery with 38% more power than your original battery for the color iPods and over 50% more power for 4th generation (click wheel) models!
Our supercharged batteries include take-apart tools and instructions to replace your battery. You'll also receive a 1-year warranty and our famous customer service that includes a worry free purchase with a 30-day return policy, toll-free technical support and more.
Warranty TechRestore 1 Year Warranty
Return Policy 30 Day Refund - Must Be Unopened
Price: $29.99
OtterBox for iPod shuffle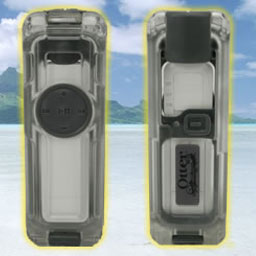 PR: The OtterBox for iPod shuffle, unlike any other shuffle case on the market, offers an interactive, rugged design to keep your iPod shuffle safe no matter what the day brings. A must have for active lifestyles.
Features:
Waterproof, dustproof, dirtproof, sandproof, and drop-proof
Flexible, rubber button on the front permits use of all shuffle functions
Back of case features a rubber button which allows for battery check
Clear back panel allows visibility of shuffle playback position and battery check light
When combined with waterproof headphones, it becomes possible to take your iPod shuffle swimming, jet skiing, kayaking or any other water related activity
Includes removable neck lanyard for handsfree carrying
External headphone jack usable with any style headphones with a standard mini stereo plug.
Fits the Following iPod models: iPod shuffle 512 MB & 1 GB
Price: $29.95
TuneCaps Pocket Clip, Key Ring Cap & Wrist Lanyard for iPod shuffle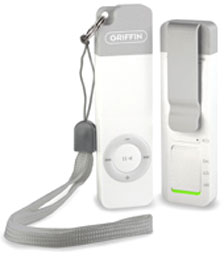 PR: Introducing TuneCaps, three new options for keeping your shuffle conveniently close at hand. The TuneCaps carrying solutions attach to your shuffle to let you carry it in any of three different ways:
Slip on TuneCaps' Wrist Strap cap for fingertip convenience.
Replace the shuffle's cap with TuneCaps' handy pocket clip and secure it to your pocket (or belt or necktie or whatever).
Slip on TuneCaps' key ring attachment and take your tunes with you while you drive.
All three solutions come in each TuneCaps package. Swap TuneCaps out every day for the shuffle accouterment to match your mood.
4G TrailVue Case for iPod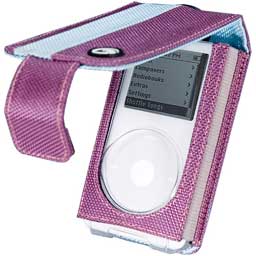 PR: Originally designed for the iPod mini, the TrailVue now comes to the 4G iPod with the same cool design and a variety of stylish color combinations.
4G TrailVue sports a rugged ballistic nylon construction with elastic sides to accommodate the size of your iPod. It also features a Velcro closure and allows access to the audio jack as well as the iPod's dock connector. Also included is the patented Multidapt interchangeable clip system which offers an array of uses such as the bike clip, car holder, and a variety of belt clips.
Compatibility: 4G TrailVue fits any iPod with Click Wheel including the newest color iPods.
4G TrailVue is available today through Dr. Bott authorized resellers worldwide and retails for $34.95.
iSkin Wheel Cap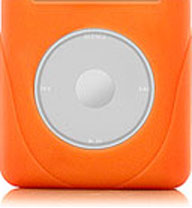 PR: The iSkin Wheel Cap sits above the iPod's click wheel, protecting it while you use it. It turns the already effective iSkin iPod protector into the ultimate iPod case by covering the last vulnerable area &endash; the click wheel. It installs in seconds and does not hamper the sensitivity or functionality of the iPod.
Works only with the iSkin eVo2 iPod protectors
Fits seamlessly, creating a barrier against dirt and grime
Allows for easy nonrestrictive scrolling
Maintains look of iPod and scroll wheel
Formed to fit the contours of the scroll wheel
Stays in place without adhesives
Easy to install and remove
Durable and long lasting
With Wheel Caps, companies, organizations and promoters can take advantage of branding their marketing message or photograph right over the iPod's click wheel. Wheel Cap imprinting is the ultimate way to customize an iPod and offer the added value of superior protection.
Software
Change Your iPod's Battery Indicator
PR: iPod Battery is used to change the iPod battery indicator. By default the iPod display a battery with some small tags. You can change that to a numeric representation from 0 to 999, giving a better understanding of battery status.
Why use iPodBatteryIndicator?
The digital number indicator gives a more detailed view of battery status.
You can change from analog (a small battery picture on iPod) to digital.
System requirements: Mac OS X 10.3-10.4
iPodBatteryIndicator is freeware.
YamiPod: Yet Another iPod Manager
PR: YamiPod is a freeware application to efficiently manage your iPod under Mac OS X, Windows and Linux. Here's a brief description of the features in YamiPod:
stand alone program, no installation required
iPod is automatically recognized
MP3 and AAC files can be copied to/from iPod
read/write access to MP3 ID3 and AAC info
lyrics support (with Internet auto search)
playlist support (On-The-Go included)
playlists import (PLS, M3U)
full Unicode support
auto-download new versions
advanced song import/export settings
2 restore features
built in music player
iPod information
2 search features
remove duplicated tracks
find lost music files
easy ratings edit
PC to iPod synchronization
create and edit notes
automatically update song play counts
News RSS and podcasts to iPod upload
Growl support (Apple only)
export song lists to HTML or plain text files
New in this version:
[ADD] Unicode support in notes,lyrics and RSS news!
[ADD] resizable main window under Linux
[ADD] multiple playlist import
[ADD] striped song list box under windows
[ADD] YamiPod lyric DB
[ADD] play count column
[ADD] eject under Linux (eject command needed)
[ADD] delete confirmations
[ADD] more playlist song info
[ADD] too many notes warning
[ADD] new import/export path settings
[ADD] manual lyric search
[ADD] keep highest/lowest bitrate when removing duplicates
[ADD] audioscrobbler.com support
YamiPod is freeware.
iPod Deals
For current iPod prices from a variety of sources, see our Best iPod Deals.
Join us on Facebook, follow us on Twitter or Google+, or subscribe to our RSS news feed
Today's Links
Mac of the Day: Lisa, introduced 1983.01.19. The ancestor of the Macintosh had a mouse, a graphical interface, and a $10,000 price tag.
Recent Content
Custom Search
Follow Low End Mac on Twitter
Join Low End Mac on Facebook
Favorite Sites
MacSurfer
Cult of Mac
Shrine of Apple
MacInTouch
MyAppleMenu
InfoMac
The Mac Observer
Accelerate Your Mac
RetroMacCast
The Vintage Mac Museum
Deal Brothers
DealMac
Mac2Sell
Mac Driver Museum
JAG's House
System 6 Heaven
System 7 Today
the pickle's Low-End Mac FAQ
Affiliates
Amazon.com
The iTunes Store
PC Connection Express
Macgo Blu-ray Player
Parallels Desktop for Mac
eBay

Advertise