iPod Outsells Sony in Japan, Sony Takes on iPod shuffle, Tux Stands, PivotDock, TuneSync, and More
Compiled by Charles Moore and edited by Dan Knight - 2005.08.25
This Week's iPod News
We're adding a new section to iPod News Review that covers health warnings - most of which are related to playing the iPod too loud. Just remember that these warnings apply to any device with headphones, not just iPods.
PowerBook, iBook, iPod, and other portable computing is covered in The 'Book Review. General Apple and Mac desktop news is covered in The Mac News Review. News about Apple's transition to Intel CPUs and other Intel developments is covered in The Macintel Report.
All prices are in US dollars unless otherwise noted.
News and Comment
iPod Health Alerts
Products and Services
Software
News and Comment
iPod Plays Winning Tune, Passes Sony in Japan
The Guardian's Justin McCurry reports:
"The telltale white wires protruding from dozens of ears on a busy Tokyo street say it all: these are heady days for Apple in Japan. In a world once dominated by Sony, Apple's iPod leads the market in digital music players, with a 36% stake against Sony's 22%.
"For an already embattled Sony, more unwelcome news arrived earlier this month in the form of Apple's long-anticipated launch of the Japanese version of the iTunes online music store."
Sony Takes on iPod shuffle
vnunet.be reports:
"Sony is attacking Apple's iPod Shuffle market with two new MP3 players in a similar price bracket, but with better battery life and a screen.
"The Walkman Bean is a palm-sized MP3 player that comes with 1 GB or 512 MB of storage and 50 hours of battery life. The models will be priced at £99 and £79 respectively."
Note: The 512 MB iPod shuffle sells for £59 and the 1 GB model for £75.
iPod mini to Switch from Hard Drives to Flash Memory?
iPod Hacks reports:
"There have been rumors over the past few months indicating that Apple may turn the iPod mini into a Flash-RAM player, saying farewell to the Hitachi 1" hard drive that currently serves as the storage core of the unit. Further indication that this may soon come to pass comes from Tom's Hardware who recently reported that Samsung may be in the process of wooing Apple over from hard drives to Flash memory for certain members of the iPod family."
IBM's SoulPad: iPod-based Wearable PC
iPod Hacks reports:
"As CNET reports, researchers at IBM's Wearable Computing division have developed software that allows the user to carry around their entire desktop environment on an iPod or other portable storage device. The software, known as SoulPad, installs on a user's PC and allows the stored desktop environment to be accessed via USB or FireWire....
"IBM has been testing SoulPad on a 60 GB iPod photo using Knoppix (a flavor of Linux) as the autoboot OS in conjunction with VMWare Workstation to establish a stable, virtual PC environment."
United Airlines Canada Giving Away iPods, US Trip
iPod Daily News reports:
"United Airlines announced today that it will celebrate the fifth anniversary and success of its Canadian Web site with a contest, giving away three iPod minis 4 GB, one iPod 20 GB and a grand prize of 50,000 Saver Award miles allowing for one pair of United Economy, roundtrip tickets for travel from any United gateway in Canada to any of the more than 150 destinations United flies in the continental United States.
"Prizes are subject to the Official Contest Rules and applicable United Airlines ticket terms and restrictions, including the Saver Award Rules."
iPod Health Alerts
Tinnitus: Ringing in Your Ears
4hearingloss.com reports:
"These days anyone who's into music carries an iPod or another brand of MP3 player, such as the Creative Labs Zen MP3. They give music lovers the opportunity to carry their entire CD collection in their pocket.
"You don't even need a particularly big pocket because the mini iPod is so small and slim and light. They look slick and their functionality is fantastic; you turn the volume up and change tracks by stroking the super sensitive click wheel on the front, Apple have put all the buttons underneath.
"While many people claim to be in love with their iPod and some are quite simply unable to function without it, a few are beginning to find that when they take their earphones out, that the music just doesn't stop. The problem is that portable music players are damaging users' hearing. The irritating hum that sometimes rings in our ears, known as tinnitus, is becoming a potentially serious issue for people playing their music at very high levels. Apparently the people worst affected by tinnitus are commuters, who try and drown out the sound of trains, traffic and other peoples music, by turning their own iTunes up as high as they will go."
Danger of Permanent Damage to Hearing
Irish Health reports:
"The massive popularity of iPods and other portable music players could mean many more people will develop hearing loss, according to experts.
"If the volume through headphones is too high, there is a real risk of permanent damage to hearing, they say."
Aussie Government: 'Turn Your iPod Down'
iPod Observer's Bryan Chaffin reports:
"The Australian government is expected to release a report recommending that iPod and other digital media device users turn the volume down, according to a report from the Sydney Morning Herald. The research was conducted by Australia's National Acoustic Laboratories, and will warn of increasing instances of tinnitus (ringing in the ears) and general hearing loss from listening to the devices with the volume too high."
iPods Give an Earful
Sky News reports:
"Owners of iPods face increased risks of tinnitus and other hearing problems according to Australian researchers.
"One quarter of iPod users and other portable music players are damaging their ears by blasting tunes into them.
"Sydney's National Acoustic Laboratories found around 25% of those surveyed were listening to their players at volumes similar to small power tools.
"The team predicted increased levels of tinnitus because people were unable to adopt "responsible" listening habits."
Products and Services
Tux Stands Dress Up iPod and iPod mini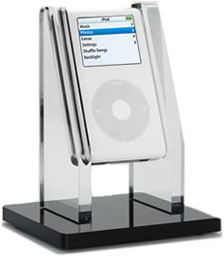 [PR] The Plasticsmith announces the release of tux for iPod, the first elegant stand for Apple's ubiquitous music player. Tux is a protective pedestal that is designed to be placed on the desk, next to the stereo, on the night stand or any place where you regularly listen to your iPod with headphones or connected to speakers. Available for iPod and iPod mini, it comes in two versions, upright and tilt. Its side supports are built from extra-thick, flame-polished acrylic, slotted for a perfect fit and easy loading and unloading. Tux suspends iPod above the base, supporting charging and syncing with iPod's cable while secured. It is available in two color themes, black-based or white-based, with clear sides on all models and 3M nonskid pads for stability and protection of table tops.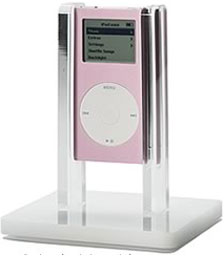 At launch, all eight models will be sold exclusively through Plasticsmith's online store at $35 each (plus $3 shipping and handling).
Founded in 1974, The Plasticsmith was the first company to announce a full line of accessories for Mac mini, including the mini Tower, mini Skirt, and Grandstand. It also designed and produces Lapvantage, the ergonomic laptop stand.
Belkin TuneSync Lets You Listen to Your iPod While It Charges
[PR] Belkin's new TuneSync for iPod integrates an iPod dock with a five-port USB 2.0 hub. It adds a convenient stereo-out jack that lets you listen to your music by connecting your stereo, powered speakers, or headphones while the iPod charges. With its slim and elegant design and top-load dock, the TuneSync saves you valuable desktop space. It will be shipping in North America in November 2005.
Designed to work seamlessly with all your USB 1.1 and USB 2.0 devices, the TuneSync lets you connect up to five USB 2.0 devices, such as your printer, scanner, hard drive, digital camera, thumb drive, media readers, and more to your computer. LEDs monitor your device activity for master power status and all port activity.
Benefits
Charges and syncs your iPod or iPod mini
Includes a stereo-out jack ideal for connecting your stereo, powered speakers, or headset
Lets you easily monitor port and power status with LEDs
Features over-current detection and safety
TuneSync for iPod - $59.99
smartCharge Flexible Car Charger for iPod shuffle
[PR] SendStation Systems, creators of the popular PocketDock line of iPod adapters, announced the smartCharge all-in-one car charger for the iPod shuffle. With its unique design, smartCharge is poised to become the platinum standard in iPod shuffle car chargers.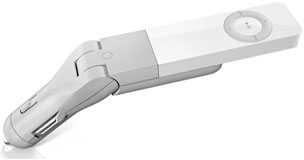 "The smartCharge's design clearly makes it the most suitable match for the iPod shuffle," says André Klein, SendStation Systems' founder. "If you are looking for the perfect companion when taking your shuffle on the road, smartCharge should be your first and only choice. No other charger better reflects the sleek lines of the iPod shuffle."
smartCharge not only has awesome good looks, it's also the most compact car charger available: The single-piece, cable-free design weighs a mere 30 grams (1.1 oz.), slips easily into virtually any pocket, and can thus be taken anywhere.
A built-in 3.5 mm (1/8") industry-standard audio jack allows you to hook up any cassette adapter or use line-in sockets found on many car stereos without constantly re- and disconnecting the iPod - just grab your iPod shuffle and go.
A unique feature of the unit is that the docked iPod shuffle can be tilted 72°, giving the user convenient access to the shuffle's control buttons.
An invisibly integrated LED displays power status, and the easily replaceable fuse protects the attached iPod shuffle. By attaching a USB-iPod docking cable, smartCharge can also be used to charge fourth generation iPods and iPod minis.
Built and tested to Apple standards with topnotch quality, smartCharge carries Apple's official "Made for iPod" badge.
PivotDock: Smallest Docking Station for iPod shuffle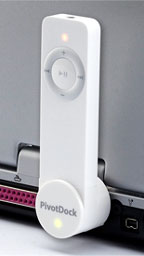 [PR] August 24, 2005 &endash; SwitchEasy Limited is proud to announce its first product &endash; PivotDock.
PivotDock, with its patent pending design, is the smallest docking station for the iPod Shuffle, freeing iPod Shuffle owners from the maze of connecting wires and large, bulky plastic docks.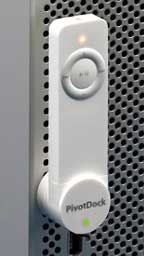 Featuring a positive-click 180° pivoting design, the PivotDock significantly reduces the spatial footprint of any docked iPod Shuffle, safely tucking it within a smaller space and minimizing the chances of accidental breakage.
PivotDock also features a bright green LED status light that offers an additional "Bling" element for the shuffle. The PivotDock is compatible with Mac and PC, and supports USB 1.0/2.0 ports.
PivotDocks will be available for shipping on September 9th, 2005.
To celebrate the worldwide launch of the new product, PivotDocks are available at a limited time "Early Bird Online Special" at $9.99 plus shipping and handling charges.
PivotDock has a suggested retail price of $15.99 and can be ordered online.
DecoDock Lava Edition
[PR] Pressure Drop has announced the DecoDock Lava Edition, a colorful and stylish addition to any desktop. With a glossy black base and glowing red LEDs, the DecoDock Lava Edition provides users with a simple, sultry way to connect an iPod shuffle to their computer. DecoDock Lava Edition sells for $28.99 and is now shipping in limited quantities. Pictures and more information can be found at pressuredropinc.com.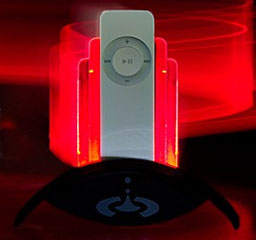 "You too can enjoy the striking combination of red and black shared by other members of the iPod family," said David Gawlowski, President of Pressure Drop. "With DecoDock's flexible Art-Techo design we're not limited to a single configuration or style - how many other docks remind you of an erupting volcano or a certain district in Amsterdam?"
DecoDock is also offered with white LEDs and the following base colors: cobalt blue, obsidian black, silver, white, pink, and green. All colors are currently shipping and available for $28.99 at pressuredropinc.com or from one of our approved domestic or international resellers.
DecoDock was the first stylish dock designed to complement and enhance the iPod shuffle and provides an elegant solution for users who want a simple, artistic way to connect their iPod shuffle to their computer. Designed in the classic Art Deco style, the DecoDock's lighted columns tower over a brilliantly colored and graceful arc, enhancing the pleasing simplicity of the iPod shuffle. The iPod's plastic cap can be stored in the back of the DecoDock, a unique feature designed specifically to help prevent it from getting lost.
DecoDock Lava Edition - $28.99
Icesuit Shuffle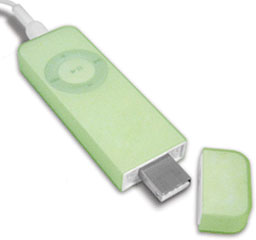 [PR] Icesuit Shuffle is a durable and flexible iPod shuffle protective sleeve. It protects your iPod shuffle against everyday hazards and scratches.
Protects your iPod Shuffle from bumps and scratches
3 different colors to fit your mood
Elastic adjustable armband included
Silicon rubber material prevents your iPod Shuffle from slipping and sliding
Access to all controls
Specifications:
Net Weight : 0.2 oz
1 year warranty
MSRP: $19.99
Dock Adapter for iPod shuffle
[PR] This essential add-on for the iPod shuffle lets you connect iPod accessories with the Dock Connector through the shuffle's USB port. The Dock Adapter for iPod shuffle gives your shuffle the flexibility to work with such enhancements for iPod as battery packs, mobile power cords, iPod speakers, and USB/FireWire cables that have the Dock Connector.
Note: Requires 5V+ of USB power to charge your iPod shuffle. Compatible with power and audio accessories only. iPod photo accessories and car integration kits are not compatible with the Dock Adapter for iPod shuffle.
*Will not sync when used with a FireWire cable. However, power and audio will be compatible.
Operating Instructions: iPod shuffle must be in the ON position (in either shuffle or play-in-order mode) to charge when used with the included AC or DC adapter.
Advantages
Charges your shuffle using your Dock Connector's power cord
Works with any Belkin TuneBase™
Provides pass-through audio
Power Pack for iPod shuffle - $34.99
FastMac Ships Longest Lasting Battery for Click-Wheel iPod
[PR] FastMac announced that it has begun shipping the longest lasting battery upgrade for Apple's 4th generation iPod with Click-wheel. All customers that placed preorders through the company's website will receive their shipments in the next few days, along with their free gift with purchase. FastMac has also extended the free charger with iPod battery offer until midnight, August 31st, 2005. Orders placed via the company website will receive their choice of a free travel charger or cigarette lighter adapter.
FastMac's TruePower battery upgrades replace the iPod's original internal battery with a larger capacity and longer lasting advanced power cell battery. The upgrades offer 20-70% more capacity than the original OEM battery and up to 7.5 times as many charge cycles. This is accomplished through the use of a patented nanoparticle technology called TruePower, which significantly slows the degradation of the power cells inside the battery. This allows the battery to run cooler and longer, thereby allowing FastMac to provide the industry's only 2-year warranty.
"With the non-scratch tools that we provide, installing batteries into 4th generation iPods is easier than ever," said Michael Lowdermilk, Business Development Manager for FastMac Performance Upgrades, Inc. "We're the only company that also provides the Torx T6 screwdriver needed to remove the interconnect board that stands between the battery and the iPod. And, professional install is just 24 hours away for those that need it."
TruePower technology can be found in batteries for the following types of iPods:
iPod Gen 1 (with Scroll-wheel) $39.95
iPod Gen 2 (with Touch-wheel) $39.95
iPod Gen 3 (with Touch-wheel & Dock Connector) $29.95
iPod Gen 4 (with Click-wheel) $29.95
Each battery upgrade from FastMac carries a 2-year warranty & includes all necessary installation tools (non-scratch) and instructions. 24-hour installation services are available for an additional $39.95. Using a box in the mail service provided by DHL, FastMac will pickup the customer's iPod, install the battery and provide a light clean up before shipping back to the customer, all within 24 hours.
"FastMac's use of TruePower technology has ignited a firestorm of interest in other potential uses and applications," said Michael Lowdermilk, Business Development Manager for FastMac Performance Upgrades, Inc. "This is just the beginning- we are looking forward to incorporating this technology into other products, such as batteries for digital cameras and smart phones."
About TruePower
TruePower is the name of an innovative new technology designed to extend the life of ordinary Lithium Ion cells, commonly used in most rechargeable batteries. More than 4 years in development, this patented technology allows tiny ceramic particles (each less than a millionth of a millimeter in size) to be integrated into the molecular structure of the chemical binding agent found inside each Lithium Ion battery. These particles then link-in with each other & a proprietary energy management circuit to create an extremely dense and highly conductive layer on the surface of a capacitor-enhanced battery pack. This combination delivers the power necessary to satisfy the pulse demands placed on most batteries, whilst ensuring the protection of the Lithium cell matrix. This results in battery packs that can be recharged many more times as well as yielding longer run times per charge. Whereas ordinary battery packs start losing their power within a few months, TruePower-enhanced battery packs continue giving consistent power for long periods, allowing OEMs to offer warranties of 2 years or more. More information about TruePower is available via the website:
About FastMac iPod Batteries
FastMac's iPod battery upgrades utilize TruePower technology- a patented material & energy management circuit that is designed to protect the battery's internal lithium crystal matrix from damage caused by power spikes. These spikes occur when the iPod demands a sudden high current peak- for example, to turn on the backlight or to load the next few songs. Over time, these power spikes decrease capacity, runtime and battery life, eventually rendering the power cells unusable. Through the use of TruePower technology, the energy management circuit is able to smooth out the power spikes and lower the rate of decay. This protects the battery and leads to a longer lifecycle. Not only does this extend the usability of the iPod, it also helps the environment by curbing the depletion of chemicals and plastic materials used in battery products and reducing the number of waste batteries sent to landfills. More information about FastMac's battery upgrades is available via the website.
Logitech Wirelessly Links iPod to Home Entertainment System
[PR] Logitech has introduced the Logitech Wireless Music System for iPod, which allows people, in a matter of minutes, to wirelessly connect their iPod or MP3 player to a stereo or speaker system, share their digital music out loud, and control the music using their player as a remote control.
The Logitech Wireless Music System for iPod is a complete, two-piece, plug-and-play solution: a music transmitter connects to any portable music player's standard headphone port and a music receiver plugs into a home stereo receiver or multimedia speakers through an RCA port or a 3.5 mm jack. There's no complicated home network needed.
"The goal with this product is to make it easy for portable music player owners to share their music collections through their high-quality home-entertainment speakers," said Ray Weikel, director of product marketing for Logitech's Audio Business Unit. "The Wireless Music System for iPod is perfect for dinner parties. From the couch or dining room table, people can skip tracks or hop from playlist to playlist, using their player as a remote control."
The Logitech Wireless Music System for iPod relies upon the Logitech Music Anywhere(TM) wireless technology to deliver a reliable, persistent connection and ultimate plug-and-play simplicity. The transmitter and receiver are paired at manufacturing, ensuring they will instantly connect when plugged in, and remain connected. This proprietary technology provides crystal-clear digital audio quality and features adaptive frequency hopping, helping the products overcome any potential wireless interference. The music transmitter sends audio streams directly to the receiver at a range of up to 10 meters (33 feet).
The Logitech Wireless Music System for iPod will be available in the U.S. and Europe, beginning in October. The suggested retail price is $149.99 in the U.S.
SpeakerCraft MODE Allows You to Control Your iPod in up to Six Rooms
[PR] SpeakerCraft, America's largest manufacturer and innovator of architectural loudspeakers and custom installation products, announces the upcoming release of MODE, the Music On Demand Experience. The MODE, a full-color, wall-mounted screen interface with a scroll wheel and push button controls, allows home owners to access and control all of their multimedia equipment - including their iPod - in up to six rooms of the home.
MODE will support up to six multimedia devices through the SpeakerCraft MZC (multi-zone control) system - including hard drive music servers, satellite radio, AM/FM radio tuners, and all other sources that respond to infrared commands. The key feature of MODE is its ability to control and display all content stored on your iPod in up to six rooms, a feature not available on any other multi-zone home install system. In addition, MODE's sleek design and interactive display screen strike a perfect balance between style and functionality.
"Having lived with an iPod since its introduction, I have always been thrilled with its ease of use and complete access to music and audio content," explains Jeremy Burkhardt, President of SpeakerCraft. "It is the music server of choice. MODE will now allow people to enjoy the iPod experience throughout their home with the same ease and convenience."
MODE will be available starting in the fall of '05 from any SpeakerCraft dealer. To find a dealer near you or to learn more about SpeakerCraft, visit:
iDJ Mixing Console for iPod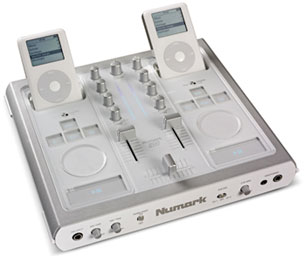 [PR] The iDJ is a 2-channel mixer that enables mobile DJs and iPod enthusiasts to seamlessly integrate their portable music libraries with other music and sound reinforcement systems - transforming the iPod from a personal music player into a source playback device. With its compact form factor, comprehensive feature set, and a blue on white aesthetic appeal that blends perfectly with the iPod, the iDJ makes the music more accessible and the party better than ever.
Two universal iPod docking stations will accept all model iPods with bottom connector and charge while connected
Large iPod navigation controls
3-band EQ with gain control on both channels
Dedicated microphone input with tone and level control
Phono/line inputs for adding additional devices on both channels
USB connectivity (PC and Mac) enables iDJ to function as a music-loading base
iPod's recording capabilities supported by iDJ for voice memos, etc.
Turntable spindle receptacle enables placement of the iDJ on a turntable
Zero tolerance precision switches/knobs for a tight, precise feel
Link: iDJ Mixing Console for iPod
Software
iFeedPod Syncs RSS Articles to iPod
[PR] Download your favourite RSS feeds to your iPod. Read them anywhere.
A small and simple utility for downloading RSS feeds to your iPod. Requires Mac OS X 10.4 Tiger. Requires an iPod or iPod mini with Notes facility. Version 1.02 fixes a problem with creating new feeds - the proper entry is now created.
System requirements:
Mac OS X 10.4.0 or higher.
An iPod that with the Notes feature.
iFeedPod is freeware.
Anapod Explorer Integrates iPod, Windows Explorer
[PR] Anapod Explorer is the most advanced Windows iPod software available, offering full iPod management through full Windows Explorer integration under My Computer, easy drag and drop iPod transfer and iPod backup, PDA function support, web page interface access to your iPod through a built-in web server, powerful search and reporting capabilities using a built-in SQL database, and much more, all in one compact package.
Anapod Software currently supports the following devices:
Apple iPod shuffle
Apple iPod mini: First Generation
Apple iPod mini: Second Generation
Apple iPod: First Generation (mechanical wheel)
Apple iPod: Second Generation (touch wheel)
Apple iPod: Third Generation (touch wheel)
Apple iPod: Fourth Generation (click wheel)
Apple iPod: Fourth Generation* (click wheel and color display)
Apple iPod photo
Apple iPod U2 Special Edition
iPod+HP (same as 4th Gen Apple iPod)
* Some are calling this "Fifth Generation". Regardless, Anapod supports all iPod models available in the market.
All storage capacities (GB) are supported.
Compatible with all iPod firmware versions.
iPod must be formatted for Windows.
Runs on Windows 98SE, ME, 2000, and XP.
New in this version:
Anapod PhotoSync: This release adds the ability for Anapod Explorer to transfer photos to the iPod photo and iPod with color screen. To access this feature, click on the Sync button in the Anapod Explorer toolbar. PhotoSync works similarly to the photo synchronization feature in iTunes, allowing you to select a photo folder and individual albums to transfer to the iPod. Anapod PhotoSync supports the transfer of JPEG, PNG, GIF, and BMP images, full-resolution original image transfer, album grouping, and the full complement of iPod-supported image types including thumbnails, full-screen, slideshow, and NTSC TV display format.
Support for Folder-Based Album Art: In previous releases, Anapod would only automatically assign album art for files with embedded art. This release adds the ability for the user to specify a set artwork filename (e.g. cover.jpg, artwork.png). Anapod will then look for an artwork file by that name contained in the same folder as the audio file when transferring.
Added "Play on Computer" feature for Anapod Shuffler.
Added support for extracting album art from MP3 files with embedded BMP images.
The Comment field is now available for use in MorphLists.
Link: Anapod Explorer
4G iPodLinux Installer
[PR] An iPodLinux installer for 4th generation iPods, iPod photos, and iPod minis.
System requirements:
Mac OS X 10.3.9 or later
iPod (4G, photo/color, or mini)
4G iPodLinux Installer is freeware.
iPod Deals
For current iPod prices from a variety of sources, see our Best iPod Deals.
Join us on Facebook, follow us on Twitter or Google+, or subscribe to our RSS news feed
Today's Links
Mac of the Day: Lisa, introduced 1983.01.19. The ancestor of the Macintosh had a mouse, a graphical interface, and a $10,000 price tag.
Recent Content
Custom Search
Follow Low End Mac on Twitter
Join Low End Mac on Facebook
Favorite Sites
MacSurfer
Cult of Mac
Shrine of Apple
MacInTouch
MyAppleMenu
InfoMac
The Mac Observer
Accelerate Your Mac
RetroMacCast
The Vintage Mac Museum
Deal Brothers
DealMac
Mac2Sell
Mac Driver Museum
JAG's House
System 6 Heaven
System 7 Today
the pickle's Low-End Mac FAQ
Affiliates
Amazon.com
The iTunes Store
PC Connection Express
Macgo Blu-ray Player
Parallels Desktop for Mac
eBay

Advertise