iPod nano Sales Hot, Finns Protect Fair Use, iPods Replacing DJs, Free iPod nanos, and More
Compiled by Charles Moore and edited by Dan Knight - 2005.09.22
This Week's iPod News
PowerBook, iBook, iPod, and other portable computing is covered in The 'Book Review. General Apple and Mac desktop news is covered in The Mac News Review. News about Apple's transition to Intel CPUs and other Intel developments is covered in The Macintel Report.
All prices are in US dollars unless otherwise noted.
Rights
News and Comment
Tips
Products
Software
Rights
Finnish Government to Protect Fair Use
The Register's Tony Smith reports:
"Fears that Finland's upcoming new copyright legislation would de facto render MP3 players illegal are unfounded, Ministry of Justice officials have claimed.
"Like the US' Digital Millennium Copyright Act (DMCA) and laws enacted by other European Union member states under the direction of the European Union Copyright Directive (EUCD), Finland's proposed new law would ban the circumvention of copy protection mechanisms. That said, the law does make it possible to copy music for personal use, which gives, say, CD owners the right to rip songs in order to transfer the songs to an iPod nano."
Swedish MP3 Player Maker Refuses to Pay Copy Levy
The Register's Jan Libbenga reports:
"Swedish producer of MP3 players Jens, which offers a full line of flash-based audio players and recorders, is facing legal proceedings after refusing to pay a controversial copying charge on its products.
"According to Swedish news site The Local company director Jens Nylander told a national newspaper 'that it is not our problem that the record industry hasn't come up with its own solution to safeguard its interests.'
"Like many other European countries, Sweden has a 'cassette compensation', which was designed to compensate copyright owners and applies to blank recording media. In 2004 85 million kroner in compensation was collected by Copyswede, an umbrella collecting society for coordinated negotiations and agreements in certain copyright areas. The law now also affects MP3 players."
News and Comment
Apple May Sell More iPod nanos Than Initially Expected
Forbes' Ed Lin reports:
"Piper Jaffray said the iPod nano from Apple Computer is 'selling well.'
"Available for six days, the music player is seeing high demand, based on a survey of 20 Apple retail stores, Piper Jaffray said. 'No store that we checked with had black 4-gigabyte nanos in stock.'
"The traffic to Apple's Web site has recently spiked to all-time highs, Piper noted, citing information from Alexa.com. 'We believe that the publicity surrounding Apple's launch of the new iPod nano, and to a lesser extent, the unveiling of Motorola's ROKR phone, has fueled the spike in interest observed in the Web traffic data.'"
Honey, I Shrunk the iPod
Newsweek's Steven Levy says:
"Ever since it was clear that Apple's 2001 foray into digital music would be a smashing success, naysayers have been proclaiming that it was only a matter of time before competitors would catch up to and eventually surpass the wildly popular iPod player. Even though this prediction has so far proved no more reliable than an Enron balance sheet - as of this summer, the iPod was claiming a 74 percent market share of digital music players - Apple CEO Steve Jobs feels the pressure. 'Playing it safe is the most dangerous thing we can do,' he recalls telling a gathering of Apple's hundred brightest execs and engineers last year. 'We have to get bolder.'"
Apple's Persistence Everywhere Inside iPod nano
nikkeibp.co.jp says:
"Nikkei Electronics has examined the 'iPod nano' portable audio player recently announced by Apple Computer, Inc. We decomposed a 2 GB model."
Link: Apple's Persistence Found Everywhere Inside 'iPod nano'
New iPod to Help Chip Makers
Dow Jones Newswires' Yun-Hee Kim reports:
"Buoyant demand for NAND flash memory chips thanks to the launch of Apple Computer Inc.'s (AAPL) new flash-based iPod music player should ensure that makers of dynamic random access memory chips continue to place more emphasis on boosting their production capacity for NAND in the future, analysts say.
"The move should be positive for the memory-chip market in the longer term as it will help prevent a supply glut in the DRAM market, although high DRAM inventories and recent production growth are likely to cap any immediate impact on prices, they say.
"Earlier this month, Cupertino, Calif.-based Apple unveiled a new digital music player called the iPod nano to replace the iPod Mini. In contrast with the Mini, which is hard drive-based, the Nano relies on flash memory, making it lighter and more energy-efficient. The new music player comes in two and four-gigabyte models priced at $199 and $249 respectively.
"NAND chips - which take their name from 'not-and,' a type of chip logic - are more expensive than DRAM chips and are popular in consumer electronics products that frequently are turned on and off such as MP3 players and digital cameras. Without significant capital outlays, DRAM makers can switch their production capacity to make NAND chips. Korea's Samsung Electronics Co. (005930.SE) and Hynix Semiconductor Inc. (000660.SE) shifted to produce higher-margin NAND chips in the second quarter amid a steep decline in DRAM prices. DRAM chips are widely used in personal computers."
iPod Replacing DJs at Wedding Receptions
CNET News.com's Alorie Gilbert reports:
"As a bride-to-be, Jessica Spence was taking extra care to note the details at a friend's wedding recently.
"One thing that stood out to her was an idle-looking DJ who hit a few buttons on his laptop and appeared to take the rest of the night easy...
"With their confidence in wedding DJs dented, Spence and her fiancé are counting on their iPod to provide the musical entertainment at their wedding reception in Minneapolis later this month. They're among a growing number of couples making personal music players a central part of their big day."
Free iPod nanos? Sort Of
PR: Pioneering online marketing firm Gratis Internet announced the launch of yet another FreePay web site. This time it's the Apple iPod nano that Gratis is giving away absolutely free. Consumers can get this amazingly small MP3 player totally free of charge, including free shipping.
To acquire a free 4 GB iPod nano, valued at $249, visitors must simply try an online offer from one of FreePay's host of respected national advertisers, including Citibank, Blockbuster, AOL, Columbia House, and BMG, among others, and refer five friends, each of whom must try an offer. The offer is also available via FreePay's popular freeipods.com site.
The latest iteration of Apple's leading digital music player, the iPod nano replaces the hugely popular iPod mini. iPod nano is amazingly small and, despite being as thin as a pencil, holds 1,000 songs, features a color LCD screen and a click wheel interface. In addition, it can be used to view photos and run slide shows.
"iPod nano is a huge leap in technology. We think this is going to be another 'must-have' item, which is what our customers can always expect us to offer," Gratis Internet/FreePay founder Peter Martin said. "Some people talk about the iPod having plateaued in popularity but with innovation like the nano, we don't see that happening anytime soon."
"Since June 2004 we've given away about 20,000 Apple iPods valued at more than $6 million, completely free of charge," Gratis Internet/FreePay founder Rob Jewell said. "We think the iPod nano may prove to be the most popular iPod model for us yet."
FreePay's network of websites hosts offers from well-known online advertisers. When a visitor to a FreePay site signs up for an offer from one of these advertisers, FreePay is paid by that advertiser for delivering a customer lead. Using those revenues, FreePay pays for the items it gives away.
In addition, FreePay is an online payment method which enables customers to acquire free, high-quality goods - including iPods, flat screen televisions and monitors, designer handbags, Xbox 360s and more. FreePay provides these goods to consumers completely free of charge, including free postage, simply for trying online offers from leading national advertisers.
Toshiba Introduces Fuel Cell Prototypes for MP3 Players
DigiTimes.com's Jessie Shen reports:
"Toshiba today announced that it has developed two prototypes of direct methanol fuel cell (DMFC) units for mobile audio players. One features an output power of 100mW for flash memory-based digital audio players and the other offers 300mW for hard disk drive (HDD)-based digital audio players."
Tips
Badge Holder Becomes iPod nano Case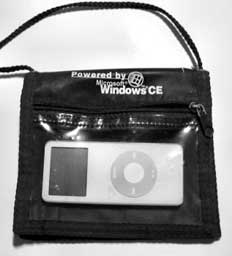 MacDevCenter's Todd Ogasawara says:
"Can't find an iPod nano case that suits you yet? Need something to use while you look? Don't mind looking like a geek (or can't help it in my case :-). Then grab one of those old conference badge holders you have hanging in a cluster somewhere and use it as an iPod nano holder until something you really like comes along."
Motorola ROKR E1 Phone: Connectivity Troubleshooting Tips
A new Apple Knowledge Base article says:
"If you're having connectivity issues with your Motorola ROKR E1 phone in Mac OS X 10.4 Tiger, iSync 2.1 or later, or iTunes 4.9 or later, this document tells you some things that you can do."
Make Your Own iPod nano Sleeve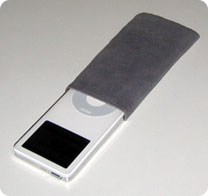 MacVroom reports:
"MacVroom was lucky enough to score the last 4 GB iPod nano in-stock at our local Apple Store. We are planning on integrating the iPod nano into our Mac mini MR2 install. For those of you that have not experienced the nano in person, it is an amazing must-have (and hold) gadget. We have been previously toting a 60 GB iPod, but the diminutive size of the nano drove us to test it out as a pocket-friendly replacement.
"Our only disappointment with the iPod nano was that Apple chose not to include any type of case to tote it around. Additionally, because the nano is so new, no other third-party cases are available yet for it. Like other iPods, the nano has a shiny chrome back and the face is a high-gloss white or black plastic, which are both fairly easily marred.
"We decided to take matters into our own hands and make a simple protective sleeve for our new nano...."
Products
HouseParty Turns iPod into a Stereo
PR: The PodGear HouseParty turns your iPod into a mini stereo system, pumping out 2x6W of crisp stereo sound.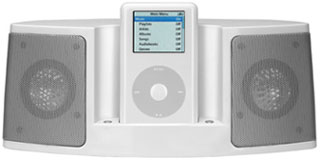 Beautifully designed & compact, HouseParty is equally at home in the living room, kitchen, bedroom or by your computer.
HouseParty offers a total solution for any recent iPod. As well as great sound, it will charge your iPod, iPod mini or iPod Shuffle, and even enables synchronisation with your computer over USB.
Features:
High quality 2.0 stereo speaker system
USB port for syncing your iPod with your computer
Charges iPod and iPod Shuffle
Auxiliary line in port
Feather touch volume controls
Funky blue LEDs light up your iPod
Link: PodGear HouseParty
Power Down the Road in Style with AutoPod
PR: Don't settle for just a typical boring auto charger for your iPod. Keep your iPod, iPod nano or iPod mini fully charged in style with the new DLO AutoPod Car Charger for iPod.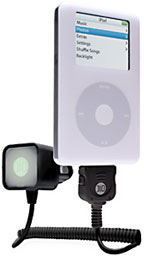 The new DLO AutoPod, available in black or white, includes stylish new curves, a transparent status light lens and a new glass finish. Its new modern design matches the beauty of your iPod, instead of embarrassing it. The white or black finishes also give you the choice of either matching the color of your iPod, or matching the darker interior shades of your car.
The AutoPod is as smart as it is good looking. The DLO AutoPod Charger Status Light will let you know your iPod's charging condition at a glance - viewable through the clear lens in the charger module. It glows red for charger 'power on' status, amber when it's charging and green when your iPod's battery is fully charged and ready to go.
The new AutoPod also includes Velcro tabs that allow you to mount the ultra-light iPod nano, connected to your AutoPod, anywhere you want in your car. The DLO AutoPod fits all dockable iPods including the iPod, iPod mini and iPod nano. It charges the iPod's battery from any cigarette lighter or 12v outlet in a car or truck. The AutoPod comes with a 24 inch coiled cord that stretches to over five feet in length.
With most chargers looking very plain, the new AutoPod matches the beauty and design integrity of the amazing iPods it attaches to. Get yours today and keep your iPod, iPod nano, and iPod mini always charged and ready to go.
Quick Facts
Color-coded Intelligence, three-stage charging status indicator
24-inch coiled cable stretches to over 5 feet
Velcro Tabs for convenient dashboard placement
Unique charger design looks great in any car's interior
Replaceable safety fuse protects against electrical surges
Price: $24.99
Mount, Power, and Charge Your iPod shuffle While Driving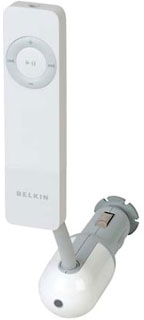 PR: You can now mount, power, and charge your iPod shuffle while driving with Belkin's new TuneBase for iPod shuffle. Offering the most flexible way to use your iPod shuffle on the road, the TuneBase features an innovative, flexible neck that easily positions your iPod shuffle for your convenience. It will be shipping in North America in November 2005.
While mounted in the TuneBase, your iPod shuffle powers and charges simultaneously. The TuneBase also features a 3.5mm line-out for use with the specially designed Belkin Cassette Adapter (included) or TuneCast II FM Transmitter (not included) for high-quality audio through your car stereo.
Benefits
Provides Plug-and-Play convenience
Provides a secure and stable connection for your iPod shuffle
Features custom-designed swivel-cradle
Locks securely to your iPod through USB connector
TuneBase for iPod shuffle (F8Z039) - $39.99
ClearClip for iPod shuffle
PR: RadTech, makers of iPod and mobile computing accessories and more, have announced immediate availability of the ClearClip for iPod Shuffle.

ClearClip is the versatile way to keep the iPod shuffle safe and secure while making it more portable than ever. Add some spontaneity to your Shuffle, go beyond the lanyard and clip it anywhere you choose &endash; your pocket, shirt, belt, backpack &endash; whatever works best for you! The fully transparent ClearClip complements your Shuffle, allowing it to shine as you take it for a spin. Available now for $17.95.
Also during Apple Expo, newly released products will be featured at RadTech stand C71.
The BT400 G5 Bluetooth Headset &endash; Compact and lightweight, the feature-rich BT400 G5 Bluetooth headset supports headset and hands-free profiles, simultaneous multi-pairing and voice dialing for effortless, hands-free communication.
The CableYoYo &endash; Ultra-thin and compact cable management system to clean up and organize your workspace.
Portectorz &endash; Transparent silicone port protector for PowerBook, iBook, iPod & AirPort Express.
Ice Crème v.2 &endash; iPod / iBook polish and scratch removal system for acrylic and bright metal surfaces. The "M" version adds a special metal refinishing pad that can restore the iPod's bright metal back panel.
NeoCase &endash; Top-quality Neoprene notebook soft-case with retractable Nylon handles and unique work-in case design allowing it to stay on while you work.
And, as an added bonus, RadTech will be offering a free notebook cleaning and screen restoration clinic: Every day during the Expo from 2:00-2:30 PM at RadTech Booth C71. Damage notebook screens will be restored using the optical polishing power of ScreensavRz screen protectors to remove key marks and scuffs. And, using OmniCleanz advanced cleaner, soil and grime will be removed from notebook exteriors, keyboards and palm rests.
Speck Products Unveils Nine New iPod nano Cases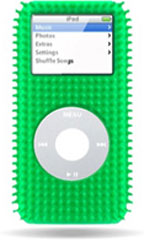 PR: Speck Products has announced nine new iPod nano cases that will be on retail shelves in October. With strong demand anticipated, the company expects to be first to market with the largest assortment of nano cases, in a variety of colors, textures and shapes.
"We are confident that we will be first to market with the largest collection of iPod nano cases available," said Tim Hickman, general manager of Speck Products. "Rather than reacting to Apple's new product news last week, we finalized our designs and went into preproduction three weeks ago. As a result, we have a generous head start, with nine unique products in production, and the capacity to produce up to 50,000 units per week of selected top sellers."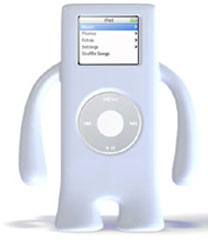 Speck's new collection of fun and functional iPod nano cases include:
Nano Grass FunSkin: Make your nano into a green machine with this funky new cover, which includes screen protector and belt clip. The unique, textured case will have your friends green with envy. Available in green only.($34.95)
Nano Cloudy FunSkin: This case will put you on Cloud Nine, with pillows of protection to guard your iPod nano from harm. Screen protector and belt clip included. Available in white only. ($34.95)
Nano ToughSkin: Tough on your stuff? ToughSkin for nano provides rugged protection and style. It's the case with "rugged good looks." Screen protector and belt clip included. Available in clear or black. ($34.95)
Nano iGuy: Meet iGuy, the only bendable, posable friend for your iPod nano. He's both fun and functional. Available in white only. ($34.95)
Nano Armband: Get moving with a stylish, sporty and secure nano case that's perfect for your next jogging session. Available in clear only. ($29.95 for Armband; $34.95 for Armband plus Skin)
Nano Connect and Protect: The SkinTight skin keeps your nano protected, and four distinct accessories keep it connected. Includes SkinTight skin, holster, caribeener clip, lanyard and wrist strap. Available in clear only. ($34.95)
Nano SkinTight: This rubberized skin adds protection against dust, knocks and scratches. Includes removable screen protector to keep your color screen looking sharp. Available in clear or black. ($19.95 each; $29.95 for three-pack, which also includes pink)
Nano SkinTight Deluxe: The classic, form-fitting skin features a screen protector and Deluxe Swivel Holster, which works as a belt clip. Available in clear or black. ($24.95 each; $34.95 for two-pack)
Nano See-Thru Three-Pack: Three translucent hard cases make your nano shine, with just a hint of color. Set includes pink, blue and clear. ($29.95)
Speck Products' new iPod nano accessories will ship to retail customers next month.
TuneTag Leather Case for iPod nano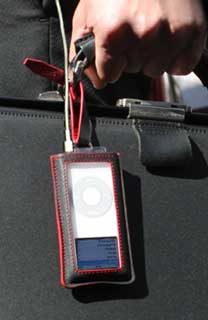 PR: TuneTag is a luggage-tag style genuine leather case for iPod nano. TuneTag is made from smooth ultra high quality genuine nappa leather. There is a transparent vinyl sheet which covers and protects both the iPod screen and click wheel from dirt and scratching. This gives the face of the iPod nano complete protection from outside elements, yet still allows for perfect control of the click wheel and a full view of the screen.
TuneTag also has a luggage-tag style belt strap which can be used to attach your iPod nano to the handle of your luggage, purse strap, bag or belt loop.
DLO Debuts Casual Leather Cases for iPod
PR: Digital Lifestyle Outfitters (DLO), makers of the DLO mini fling fashion cases for iPod mini, today announced the new DLO Relaxed Leather Cases for iPod. The genuine leather cases fit all 4G iPods and feature a hip, distressed leather look. These 'casual lifestyle' cases come in six different designs featuring contrast stitching, brass rivets and supple, worn leather textures. The DLO Relaxed Leather iPod Cases start at $34.99 and are being shown at Macworld Expo-Paris, booth C2.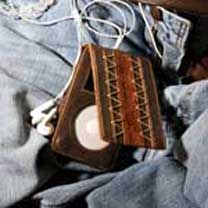 "We've designed a high-quality leather case that is dramatically different from the typical black, corporate leather iPod case," said Andrew Green, VP of Marketing & Creative Director at DLO. "These new Relaxed Leather cases are just so cool. There is nothing like them out there for iPod owners. The stitching, the brass patina rivets, the worn, antique feel of these Relaxed Leather cases is perfect. They parallel the trends seen on the street today and fit in with the casual cool look we all love. Everybody is a rock star with these cases."
DLO's Relaxed Leather cases come in six different styles - from the "Football Stitch" to the "Single Rivet" design. Each has its own look and feel but all feature a protective flip-over cover, a handy inside pocket to store ID, credit card or cash and a leather covered belt clip for an easy fit on the hip. The beautiful DLO Relaxed Leather cases are made from genuine leather that ages and gets softer as it is worn and broken in. Inside, a play-thru design offers access to all iPod controls, dock connector and headphone port.
Pricing and Availability: The DLO Relaxed Leather Cases for iPod cost $34.99 - $39.99 and will be available at select retail outlets nationwide in October 2005.
Harman Kardon Introduces Car Audio Solution for the iPod
PR: Harman Kardon, a leading provider of audio products for the home, computer and automotive industries, unveiled the European version of Harman Kardon Drive + Play, an integrated iPod docking system specifically designed for automotive use, at the Apple Expo in Paris from September 20 to 24. Unlike other products on the market, Drive + Play provides complete iPod control, including full browsing and playlist handling capability, while minimizing distractions for drivers.
The Harman Kardon Drive + Play system includes these integrated components:
A backlit LCD screen, large enough to present five lines of iPod menu text, yet small enough to be mounted anywhere it can be easily viewed by the driver. For maximum convenience various display languages are selectable.
A five-button navigation control unit with universal mounting options mimics the iPod's user interface and can be mounted on the center console or other location for easy access while driving.
"The brain" serves as an information processor and connecting port. The European version of Drive + Play features a wired FM transmitter. A 3,5mm audio output jack connects Drive + Play to any vehicle that has an auxiliary input. The additional auxiliary input of Drive + Play allows the user to route other audio signals into the vehicle's audio system.
Drive + Play charges the iPod when docked, displays customized user menus such as playlists and user preferences, and shuts itself off when not in use. The European version of Drive + Play will ship in November 2005.
Jabra C220s Flexible Stereo Headset for Phones and Music Players
PR: Flexible stereo headset for both phones and music players. With its flexible behind-the-ear wearing style, the C220s gives you the freedom to enjoy the best in stereo sounds and at the touch of a button use your mobile phone. It comes with an adaptor for use with music players.
High-quality sound by design: The C220s combines high-quality mini-speakers with Jabra's patented MiniGel to deliver superior stereo sound quality.
Dual-purpose: Depending on your phone, the C220s automatically mutes to receive incoming calls and resumes playing when you have finished your call. The inline microphone gives excellent voice pickup.
One touch control: With the inline answer/end button, you can activate voice dialing* and answer/end calls with one touch.
2.5mm 4-pole stereo connector
Weight (headset):1/3 oz.
Corded length: 4 ft.
Wearing styles: behind the ear w/Jabra MiniGels™
Microphone: Inline microphone
Supported special features:
Plugs directly into phone or music player (using adapter supplied)
Call answer and end button
Clothes clip for microphone for clear voice pickup
(*) subject to phone and/or network type
Software
WordPod Lets You Read Books on Your iPod
PR: Read on your iPod
WordPod converts an e-book into a set of files which can be read on any modern iPod (one with a dock connector).
WordPod creates books that feel like part of an iPod. Navigate by chapter or by page number, using the standard iPod interface.
With WordPod, you can read any of the 16,000 classics available at the Project Gutenberg library.
WordPod generates books that work even without WordPod installed. Share them with friends, or publish your own iPod novel.
New in this version: Fixed bug that caused crashes on startup.
System requirements: 3G or later iPod (any model with a dock connector)
WordPod is freeware.
PodWorks 2.8.5 Song Copying Tool for iPod
PR: PodWorks is a Mac OS X (Cocoa) application that compensates for the iPod's only downside: Apple only allows you to copy songs to your iPod. If you have two Macs and want to use your iPod to transfer music from one to the other, or you only store your MP3s on your iPod and need to copy them back onto your hard drive after a disk failure, you are out of luck!
This is where PodWorks comes in: it allows you to copy songs from any Mac iPod to any Mac running OS X 10.2 or higher (including Panther). Its important features include:
Superior performance: Many other standalone iPod song transfer utilities work by reading ID3 data out of every song on the iPod--a slow process. PodWorks, by contrast, is capable of reading directly from the iPod's internal database, resulting in nearly instantaneous display of all metadata.
More metadata: Since PodWorks can read from the iPod's internal database, it can also display and sort by song "metadata" not available through ID3 (including "Date Added" and "Play Count").
iTunes integration: In addition to copying songs to the Finder, PodWorks can send songs, playlists (registered version only), and metadata (star ratings, play counts, track numbers, etc.) directly to iTunes. It can also filter its song list to show you only the songs on the iPod that are not present in your iTunes library.
iTunes-like sorting and searching: PodWorks is designed so that its data columns sort intelligently, the same way they do in iTunes. For example, the "Artist" column sorts first by artist, then by album, then by disc number, then by track number. Additionally, it features an iTunes-style "type-ahead" search to enable quick access to specific songs.
Playlists: PodWorks recognizes your iPod's playlists. Entire playlists can be copied to your computer with a single drag (registered version only).
On-The-Go Playlist support: Very handy for people who don't want to use the automatic syncing in iTunes but still want to save their On-The-Go playlists.
Song Playback: PodWorks allows you to preview songs before you copy them by playing them directly off the iPod.
Strong organizational capabilities: Copying large numbers of files can get messy, so PodWorks can sort MP3 files into directories and change their filenames according to your preferences.
Portability: PodWorks can be placed on your iPod for convenient access away from your home computer. It will work when run off the iPod, and will remember its registration information even when connected to a previously unknown machine.
New in this version:
Fixed PodWorks 2.8.4's problem with Jaguar (10.2).
Fixed bugs related to the iPod selection list.
System requirements:
PodWorks requires Mac OS X 10.2 "Jaguar" or above
iTunes integration requires iTunes 4 or higher
PodWorks is $8 shareware.
Until registered, PodWorks has the following limitations:
30 day time limit.
250 song copy limit.
Songs must be copied one at a time.
Single-drag copying of playlists is disabled.
Link: PodWorks
Install Linux on 4G iPod from Windows
forceagainstsomething.com reports:
"A group of clever hackers have been porting Linux to Apple's iPod over the past year, and they've been doing a great job. But those of us with 4th generation iPods (HP iPod, Photo iPod) have been left out in the cold, patiently waiting for the ipodlinux team to make a 4th generation port. Well wait no longer, because I'm happy to report that I successfully installed Linux on my 4th generation iPod this morning.
"Except for a couple small quarks that I'll cover later, my iPod is working perfectly, and it even dual boots between Linux and Apple's default firmware. Installation instructions can be found at the ipodlinux team's wiki, but I thought their instructions weren't as clear as they could be, so here are instructions that I hope are easier to follow."
iPod Deals
For current iPod prices from a variety of sources, see our Best iPod Deals.
Join us on Facebook, follow us on Twitter or Google+, or subscribe to our RSS news feed
Today's Links
Mac of the Day: 20th Anniversary Mac, introduced 1996.03.20. Honoring Apple's 20th anniversary, the TAM was the first flat panel desktop Mac and had a unique design.
Recent Content
Custom Search
Follow Low End Mac on Twitter
Join Low End Mac on Facebook
Favorite Sites
MacSurfer
Cult of Mac
Shrine of Apple
MacInTouch
MyAppleMenu
InfoMac
The Mac Observer
Accelerate Your Mac
RetroMacCast
The Vintage Mac Museum
Deal Brothers
DealMac
Mac2Sell
Mac Driver Museum
JAG's House
System 6 Heaven
System 7 Today
the pickle's Low-End Mac FAQ
Affiliates
Amazon.com
The iTunes Store
PC Connection Express
Macgo Blu-ray Player
Parallels Desktop for Mac
eBay

Advertise