Apple Replacing Defective nanos, 200 GB nano Upgrade, Brasso Makes Your iPod Look New, iKitty, and More
Compiled by Charles Moore and edited by Dan Knight - 2005.10.06
This Week's iPod News
PowerBook, iBook, iPod, and other portable computing is covered in The 'Book Review. General Apple and Mac desktop news is covered in The Mac News Review. News about Apple's transition to Intel CPUs and other Intel developments is covered in The Macintel Report.
All prices are in US dollars unless otherwise noted.
News and Comment
Tips
Products and Services
Software
News and Comment
Apple Replacing Some iPod nanos with Defective Screens
Bloomberg News reports:
"Apple Computer Inc. said 'less than one-tenth of 1 percent' of its new iPod nano digital music players have defective screens and will be replaced for free. The iPod is Apple's fastest-selling product.
"A 'vendor-quality issue' with the nano caused some screens to crack, Apple spokesman Steve Dowling said in a phone interview. The problem is 'not a design issue,' he said. Cupertino, California-based Apple released the latest version of the iPod on Sept. 7."
iPod nano 200 GB Upgrade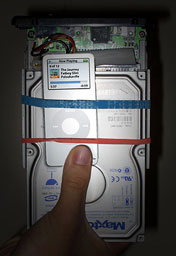 Uncyclopedia has posted do-it-yourself instructions for "upgrading" your iPod nano to 200 GB capacity - that's 150,000 songs!
Table of contents
Step 1 - Disassembly
Step 2 - Jumper settings
Step 3 - Opening it
Step 4 - Desoldering Flash
Step 5 - Attaching an ATA connector
Step 6 - Attach your hard drive
Conclusion

Be forewarned that doing this will so void your warranty! Also, battery life drops from 8+ hours to about 6 minutes with this hack.
Flash Memory May Overtake Hard Drives in Near Future
Reuters reports:
"When Apple Computer CEO Steve Jobs introduced the iPod nano on September 7, he predicted that it would be the best-selling iPod model ever.
"That is a strong statement, considering that the nano is only Apple's second device to incorporate flash memory instead of a hard drive. It is an even stronger endorsement of flash-based technology, from a company that, until this year, declined to use it in a single product.
"Jobs' newfound enthusiasm for the memory format indicates the extent to which the digital-music industry has pinned its hopes for mass-market appeal on flash-based players. Although hard-drive and micro-hard-drive devices have dominated the MP3 player market, flash-memory performance, price and popularity are all improving at such a clip that some analysts believe that it will overtake the hard drive in the very near future."
Building a Custom Car Stereo System for My iPod
iPod Garage's Zach Littleman reports:
"It's coming closer and closer to when my car is coming. The bad problem is the date gets farther and farther away every time I ask about it. It started with sometime in September to now being pushed to the 19th of October. Now that that date cannot be changed, I hope, I am back into looking for what I will do with my stereo system.
"Back in August some time I was saying I would get the Clarion VRX755VD. It's a terribly awesome system but I have learned I won't be able to utilize that screen the way I would like. One reason is every time I change gears I won't be able to see the screen and that ruins a big point of having it in the first place."
About the Universal iPod Updater
An updated Apple Knowledge Base article says:
"Apple provides a single updater for all iPod models. The 'universal' updater installs the latest software appropriate for your iPod. For example, the 'iPod Updater 2005-09-23' will install the latest iPod software available as of September 23th, 2005. The latest iPod Updater can be downloaded from http://www.apple.com/ipod/download/."
Tips
Make Your iPod Look New with a $4 Can of Brasso
Todd Dailey says:
"First off: Apple responds to iPod nano screen concerns. Yay! Apparently there was a screen problem with a small number of nanos. Apple is fixing those nanos. Good for Apple for doing the right thing. Also, Derrick Story appears to be psychic, when earlier he said 'It almost sounds like there are two types of nano screens out there . . . possibly from two different vendors supplying them to Apple?' Good going Derrick.
"So, you have a black nano and now realize that you should have purchased a case or a cover for it. But, it's too late now, it's already covered with barely visible scratches and marks that you can only see under a 500-watt lamp. Oh no! What will you do? Never fear, I put my nano at risk for your sake. I had read on Slashdot and a few other places that Brasso can restore an iPod to like-new condition, but I didn't believe it myself, and I was a bit worried that it would have some sort of bad reaction with my iPod, such as melting it. :) After all, a $4 can of Brasso can't compete with $20+ third party creams and polishes, can it? Read on…."
DIY iPod nano Case with Urban Camo Option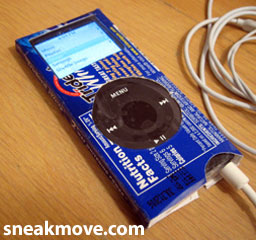 sneakmove.com has posted a do it yourself iPod nano case template.
"The new iPod nano is amazing but what a pity that cases are still unavailable [uh... not any more CM] amid reports of scratch-sensitive screens we propose a solution: take matters into your own hands and make your own nano case.
"How it works:
download the nano template and print it out.
following instructions, cut on solid lines and fold on dotted ones.
"And even better is to use the cutout as a guide to trace onto any other material. fold and tape. viola! (here's a secret: a packet of eclipse gum is nearly the perfect size - one less piece of packaging clogging up a landfill, and no one will know what you've really got in your pocket.)
"You can probably do better, so feel free to tweak template (.ai illustrator format)-mix, modify, improve. send the files and pics (sneakmove at gmail) of your achievements and we'll put 'em online."
Using USB with Your iPod
An updated Apple Knowledge Base Article says:
"With Mac OS X 10.3.4 or later or with Windows XP or Windows 2000, you can connect any iPod that has a dock connector to your USB 2.0 port. This includes:
iPod nano
iPod with color display (previously known as iPod photo)
iPod mini (Second Generation)
iPod mini
iPod (Click Wheel)
iPod (dock connector)
"Not all computers have USB 2.0 ports. If the computer has USB 1.1 ports, you can use the iPod nano or iPod shuffle on these computers. If you have an iPod that can transfer files via FireWire, consider using the FireWire port (if available) and an iPod Dock Connector to FireWire Cable [instead of the much slower USB 1.1].
"A low-powered USB connection (such as a keyboard or bus-powered hub) will not work with iPod."
iPod shuffle Troubleshooting and Service FAQ
An updated Apple Knowledge Base article says:
"Having trouble with your iPod shuffle? This collection of troubleshooting steps and links to helpful articles may be just what you need to resolve your issue. If, after trying all the appropriate troubleshooting suggestions, you still haven't resolved your issue, you can request service for your iPod shuffle online
"Start with these first
Make sure that your computer meets the system requirements for iPod shuffle.
In some cases, simply updating your versions of iTunes and iPod Software may resolve your issue.
Visit the iPod shuffle Support page if you have questions about using iPod shuffle or need help with an issue. For usage help, check out the new iPod shuffle Tutorials, which feature step-by-step instructions to get the most out of your music player, and the 'Learn more' section. If you have an issue, view the 'Top Support' topics on the same page for troubleshooting steps that may resolve your issue without service.
"If you've checked all of the items above and still haven't resolved your issue, review the topics below and try the relevant steps."
Apple's iPod mini FAQ
Learn about iPod mini and where to get more information.
Identifying Different iPod Models
An updated Apple Knowledge Base article says:
"This document will help you determine the model of iPod you have as well as the latest version of iPod software available for your model. To ensure that your Mac or PC is compatible, check the system requirements for your particular iPod.
"You can always download the latest iPod software at http://www.apple.com/ipod/download/."
Products and Services
SmartDeck Intelligent Cassette Adapter for iPod
PR: SmartDeck allows you to control your iPod using the built in controls of your cassette player. Using patent-pending sensing technology, the SmartDeck determines which commands the cassette player sends to the iPod.
SmartDeck is more than just a cassette adapter for iPod; it achieves truly seamless integration between iPod and cassette deck. Use the cassette deck's forward and rewind buttons to advance to the next or prior songs in the iPod playlist. Pause and stop buttons do what pause and stop buttons are expected to do. Hit the cassette deck's Eject button or switch from Cassette to Radio, and Griffin's SmartPlay technology automatically pauses the iPod.
SmartDeck Features and Benefits
Control iPod navigation through the car stereo
Intelligent level control for optimal input levels
Features highest-quality tape head for crystal clear quality
Sets optimal volume on the iPod for best audio quality
Seamless integration between iPod and car stereo
Clear, high quality audio and iPod control together in one brainy cassette adapter. What more could you ask for?
Made for:
iPod mini
iPod photo
4th Generation iPod with Click Wheel
3rd Generation iPod with touch wheel and buttons (The Play/Pause feature is not supported with 3rd Generation iPods)
Price: $29
Meet iKitty for iPod and iPod mini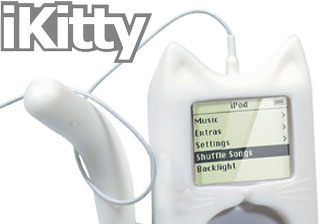 PR: iKitty is cute and functional - offering great rubberized protection, docking capability, and screen protection for your iPod or iPod photo.
Insert iPod thru iKitty's 'docking flap'. Pull bottom part around your iPod- bend tail into desired position. Insert screen protector pegs into slots so it 'floats' above the screen. Meow?
FEATURES:
Cool toy and protective case in one
Bendable, poseable tail
Dockable- 'sits' and hangs out while your iPod charges and synchs up!
Removable screen protector
Full access to controls, headphone plug and hold switch
Fits all 4G and Photo iPods (20, 30, 40, 60 gig)
mini iKitty is also available
Price: $34.95
Simpsons, Sponge Bob, MLB, and More Coming to iPod Accessories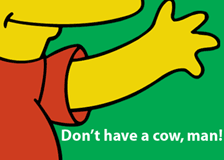 PR: XtremeMac has announced that it has entered into licensing agreements with entertainment companies including Warner Bros. Consumer Products, Twentieth Century Fox, Nickelodeon and Viacom Consumer Products, Lucasfilm Ltd., and Major League Baseball Properties to create iPod accessories featuring popular movie and cartoon characters as well as team artwork. This move marks the first concerted effort by any iPod accessory manufacturer to enter into the business of licensed consumer products.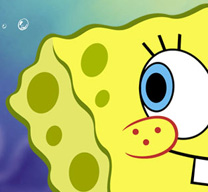 The new line of iPod cases, covers and armbands will be rolled out over the next several months, coinciding with the start of the holiday shopping season. Although specific details were not yet announced, XtremeMac noted that the products will be available through mass retailers and specialty electronics outlets as well as through the XtremeMac website and through retailers including The Apple Store and XtremeMac's network of resellers and distributors.
No Starch Press Releases The Cult of iPod
PR: One year after The Cult of Mac wowed devotees of all things Apple, The Cult of iPod (No Starch Press, November '05) takes a loving look at how Apple's portable player has changed music, culture, and listening behavior for fans around the world. This new title from best-selling Cult of Mac author Leander Kahney includes the exclusive back story of the iPod's development, looks at the many ways iPod users pay homage to their devices, and investigates the quirkier aspects of iPod culture.
Since its first iPod model hit the market in 2001, Apple has sold more than 21 million iPods, from the no-frills Shuffle up to the flagship 60 GB iPod. The Cult of iPod, like its predecessor, takes readers on a tour of everything iPod with gorgeous four-color photos, stylish layout and design, and tales of users who devote considerable time, energy, and imagination to their gadgets.
Meet the little-known practice of iPod-jacking (strangers plugging into each other's iPods to find new music); discover the growing legions of MP3Js (regular folks who use their iPods to become DJs); and meet average Joes who create their own professional quality iPod commercials just for fun. The Cult of iPod looks at the cottage industries that have sprung up to capitalize on the iPod's popularity, too, from both fun and functional accessories to services that build customized playlists or will convert your entire CD library into the iTunes format. The Cult of iPod also covers the trend of celebrities and fashion mavens who've customized their iPods and made high-end limited edition carrying cases, as well as gadget freaks who've modded their iPods into one-of-a-kind designs that make techies drool.
"The iPod gives both Mac and Windows users a common object for their adoration. Even people who don't own an iPod have heard about podcasting, and they certainly have those 'dancing silhouette' ads tattooed on their brains," said Bill Pollock, founder of No Starch Press. "Given the success of 'The Cult of Mac' and the world's obsession with the iPod, we figure we can score a few books from the ravenous iPod freaks."
Like its predecessor, The Cult of iPod has a striking cover image and innovative design that would impress Steve Jobs himself. It also includes hundreds of photos and graphics that illustrate the many aspects of the iPod and its admirers.
Leander Kahney is an editor at Wired News, where his Cult of Mac blog is a reader favorite. Previously, Kahney covered Apple and the Mac community for Wired News. He treats his subjects with insight and humor and his experiences interacting with Mac fanatics and attending Mac events around the world are highly entertaining. Kahney's work introduces an element of warmth not usually associated with technology reporting.
The Cult of iPod by Leander Kahney,160 pp., $24.95, ISBN 1-59327-066-6
Available at fine bookstores everywhere or directly from No Starch Press
DLO's Transpod Compatibile with iPod nano
PR: Digital Lifestyle Outfitters (DLO), makers of the popular iBoom Boombox and other exciting accessories for the iPod, have announced that their TransPod All-in-one Car Solution for iPod works perfectly with the new iPod nano. DLO's included fit pads combined with the iPod mini insert create a snug fit for either the white or black iPod nano. A TransPod Fit Kit for iPod nano that includes detailed instructions for fitting an iPod nano into the TransPod is available for download. The TransPod for iPod, iPod mini and now iPod nano is available at most major electronics retailers nationwide for $99.99.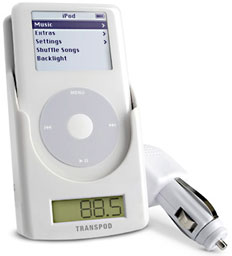 "Many other iPod car solutions were out of luck when the iPod nano was announced. The DLO TransPod, because it was designed to take full advantage of the line-out and power charging capabilities of the bottom connector, works just fine with the beautiful tiny new iPod nanos. We even have TransPods in white or black to match the nano perfectly," said Brian Baucom, Director of Marketing at DLO.
The DLO TransPod is the home for your iPod in your car, and it performs beautifully with the new iPod nano. It works with all current iPods - so the whole family has one simple solution for enjoying their iPods of any size in the car. The TransPod comes with an insert and extra pads that can be fit for a perfect fit for the iPod nano. The DLO TransPod's "Fit Kit" is a downloadable .pdf template that instructs a customer on how to assemble the fit pads with the included insert for their iPod nano.
Pricing and Availability: The DLO TransPod for iPod, iPod mini, and iPod nano costs $99.99 and is available online from DLO and at major retailers nationwide.
TuneTag Edge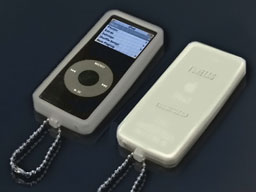 PR: TuneTag Edge is a dog-tag style silicone case for iPod nano. TuneTag Edge comes with a removable ball-bearing style chain so that you can attach your iPod nano to a belt loop or bag strap etc. Also you can use your own strap (not included) to hang TuneTag Edge around your neck.
Compared to traditional silicone cases, TuneTag Edge uses The same high density silicone as IceWear which allows scratch protection and a protective bumper around the edge of your iPod nano. Of course TuneTag Edge's design allows full access to the headphone jack, hold switch and click wheel as well as full view of the color screen.
TuneTag Edge has also been designed so that you can dress it up with clean removing, wearable wrapper [PopTune for nano] (sold separately).
InvisibleShield Clear Body Wrap for iPod nano
PR: Think Different Store (1-800-iPod.com) is offering InvisibleShield, the super strong, full-body wrap that protects the iPod nano without masking its distinctive look and feel.
Covering both front and back of the nano, InvisibleShield is built to last. Made from film originally designed to protect helicopter blades while spinning at hundreds of miles an hour, the clear wrap is designed to stay on under the roughest circumstances. It will not come off unless you take it off.
Thinner than a blade of grass yet possessing unimaginable strength, InvisibleShield is easily removed and it won't damage your screen. Nor will it leave behind any sticky adhesive. It even has a self-healing property, ensuring that many of the bangs and bumps the film takes will simply disappear.
nanoValet
PR: Introducing the first Fashion statement for the new iPod nano. The Valet comes in at an affordable price without skimping on style. Exclusively designed for the Apple iPod nano 2 & 4 Gig models. Available online by mid-October and in stores by Fall of 2005. Our Suggested retail price is $24.95
A great technology should be protected, but not at the expense of price or style.
The difusi nano Valet has been specifically designed to offer unrivaled protection for your new iPod nano. You'll be amazed by the support of the ergonomic & unique form- fitting design that screams of style.
The nanoValet is available in multiple color choices and features a limited Lifetime Warranty for worry free enjoyment.
Connectivity has never been easier, the nanoValet offers Four (4) ways to carry your iPod nano. A carrying strap, Belt Clip, Belt Loop and a Solid Nickel Key ring clasp. All are included at no additional cost.
Completely designed for protection and comfort
The exterior/interior is made from the finest top grain leather
Come in a choice of colors including red, lime, and black.
High-quality spring loaded plastic belt or case clip.
Options include Belt Loop, Solid Nickle Key Clip, Spring Clip.
Reinforced exterior stitching
Easy accessibility to all ports
Features reinforced full body, top-grain leather construction
Offers formfitting, discreet design
Comes with a lifetime replacement warranty
Custom designed for the Apple iPod nano 2 or 4 Gig models
Preorder your nanoValet today and get at 40% off retail.
Price: $14.95
Designed to enable a snug yet easily removable protective carrying case for the iPod nano with easy access to all ports.
Speck Releases GripSkin Cases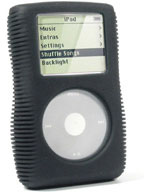 PR: Get a grip on your iPod and keep it protected! The screen protector, belt clip, and custom-molded grippy shape gives you and your iPod the most value and protection for your hard-earned dollars. Get a grip! Get a GripSkin!
Features:
Feels great and grippy
Includes removable screen protector
Made of durable Kraton polymer
Swivel belt clip is removable
Access all controls and ports without removing the case
Includes custom spacer to fit 20, 30, 40 and 60 gig iPods
Works with color and black & white iPod with clickwheel (4G iPods)
Usage: Insert the spacer/belt clip plate (see included instructions) the right way for your size iPod. Insert iPod through the scroll wheel cutout and push up. Pull corners around bottom. Insert screen protector and attach belt clip if desired.
Price: $19.95
MP3Band-It, Armband for iPod shuffle/nano
PR: Take your music with you
Designed for the iPod shuffle and nano and compatible with other small MP3 players.
Simple and lightweight design.
High Quality Elastic for a firm and comfortable fit.
Adjustable with Velcro to fit arms about 10" to 17".
MP3Band-It with iPod nano - Designed for use with the Apple iPod shuffle and nano, the MP3Band-It is a simple, lightweight armband designed to securely hold your shuffle while you're on the go. The adjustable armband is made of very high quality and comfortable elastic and Velcro to fit most arm sizes, providing handsfree flexibility while you move and exercise.
The new and perfect sized 1.25" width armband is now available in black and white for the iPod nano & iPod shuffle.
Price: $18.99
TuneTag Luggage-tag Style Leather Case for iPod nano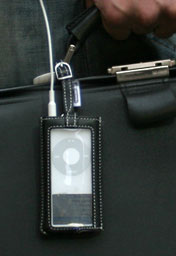 PR: TuneTag is a luggage-tag style genuine leather case for iPod nano. TuneTag is made from smooth ultra high quality genuine nappa leather. There is a transparent vinyl sheet which covers and protects both the iPod screen and click wheel from dirt and scratching. This gives the face of the iPod nano complete protection from outside elements, yet still allows for perfect control of the click wheel and a full view of the screen.
TuneTag also has a luggage-tag style belt strap which can be used to attach your iPod nano to the handle of your luggage, purse strap, bag or belt loop.
You're the One nano Cover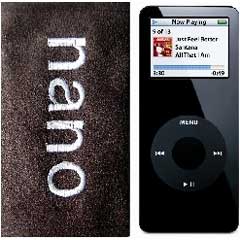 PR: Super slim, stay-on tube with access to iPod nano hold switch, dock connector and headphone jack. Compatible with nano lanyard. Tube slides up or down to give easy access to click wheel and screen. Machine washable.
Made from Wrappers' exclusive treated faux suede fabric designed to add scratch protection without adding bulk. Lined in super soft cream, faux suede (the same fabric used to line Italian leather gloves).
Price: £16.99 (Wrappers is giving free postage & packing worldwide on all purchases this month)
iPort Introduces Five New Free Standing iPod Music Systems
PR: iPort, maker of the first in-wall music system for iPod, introduces five new free standing (FS) iPort music systems that let iPod owners stream audio and photos to their home entertainment system and sync with iTunes, switching between the functions at the touch of a button. Systems start at $150. iPort step up models offer expanded benefits including the ability to control volume directly from the iPort itself, as well as the ability to view the iPod's song, album, artist and playlist information on high-end touchscreen control systems. All FS systems are scheduled for release in the 4th quarter.
"The elegant design of the free standing iPort, combined with the line's focus on user convenience, makes it the perfect choice for sharing music and photos with friends and family," said Peter Brown, iPort Vice President of Sales and Marketing. "By connecting the iPod to their existing entertainment system, users get a much better experience than from self contained docking systems with built in speakers."
All iPort FS models charge the iPod when it's docked. Users drop their iPod into the iPort, enjoy music or photos, and always have their iPod ready to hit the road. And all iPort models have push button selectable syncing. There is no need to pick up your iPod once you drop it into the dock. Users switch between streaming and syncing with the touch of a button making it faster and easier to share content.
Step up models provide all the features desired for high performance whole home systems. Integrated IR remote capability lets users sit back and control their iPod from across the room. iPort will offer a remote control, yet all iPod or programmable remote controls can also operate the iPort. Variable audio output allows the iPod to connect directly to an amplifier or powered speakers, with volume controlled from the iPort itself.
Further upgrades make it easy to integrate the iPort into more sophisticated multi-room audio systems. These include: Balanced audio, which allows the iPort to be located as far as 500 feet away from the main stereo system; balanced video, which allows streaming of iPod photos to TVs or monitors up to 250 feet away; and two-way RS-232 communication, which allows users to see the iPod metadata (song title, album, artist, playlist, etc.) on touchscreen control panels that may be located in other rooms in the house.
Five free standing models to meet everyone's needs
All five FS music systems include a multifunction two-part mated cable for USB, audio, video, control and power. The multifunction cable reduces clutter and simplifies connection. One side of the cable splits off for connection to the computer providing the means to sync the iPod to the iTunes library. The other side of the cable connects to a "breakout box" that provides outputs for audio and video along with inputs for power and control.
The basic systems, FS-1 ($150) and FS-2 ($200), come packed with a simple mini-breakout box that provides audio outputs for standard RCA cable connection to a stereo and video outputs for both composite video and S-video cables for connection to any TV. An included power supply connects through the mini-breakout box and charges the iPod when docked.
With the FS-1, the iPod is controlled manually through the iPod click wheel. The FS-2 adds integrated IR remote capability and variable audio output. The variable audio output is controlled from volume up/down buttons built into the iPort face, or remotely from an optional iPort remote control or from a host of third party iPod and universal audio/video remote controls.
The iPort remote control, REM-1 ($50) will control all in wall and free standing iPort music systems equipped with an IR sensor and is due to ship at the same time as the FS music systems.
The step up systems, FS-3, FS-4 and FS-5, include all the features of the FS-2, plus they are packed with an advanced breakout box designed for integrating the iPort into whole home distributed audio and video systems.
The FS-3 ($600) features a balanced audio path that supports wiring runs up to 500 feet, as well as IR pass-through capability for operation from IR based control systems. Included with the FS-3 are the advanced breakout box and audio sender and receiver wall plates.
The FS-4 ($800) is enabled for two-way communication. Users with RS-232 control systems can operate the iPod from any room or even outside and see the track, playlist, album and artist information just as if the iPod were right in front of them. Two-way control is as easy to use as the iPod itself.
Completing the line is the FS-5 ($1,100), which builds on the FS-4 adding balanced video sender and receiver wall plates, allowing users to send images on their iPod photo devices up to 250 feet for viewing on any TV or video device.
Said Brown, "The iPort in-wall systems with two-way communication capabilities set a standard for iPod integration. With our free standing systems ability to stream and sync, and switch between them at the touch of a button, we've pushed the convenience envelope even further."
Software
Party-Pod Pro: Party with Your iPod
PR: Spice up your night life with Party-Pod Pro!
Give your iPod:
The 650 most used drink recipes
55 drinking games
A Global Bar & Club database for every major U.S. city - Plus hotspots like Cancun, MX
Bartender 411 (Tips and Tricks)
100 Pick-up Lines for Both Men & Women
Post-Party Solutions
What's New In Version 5.0-X ?
New Drink Photos Now Included for Select Drinks - Viewable on color display iPods
Global Bar & Club Locator
New Easy Installer for Mac Users
Link: Party-Pod Pro: Party Companion for Your iPod
iPod Deals
For current iPod prices from a variety of sources, see our Best iPod Deals.
Join us on Facebook, follow us on Twitter or Google+, or subscribe to our RSS news feed
Today's Links
Mac of the Day: Macintosh 128K, introduced 1984.01.24. 1984 wasn't going to be anything like 1984 thanks to the original Macintosh.
Recent Content
Custom Search
Follow Low End Mac on Twitter
Join Low End Mac on Facebook
Favorite Sites
MacSurfer
Cult of Mac
Shrine of Apple
MacInTouch
MyAppleMenu
InfoMac
The Mac Observer
Accelerate Your Mac
RetroMacCast
The Vintage Mac Museum
Deal Brothers
DealMac
Mac2Sell
Mac Driver Museum
JAG's House
System 6 Heaven
System 7 Today
the pickle's Low-End Mac FAQ
Affiliates
Amazon.com
The iTunes Store
PC Connection Express
Macgo Blu-ray Player
Parallels Desktop for Mac
eBay

Advertise